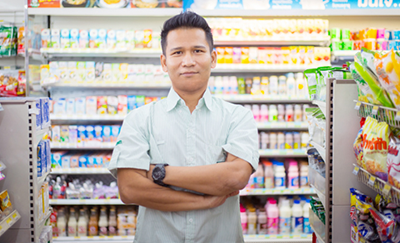 Mr. Athasit Chaichan (Khun Tam) was another person who decided to invest in a 7-Eleven business. Thinking about the future, he was confident that this business would surely be stable because he had worked with CP ALL in a 7-Eleven store before resigning and starting his own business.
   "I had seen a lot working in a store before. 7-Eleven sells food and everyday items. They have a variety of goods, which makes any store a top choice for the customers when they want to buy something. I decided to invest in this business because I have confidence in the brand, their methods, and their management system. It was not a difficult decision to make. Now I own two branches. I am about to open my third and will continue to expand."
What did 7-Eleven do to help and support you?
"Even though I've had some experience working in a 7-Eleven store, managing one of my own is still a challenge. I mostly knew how to run a store, but I still didn't know about management in the big picture. The company regularly has training for store owners and employees. After the training, you understand more about the job. Also, when your store has a problem, they have an advising unit available. You can always get a consultation when it comes to marketing and promotion, promotions, the company supports you on these matters. You just have to follow their system and meet their standards. The company has monthly inspections so you would get to learn about the problems that your store may have and fix them right away. This helps maintain the quality and service of your store."
       "To those who are interested to invest in a 7-Eleven store, first you must love the service industry and be patient with miscellaneous problems, because Any 7-Eleven stores open 24 hours a day. You will face problems daily. However, if you put your mind to it, stay focused, and work hard, the outcome and the profit of your store will be satisfactory. It is not hard to become successful."
Those who are interest in a 7-Eleven business
may inquire more information from the Customer Relations Center by phone at 02-826-7800