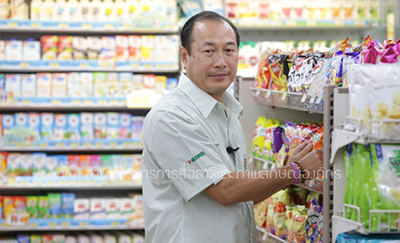 Mr. Piyawat Naphathorn Manages 7-Eleven stores in Hat Yai.. His trust and belief in CPALL's store management system allows him to successfully manage his and open a total of 3 branches. His main focus lies on the management of a staff of the total of 40 employees In all the branches. He also spends time to investigate specific needs of the customer in each store individually. Consequently, he expanded on of his 7-Eleven stores , from two to three connecting commercial buildings , opposite Gate 108 of Prince of Songkla University to serve an increasing
number of customers. This allows his store to carry more goods for the customers to choose from, especially Ready to eat meals and All Café' which are highly popular university students.
Apart from providing convenience in terms of the goods and services, Mr. Piyawat also thinks that having a 7-Eleven which opens 24 hours in a community is like having a center for people to gather up. For instance, street food venders can stop by and sell food around the store, creating a lively atmosphere. This helps lower the risk of crime in the area surrounding the store as well.