Challenges
---
As over 100,000 employees have been working together for driving the organization to reach a goal with happiness and enjoy their working life, the company has to created cultures and values of team work to utilizing the core of employee management and enables the company achieved the goal.
Management Approach
---
Corporate Culture
CP ALL believes that corporate culture is the "organization's life force" that makes the organization strong and enables it to grow sustainably. Therefore, the principles of working together on the basis of values or guidelines for working together are divided into 3 categories as follows.
1. Must
5 Principles The Company's desired employee competencies : Have determination to achieve goals (Achievement), Provide the best service to customers (Customer), Behave honestly, faithfully and transparently (Integrity), Have loyalty to the organization (Organization) and Work together productively (Teamwork)
2. Want
7 Values The Company's desired share value : Strength, Courage, Trustworthiness, Unity, Generosity, Respect, Appreciation
3. Need
11 Leadership Essential Leader Skills : Be sincere, Not be hierarchical, Speak courteously, Not be obsessed with power, Be a good role model, Be fair, Be kind, Dare to make decisions, Care for society, Nurture good people, Be open-minded
To continue for sustainable growth in the next 30 years with "Our Way."
CP ALL is aware of external changes that are changing rapidly and drastically than the past.  The company has therefore mobilized the brainstorming from more than 4,000 executives and representatives to find ways to create sustainable growth for at least 30 years.  The results from brainstorming, it enables the company to receive important and necessary values ​​for sustainable growth called "Our Way" (5 development), consisting of "TRUST," "COACHING," "INNOVATION," "SMART," and "COMMUNITY AWARENESS."
Respect for Diversity and Inclusion
Respect for diversity and inclusion remains the Company's commitment, emphasizing equal treatment which does not discriminate based on nationality, skin color, religion, gender, sexual preferences, citizenship, age, disability, or other characteristics considered to be a human right.
By managing diversity and accepting differences in an appropriate manner, with believes that it is able to attract and retain people who are capable and good, as well as bring out and make use of the best potential and capabilities from employees. In this regard, the Company has established the Diversity and Inclusion Policy and Guidelines with the aim to mutually benefit its business operations and employees as follows:
Leaders at every level must be prepared to listen to differing opinions from others
Encourage and drive employees to be courageous in openly expressing their ideas and opinions that are creative and within the established internal legal framework of the country in which the Company is operating its business
Promote respectful working environment and valuing difference with no discrimination based on personal preferences, personality, race, religion, color, gender, generation or marital status
No discrimination or bias in the recruitment process, through providing equitable access to opportunities for career progression according to performance, competency and growth of the organization
Recognize employees appropriately for their contributions to innovations and work improvement
Competencies and Workforce
CP ALL conducts Workforce Scenario Planning to be in line with business direction and growth, by join in evaluating the competencies and workforce during the annual strategic plan. Human Resources will assess employee competencies required by the Company by analyzing core competencies, strategic challenges, and required competencies according to the strategic goals. This information will then be used to formulate the short- and long-term human resource development plan to ensure continued smooth business operations and appropriate support for business growth and to enhance the capabilities of employees to enable them to grow in their career path.
Compensation, Welfare and Benefits
The Company has managed its compensation, welfare and benefits entitlements based on its employment policy which awards fair welfare and other benefits entitlements that cover all full-time employees and daily-wage workers. Financial benefits include emergency loan programs administered by financial institutions with special interest rates, financial assistance for rent payments, among others. Life Security Benefits include provision of provident funds, disability financial support, maternity leave, and Employee Joint Investment Program (EJIP), among others.
Freedom of Association
The Company respects the rights of all employees at all levels. The Company has adhered to Thai and International labor standards in its human resource management in order to create fair and appropriate employment conditions-whether it be on working hours, rest periods, wages, working environment, and social welfare benefits. This also includes the freedom to express one's opinions and concerns through various grievance channels, including the Whistleblowing system, and the Worker Welfare Committees—which have been set up in worksites following requirements in the Labor Protection Act B.E. 2541 to be a platform in receiving opinions and discussing appropriate welfare for employees.
Easy Hand Language Beverage Ordering at Muanchon Cafe Project
Objective Create jobs and income, and develop skills of people with disabilities
The project provides employment for people with hearing disabilities at Cafe Muanchon at the Sotesuksa School branch, located in Nonthaburi, and develops transferrable skills which can be used in future professions–whether it be as business owners or employees with professional expertise.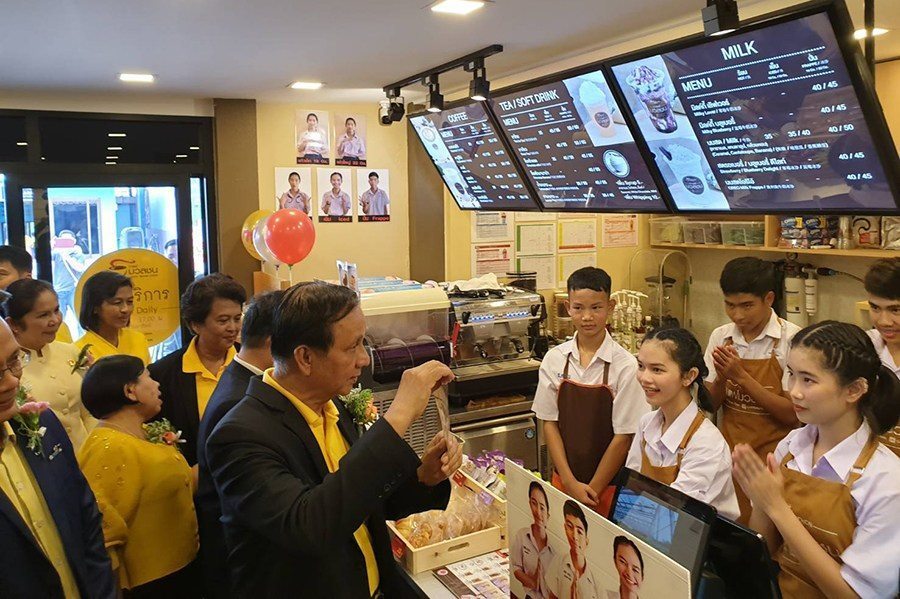 Related Policy and Guideline