Corporate Culture
CP ALL believes that corporate culture is the "organization's life force" that makes the organization strong and enables it to grow sustainably. To enable employees with diverse backgrounds to work together, value differences, unite efforts, thoughts, skills and abilities, and move toward the same goals, CP ALL has announced "HARMONY" as our corporate culture.
HARMONY is the organizational management principle adopted by the Company to manage a large number of people with diversity. "Combine the similarities, coordinate the differences", that is, our differences are maintained, but we will use our differences for the maximum benefits in working together. We will create harmony like a symphony orchestra. The orchestra consists of many different types of musical instruments. Each instrument has different high and low pitched sounds, but when the sounds are synchronized, wonderful music is created. If different instruments must play the same sound, the music will not be pleasant. Likewise, forcing everyone to think and believe alike is not possible. We are like a symphony orchestra. The orchestra can play beautifully if we coordinate well. Therefore, the slogan of our culture is "Combine the similarities, coordinate the differences, and create harmony like a symphony orchestra". Management of diversity of employees through a corporate culture of HARMONY is combining the similarities, coordinating the differences with the 5-7-11 values, which is the core foundation of being together in CP ALL.
Our Values (5-7-11)
5 Principles: Achievement – Have determination to achieve goals; Customer – Provide the best service to customers; Integrity – Behave honestly, faithfully and transparently; Organization – Have loyalty to the organization; Teamwork – Work together productively
7 Values: Values the organization wishes employees to have: Strength, Courage, Trustworthiness, Unity, Generosity, Respect, Appreciation
11 Leadership: A good leader should: Be sincere, Not be hierarchical, Speak courteously, Not be obsessed with power, Be a good role model, Be fair, Be kind, Dare to make decisions, Care for society, Nurture good people, Be open-minded
Diversity and Inclusion
By managing diversity and accepting differences in an appropriate manner, the Company believes that it is able to attract and retain people who are capable and good, as well as bring out and make use of the best potential and capabilities from employees. In this regard, the Company has established the Diversity and Inclusion Policy and Guidelines with the aim to mutually benefit its business operations and employees as follows:
Leaders at every level must be prepared to listen to differing opinions from others
Encourage and drive employees to be courageous in openly expressing their ideas and opinions that are creative and within the established internal legal framework of the country in which the Company is operating its business
Promote respectful working environment and valuing difference with no discrimination based on personal preferences, personality, race, religion, color, gender, generation or marital status
No discrimination or bias in the recruitment process, through providing equitable access to opportunities for career progression according to performance, competency and growth of the organization
Recognize employees appropriately for their contributions to innovations and work improvement
The Company's guidelines on the management of diversity and inclusion are the synergy of its employees' diversity which will further enhance the Company's competitiveness and sustainability.
Competencies and Workforce
CP ALL conducts Workforce Scenario Planning to be in line with business direction and growth. Human Resources, other departments and business units join in evaluating the competencies and workforce during the annual strategic plan. Human Resources will assess employee competencies required by the Company by analyzing core competencies, strategic challenges, and required competencies according to the strategic goals. This information will then be used to formulate the short- and long-term human resource development plan to support business expansion and to enhance the capabilities of employees to enable them to grow in their career path. With regard to workforce, CP ALL has a process to analyze the required workforce according to the strategic plan, categorizing work as follows: 1) store operations, 2) distribution operations, and 3) office operations. The number of employees required each year is surveyed from affiliations, with consideration to strategic challenges, direction, goals, and scope of work of each department. This information is then used in planning to determine the required competencies and workforce to ensure continued smooth business operations and appropriate support for business growth.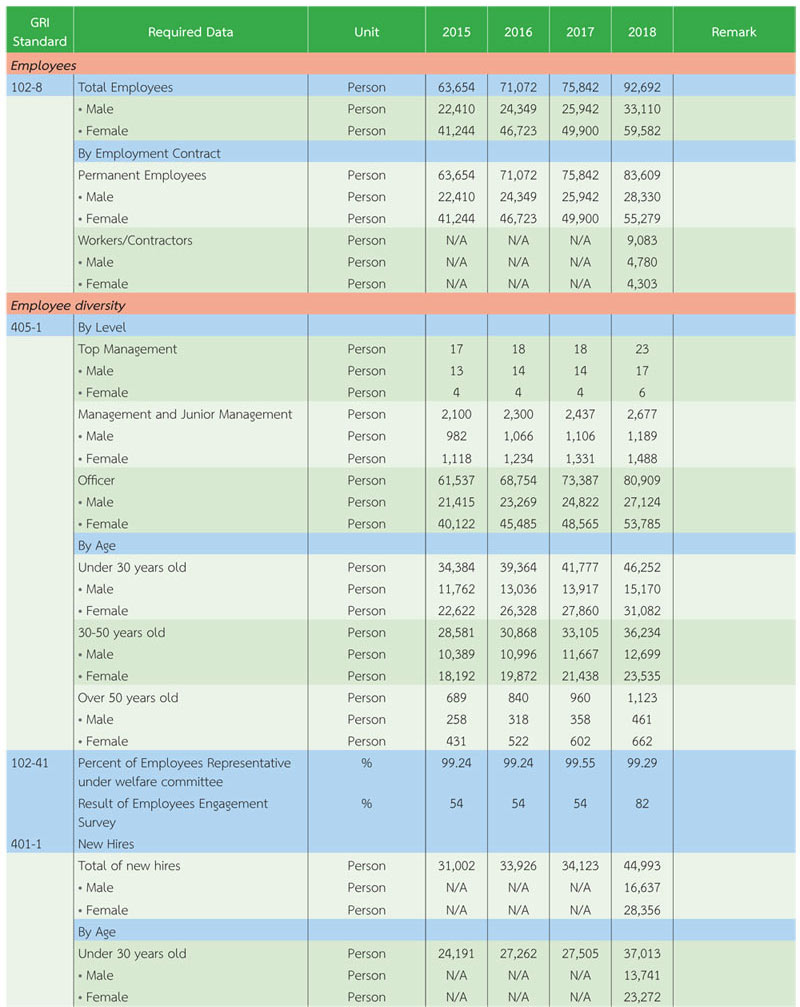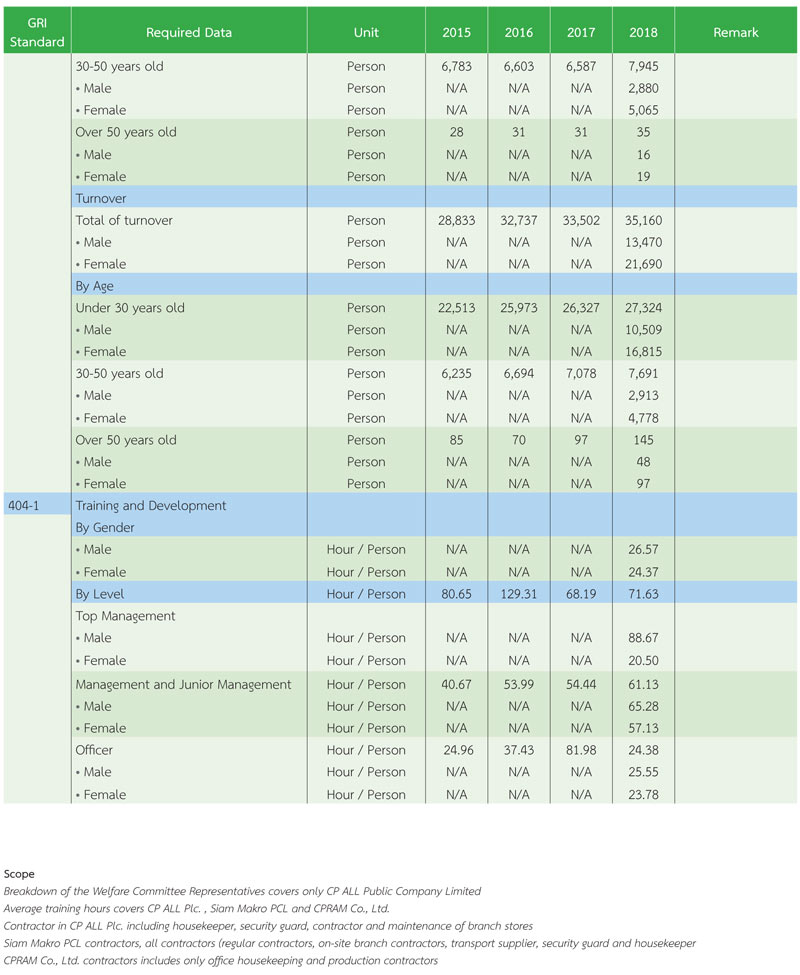 Welfare and Benefit Policy Human Resources reviews the welfare and benefit policy annually by collecting information, results from the employee engagement survey (both formal and informal), and analysis compared to the industry in order to review the remuneration structure, benefits, welfare and privileges for continued improvement of the welfare and benefit policy for employees to be in line with local labor conditions and to be competitive with other companies. For example, from past employee engagement surveys, management reviewed the recommendations regarding welfare and benefits which will offer long-term benefits for employees, such as the Employee Joint Investment Program (EJIP) which commenced in 2009 for the management level. The EJIP was expanded to the supervisory level in 2012. At present, more than 5,636 executives and employees have joined the EJIP. Accounted 58% of the employees are entitled to participate the project of 9,718 persons.
** CP All Public Co.Ltd and CPRAM Co., LTD.
Welfare and Other Benefits (Some examples)
Provident fund
Housing loan
Scholarships for employees or their children
Accident insurance and life insurance
Medical loan for in-patient hospitalization
Financial aid for acts of heroism
Free rice (Full Stomach Full Heart Project)
Medical expenses for employees (In-patient)
Health insurance
Financial aid in the event of death (Employee and family member)
Get-well basket when employee is an in-patient
Privileges for employees to become a Store Business Partner (Franchisee)
Financial aid and interest-free loan for disaster victims
Freedom of Association
Welfare committee represents 99.3% of total employee, in 2017, the committee has been discussed and communicated with the representative of employer regarding the following topics:
Special welfare and fund to help employee on flood disaster
CP ALL work ethic and practice
Change and impact of new social security application
Revision on Travelling benefits and policy
Special home loan for employees
Employee Engagement Survey CP ALL has hired a human resources consulting firm to find and determine the composition of critical elements that impacts the engagement of all employee groups, using Aon Hewitt's benchmarking data and CP ALL's specific context. Aon Hewitt conducts in-depth interviews with the Company's management, while Human Resources and Senior Leader select and determine the composition of elements that affect employee engagement.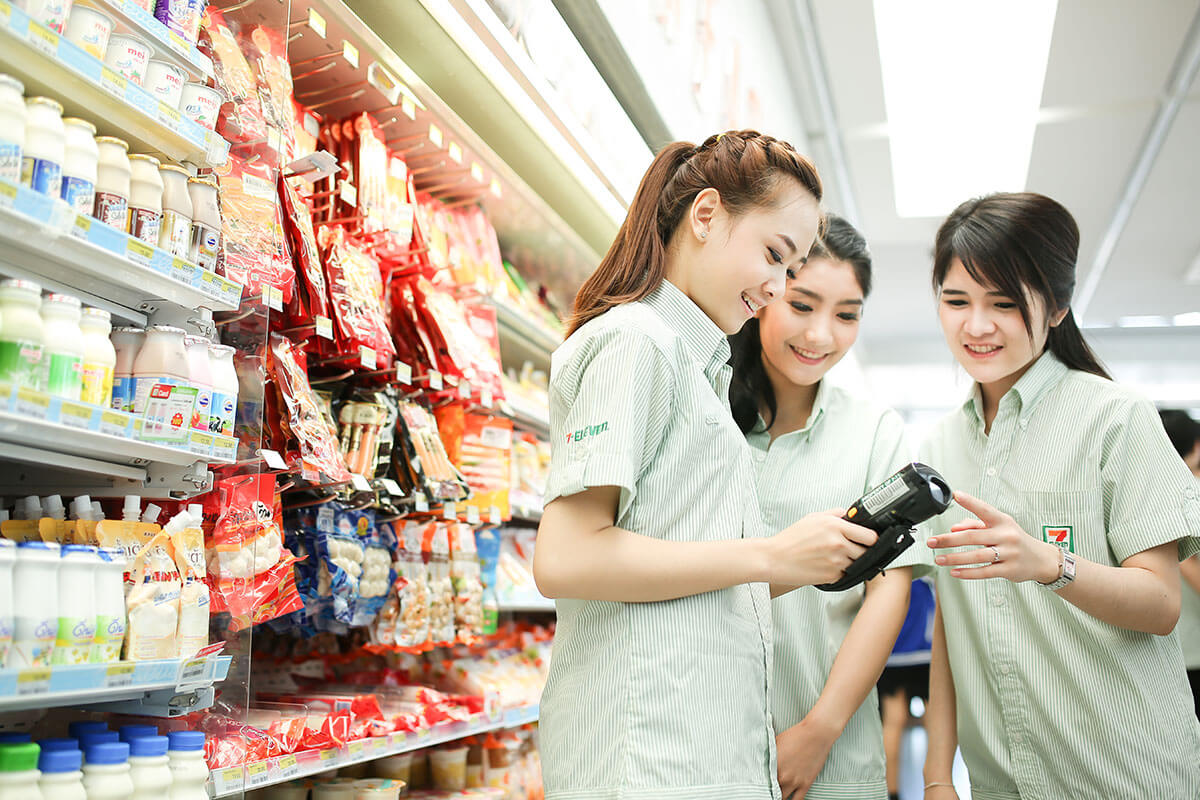 We conduct "Employee Engagement Survey" to gain insight into employees' expectations with a view to obtain findings regarding employee engagement and their commitment to the organization. Employee engagement has been evaluated continuously during the past 8 years, and insights obtaining from the survey provide fruitful information and feedback to help steering on-going improvement actions. By design, we use third party to evaluate our engagement every two years and also conduct internal in-house engagement survey using the same methodology in-between the years to monitor and reinforce engagement as well as intense improvement execution.
In 2015, our engagement score measured by the third party is 54%, lower from the target at 62%. To improve level of employee engagement, we established "Employee Engagement working team" with three additional core teams since 2015 to focus on driving improvements of three priorities. Those are: Performance Management System, Career Advancement, and Feedback & Recognition. By working together with Head of departments, the working team plays a critical role in providing opinion and driving activities to strengthen level of employee engagement specific to different needs of each division. Currently, various improvement actions including those three priorities are executed and see positive momentum. This is evidenced by the positive trend of in-house engagement survey from 2016 to 2017.
To drastically improve our Employee Engagement, in 2018, CP ALL is going to roll-out CP ALL Group Engagement initiative that will deploy universal engagement model across 14 subsidiaries with coverage of 60,000 employees within CP ALL Group. Regarding all continuous improvement actions having been executed, we believe that our engagement score in 2018 will significantly improve as expected.