Company has established a number of strategies to ensure achievement of 2020 Sustainability Targets, as follows.
Corporate Governance The Company has reviewed and established additional guidelines to ensure thorough coverage of all important issues with impacts to the good corporate governance's performance. The issues include anti-corruption policy, anti-money laundering policy, data privacy policy, data privacy guideline, and occupational safety, health and environment policy.

Aside from expanding the scope and increasing the specificity of the policies, there has been extensive communication efforts on the matter to employees and external stakeholders, such as suppliers. The Company has always believes that employees are the key factor contributing to good corporate governance. These policies were communicated via internal letters, trainings, online tests, and other forms of media available in the Company.
Human Capital Development The Company has established Human Capital Development Strategy under the framework of 'Recruit – Retain – Retire' to set the direction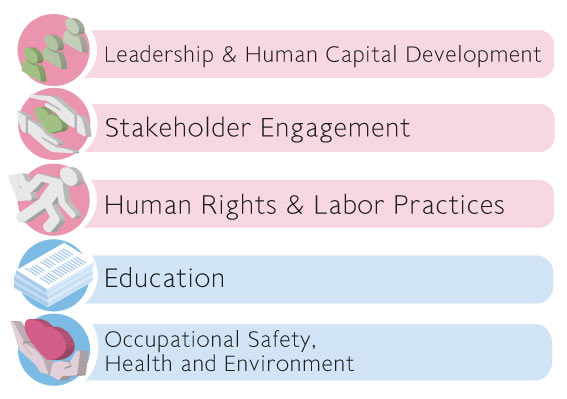 Recruit. Set desired qualifications, reinforce through education, and establishing attraction for talents. Retain To develop and establish engagement between talents and the Company through good practice in labor rights, occupational safety, health and environment, employees' well-being and engagement. Retire Prepare and support retired employees for good well-being after their retirement. The Company provides information on legal rights and the Company's benefits for retirees in recognition of their hard work for the Company. The Company is proud to share notable performance from 3 primary projects. The projects comprise Improvement of Performance Evaluation System, Improvement of Professional Advancement System, and Awarding and Recognition System. The improvement helps elevate the employees' engagement and satisfaction score from 74% to 82% in 2018.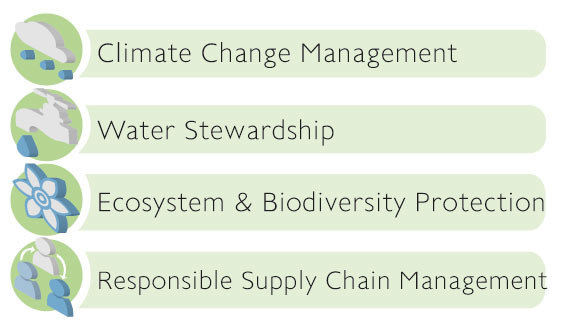 Environmental Stewardship The Company aspires to continuously operates according to 7-Go Green strategy. The strategy can be divided into 4 approaches to fit with different parts of the Company's operations which can be driven towards the goal. There are Green Stores approach for stores; Green Logistics for distribution center; Green Packaging for packaging; and Green Living for changes in consumption behaviors for sustainable environment. Aside from reduction of energy consumption, another notable performance in 2018 is the Company's project to cut down single-use plastics projects. Additionally, the Company has promoted and encouraged for suppliers' integration of sustainability through supply chain management efforts.
Development of Product-Service Innovation and Efficiency Enhancement  To keep up with the ever changing global landscapes, the Company's Science Technology and Innovation Development Office (STIDO) works with product Development and Marketing, and Information Technology to develop a range of product and service innovation. In 2018, there has been the following innovation.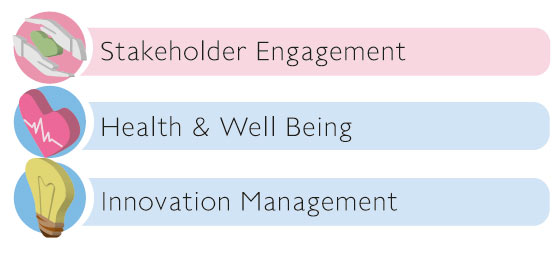 In terms of product and service development, there has been efforts to further improve and highlight the selection of healthy products in the store. This includes an emphasis in efforts to enhance a shift towards online markets, particularly notable in 24 shopping. Both its website and applications are available on mobile. In terms of efficiency improvement, the Company makes use of the concept, 'Internet of Things' in data collection and analysis of the stores' different equipment. The system helps alerts maintenance, preventing equipment from untimely breakdown. Extending the equipment's period of functionality helps the Company reduce its electronic waste volume.
Creating Shared Values and Earning Community Acceptance The Company took note of stakeholder survey results, noting concerns and recommendations. The results, with guidance from Social Responsibility Policy, the Company is applying its strength in retails to aid society and community by developing projects to support farmers and small-scale business partners. This is in consistent with the Policy's emphasis on education and social values. The projects have been implemented in areas of operations, and help addressed economic and employment concerns at both community- and national level.  The Company therefore enhances social values and earns community acceptance.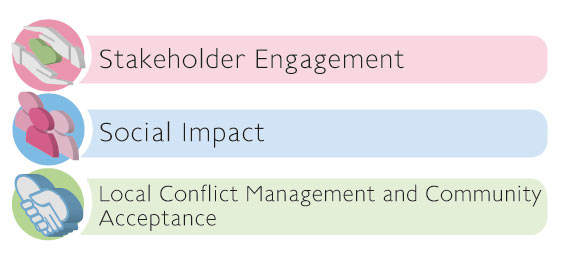 For small-scale business partners, the Company has the policy to support community products through its special distribution channels. The products in this channel are notable products at a provincial level, and must pass initial screening criteria. Five stores are selected to pilot-sell the products with marketing support provided, as well as public relation media. If the products successfully passed through the Company's criteria, the products' reach of sell will be expanded to more stores at provincial level, regional level and national level, respectively.
The Company firmly believes that society will only develop if citizens receive education. In accordance to that belief, the Company has launched the 1 Store 1 Scholarship project for Thai youths. This was implemented through 7-Eleven stores in various community, ensuring they have the opportunity for Diploma of Vocational Education and Diploma of Advance Vocational Education. Students are able to study at Panyapiwat Technological College, and other private vocational colleges in the network.