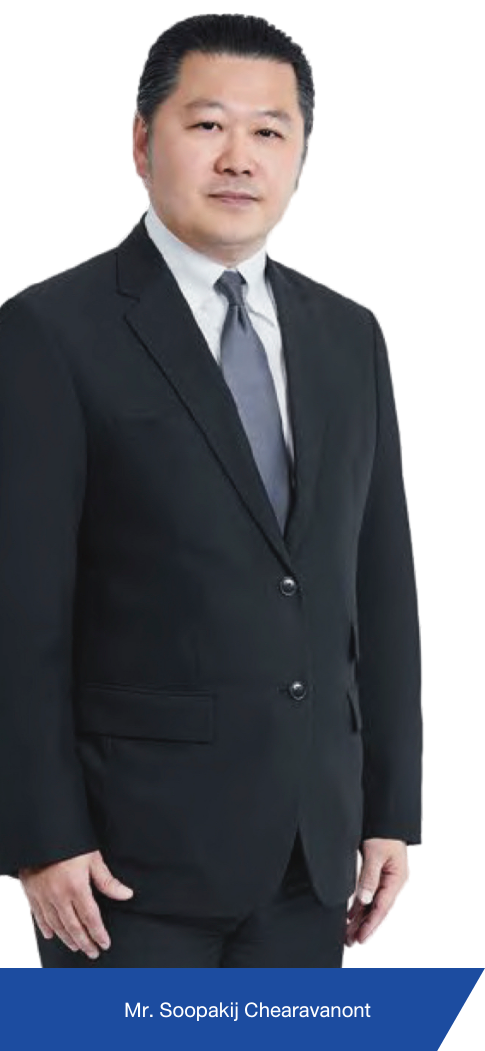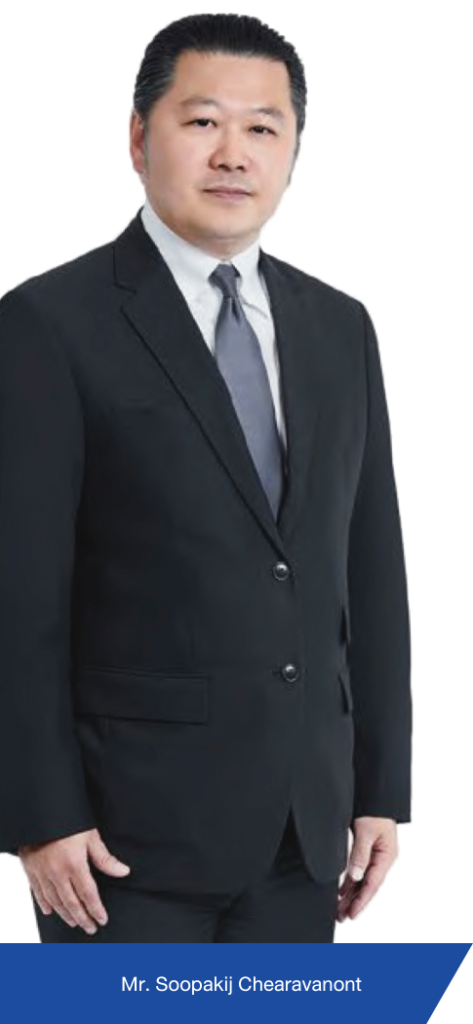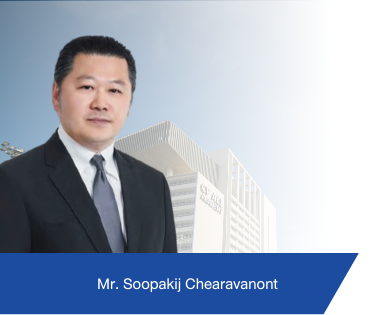 On behalf of the Board of Directors and Executive Committee, we would like to thank our customers, shareholders, business partners and patrons for your continued trust and support in the Company. Importantly, we would like to thank the management and all of our employees for their combined dedication and commitment to pursuing the best for the Company, as well as their readiness to move the Company forward and embrace any changes that may come our way. We offer you our promise that we will continue to operate with the utmost consideration for the benefit of all stakeholders and our customers, in parallel with the development of the economy, society, communities, and the country. These efforts ensure that CPALL will be a quality organization that is built upon the foundations of sustainable growth, growing alongside Thai society now and for always.
CP ALL Public Company Limited remains committed to achieving business growth and success in all areas of the organizational development – including sustainability. Although 2019 was another year of challenges due to various negative factors coming from within and outside of the country, the Company was still able to deliver satisfactory performance at both the national and international levels.
With a solid foundation of over 30 years in the retail business, our operations are driven by our vision to "Serve convenience to all communities" and our mission "To create customer engagement with innovative products and services and to enhance good relations with community and society" where we aspire to be a part of the everyday lives of Thai consumers. Despite the retail industry encountering various economic pressures over the past year, the Company was by no means discouraged. Instead, we have continued to push forward and expanded our stores to provide convenience for customers, in parallel with the expansion of urban communities. As a result, in 2019, CPALL opened 724 more 7-Eleven Stores, bringing the total to 11,712 stores. Meanwhile, the Company continued to improve existing stores, expanded sales areas to carry a wider range of products and services; modernized store formats to create welcoming environments, and developed operating systems to increase productivity and therefore ensure more efficient capital and expense management. Not only that, the Company also consolidated various types of innovations, including technology, facilities, and new equipment innovations for use within stores, and worked on differentiating our food and drink products from those of our competitors. This involved enhancing the taste of products and increasing their nutritional value and benefits by transforming them into health products, which will allow us to better serve the needs of customers who are now placing greater priority on their health. It covers everything from main courses, second courses and single ready-made dishes to sides, snacks, desserts, Thai desserts, and ready-to-eat fruits. Importantly, it will transform 7-Eleven stores into the number one food and beverage destination for customers when they think of food and drink, fitting well with the slogan, "Drop by 7-Eleven anytime you're hungry"
In addition, given the changing trends that have brought about new consumption behaviors, CPALL has been actively listening to the needs and expectations of our customers, monitoring and adapting the business in response to rapidly evolving digital technologies, as well as preparing for a "Cashless Society." It is clear that these essential technological tools will have a greater role in the purchasing behaviors and methods of customers, including in terms of purchasing and payment methods for products and services, which must be available anywhere, at any time, and accessible from any device.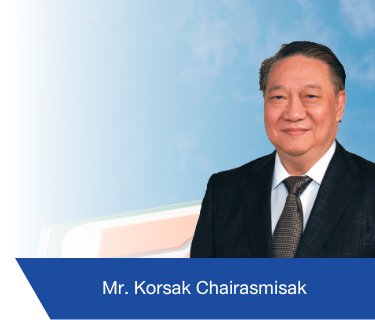 Given these considerations, CPALL has developed a more diverse range of platforms and channels for consumers to access products and services. We have developed a retail ecosystem that connects the retail business and other businesses, and have integrated both physical storefronts and online stores on each channel. This will allow us to cater to the needs of consumers at every occasion, and provide them with convenience however is most appropriate for them. Likewise, the Company has laid out plans to integrate advanced technology for analysis and data processing, such as Artificial Intelligence, in order to enhance service quality and deliver new experiences to customers in the future.
CPALL remains confident in the approach to building a sustainable organization. We operate on the principles of good governance and corporate citizenship, under the philosophy of "Giving and Sharing Opportunities" Over the past year, key sustainability achievements included our support for farmers, community enterprises, and small-and medium-sized enterprises on the development of quality products, to help them achieve the relevant standards for distribution through 7-Eleven stores. Furthermore, the Company continued to strictly adhere to the "7 Go Green" Policy to foster collaboration on environmental conservation. This was achieved through the project, "Reducing a Bag a Day, You Can Do It," which encourages customers to say no to plastic bags and converts the value of those plastic bags into donations. The Project has received the positive engagement of customers so far, and helped to reduce more than 998 million plastic bags, which is equal to more than baht 134 million in donations that can be used to purchase medical equipment for hospitals. Another proud achievement for CPALL in 2019 that resulted from our commitment to operating with consideration for stakeholders in all dimensions – economic, social, and environmental – and to building a sustainable organization, was that the Company was the nomination as a leader in the Food & Staples Retailing Industry of the Dow Jones Sustainability Indices (DJSI) World Index, and was selected as a member of the DJSI Emerging Markets Index for the third consecutive year (2017-2019). CPALL was also selected as a constituent of the FTSE4Good Index, a global sustainability index, for the second consecutive year. Furthermore, the Company was ranked in the "Excellent" Group, receiving a score of 5 stars on Corporate Governance, by the Thai Institute of Directors. These recognitions are a testament of the success that comes from the efforts and determination of all parties within and outside of the organization.
Because of our commitment to operating according to our established business direction and strategies, each Business Group was able to maintain growth in revenue and profit. In 2019, the Company earned a total revenue of Baht 571,110 million, an increase of 8.3%, and a net profit of Baht 22,343 million, an increase of 6.8%. Finally, another key activity that the Company prioritized alongside business growth was the management and reduction of financial cost at appropriate levels, as well as ensuring financial stability and security.