CP ALL Public Company Limited and its subsidiaries are committed to conducting business with social and environmental responsibility, upholding principles and guidelines that support sustainable development for communities and society at large. The Company has announced Sustainable Development Policy, Developmental Framework, and Sustainable Developmental Framework since 2017.
The Framework comprises 3 Pillar : operating business with the mindset for long-term sustainability, fairness, transparency, traceability(Heart) ; aiming to create a sustainable society and good quality of life (Health) ; determined to strengthen sustainable environment (Home). In alignment with the corporate culture is "mixing common elements together with differing elements, so as to build unity in being part of the same band (Harmony)". The Company believes that corporate culture is the "organization's life force" that makes the organization strong and enables it to grow sustainably. To enable employees with diverse backgrounds to work together, value differences, unite efforts, thoughts, skills and abilities, and move toward the same goals, to fulfill the long-term sustainability goals of the Company with international direction, standards, and guidelines such as Sustainable Development Goals: SDGs, UN Global Compact Principles, ISO 26000, Global Reporting Initiative (GRI), Down Jones Sustainability Indices (DJSI) and the Principles of Sustainable Development, Goals and Key Performance Indicators of the Charoen Pokphand Group. The Company's Sustainable Development Framework or Home of Sustainability is shown in the diagram below.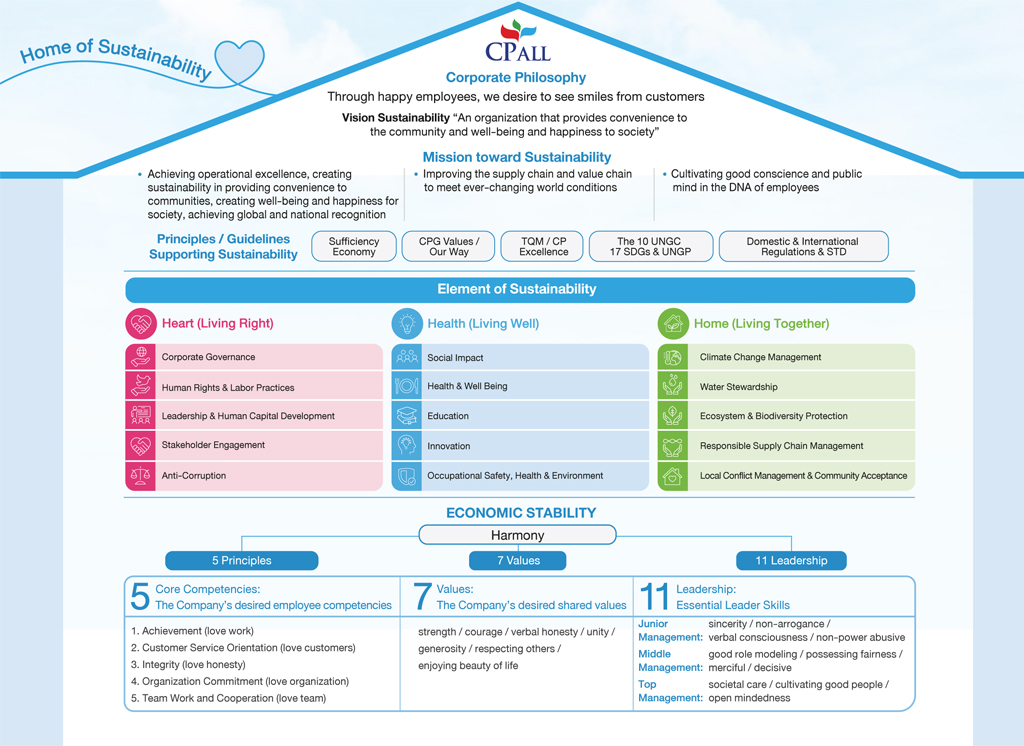 To achieve its sustainability vision, the Company must implement challenging missions by achieving operational excellence, creating sustainability in providing convenience to communities, creating well-being and happiness for society, achieving global and national recognition, improving the supply chain and value chain to meet ever-changing world conditions, and cultivating good conscience and public mind in the DNA of employees. The Company has adopted key principles as a guide in operating its business including Sufficiency Economy, CPG Values, Our Way (CPALL WAY for next 30 years), Total Quality Management (TQM), CP Excellence, The 10 United Nation Global Compact (UNGC), United Nation Development Goals (17 SDGS) & United Nation Guiding Principles (UNGP). The Company also respects and strictly complies with the Company's regulations and Articles of Association, as well as related national and international laws.
According to completion of corporate sustainable development plan phase 1 (2016-2020), the company has reviewed the global trend and new national challenging issues such as food security, sustainable waste and plastic management, energy management, and biodiversity and ecosystem conservation as well as enhancement contribution and engagement of all stakeholders achieving the Sustainable Development Goals. The sustainability topics has been integrated into the corporate policy and sustainable development targets phase 2 (2021-2030).