In 2019, the Company initiated many projects that encouraged the achievement of sustainable development goals set by the Company as well as developing and increasing the efficacy of the operations. This led to the Company continuously creating values for society and the environment through strategies as follows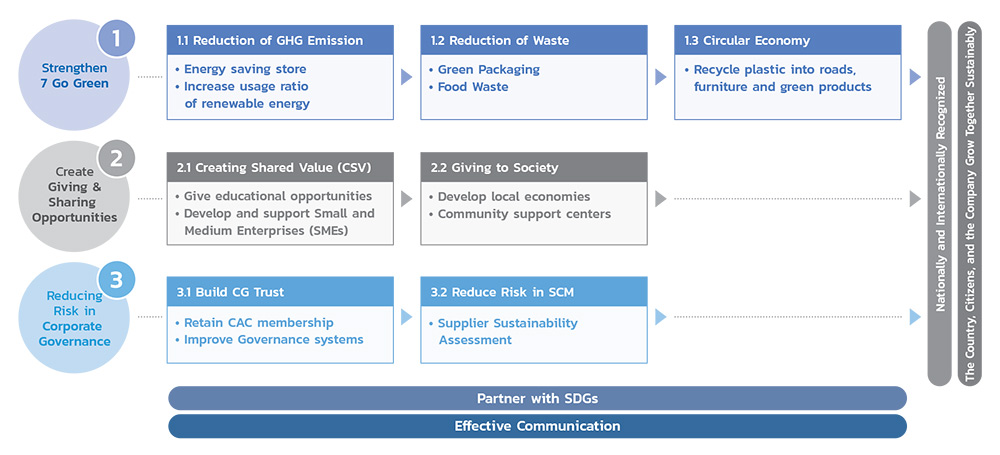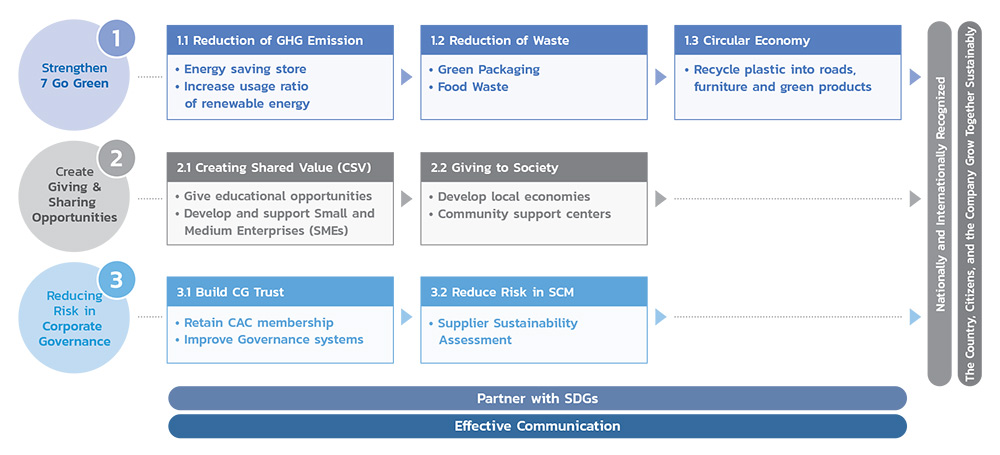 Strengthen 7 Go Green
The Company is committed to supporting operation based on the 7 Go Green Strategy, comprised of the following 4 approaches: 1. Green Store, 2. Green Logistic, 3. Green Packaging, and 4. Green Living. Company has also strived to improve the efficiency of electrical appliances in 7-Eleven stores transitioning them into energy-saving equipment and supporting renewable and alternative energy usage, which helps reduce energy usage and greenhouse gas emissions. Additionally, the Company is steadfast on management rooted in the Circular Economy principle by supporting the recycling of plastic waste in product manufacturing to promote the environment.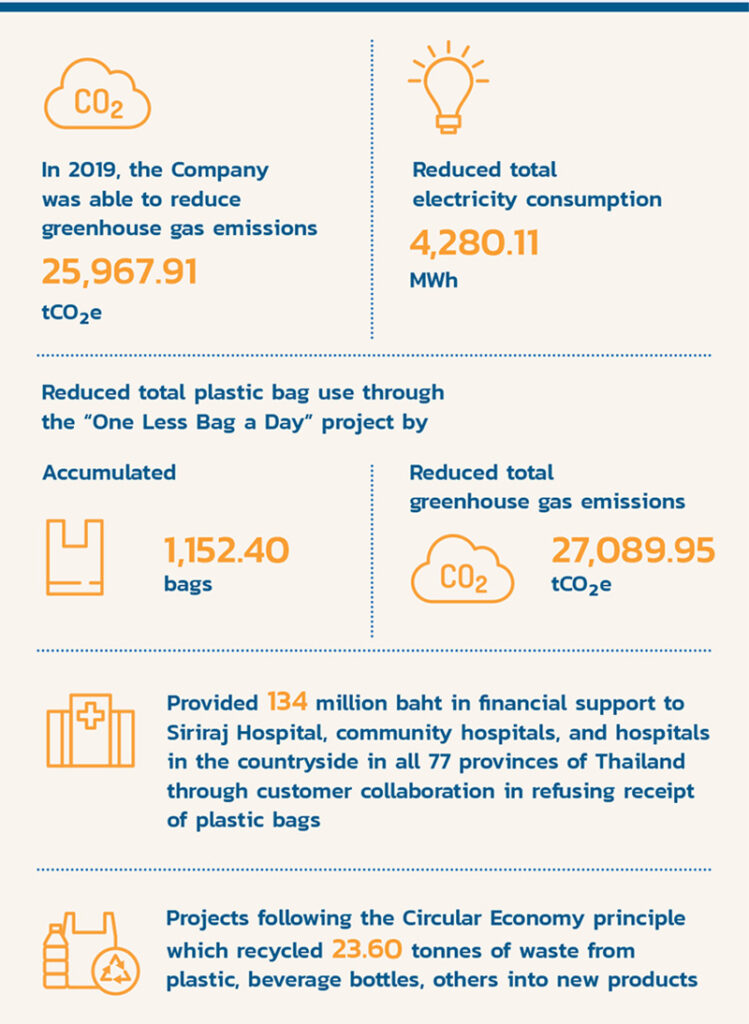 Create Giving & Sharing Opportunities
The Company supports and promotes the creation of social values through the development of cognitive skills, career building, and providing distribution channels that can create income for farmers, small distributors, and vulnerable groups. This provides opportunities as well as promoting a better quality of life under the implementation of various projects such as; projects to enhance knowledge and skills for farmers, occupational promotion projects for youth with impaired hearing and special needs children, and projects that promote revenue for the community.


Reducing Risk in Corporate Governance
The Company reviews and improves the corporate governance policy to be appropriately in accordance with the principles of corporate governance under the authority of the law, and in line with accepted international standards. It has also expanded its corporate governance practices to cover more areas such as climate change and the development of organizational structures, primarily the Committee for Sustainability, whose role is to effectively drive the organization to its full potential. In addition, the Company arranged to assess the sustainability risk for suppliers according to their business industry, completed with follow-ups and strategic risk management in sustainability; aiding in lower risks for suppliers and greater potential in the procurement and responsible supply chain management process.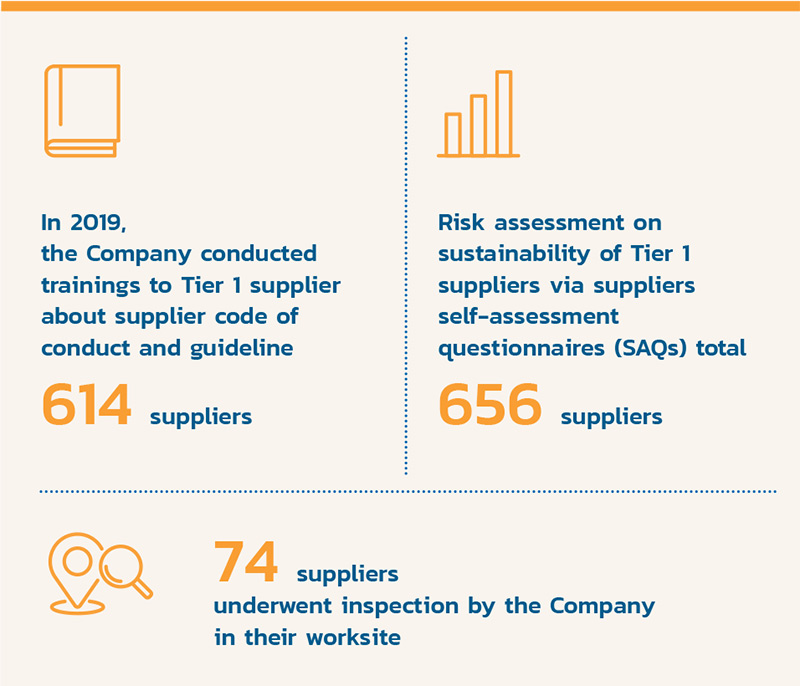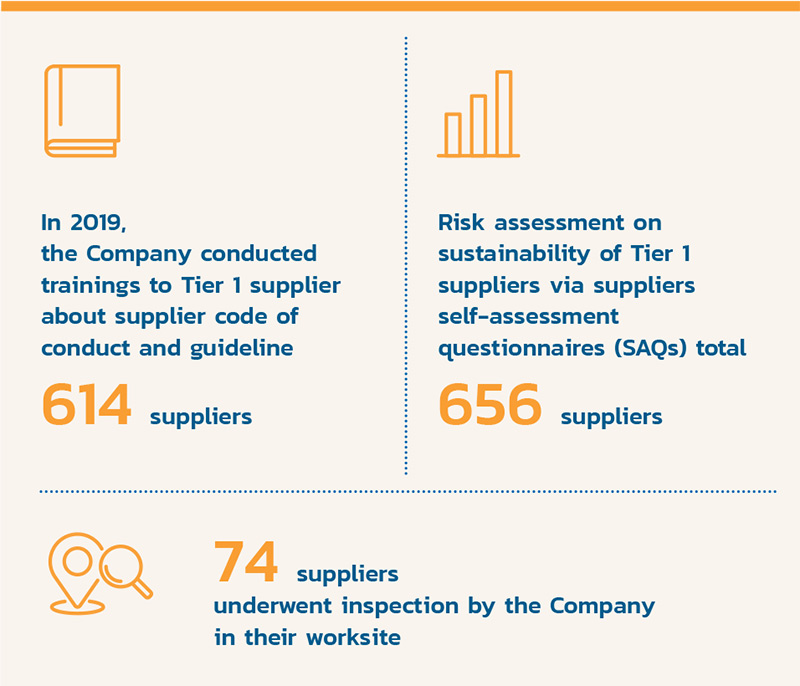 Determined to be the leader in innovation, product development, and creative service, the Company continually strived to work towards creating an innovative workplace culture and encouraged healthy living for consumers. Through the enhancement of production processes aimed at improving food nutritional value, quality, and product safety.