In 2021, the Company continuously operated according to the strategy set prior, while simultaneously developed and improved performance effectiveness throughout the year. This facilitates the Company to achieve sustainable development goals, encompassing economic, social and environmental dimensions, as follows.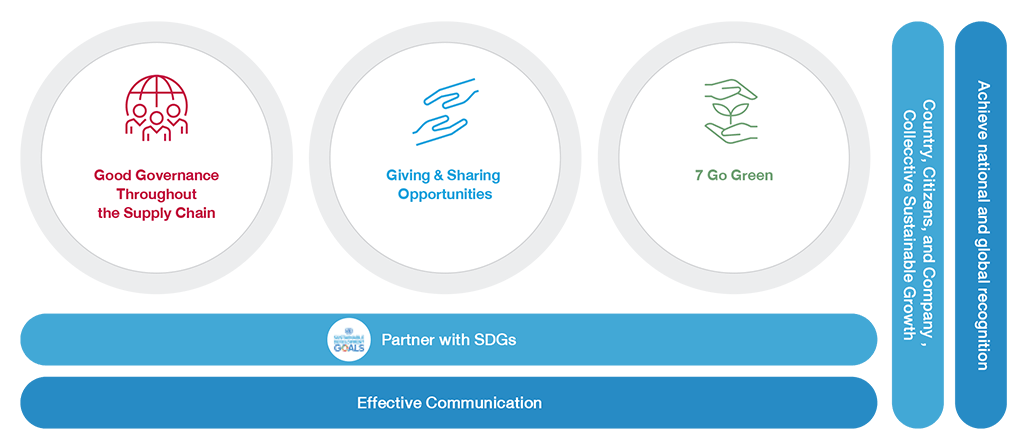 Good Governance throughout the Supply Chain
The Company continuously reviews and improved its governance policy to ensure suitability and compliance to the Company's good governance principle, relevant laws, and international practice guidelines. Furthermore, the Company promotes anti-corruption efforts by utilizing a Digital Compliance System as relating to each department, to raise awareness and serve as a good guideline for all employees in the Company. This is simultaneously achieved with continuous reviews of emerging risks potentially affecting the business in 3-5 years, to prepare and promptly identify response means. Additionally, the Company has been mindful of the technological risks, thus it has set a cyber security and safety management system, including personal data protection of employees in the Company, as well as customers and suppliers alike.
Furthermore, the Company also creates inspiration to employees via various projects, such as Reward & Recognition, as well as pushing for changes for suppliers through supports for good governance and suppliers' sustainable capacity building throughout the value chain.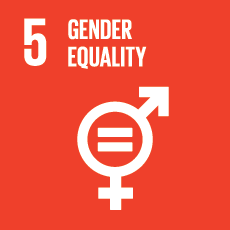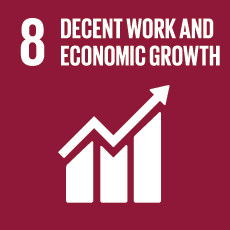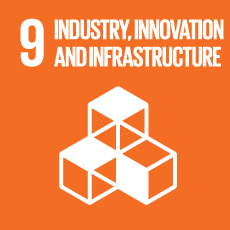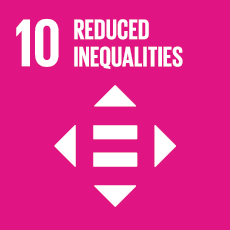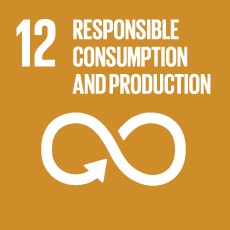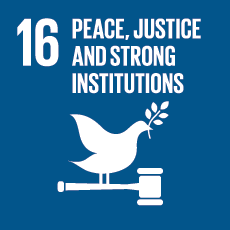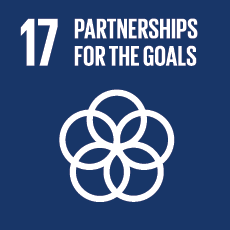 Creating Inspiration for Employees
Creating Changes for Suppliers
*PDPA refers to Personal Data Protection Act 2019 or Personal Data Protection Act B.E. 2562
Good Governance Performance throughout the Value Chain 2021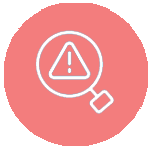 285 Process
of the departments received risk assessment
100%
of the departments has risk management plans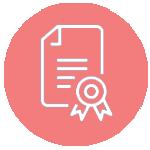 100%
of employees and suppliers were communicated about anti-corruption policy through ethics handbook and work code of conduct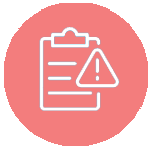 0 Cases
of grievance on personal data protection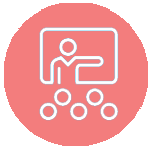 100%
of employees received trainings on personal data protection risks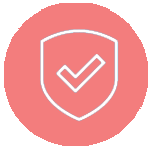 ISO 2000 and ISO 27001
Standardized process as accredited
Giving and Sharing Opportunities
The Company promotes social value creation and is committed to 'build a future' by giving educational and vocational opportunities to those in the community, as well as sharing the necessity skills and knowledge for future employment and income generation. This is achieved through establishment of educational institutes and scholarship grants for youths, underserved people and vulnerable groups, in order to provide opportunities for everyone in society to access quality education.
Opportunities are shared through vocational support and provision of agricultural produce celling distribution to enhance community's income of farmers and SMEs, micro-entrepreneur, and vulnerable group. Furthermore, the Company provides aids to community through the project, 'Eat well, Live Well, Be Happy,' Tao Kae 'Community's Good Health Center' Project, Thais Together Project, to foster locals' livelihood and better quality of life.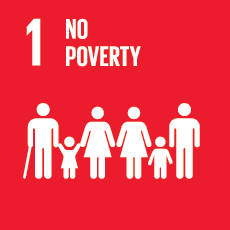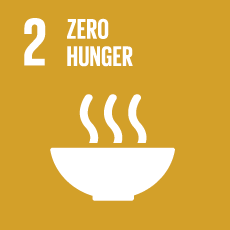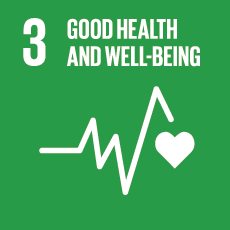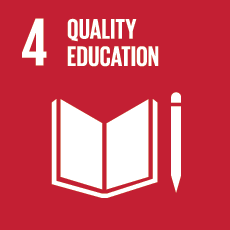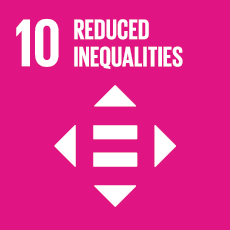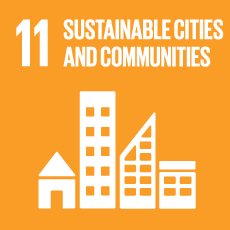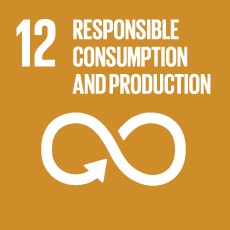 2021 Performance under Giving and Sharing Opportunities Strategy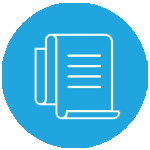 Support youths in accessing quality education
44,739
youths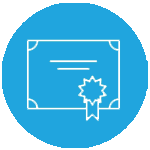 Support scholarships
37,132
scholarships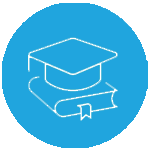 Youths and adults having received trainings in necessary skills
54,353
youths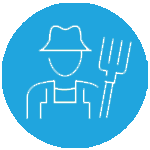 Farmers
18,802
farmers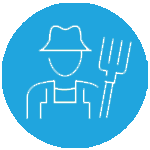 Purchase value
7,380
million Baht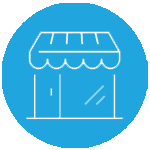 SMEs and micro entrepreneurs
33,882
persons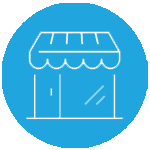 Purchase value
22,289
million Baht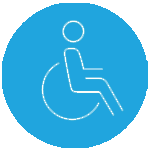 Vulnerable groups
12,169
persons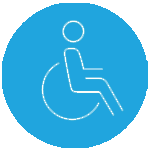 Aids valuing
79.53
million Baht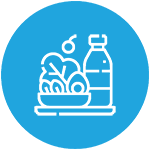 891,078
persons
Gained access to safe, nutritious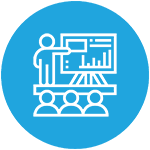 1,147
persons
Vulnerable groups, governmental agencies and communities recived training for fire drill and emergency evacuation
7 Go Green
The Company implemented 7 Go Green Strategy under the 4 key approaches, comprises Green Store, Green Logistic, Green Packaging and Green Living. In 2021, the Company worked on diverse projects, such as energy-centric project, reducing consumption, promoting renewable energy usage via installation of Solar PV Rooftop for 7-Eleven stores and distribution channels. Furthermore, the Company has promoted reused of plastic waste per circular economy principle, such as employee uniform made from recycled plastics, bag projects from stretch film, to name a few. There are also efforts fostering reduction of fuel usage via pilot projects of product-transporting electric vehicles. Simultaneously, there were environmental projects from collaboration with stakeholders, such as suppliers, opinion leaders, and public sector, fostering an environmentally conscious mindset throughout the value chain.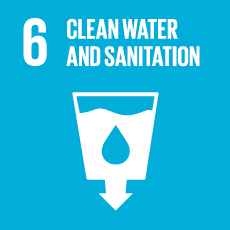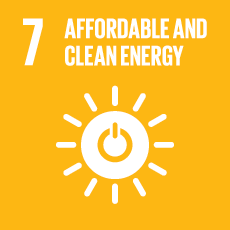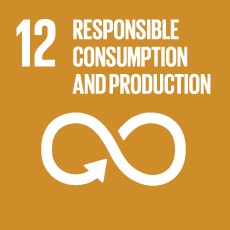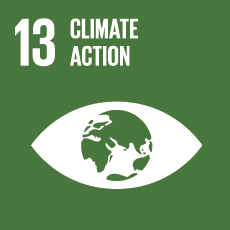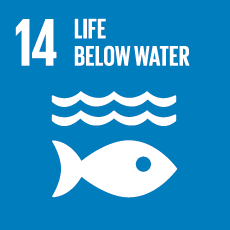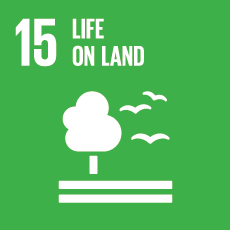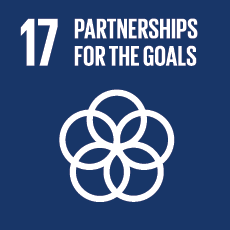 2021 Performance under 7 GO Green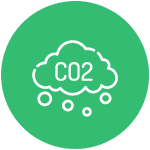 Increase energy usage efficiency
46,870.03
megawatt-hour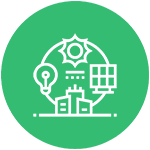 Used of alternative energy in operations
9,169.96
megawatt-hour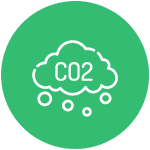 Reduce of greenhouse gas emission
23,116.38
tonnes carbon dioxide equivalent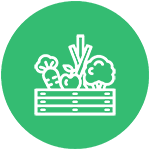 Reduced food waste to landfills
5,149.72
tonnes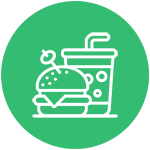 Donated over
173,898
meals
surplus food to
118
communities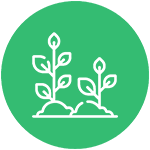 planting trees
228,240
trees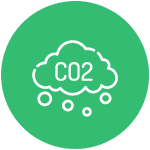 Reduced GHG emissions
5,349.52
tonnes carbon dioxide equivalent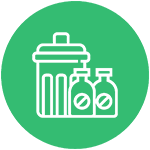 Reduced volume of plastic usage
6,509.78
tonnes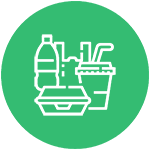 Reduced amount of waste generated through sticker, straws and paper wrapped strws usage
322.57
million pleces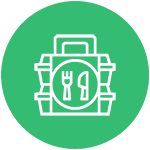 Reduced single-use plastice usage
26,405.15
tonnes per year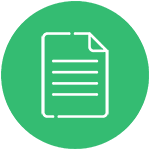 Reduced paper usage
319.49
tonnes
Reduce the amount of plastic waste to landfill and recycle
1,115.02
tonnes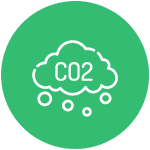 Reduced GHG emissions
356,193.06
tonnes carbon dioxide equivalent
equivalent to plantation of
8,283,559
trees