Energy Conservation Management
CP ALL Public Company Limited recognizes the importance of energy use as it is related to business operations as well as the daily life of consumers. No less important, energy use has an impact on the environment and climate change. Due to the operations of 7-Eleven Stores has opened 24 hours daily, the energy consumption was taken in high level. Therefore, we are committed to taking part in minimizing the aforementioned impact by supporting and driving different units in the organization to improve energy efficiency in their unit and business activities, and promoting the careful use of natural resources for the greatest productivity. We also promote the development of new innovations or measures to reduce overall energy use, the increased use of renewable energy and clean energy, and low carbon activities. Due to our continued efforts in this area, numerous energy conservation projects have been initiated and implemented.
Goal and Performance against Goal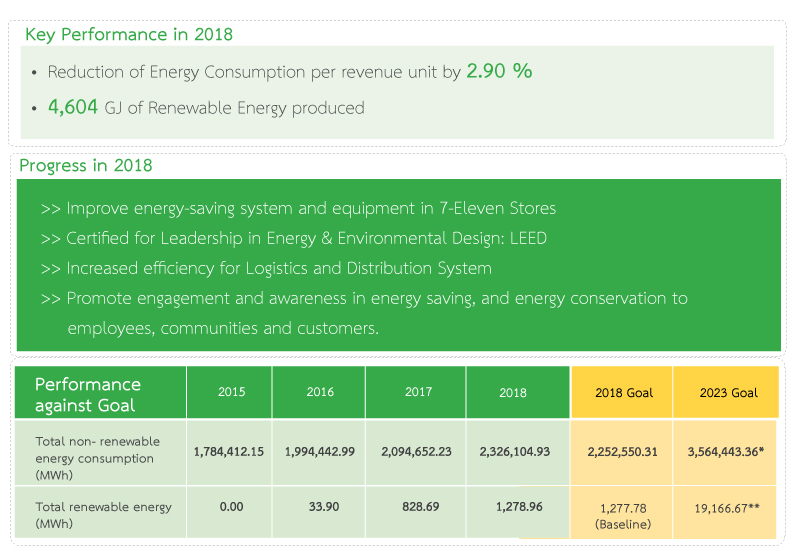 * Forecast of total non- renewable energy consumption assumption increase 9% per year from baseline (2018)
** Target of accumulated renewable energy consumption in 2023 has increase 1,500% (15 times) from baseline (2018)
 Note: Total non-renewable energy consumption = Non-renewable energy consumption + Electrical purchased
Benefit
693.18 GJ was produced from the solar cell project and saving cost over 577,000 baht in 2018 (Estimated from electricity rate 3 baht per unit)
Implementation
Green Stores
The Company has worked to improvement different system and equipment in 7-Eleven Stores. The project is part of the sub-strategy 'Green stores,' which includes adoption of LED lights, adoption of inverter air conditioners, efficiency improvement of cooling coils for large cooling vaults, solar energy projects, and improvement of cooling systems in screenless product display shelves. Furthermore, the Company has developed the Ready-Made Stores, whose structure is produced from factories (Knock down). It uses insulated materials as the building's exterior. This results in reduction of energy consumption from air conditioners and pollution, as well as reduction of construction waste.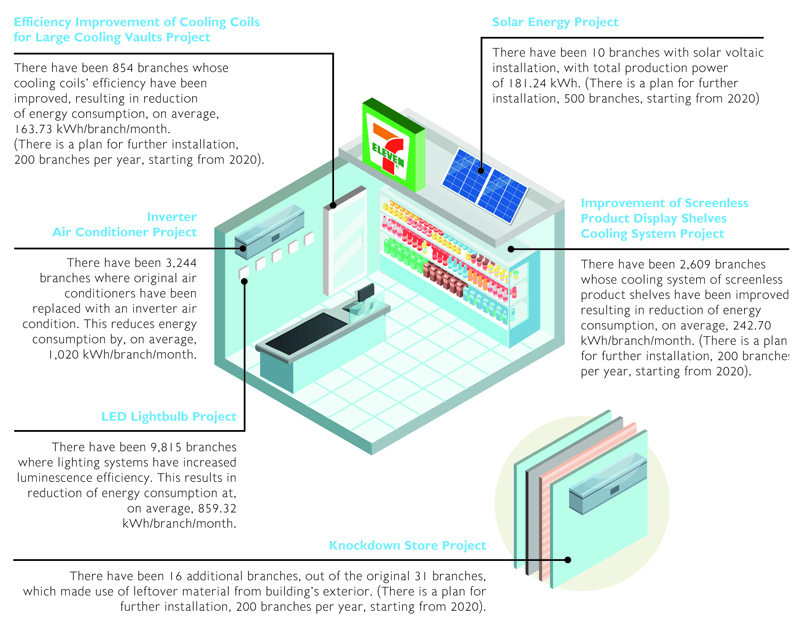 Energy-Efficient Prototype Store "Tara Square"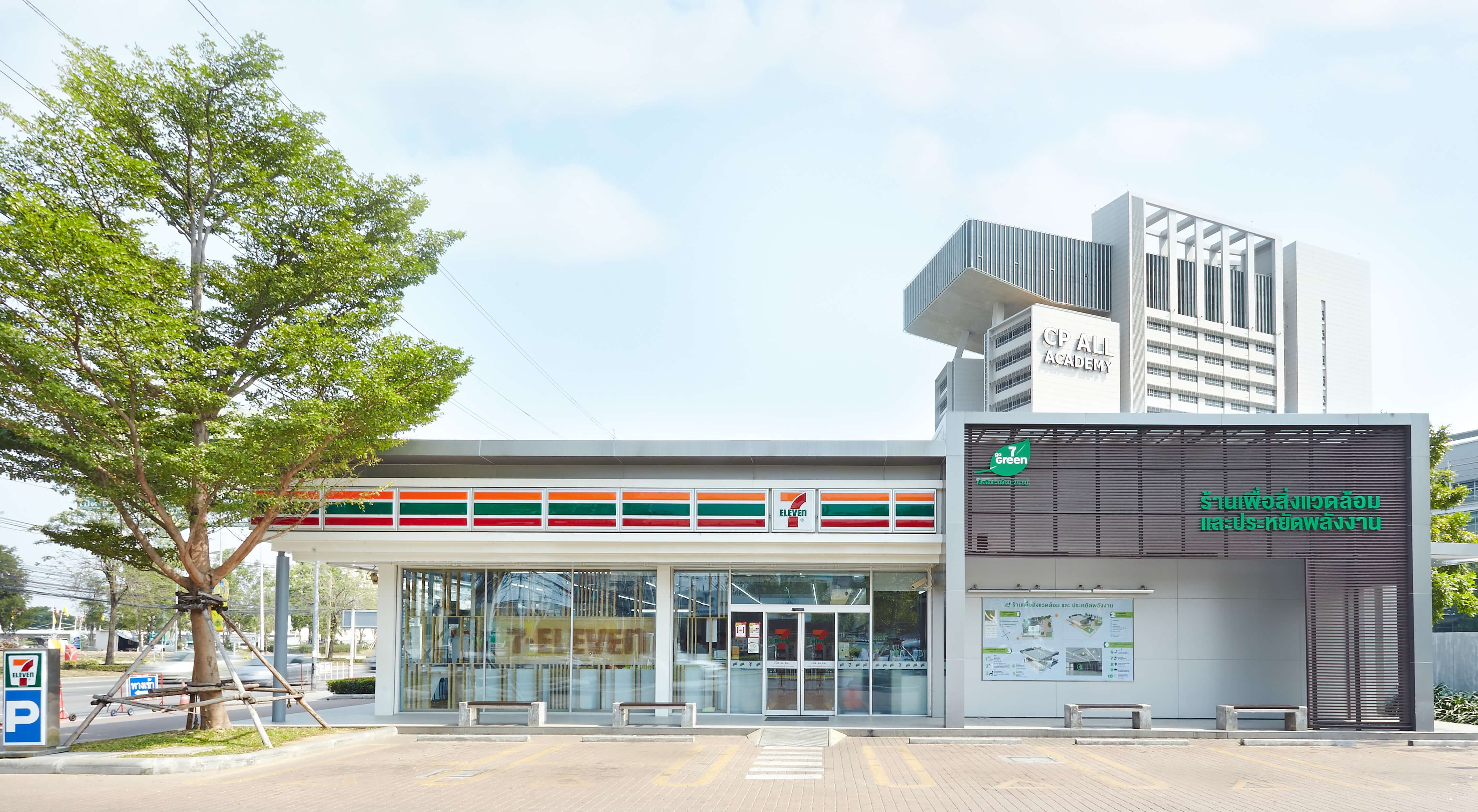 The 7-Eleven store at Tara Square on Chaengwattana Road is the first convenience store in Thailand and ASEAN to receive the TREES Platinum Green Building Rating, the highest rating from the Thai Green Building Institute (TGBI) according to the Thai's Rating of Energy and Environmental Sustainability (TREES) standards. TREES standards cover building design, construction and management; layout plan and landscape; water, energy and air conservation; construction materials and resources; indoor environmental quality; prevention of environmental impact; store equipment; and other innovations. The Tara Square 7-Eleven store is the first and only convenience store in Thailand to receive certification for successfully meeting the requirements of the Carbon Footprint Label Scheme from the Thailand Greenhouse Gas Management Organization (Public Organization) in September 2014. The Tara Square 7-Eleven store had total carbon emissions of 516 kg/year from its activities. The Company recognizes the importance of the country's greenhouse gases reduction policy according to the National Climate Change Master Plan which states reduction of CO2 emissions in the range of 7-20 percent in 2020 as well as support for domestic voluntary carbon market. Thus, the Company nominated the Tara Square 7-Eleven store to participate in the Carbon Footprint for Organization Program as well as the Carbon Offsetting Program. The Tara Square 7-Eleven store offset a total of 167 tons of CO2 emissions.
Energy-Saving 7-Eleven and Digital Technology "Tara Pattaya"

'Tara Pattaya' 7-Eleven Stores situates on Southern Pattaya Road. The branch store focuses on energy-saving innovation and digital technology. Being an extrapolation of Tara Square Prototype store and PIM Sathit store, the building was built in compliance to Thai's Rating of Energy and Environmental (TREES). TREES is also known as Green Building Standard. It makes use of low-mass concrete for the walls, insulated glass to reduce heat and light transfers. The latter helps reduce energy consumption within the store. The solar rooftop helps generate renewable energy, and in the store, only LED lightbulbs were used. This ensures improved energy-efficiency compares to the use of fluorescent lightbulbs. Additionally, outside of the building, EV Charger has also been installed to promote the use of clean energy and environmentally friendly options, such as cycling. This addresses new generation's lifestyle, with much less reliance of private cars.
Green Logistics
Furthermore, basing on Green Logistics, the Company has adopted criteria from Leadership in Energy & Environmental Design (LEED) to aid the design and development process of distribution centers. LEED is one of the most respected standards globally. As of now, two of the Company's distribution centers have been verified as Green building. They are Mahachai Distribution Center, and Chonburi Distribution Center. There is another branch whose certification process is ongoing. In terms of logistics and distribution center, the Company primarily focuses in energy management. This was implemented through Efficiency Improvement of Product Distribution System. This projects comprise changing delivery trucks' size to 4WJ and 4W Chilled. The reduction target for fuel consumption in transportation is at 1,428,445 Liters per year; in conjunction with the reduction target of greenhouse gas emission at 3,920 tons carbon dioxide equivalent. The Company has the plan to expand the coverage to include all distribution centers by the 3rd quarter of 2019. Presently, now 346 delivery trucks have been delivered to distribution centers. That makes up to 72% of all centers. It is anticipated that this project will enable the reduction of 1,029,670 Liter of fuel consumption per year, and 2,826 tons carbon dioxide equivalent.

The Company has also joined in Thailand Voluntary Emission Reduction Program (T-VER) launched by Thailand Greenhouse Gas Management Organization (TGO). The LED Lightbulb project in 21 Siam Makro branch stores was used as supporting evidence for the registration. Furthermore, the Company is also collaborating with logistic company for data collection of scope 3 greenhouse gas emission. It is currently in an early stage.
Sustainability Performance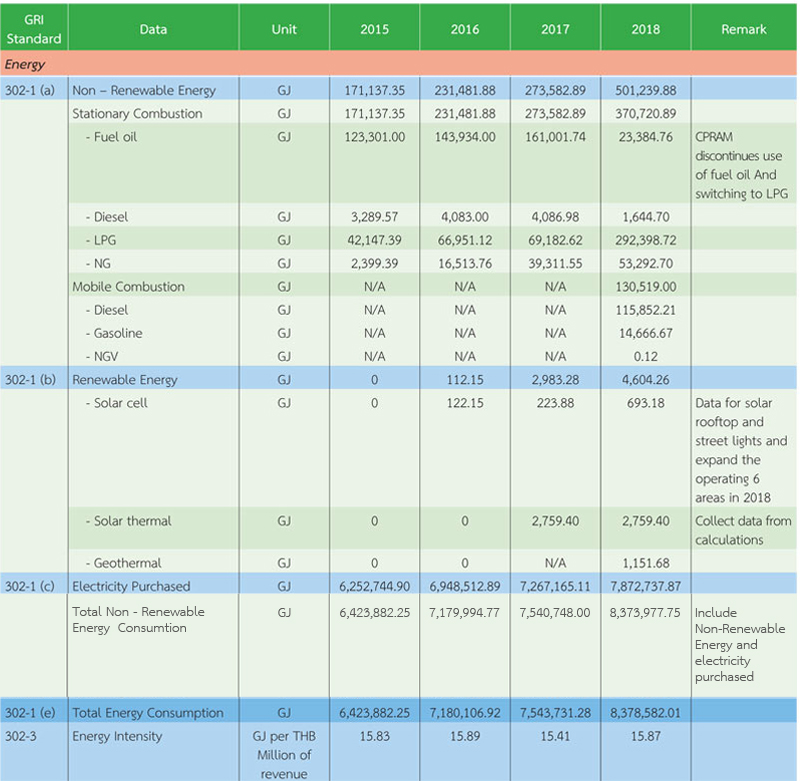 Remark
1. Definition
– N/A: Not Available
2. Standards and Calculation Scope
– Calculations based on 2018 GRI Standard
– Calculation of energy level (joules) is derived from multiplying fuel volume with conversion factor based on fuel type, referencing the Department of Alternative Energy Development and Efficiency
– Total energy usage is the sum of consumed energy, renewable energy, and externally purchased electrical energy
– Energy usage concentration per income unit covers all consumed energy, renewable energy, and externally purchased electrical energy.