Message from Chairman and Chairman of Executive Committee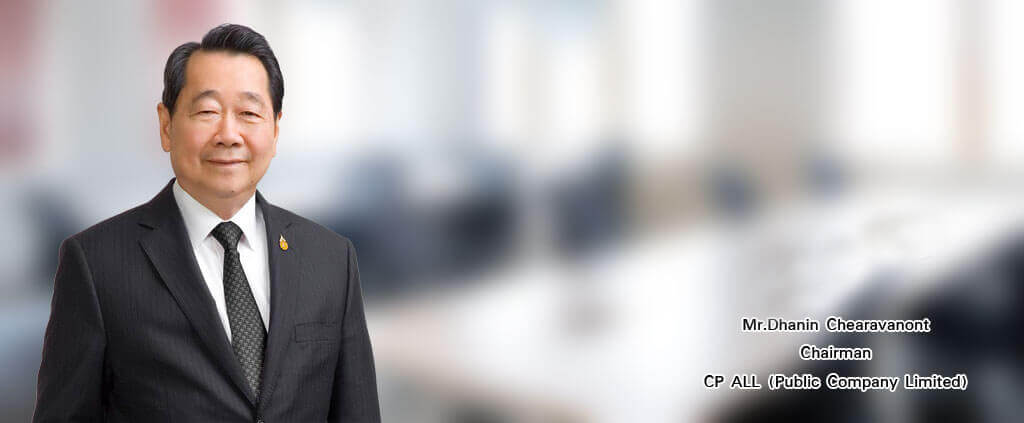 Message from Chairman
For over 30 years that the Company has conducted its business alongside the Thai people, the corporate philosophy "3-Benefit Principle, to nation, to people, to organization" is a commitment that has guided us in forwarding happiness to the communities and societies around Thailand where we operate. Inspired by the notion that we are part of society, this corporate philosophy and concept are disseminated throughout the Company and driven towards sustainable operations and sharing benefits to all sectors involved.
The corporate philosophy and concept are reflected in our corporate strategy, which strives to create impressive experiences and smiles through products and services that our customers receive across all channels. This is to prepare for Thailand's entrance into a digital society, and meet the expectations and demands of changing social milieus both at the national and international levels. In achieving the Company's continuous and stable growth, alongside that of broader society, and in meeting customer expectations from all fronts, our corporate strategy is also infused with a sustainable development credo. The 2020 Sustainability Targets are aligned with 15 key elements on the Company's sustainable development and that of its Stakeholders. These targets have been translated to short-, medium-, and long-term action plans. The Company greatly hopes to be involved in pushing forward the realization of the United Nations' Sustainable Development Goals (SDGs), and has reported its sustainability progress under the UN Global Compact (UNGC) framework. The Company is conscious of the importance of responding to a myriad of these challenges, such as good corporate governance and transparency, human rights due diligence, and innovation management. In order to manage these challenges and propel a broader impact, the cooperation of the management team and employees at all levels, as well as the involvement of stakeholders throughout the value is required. I believe that our Company's success over the past 30 years is borne out of a genuine determination and the involvement of all stakeholders. I would like to thank everyone for being part of our success.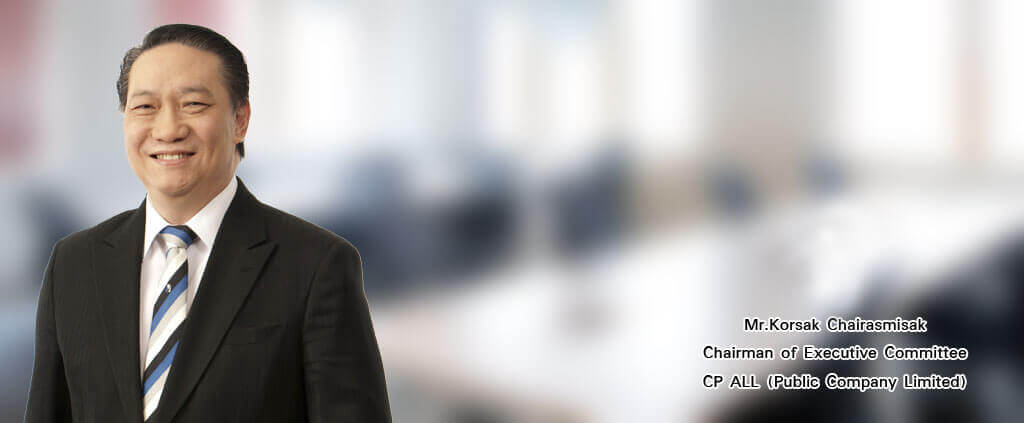 Message from Chairman of Executive Committee
The Sustainable Business Award 2017, given based the organization's sustainability, and the selection into the Dow Jones Sustainability Indices (DJSI) in the Emerging Markets category of the Food & Stapes Retailing industry group marked an important first step on sustainability on the global stage. The award compares worldwide leading businesses based on corporate performance indices through a sustainability lens. It enabled to review issues on which we performed well and those that need improvements. This achievement is part of a journey in corporate sustainability, paving the way towards the Company's success in business, the environment, and society.
This year, the Company designed a new corporate strategy which will cover 2018 to 2022. The strategy integrates international sustainability approaches into business practices. In spearheading a sustainable business, as per this strategy, we are working with organizations that have sustainability committees as part of our core operations and that of our subsidiaries. An example of this cooperation includes initiating a Human Rights Due Diligence following the Guiding Principles on Implementing the UN Protect, Respect, Remedy Framework for Business and Human Rights. Notwithstanding this, we are working to expand our sustainability scope by communicating expectations to and promoting actions related thereto with our business partners throughout our value chain, who are important stakeholders in conducting business in the retailing industry.
We greatly hope that our determination on the sustainability front will light up smiles and give happiness among our employees, business partners, the government, broader society, and our stakeholders. The Company wishes to be part of the driving force behind the sustainability wave in business, society, and the environment because this is our responsibility…as a member of society.