Social and Community Support
Spread the love from hearts, fostering community's resilience
Building good relationships with communities in which the business operates is a value on which CP ALL Plc. and its Subsidiaries ("the Company") places great importance. This is because communities are neighbors, customers, and business partners all at the same time
Furthermore, the Company's operations then affect the communities in one way or another, which at times may cause concerns from the communities. These concerns may evolve into conflicts that affect the overall relationship with stakeholders, comprising customers, suppliers, and any individuals living the vicinity of the Company's operations. In 2020, the Company shall have no significant conflicts for all business operations and in all areas where it operates
The Company is determined to operate its business with attentiveness to all suggestions, concerns and expectations from the community – in every process of the Company's operation. The Company aims for community's economic development, in conjunction to raising the quality of the environment, as well as the residents' quality of life. This reaffirms the faith and sustainable shared-value creation, in accordance to the Company's ideal: "Giving and sharing opportunities for all"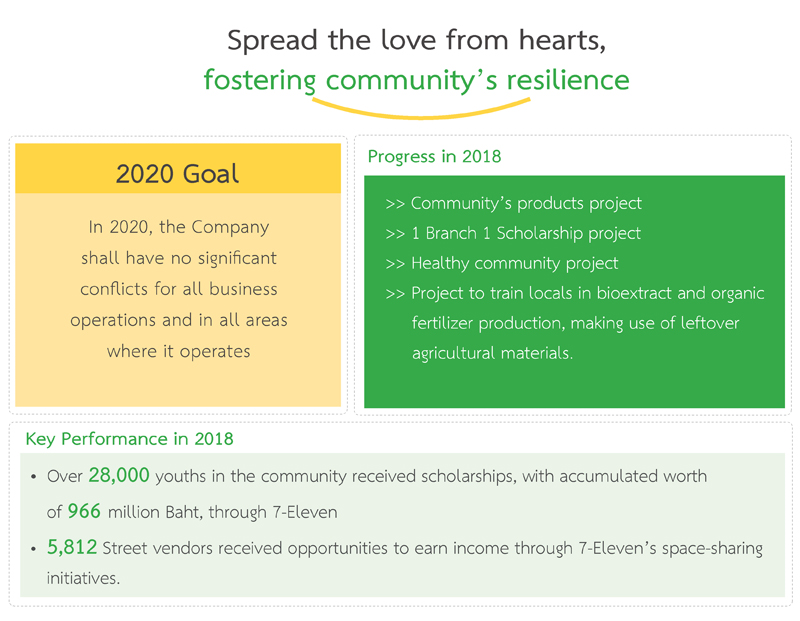 Performance
To achieve its goal, the Company has laid out a business operation approach focusing on social responsibility towards communities and society. This is in alignment with the Company's Business strategy and direction, as follows:
– The Company's Social Responsibility policy
– Strategy and approach in sustainable community development through Community Support Center (CSC) under 3  key principles which are:
To create local jobs through projects with local employees, local contractors, and local products.
To support local education through 1 Branch 1 Scholarship project
Volunteer activities through community and social development projects in various forms. This includes specifying branch stores with suitable space to serve as a knowledge exchange centers for community and governmental agencies.
– CP ALL Opportunity Days Project's working team encourages and supports local SMEs in communities to develop their business potential for sustainable business growth.

– Grievances mechanisms for stakeholders, channels for community's concerns and suggestions, as we as the approach in responding community's needs. The key steps are as follows: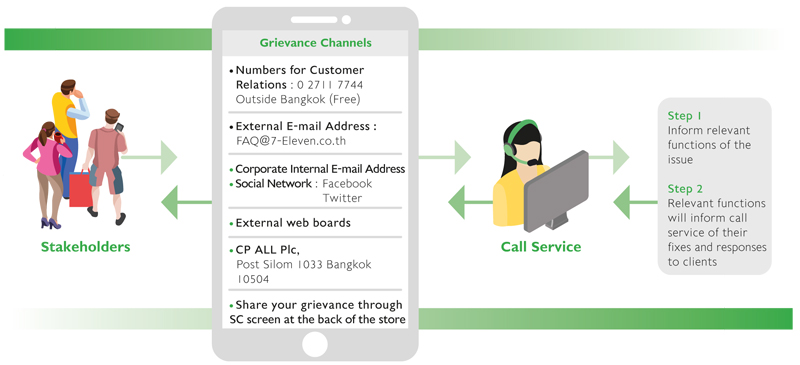 – The Company's attentiveness to community, demonstrated via community's satisfaction survey on its operations
Furthermore, the Company has also integrated the approach for addressing community's needs and concerns as part of branch store expansion. The process can be concluded as follows.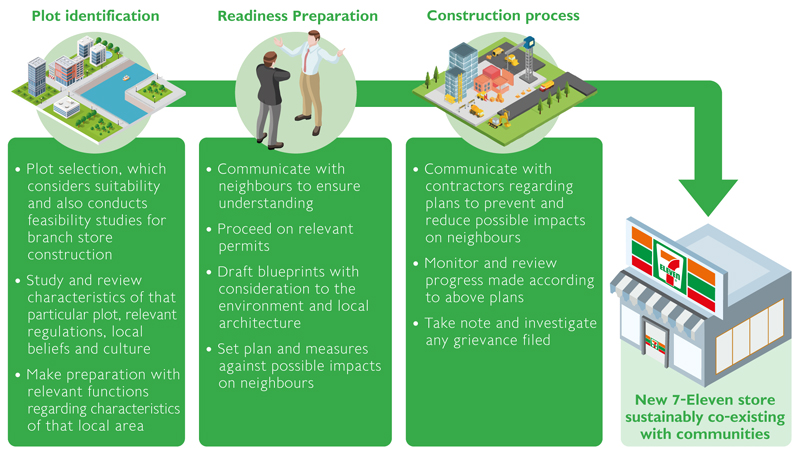 Performance
The Company aims to foster co-creation of shared values between the Company and communities, in cognizant of how importance community's trust is to business operations. As of 2018, the Company provides financial and resource supports in implementation of key projects to address community's concerns.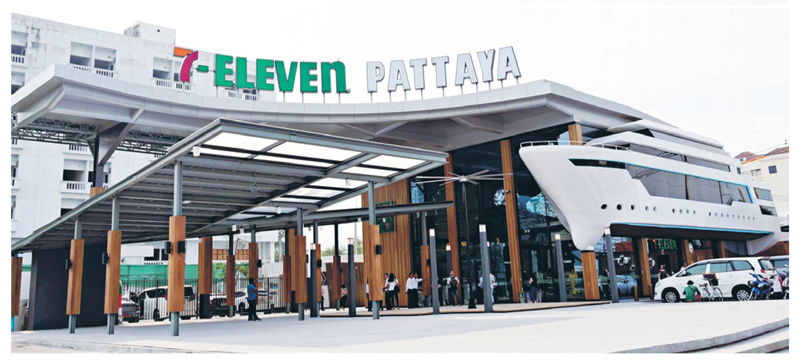 Considerate construction to local architecture
The Company surveys the environment and local architecture, as well as noting community's concerns prior to construction launch. For branch stores in areas with local architectural sensitivity, the Company takes efforts to address the concerns. Branch stores are designed to be in harmony with local architecture and environment. They will also boost tourism in that particular area.
As of 2018, the Company opens Tara Pattaya Branch 7-Eleven, the new landmark of southern Pattaya. It was under the Company's Flagship Store, designed with the concept of Oceania, giving off vibes of the ocean – in combination with key characteristics of Pattaya, a global tourism destination. The store illustrates local characteristics of the Eastern region, notable with dolphins and the sea. The store does not sell alcoholic beverages and cigarettes.
Yacht was used as a key element in the design. To further provide customers with opportunities to relish the beauty of Thailand's sea, the Company collaborates with Burapha University for supporting media. Together, visual media sharing the beauty of Thai sea was produced. The media aims to raise public awareness in sustainable biodiversity conservation of Thai seas.

From community's economic concerns regarding the Company's operation, the Company sets the following plan to foster local economy.
To create jobs for local communities
The Company promotes local hiring, and has the practice of hiring local contractors and labors during construction of branch stores. This grants community the mutual feeling of achievement. Additionally, the Company also takes local hires to work in 7-Eleven stores across the country.
To support community's economic development
The Company elevates local economy by strengthening products from local communities, or OTOP products. It also collaborates with local small- and medium-size entrepreneur (SME) in improving the local products and respective packaging. The Company also works to increase distribution channels of the products through 7-Eleven's community product project. This helps increase the sales of local products. Overall, local products, whose product and packaging have been improved, and are offered through the store's distribution, can increased their sales by over 290%. Additionally, the Company has also implemented the space-sharing initiative, where the front of 7-Eleven store is offered up for communities to sell their produces or local products.

Local Products Project
As of 2018, the Company continues with its Local Products Projects for the 3rd consecutive year. The project was launched in 2017 to promote local products and generate revenues to local communities. The Company considers and promotes local products according to the following approach: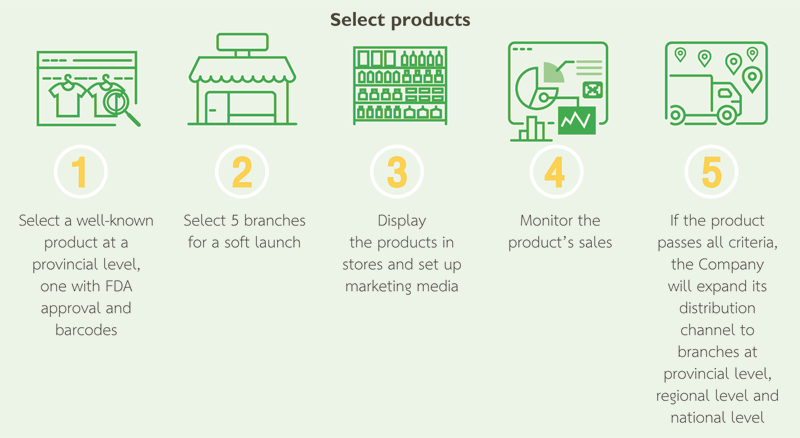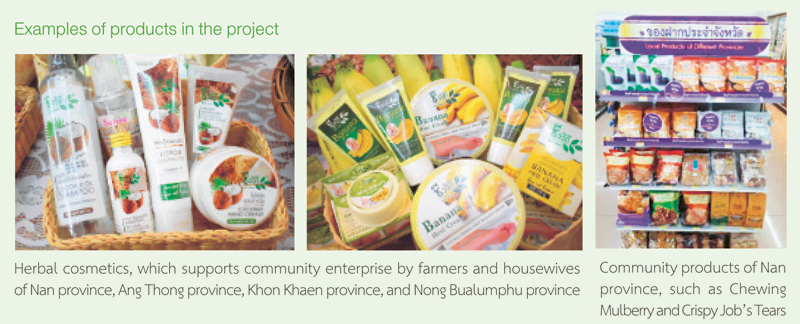 Additionally, to develop local economy, the Company also supports distribution of products from agricultural community enterprise, medium- and large- scale enterprises, Small- and Medium- Enterprises, as well as cooperatives.
In 2018, the Company started supported products from aforementioned group. The list is as follows.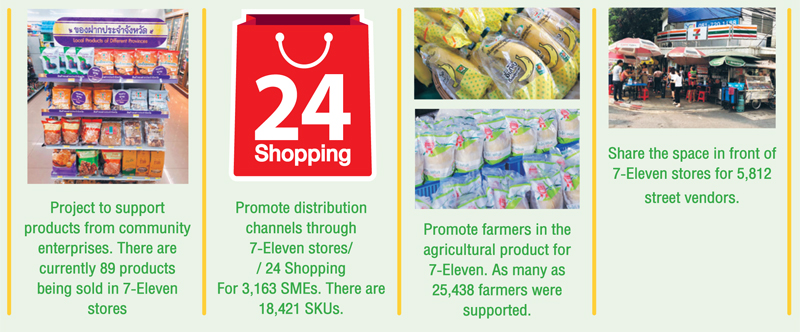 Aside from the projects above, the Company also joins in with its subsidiaries to implement projects that address the community's concerns and expectations. There are as follows.
Healthy Community Project. The pharmacy 'eXta Plus' collaborates with the Bangkok Metropolitan Administration (BMA) to implement Health Community Project. Locals received training to foster their understanding in self-healthcare, good diets, and exercise habits. This will help locals become healthy. The Company also donates medicines for hospitals outside Bangkok, so they may be used for greater benefits with patients.

Bio-extract and organic fertilizer project. This projects promotes the practice and provide locals training in the production of bio-extract and organic fertilizers, using manure and leftover agricultural material.
Bang Bua Thong Distribution Center, in collaboration with La Han Sub-District Management Office, advices multiple communities and local schools in bio-extract production. This will help ameliorate wastewater issue in the community. It can also be used as plant fertilizer for greater produces. Additionally, communities are also introduced to different benefits that can be reaped from manure, food waste, and leftover agricultural materials. These can be used to make bio-extract, Communities also received advices on earthworm farming, which can help enrich the soil and improve its quality naturally.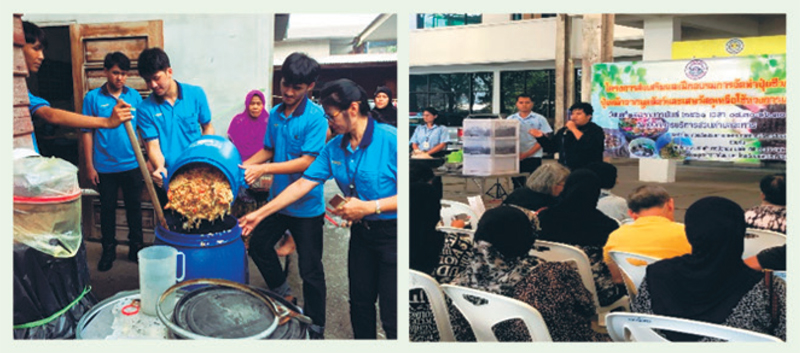 One Branch One Scholarship
The Company provides scholarship to Thai youths through 7-Eleven stores, amounting to over 28,000 scholarship. The total worth is over 966 million Baht. This helps build foundations for Thai youths to continue on to Certification of Technical Vocation, Technical Certificate at Panyapiwat Institute of Technology, 20 of Panyapiwat Learning Centres, Vocational Education Network (VEC), and Private Vocational Education Network (PVEC), Office of Basic Education Commission (OBEC) network, Non-Formal and Informal Education (NFE) Network. This totals to 174 locations across the country.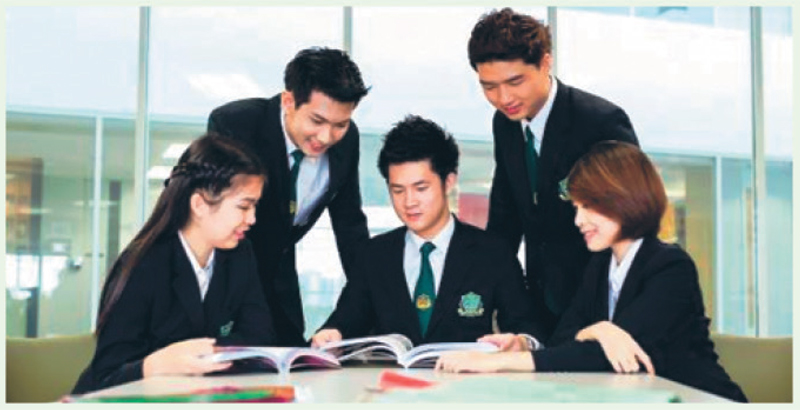 The Company has various channels available to collect suggestions and concerns from local communities. This ensures the Company is able to continuously improvement and better their effectiveness in operations.