Social and Community Support
Spread the love from hearts, fostering community's resilience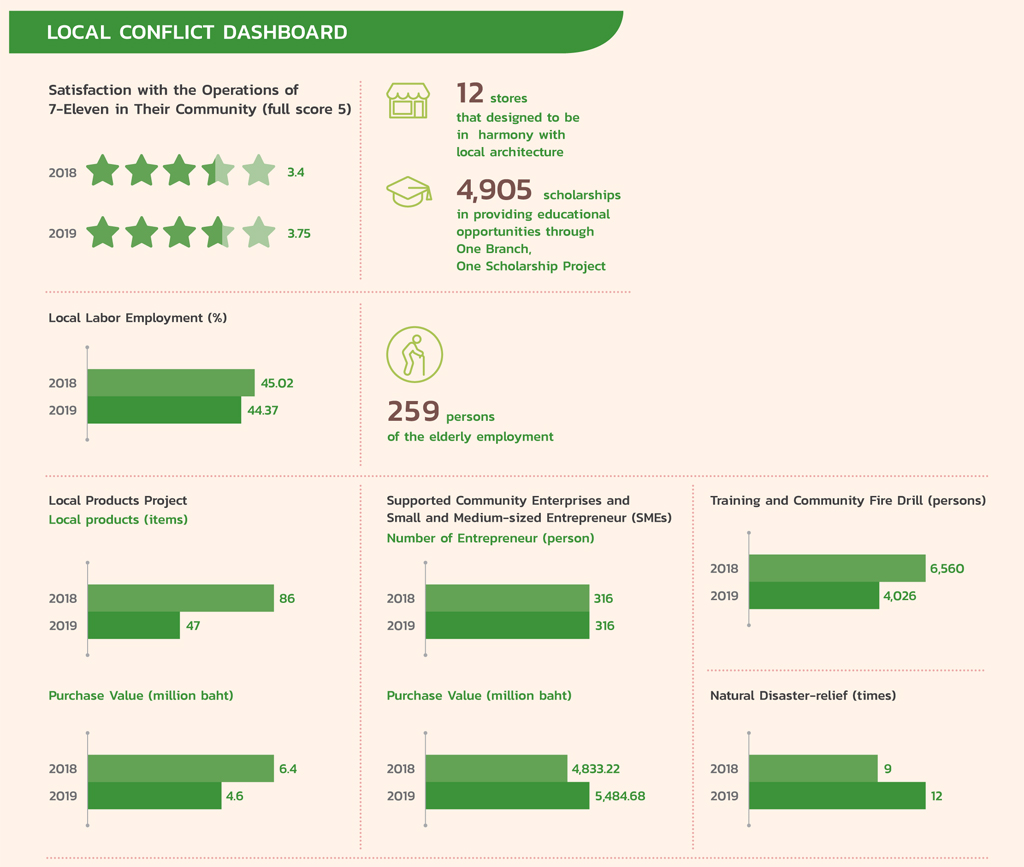 Challenges
---
The operations of CP ALL Plc. and its subsidiaries ("the Company") affect the communities in one way or another, which at times may cause concerns from the communities. These concerns may evolve into conflicts that affect the overall relationship with stakeholders, comprising customers, suppliers, and any individuals living the vicinity of the Company's operations if they are not addressed properly. A good relationship with communities is what the Company focuses on for a sustainable coexistence.
Management Approach
---
Trust from community and society is crucial for the Company. The Company aims to foster co-creation of shared values between the Company and communities. The Company consider community a part of its important stakeholders whose concerns need to be address throughout the process, from pre-construction planning, construction process to post-construction operations, to ensure that the Company will gain trust from society and community where it operates and become a company that Thai people are proud of. The key steps are as follows:
Operational Framework of Creating Acceptance and Easing Concern from Community

The Company places importance on listening to opinions, attitudes, expectations and concerns communities though a variety of means in a  two-direction communication design. This  includes program such as "CP ALL Brand Health Check" to understand the reception, feelings, attitudes and expectations of the stakeholders groups including social and community group-have towards the  Company in the present and the future. Prior to constructing branch stores, factories, and distribution centers, the Company conducts site visits to understand opinions and listen to expectations and concerns form community representatives and thought leaders. In locations where the district and municipality offices have an opinion, the Company conducts public hearings to understand impacts on the lives of people, the community, and society, so that the Company can fully adapt and cooperate. Furthermore, the community's needs and concerns as part of branch store expansion. The process can be concluded as follows:
Construction Process of Branch Stores, Distribution Centers, and Factories that can Sustainably Co-exist with Communities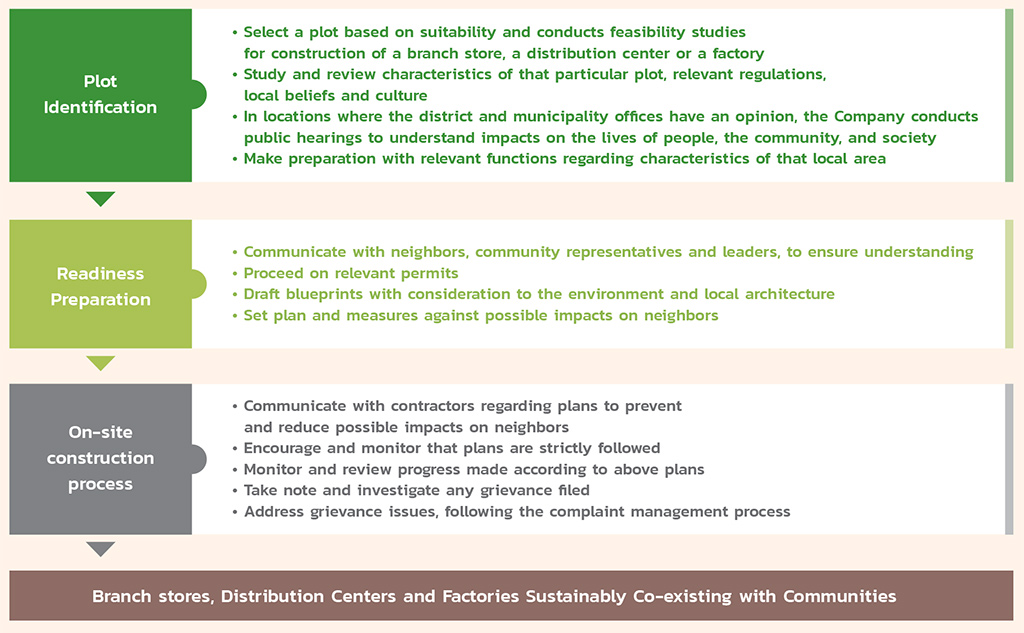 Grievance Mechanisms for Stakeholders
Suggestions and concerns of community and stakeholders are crucial to the operations. The Company provides channels for community to file their complaints, suggestions and concerns through 7-Eleven stores, call center, online channels and public service announcements. The Company also sees the importance of fixing issues and follow up on community's complaints to ensure that feedback, suggestions and concerns of the community informed through different channels get improved and addressed in a quick and effective manner. The key steps are as follows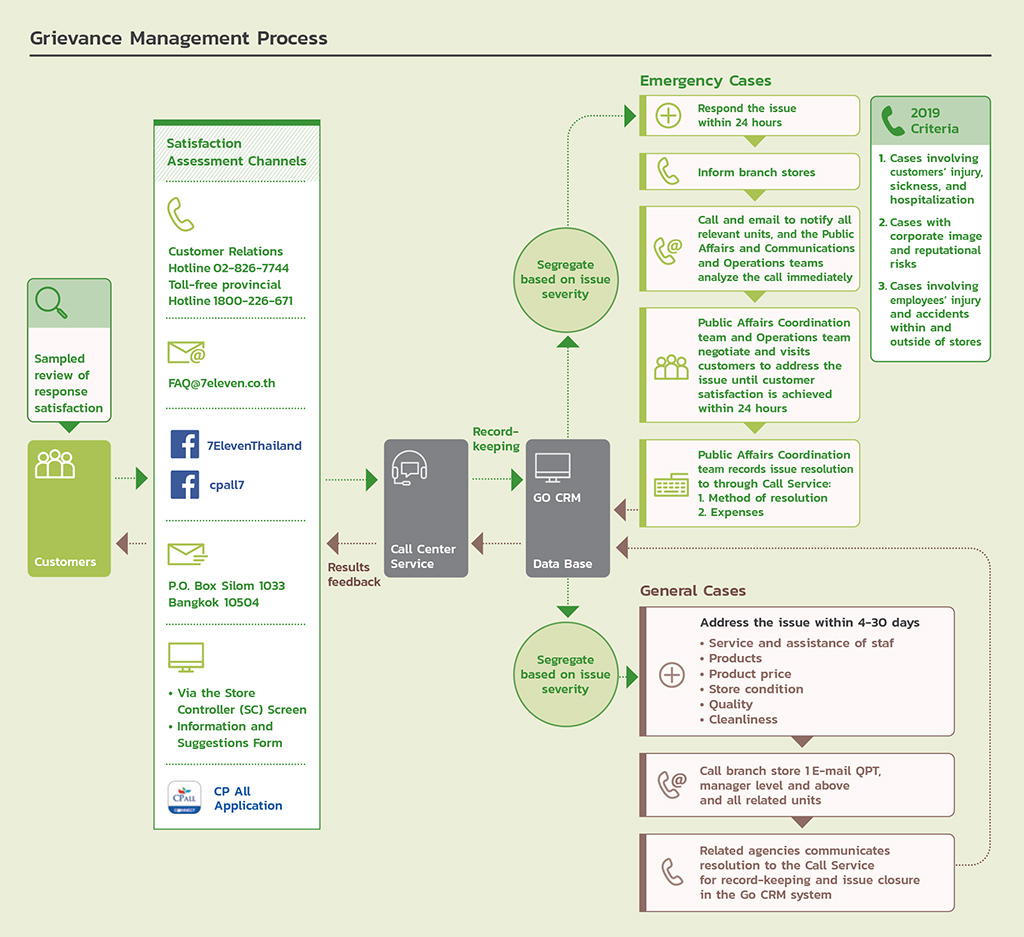 Key Project in 2019
---
Community support center project
Objective to encourage and develop the economic in the community,  to share opportunities and enhance the wellbeing of community, With an aim to "Giving and sharing opportunities "
1.Creating jobs in community As part of Provincial Specialty Project to encourage and develop the economic in the community. The Company encourages local labor and contractor employment, provides job opportunities for senior citizens in community and supports OTOP and local products from community. products need to pass the criteria in order to be carried at 5 branches of 7-Eleven. If the sales target is achieved, the next step is the expansion of product distribution to other branches in the province, the region and across the country. In the present, 34 items from 143 local communities have been distributed across the country.

2.Providing educational opportunities Through One Branch, One Scholarship Project. In 2019, the company sets the goal for store participating at 4,000 branches to reduce the gap and provide an educational foundation for Thai youths to vocational education level at Panyapiwat Technological College, 20 of Panyapiwat learning centers, Vocational Education network, Private Vocational Education network, Office of Basic Education Commission network and Non-formal and Informal Education network. This totals to 174 locations across the country.
Results and benefits

Natural disaster–relief project, trainings and fire drills 
Objective To enhance fire safety in community and to build a good relationship between 7-Eleven and community, as well as to educate the Company's employees on basic knowledge of how to use fire extinguishers
The Company realizes that fire accidents these days can cause a large amount of damage to communities and establishments, which may come from insufficient understanding of fire prevention and suppression.  the Company takes steps as follow
1) Educate and train people on basic knowledge of putting out a fire for community, government bodies and areas with high risks, including Ban Bang Khae Social Welfare Development Center for Older Persons, Thammasat Hospital, Rangsit Home for Babies, and Department of Labor Protection and Welfare
2)  Provide team to support community and society when there is a fire accident. For example, in March 2019, there was a fire accident in a glass bottle manufacturing factory located on Khon Kaen – Mahasarakham Road, Amphur Mueang, the Company was on guard to support the community and society through its Emergency Response Team (ERT) at the distribution center in Khon Kaen who worked together with firefighters and were able to put out the fire within one hour, reducing damages that could have been caused due to the speed of the fire suppression.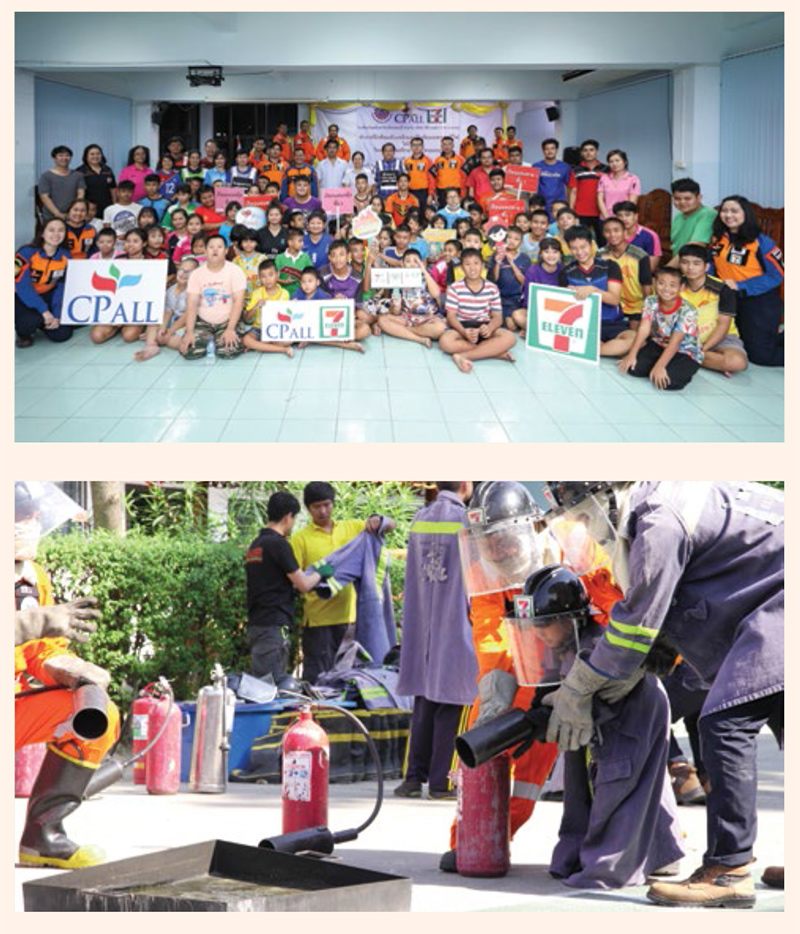 The Level of Satisfaction from Trainings and Fire Drills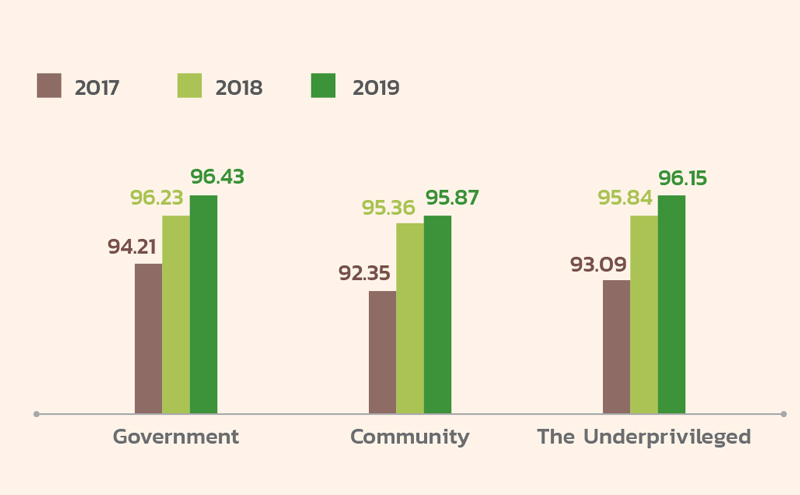 Training and Community Fire Drill (Persons)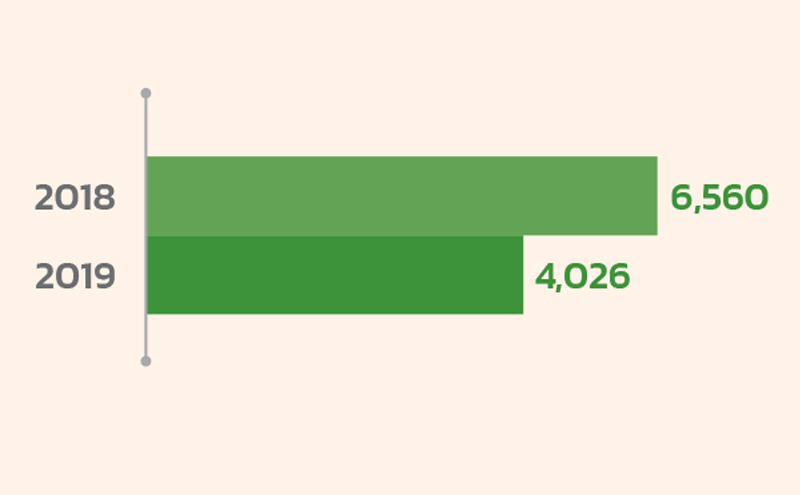 Natural Disaster-relief (Times)