Performance Against Goal
Performance Summary 2021
Governance and Anti-Corruption Training and Assessment
Building a work culture of compliance to regulations, rules and protocols
Corruption cases identified (case)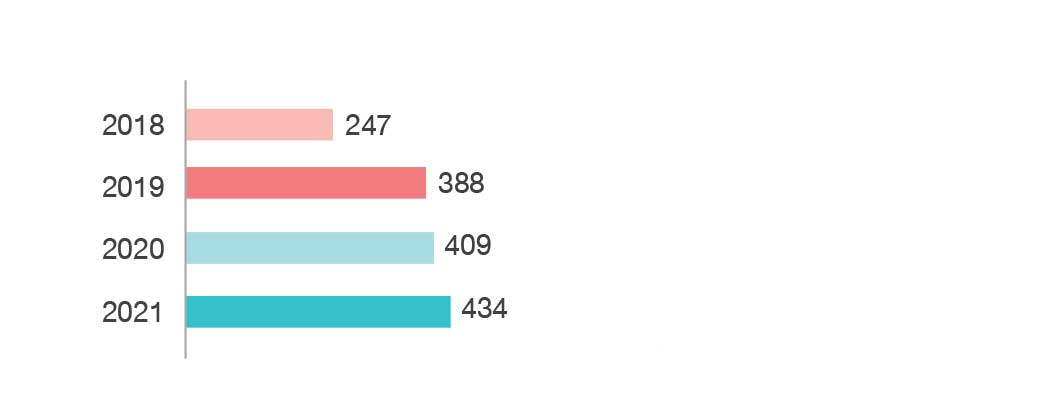 | | | 2021 |
| --- | --- | --- |
| | Corruption found in 2021 | 434 |
| | Corruption cases investigated and confirmed in 2021 | 434 |
| | Cases resolved in 2021 | 434 |
Proportion of operations with corruption cases
Average corruption rate at 7-Eleven stores per year (%)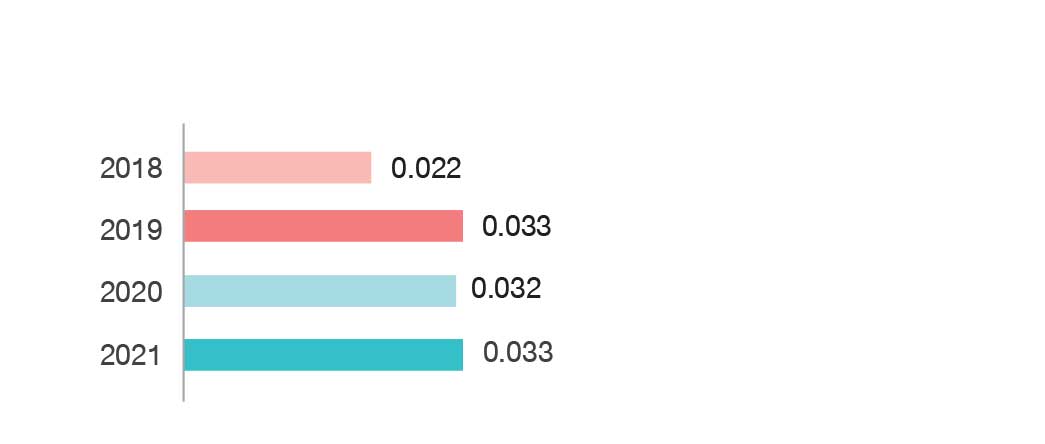 Grievance regarding personal data violation (if any)
investigated and confirmed
Management Approach
Business Ethics and Code of Conduct
The Company conducts business ethically, by reviewing and developing an ethics handbook and code of conduct for all levels of employees, from management to employees, as well as suppliers and contractors. They adhered as a guideline for responsible and honest work, refutation against corruption and human rights violations. In 2021, 100% of employees and suppliers were communicated Anti-Corruption policy through the ethics handbook and code of conduct. The Company established practices against Anti-Corruption, as follows.
Grievance Management and Corruption Case Management
The Company developed a platform for employees to facilitate acknowledgement of grievance or evidence related to corruption and unethical actions within the Company, through various channels, such as.
Furthermore, the Company has a protection measure for complainants and relevant individuals against retaliation. There is also mitigation with appropriate and fair process to persons affected from the grievance. Notably, once the Company has been informed of corruption incidents or evidence, or upon an incident occurring, through any channels, the audit office or human resource department would investigate the initial facts. If there is any substance, a working committee would be established to further scrutinize facts. Upon a misdemeanor being confirmed, the transgressor will be penalized per the Company's stipulated measures. Corrective measures and prevention measures will be implemented and integrated into the work process to prevent recurrences. In 2021, cases of corruption investigated and confirmed, categorized by types, are as follows.
| Corruption Type (Case) | 2018 | 2019 | 2020 | 2021 |
| --- | --- | --- | --- | --- |
| Conflicts of interests | 0 | 1 | 0 | 0 |
| Corruption in reports (Document fraud) | N/A | 4 | 5 | 7 |
| Embezzlement | N/A | 383 | 404 | 427 |
Progress in Grievance Management in 2021
Solution and Measures against Recurrence
Examples of Corrective Actions and Measures against Recurrence
Corruption, in case of embezzlement at 7-Eleven stores' operations
Govern Employees for Proper Compliance
Communicate and Raise Awareness to 7-ElevenEmployees
Monitoring and Tracking Mechanisms

Set up corruption reduction target for 7-Eleven stores' operation line
Appoint a corruption prevention committee for 7-Eleven stores' operation line
Improve 7-Eleven stores' working standard, such as financial transaction of employees
Improve the auditing standard of quality store system, such as field consultant's cash monitoring, input into the cashier, employees' personal financial transaction, monitoring and immediate cash count upon arrival at the store
Monitoring results from corruption case in high-level executive meeting monthly

Communicate business ethics and code of conduct in meetings of 7-Eleven stores' operation line of each area quarterly, as well as communication through the poster "Gigi wants to say"

Organize training and education representatives of 7-Eleven's operation line representatives through the project Mister & Miss Good Governance

Develop the transaction notification system through Alert Banking Agent to categorize those performing transactions, unusual accounting items, or suspicious items; enabling faster identification of abnormal cases and damage prevention

Monitor the performance through CCTV camera online
Review the store system by the quality store system standard audit office
The Company communicated and raised awareness of governance principles for management and employees, both in the offices and operations, inclusive to companies in CP ALL Group. The aim was to build awareness and conduct operations per governance motto, "Honesty, transparency, fairness, considerations to communities, society and the environment." The public relation media is created to proactively educate through various channels, accessing target groups via both online and offline channels, such as.
In 2021, training were organized for 103,257 employees across the country. Furthermore, the Company conducted an assessment to evaluate all levels of employees' governance and Anti-Corruption understanding of CP ALL business group. 90% of employees have demonstrated comprehension and understanding.