Standing Beside Honesty, Stepping Aside Corruption
Key Performance in 2020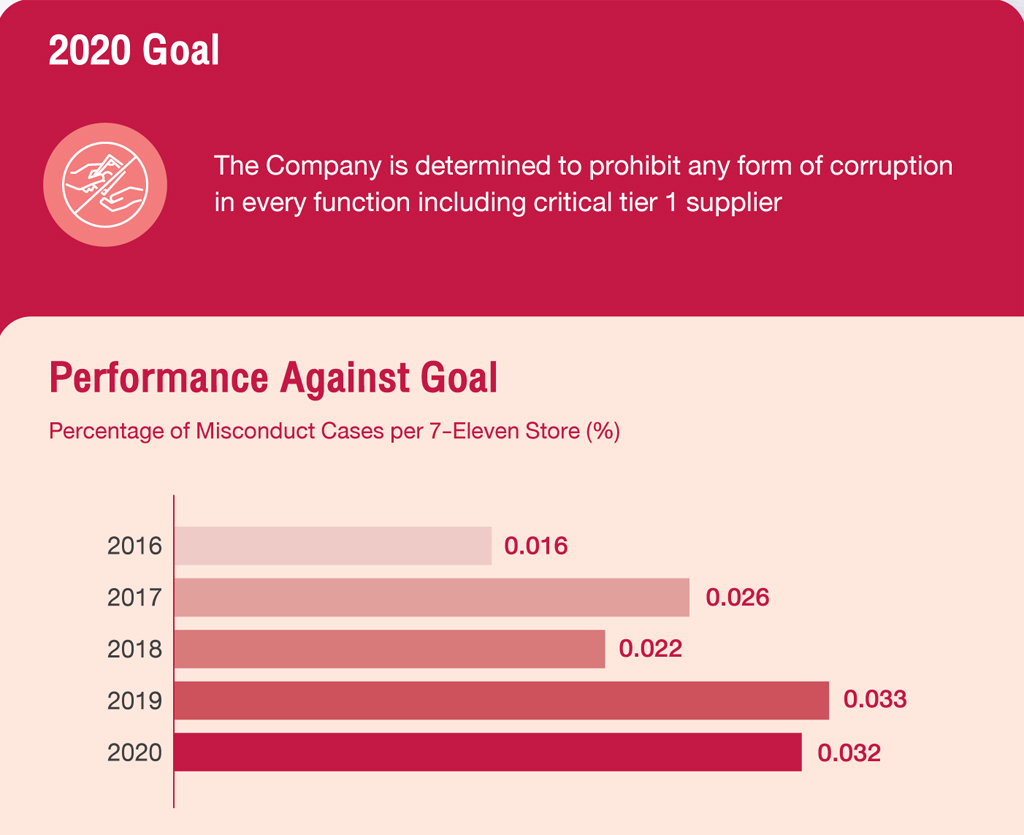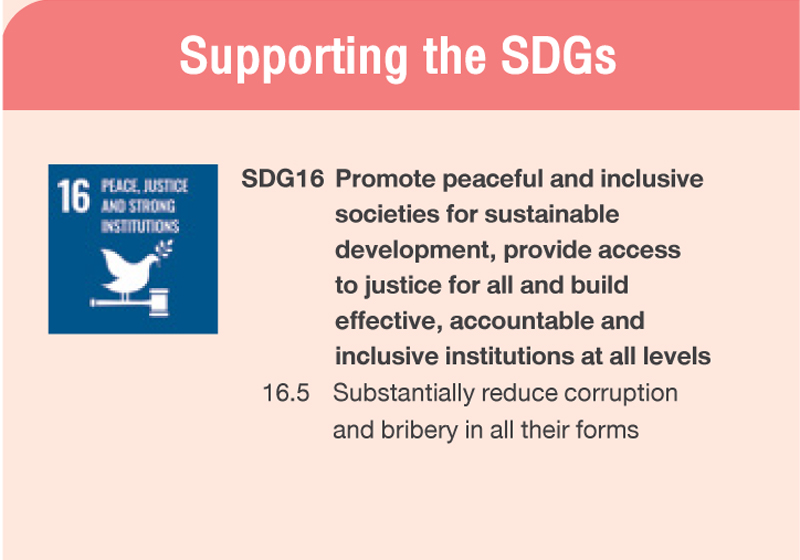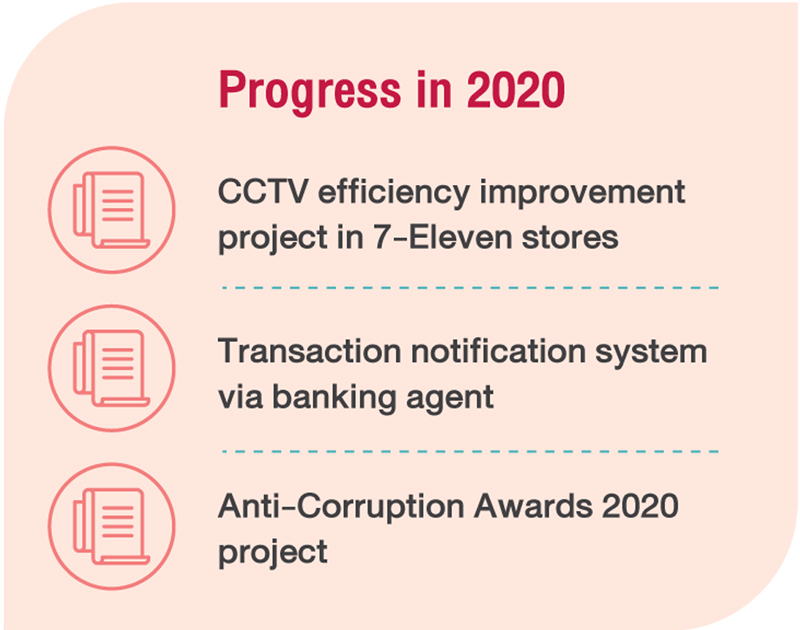 Risk and Opportunity
Corruption is a major issue and a hindrance towards sustainable development in terms of economy and global society, especially in business operations as its occurrence will affect the confidence of all stakeholder groups. Corruption inherently causes difficulty in both business operations and sustainability that may obstruct the Company from achieving its goals. CP ALL Plc. and its Subsidiaries ("the Company") recognizes the importance of this matter and therefore conducts business by adhering to the principles of good governance. Additionally, the Company has announced Anti-Corruption policy and various good practices guideline which enhance confidence of stakeholder groups. Furthermore, this approach is used as guidelines for employees at all levels, including executives, to operate with honesty in an effort to become a wholly talented and decent individual in society.
Grievance and Ethical Management
The Company supports employees to report evidence or information related to activities that are not in line with guidelines on business operations and corruption through various channels, such as email, digital platforms, letters, and telephone. The Company places importance on keeping reported information and evidence confidential and not disclosing the identity of those that report. Additionally, the Company has a whistleblower protection procedure, including compensation procedures in cases wherein whistleblowers experience reprisal. In 2019, the Company has received 443 cases, which can be classified into corruption 388 cases.

Whistleblowing Channels for Code of Conduct and Ethical Violations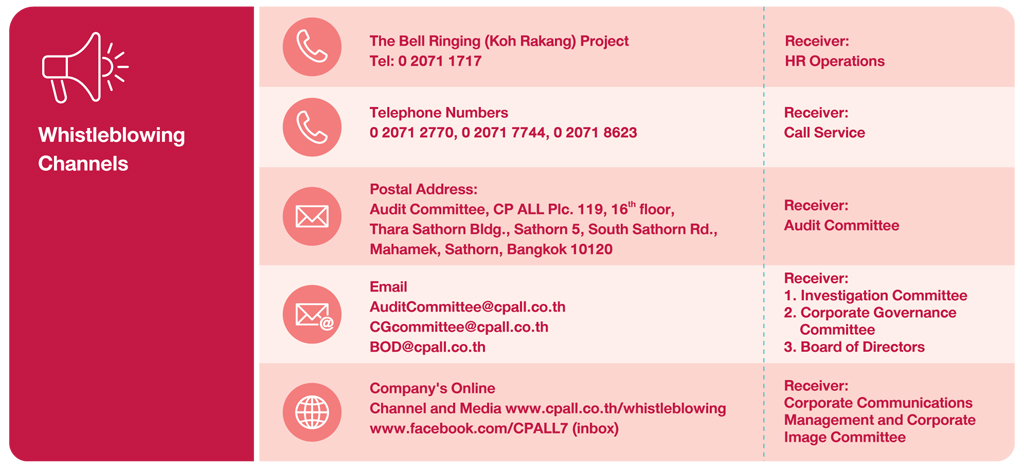 Key Project in 2020
Anti–Corruption Training Project
Objective To increase understanding and awareness for employees on the strict adhering to its anti-corruption ambitions.
The Company has added governance and Anti-Corruption content into the standard training modules via the E-learning system platform for operational level staff and employees. Additionally, the Company continues to expand the training modules and communication on Code of Conduct and Guideline to the supplier.
Impacts and Benefits

Other Information
Whistleblowing and Corruption Management Performance
Average Incidence of Fraud per Store per Year

Breach Cases in 2020

Classified Cases by Categories

Upon receipt of the complaint, the designated committee personnel will investigate the matter. If the complaint is identified as misconduct, violators will receive appropriate disciplinary actions and corrective measures such as the follows.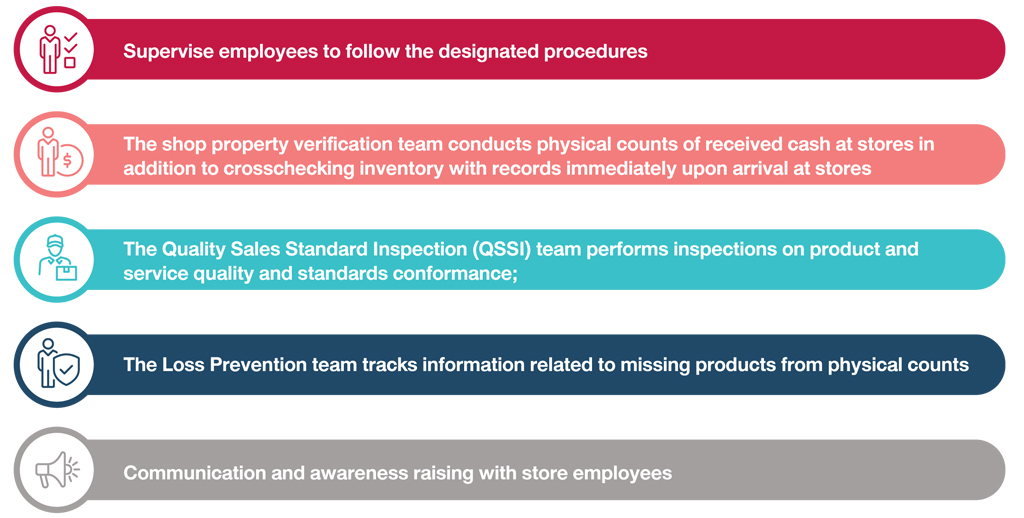 For more details —–> SD Report 2020
Related Policy and Guideline