Standing Beside Honesty, Stepping Aside Corruption

Challenges
---
CP ALL Plc. and its Subsidiaries ("the Company") implemented an anticorruption policy and related procedures in its subsidiaries, with the aim to inculcate good practices, raise awareness on all forms of corruption, and create an organizational culture under good governance and ethical business practices. This is in order to create confidence and meet the expectations of all stakeholders. Nevertheless, there challenges in anti-corruption efforts, particularly in achieving coverage of a diversity of subsidiary business and in communicating to 99,334 employees or 100% which also included the governance body members to ensure the comprehensive implementation of the anti-corruption policy and procedures.
Management Approach
---
The Company has continuously performed business activities within the organization and throughout the supply chain following the anti-corruption policy framework, in addition to making improvements that have adapted to changes in regulatory requirements and specific industry characteristics. The Company has also communicating related policies and guidelines to various committees at all levels in the organization and suppliers. This includes guidelines on anti-corruption, charitable contributions, gift-giving and accommodation, and measures to prevent corruption, among others. The Company has also defined, and continually improve procedures and regulations in alignment with company policies. The Company has defined roles in following its anti-corruption measures, and communicated, through orientations and refresher trainings, to all committee members and employees at all levels to increase understanding and awareness on the strict adhering to its anti-corruption ambitions.
Grievance and Ethical Management Performance
The Company supports employees to report evidence or information related to activities that are not comply with Anti-Corruption policy and relevant guidelines through various channels, such as email, digital platforms, letters, and telephone. The Company places importance on keeping reported information and evidence confidential and not disclosing the identity of those that report. Additionally, the Company has a whistleblower protection procedure, including compensation procedures in cases wherein whistleblowers experience reprisal. In 2019, the Company has received 443 cases, which can be classified into corruption 388 cases.
Whistleblowing Channels for Code of Conduct and Ethical Violations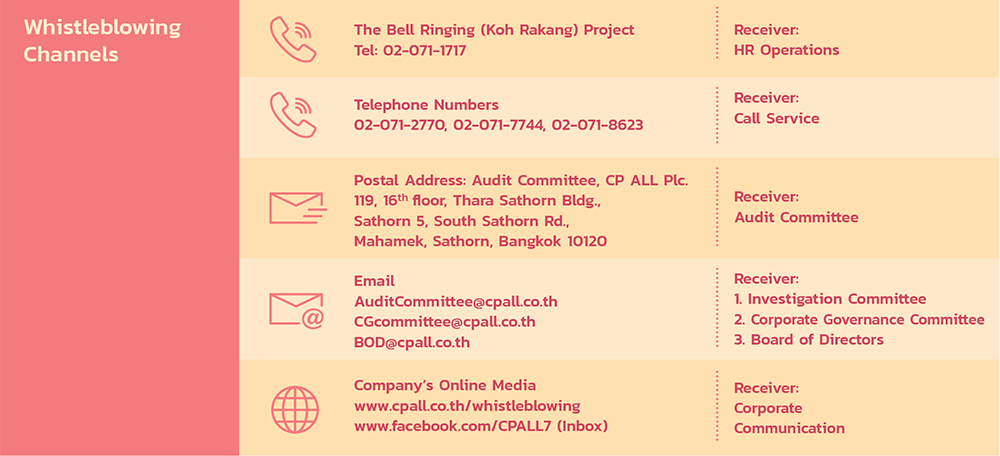 Key Project in 2019
---
Anti-Corruption Training via E-learning Project
Objective To increase understanding and awareness for employees on the strict adhering to its anti-corruption ambitions.
The Company expanded its anti-corruption training to employees and staff at the operational level, in addition to adding training content on governance and anti-corruption to the Company's e-learning standard training modules. Including with communication on Code of Conduct and Guideline to the supplier.
Results and Benefits

Other Information
---
 Grievance and Ethical Management Performance
Ratio of Ethical Violation Cases per Branch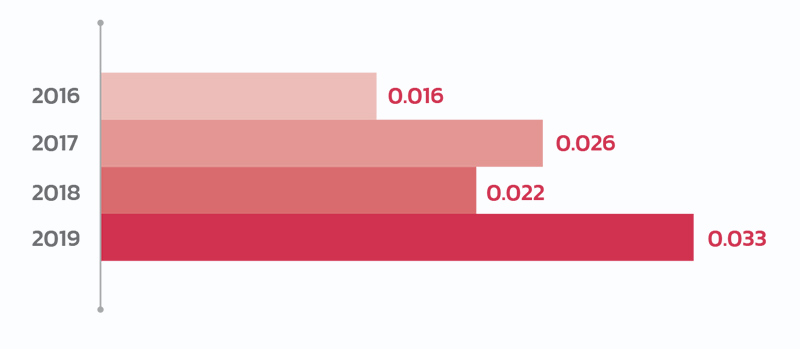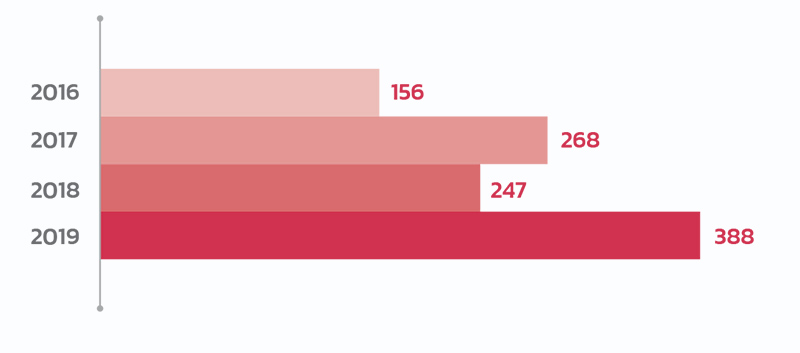 Breach Cases can be Classfied as Follows:

These cases has been investigated and addressed in 2019. Additionally, the Company has assessed and conducted appropriate disciplinary action on offending employees. In order that, the company has established measures to prevent appropriate corruption and continuous development. These include:
1) Monitoring that employees follow defined procedures, such as in the case of store managers whose task to verity cash amounts received in every shift is cross-checked by "FC";
2) Shop property verification team conducts physical count of received cash at stores in addition to crosschecks inventory with records;
3) The QSSI team performs inspections on product and service quality and standards conformance;
4) The Loss Prevention team tracks information related to missing products without notifications to stores;
5) Communication and awareness raising with store employees.
For more details —–> SD Report 2019
Related Policy and Guideline