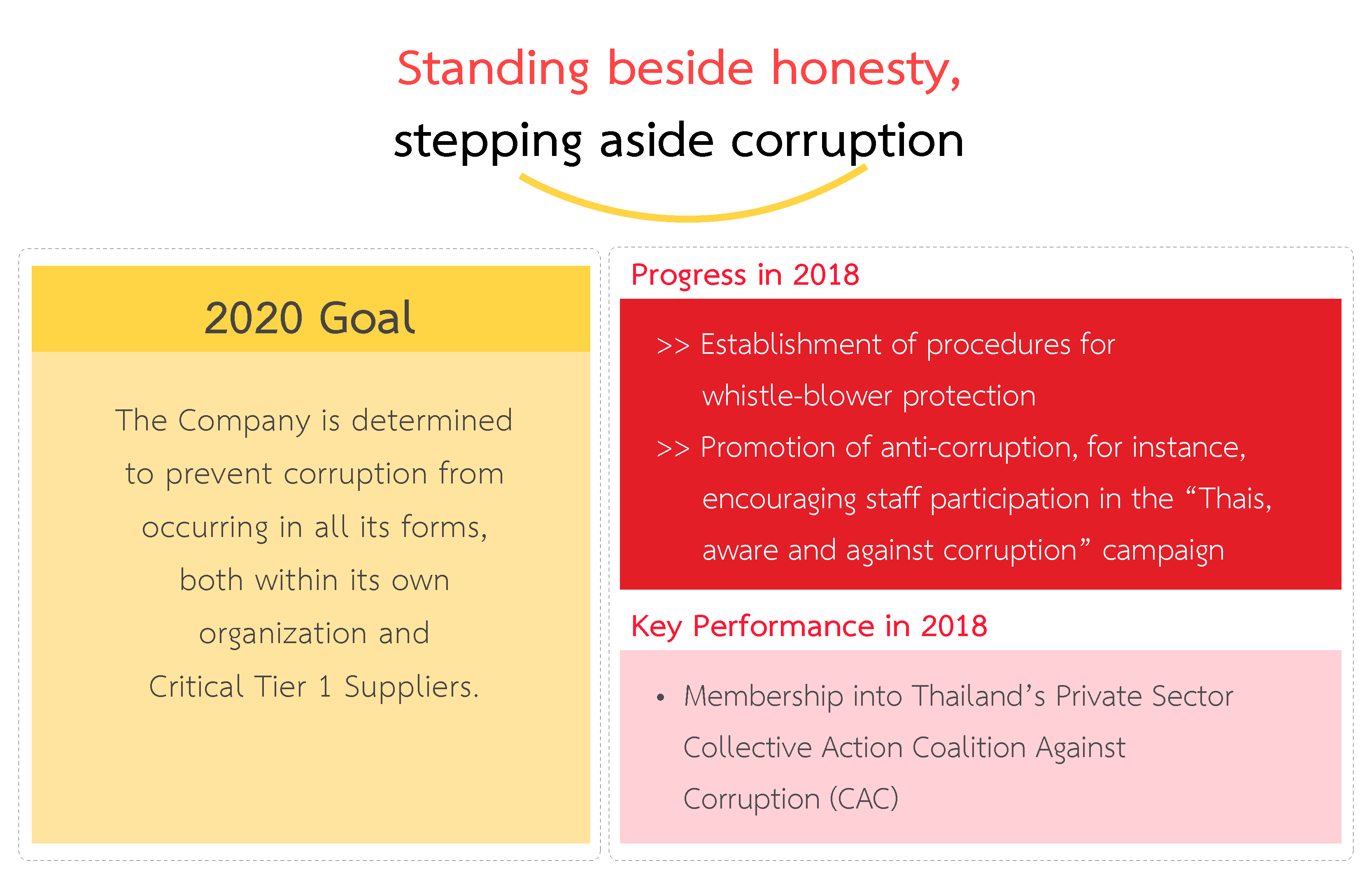 CP ALL recognizes that corruption is a big challenge in the global community. We have therefore made clear public commitments to conduct business and manage the organization rooted in the principle of transparency, and considers corruption as the enemy that deteriorates the nation's development.
After the Company signed as part of Thailand's Private Sector Collective Action Coalition against Corruption ("CAC"), the company drafted an anti-corruption policy, code of conduct against corruption, code of conduct for donation, code of conduct for financial support, code of conduct on giving and receiving gifts. The Company has
In addition to anti-corruption measures to reduce corruption risk, the Company also creates measures to help detect and report corruption risks in a timely manner. Communication channels were set and displayed on company's website. These channels connect stakeholders, related parties, executives, and employee, enabling a channel for grievances, report corruption cases, or injustice. The Company prioritizes protection of sources, and have measures to protect the sources against reconciliation and threats thereafter. The Company also establishes measures for damage compensation, if occur, to the source. And on 18 August 2017, the meeting of the CAC Board of Directors approved the company as a CAC member.
With regard to the Company's operations in the past 5 years, there were reported cases of employee wrongdoing, with most of the cases being employees taking cash for personal use and eating products in the store without paying money.

In 2018, there were reported 247 cases, the majority being abuses by store employees; attaining the store's cash and revenue for personal gain, and consumption of store's products.
Measures to Prevent Wrongdoing
Store Operations Team monitors that employees follow set procedures such as
– The Store Manager is responsible for controlling and counting cash sales of employees of each shift.
– FC is responsible for monitoring the work of the Store Manager who has to go to the store and count cash at the branch store.
Asset Inspection Team will
– Count cash immediately upon entering the store
– Check products in the store compared to inventory accounting
QSSI Team inspects the quality of products and services and monitors compliance such as keeping cash in the cash register as well as reserve cash outside of the cash register.
Loss Prevention Team monitors information on the negative difference in the number of products from product checking and inspects the operations of store branches without prior notice, such as body search of employees operating the cash register, record of transactions and viewing the CCTV feed.
Constant communication and awareness raising with all 7-eleven employees.