Key Performance in 2019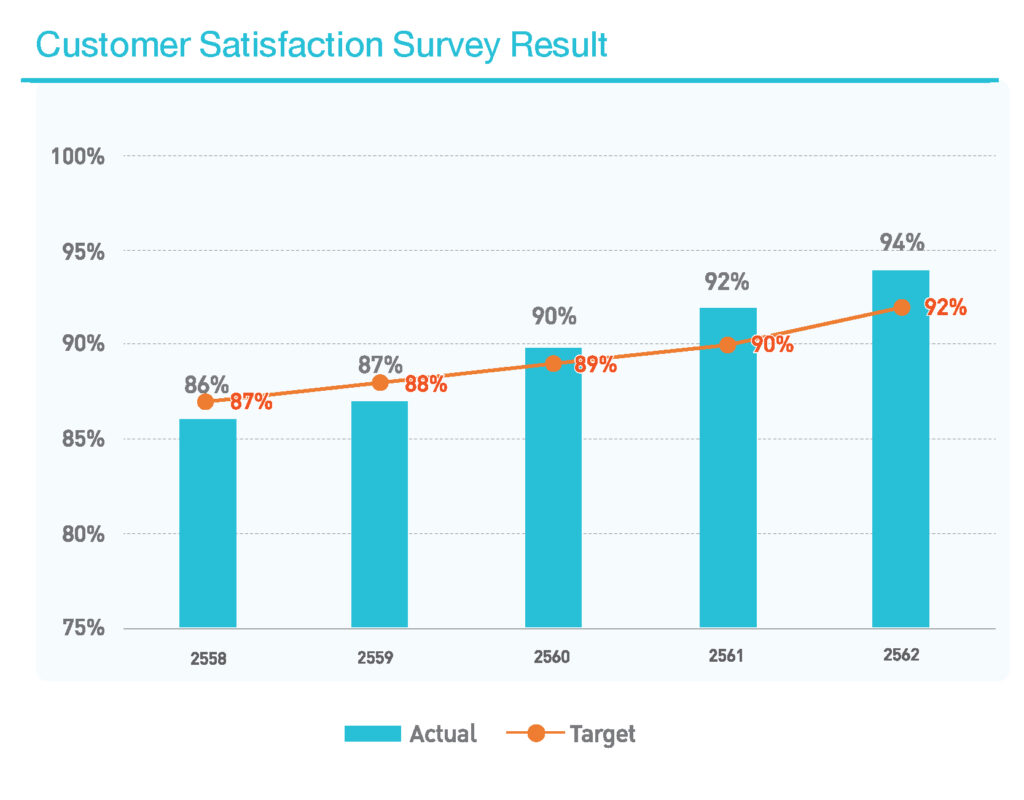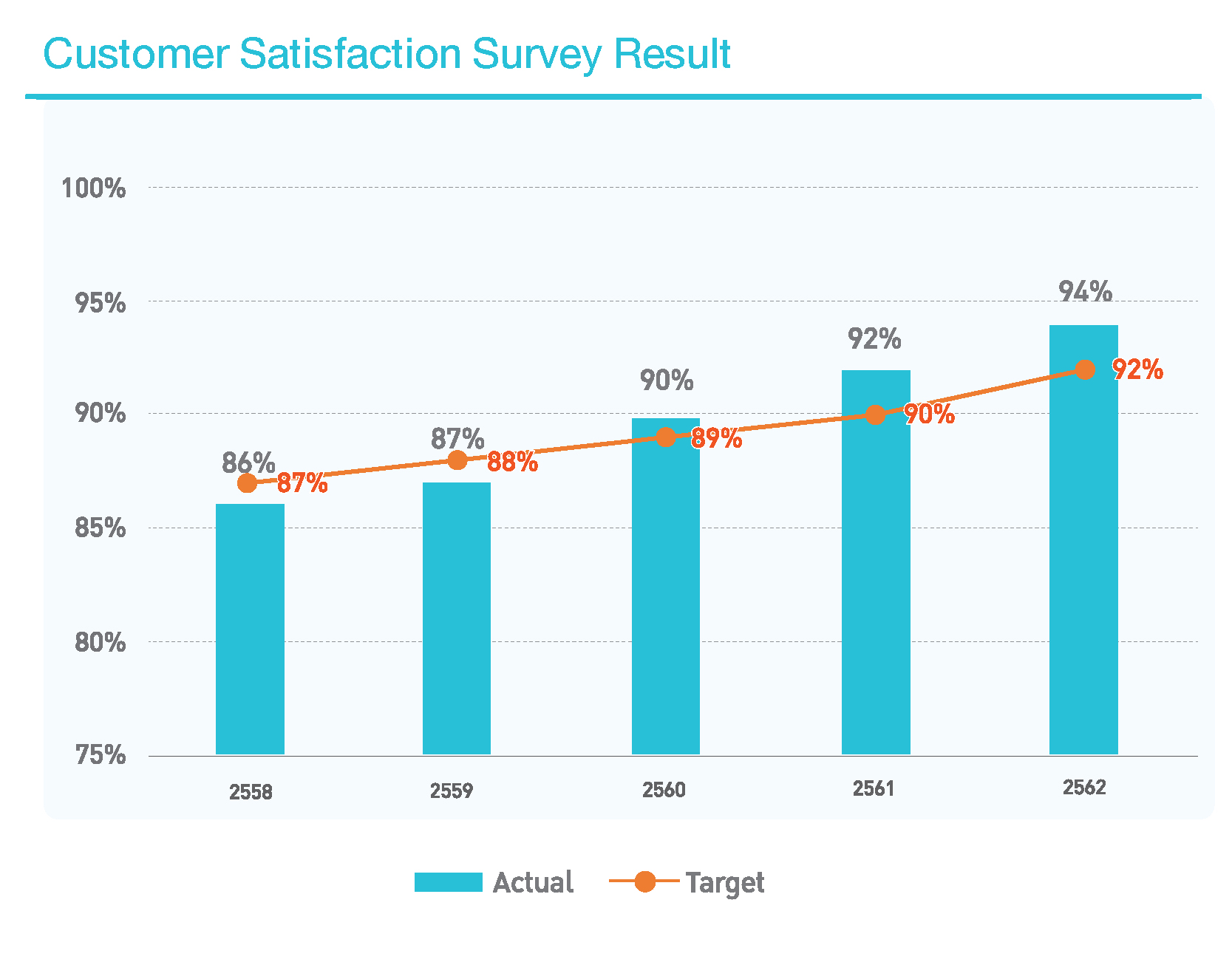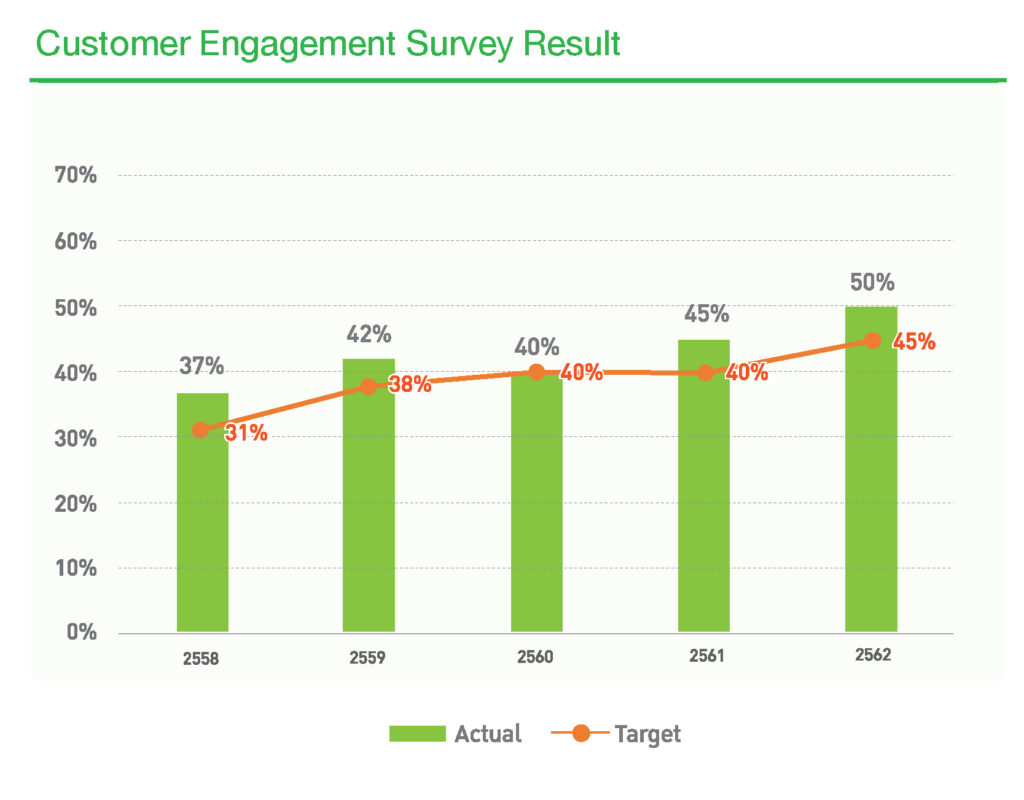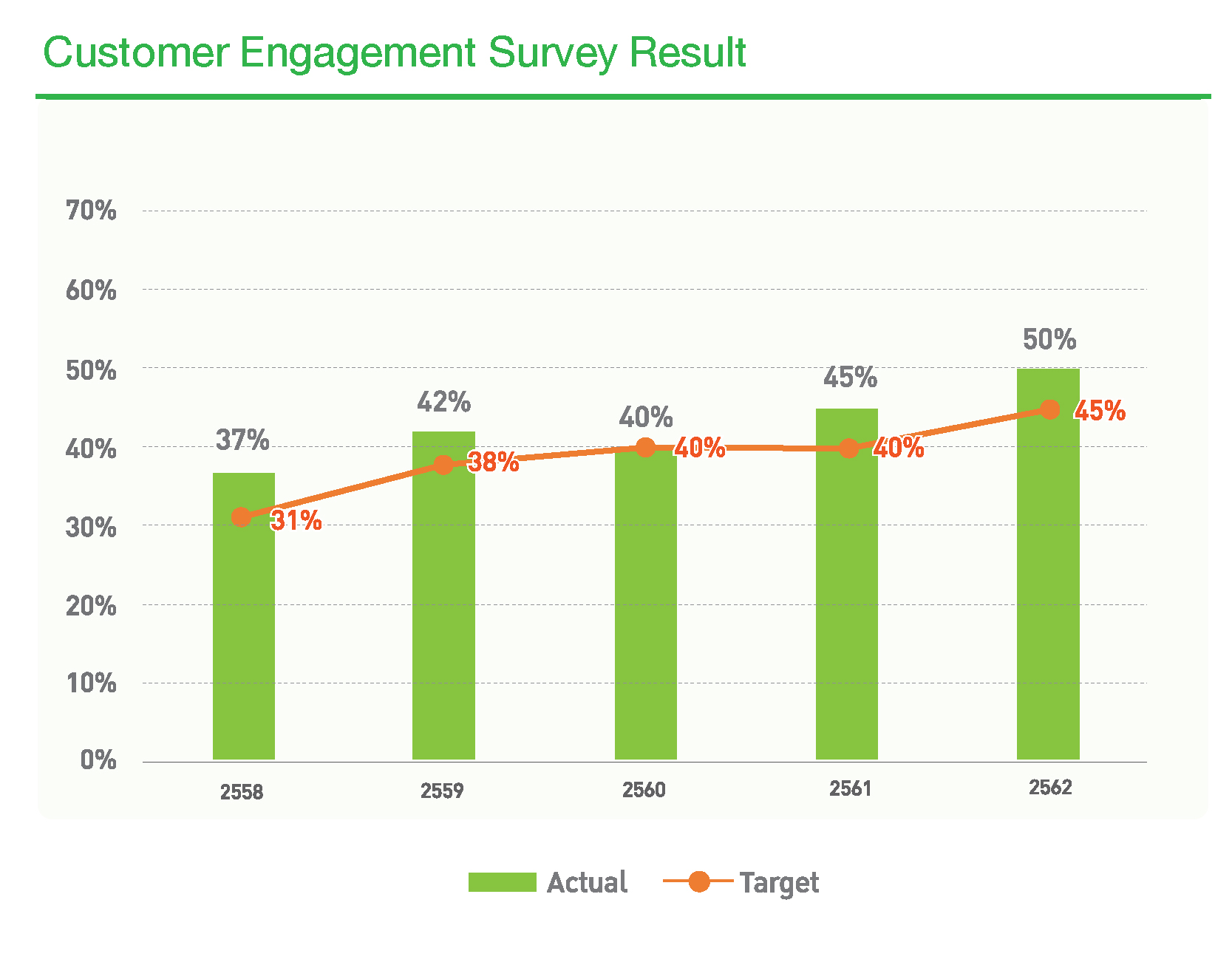 | | | | | | |
| --- | --- | --- | --- | --- | --- |
| Customer Satisfaction | 2016 | 2017 | 2018 | 2019 | Target 2019 |
| Data coverage: % of customers surveyed | 100 | 100 | 100 | 100 | 100 |
*** Unit – Percentage of Sampling Customers
Challenges
---
Our gratitude towards customers in allowing us to present a good variety of quality products and services, as well as our appreciation of our employees who are an important driving force behind the Company's growth, reflects CP ALL Plc. and its Subsidiaries' ("the Company") pride in being a company from the east which harmonizes an international outlook in its business operations. These values are imbued in the corporate philosophy to which the Company has strongly committed, "Through happy employees, we desire to see smiles from customers".
Management Approach
---
As a company engaged in the retail business which faces increased competition, the Company paces high importance on customer relationships management and satisfaction. Customer feedback and needs are hence critical insights that help the Company's determine its sales strategy, selection of quality products and services, and research and development, among others. These inputs all enhance the Company's competitive capacity, whether it be in customer retention through maintaining their satisfaction of products and services, meeting their demands, and providing greater convenience— contributing to customers' decision to continue to use our services and recommend them to others by sharing positive experiences. The Company also uses these insights to discover and create new possibilities, and keep track of changes to the market, resulting in the Company's understanding and ability to create plans to best prepare for changes, including efficiently expanding its customer base. Following our corporate philosophy, "Through happy employees, we desire to see smile and Happiness to customers."
Commits to SAVEQC Principle
The Company commits to the Service, Assortment, Value, Environment, Quality and Cleanliness Principle or SAVEQC as operational guidelines for 7-Eleven convenient store, in addition to building on the foundational guidelines of license owners. Nevertheless, the Company has cascaded these operational guidelines to its Subsidiaries which operate business related to 7-Eleven, with adaptations to appropriately meet the nature of these businesses.

To build sustained relationships with your customers
The Company also builds relationships with customers by listening to their opinions and making improvement recommendations based on customer expectations and complaints, among others, through suggestions and grievance channels. In addition to the Company's multi-channel communication, the Company pursued a proactive strategy to gather customer opinions by monitoring and analyzing information obtained through different social media platforms, in order to ensure that the Company is able to efficiently and promptly respond to customer demands.
SERVICE INNOVATION
CP ALL 4.0 concept has been adapted to business operations to respond to all lifestyles. By providing a 'Banking agent', a service for deposit money at all 7-Eleven stores nationwide; 'Speedy', a delivery service throughout Thailand; 'counter services', a service for all payments, including purchasing concert tickets through counter services; and 'vending machines services', a distribution of automatic vending machines to various communities such as residences, office buildings, universities, schools, airports, bus stations, factories, exhibition centers, including a large hospital with over 200 beds. The minimum sales of each vending machine is approximately 1,600 baht per machine per day. In 2019, the total number of automatic vending machine was 761. In addition to the mentioned service, '7-Eleven Delivery', or an application of an online delivery service platform was developed with a concept of 'delivery service to the front of the customer's house'. For orders with the minimum purchase at 100 baht, there is no delivery service fee. Also, staff at 7-Eleven stores will be the direct messenger to deliver the order to the customers. In 2019, the company has provided this pilot service in 100 residential areas and communities only.
Product and Service Delivery through Digital Channels
Societal trends are changing; and society is entering a cashless and digital milieu. Leapfrog technologies are affecting lifestyles and shaping expectations of 'good service' from providers, whether it be in the form of convenience, safety, or 24/7 operations. In response, the Company has prepared for this market expansion through digital media, launching a payment service through Counter Service Co., Ltd., covering payments for over 1,000 product and service items, as well as providing product sales and consignment services through online channels, operated by 24 Shopping Co., Ltd.—following the slogan, "Fun shopping, everything, real convenience 24/7", which have been translated from the Company's corporate philosophy. Providing the highest customer satisfaction through all channels is the Company's aspiration. The Company has focused its online channel strategy on 5 key areas:
Create an application to provide convenience in making product purchase orders
Provide payment options products and services
Improve communication to be easy to use and meet the needs and behaviors of users
Strengthen customer information security by continuously conducting security tests, identify gaps, and make improvements
Engage with customers through electronic media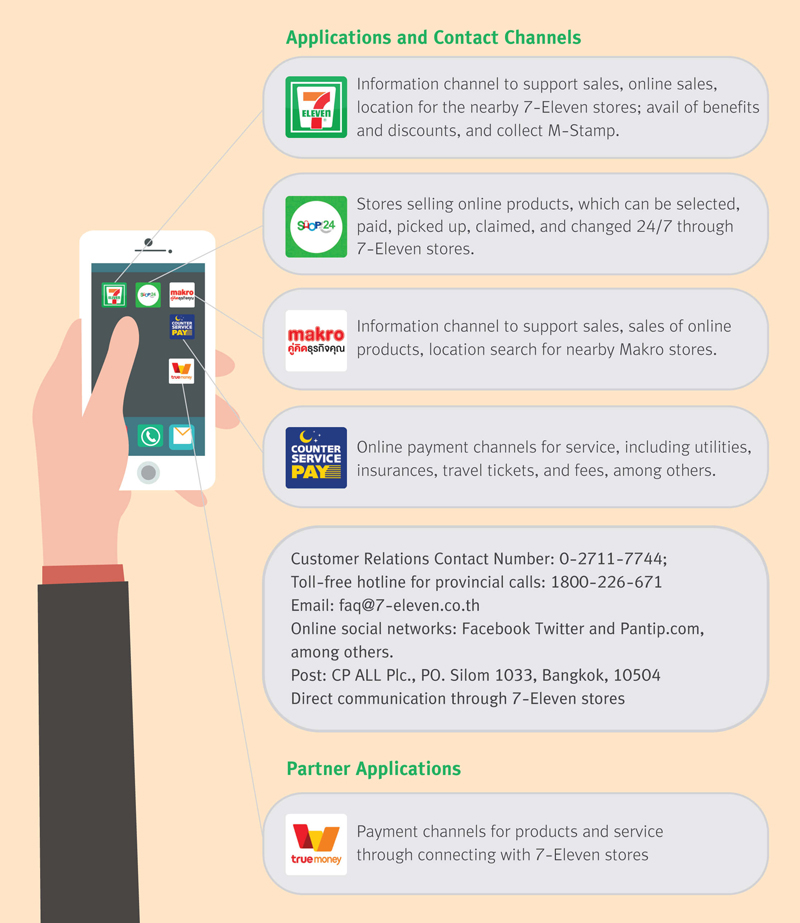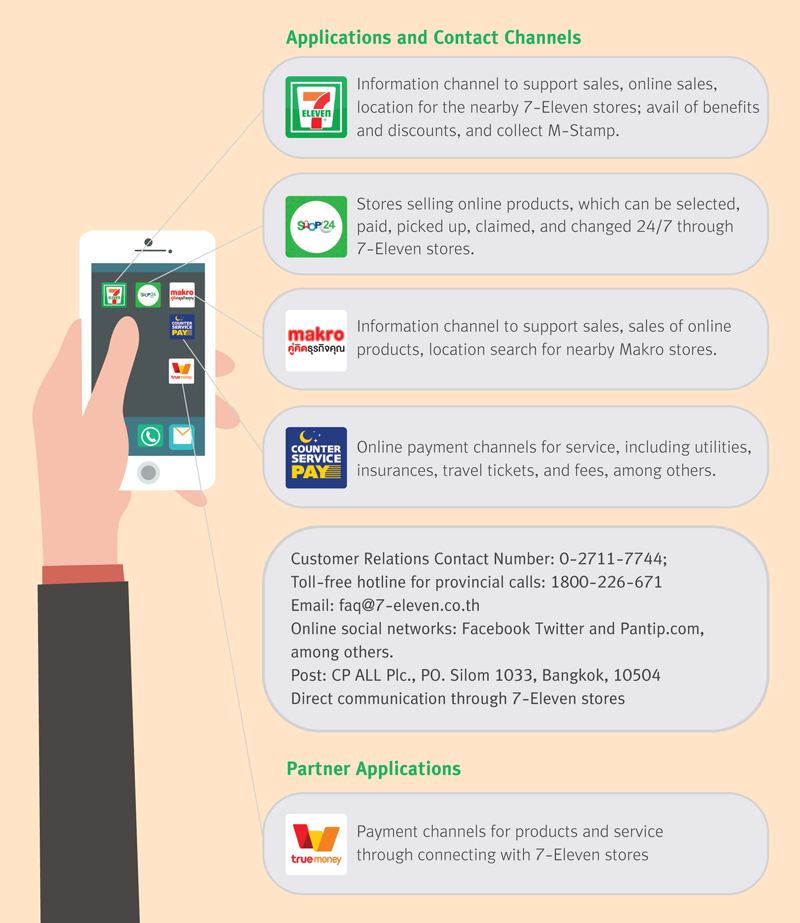 Customer Data Privacy Protection
With the advancement of information technology Including communication systems have developed rapidly to access collection, use and disclosure of personal information can be done easily, conveniently and quickly which may lead to damage to the data owner. The company recognizes the importance of data privacy protection, which is a fundamental right. In the privacy right that must be protected under the Constitution of the Kingdom of Thailand and the Universal Declaration of Human Rights which any person will be subjected to arbitrary interference in privacy, family, residence or communication or will not be disrespectful to honor and reputation. Everyone has the right to the protection of the law against such interference or abuse. Including to support and respect the protection of human rights as announced at the international level in accordance with the UN Global Compact, including the law on the protection of personal information Therefore, the company has announced the policy to be the core of the protection of customer information (Data Privacy).

Related Policy and Guideline