Innovation and Value Creation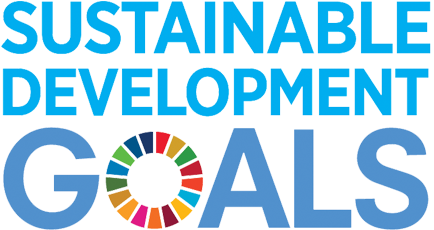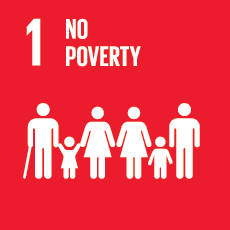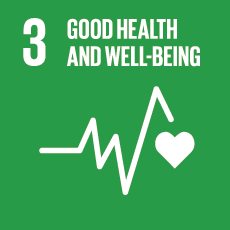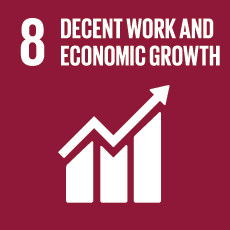 Risks and Opportunities
In a globalized world where all conceivable facets, particularly digital technology advances playing a vital role in business and consumer lifestyle, face rapid transformations, the business sector consequently requires organizational characteristics development to keep up with changing technology. To fulfill consumer needs and satisfaction and increase business competitiveness in the free trade market, the Company emphasizes the importance of innovative developments, which act as a vital mechanism in fostering added value in products and effective services. Through development and support of various innovations, including both product innovation and production process innovation, the Company aims to facilitate mentioned innovations to benefit the economy, generate value for society and create value for the organization sustainably.
Performance Against Goal
2030 Goal
20%
Income from products and services innovation and new businesses including process innovation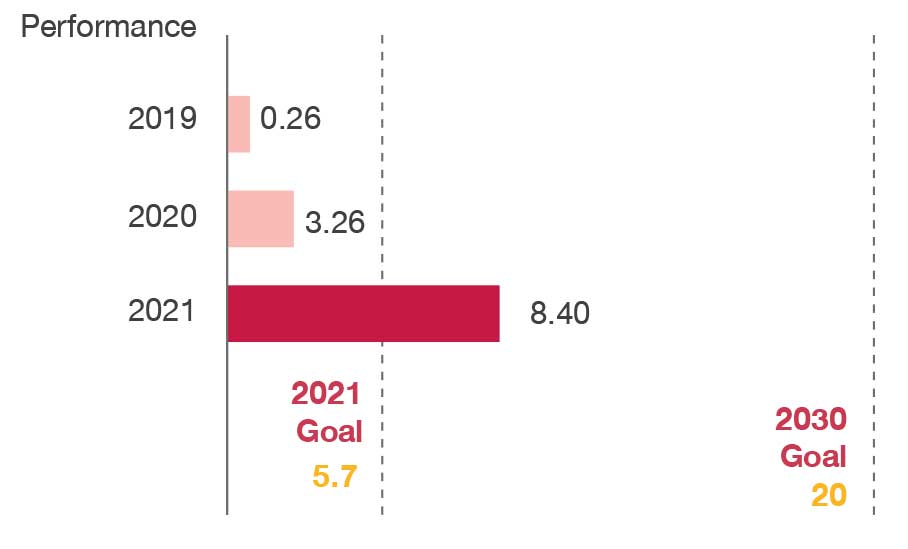 Performance Summary 2021
Innovation Value (Unit : Million Baht)


Open innovation

Closed innovation
Contest Entries Submitted (Unit: Entries)


Open innovation

Closed innovation
Award-winning Entries (Unit : Entries)


Open innovation

Closed innovation
| | | 2019 | 2020 | 2021 |
| --- | --- | --- | --- | --- |
| | Number of Innovators | 2,491 | 4,979 | 9,158 |
| | Cumulative number of patents | 8 | 11 | 15 |
| | Cumulative number of petty patents | 1 | 5 | 8 |
Research and Development (Unit : Entries)

Management Approach
CP ALL Public Company Limited and its subsidiaries ("the Company") recognizes the importance of creating innovations, intrinsically capable of business growth promotion and continuous competition, to allow flexible and efficient operations. The Company initiates efforts in preparing and coping with the rapidly changing digital technology landscape through various research and technology developments geared towards positioning the Company as a future leader in innovation management. The framework and operating guidelines are set as follows: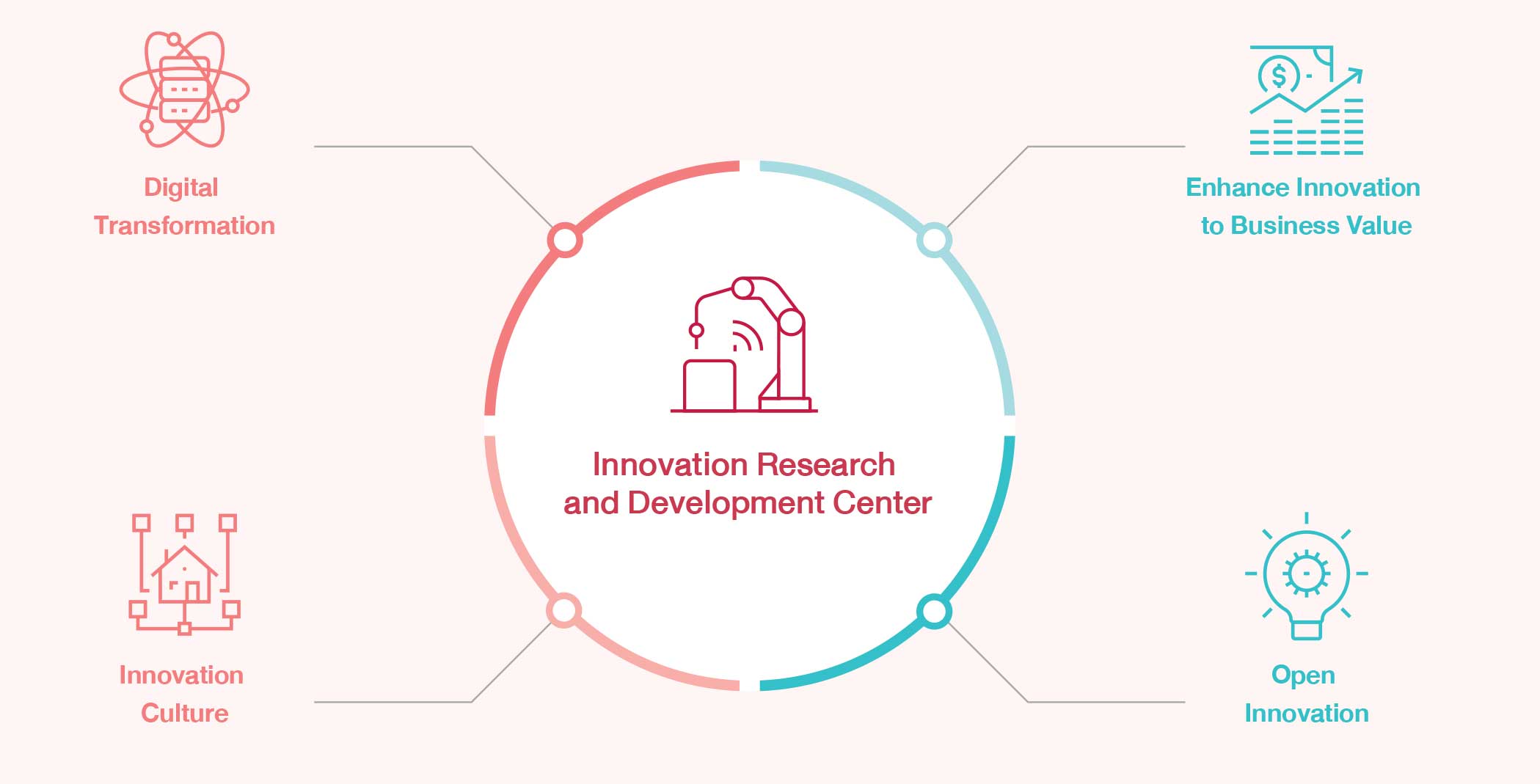 However, impact of the COVID-19 epidemic has drastically driven changes toward consumer lifestyles and consumption behaviors. In an effort to keep pace with the new business world, the Company's key proposition focuses on innovations enabling customer delight as a means to win over customers. Therefore, the Company develops innovative consumer-orientated technologies to promote convenient and safe services. The mentioned innovations include providing methods for ordering, paying, receiving goods and services through a variety of channels with the 020 format, reducing physical contact, and increasing payment convenience from cash to cashless payment via debit card, credit card, True Money Wallet application, etc.
Innovation Research and Development
The Company conducts research and development innovations by focusing on research and development of innovative value-added food technologies for customers, organizational growth driven initiatives, and activities benefiting society and the environment. Currently, there are 2 technology and innovation centers:

Research and development of specific ingredients, recipes and industrial production processes for food, beverages and agricultural products under the Company's brand to fulfill customer needs in accordance with nutrition and food hygiene principles

Develop environmentally friendly packaging based on the Circular Economy concept, which takes into account all processes in the product life cycle to prevent and reduce environmental impacts, promote proper waste management and enable maximum value

Establish systems and measures for quality assurance throughout the food chain from upstream processes to end consumers in order to ensure product safety and standards

Analysis and Service Center in order to ensure product confidence through:
Sensory Evaluation Center for product information and evaluation according to international academic principles as a measure to ensure new 7-Eleven store products fulfill customer needs
Testing laboratory to perform both microbial and chemical analysis in food and water and agricultural product residue tests
ผลลัพธ์และประโยชน์ที่ได้รับ
In addition, Food Technology also offers product development services, consulting and problem troubleshooting of products to interested parties and entrepreneurs.
Digital Transformation
Nowadays, consumers have access to a variety of products and services conveniently and quickly via smartphones. As a result, businesses must become more cognizant of the important role technology plays in daily life and consumer decisions making processes in purchasing goods and services. In order to fulfill specific consumer needs, especially in retail where distribution channels require diversification, business operations require developed digital technology applications. This development grants customers convenient access to products and services, according to their needs promptly and responds well to customers in all communities and areas. Through the application of modern technology to enhance work speed and efficiency and streamline workflow, organizations are better equipped to respond to changing business directions. Examples of outstanding projects in 2021 are as follows:
Online to Offline (O2O) Business Platform Development
The Company's business platform has been developed to enhance seamless customer experience, which connects a variety of products and promotions that fulfill customer needs at all levels from offline channels, including 7-Eleven stores, to the online distribution channel platform "ALL Online (ALL Online)". The nearest mall on the website and 7-Eleven applications on mobile phones encompass the following concept:
In tandem, the Company developed and upgraded the "All Member" membership service, which currently serves 14 million members, through a mobile application system for utilization as a customer communication channel. This development enables the build-up of close ties with members in addition to providing benefits and special privileges. Furthermore, the Company could utilize customer information to evaluate business performance and therefore enhance effective planning and management of products and services for customers.
Innovative Local Community Financial Services
Banking Agent service allows customers to perform transactions, inclusive of depositing cash, withdrawing cash and identity verification to open bank accounts, without traveling to a bank branch. This service fulfills the needs of customers who do not have bank accounts, cannot access bank accounts conveniently and prefer receiving cash directly. Practical applications for this service include scenarios where people from other provinces working in the city have to transfer cash back home, parents sending money to children schooling in the city, or the transfer of money to pay debts occasionally. Counter Service Co., Ltd. under the CP ALL business group offers domestic money transfer services throughout Thailand without requiring a bank account; only your original identification card is required when sending and receiving money. Under "Transfer, Get Instantly", the payee can immediately receive cash at 7-Eleven store more than 12,500 stores with nationwide 24 hours a day, with a maximum transaction amount of 10,000 Baht per time and no more than 50,000 Baht per person per day.
"ALL Pharma See" Application Development
Allows free 24-hour pharmacist consultation online via easy-to-use interface and grants better health care to everyone as if a pharmacist is nearby. Modes of communication include both text messaging or video calls with a pharmacist at an Extra Plus drug store free of charge. Customers can opt to talk to a pharmacist at an Extra Plus drugstore near their home, or if outside of business hours, consult with other pharmacists available 24 hours a day. ALL Pharma See comes with a variety of features including locating the nearest pharmacy to your home, online ordering and delivery of health care products, and updated health and beauty information.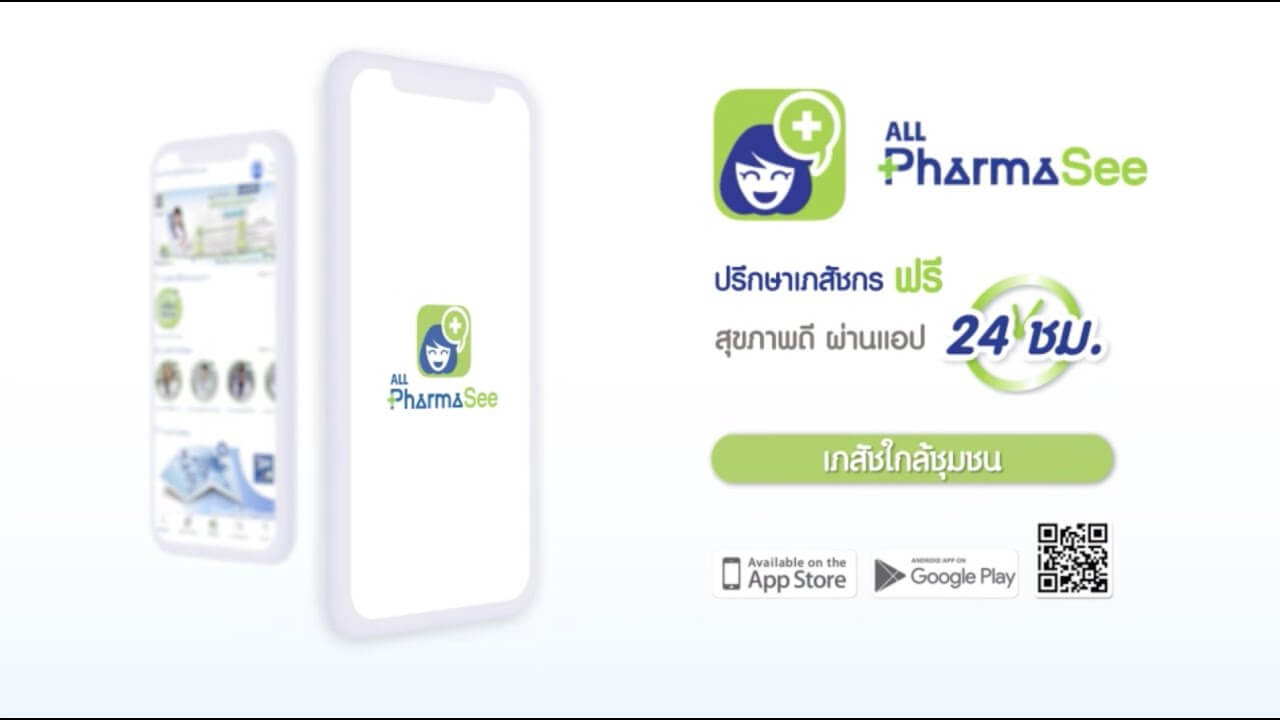 Simultaneously, the Company continually promotes the development and optimization of business-critical processes with the modern technological applications of modern technology to enhance work rapidly and efficiently and streamline employee and relevant department workflow. In 2021, examples of outstanding projects are as follows:
Enhance Innovation to business value
The Company focuses on developing and sourcing a variety of new products in response to consumer behavior changes and diverse needs in addition to promoting business growth through adding value. In 2021, some outstanding examples of innovative products are as follows:
Innovation Culture
The Company realizes the importance of organizational development through the implementation of an innovative culture where training, knowledge, comprehension, and an atmosphere for novel employee ideas is enabled. CP ALL Group's in-house innovation project contest and forum encourages innovation and honor projects that produce economic, social and environmental results. These projects include promoting knowledge management within the group by adopting new approaches to expand results and exchanging best practices, such as promoting improved work processes and unnecessary workload reduction for organizational flexibility, among each other. This approach enables employees to create valuable work and innovation for the Company in order to keep up with changes in current and future competitive environments. Furthermore, an innovative culture where executives and employees participate would deliver value to the nation, the people and the organization.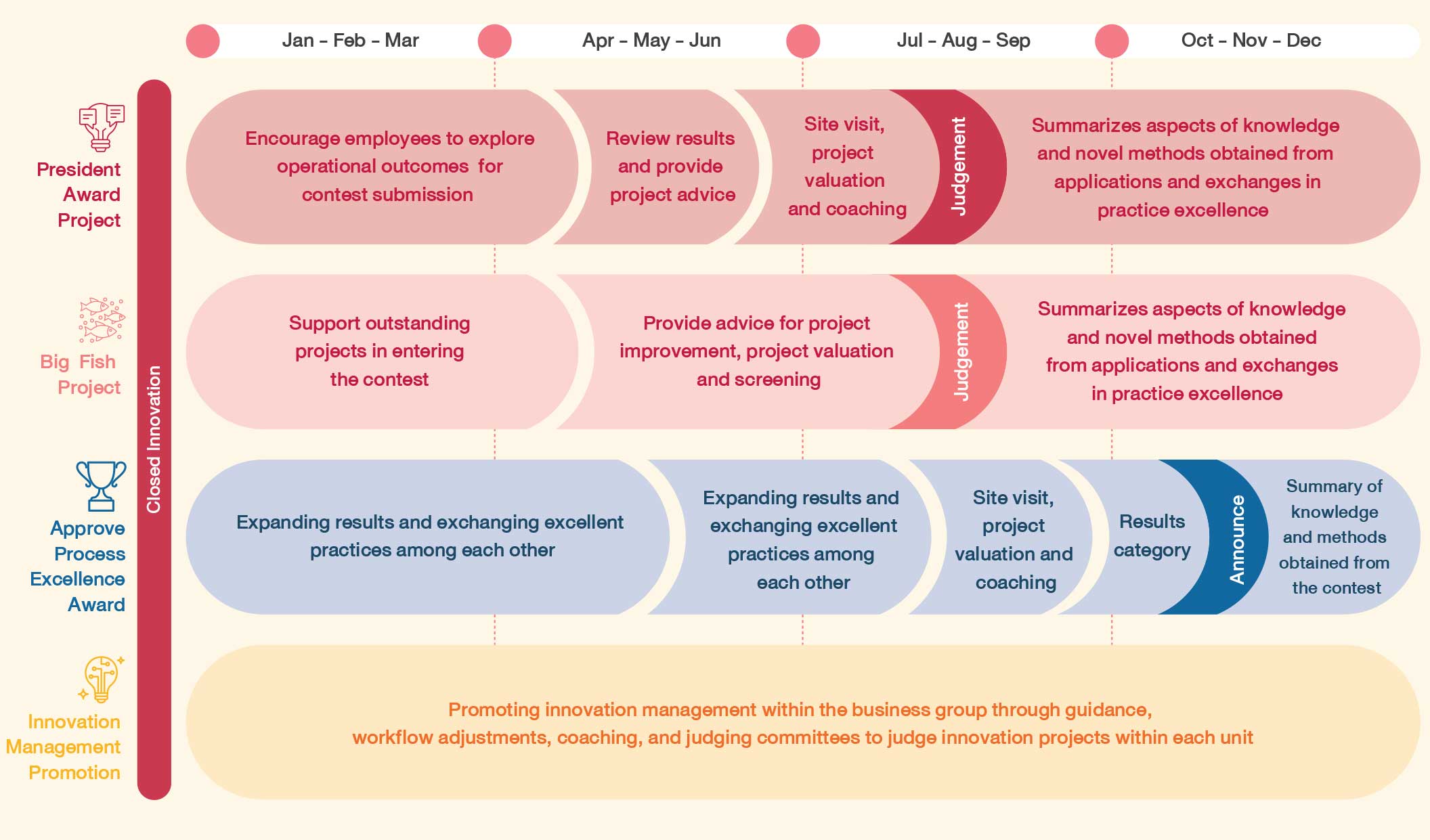 Open Innovation
CP ALL Public Company Limited empowers innovation cooperation with external organizations, both government and the private sector totaling 11 national organizations under the "Thailand Synergy Innovation Driving Cooperation Project for Thai SMEs" by supporting organizational, including small entrepreneurs (SMEs), research outcomes and inventions. The outcomes provide opportunities to increase marketing channels, exchange knowledge and guidelines applicable to business operations, as well as new innovation expansions to further create value for the organization and society. In 2021, examples of outstanding projects are as follows: