Innovation Creates intellect, increases business value
Key Performance in 2020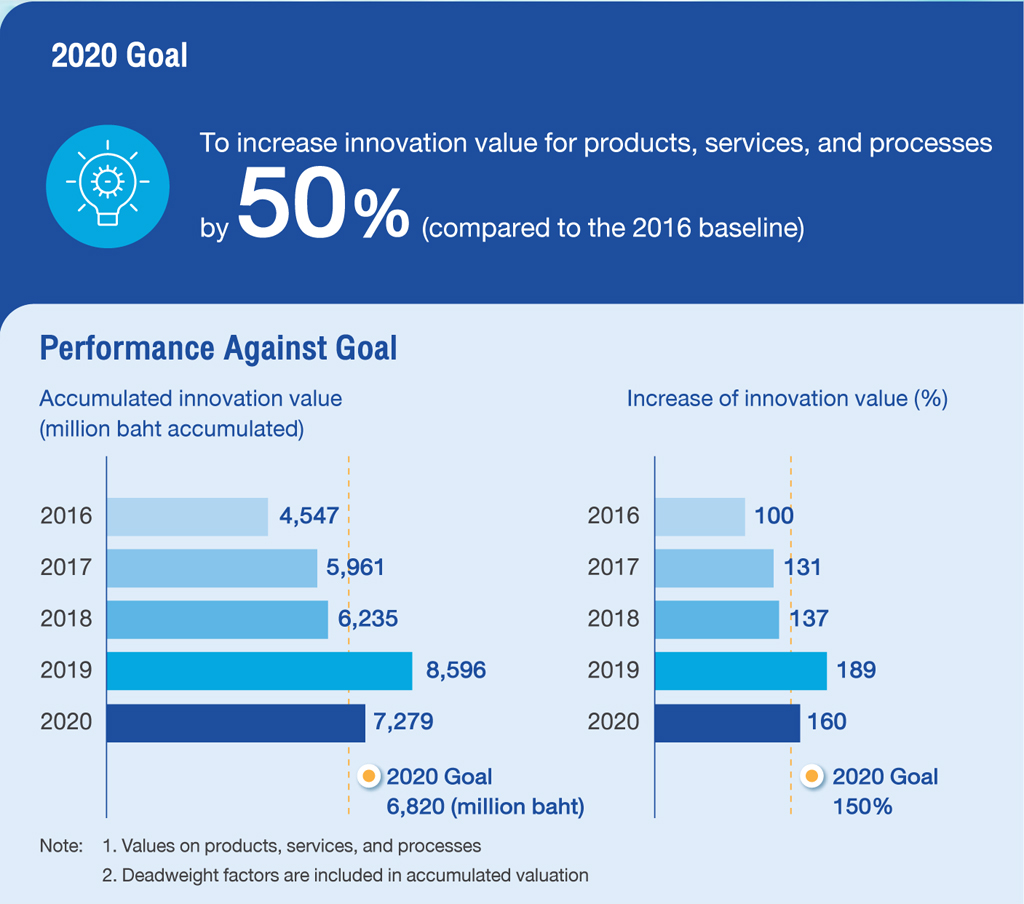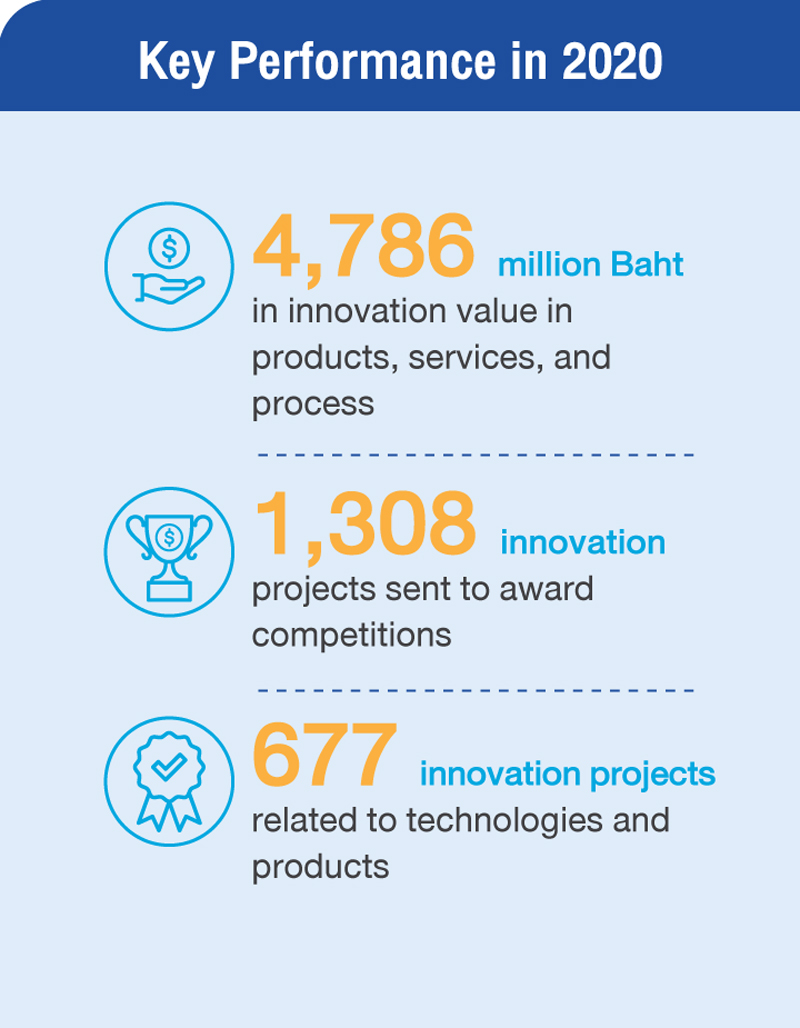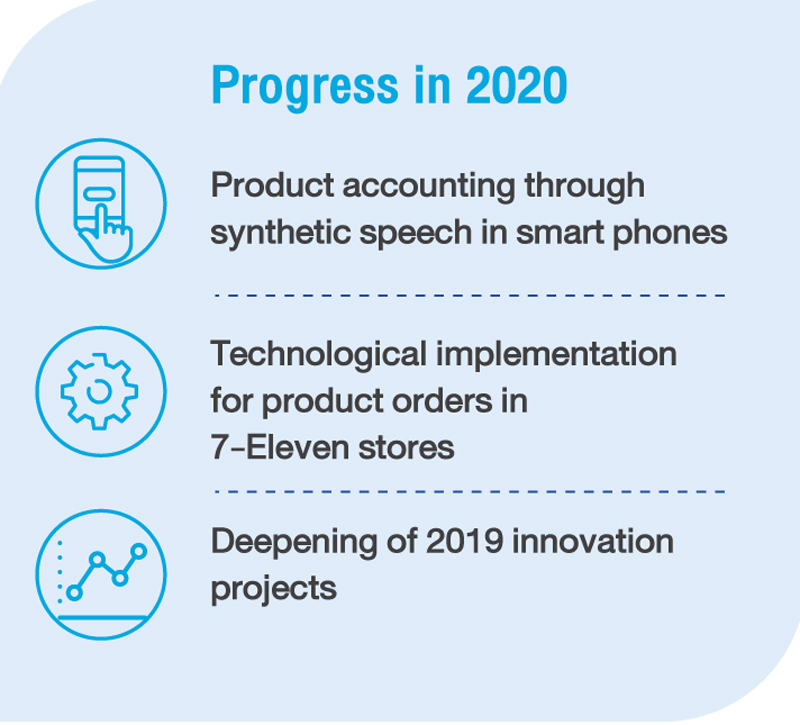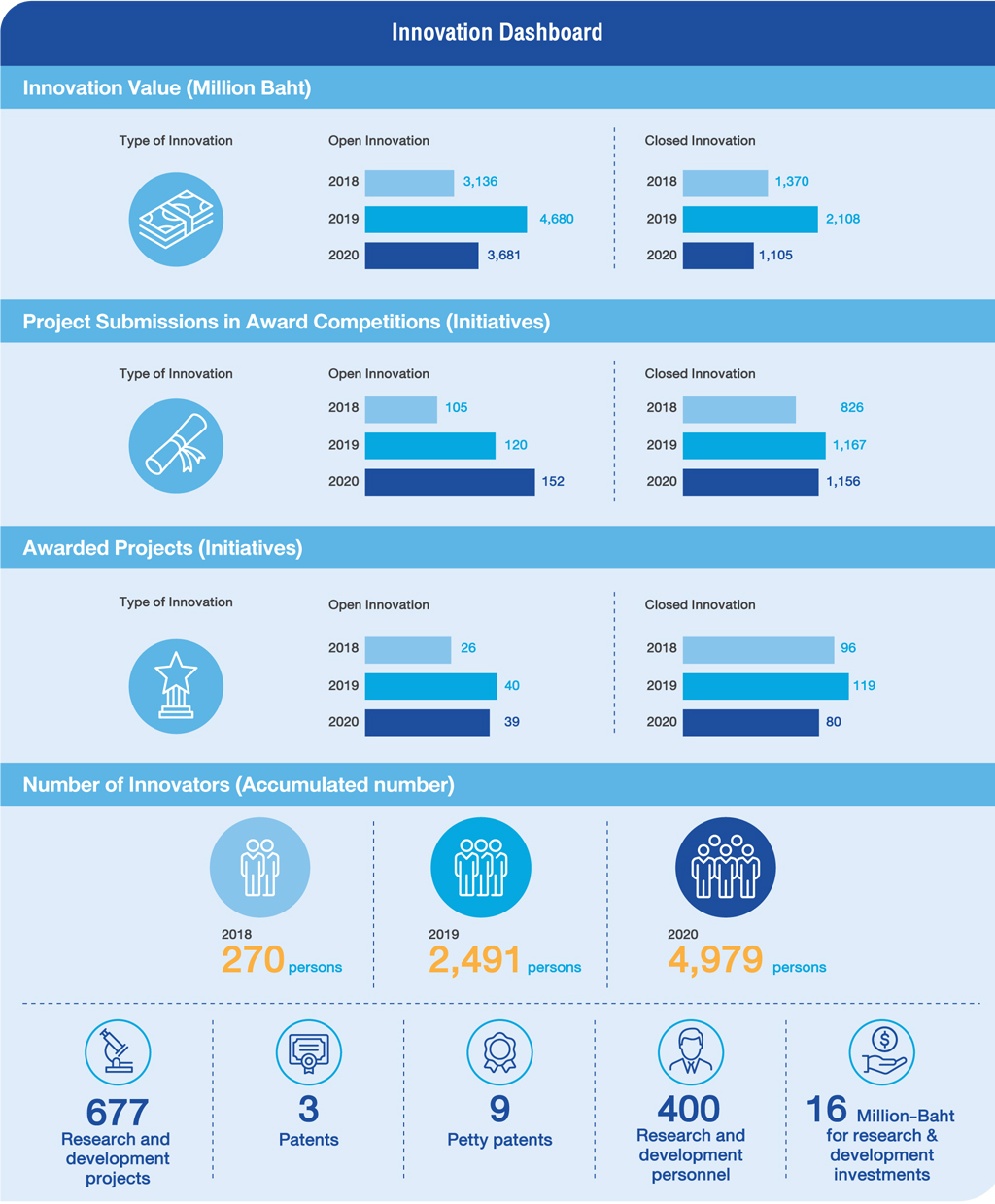 Risk and Opportunities
---
The development of digital technologies which have a role and influence on consumers' daily lives. CP ALL Plc. and Subsidiaries ("the Company") see the importance of constantly improving itself and the organization, including preparing for and adapting with change, especially during crisis situations. For instance, the coronavirus (COVID-19) pandemic in the past year has prompted the development of New Normal and consumption patterns through increased use of digital technologies. The Company has supported research and development, which included nurturing innovation that enables speed, convenience, and security for consumers in all areas of operation. This involved considering the importance of corporate governance, social, and environmental in tandem with business growth.
Management Approach
---
The Company recognizes the importance of developing research and technologies, while progressing into a leading organization in managing future innovations in various areas, including product development, service creation, and the organization's operating procedures. This is to create value for the country, organization, society and the environment. Additionally, the Company supports creating innovation with external stakeholders by defining frameworks and operating guidelines through various innovative channels as follows.


1) Progress on Technology and Innovation Center
Science Technology and Innovation Development Office: STIDO is responsible for consecutively driving the Company's capacity and its role towards innovation and technology. Through research and development works, innovation and dissemination of new technology, and expanding the capacity into business operations in accordance with the Company's strategy.
CP Food Lab Co., Ltd is a research development information hub. It was formed to support food research and development for CP ALL Plc., C.P. Groups, and other subsidiaries, both domestic and international. The Lab serves as the center of research and development collaboration efforts between public sector and private sector.
The Product Development and Quality Assurance Division (PDQA), CP ALL Plc. is tasked with establishment of standards on food and beverage products such as meals, snacks, bakeries, vegetables, fruits and beverages, including with development of packaging that is Eco-Friendly
2) ICT and Digital Transformation Development
The Digital Transformation Unit, oversees by the Company's senior management which directs the management of the organization's information technology systems security, and increases awareness of the organization's employees on information technology systems. This also includes improving and monitoring information system malfunctions to reduce inspection and correction time in the case of incidents. The Company has set up a center to consolidate various ICT data for analysis. There is also improvement of operating systems and various innovation on the products and organization's services, including social and environmental governance. It has a strategy to upgrade its performance in information technology in five (5) areas, as shown in the diagram below.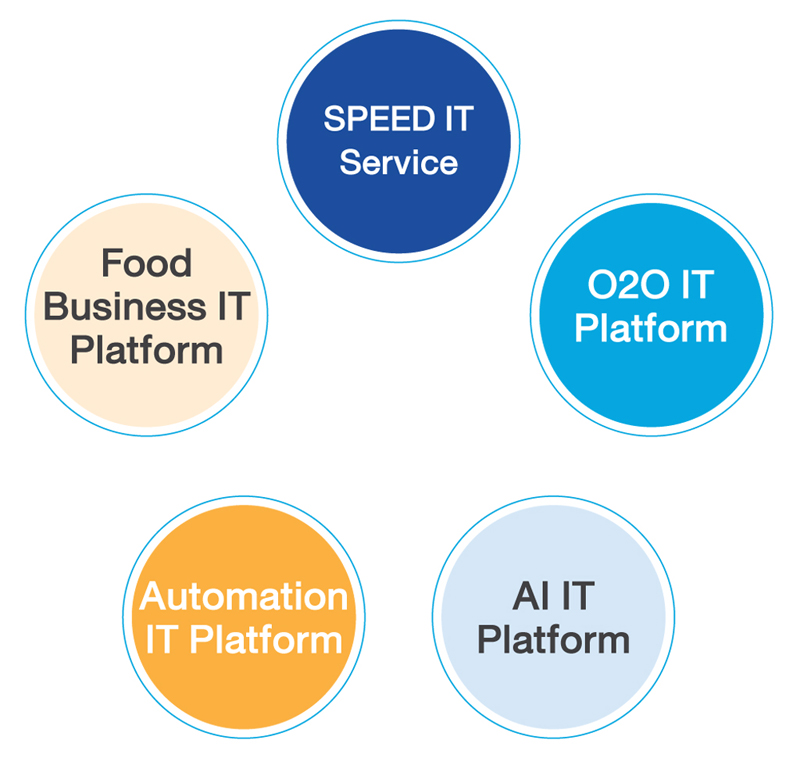 The Company has also established an IT Cybersecurity Strategy to analyze risks and update its IT Cybersecurity Policy to be in alignment with IT Cybersecurity laws.
3) Innovation Culture
The Company has created an innovation culture to promote knowledge and understanding of innovation among employees, and to create an environment wherein employees have the creative freedom to develop new innovations. The Company has organized an internal innovations competition to promote economic, social, and environmental results. Additionally, there is also an internal exchange of knowledge and practices, as well as external collaborations to internalize knowledge outside the organization in its business operations, so that they can continuously create value and kindle new innovative approaches for the Company. The Company has classified innovation projects into the following two (2) categories, as follows.

Key Project in 2020
---
Close Innovation
Counting with Synthetic Voice Project
Objective To Reduce work procedures and Increase efficiency
As product counting and management is labor-intensive and adds to employee's responsibilities, which also includes accounting for store resources within their respective 7-Eleven store, BP Accounting-Retail Business has been adjusted the method fromWhereas employees would register product counts on their Personal Digital Assistant (PDA) in the past, store staff can now issue voice commands and wait for verbal confirmation on their smartphones. This not only makes product accounting more convenient, it also improves accuracy, speed, and precision.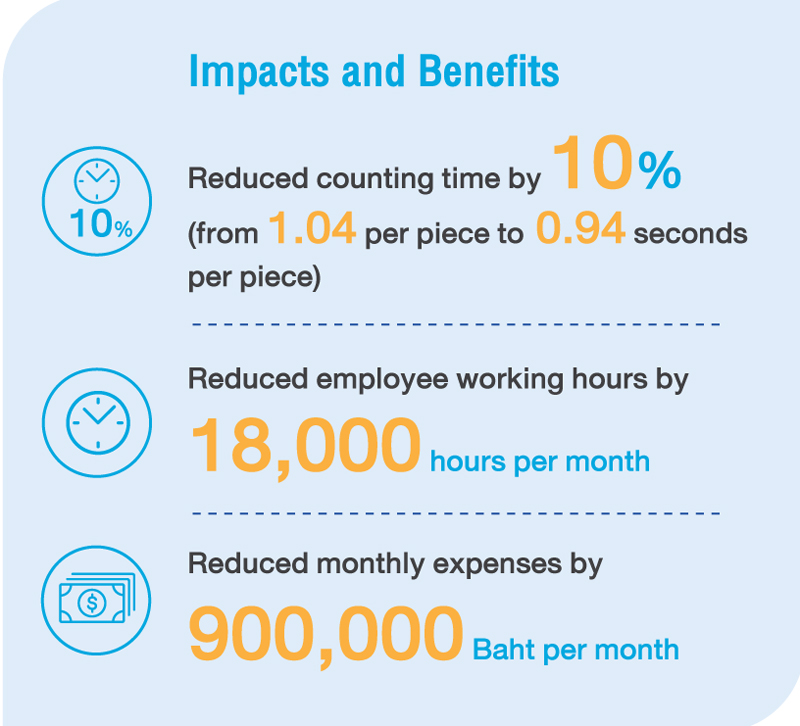 Smart Employment Certificate Project
Objective To Reduce work procedures
As the process to send official documents or certification documents from headquarters to other offices or 7-Eleven stores often leads to delays and poses security risks during delivery, the Human Resource unit initiated a process improvement, wherein documents can be shared as Electronic Files through the Employee Self-Service System. The employees are able to perform this task from their own mobile phones, tablets, or computers.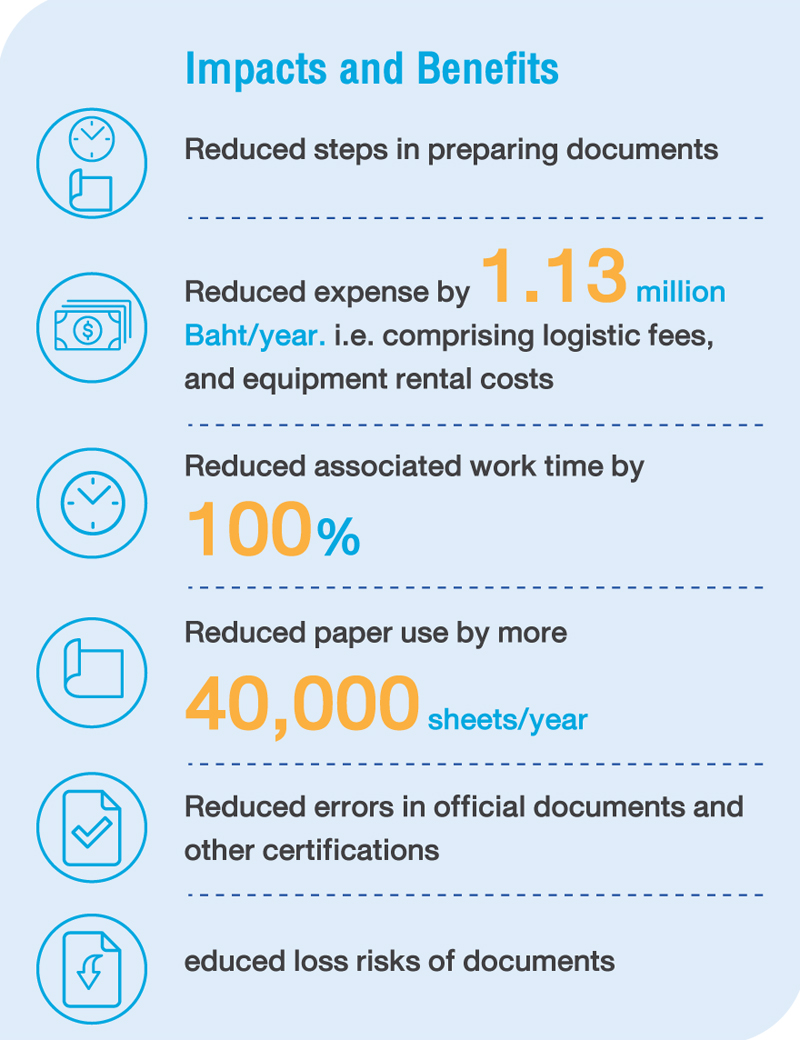 Open Innovation
Pathumraksa: Diagnosis Process for Breast Cancer (1st Prize Winner, Social Category) A project from Medical Faculty, Khon Kaen University
Objective Increase to efficiency and productivity for taking specimen of breast cancer patients in the hospital.
Nature of Innovation This is a process innovation in taking specimen of breast cancer patients' specimen through doctors, patients, and the lab to facilitate accurate,fast, and timely disease diagnosis through an IoT platform to control and monitor complete cell status. Cell integrity is maintained through storage, transport, and delivery, lab diagnosis, and results generation to physicians. This has led to an accurate, speedy, and efficient treatment planning for patients.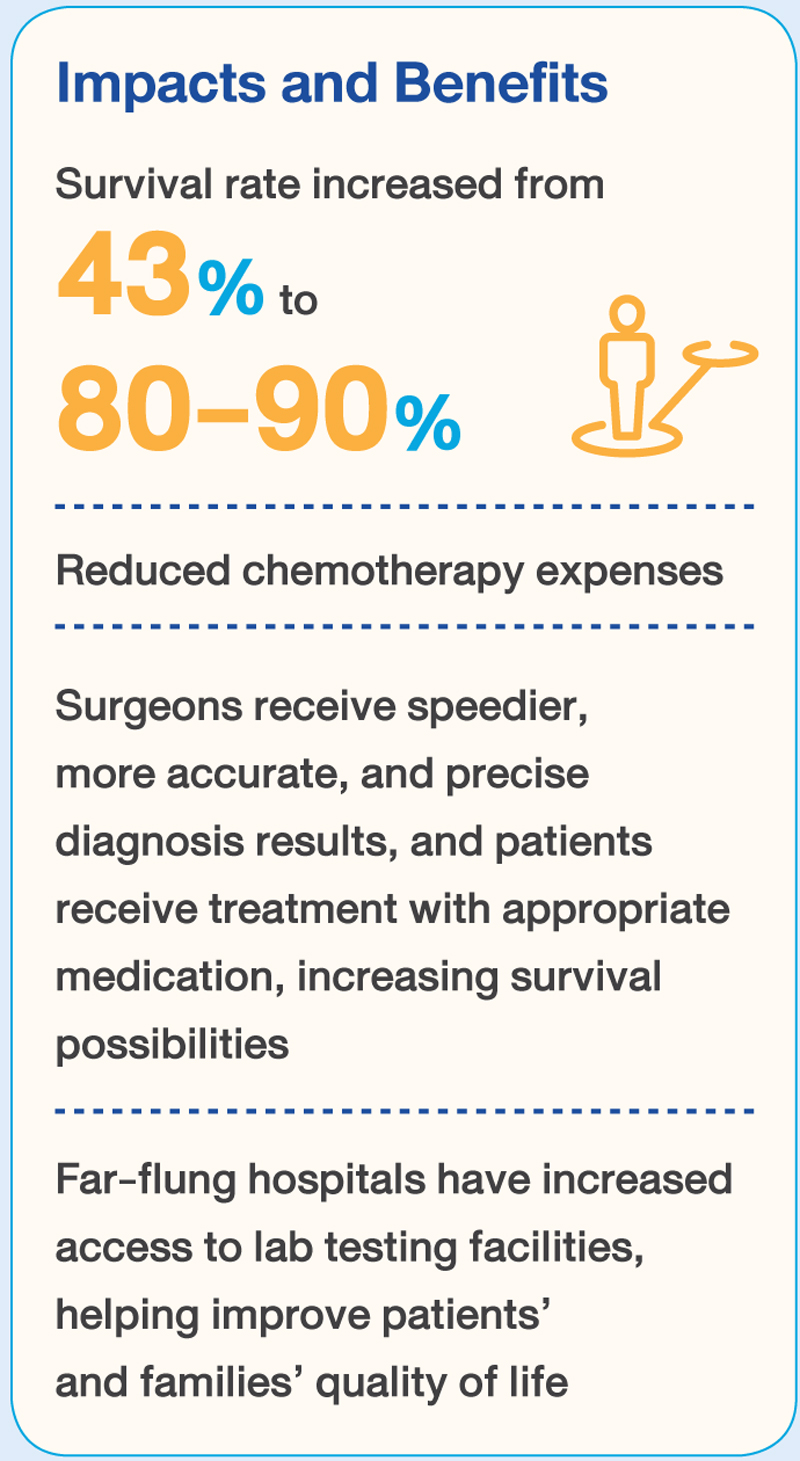 For more details —–> SD Report 2020