"Because developing new things — either products, services, or businesses—is core to enabling the Company in discovery and responses to market demands; as well as developing new business models resilient to changing customer and market landscapes."
The organization's ability to continuously improve and keep pace with global contexts, which are constantly changing, are key success indicators for a modern business seeking to grow sustainably grow with the world. CP ALL Plc. and its Subsidiaries ("the Company") aims to internally build a thought foundation by creating an atmosphere conducive for innovation- "observe, stimulate ideas, record, information exchange for development, support collaboration, create platforms for discussion and magnify results". These are part of the organization's "innovation culture". Nevertheless, the Company has simultaneously pursued "Open Innovation" to spark off a market place of ideas, with greater depth and breadth. This was achieved through collaboration between the Company and external organizations. The Company's efforts be innovative are not only in the interest of business survival, but are also pursued with the hope of creating greater value and positive impacts to broader society.
For over the past 10 years, CP ALL group has been organizing innovation awards for both close innovation and open innovation. The number and value added from various innovative projects and ideas which awards from the competitions each year are enhancing and creating broad spectrum of positive social and economic impacts. For examples :
The "Big Fish Innovation Award" bases its scoring criteria on social and economic impact.
The "President Innovation Award" is determined based on the social and economic value added, and benefits to stakeholders.
The "Process Excellence Award" considers benefits and satisfaction of internal and external stakeholders.
The "7 Innovation Awards" are awarded based on considerations of economic, social, and national benefits to various targeted groups.
Awarding results in 2017 revealed 18 innovations that generated positive impacts, with 10 creating benefits to communities and society. Awarded projects and initiatives were expanded received business support through 7-Eleven stores and others in the Group, business matching, and the promotion of innovative products and services, among others.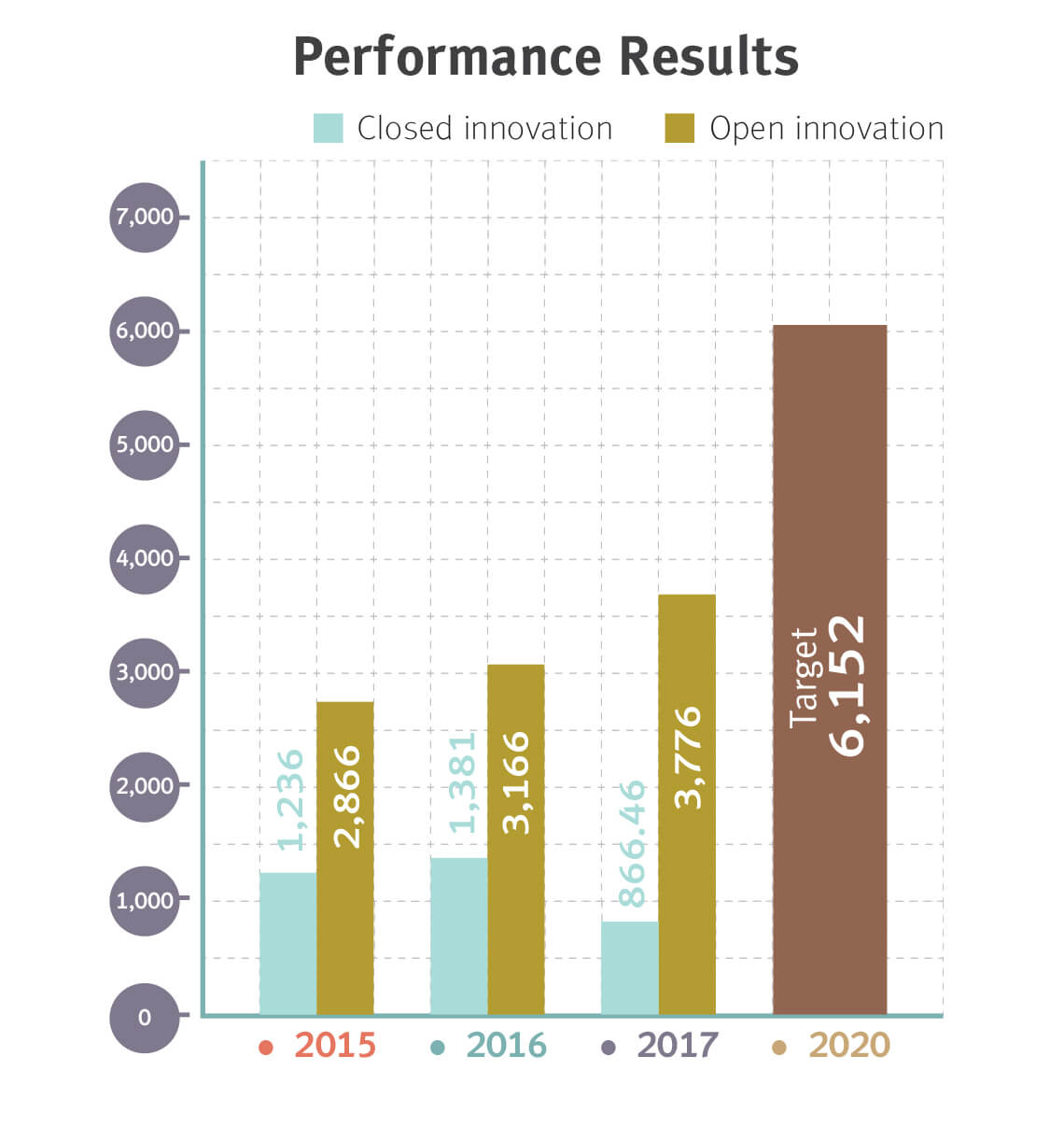 * Closed innovation's financial value generation estimation to the organization comes from projects submitted to the Big Fish Innovation Award, the President Award, and the Process Excellence Award.
** Open innovation's financial value generation estimation to the organization comes projects submitted to the "7 Innovation Awards".
*** Most innovation projects in 2017 focused on process improvements over revenue generation.
In 2017, the Company established the Science Technology and Innovation Development Office (STIDO), tasked with the responsibility to drive the Group's endeavors on technology and innovation, develop capabilities, and synergize innovation and technology. This is achieved through research and development
activities, invention and transfer of technology, and monitoring of development in research on technology and innovation; both from local and international networks. These efforts help the Company fosters technology and innovation with plausible positive impact to the economy, society, and the environment. The efforts are also an important driving force behind Thailand's sustainable development. At present, the Company has established, and currently overseeing, 7 technology centers. They are: