Risk and Crisis Management
KEY PERFORMANCE IN 2020
Risk and Crisis Management Dashboard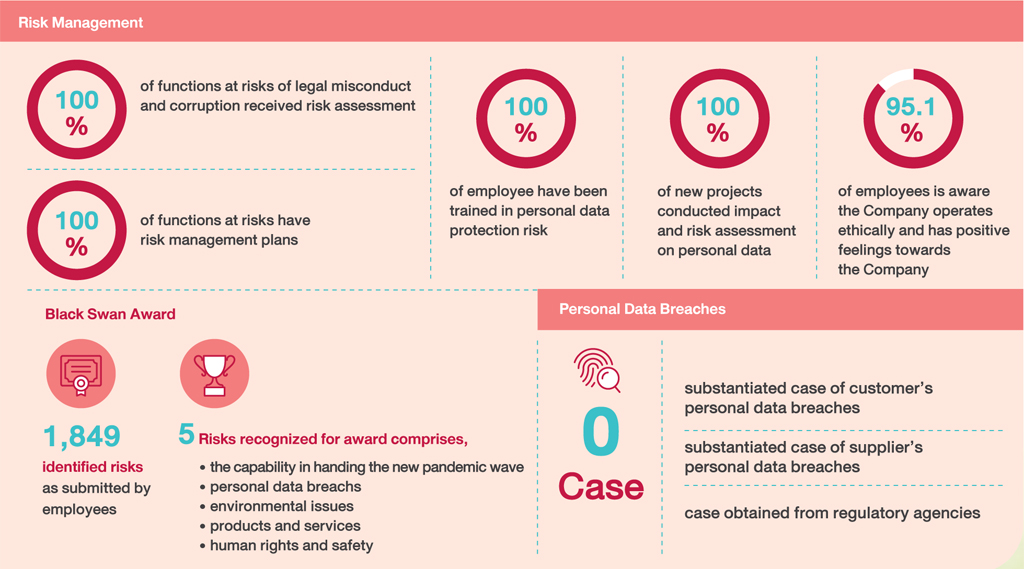 Risks and Opportunities
---
Risk management is a crucial mechanism in identifying risks and any future challenges that may affect the Company. Simultaneously, effective risk management and risk mitigation measure are important factors that will facilitate the Company to achieve its goals. Both factors also create values for all stakeholder groups.
Management Approach
---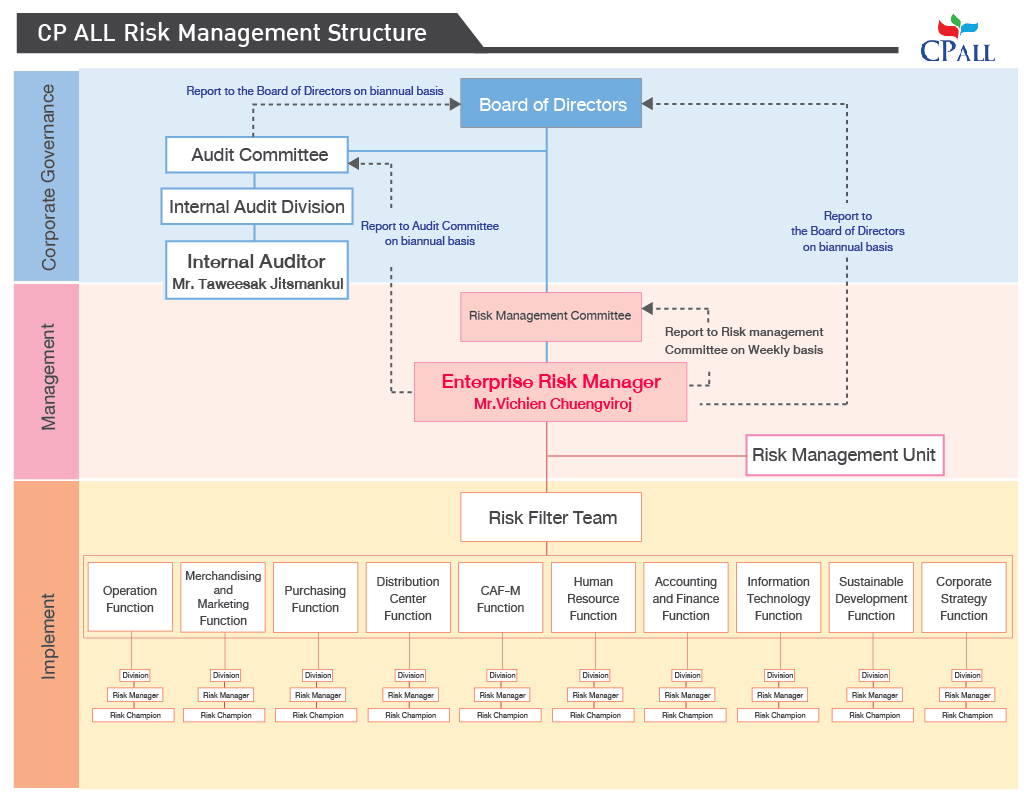 The Company determined risk management framework to ensure the Company can work according to its risk management approach, and is able to identify and forecast risks with potential negative impacts to the Company's operation and goals in every aspects. Similarly, the Company has develop plans to continuously control, monitor, and improve risks through management, control and review mechanisms. These components ensures risk level is within risk appetite, as well as embedding corporate-wide risk management culture. Such arrangement promotes understanding, raises awareness and engagement for all level of employees on the topic of corporate-wide risk management.
Risk and Incident Management Framework for Sustainable Business Operations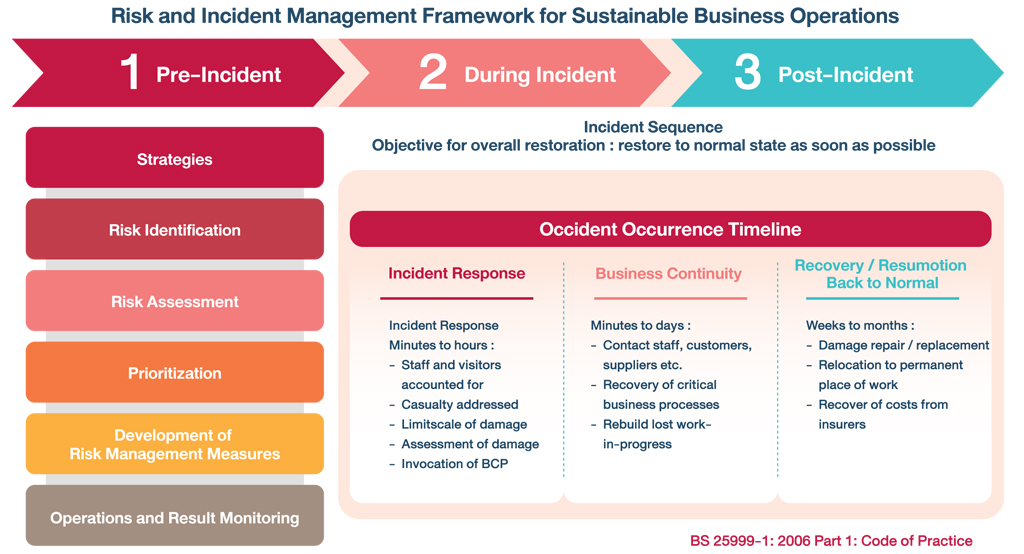 The Company organizes the risk management structure focusing on potential business impacts into 3 groups, comprises.
1 Operational risks
2 Sustainable risks and non-financial risks
3 Emerging risks
The Company has conducted risk assessments annually. Representatives from different functions are nominated as Risk Champion, also received training, according to each quarter's risk mitigation measures. The internal control process, rigorously risk and performance monitoring are presented as follows.

Emerging Risks
The Company has reviewed issues and trends posing risks to business operations, as well as analyzing numerous changes that may become an issue or new risks, on a yearly basis. This enables the identification of measures and management approaches in response to said risks, ensuring prompt response to them. In 2020, examples of emerging risks with potential impacts to business have been identified, as follows.
1. Risks from Pandemics  
The global novel coronavirus pandemic around the world has caused enormous damage to both the lives and the economy despite the fact that this global public health crisis has been ongoing for over a year. Scientists speculate our continuous coexistence with COVID-19 in a similar manner as previous epidemics such as SARS, swine flu, MERS and Ebola, which have emerging during the beginning of the last century. However, the duration whereby this disease continues as a direct threat to humans is inconclusive. A large outbreak could occur in the event of further mutations which arise from significant contributing factors including the encroachment of natural areas and close contact with wildlife as the global population expands. Furthermore, climate change, such as rising temperatures allow disease-carrying animals to grow faster. With more than 1.7 million pathogenic species such as viruses in animals, the likelihood of crossover spread to humans increases.
However, the pandemic, preventative measures, and government's efforts to safeguard public health, both national and provincial, disrupts business operations. This affects department stores, shops, restaurants, as well as convenient stores. The latter, 7-Eleven stores, had to cut short operations hours from 24 hours to 04.00 – 23.00, a reduction by 5 hours. For multiple high-risk areas, such as Bangkok, those in Bangkok Metropolitan regions, and many large provinces. Simultaneously, trans-provincial trips also decrease significantly – adhering to provincial governor's instruction for a 14-day quarantine prior to enter the province. This affects domestic tourism. The 7-Eleven stores in touristic areas, as well as petrol stations, inevitably got affected. Additionally, work from home measures deployed in several companies result in most people staying home. They were less likely to adhere to their usual routine and shopping habits. This leads to reduction of revenue income from offline sources of over 11% compares to 2019. Such circumstance results in 7-Eleven stores readily adjusted the format and service areas for 7-Eleven Delivery service. The stores now offer the convenience of home delivery across Thailand. The plan implementation is much faster than the original plan. The Company has also started developing heat map to help branch stores track customers in each areas. In terms of products, the Company has also adjusted products to become more suitable for stock-up, or more at-home lifestyle of Thai families. There are products of larger size, large packages and fresh products cooked and sold for delivery at a higher number. This effort was deployed simultaneously with development of ready-to-eat meals, bakery and fresh drinks made in-store. The services address daily consumption needs. In tandem, the Company developed more products with great value for money to support customers in society, often affected economically and possess reduced purchasing power; especially the middle to lower income group. Examples include great value lunchboxes and additional necessity products to lessen living costs burden of those in community. The products are available continuously all year long.
Regardless of advances in medical developments and pandemic response plan developments, forecasting the severity of the overall impact of the next outbreak remains difficult. Preliminary forecasts of 3-5 years suggest that the duration of impact may be shortened from experience in consumer behavior shifts. All of the company's operations and measures will continuously be reviewed, developed and elevated, with full cognizant to possibility of frequent pandemic and mutations in the future. 

Additionally, competition has intensified from both within the same retail category and from cross-category parties, who have turned to a small format for greater community access, online channels, home delivery, as well as Direct-To-Customer sell. Such transition by brands were often through social media and market place. This encompasses shifts in consumers' behaviors who have become more familiar with utilizing various technology in making orders and payment, transitioning towards cashless society. Such change has significant in consumers' daily life and decisions, and thus directly affects the Company. The Company therefore commences the adjustments of business model to facilitate more online and delivery channels, providing convenience to community, increase accessibility to customer and consumers under the 'Win the House' concept, using heat-map technology to track target customers' groups in villagers and community. There are also surveys inquiring demands of customers in the community and provision of products as requested; aiming to substitute market- or supermarket- shopping. This corresponds to customers' concerns regarding safety in going to shop outside. The Company has also strengthened convenience for e-payments in collaboration with True Money Wallet, as well as enhancing safer and timelier logistics as a convenient, speedy and safe alternative for customers. This allows them to access the products and services at anywhere anytime.
Management Approach
The Company recognizes the significance of the pandemic situation, the possibility of strain mutations at any given moment, and closely monitors developments in effort to study changes in consumer behavior both regionally and globally, in addition to continuously conducting short-term and long-term corporate strategy reviews. In order to maintain the Company position in fulfilling customer desires for convenience in all communities nationwide, adjustments to the strategy includes scope expansion from aiming to become a "Convenience Food Store" to a "All Convenience" store inclusive of more lifestyles and therefore creating new service models with relevance to current situations while also responding to rapidly changing customer needs and behaviors. These adjustments translate to the expansion of more convenient channels to access and purchase goods and services through offline vending machine channels at branches, as well as online platforms such as ALL Online via 7-Eleven.TH Application ShopAt24 under the concept of a complete one-stop service delivery of convenient to customers. Additional ordering options include the delivery of products on demand (On-demand Delivery) via Line or via 7-delivery Application with selected services to customer specified destinations or a product pick up option in branch. Simultaneously, the increasing role a cashless society plays in daily life has driven the Company to add convenient payment methods for goods and services via True Money Wallet, a mobile phone electronic wallet application, and via credit card. Furthermore, Digital Marketing and promotional activities via mobile applications, including the creation of a loyalty program through ALL Member for spending at 7-Eleven stores and companies in the CP All group have been implemented. 
The Company focuses on trends in consumer health and wellness needs. In order to reduce product handling and increase convenience and service efficiency for customers not willing to wait, the Company has developed products and services more appealing to customers and the delivery of new customer experiences to provide further ease in purchasing, paying and receiving products. This implementation not only maintains the existing customer base but also continuously expands the customer base to include new target groups. The Company initiates trial services of automatic payment machines and expands the Eat Well Corner which offers an increase in fresh vegetables, fruits, herbs and a complete selection of health products. Furthermore, the Company offers ALL Guardian Company Limited health and beauty products.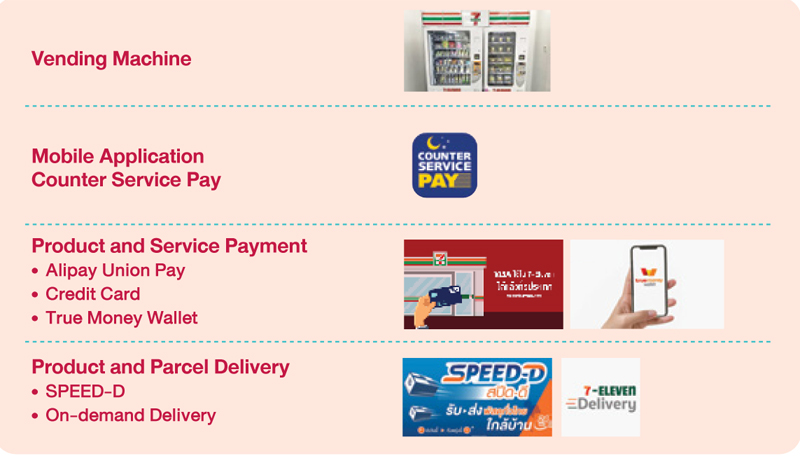 2. Risks from Customers' Demographic Shift
The global birth rate decline and the global life expectancy rate increase, as a result of advances in healthcare, are important factors that contribute to a shift in demographic structure towards a fully aged society. The World Health Organization (WHO) estimates that the number of people aged 60 and over will increase by at least 3 percent per annum. The number of people aged 60 and over is projected to reach about 1.4 billion and 2 billion by 2030 and 2050, respectively. A report from the National Statistical Office predicts that Thailand will enter into a fully aging society in 2022 and by 2030, the proportion of the elderly population will increase to 26.9% of the total country population.
This shift to a fully aged society may affect the number of existing customers using in branch services, which is projected to decrease continuously at a rate of 2.5-4.3% in the next 3-5 years, from the over 11 million current customers nationwide each day. The present elderly customer behavior includes desiring for the best quality, safest and most ergonomic products for personal care and health, financial management, housing and various consumer technology advances, including numerous smart phone applications, to facilitate conveniences in life. The Company considers elderly consumers to be a high potential target group with across-the-board product and services needs from multiple businesses. The previous market valuation of this consumer group was appraised at over 107 million baht per annum.    
Management Approach
The Company focuses on studying and understanding Customer Insight as a means to determine appropriate product sourcing and development in line with the market direction. The Company also aims to keep up with changes towards aging society trends. Further focus areas include studying customer needs dependent upon geography and specific consumer groups. This allows respective customers to receive products and services that provide solutions to their life needs in an inclusive and continuous manner. The Company has reviewed both short term and long-term strategies in order to maintain capabilities in fulfilling customer convenience needs in communities throughout the country. This measure ensures the proper product offering in response to current and future lifestyles and consumer expectations while allowing the Company to both cope with increasingly intense competition and increase the customer base in the existing market to new target customer markets in a sustainable way. Through expansion and distribution of "eXta" generic home drugs and health products within over 10,400 7-Eleven stores nationwide, the company aims to make eXta a business that provides health services, offers the community a wide range of health products and services inclusive of drugs, dietary supplements, cosmeceuticals, medical devices and other health products in an easily accessible method. The Company caters to everyone and provides reliable offerings within the community in an initiative to promote good health and hygiene to Thai people throughout the country under the slogan "Good health, convenient anytime, anywhere". Currently, the Company has accelerated the current expansion of its approximately 309 "eXta Plus" stores, which employs an in-house pharmacist and operates as a stand-alone store. The Company has also pursued a Store Business Partner business model, a pharmacy store model targeting pharmacists desiring to establish their own pharmacy and enrich pharmacist and store personnel performance. From a consumer perspective, this model caters to the needs of the digital age society and to customers with health problems, including elderly people who live in remote areas or lack the convenience to travel to branch stores. In response to this matter, the Company has developed the "All Pharma See" application to offer pharmaceutical related consultations free of charge. This application also allows customers to search for nearby pharmacies, order products in advance, and access reading material relevant to good health.
In addition, the Company has developed Ready-to-Eat: RTE products inclusive of savory and sweet menu items, increased one-dish and side dishes varieties, desserts, bakery, Thai desserts, appetizers, ready-to-eat fresh vegetables, fruits and fresh drinks each day to create variety and provide customer choices of up to 7 different meals each day. Furthermore, the Company's outstanding food and beverage products differentiate from competitors not only in terms of delicious taste but also nutritional benefits and value which promotes the health and well-being of Thai people. Such menu offerings include low-calorie foods, reduced-salt foods, and reduced-sugar foods that meet the needs of consumers with health concerns and consumers transitioning towards the aging Thai society. Other recent instore developments include the automatic payment machine trial service and the introduction of the Eat Well Corner offering fresh fruits and vegetables, herbs and a complete selection of health products. Current developments on the 7Eleven Application platform include the addition of a Health Icon. The Company has also organized various campaigns to promote calorie-controlled menus, recommended menus with suitable calorie content for each meal, mains and side dishes such as fresh vegetables, salads, fruits, beverages, healthy snacks, as well as recommendations. Products with the nutrition symbol "Healthy Choices" have been introduced to indicate a nutritional option. Moreover, health and beauty product offerings have expanded through the well-established ALL Guardian Company Limited.
The personalization strategy, which is more in depth and specific, include offerings such as food for specific groups such as elders. For instance, the porridge menu which highlights ease in chewing and nutritional absorption, was introduced and sold in 7-Eleven stores late last year in response to changes to Thai demographics shifting towards aging society. The Company gives consideration towards product offerings, needs of the product and distribution channels to ensure all customer accessibility. This includes food catered towards patients and those with congenital disease and therefore require special diets. One instance of this is how diabetics require less sugary food offerings. There are also plans for new menus to penetrate more consumer market segments.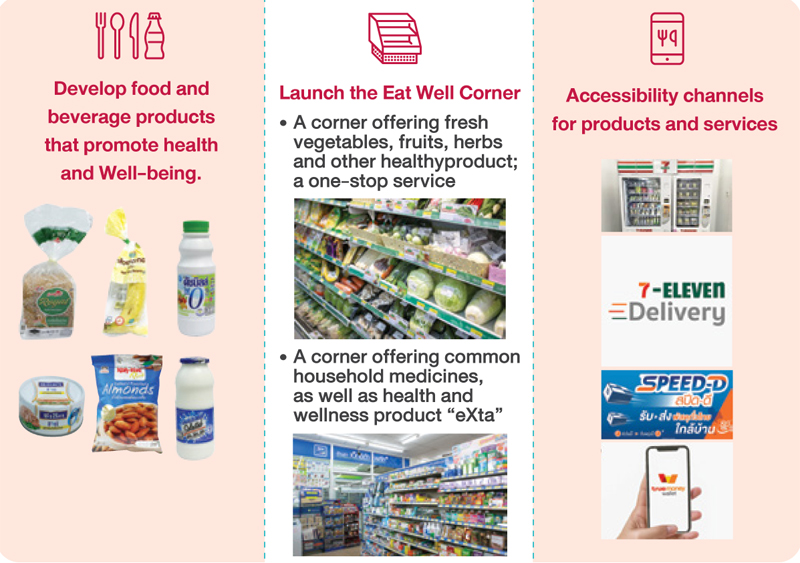 Additional information on new emerging risks affecting CP ALL business operations is available at Sustainability Report 2020
Key Project in 2020
---
Black Swan Award
Objective Raising awareness and participatory of Corporate Risk Identification Program.
The Company started Black Swan Award to promote all personnel's participation, covered management to the officer, in identifying corporate risks. Such risks may obstruct the Company from achieving its goal or causing instability and insecurity to the Company. Activities are organized for management and officer to join in by submitting their perceived risks through different channels, such as Black Swan Online QR code. This was executed under the concept "To seek and address for prevention and handling of potential black swan risks." Risk issues recognized for awards are considered by executives, in order to develop appropriate measures. The measures will be developed and implemented effectively, according to the relevant 6 issues, as follows.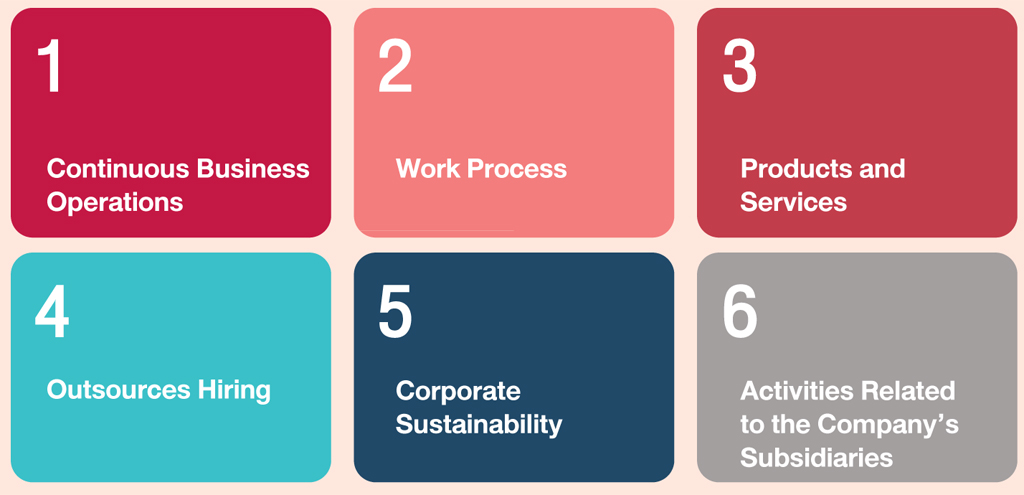 Impacts and Benefits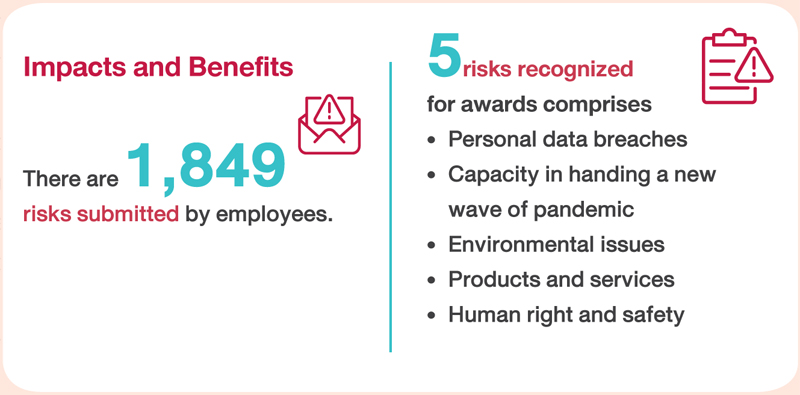 Cyber Resilience Preparation Project
Objective Raise Management and employees' awareness and understanding of cybersecurity.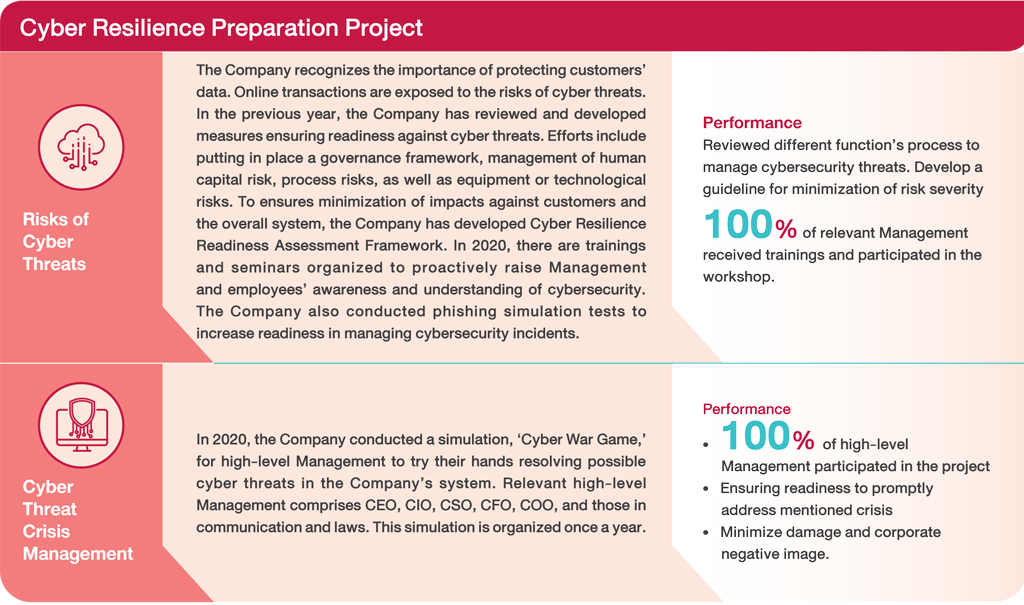 Other Information
---
Sensitivity Risk
1. Business Environment Risk
According to business expansion continuously, the Company is aware of development of GHG emissions reduction initiatives for various operations, including research, pilot projects, and applied to the business as well as collaboration program with stakeholders thought value chain. Under continuously development principle, the Company has preliminary studied on advance sustainability targets, being a carbon neutral organization or net zero carbon 2030 afterward. The Company has simulated 3 GHG emissions reduction scenarios (shown in diagram 1) which all cases are linked with the business growth. Additionally scenario has been performed by limiting volume of carbon offsetting at 20% of projection BAU case in 2030. The offsetting cost of all remaining carbon emissions will be used for range determination.
Results are indicating cost that associated climate change mitigation and linkage with business case which reflect effort and preparations required for co-mitigating the global issue.
Diagram 1 GHG emissions and carbon offsetting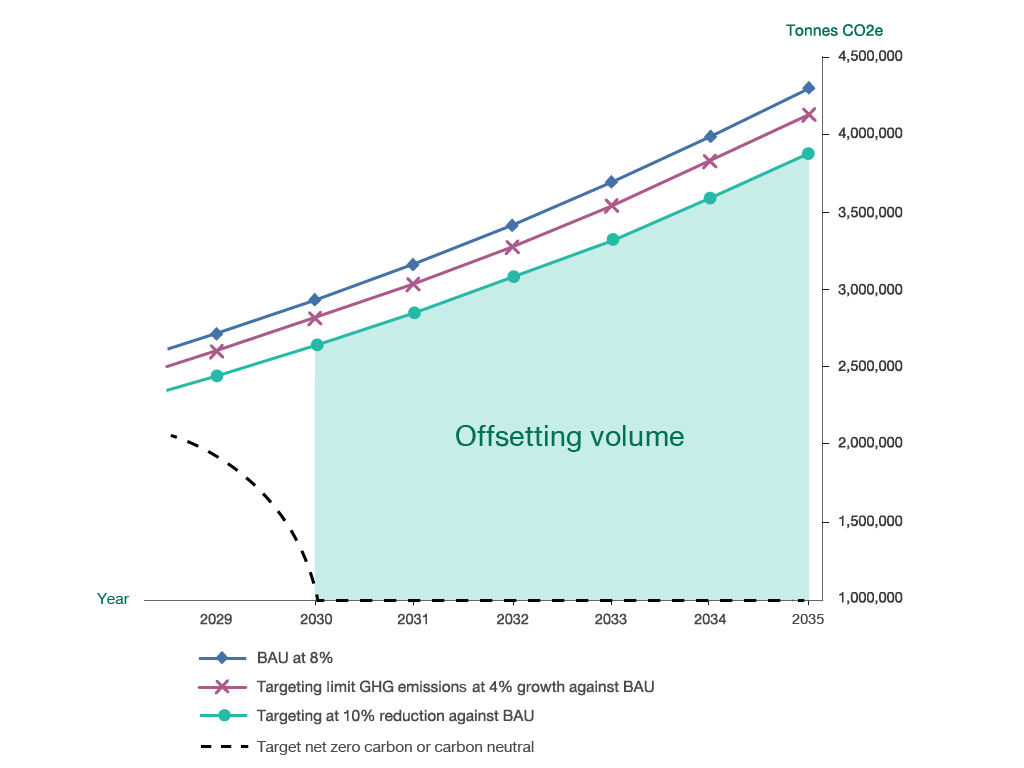 Data Analysis
(inputs and factors used for the analysis)
Unit
Voluntary Emission Reduction
42.72
Euro / tonne
Exchange rate
38.37
Bath / Euro
Carbon emissions forecasting 2030 (CEF2030)
3,042,632.71
tCO2e
Target limited GHGs growth at 4%
2,086,322.77
tCO2e
Target GHG reduction at 4.2% each year
1,764,726.97
tCO2e
1% of revenue 2020
5,465.90
MTBH
Table 1: Sensitivity analysis for carbon offsetting on target year 2030 scenario

2. Compliance Risk and Operation Risk
Sensitivity Analysis of Future Salary Growth and Employee Turnover Rate


3. Market Risk
Sensitivity Analysis of Discount Rate


For more details —–> SD Report 2020 , Annual Report 2020
Related Policy and Guideline