Management Approach
The Company recognizes numerous types of risks which could continuously affect the Company, thus a Risk Management Committee was established. The Committee is tasked with setting policies and corporate risk management approach. The risk management department and governance department jointly serve as risk management committees, enabling effective operation under the umbrella of good corporate governance, while maintaining alignment to the Company's goal. Simultaneously, risk management committee is also responsible for reporting risk performance and present to the audit committee and the Board of Directors twice a year. This makes possible the reviews of corporate risk management process, as well as identification of a solution enhancing effectiveness of risk management for comprehensiveness.
Corporate Risk Management Structure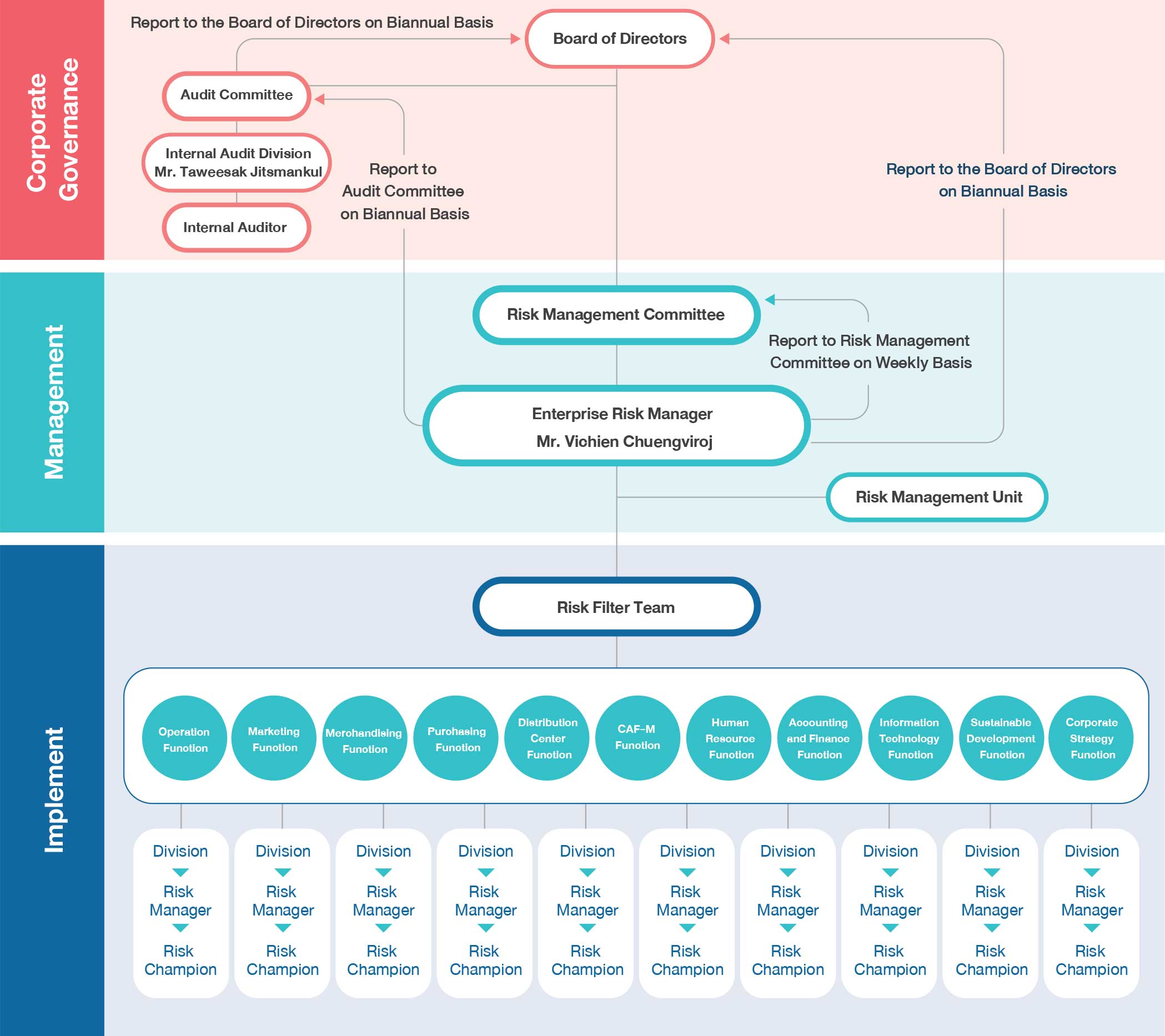 Notably, the Company has set up risk and crisis management framework for sustainable business operations, serving as an operation guideline on risk management framework. This ascertains management of risks that could potentially affect the Company's operations and target achievement, as well as enabling thorough risk control plans in all aspects.
Risk and Incident Management Framework for Sustainable Business Operations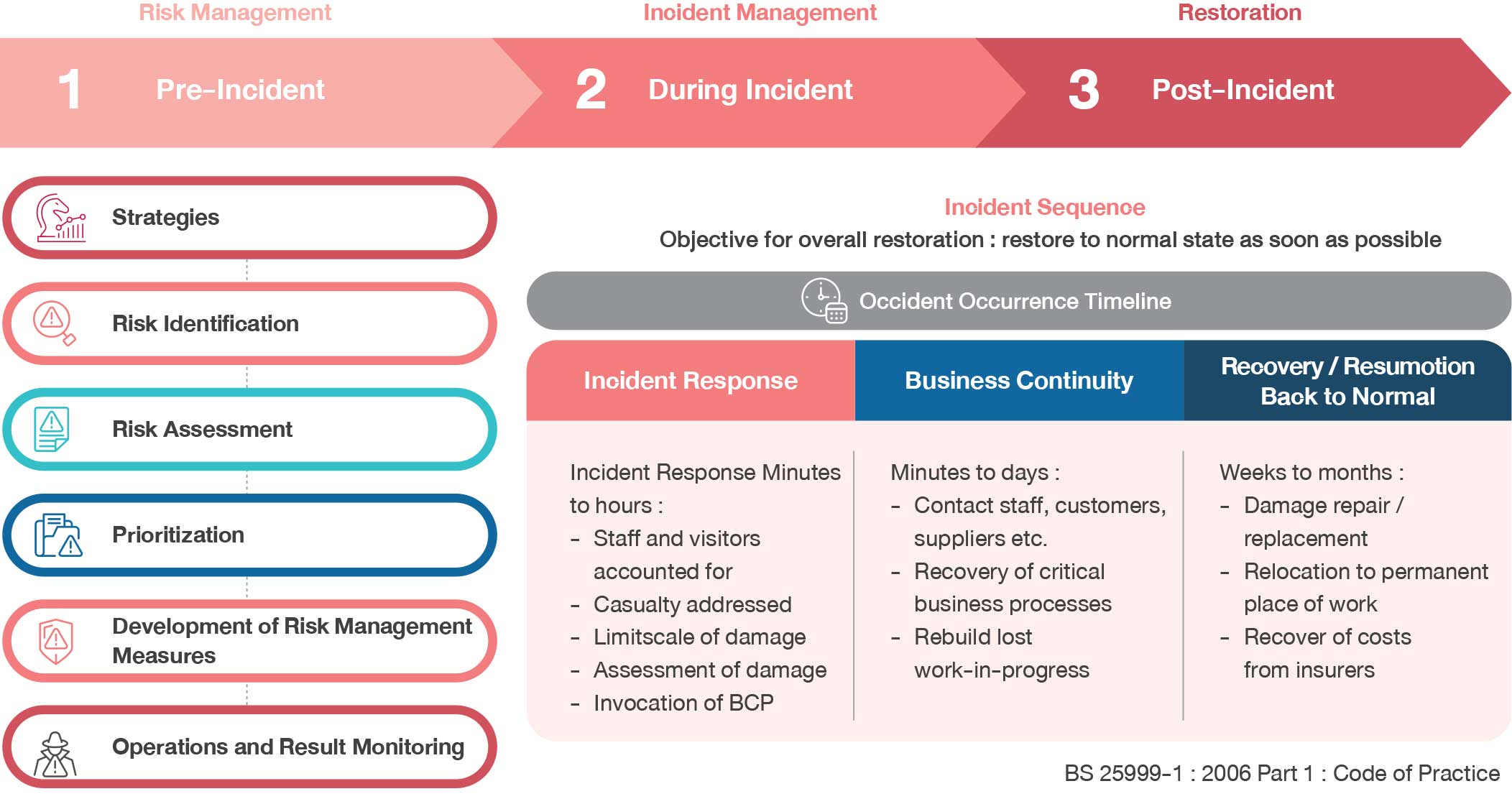 The Company categorizes risks that could potentially affect business operations into 3 groups, as follows.
Risk assessment is conducted annually, with training on relevant risk mitigation measures provided on a quarterly basis to numerous departments. Risk champions provided information, in tandem with provision of control mechanisms and monitoring in place, promoting employees to strictly follow protocols and regulations, being able to readily take actions in crisis management, and support the Company's strategy.
Risk Monitoring and Internal Control Mechanism
Emerging Risks
The Company reviews issues and trends annually to analyze potential emerging risks and business risks, aiming to develop measures, management approaches, and responses to risks promptly. In 2021, the Company identified emerging risks, as well as impacts on business, setting measures, and management approach.
The Company aims to work on plastic waste management under the Thai Plastic Roadmap continuously, supporting minimization of environmental impacts and response to the national policy, per Extended Producer Responsibility (EPR) principle. It is possible that within the next 3-5 years, it will become a regulations implemented domestically for all industries, affecting business operations throughout the Company's value chain. Review of environmental operational plan, from upstream to downstream, is extremely crucial in driving forth the Company's business. Furthermore, investment in reuses and recycles of packaging waste, as well as distribution of products rely on novel system and process, thus incurring additional costs to set up system or to operate (equates to investment of over 215 million Baht in the next 3-5 years). A nudge for legal actions per extended producer responsibility may affect the Company's reputation if one does not have sufficient preparation throughout the supply chain.
The Company aims to minimize plastic waste and packaging waste landfilled, by promoting waste management under the principle of Circular Economy, in order to achieve target in plastic packaging management for Private Brand. It must be reusable, recyclable, or compostable, through the concept "reduce, avoid, stop" by operating per 3 primary approaches, as follows.
Researches from various institutes demonstrate possibilities of rising sea level. The data is derived from highly precise calculations from satellite images. Over 96% of Thailand's Bangkok would be flooded if flooding occurs, encompassing over 1,512 square kilometers within the next 3-5 years. The economic damage could multiply, particularly in basins within Bangkok and the peripheral provinces, which are areas of business importance due to the high density of stores.
Notably, climate change-induced impacts such as rising sea level and seawater intrusion in freshwater sources, directly affect 7-Eleven stores in the river basin areas across 9 provinces, which are Bangkok, Samut Prakarn, Nonthaburi, Pathumthani, Saraburi, Chachoengsao, and Prajinburi. There are over 4,892 store branches. Post-flooding, there would be business disruption, additional cost for store fixes and rebuilding, expense in tool and equipment procurement to maintain water supply quality for businesses. In tandem, such incidents can impact products' quality, as well as products and services requiring prior preparation, which must stop its sales as it got affected by seawater level and high-tide, resulting in saltwater intrusion of frequently sourced freshwater bodies. The Company would lose many business opportunities during such crisis. onsequently, the Company has conducted risk assessments, categorized into 2 dimensions, as follows.
The Company developed comprehensive risk policy and risk management plan, governed by Risk Management Committee. Climate change risk has been integrated as a risk factor against the Company's business operations, aiming to review risk management approach thoroughly at least twice a year. This ensures risk management is aligned and is part of the decision behind determining business operation strategy. Simultaneously, the Company set up for Flood Scenario & Preparation plans for 7-Eleven stores, by studying for consistency with natural disaster statistics, coupled with the public sector's risk assessment data, such as spatial climate change-induced risk database.1 This could be used to substantiate risk assessment of store branches in each areas, to develop business continuity plans, and post-incident restoration plan. The extent includes reports on impacts from rising sea levels, which may trigger floods and high-tides, subsequently culminating in saltwater instruction, directly to Risk Management Committee. This enables stipulation of directions and identification of crisis mitigation approach, such as.
It can be considered both opportunities and risks in business conducts. The challenges can be identified in 2 aspects, as follows.
The Company has sped up in fostering suppliers' strength through various measures, ensuring SMEs suppliers are able to adapt and be ready to grasp sales and competitive opportunities at a regional level. This was achieved through promotional measures, as follows.
Cybersecurity and Data Management
The Company has improved the information technology system security to be in alignment with ISO 27001, aiming to raise awareness on cybersecurity and indispensable information of the Company, as well as personal data protection. These are considered pivotal enterprise risks. The following projects were accordingly implemented.
Cybersecurity is one of the crucial risks occurred due to transition from offline business operations to online. This resulted in the Company consistently being exposed to risks, as everything occurs in fraction of a second. The Company thus set up cybersecurity management. In 2021, the Company conducted the following.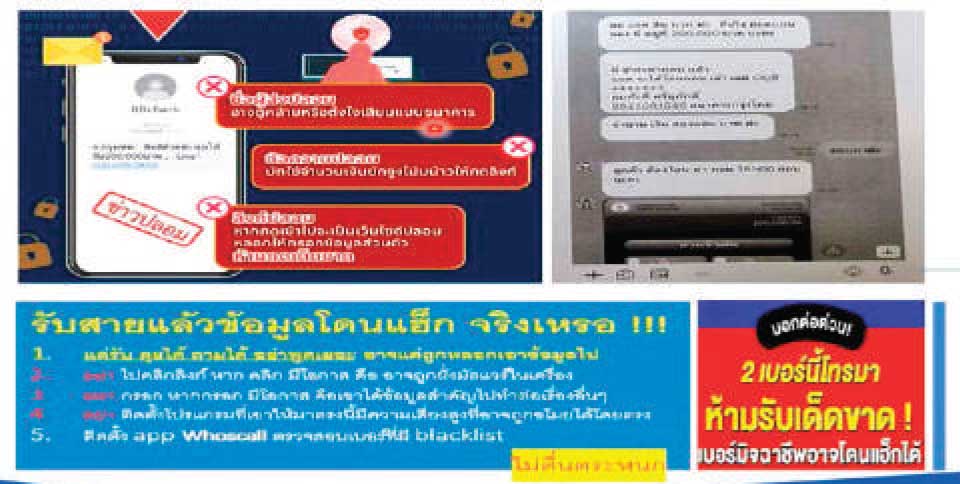 Black Swan Search
The Company has continued the Black Swan project for the 8th consecutive years to raise awareness on risks for the Company's personnel. Management and employees are encouraged to take part in identifying enterprise risk that could potentially impact the Company's operations and goals through submission of risk
topics in a contest, available at various channels. The risks topics are related to the below 6 issues, as follows.
Risk issues awarded would be considered for development and implementation of appropriate mitigation and management measures, paving the way to effective implementation. In 2021, a total of 2,671 risk topics were submitted by employees. Among them, the top 5 risks submitted comprise COVID-19 pandemic, confidential data leakage, negative comments on social media, safety, and miscommunication both internal and external.
Furthermore, the Company organized for Risk Score assessment to measure departmental risk management capabilities, as well as providing feedback for improvement and enhancement of effectiveness in risk management system for all areas, covering over 70 departments quarterly. There were also advisory services online, as well as exchange of knowledge and best practices to increase capacities in risk management via Risk Score Clinic weekly. Departments with consecutive excellent performances would be recognized by Enterprise Risk Champions and the Chairman. Lessons learned were then disseminated to risk champions to further improve. Seminars for risk champions were organized on a quarterly basis to elevate the level of risk champions' knowledge and skills to be ready for strategic, operational, financial, regulatory, sustainability and governance risks. There have been over 500 participants.
Other Information
Sensitivity Risk
1.Business Environment Risk
According to business expansion continuously, the Company is aware of development of GHG emissions reduction initiatives for various operations, including research, pilot projects, and applied to the business as well as collaboration program with stakeholders thought value chain. Under continuously development principle, the Company has preliminary studied on advance sustainability targets, being a carbon neutral organization or net zero carbon 2030 afterward. The Company has simulated 3 GHG emissions reduction scenarios (shown in diagram 1) which all cases are linked with the business growth. Additionally scenario has been performed by limiting volume of carbon offsetting at 20% of projection BAU case in 2030. The offsetting cost of all remaining carbon emissions will be used for range determination.
Results are indicating cost that associated climate change mitigation and linkage with business case which reflect effort and preparations required for co-mitigating the global issue.
Diagram 1 GHG emissions and carbon offsetting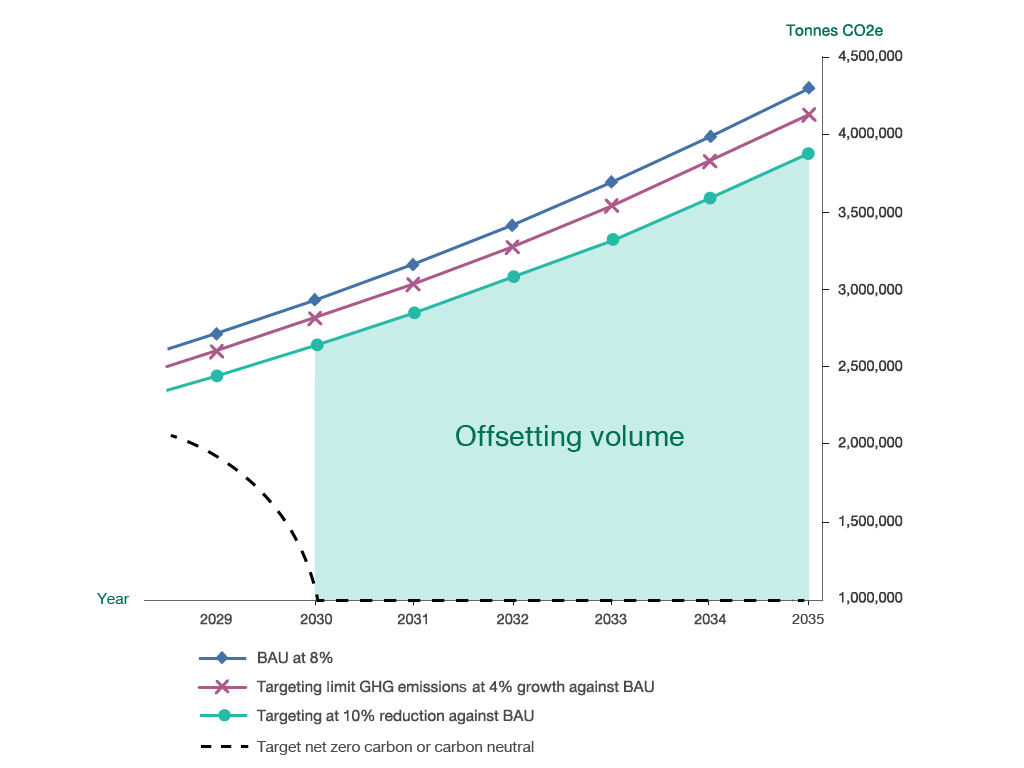 Data Analysis
(inputs and factors used for the analysis)
Voluntary Emission Reduction
42.72
Euro / tonne
Exchange rate
38.37
Bath / Euro
Carbon emissions forecasting 2030 (CEF2030)
3,042,632.71
tCO2e
Target limited GHGs growth at 4%
2,086,322.77
tCO2e
Target GHG reduction at 4.2% each year
1,764,726.97
tCO2e
1% of revenue 2020
5,465.90
MTBH
Table 1: Sensitivity analysis for carbon offsetting on target year 2030 scenario
Unit (million THB)
Carbon pricing valuation
-10%
-5%
+-0%
+5%
+10%
Carbon emission (CEF2030)
4,488.64
4,738.01
4,987.38
5,236.75
5,486.12*
Targeting Limit GHG emission at 4% growth against BAU
3,077.85
3,248.84
3,419.83
3,590.82
3,761.81
Target GHGs reduction at 4.2% each year
2,603.41
2,748.05
2,892.68
3,037.32
3,181.95
* exceeded threshold at 1% of revenue
2. Compliance Risk and Operation Risk
Sensitivity Analysis of Future Salary Growth and Employee Turnover Rate
Consolidated Financial Statements
1% increases in assumption
1% decrease in assumption
3% increases in assumption
3% decrease in assumption
5% increases in assumption
5% decrease in assumption
2019
2020
2019
2020
2019
2020
2019
2020
2019
2020
2019
2020
At 31 December
(in million Baht)
Future salary growth
449
429
(398)
(380)
1,347
1,287
(1,194)
(1,140)
2,245
2,145
(1,990)
(1,900)
Employee turnover
(432)
(415)
467
442
(1,296)
(1,245)
1,401
1,326
(2,160)
(2,075)
2,335
2,210
Separate Financial Statements
1% increases in assumption
1% decrease in assumption
3% increases in assumption
3% decrease in assumption
5% increases in assumption
5% decrease in assumption
2019
2020
2019
2020
2019
2020
2019
2020
2019
2020
2019
2020
At 31 December
(in million Baht)
Future salary growth
282
265
(247)
(234)
846
795
(741)
(702)
1,410
1,325
(1,235)
(1,170)
Employee turnover
(275)
(257)
318
295
(825)
(771)
954
885
(1,375)
(1,285)
1,590
1,475
3.Market Risk
Sensitivity Analysis of Discount Rate
Consolidated Financial Statements
1% increases in assumption
1% decrease in assumption
3% increases in assumption
3% decrease in assumption
5% increases in assumption
5% decrease in assumption
2019
2020
2019
2020
2019
2020
2019
2020
2019
2020
2019
2020
At 31 December
(in million Baht)
Discount Rate
(439)
(406)
473
466
(1,317)
(1,218)
1,419
1,398
(2,195)
(2,030)
2,365
2,330
Separate Financial Statements
1% increases in assumption
1% decrease in assumption
3% increases in assumption
3% decrease in assumption
5% increases in assumption
5% decrease in assumption
2019
2020
2019
2020
2019
2020
2019
2020
2019
2020
2019
2020
At 31 December
(in million Baht)
Discount Rate
(267)
(240)
288
279
(801)
(720)
864
837
(1,335)
(1,200)
1,440
1,395