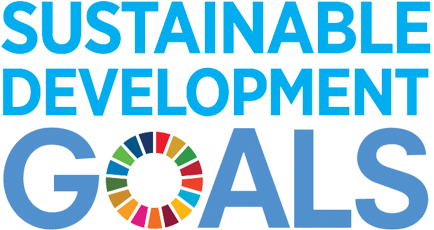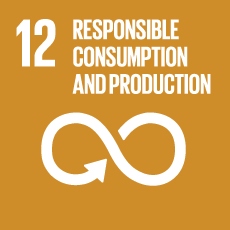 Risks and Opportunities
Bringing together countries to join forces and drive countermeasures against climate change, a particular meeting of multilateral agreements would become known as another event of global significance, called the Conference of Parties (COP26) and was held in Glasgow, Scotland. At this conference, each country signed an agreement to collectively help reduce GHG emissions in order to control or reduce the global temperatures rise to below 2 degrees Celsius. If taken into effect, this agreement would drastically shape each country's effort in combating climate change. Thailand is one of the top listing countries that is at risk of a climate change crisis, in specific, an eminent threat toward access to food, clean water and pure air that will lead to degradation of the ecosystem and may trigger conflict in the future. Additionally, added pressure from the demands of the private sectors is forcing the public sectors to announce the "Climate Emergency Declaration" in the future. The declaration will have a direct effect on the business sector and industries. Thus, preparation for these changes is necessary for all sectors in order to build consciousness in lowering or regulating the temperature and minimizing the business operation's impact to climate change. In response, the Company has taken part reducing GHG emissions and has prepared itself for the country's upcoming policy change by continuously and increasingly supporting GHG emissions reduction throughout the supply chain.
Performance Against Goal
2030 Goal
Carbon Neutral
To achieve Carbon Neutral by 2030 and Net Zero GHG Emissions by 2050
Performance Summary 2021
Total GHG Emissions (tCO2e) by Scope of Operation
CP ALL and Subsidiaries
Direct GHG emissions (Scope 1)

Indirect GHG emissions from energy consumption (Scope 2)

Only CP ALL
Direct GHG emissions (Scope 1)

Indirect GHG emissions from energy consumption (Scope 2)

Total GHG Emissions (tCO2e) by sources
CP ALL and Subsidiaries






Only CP ALL





GHG Emissions Intensity (Scope 1 and Scope 2) per Unit of Revenue (tCO2e per million Baht)

GHG Emissions Reduction (tCO2e)




Remark: Utilization of renewable energy comprises of electricity from solar energy, solar thermal energy and geothermal energy. *Electric vehicles in logistics is tested and piloted using 2 trucks in 2 month
Total GHG Emission by Energy Purchase
| GHG (Scope 2) | Unit | FY2018 | FY2019 | FY2020 | FY2021 | Target 2021 |
| --- | --- | --- | --- | --- | --- | --- |
| Location-Based | Metric tonnes of Co2 equivalents | 1,24,897.14 | 1,218,051.27 | 1,189,392.79 | 1,126,211.63 | 1,139,438.29 |
| Data Coverage (as % of Denominator) | Percentage of: Revenue | 96.45 | 96.08 | 95.46 | 95.52 | |
| Market-Based | Metric tonnes of Co2 equivalents | 1,272,977.98 | 1,126,421.13 | 1,177,485.71 | 1,104,406.33 | 1,128,031.31 |
| Data Coverage (as % of Denominator) | Percentage of: Revenue | 96.45 | 96.08 | 95.46 | 95.52 | |
"Reduction, capture and offset" of GHGs from the Supply Chain (tCO2e)
Usage of single-use plastic packaging

Donating excess surplus food

Planting trees

GHG offset

Registration on GHG emissions reduction

Other Indirect GHG Emissions by Group (tCO2e)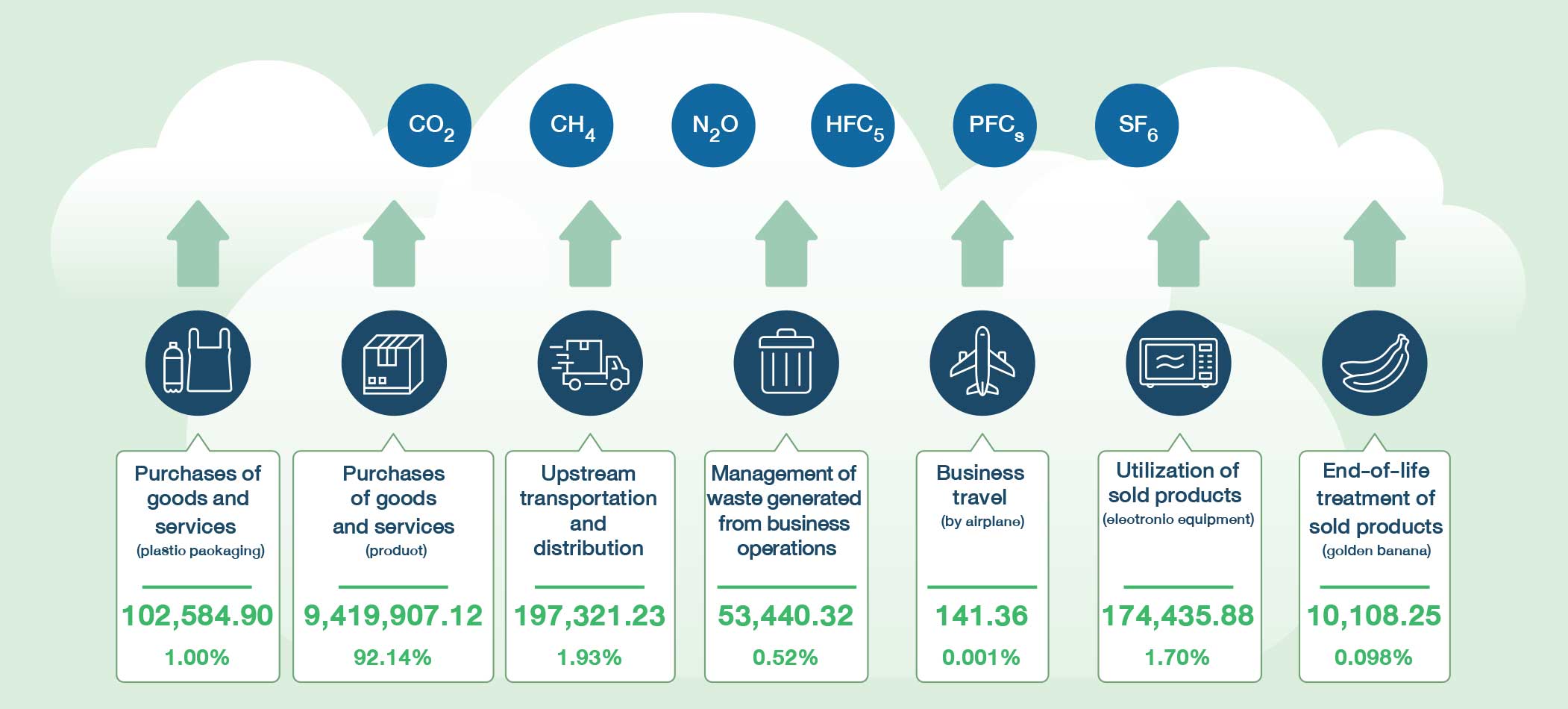 Management Approach
Several challenges lie in wait for the Company. These challenges include facing climate change on a global scale, transitioning into phase 2 of the sustainability strategy, setting goals to maintain the global temperature rise at 1.5 degrees Celsius and determining data on GHG emissions under Scope 1 and Scope 2 using 2020 as the base year for tracking operations in phase 2. In preparation, the Company has appointed a committee on sustainable development to oversee the management of actions against climate change and specific working teams, such as the energy efficiency and conservation team, the solar rooftop installation team, the green packaging development team, the planting team for sustainable communities, the excess food management team and the GHG management team. Each of these teams have adopted an GHG accounting system to meet international standards in measuring and reporting emissions and in reducing the organization's GHG emissions according to the ISO 14064-1 standard of 2018. The Company has proceeded to emphasize the importance of climate change management under the "7 Go Green" Strategy. Additionally, the Company has established a framework for actions against climate change, which is an approach for business operations to take responsibility for climate change throughout the supply chain. Finally, the Company's efforts have been aligned with the Task Force on Climate-related Financial Disclosures (TCFD) to achieve Carbon Neutral by 2030 and Net Zero GHG Emissions by 2050. The aforementioned initiatives are a reflection of the will to maintain the global temperature rise to below 1.5 degrees Celsius and are in alignment with the Paris Agreement and Science-based Targets (SBT). Furthermore, these initiatives are in collaboration with all stakeholders throughout the supply chain and apply the concept on "Reduction, Capture and Offset" of GHG emissions in various projects, such as the reduction of single-use plastic packaging and utilization of alternative energy or renewable energy. The initiatives extend to actions supporting all sectors in efficiently driving the Company's operations to achieve its goals and to start managing GHG emissions under Scope 3.
Climate Change Management Framework
Sustainability Goals towards 2030 Climate Resilience and Adaptation
It is an ongoing effort to tackle climate change, an issue that requires the corporation of the global population, the Company has studied and used data from leading institutions across the globe, which the information is the basis, for developing sustainability goals. Therefore, to increase operational challenges and in accordance with the determination to deliver happiness and opportunities for society, the Company has set a target in carbon emission from the Company's operations to be Net Zero Carbon by 2030 and intends to cooperate and control the rising global temperatures to be within 1.5 degrees Celsius in accord to the GHG reduction targets under the Paris Agreement based on the Science-based Targets (SBT). It is a challenge to maintain the balance between business growth and reducing carbon dioxide emissions. The Company supports the operations throughout the supply chain to enable all sectors to participate in supporting and taking part in driving goal achievements, which require cooperation from all parts of the globe, to strongly expand these actions further to achieve these goals.
The company analyzes the greenhouse gas emissions and sets a long-term reduction target (2020 – 2030) "for more details"
Risk and Opportunity Assessment on Climate Change
In order to find suitable ways for adapting to climate change, the Company has conducted an assessment of risks and opportunities that may ensue from climate change and the impact to the operations of each department under the Company. The assessment is conducted and evaluation under of the risk assessment committee, approval and governance under of the corporate sustainable development and governance committee to ensure full disclosure of information regarding climate change risk management for stakeholders. The committees in turn apply the reporting framework of the Task Force on Climate-related Financial Disclosure (TCFD) to devise effective risk mitigation plans for climate change.
In 2021, the Company pinpointed significant risks and opportunities related climate change along with countermeasures, as follow.
7 Go Green Strategy
The Company has implemented plans to reduce GHG emissions under the "7 Go Green" Strategy and build environmental sustainability in communities, the society and the country. Some of these various implementations are on the reduction of energy consumption and the reduction and elimination of plastic bags at 7-Eleven stores. Emphasis is placed on achieving results on the reduction of GHG emissions while transparently and consistently communicating the results of these environmental implementations to stakeholders and raising awareness on environmental issues in communities and the society. Additionally, all actions can be tracked under the Carbon Disclosures Project (CDP), which applies the following 4 approaches.
Furthermore, the Company has implemented carbon offsetting activities to become carbon neutral through the following initiatives.
The Participation in the Thailand Voluntary Emission Reduction (T-VER) Program
The Company participated in and supported the GHG emissions offset program with the purpose of creating flow in the carbon credit market and reducing the country's GHG emissions. In order to do so, it opened an account with the Thailand Greenhouse Gas Management Organization (Public Organization) and purchased and offset carbon credits worth 2,795 tCO2e. As a result, the Company was able to reduce the GHG intensity per unit revenue (million Baht) of 2020 to 10% of the base year 2015, which is considered a substantial step toward sustainability and social responsibility.
The Registration and Certification of GHG Emissions Project
CP ALL Plc. implemented the solar rooftop project a distribution centers in 18 areas to support the generation of clean electricity and reduce electricity consumption from the grid. The project provided a capacity of 6,106.56 kW and was commissioned on 1 September 2019. This project installed a total of 18,232 panels with each panel sized at 330 W. The project was designed to generate electricity 365/366 day/year and earn a credit of 55,030,975 kWh, which will power the distribution centers. Originally, the space for the solar rooftop was empty and not utilized for any benefit. Previously, electricity was supplied by either the Provincial Electricity Authority or the Metropolitan Electricity Authority. The estimated GHG emissions reduction for the duration of the project's carbon credit is calculated at 26,811 tCO2e or equivalent to an average of 3,830 tCO2e per year.
The Green Product Development and Procurement Project
CPRAM Co., Ltd. supports environmentally friendly products and places great importance on reducing GHG emissions in production. This is achieved by evaluating emissions and GHG reductions from each product throughout the product life cycle. All steps are evaluated starting from the procurement of raw materials, product processes, delivery, usage and disposal. In addition, its carbon footprint has been registered with the Thailand Greenhouse Gas Management Organization (Public Organization) (TGO). In 2021, the Company registered 6 products for the carbon footprint product label and registered 5 products for the carbon footprint reduction label.
Other Information
Performance Data of Climate Resilience
| GRI Standared | Required Data | Unit | 2018 | 2019 | 2020 | 2021 |
| --- | --- | --- | --- | --- | --- | --- |
| 305-2 (a) | Total GHG emissions | tCO2e | 1,494,142.68 | 1,431,281.28 | 1,409,284.38 | 1,409,743.49 |
| 305-1 (a) | Direct (Scope 1) GHG emissions | tCO2e | 221,164.70 | 214,860.15 | 231,798.67 | 305,337.16 |
| | – Fugitive emissions | tCO2e | 175,884.12 | 176,066.41 | 194,816.37 | 268,524.34 |
| | – Methane from wastewater treatment | tCO2e | 3,253.40 | 3,724.42 | 819.66 | 1,230.88 |
| | – Stationary combustion | tCO2e | 32,229.46 | 25,468.24 | 26,388.44 | 25,900.37 |
| | – Mobile combustion | tCO2e | 9,797.72 | 9,021.92 | 9,253.95 | 9,006.87 |
| 305-1 (c) | – Biogenic combustion | tCO2e | N/A | 579.15 | 520.25 | 674.69 |
| 305-2 (a) | Indirect (Scope 2) GHG emissions | tCO2e | 1,272,977.98 | 1,216,421.13 | 1,177,485.71 | 1,104,406.33 |
| | – Electricity purchased | tCO2e | 1,272,977.98 | 1,216,421.13 | 1,177,485.71 | 1,104,406.33 |
| | GHG reduction from alternative energy consumption | tCO2e | 744.48 | 2,491.45 | 12,269.05 | 22,172.73 |
| 305-4 (a) | Direct and indirect (Scope 1 and Scope 2) per revenue unit | tCO2e million Baht | 2.83 | 2.51 | 2.57 | 2.40 |
| 305-3 (a) | Other indirect (Scope 3) GHG emissions | tCO2e | N/A | 1,274,754.60 | 1,412,920.47 | 10,223,203.53 |
| | – Purchase goods and service (plastic packaging) | tCO2e | N/A | 231,528.50 | 137,739.12 | 102,584.90 |
| | – Purchase goods and service (product) | tCO2e | N/A | N/A | N/A | 9,419,907.12 |
| | – Upstream transportation and distribution | tCO2e | N/A | 90,128.25 | 141,122.76 | 197,321.23 |
| | – Waste generated in operations | tCO2e | N/A | 192,510.20 | 68,003.90 | 53,440.32 |
| | – Business travel (by planes) | tCO2e | N/A | 2,588.75 | 793.62 | 141.36 |
| | – Processing of sold products (electronic equipment) | tCO2e | N/A | 741,535.40 | 1,052,100.15 | 174,435.88 |
| | – End-of-life treatment of sold products (Golden banana) | tCO2e | N/A | 13,528.70 | 10,226.12 | 10,108.25 |
| | GHG reduction from decreased consumption of single use plastic bag | tCO2e | 4,945.97 | 33,222.39 | 85,212.55 | 265,268.48 |