Climate Change Management
Climate change is a critical global agenda with a tendency to have significant impacts on the economy, society and the environment in the future. In this regard, the Company strongly commits to operate its business with responsibility in order to minimize problems and impacts which may occur and has formulated the following guidelines.
Encourage all units within the organization to improve efficient use of energy in their unit and business activities; promote conservative use of natural resources for maximum effectiveness; and develop innovation or new measures to minimize overall energy consumption
Increase the proportion of the use of renewable energy and clean energy; and support low carbon activities whenever feasible
Set up goals to reduce GHG (Greenhouse Gas) emissions in the long term; and collaborate with key suppliers, service providers, contractors and business partners to reduce GHG emissions throughout the supply chain=
Improve the waste management process by applying the 3R concept: 1) R-Reduce the unnecessary use and consumption of natural resources, 2) R-Reuse natural resources more effectively, and 3) R-Recycle natural resources that can be brought back in order to reduce the amount of waste to the environment
Conduct life-cycle assessment
Promote awareness and understanding of climate change among employees and key stakeholders through training, knowledge sharing and campaign activities
Prepare for natural disasters to ensure business continuity and minimize impacts on the business
Disclose operational performance relating to climate change through the Sustainability Report in order to report on the progress of current operations against set goals to inform stakeholders
Collaborate with government authorities, Non-Governmental Organizations (NGOs), educational institutes, communities and other agencies to jointly solve problems originating from climate change at the national and global level
Goal and Performance against Goal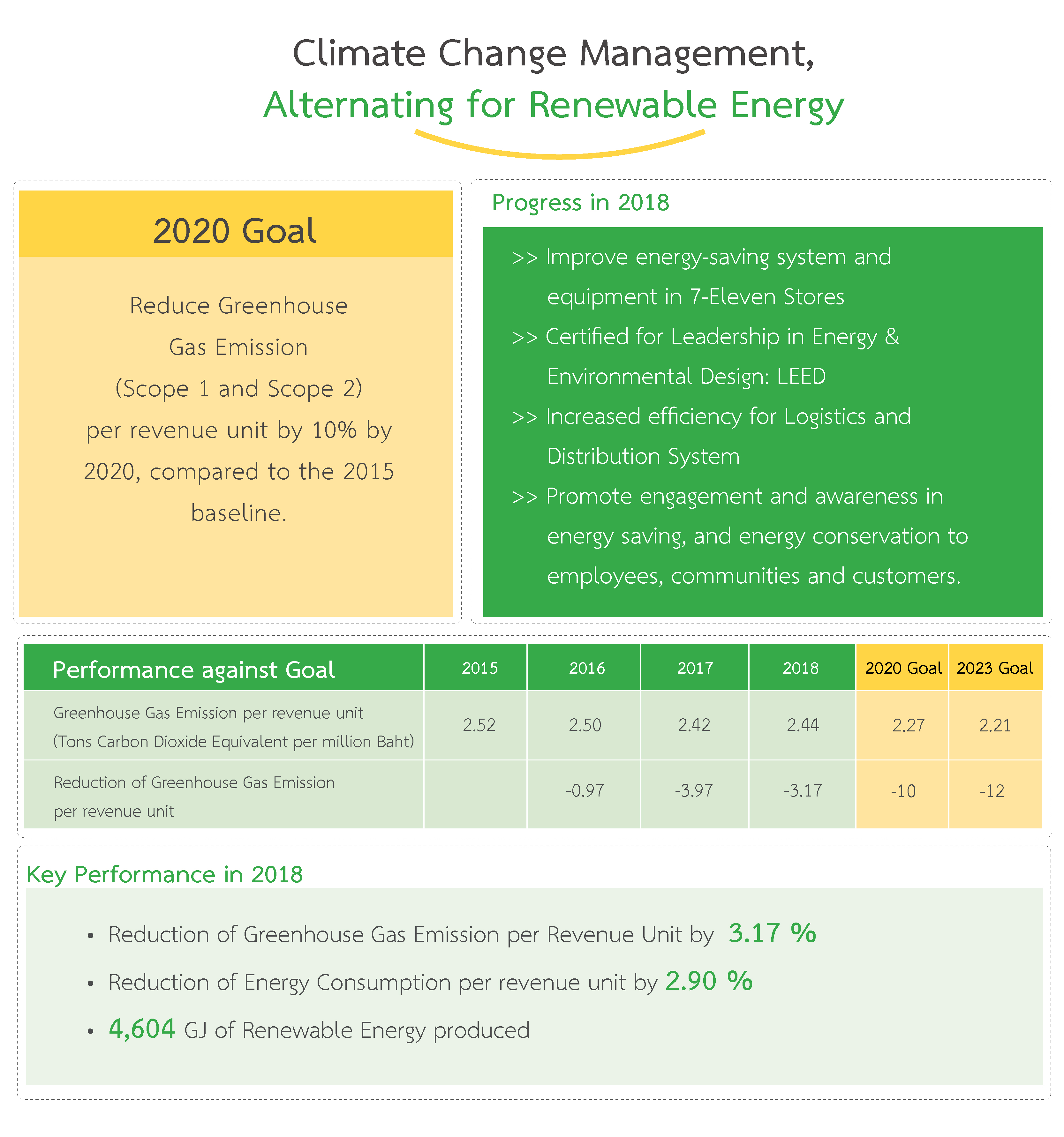 Implementation
In recognition of the challenge and the Company's mission, it aspires to become one of the corporate contributors for climate change mitigation. This has been achieved through collaborations between business partners and leading global companies. To ensure that all lives are able to co-exist sustainably, The Company aspires to continuously operate according to "7-Go Green" strategy. The strategy can be divided into 4 approaches to fit with different parts of the Company's operations which can be driven towards the goal. There are Green Stores approach for stores; Green Logistics for distribution center; Green Packaging for packaging; and Green Living for changes in consumption behaviors for sustainable environment. It emphasizes efforts to reduce greenhouse gas emission and energy consumption. The projects implemented vary according to the nature of each business unit.
The Company has worked to improvement different system and equipment in 7-Eleven Stores. The project is part of the sub-strategy 'Green stores,' which includes adoption of LED lights, adoption of inverter air conditioners, efficiency improvement of cooling coils for large cooling vaults, solar energy projects, and improvement of cooling systems in screen less product display shelves. Furthermore, the Company has developed the Ready-Made Stores, whose structure is produced from factories (Knock down). It uses insulated materials as the building's exterior. This results in reduction of energy consumption from air conditioners and pollution, as well as reduction of construction waste.
Application of energy-saving equipment in the store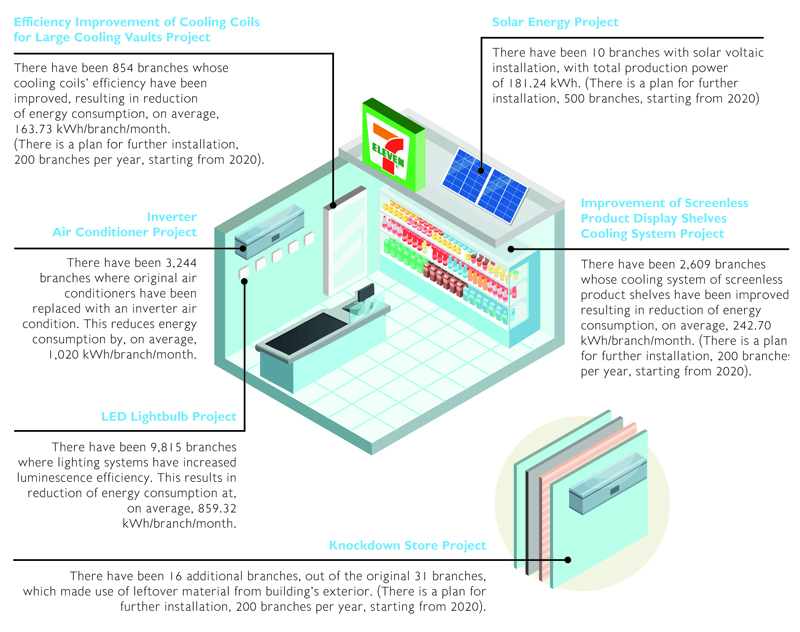 Furthermore, basing on Green Logistics, the Company has adopted criteria from Leadership in Energy & Environmental Design (LEED) to aid the design and development process of distribution centers. LEED is one of the most respected standards globally. As of now, two of the Company's distribution centers have been verified as Green building. They are Mahachai Distribution Center, and Chonburi Distribution Center. There is another branch whose certification process is ongoing. In terms of logistics and distribution center, the Company primarily focuses in energy management. This was implemented through Efficiency Improvement of Product Distribution System. This projects comprise changing delivery trucks' size to 4WJ and 4W Chilled. The reduction target for fuel consumption in transportation is at 1,428,445 Liters per year; in conjunction with the reduction target of greenhouse gas emission at 3,920 tons carbon dioxide equivalent. The Company has the plan to expand the coverage to include all distribution centers by the 3rd quarter of 2019. Presently, now 346 delivery trucks have been delivered to distribution centers. That makes up to 72% of all centers. It is anticipated that this project will enable the reduction of 1,029,670 Liter of fuel consumption per year, and 2,826 tons carbon dioxide equivalent.

The Company has also joined in Thailand Voluntary Emission Reduction Program (T-VER) launched by Thailand Greenhouse Gas Management Organization (TGO). The LED Lightbulb project in 21 Siam Makro branch stores was used as supporting evidence for the registration. Furthermore, the Company is also collaborating with logistic company for data collection of scope 3 greenhouse gas emission. It is currently in an early stage.
Another approach the Company is taking to mitigate climate change impacts was through product and service improvement. The Company assesses its products' carbon footprints and proceeds with carbon footprint labeling. The footprints were calculated as carbon dioxide emission equivalent, with carbon footprint labels on the products. This enables customers to be part of the efforts to reduce greenhouse gas emission. In 2017, the Company registered for Thailand Greenhouse Gas Management Organization's Carbon Label. Five products were certified. As of 2018, the Company has registered for 5 additional products. Three of which have already been approved. Two are still being processed.

Aside from projects developed, both in operations and for products, the Company is also cognizant of the importance in stakeholder engagement. To address this challenge, it is crucial that employees, suppliers, communities and customers are recognized as key stakeholder groups by the Company. The Company sees potentials for greater change in environmental movements. Notably, the Company integrates suppliers' performance as part of the Suppliers' Environmental, Social and Corporate Governance Plan. The plan has been mentioned in Cascading Responsibilities throughout the value chain.
For employees and communities, the Company believes that raising awareness and understanding of climate change, and empowering individual to recognize their potential to mitigate the crisis, will enable a behavior shifts in work and consumption. This includes contribution that can be made in daily life, in energy-efficiency and reduction of emission risks. Going beyond corporate's internal communication via emails and weekly meetings at 7-Eleven stores, along with announcements, the Company also arranges for employees' reforestation activities. This provides the employees opportunity to be part of environmental conservation. This includes internal energy-efficiency assessment in the Company. For communities, the Company has arranged for trainings to promote organic fertilizers. Communities can utilize agricultural and household's food waste and make their own organic fertilizers. The project enhances communities' understanding and capacity to become part of the mitigation efforts against climate change impacts.
Sustainability Performance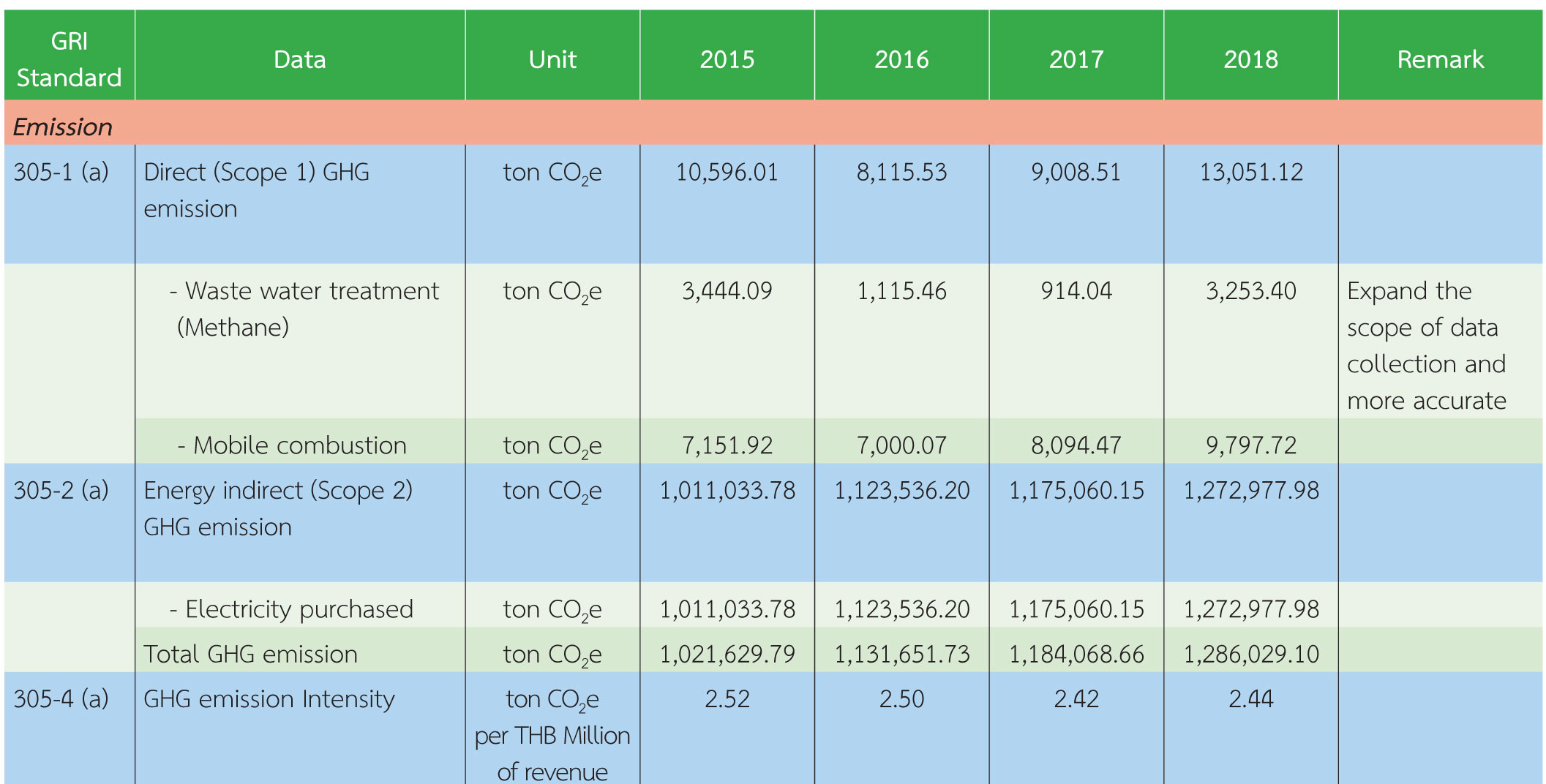 Remark
– Calculations based on 2018 GRI Standard
– Greenhouse gas (GHG) emissions volume is calculated by multiplying the activities that generate GHG with an Emission Factor, referencing the Thailand Greenhouse Gas Management Organization (TGO) and the Intergovernmental Panel on Climate Change (IPCC) and reported this per Global Warming Potential (GWP) according to IPCC guidelines.
– Greenhouse gas emissions volume (Scope 1) is the sum of methane gas released from the water treatment system and the transport fuel combustion.
– Indirect greenhouse gas emissions volume (Scope 2) accounts for greenhouse gas emissions from external electricity usage
– Greenhouse gas emissions intensity per income unit covers direct and indirect greenhouse gas emissions.