Key Performance in 2019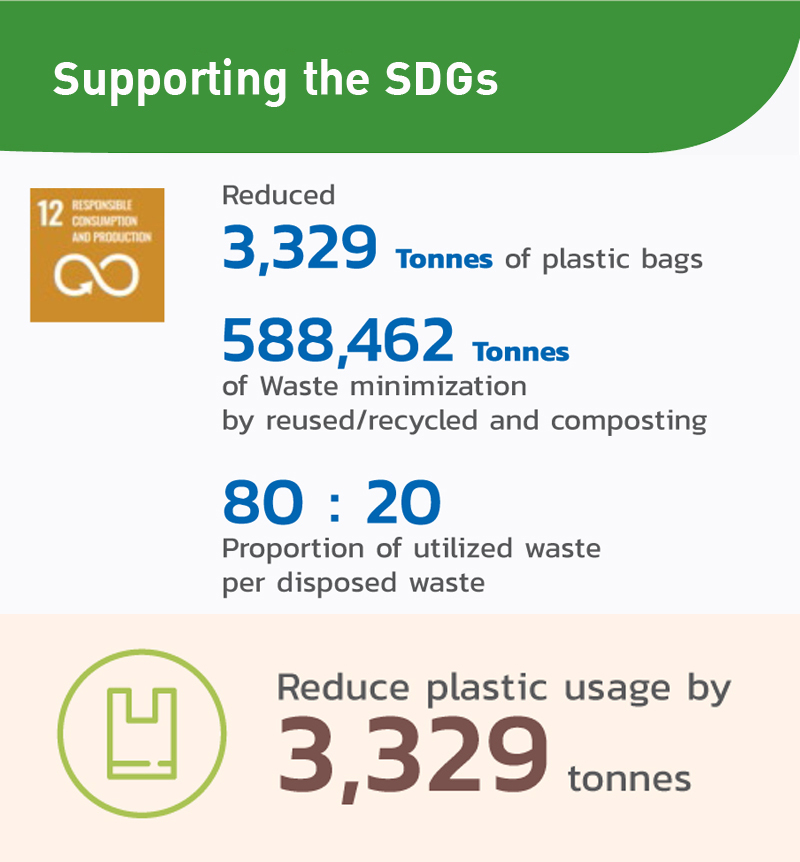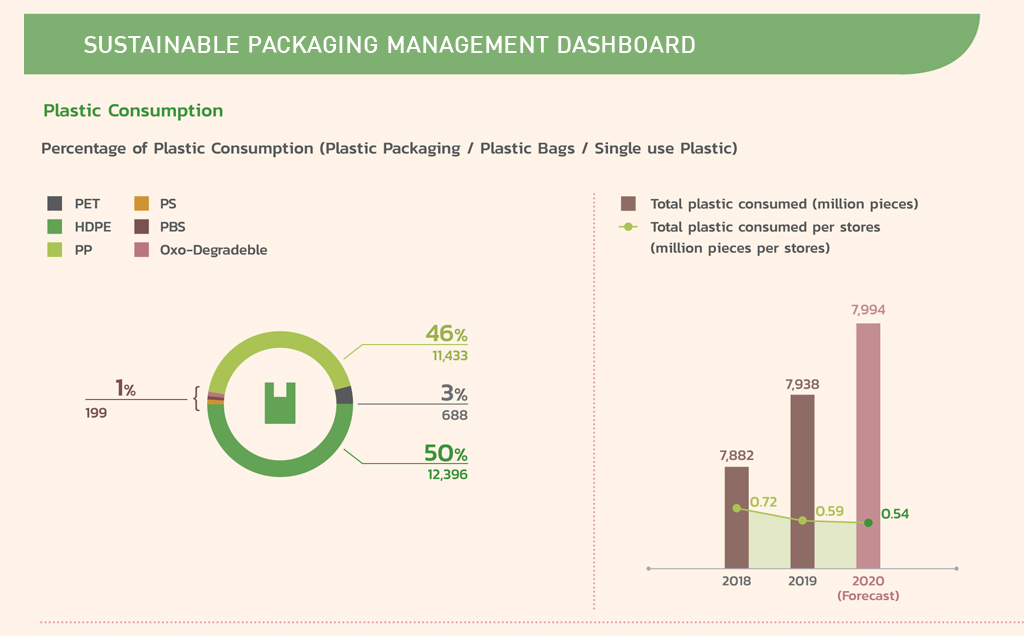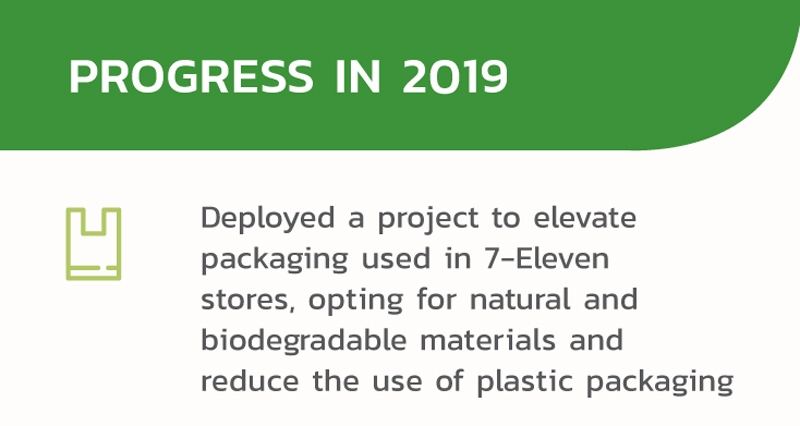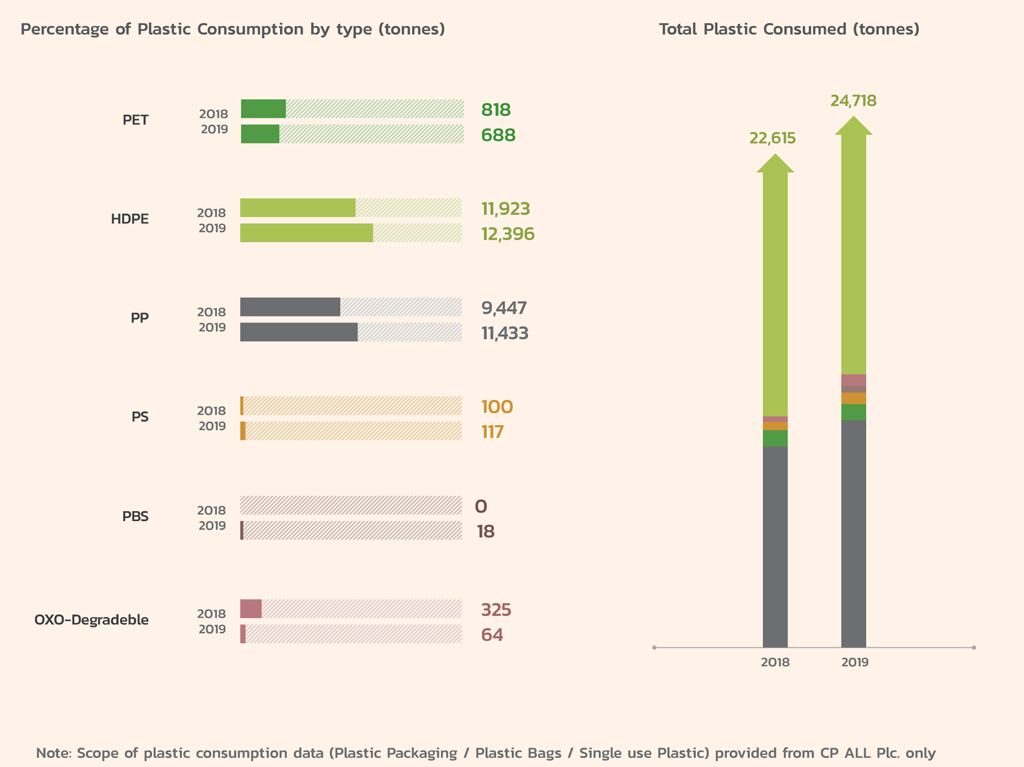 Challenges
---
CP ALL Public Company Limited and its subsidiaries operate retail and wholesale businesses for consumer goods, with a myriad of food and non-food products in the stores. All of the products have packaging that is crucial to protect the products to ensure delivery to consumers in perfect condition. Since there are many products sold daily to our customers, the consumption of packaging is relatively high. The Company realizes the importance of the selection of packaging as well as the management of packaging after it is used. The Company has established the Green Packaging Strategy which aims to minimize negative impacts to the environment and takes into consideration sustainable development, through eco design process to select materials and use of packaging that we can manage and control with the involvement of employees, subsidiaries and stakeholders in sustainable packaging in order to spread happiness and sustainable environmental conservation efforts to the wider public.
Management Approach
---
The Company aims to continuously "Decrease and Discontinue" plastic bag usage. Policy and guideline on packaging have been established, along the goal to reduce amount of waste landfilled to minimum. The Company planned out a Roadmap consistent with the Government's plastic waste management plan, which aims for 100% reuse of plastic by 2027. The plan is to reduce waste generated at source. However, there remain exceptions for plastic usage in products requiring it, such as ready-to-eat meals. The plan is substantiated with promotion of environmentally-friendly packaging to reinforce awareness of entrepreneurs and consumers alike, encouraging them to opt for environmentally-friendly packaging. This consists of several projects, which can be categorized according to the primary measures, as follows.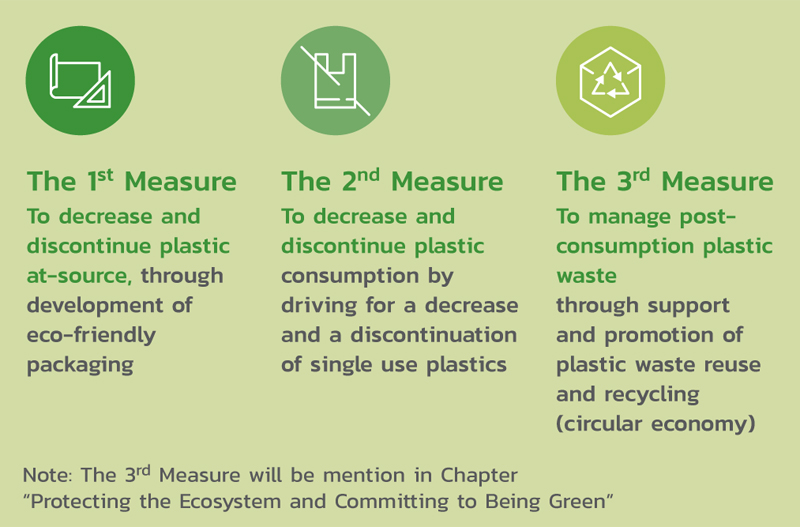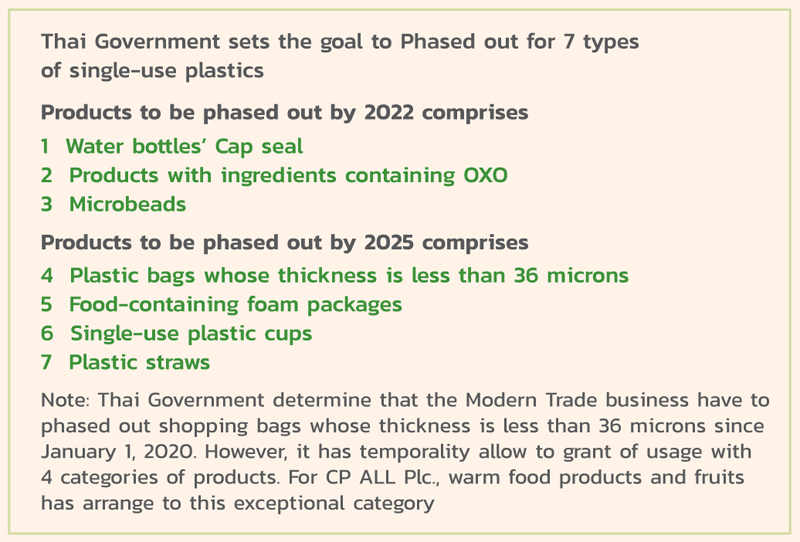 Key project in 2019
---
1. Support take-back initiatives for reutilization of used packaging (Circular Economy)
The Company has support a take-back initiatives for reutilization of used packaging by increasing the use of reusable packaging such as: 1) plastic cases which used in product distribution process, 2) increase the use of reusable packaging i.e. identification of "Recycle" symbol on product's packaging, 3) increase the use of recycled material as packaging solution and 4) ensure that recyclable packaging is actually recycled i.e. used plastic/ paper/ UHT aseptic carton.
7 Go Green Recycle Plastics Road
Objective To reduce amount of plastic waste that potentially impact to the environment and biodiversity.
The Company applies Circular Economy to encouraging the plastic management guideline of bags, trays, bottles and cups for recycling. The project plays a part in solving the global crisis on marine plastics and is a collaboration between CP ALL Plc., SCG Chemicals Company Limited and Dow Thailand Group. The recycled plastic roads is taking plastic waste that is separated from offices, the distribution center, 7-Eleven stores, CPRAM Company Limited, Panyapiwat Institute of Management, Panyapiwat Technology College, hospitals and communities around 7-Eleven stores. These plastic waste has undergoes multidisciplinary processes and techniques that increase the road's strength and endurance against corrosion. This collaboration that has applied the technology on recycled plastic roads as initiative project for Thailand.


Results and benefits:
The Recycle Plastics Road were built at two 7-Eleven stores i.e. Sai Mai Soi 3 branch and Rat Phatthana Soi 24 branch, and two office areas.
Approximately 0.865 tonnes (865 kg) have been brought back to use in communities.
Green Store
Objective To take-back of remaining materials by recycle processing for interior decorations of the 7-Eleven stores.
The Company aims to focus on the study of take-back the milk and juice cartons (aseptic cartons) for reusing in the stores. The project is ongoing process of study by collaborated with Tetra Pak (Thailand) Co., Ltd., the manufacture of aseptic cartons and Fiberpat Co., Ltd, the recycling entrepreneur to develop aseptic cartons into interior decorations for the 7-Eleven stores. Recycled material from milk and juice cartons can be used in stores as rooves, mirrors and other decorations by recycling three types of remaining materials.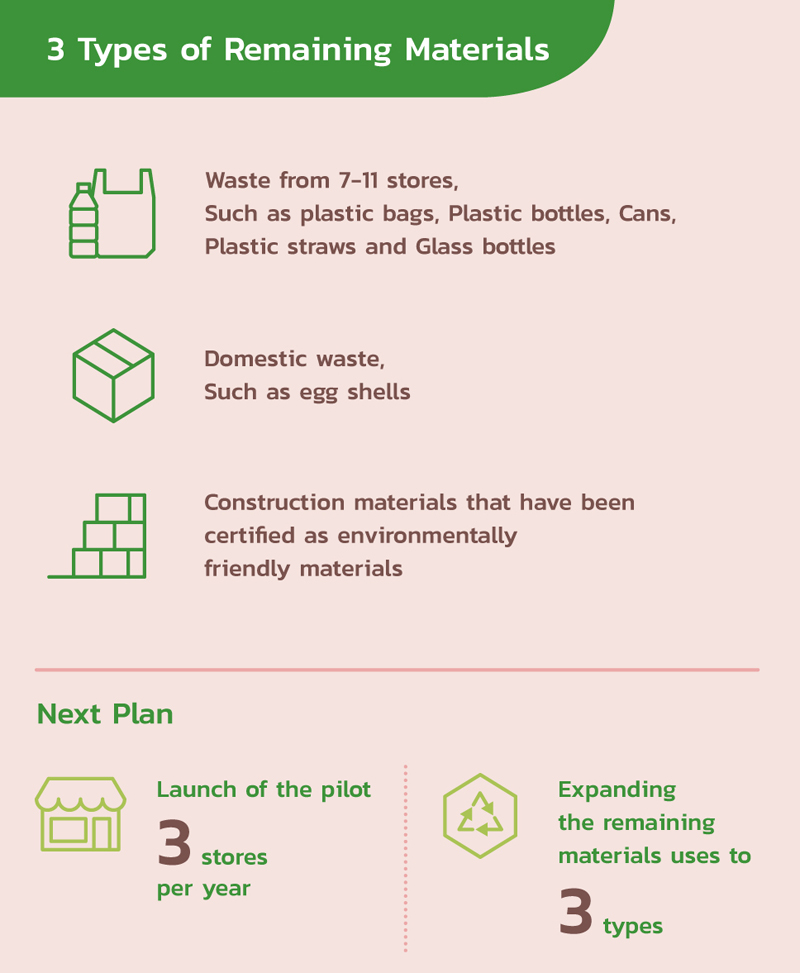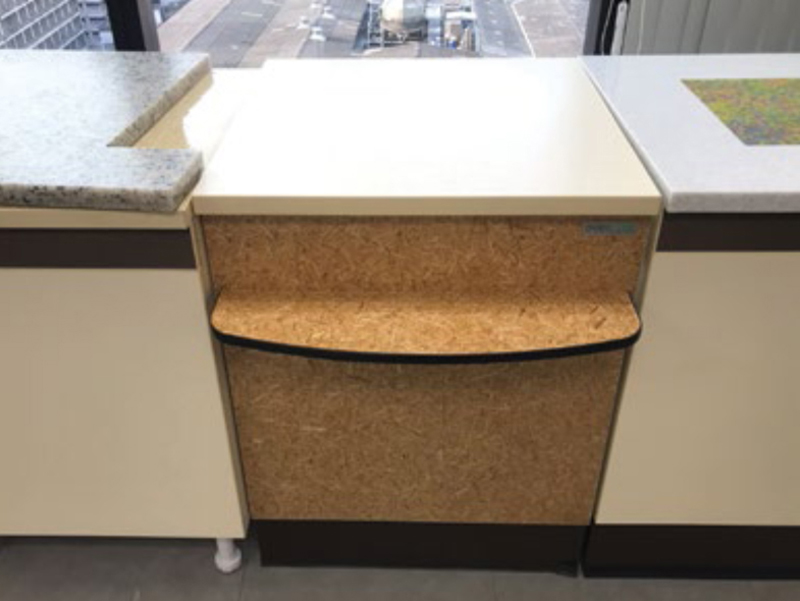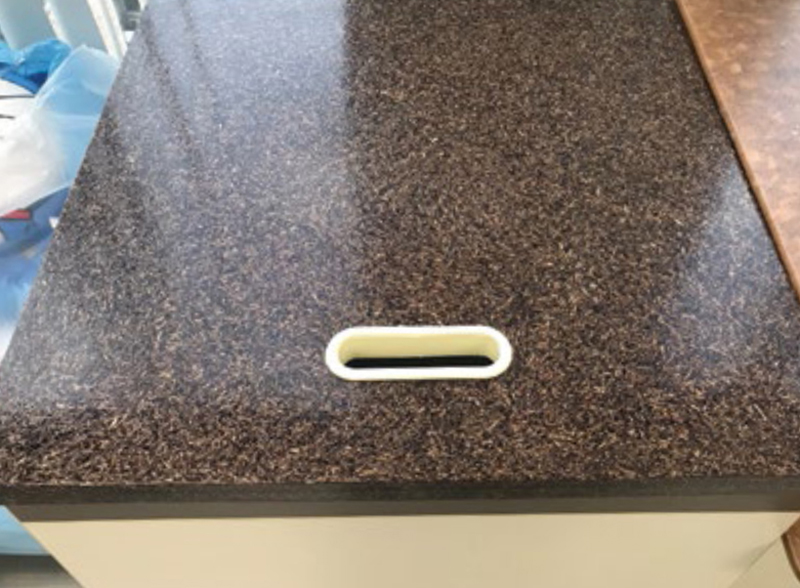 Results and benefits:
To reduce the amount of plastics that potentially impact to ecosystem.
Support initiatives of take-back system of recycled waste.
Promote the corporate image on eco-friendly organization.
Magic Box Recycling for Sharing
Objective To reduce environmental impact.
The Company promoting and supporting the recycling of plastics. Under the principle of circular economy, the Company provides opportunities for students and schools in need of support through collaboration with Ampol Food Processing Company Limited, Tetra Pak (Thailand) Company Limited, Thai Parcel Company Limited and SIG Combiblock Company Limited. The partnered organizations collect donated UHT cartons and paper beverage cartons that have been disassembled, washed and stored. The donated cartons are recycled into tables and chairs for students in necessitous schools. An amount of 2,500 cartons can be recycled into one set consisting of one table and one chair.
Results and benefits:
28,010 cartons were donated in 2019.
Can be recycled into the 11 sets of table and chair.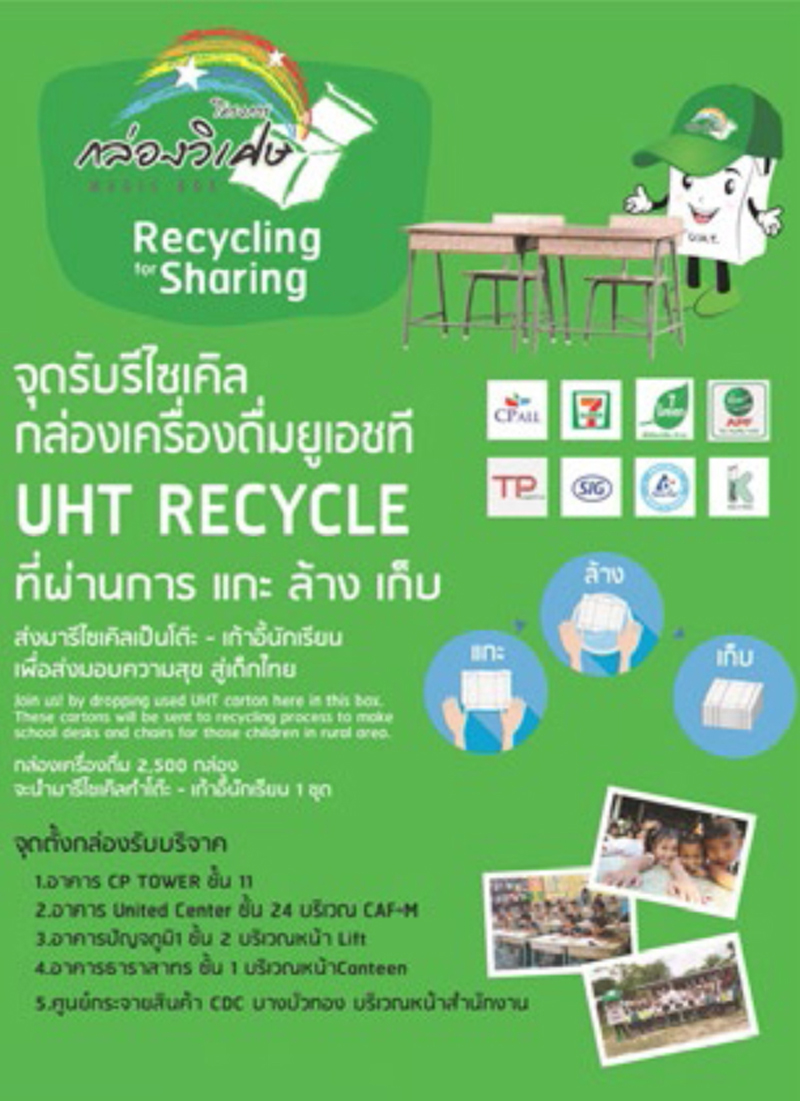 2. Support the use of environmental-friendly materials
The Company support the usage of materials from sustainably-managed renewable resources for business operation, such as paper material which is FSC or PEFC certified (forest management/ Chain of Custody Certification) and usage of compostable plastic & materials.
Utilize Raw Materials from Sustainable Replacement Forests
Objective To sourcing the packaging from sustainably managed and regulated forests.
The Company is also committed in utilizing resources from sustainable sources. The approach is put in collaborative efforts of packaging development with a supplier, Tri Sarn Company Limited to ensure that the papers sourcing from sustainably managed, regulated forests and certified with PEFC. The company has developed the hot sandwiches' box with PEFC labeling across the country. Moreover, the Company has collaborated in straw wrapped paper development with a supplier, B&B Strawpack Company Limited, there are the projects to replace materials used for wrapped straws to papers. These are locations in islands, universities, hospitals and parks. By using the papers sourcing from sustainably managed, regulated forests and certified with certified for FSC.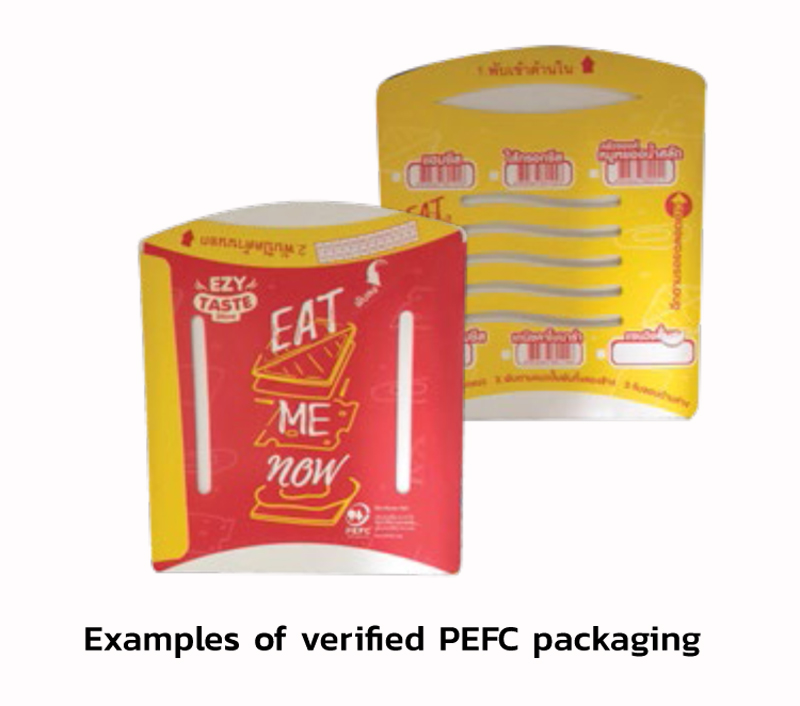 7 Go Green 24/7 Project
Objective: To change the use of packaging made from natural and bio-degradable materials.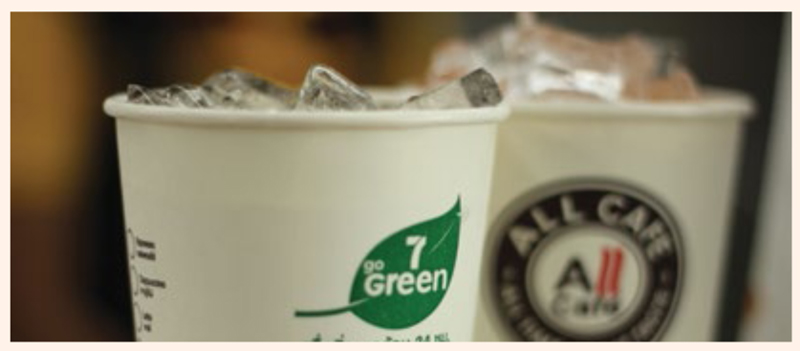 7 Go Green 24/7 is a project focuses in improving packaging used in 7-Eleven stores, opting for those made of natural and bio-degradable materials. This can be achieved through multiple of initiatives, such as "Green Cups," which are biodegradable, to be used with a drinks from dispensers, and 7 Select and All Café beverages. Furthermore, there are the projects to switch materials used for wrapped straws to papers. Nowadays, over 300 branches have started using packaging made from natural materials.
Results and benefits:
The implementation has been expanded to over 300 branches, within hospitals, universities and islands that are important natural attractions store branches.
3. Reduce usage of unnecessarily packaging
The Company encouraging the reducing usage of unnecessarily packaging in various project such as Phase out of single-use plastic in production line, services, and consumption of the Company. Reducing plastic consumption under packaging development and Reducing /Terminating the PVC material in Private Brand product for Food and Non-Food category.
Phase out single-use plastic
CP ALL Plc. Is committed to operate according to plastic reduction campaign. Raising awareness and understanding to youths, community, employees and customers, is part of the efforts to reduce plastic bags. This demonstrates the Company's commitment to instill environmental considerations. An example would be the program 'Reducing a bag a Day, You can do it.' The program readjusts consumers' behaviors to refuse plastic bags, and has been deployed continuously. In 2019, each plastic bag rejection equates to 0.2 Baht, which will be donated to 77 local hospitals for their medical equipment purchase. Similarly, it is also the efforts in environmental conservation – facilitating towards more sustainable society. The project has public relations campaign through advertisement, under the concept, 'The best promise is actionable one.' The concept were expressed by Khun Toon Artiwara and BNK 48. In 2019, the Company was able to reduce plastic consumption by 1,152 million bags in accumulation. It was able to reduce GHG emissions by 23,476 tonnes CO2e, and donated a total of 134 million baht to siriraj hospital and 77 local hospitals. Similarly, in response to the Government's policy driving for plastic bag ban; the company has organized a press conference, 'Thais Assemble, Refusing Plastic Bags' in 2020. The goal is to conserve the environment. It has been announced that from 1st January 2020 onwards, all 7-Eleven stores across Thailand encouraged customers to refuse and bring their own cloth bags, or opt for other packaging with eco-friendly materials.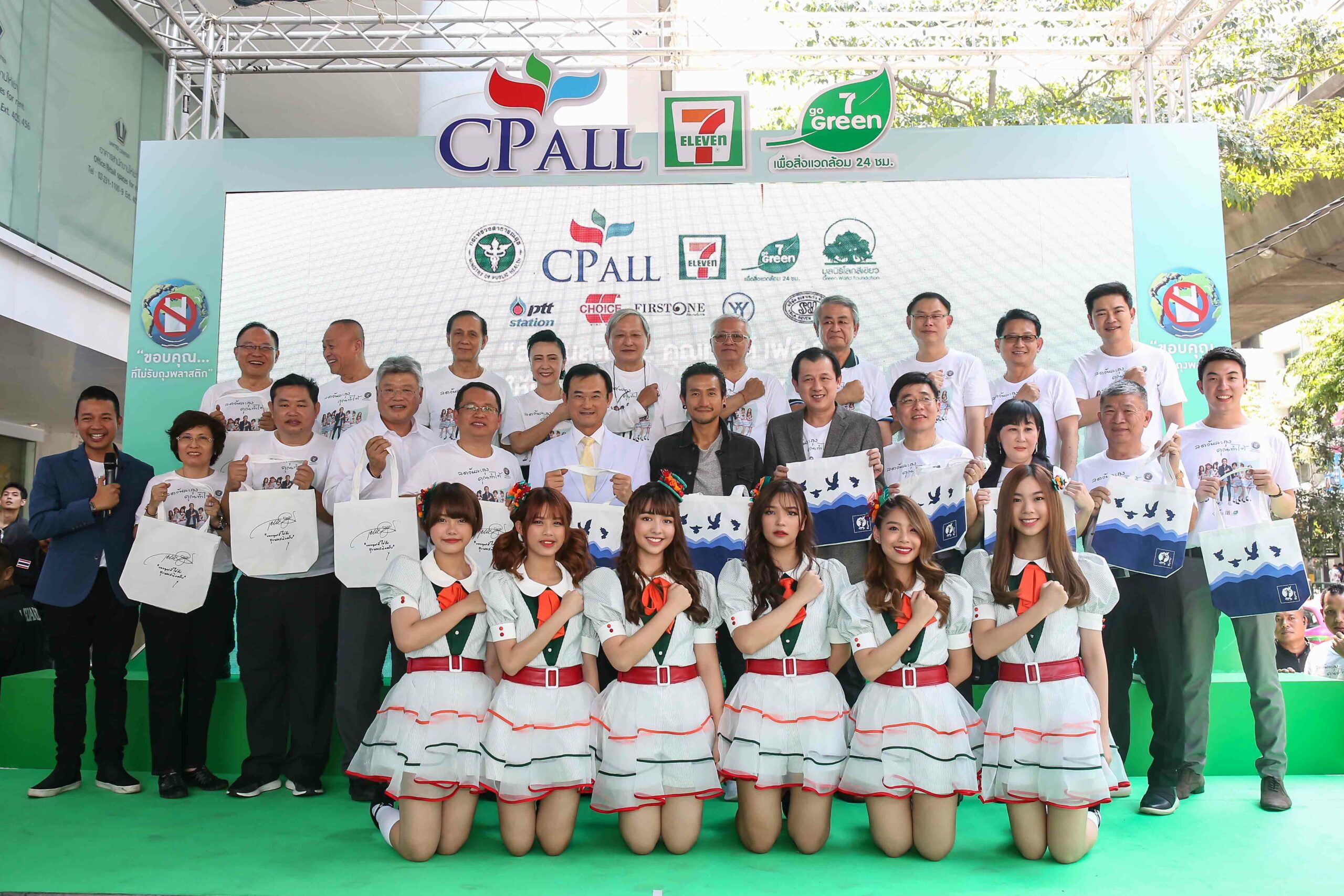 Plastic Consumption Reduction to be achieved through Packaging Design Project
Objective: To reduce plastic consumption of packaging.
The Company continues to move forward in developing ready-to-eat meals' packaging to be more environmentally friendly and reduce plastic consumption, such as improvements in the process of changing the style, size and thickness changing usage patterns etc.
Results and benefits:
Improved the production process of cooked rice containers, changing from injection to thermoform instead.

Adjust, modify, resizing the size and thickness of plastic bags for warm food products. Meal bags are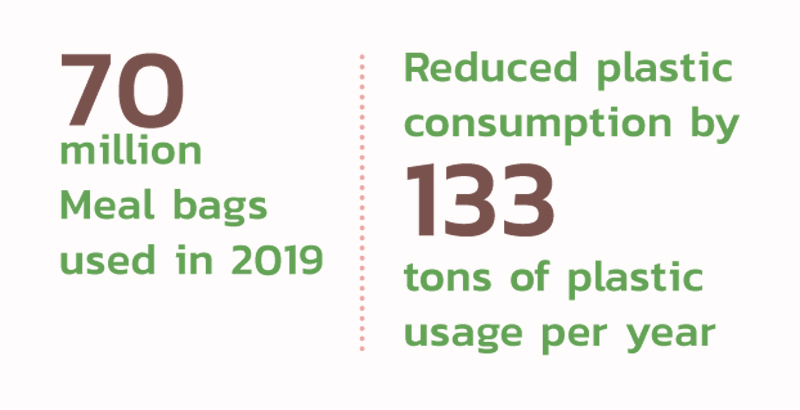 Change a 1-hole rice tray in square shape by adjusting the plastic lid become a top seal.

Paper Gram Reduction in Cups
The Company has collaboration with suppliers whose producing paper cups, comprises of KMP Company Limited and CPPC Company Limited. The goal is set to reduce paper consumption and standardization the paper grams of the cups to be consistent.
Phase I Paper Gram Reduction in Cups Project

For Phase I, this project can reduce paper usage by 122 tonnes.
Forecasting in Phase II, the project will be deploy throughout the country and reduce paper usage by 145 tonnes by 2020.
4. Support the stakeholder engagement to involve in packaging management
The Company has initiate project to allocate of R&D resources to sustainable packaging and alternative solutions) and promote an involvement of Critical tier 1 suppliers in food & beverage and non-food supply chains to identify the "Recycle" symbol on packaging of National Brand product and avoid the usage of PVC.
PVC Phase Out Project
Objective: To reduce PVC plastic waste.
The Company has implemented to terminating the PVC material in Private Brand product for Food and Non-Food category. For National Brand products, the Company has also requested for Critical Tier 1 suppliers' collaboration to discontinue PVC 36 of all suppliers.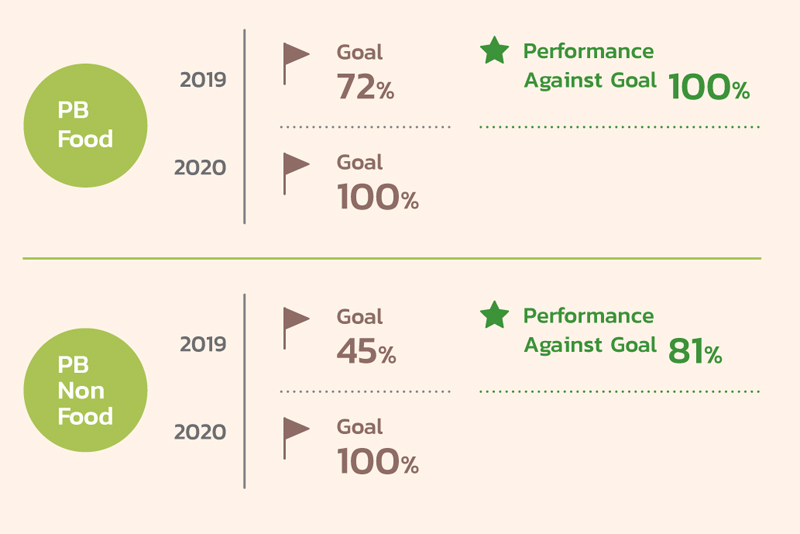 For more details click —> SD Report 2019
Other Performance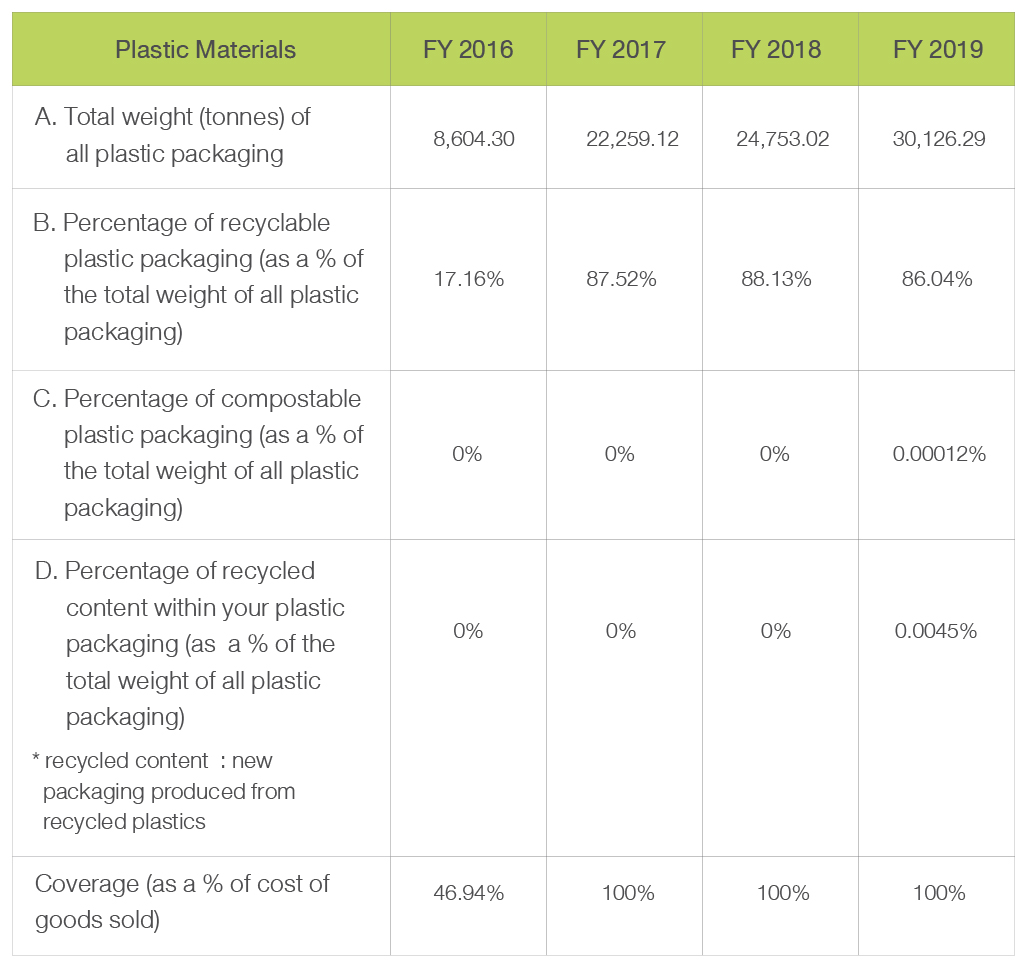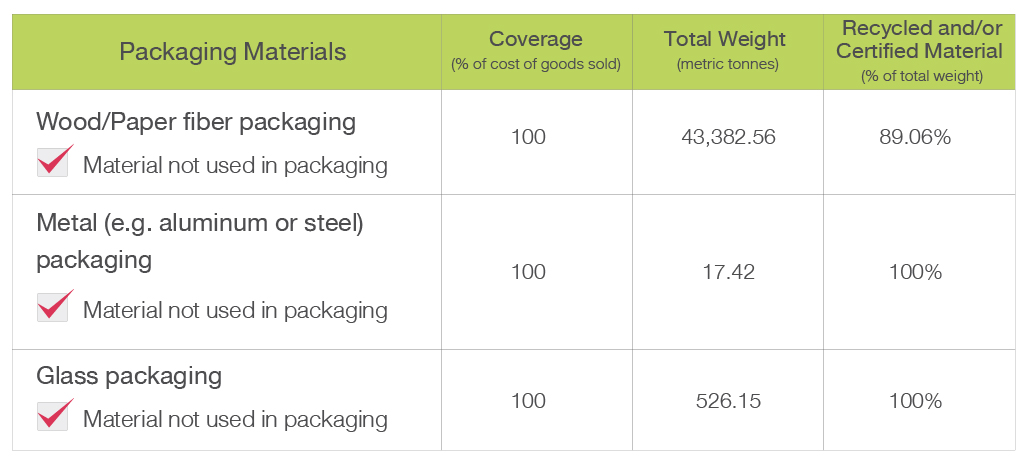 Related Policy and Guideline