Sustainable Packaging Management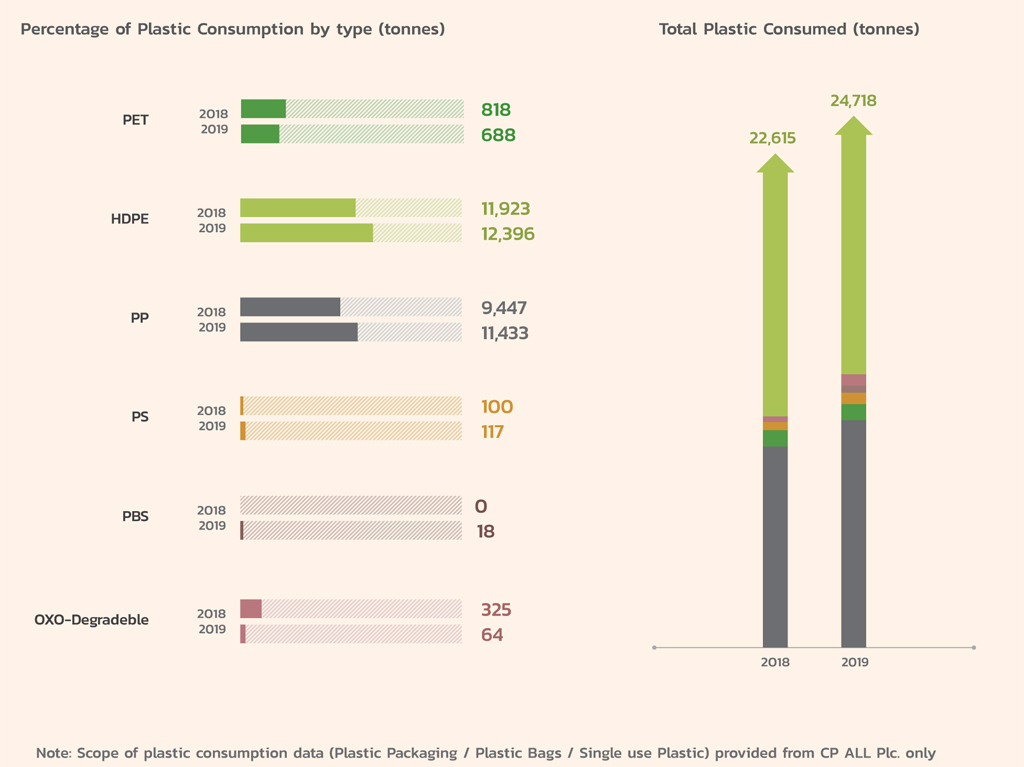 Challenges
---
CP ALL Public Company Limited and its subsidiaries operate retail and wholesale businesses for consumer goods, with a myriad of food and non-food products in the stores. All of the products have packaging that is crucial to protect the products to ensure delivery to consumers in perfect condition. Since there are many products sold daily to our customers, the consumption of packaging is relatively high. The Company realizes the importance of the selection of packaging as well as the management of packaging after it is used. The Company has established the Green Packaging Strategy which aims to minimize negative impacts to the environment and takes into consideration sustainable development, through eco design process to select materials and use of packaging that we can manage and control with the involvement of employees, subsidiaries and stakeholders in sustainable packaging in order to spread happiness and sustainable environmental conservation efforts to the wider public.
Management Approach
---
The Company aims to continuously "Decrease and Discontinue" plastic bag usage. Policy and guideline on packaging have been established, along the goal to reduce amount of waste landfilled to minimum. The Company planned out a Roadmap consistent with the Government's plastic waste management plan, which aims for 100% reuse of plastic by 2027. The plan is to reduce waste generated at source. However, there remain exceptions for plastic usage in products requiring it, such as ready-to-eat meals. The plan is substantiated with promotion of environmentally-friendly packaging to reinforce awareness of entrepreneurs and consumers alike, encouraging them to opt for environmentally-friendly packaging. This consists of several projects, which can be categorized according to the primary measures, as follows.
 Key project in 2019
---
7 Go Green 24/7 Project
Objective:  to change the use of packaging made from natural and bio-degradable materials
7 Go Green 24/7 is a project focuses in improving packaging used in 7-Eleven stores, opting for those made of natural and bio-degradable materials. This can be achieved through multiple of initiatives, such as "Green Cups," which are biodegradable, to be used with a drinks from dispensers, and 7 Select and All Café beverages. Furthermore, there are the projects to switch materials used for wrapped straws to papers. Nowadays, over 300 branches have started using packaging made from natural materials.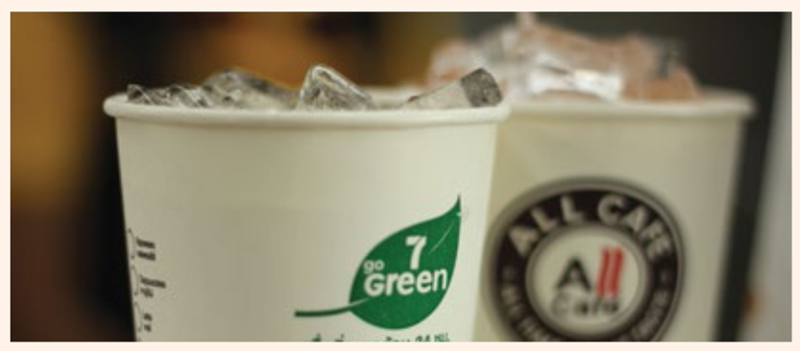 Results and benefits:
The implementation has been expanded to over 300 branches, within hospitals, universities and islands that are important natural attractions store branches.
Plastic Consumption Reduction to be achieved through Packaging Design Project
Objective: to reduce plastic consumption
The Company continues to move forward in developing ready-to-eat meals' packaging to be more environmentally friendly and reduce plastic consumption, such as improvements in the process of changing the style, size and thickness changing usage patterns etc.
Results and benefits:
Improved the production process of cooked rice containers, changing from injection to thermoform instead.

Adjust, modify, resizing the size and thickness of plastic bags for warm food products. Meal bags are used to replace L-size plastic bags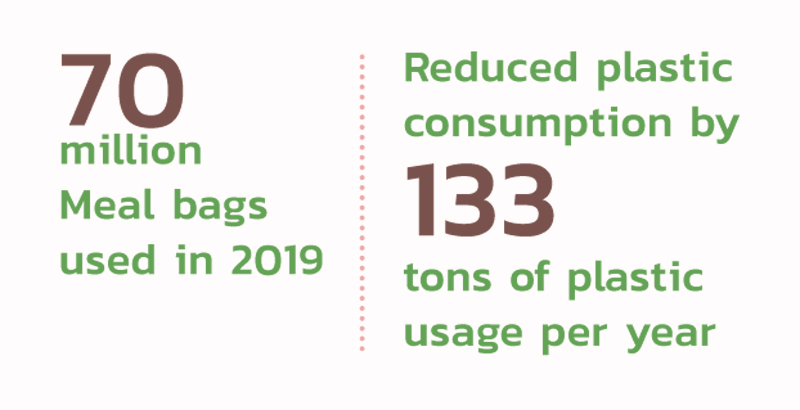 Change a 1-hole rice tray in square shape by adjusting the plastic lid become a top seal

Utilize Raw Materials from Sustainable Replacement Forests
Objective: to use of packaging sourcing from sustainably managed and regulated forests
The Company is also committed in utilizing resources from sustainable sources. The approach is put in collaborative efforts of packaging development with a supplier, Tri Sarn Company Limited to ensure that the papers sourcing from sustainably managed, regulated forests and certified with PEFC. Moreover the Company was executed in collaboration in straw wrapped paper development with a supplier, B&B Strawpack Company Limited; there are the projects to switch materials used for wrapped straws to papers.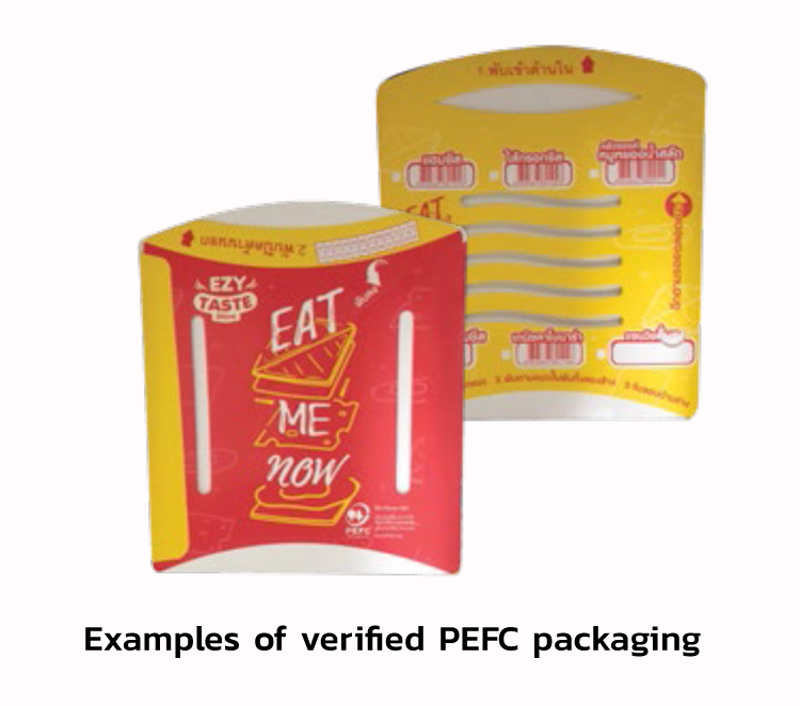 Results and benefits:
Use 985 tonnes of PEFC certified packaging per year
Use 32 tonnes of FSC certified packaging per year
For more details click —> SD Report 2019
Related Policy and Guideline