Water is a natural resource that is essential to all living things and has a direct impact on livelihood. At the same time, water is important to business operations. At present, water shortage has become more severe throughout the world. The Company recognizes this problem and associated risks. In this regard, the Company has prepared guidelines to ensure that is able to preserve the balance between the utilization of water and demand for water from the community and nature as follows:
Commit to minimize negative impacts to natural water sources to ensure that every household has good quality water in sufficient amount for use and consumption
Promote effective water management in all units of the organization; conduct water risk assessment and follow conservation best practices; and apply appropriate technologies to increase water recycling and reuse
Support the principle that safe water supplies should be accessible and affordable for all members in the community in a fair and equitable manner
Promote collaboration on water utilization and water conservation with the community and related stakeholders; and respond to concerns from the local community and society in a transparent and timely manner
Promote awareness and understanding of water conservation among employees and key stakeholders through training, knowledge sharing and campaign activities
Disclose regarding water management in order to report on progress against set goals to inform stakeholders
Collaborate with governmental authorities, Non-Governmental Organizations (NGOs), educational institutes, communities and other agencies in order to jointly solve problems related to water resource management at the national level
Goal and Performance against Goal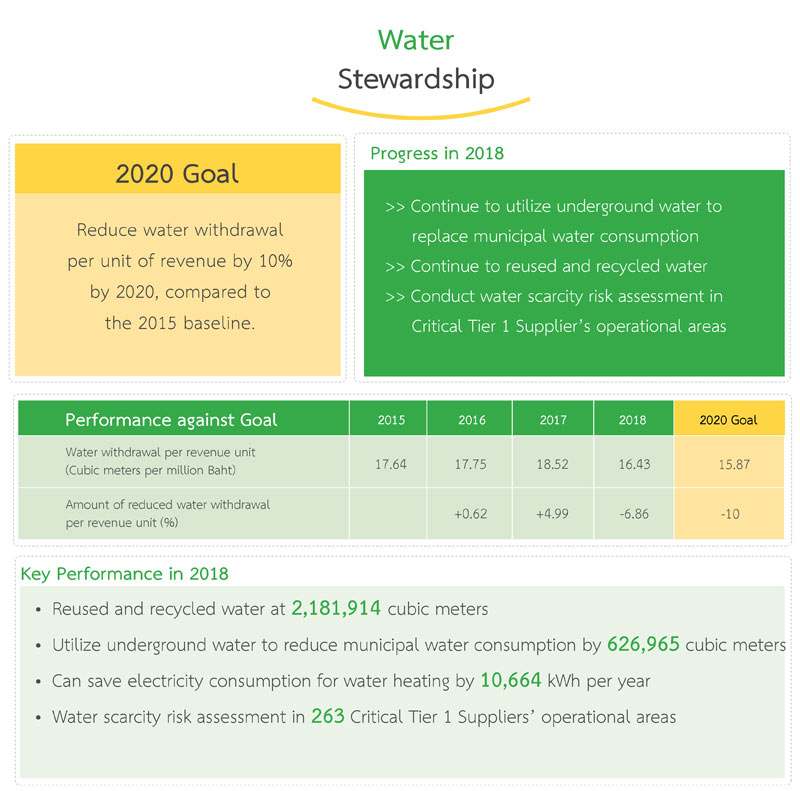 Performance
The Company aims to focus in water stewardship throughout its supply chain, including the Company's own business operations. It has therefore set up a plan to improve water consumption efficiency per revenue unit. This was in conjunction with water scarcity risks and the efforts to increase the proportion of water reused. The Company also promotes community's access to water sources. The crux of this operation remains customer-first approach, with customer being of utmost priority and receiving the Company's full attention. This ensures that customers are satisfied both in quality (fresh, clean, safe) and good values. For water stewardship in the Company vary depending on the operations.
Recycling of Treated Water Project
For ready-to-eat meals, CPRAM Co., Ltd. consumes the most water. Therefore, it founded an internal water stewardship unit at plant level. CPRAM also develops water treatment system, which uses underground water to avoid causing water scarcity in municipal water grid for communities. It can reduce municipal water consumption by as much as 626,965 cubic meters. Water underground water from the depth of 500 meters is sed. Its temperature is approximately 50 degree Celsius, making it suitable to replace warm water for hand and equipment cleansing in the production process. Originally, water is heated using electric power. This helps reduce electricity consumption for water heating by 10,664 kWh per year. All water will passthrough the treatment system, which produced discharge of superior quality than what was required by the laws. Furthermore, treated discharge will also be recycled for plant watering, cleansing of external areas. All discharge will be used (Water Zero discharge). This project was launched since 2011.
As of 2018, Siam Makro PCL also has a project that uses treated discharge for plant watering at over 30 branches of Siam Makro across the country. Stores with over areas of 5,000 square meters are selected, as they have green space whose maintenance requires water. The aforementioned project can reduce water consumption by as much as 162,000 cubic meters.
Water Scarcity Risk Assessment for Supplier
The Company assesses 263 Critical Tier1 Suppliers with assessment tools by World Business Council for Sustainable Development, or WBCSD Global Water Tool. The tool itself is widely respected. Based on 1995 database, the risk assessment reveals that 221 suppliers are operating in areas with risks of local water stress; while 16 suppliers are operating in areas with potential risks of water scarcity in 2023. There are 5 other suppliers whose risks could not be assessed, as there is no information on their areas available. Based from this result, the Company has created a process to collaboratively work with suppliers to mitigate water related risks and manage water resource in operations.
Sustainability Performance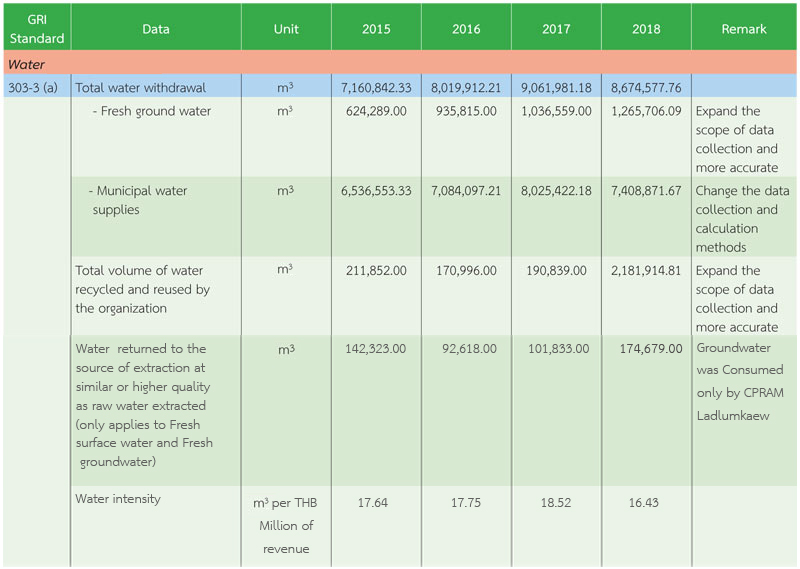 Remark
Calculations based on 2018 GRI Standard
Total water usage accounts for the usage of municipal and ground water based on information from the Metropolitan Water Authority, Department of Groundwater Resources, and tenants. Calculations make reference to average regional metropolitan water usage.