Sharing Opportunities and Creating Value for Society
Key Performance in 2020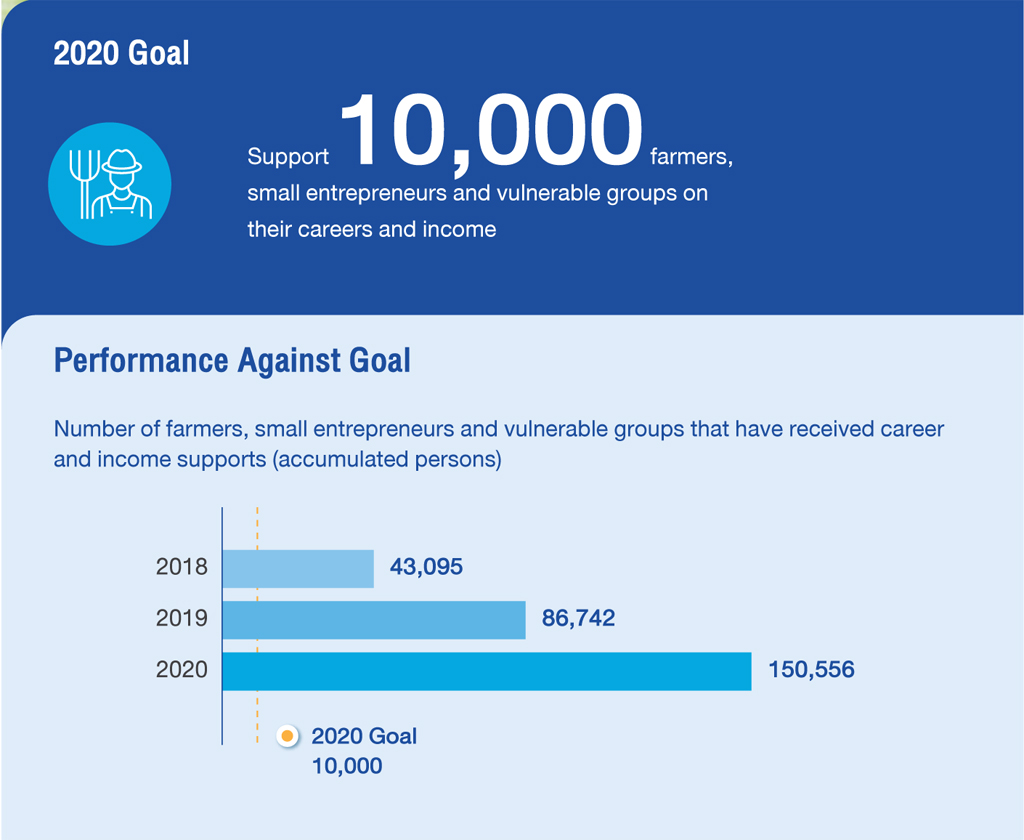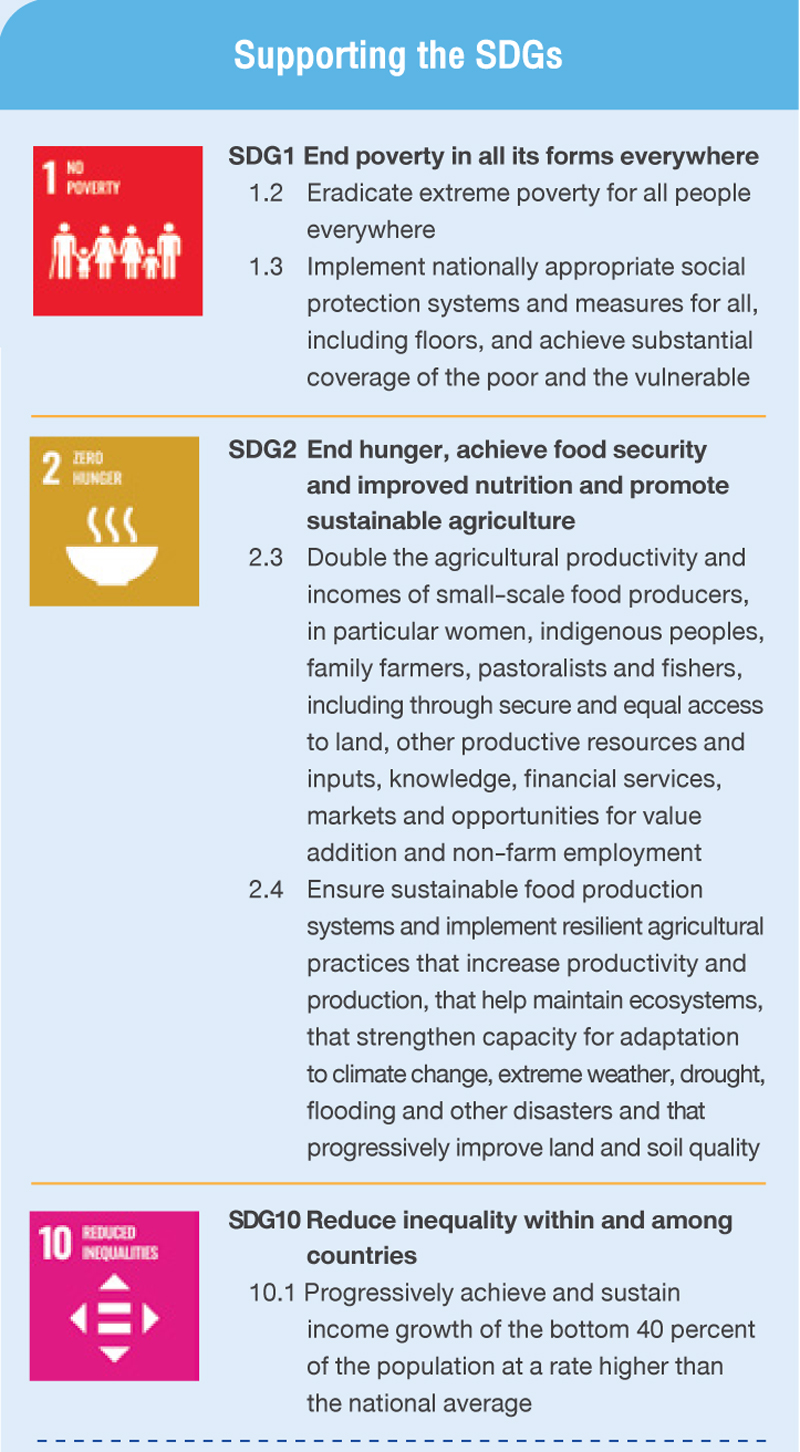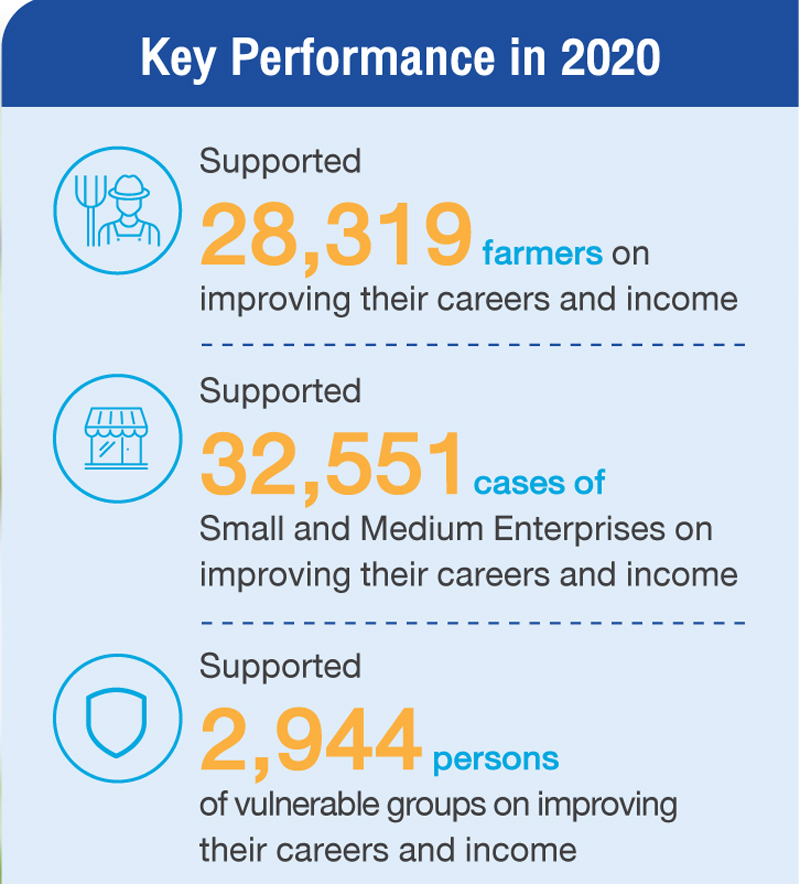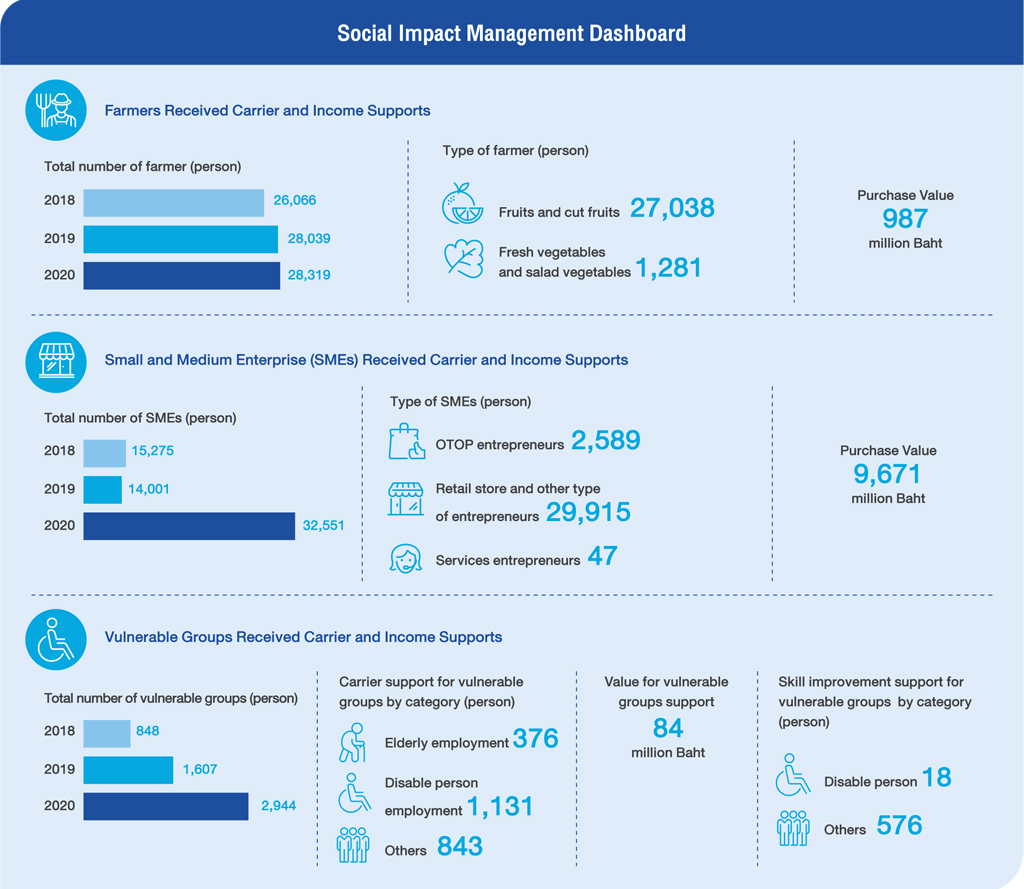 Risk and Opportunity
---
The World Bank officially reported that Thailand's poverty rate has been steadily increasing. The decline of the average household income has posed a challenge in reducing poverty and has been further exacerbated by the coronavirus disease (COVID-19) pandemic. Consequently, CP ALL Public Company Limited and its Subsidiaries ("the Company") is aware that it is a part of society and strives to create social and environmental impact in its
business operations rather than focusing sole on business results. The Company is also determined to support society both during normal circumstances and crises in order to achieve more sustainable success in the organization's business operations.
Management Approach
---
The Company aims to conduct business in awareness of the society in which it operates in through creating value with various means, such as promoting capabilities and knowledge, creating jobs, and providing distribution channels. These endeavors are designed to open opportunities for farmers, and micro, small and medium enterprises, and vulnerable groups to play a role in society and improve the quality of life. In 2020, the Company continued to develop long-term projects and initiate new projects to adapt with the changing situation so that it may continually and sustainably create value to the society.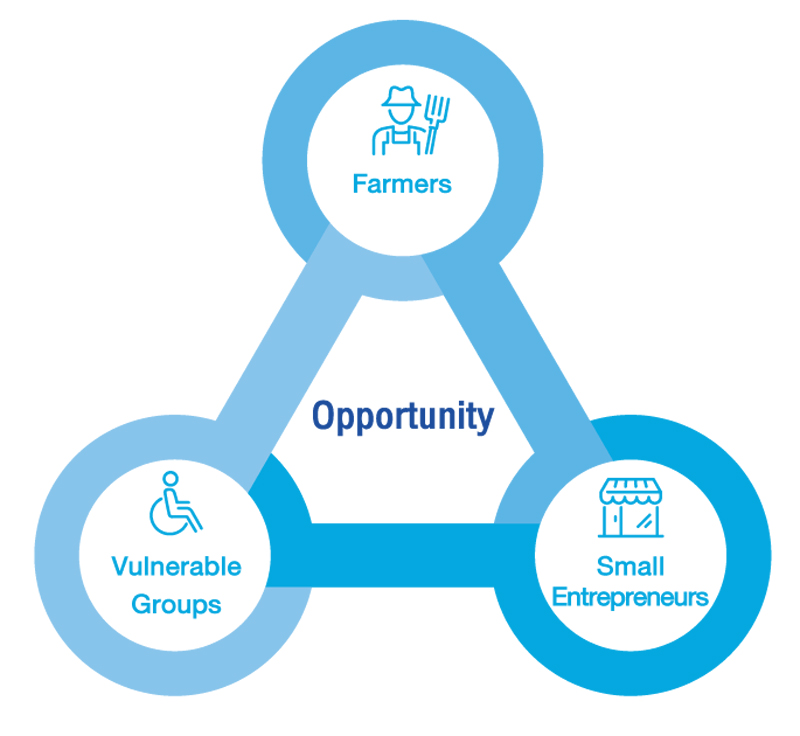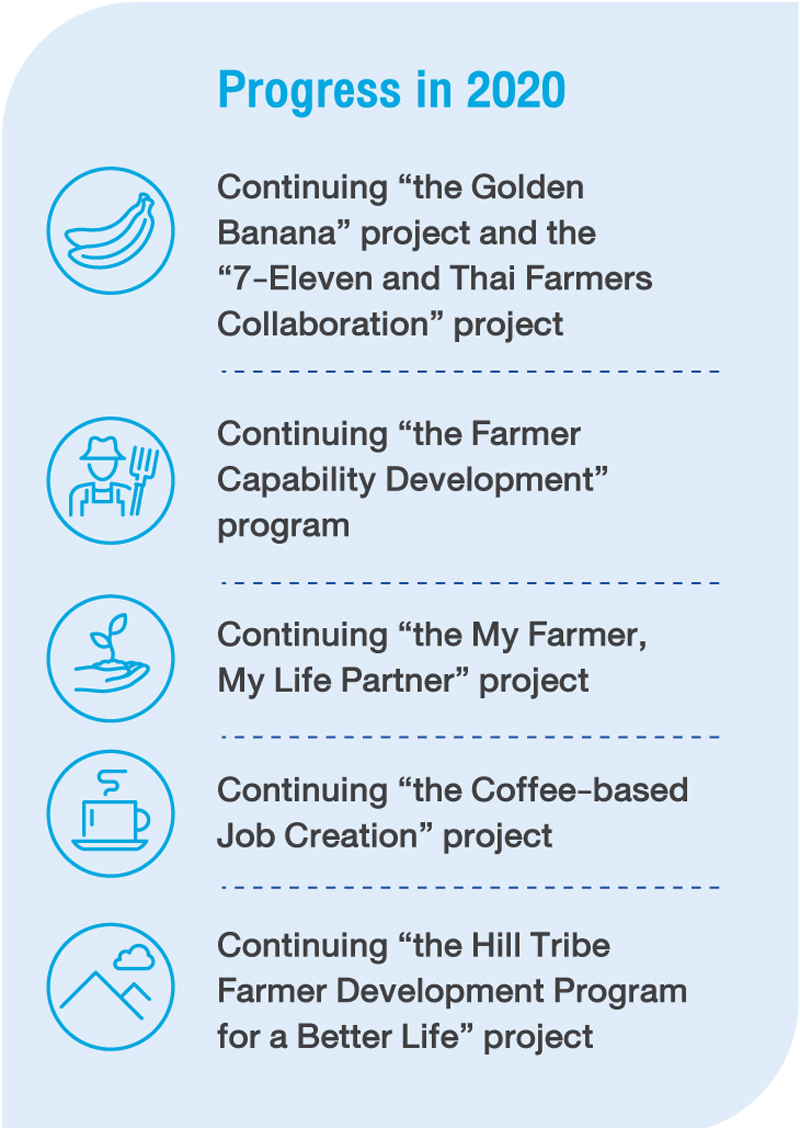 Key project in 2020
---
Supporting Farmers to Improve Their Quality of Life
The Company has continuously supported farmers to improve the quality of life through knowledge sharing in developing, managing
and increasing the productivity of the arable land. Additionally, the
Company provides support in building capabilities for agricultural
technology and agricultural distribution channels. In 2020, adding
onto the success of the Golden Banana Project, the 7-Eleven and Thai Farmers Collaboration project further supported farmers by expanding its reach to 4 agricultural product groups, namely seasonal fruits, cut fruits, ready-to-season vegetables, and salad vegetables. The objective of the project was to increase the value of agricultural products, ensure marketability, and spread income to locals.
Additionally, the efforts made to improve the quality of life of farmers are in line with the United Nations' Sustainable Development Goals (SDGs) comprising, Goal 1 is advocated by reducing economic poverty economically and poverty in other related dimensions, Goal 2 is advocated by increasing agricultural productivity and income of producers in order to eliminate hunger, and Goal 10 is advocated by growing the income of the general population so as to close the inequality gap of farmers.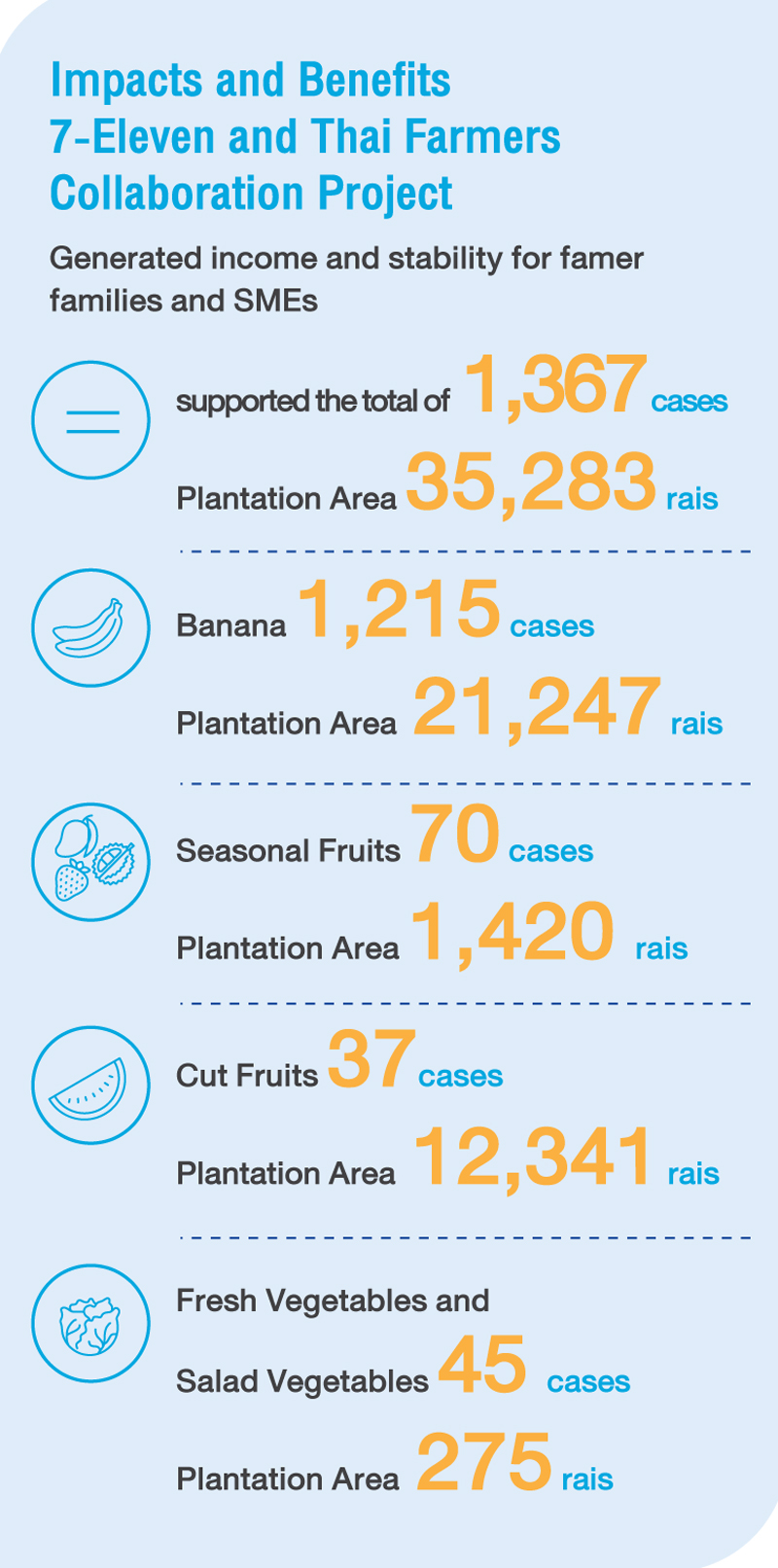 Day of Opportunities @CPALL Project
CP ALL has run this ongoing project under the concept "Giving and sharing opportunities for all" to provide chances for small entrepreneurs to conduct
business together whether it be through distributing products via 7-Eleven stores or online stores. Small entrepreneurs can register online for a Business Matching appointment or seek information from the SMEs Clinic on product quality management, product development or market expansion guidelines so small entrepreneurs may have multiple options for distribution channels, such as 7-Eleven stores, 24 Shopping online platform, ALL online platform and eXta Plus pharmacies stores. Additionally, small entrepreneurs may seek advice from the Company's allies in the government sector, such as the Office of SMEs Promotion (OSEMP) and the Thailand Institute of Scientific and Technological Research (TISTR), acquire investment funds from leading banks, and learn about business practices from the Chamber of Commerce of Thailand. Aside from business partnerships, the project offers location proposals for opening 7-Eleven stores. As for support on human resources, there are opportunities
for students to apply for education scholarships so that they may become people with knowledge and skills to improve the economic system on the organizational level, community level, societal level, and national level
in the future.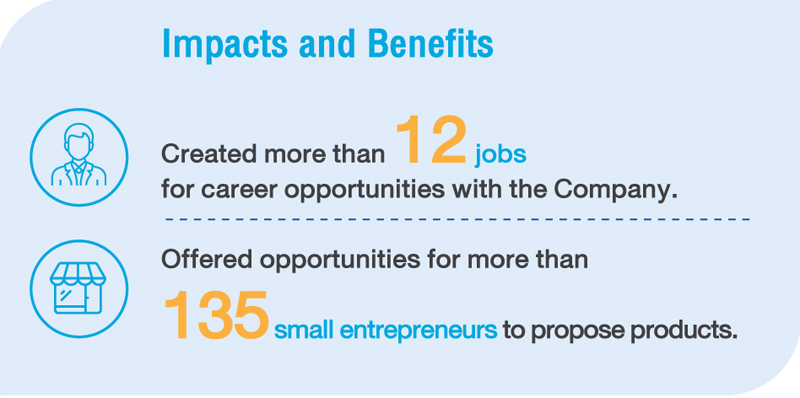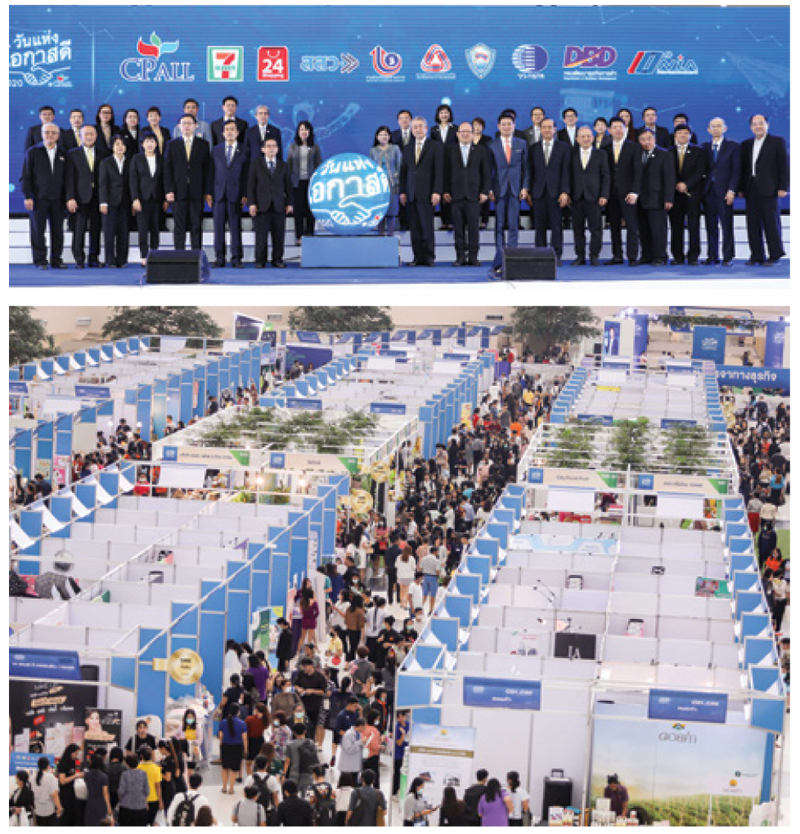 The CP ALL Giving Ambassadors Program : from "Care" to "Share"
The Company collaborated with artists who design famous
characters and disability organizations that showed interested
to develop and design products, especially sewing products,
from the disabled. The products were then sold on 24 Shopping
and the earnings after the fulfillment fee were donated to a total
of 4 disability foundations/organizations, namely the Heart of
Disable Association in Udonthani province, the Sustainable
Integrated Handicapped Club in PakThok sub-district, Phitsanulok
province, the Ang Thong Provincial Disabilities Association
in Ang Thong province, and the Vocational Rehabilitation
Center for Persons with Disabilities in Phra Pradaeng district,
Samut Prakan province. Without deducting the cost of the
canvas cloth, bag straps, etc.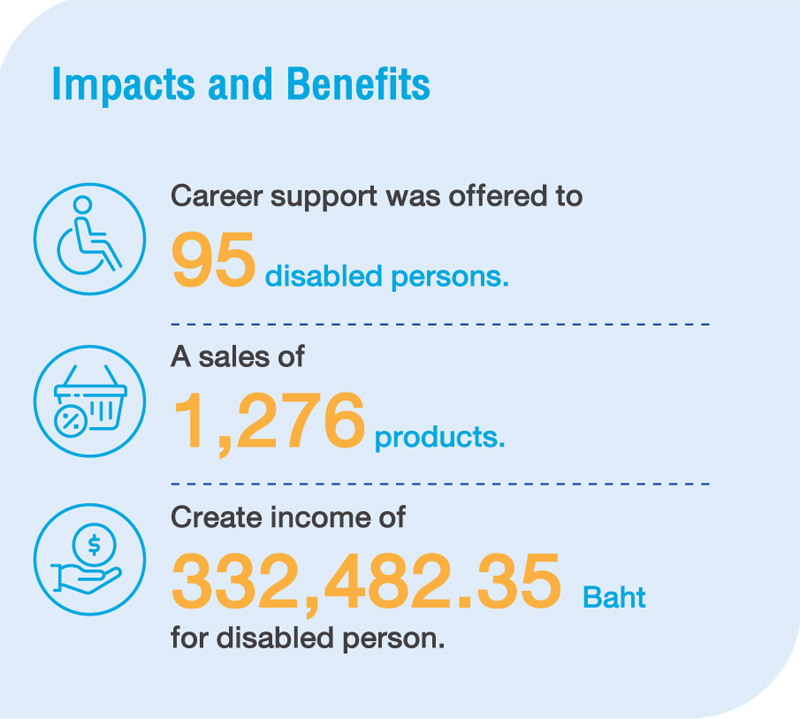 For more details click —> SD Report 2020