Social Impact and Economic Contribution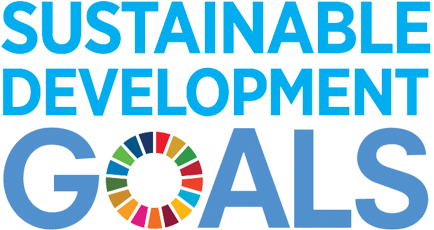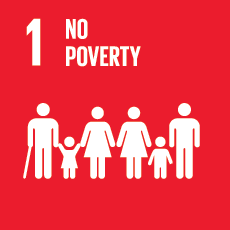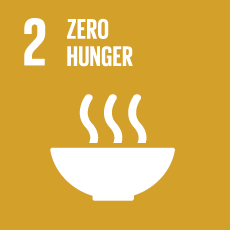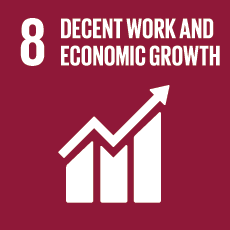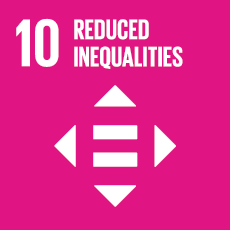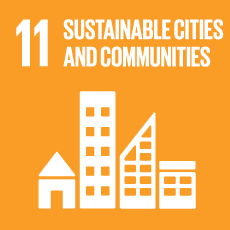 Key Performance in 2022
Received vocational skills development enabling increased income
34043
SMEs
Within the supply chain received vocational skills development enabling increased income
8306
Farmers
Vulnerable groups received vocational skills development enabling increased income
11846
persons
Employment of local workers
45275
persons (
49
.
76
%)
Create employment for communities
54024
persons
Employed elders
643
persons
Value of products purchased from SMEs
44749
million Baht
Value of products purchased from the Local product and OTOP product
14888
million Baht
Awarded to youth and underprivileged members in communities
30765
scholarships
Received the Asia's Best CSR Award (Best CSR Company)
Received Sustainability Initiative of the Year from Retail Asia Awards 2022
Received awards for excellent CSR performance and support for the "MSDHS cares, supporting the right against COVID-19" project from the Ministry of Social Development and Human Security
Significantly Affected Key Stakeholders
Performance Against Goal
2030 Goal
To develop skills and promote jobs to generate income for small and medium-sized entrepreneurs, agriculturists, and vulnerable groups throughout the supply chain
Progress against short-term and long-term goals
Performance Summary 2022
Community satisfaction towards the presence of a 7-Eleven store in the community (the score out of 5)
4

.

18
2021
4

.

26
2022
Scholarships for youths and the underprivileged in the community
Local products, OTOP products, and support funds small entrepreneurs

2021
2022
small entrepreneurs: Local products (persons)

100

223

Local Product purchase value (million Baht)

0.47

3.43

small entrepreneurs : OTOP products (persons)

N/A

7

OTOP product purchase value (million Baht)

N/A

1.49

Remarks : The definition/scope of 'community' as defined by the Company denotes individuals, groups, entrepreneurs, youth, and vulnerable groups within the vicinity of important Company operational areas
1) Surrounding 7-Eleven stores within a radius of not more than 5 kilometre
2) CP ALL Distribution centers within a radius of 5-10 kilometre
3) Makro and Lotus's Distribution centers and manufacturing within a radius of 5-10 kilometre
Risks and Opportunities
The current social and economic crisis, which has created challenges for all industries globally, significantly affects social equality. The low income and vulnerable groups are especially impacted through poverty rate implications, decline is household income, difficulties in accessing medical equipment and basic medical care and vaccine allocations, which poses access limitation challenges. Therefore, the public and private sectors uphold crucial roles in supporting equal access to products and services for all societal groups in addition to reducing disparity and maintaining support for improved life quality and well-being among civil society.
The well-being of communities in socio-economic dimensions (Socioeconomic Status) which implies matters concerning income, educational attainment, occupation classification, and physical housing environment maintains significant importance alongside Company business operations. The Company exercises awareness of various potential risks associated with business activities toward the community, which may lead to life quality degradation among surrounding communities, and the potential ensuring concerns and conflicts between communities and the organization an approach to prevent and reduce stated impacts. The Company aims to sustainably support the community through the promotion of contemporary knowledge comprising provisions for vital career skills, various channels to generate income, and appropriate management of community areas and the environment toward the entirety of farmers and SMEs including vulnerable groups. This approach fosters strong long-term relationships between business and civil society while simultaneously generating economic growth.
Management Approach
Through the corporate citizenship strategy of "Giving and Sharing Opportunities", the Company aims to create value for SMEs and farmers, including socially vulnerable groups in accordance with strategy 3 which stipulates the "provisions for sales channels, education, development and connectivity" as a means to sustainably assimilate into society and the community. The Company operates under social responsibility policies, guidelines, goals, indicators, and operationally strives to reduce negative impacts while consistently producing positive results both in the short term and in the long term. In tandem with the mentioned value creation, the Company develops administrative and support systems for SMEs integration throughout the entrepreneurship (SME Journey Line) cycle which comprises the establishment of 7 SME Support Center, community support through purchasing local products, establishing sales channels, offering free sales space, organizing promotional activities to stimulate sales and create awareness, knowledge sharing seminars and business matching events in addition to promoting access to additional benefits. In addition, the Company creates value for communities through local employment, support for community relief activities, complaints handling through organization specified channels to foster relations building, reduce conflicts and create shared values between the organization and various communities, including underprivileged youth groups, SMEs, farmers and vulnerable groups. This approach enables a stronger community which self-develops sustainability.
The Company has established a process to continuously monitor and review performance, which includes stakeholder engagement, to ensure social and economic value from operations, achievement of annual goals and endeavors to fulfill 2030 goals, and serve as a database for the development of Company policies and future operational plans.
1. Programs for skills development, careers promoting and income increase according to Strategy of 3 Giving
High potential SME and community enterprise project recruitment for distribution at offline and online 7-Eleven stores
The Company, in collaboration with the Department of Industrial Promotion (DIP), has implemented projects to promote and develop potential entrepreneurs and community enterprises for the modern trade market through business matching activities and online seminar for entrepreneurial preparation inclusive of product standards, packaging creation and design, pricing and product innovation. The Company encourages entrepreneurs and enterprises to present their products for sales opportunities creation through both online and offline 7-Eleven stores, in addition to assessment market demand and consumer base expansion.
Impacts and Benefits
"SME Shelf Theme" project
The Company supports SMEs products by means of sales opportunities and consumer confidence building through product sorting and a dedicated SMEs Shelf in 5,446 large 7-Eleven stores nationwide or SMEs displays in medium and small 7-Eleven stores. This approach, which includes placing a sign above the product shelf (Head Shelf) stating "Support SMEs Products" by 7-Eleven, increases visibility and accessibility thus publicizing and stimulating consumer purchasing decisions. In 2022, over 100 participating products from more than 100 entrepreneurs.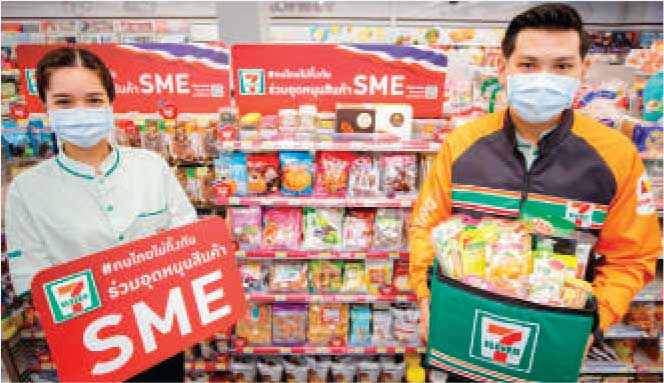 "Promoting Community Enterprise, Entrepreneurs, Farms and Smallholders" (CP ALL Market) project
CP ALL supports goods and products from farmers and communities, creates sales opportunities and increases community income, through the following implementation. 1) Support both internal and external Company sales channels whereby offline channels include booths, store front space, Modern Trade (local product) sales, and online channels comprise CP ALL Market's websites, LINE, TikTok and Facebook for CP ALL Group and Charoen Pokphand Group employees and external parties. 2) Advertising media preparation assistance to enhance public relations and elaborate product properties to drive sales. 3) Support access to efficient shipping channels to reduce transportation costs. 4) Support product development and knowledge through processes enabling upgrades from community products to international standard products in preparation for modern trade market entry.
Impacts and Benefits
"Makro alongside Thai farmers" Project to support farmers and their produce
Siam Makro Public Company Limited supports agricultural products and products from local farmers and SMEs within the respective vicinity under the "Makro alongside Thai farmers" project which has been implemented continuously to develop supplier potential in terms of production standards, income sustainability, product quality and food safety.
Agricultural Products
Support Guidelines

Various meat products

Support meat and alternative protein, such as insects, plant-based products from small entrepreneurs over

1571

tonnes

Financial support at

190

million Baht

Poultry, eggs and milk

Purchased over

10

tonnes

of organic meat and eggs, totaling a support of

1

million Baht

Purchased over

1292

tonnes

of milk , totaling a support of

91

million Baht

Seasonal fruits including durian, rambutan, mangosteen, longan, longkong, mango, etc

Organized the "Good quality Thai fruits delivered directly from the orchard" festival to stimulate consumption with the purchase of over

38400

tonnes

of fruit
Supported longan purchases from more than

650

smallholder

farmers, totaling over

1000

tonnes

of longan
totaling a support of

5

.

28

million Baht

Vegetables and local vegetables

Purchased ginger from over

647

persons

community enterprises, amounting to more than

200

tonnes

Organized a "local vegetables" festival with sales of

15

.

60

million Baht

Purchased over

17775

tonnes

vegetables, totaling a support of

415

million Baht

Seafood

Purchased over

1584

tonnes

of seafood
totaling a support of

142

million Baht
Impacts and Benefits
Direct product sourcing from farmers (Non Khwao Model) project
The Direct Sourcing project generates fair and stable income for farmers, raises cultivation standard through cooperation with government agencies including the Ministry of Agriculture and Cooperatives and local government agencies, and aims to enable efficient cultivation management among farmers and gain bargaining power through encouraging local farmer unionization according to the government's large-scale agricultural policy. In 2018, Ban Non Khwao Farmers Group, Don Han Subdistrict, Mueang District, Khon Kaen Province gathered together under the Non Khao Model which focuses on market principles to lead production. A Lotus's farm manager operates closely with farmers and government agencies in elevating agricultural product quality and safety standards. Planting and purchasing are planned according to the marketing-led production policy, which additionally involves support for opportunities to distribute agricultural products within the Lotus's network. Lotus's currently utilizes 4 main farm models in all 4 regions of Thailand, thereby creating careers in addition to fair and stable incomes for over 1,700 households. Working closely with farmers in the Farm Model enables control and product oversight in terms of safety and quality standards through sourcing information and delivery of high quality fresh vegetables to customers.
Currently, Lotus's purchases 23 varieties of vegetables from farmers in Ban Non Khwao, which consists of over 105 households covering an area of more than 300 rai, at over 120 tonnes per year, and thus generates an extra income per household of 5,000 Baht.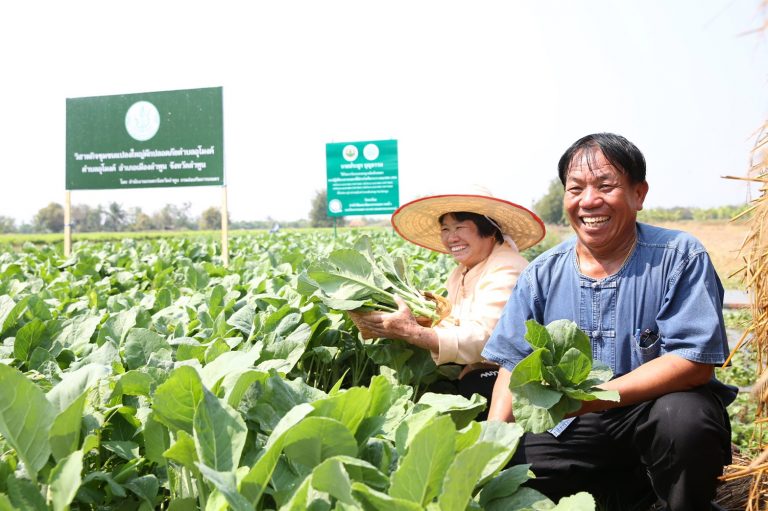 Impacts and Benefits
CP ALL Giving Space Project
The Company allocates space in front of 7-Eleven stores for disabilities organizations or disabled persons to potentially use and sell products free of charge under the project "CP ALL Giving Space" for the 3rd consecutive year. At present, the project scope has expanded to support distribution areas for the Center for the Promotion of Life Skills for Autistic Persons in Chonburi Province, occupational development club for disabled people in Wang Nam Khiao District, Nakhon Ratchasima Province, association for people with intellectual disabilities in Nonthaburi Province and the Sustainable Integration Club, Pak Thok Subdistrict, Phitsanulok Province.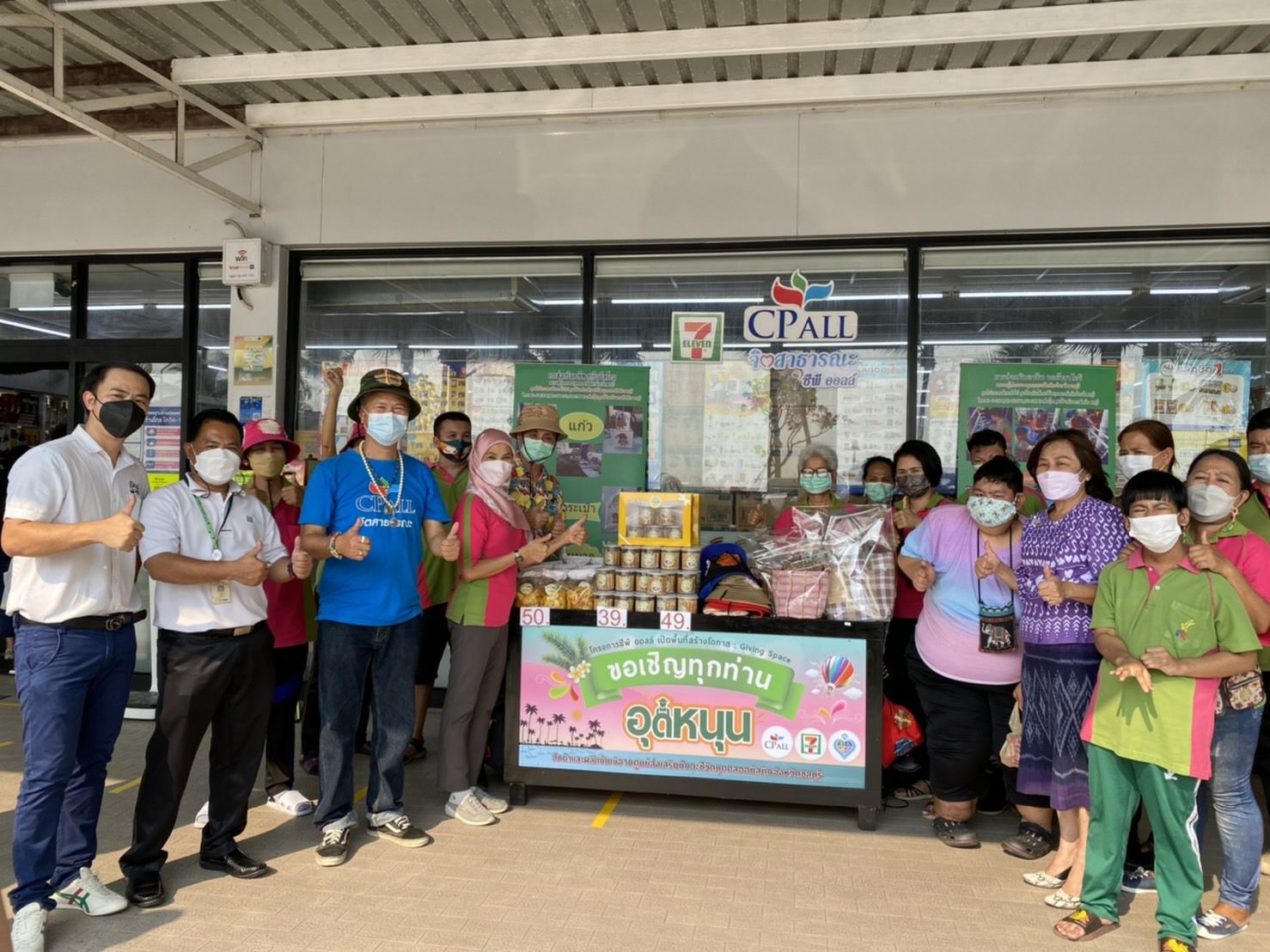 Giving Ambassadors: from "Care" to "Share" Project Season II
The Company promotes job creation and sustainable income in collaborating with artists, designers and disability organizations for the 2nd consecutive year. The joint development and design of products are tailored to disability groups while maintaining a modern and attractive appeal. The mentioned strategy has enabled sales growth thus more canvas fabrics have been ordered for the Season II project. "BLOODY BUNNY" character patterns have been provided to the Ang Thong Disabled Association for use as material for sewing unique cloth bags. With noteworthy cooperation from the character copyright owner, Two Spot Communication Co., Ltd., the character canvas pattern were designed specifically for the production of sewn cloth bags. The bag sales proceeds without expense deductions, which totalled 327,861 Baht, were donated to the Association of Persons with Disabilities in Ang Thong Province.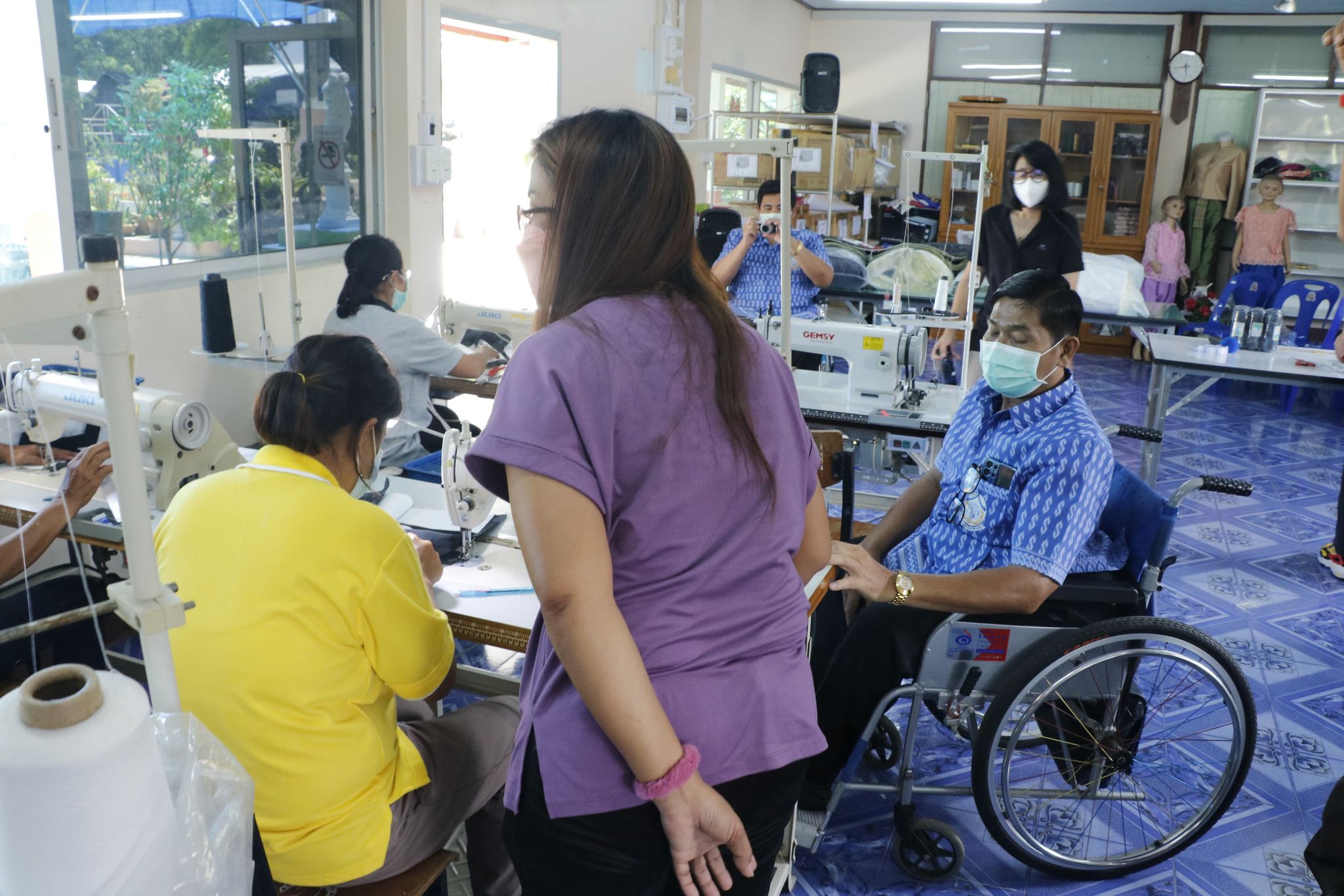 Programs to educate and develop potential according to SMEs Journey Line
In 2022, the Company has continuously developed the potential of SMEs, entrepreneurs, and community enterprises which include farmers as follows.
7 SME Support Center Project
The Company continuously recognizes the importance of farmers and entrepreneurs. The "7 SME Support Center" project initiated by CP ALL supports a variety of entrepreneurial potential development projects consisting of seminars to provide knowledge, improve agricultural product quality, including the charming the region across the country SME project, promotion of local products to be sold at 7-Eleven stores, and expansion of marketing channels which can generate stable and sustainable income for entrepreneurs. In 2022, the project "7 SME Support Center" in conjunction with the Product Development and Quality Assurance Office (PDQA), Government Sustainable Development Department, Charoen Pokphand Group and Nan Province, visited a producers and community enterprise groups for processed agricultural products. This trip, which entailed a visit to the raw material source, enabled the exchange of recommendation and experience exchanges, operational perspective discussions and joint challenge resolutions for community enterprise groups in terms of product development and support as follows:
SMEs potential development and advice program
Business Accelerator project
The Company cooperates with the Thai Chamber of Commerce in preparing entrepreneurs for expansion into modern trade channels via teleconference system (VDO Conference) with experts from modern trade companies in the business group offering advice and knowledge crucial towards business operations over a 4 month period. Attendees are granted the opportunity to practice pitching and presenting virtual products with various modern trades. This project enables entrepreneurial strength development and creates market expansion opportunities alongside 40 and 80 entrepreneur participants during the first and second generation, respectively. The expanding alliance network of participants share and expand business ideas.
Big Brother season 6 project
Business Mentor Program with the Thai Chamber of Commerce and the Board of Trade of Thailand in conjunction with 22 mentoring agencies to support Thai entrepreneurs in operating business with stability and sustainability continuously through the following 2 formats:
The Big Brother Season 6 project has compiled results from a total of 53 participating "Nong Leang Companies". 47 entrepreneurs (88.67%) performed with better results upon project participating and was assessed through evaluating the value of increased revenue and profit from expenses or reduced costs, which was cumulatively calculated as an economic value of 400 million Baht.
SMEs service solution center project
This project offers entrepreneurs and product manufacturers query answering and consultations regarding the production processes, capital, and business development knowledge. In 2022, SMEs advice was provided through the SME DBank project, SME Biz Up project, DIPROM project, and SME Service Solution Center for up to 58 persons.
In addition, the Company provides connection services for both internal and external agencies which grants SMEs access to business support benefits under 7 SME Support Center operations comprising project support from Department of Industrial Promotion (DIP), Office of Small and Medium Enterprises Promotion (OSMEP), Innovation and technology assistance program (ITAP) under the National Science and Technology Development Agency (NSTDA), National Innovation Agency (NIA), including special service fee discounts from Thailand Institute of Scientific and Technological Research (TISTR), CP ALL Food Tech, ALL Now and PIM Food Academy, etc.
"MAKRO HORECA ACADEMY (MHA), a one-stop companion for restaurant entrepreneurs"
Under MHA project's key mission, which comprises being a thought partners for food business, build growth, share knowledge and propel new entrepreneurs into HORECA business group, the Company created a consolidated knowledge hub covering the topics of management and cooking skills that is free and accessible offline – online alike. This covers every step from ingredient preparation, recipes, financial management, marketing and advertising techniques via online platforms. It is available continuously, anytime and anywhere. Examples of curriculum cover Giving your Restaurant Fame, Building Tik Tok sales, and Boat Noodles (the classic) recipe. This includes activities with suppliers of leading brands, provide privileges to professional entrepreneurs who are MHA members. Products are available at MHA member pricing. Equipment for food business operations is also available, basing on purchase orders. This creates revenue-generating opportunities for entrepreneurs.
Impacts and Benefits
"Organizing workshop activities and special lectures"
The Company organized workshops and lecture for restaurant owners who are the Company's members such as million Baht Suhi curriculum, taught by Chef Boonsri Suwannapap, Thailand Chef Association's Japanese chef. Knowledge shared include fundamentals on sushi, diverse sushi recipe, as well as expense table and pricing recommendations. Furthermore, there is also a curriculum, Makro builds careers, Street Food Go Beyond. This was organized with collaboration of Department of Business Development, Ministry of Commerce and Thailand Chef Association, who organized budget calculation technique, profit-enhancing ingredient selection, as well as techniques to increase values for menus. Trainings are provided to individuals interested in management principles and popular restaurant menus, such as papaya salad, spicy salad, grilled chicken on rice, grilled pork and clear soup noodles, to name a few. This includes all level-store management curriculum, such as "Street Food Go Beyond" and "SMART Restaurant, New Chapter store management curriculum" to elevate management for maximum effectiveness and profits.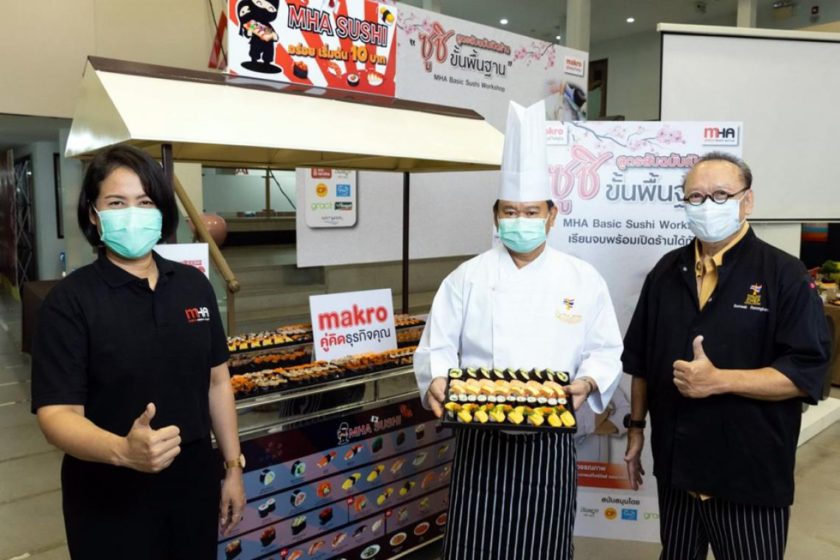 Impacts and Benefits
Partnership Alliance Project
The Company organizes cooperation projects with a network of alliances comprising the Department of Industrial Promotion (DIP), to prepare entrepreneurs for the post-COVID-19 situation. In order to adapt to the changing customers lifestyles, participants receive an intensive 7-day knowledge enhancement, while more than 100 businesses and 20 selected entrepreneurs enter the program to receive in-depth consultation from specialists. The mentioned specialized consultations include packaging, adjusting food innovation recipes, etc. Upon completion of the course, all 20 businesses will receive prototypes of products that have been developed as a means to adjust and extend their respective business. The total project value is 800,000 Baht.
Agricultural production standards enhancement project
CP ALL in conjunction with affiliated companies and educational institutions organize online seminars for entrepreneurs to raise the standards of agricultural production free of charge. At the event, experts share knowledge on a variety of issues including:
Impacts and Benefits
Oh! Veggies Project
"Rai Por Fun" is one among a number of farms supplying organic salad to Oh! Veggies, organic salads and ready-to-eat fruits which are available in 7-Eleven stores. At first, the owner of the lettuce farm, Rai Phor Fun, encountered many obstacles including production volume and product quality issues. Upon receiving opportunities to consult and resolve challenges with the owners of the Oh! Veggies brand and the 7-Eleven team, the respective products produced were capable of achieving international standard benchmarks including the production management system, marketing management, and target specific distribution channels. At present, th Rai Phor Fun can produce
700-1,200 kilograms of lettuce per week for Oh! Veggies, and thus generates income, creates community employment valued over a hundred thousand Baht per month. The generate sales in 2022 of up to 300 million Baht, represented an average growth rate of about 10% per annum. Products were distributed to 6,000-8,000 stores throughout Bangkok and its vicinity.
"Organic Salad" from upstream to consumers project
The Company cooperated with Phalang Phak (SMEs), a collector and producer of 1 organic vegetable salad product (mixed salad) and a vegetable salad which uses organic vegetables as ingredients in production (party salad). Joint site visits promote
and develop knowledge with farmers and smallholder farmers regarding the purchasing of products used as raw materials in production and new added value products, in addition to plot expansion to accommodate organic vegetable cultivation. The farmers network consisting of Mae Klang Luang Farmers Group in Chom Thong District, Chiang Mai Province, Water Conservation Farmers Group in Chat Trakan District, Phitsanulok Province and Sufficiency Farmers Group in Mae Wang District, Chiang Mai Province collectively manage about 200 rai. This organization approach enables a quality control system for lettuce (Green Oak, Red Oak, Green Cos, Red Coral, Butterhead) from upstream to downstream. As a result, farmers participating in the project are ensured a purchaser for their produce and receive an increase in average income of 20,000-25,000 Baht per month per household (compared to the average income from the cultivation
of conventional crops or abstinence from cultivation, 1,600-2,000 baht per month per household), increase planting sources and produce more organic salad vegetables.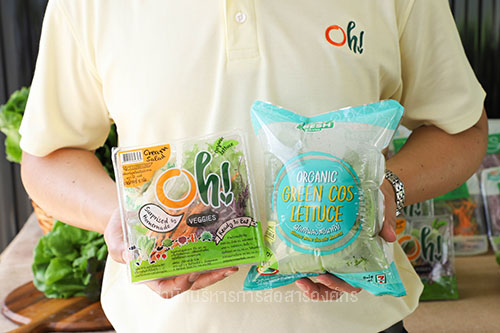 Synergy and business matching project
supports SMEs in expanding business and creating opportunities through providing advice. In 2022, in addition to providing opportunities through the business matching program composed of over 2,000 participating products, promotions through business model matching for SMEs encourage SMEs growth from the provincial level to the national level. Selected project participating SMEs determined to develop their products receive support for production process development in terms of safety standards and factory standards, product formulas enhancement for longer shelf life, packaging developing and product distribution support through 7-Eleven stores nationwide. The mentioned business matching arises between non-bakery, NSL Foods Public Company Limited and 7-Eleven. The joint development produces a uniquely delicious product from recipes upholding quality and standard. Produced as a new type of Non Bakery branded product within a NSL factory, production maintain various production standards while granting NSL partnership status in presenting products alongside 7-Eleven. This matching approach enabled the delivery of fresh bakery products, which was once available provincially but now nationally, under the non-bakery brand to customers through 7-Eleven stores nationwide.
"Standing together with communities and Thai society as a friend" program
"Volunteer spirit to develop and build relationships with the community" project
With a community service centered heart according to the motto of "Giving and Sharing Opportunities", 7-Eleven promotes and supports community involvement with the 3 principles in addition to listening and analyzing the surrounding 5 kilometre community needs and responds to respective needs through 6 main activities. The 6 main activities consist of participating in supporting activities on important community days, activities promoting sharing and creating convenience for the community, such as community markets, community health centers, and bridge of merit activities to receive donations and pass on kindness to the underprivileged within the community. The Company focuses on creating careers and increasing income for community riders in addition to improving the school environment. Public benefit activities by 7-Eleven store employees and CP ALL's volunteer employees include religious promotion activities, which are central to community spirit, community environmental activities such as planting trees, and community waste management which covers key operating areas of the Company, including distribution centers of Makro and Lotus's, and CPRAM food factories.
In addition, the Company encourages communal participation through projects including "Thais Together" which supports the COVID 19 spread prevention for organizations, government agencies and relevant officials continuously for the 3rd year. This project features various volunteer projects which participate in alleviating community suffering.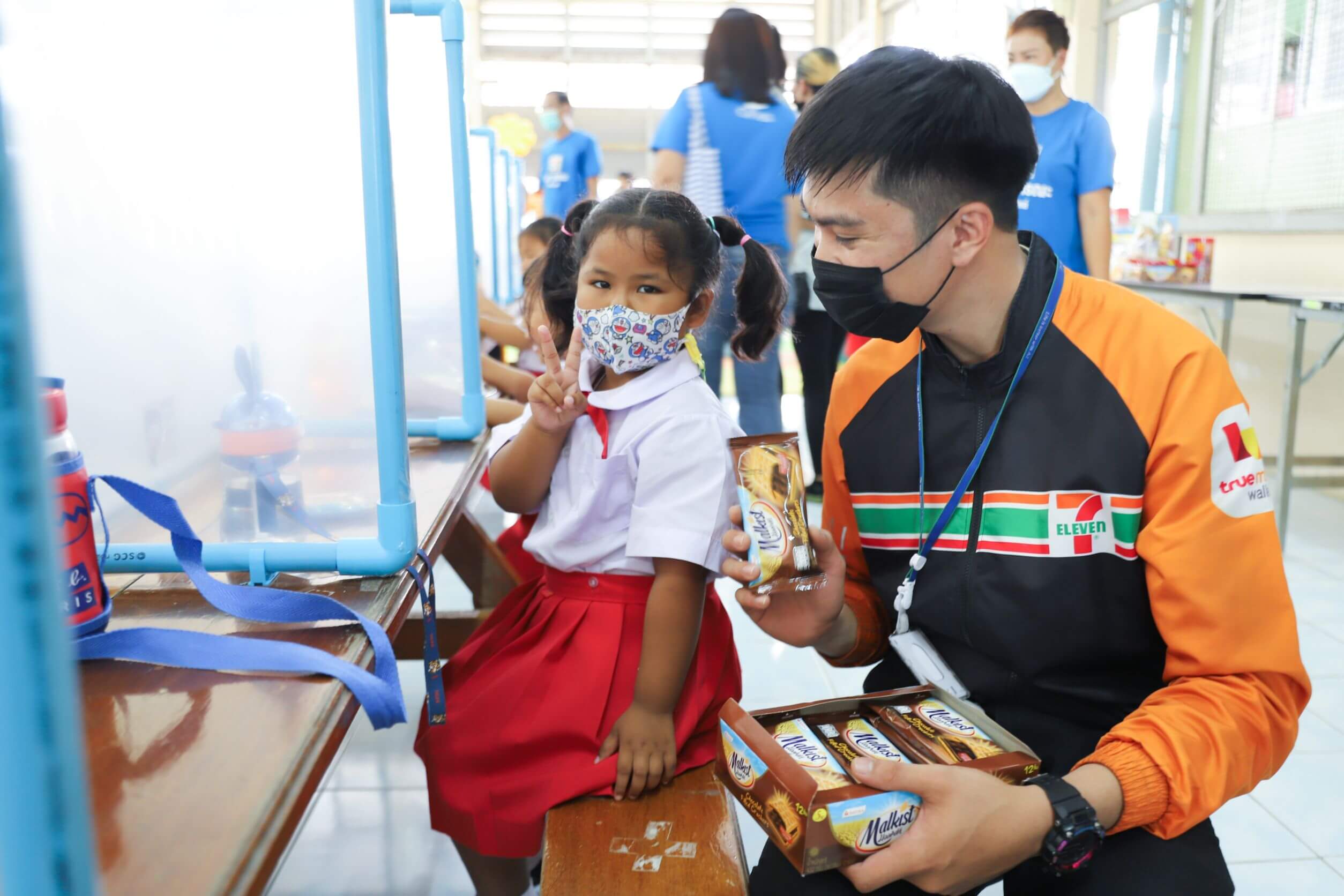 Impacts and Benefits
Community Relations and Disaster Mitigation Program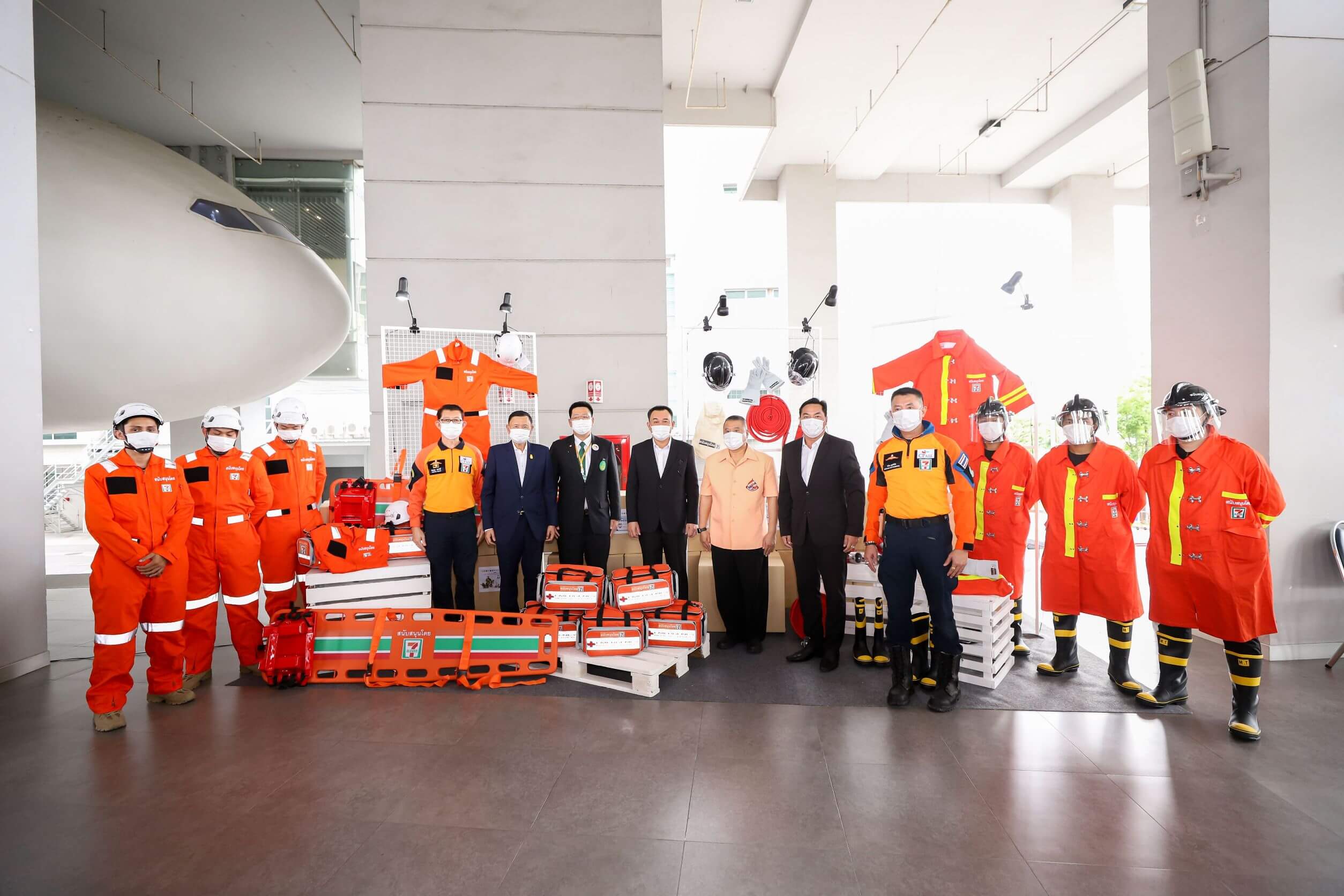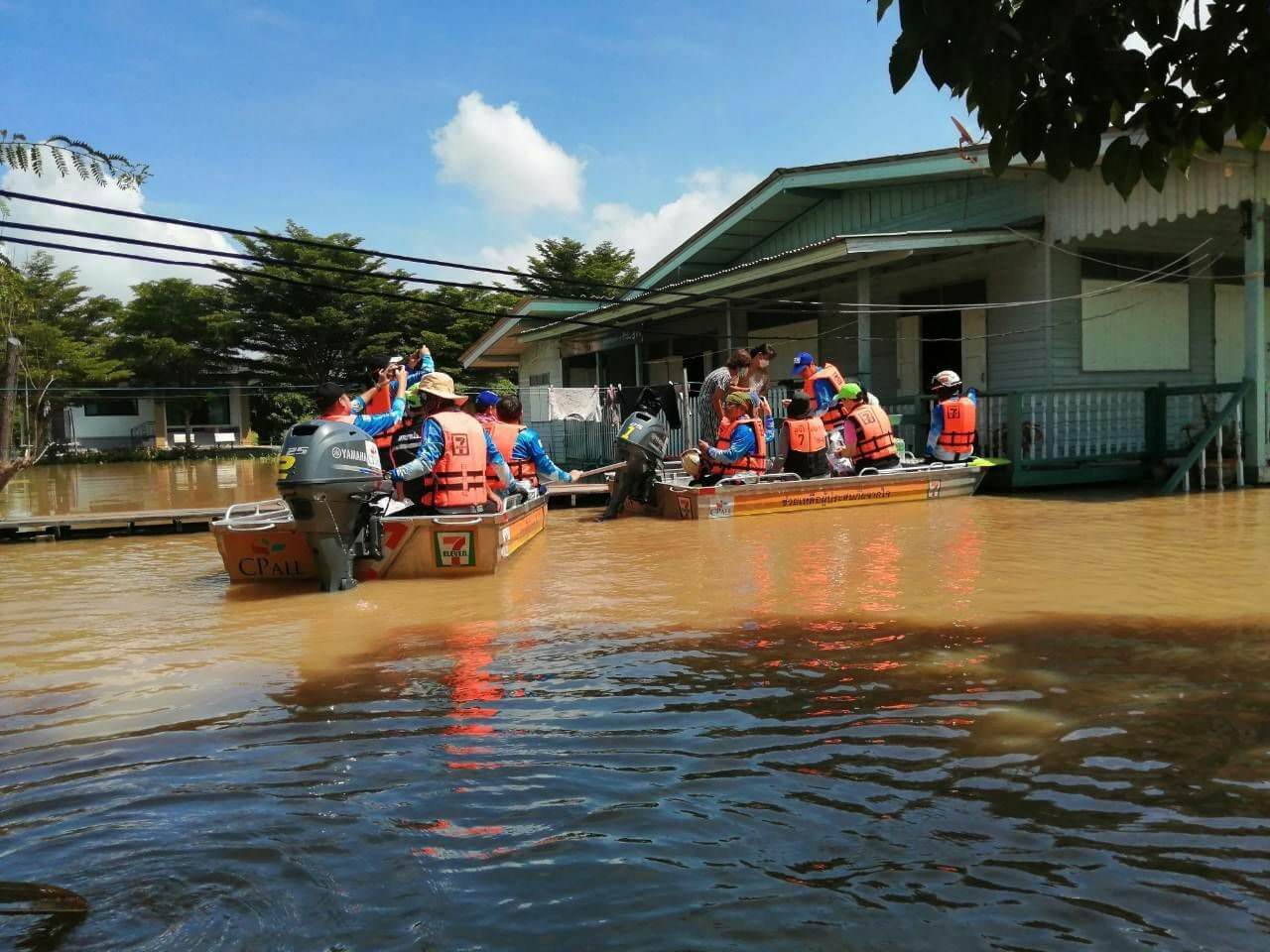 Impacts and Benefits
A Better Life (Create a life for society)
Bellinee's Premium Cafe partnered with the Department of Children and Youth Protection, Ministry of Justice, to sign an MOU to create a role model shop that promotes and develops professional skills for the youth in the department's program. Bellinee's Grab & Go shop was opened in the Ministry of Justice, which is a place for the youth to train their professional skills before starting their lives outside. In 2022, the project continued to develop the skills of the youth for three generations. A total of 9 youths have passed the training program, and 4 persons of them have been employed as practitioners in Bellinee's and the selection unit, which is a sustainable continuation and reduction of repeated wrongdoings.
CPRAM We Care project: Caring for the community
CPRAM delivers well-being through delivering survival bags for vulnerable groups, disadvantaged groups, and low-income groups within the factory vicinity in addition to organizing public-minded activities, developing and maintaining religious sites, and providing lunch to students and surrounding communities for the 3rd consecutive year.