Creating Value for Society
Sharing opportunities and creating value for society
CP ALL Plc. and its Subsidiaries ("the Company") are constantly aware that they are a part of society and can affect it both positively and negatively. Therefore, the Company places great importance on the perspective of society and its stakeholders. It endeavors to create positive impact within its operational strengths and bring benefits to farmers, small and medium enterprises, and vulnerable groups whom the Company views as partners, customers and essential parts in the lives of the Company's own personnel. The Company views that if its efforts are successful, the results will benefit the Company itself in terms of business.
The Company believes that in order for a business to grow, it must develop the community and advance together as a whole. The driving force behind the Company's involvement in community development is its alignment with its 3-Benefits Principle that aims to promote society's well-being through economic growth. It is with this growth that the Company and society can step forward together firmly and strongly while gaining trust from the community and building confidence in its business operations.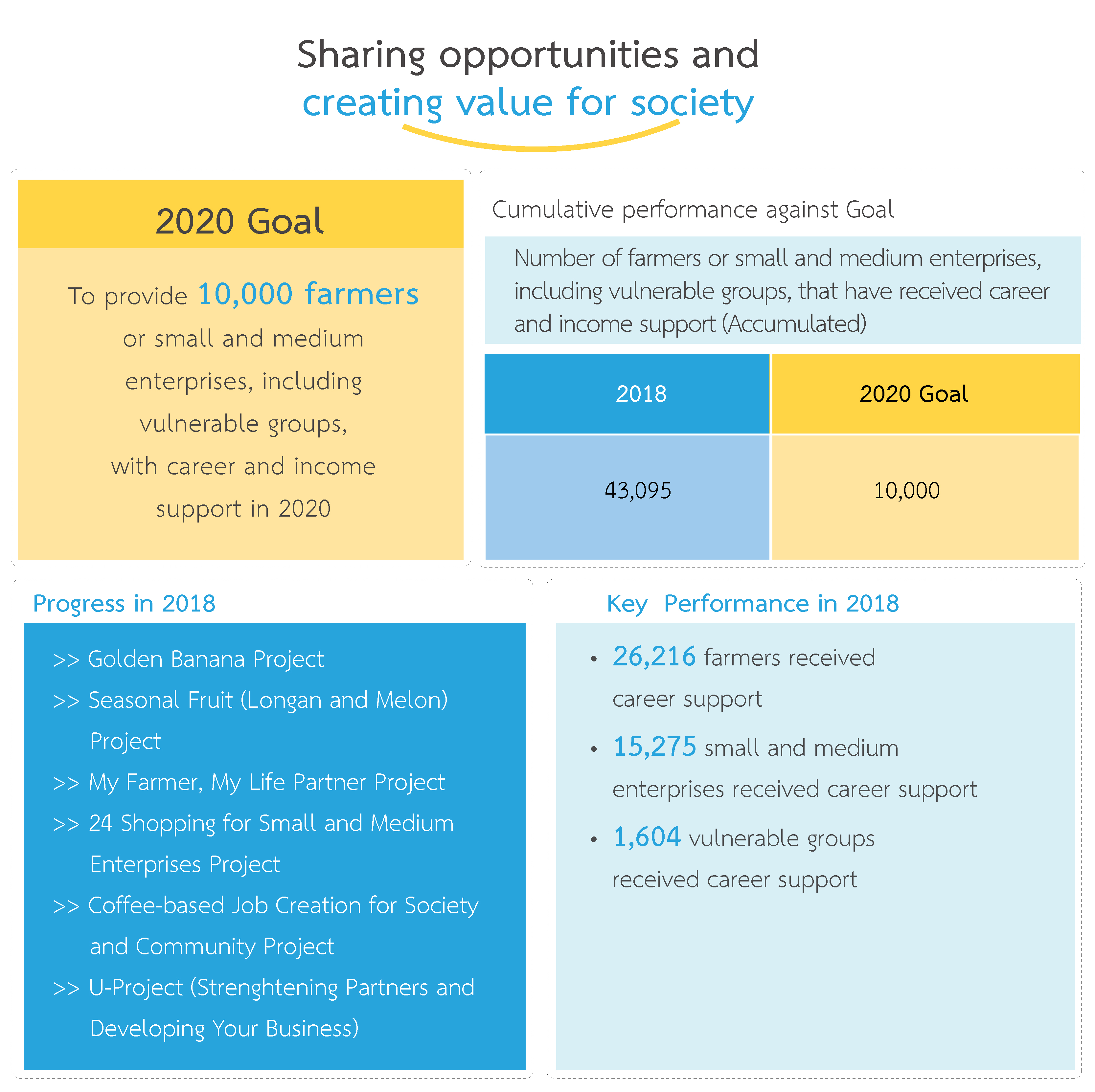 Management Approach
In order to understand the impact of business operations on stakeholders' perspectives, the Company carried out a survey on the stakeholders' perception, attitude and understanding of the Company. The results of the survey revealed the importance of agricultural groups, small and medium enterprises and vulnerable groups who have fewer opportunities in society than the general population, as well as, opportunities in which the Company can create an impact to the well-being of these groups. Consequently, the Company set forth an intention to promote projects that are in line with the Company's businesses so as to support the careers and income of 10,000 farmers or small and medium enterprises, including vulnerable groups, by 2020. In summary, the Company has set an operational approach that is aligned with its business by aiding the distribution of products, increasing employment, providing career training and facilitating the integration of vulnerable groups into society through the following projects.
Golden Banana Project
The project supported products from small and medium enterprises by providing channels in distributing Hom Thong bananas to consumers through 7-Eleven stores. In addition, the project encouraged crop cultivation, standard post-harvest processes that enable tracibility and packaging designs that extend shelf life and reduce spoilage. Furthermore, CPRAM produced banana cakes from the banana and created teaching material to provide farmers with knowledge in cultivating Hom Thong bananas.
The Golden Banana Project has been developed since 2012 and at present, extended its business to other banana species. It has added distribution of Namwah bananas to 5,000 stores and Lebmuernang bananas to 1,000 stores nationwide. The project achieved a 10 percent increase in the participation of small agricultural groups, totaling in 1,825 groups and covering 14,863 Rai of agricultural land.

Seasonal Fruit (Longan and Melon) Project
The Seasonal Fruit Project was developed with the same principle as the Golden Banana Project which is to provide assistance in terms of distribution channels. It distributed seasonal fruits, such as Edo longan and melon, and collaborated with the Department of Internal Trade in selecting grade A Edo longan to be sold at 5,000 7-Eleven stores from 20 August to 30 October 2018. The project sold 83.59 tons of longan amounting to 7,642,080 baht. For melons, the Company introduced Zubari King melons which possess characteristics and flavors distinctive to the local area. The melons were grown by Jaidee Farm, which is a center for enhancing the potential of the disabled at Hankha Subdistrict, Hankha District, Chainat Province, and sold on 24 Shopping's website from 1–10 October 2018 with a total of 241 orders worth 86,139 baht.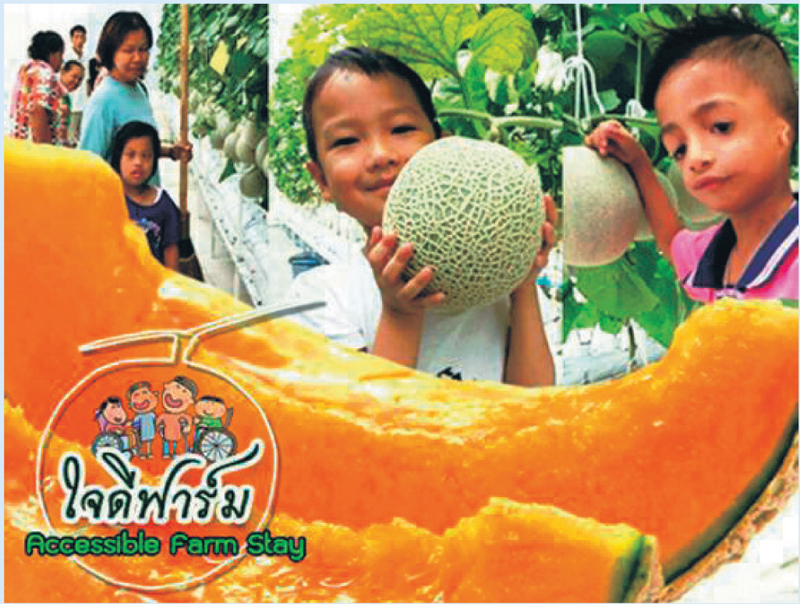 My Farmer, My Life Partner Project
The Company has been continuously driving the project in order to raise the agricultural standard of the local community and farmers by providing knowledge of cultivating crops under Good Agricultural Practices (GAP) and creating professional security for over 150 households. The project was established since 2010 and successfully developed a profession in sweet basil cultivation with CPRAM Co., Ltd. for 85 households.
Coffee-based Job Creation for Society and Community Project
The Coffee-based Job Creation for Society and Community Project was initiated and promoted by CP Retailink Co., Ltd. in an effort to develop the raw material procurement process within the café's supply chain and to encourage psychiatric patients to integrate with society through employment in the café. The project's progress is shown as follows
Coffee-based Job Creation for Society and Community Training
With cooperation from the government, namely the Royal Forest Department, Department of Agriculture, Land Development Department, Department of Agricultural Extension, and Office of the Non-Formal and Informal Education, in order to fulfill the orders of HRH Princess Maha Chakri Sirindhorn in developing reforestation projects in Nan Province, CP Retailink Co., Ltd. provided knowledge on the cultivation and processing of coffee beans. Complementarily to educating the people of Nan Province, the Company supplied occupational tools such as coffee hullers and drying plants, as well as, bought coffee beans from villagers at fair prices to be used in All Café and Caffé Muan Chon shops. At present, the project has created a green space of 1,459 Rai and generated income for 478 households.

Red Roof Café
CP Retailink Co., Ltd. in collaboration with the Somdet Chaopraya Hospital Foundation by Khunying Uerpranee Chearavanont and the Somdet Chaopraya Institute of Psychiatry employed and trained patients who had undergone treatment and qualified for preliminary standards to encourage career opportunities and integration with society. The earnings from the café were used to further contribute to the activites of the Somdet Chaopraya Institute of Psychiatry. Patients who worked for 1-1.5 years proceeded to work at Caffé Muan Chon. At present, there are 19 patients who have received training and 4 are in the process of training.
"One Baht One Cup" Project
To create further prospects for earning income and building careers in society, the Company continues to promote various opportunities. It donates an earning of 1 baht for every glass that is sold at Caffé Muan Chon to a hospital, foundation or charity, such as Phrabat Nam Pu Temple, Suan Kaew Temple, the Suthasini Noi-in Foundation for Children and Youths, and the Ramathibodi Foundation under the Chakri Naruebodindra Medical Institute Project. The company has continuously donated every year for over 8 years an accumulated value of 11 million baht.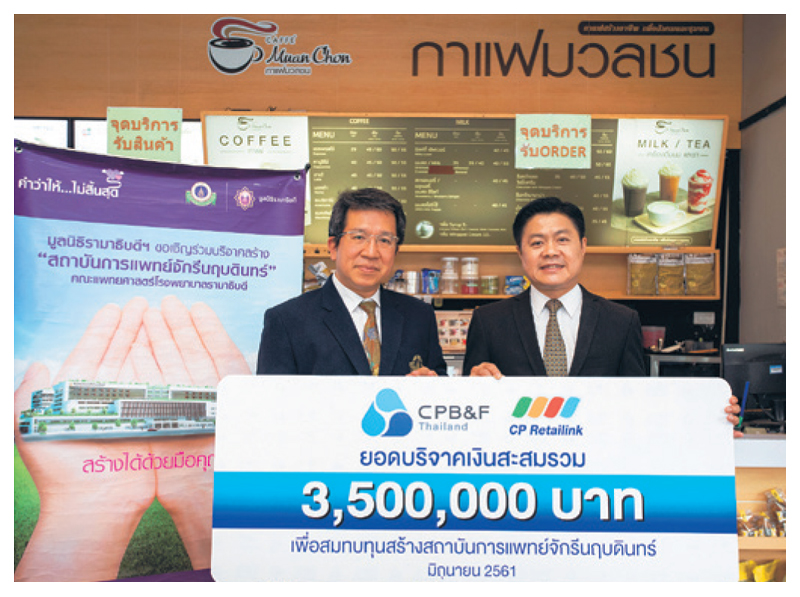 U-Project (Strenghtening Partners and Developing Your Business)
The Siam Makro Retailer Alliance was established and has been continuously developed since 2009 with the purpose of strengthening and preparing Thai retail stores, including farmer groups and store opperatives, to embrace changes and to create sustainable sales channels. The cooperation between universities, Siam Makro Public Company Limited and the participating retailers resulted in a joint development plan and a mentorship program that was tailored to each retail store. Under close supervision, experts and mentors from Siam Makro assisted each shop accordingly to carrying out the plan at every step of the way from procuring and arranging products to setting up the store and advertising it. With over 6,300 retail stores participating in the project as of 2018, the overall results of the project revealed an average sales increase by 33 percent. The project has boosted the economic value of the community by increasing sales to more than 343 million baht per year (estimated from the average sales before and after participating in the project between 2017-2018) and providing retail skills training for more than 33,600 students in 2018.