Creating Value for Society
CP ALL Plc. and subsidiaries ("the Company") is committed to become the prototype retail business, and other relevant businesses, in creating sustainability for society. This will be achieved through good corporate governance, activities for overall social and community benefits. In consideration of the approach, the Company is determined to create a sustainable foundation according to Sufficiency Economy Philosophy, and United Nation's sustainability direction, coupled with development towards corporate excellence.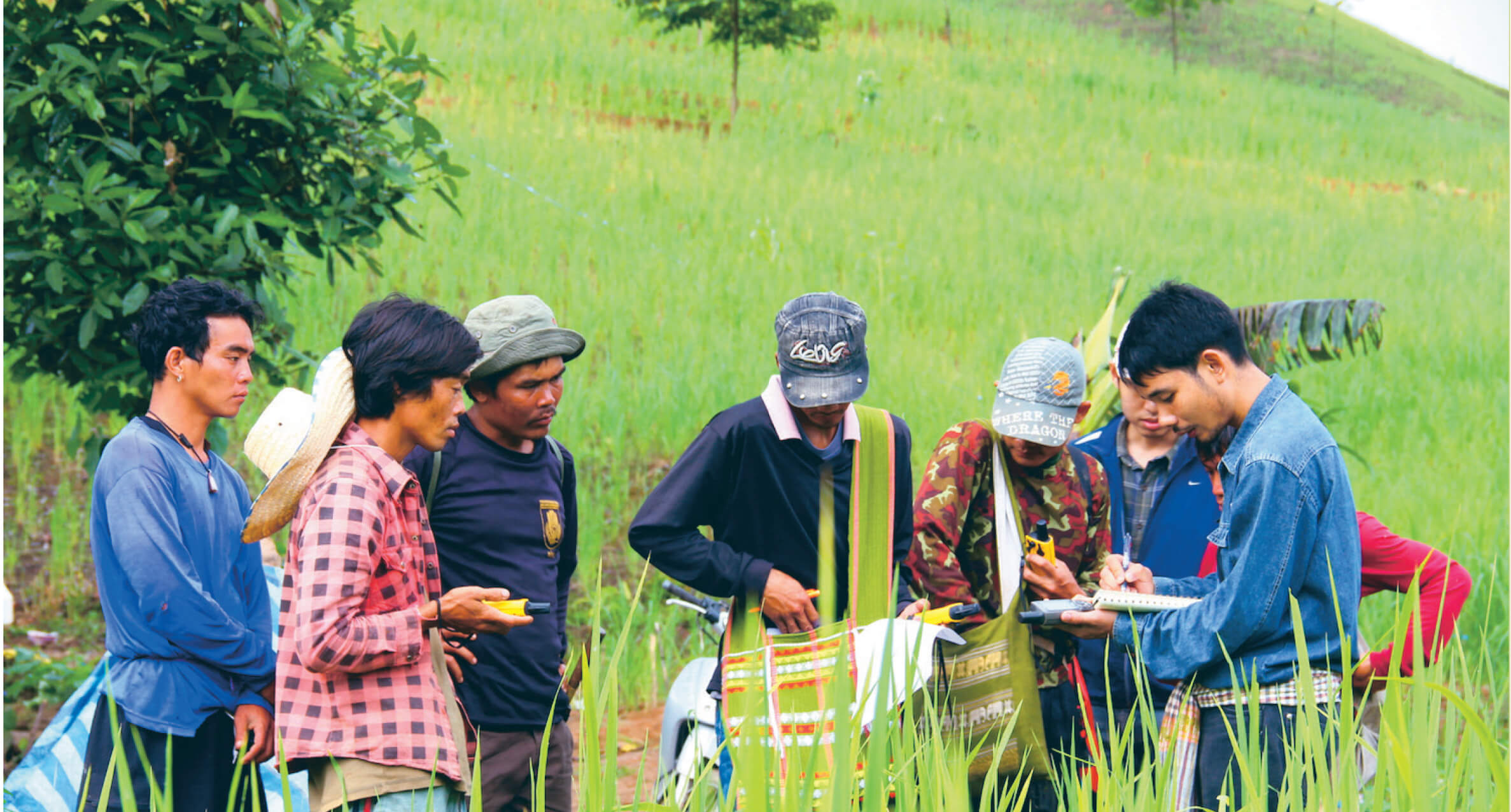 The Company has established a strategy pertaining social responsibility, which is in alignment with the Company's aim in aspiring to be 'an organization providing comfort for all communities, ensuring for the well-being and happiness of society.' 2018-2022 Long term strategy will operate under the "Build Trust and Create Shared Value" guideline. In recognition of such crucial operation under aforementioned management approach, the Company has announced a Corporate Social Responsibility Policy. The Policy places an emphasis on creating social values through fair business operations, strengthening of professional security, and increasing income for farmers, fishermen, entrepreneurs, and small capital producers. This approach is to be achieved through the Company's business capacity, to buttress the efforts in achieving Sustainable Development Goals: SDGs. One of the notable operation plans, instituted as part of the said policy, is the assessment and monitoring of project's results. Considerations is to be given to output and impacts incurred, coupled to studies and assessment of external impacts, either positive or negative, that may arise. The data obtained will be utilized for development of new projects, and improvement of existing projects, aspiring for greater efficiency, maximum benefits and positive net impacts. The Company shall start using this process with agricultural and fisheries projects, which will serve as pilot projects in 2018. In addition to continuous improvement and development, the company also has a guideline on 'Support-Add on – Fill in – Complete' in the incubating and development of stakeholders' capacity. Examples comprise of highlighted local producers, to name a few. Practice opportunities for market trials, learning, maximizing management.
For 10,000 Farmers, or small and mediumsize enterprises and vulnerable persons have received support for occupations and means of earning a living by 2020.
Lifelong Learning for Sustainable Agriculture Because the Company works with farmers across Thailand, goals for positive collaborations and quality agricultural progress have been established. This is in light of sustainable crops, as well as environmental and social safety, which is beneficial to all parties involved, either domestic or international market. Since 2010, the Company is committed in accumulating agricultural-related knowledge, in addition to creating occupations, and professional agricultural work. This fosters farmers to have a safer and more appropriate agricultural management, including increase distribution channels for farmers. During the past years, the Company has participated in establishing community market, fortifying agriculture in the community. This includes direct purchases of produces from farmers. The Company investigated the area to mitigate and prevent risks, bolstering agricultural practices in accordance to Good Agricultural Practice (GAP) itself. It also continuously monitored and advise farmers to mitigate or manage contamination risks, which may occur during plantation, harvest, or post-harvest management. This enables the Company to obtain products, which are quality, safe, consumption suitable, and to respond directly to the market's demand. The Lifelong Learning for Sustainable Agriculture Project elevates the agricultural standards for the community, farmers, and increase revenue for over 150 households. Part of the success is Basil Farming Support, which has been operating since 2010. It commits to establishing good community relationship through integration of agricultural management knowledge, and farmers' way of life. The Company provides knowledge on good and appropriate agricultural practice according to GAP Standard, granting professional stability to small scale farmers, and expands distribution channels. The Company can also purchase produces from farmers at fair prices. There are experts to provide guidance to farmers in times of needs, with regular knowledge exchanges. This secures income, provide security, and improve farmers' quality of life.
Performance
Provide agricultural knowledge 1,166 participants trained and participated in excursions
Provide jobs for community 90 employments in the areas, promote 6 farmers, and 8 women professionally in their respective local cooperatives
Over 7 million Baht of economic circulation in the community per year
Farmers have safe and appropriate management 6 Farmers were certified by Good Agricultural Practices (GAP), and recommended Good Agricultural Practices (GAP) to 53 farmers
Increased distribution channels 6.75 Million Baht / year worth of products were purchased. Distribution areas were made available for farmers, as well as an online platform for early product reservation
Creative ideas or innovations generated from collaborative products Develop a transportation plan via the use of digital map. Process products for aromatic oil. Forecast the produce demand, coupled to agriculture planning.

Pilot Project: Golden Bananas (Kluay Hom Thong)
The Company recognizes the importance in product support from small and medium- zed enterprises, as well as consumers' shifting trends – inclining towards more convenient and healthier options. In 2012, the Company started implementing the Golden Bananas project for 7-Eleven stores' customers.
for rubber tree farmers, who decided to adapt and switch to grow golden bananas instead. The Golden bananas, sold through 7-Eleven stores, continue to generate increasing revenues. This fortifies farmers' cooperatives, enable them to have greater quality of life, following a more stable income flow. This gives more competitive capacity in the market. Apart from larger market distribution channels, the Company also promotes community enterprise, small and medium enterprises, cooperatives; helps enhance product quality in various aspects – covering the entire supply chain. This comprises of management and enhancement of agricultural area standard, promote chemical free golden banana plantation, as well as providing knowledge on harvests and product selection. The Company has taken the efforts due to the recognition of health issues' importance, either farmers, sellers, or consumers. It currently studies and tests packaging innovation to help extend the Golden Bananas' shelf-life, to develop packaging for a more modern look, to better preserve the quality. The efforts mentioned facilitate distribution to 7-Eleven stores across the country.
Project Performance
They have helped prolong golden bananas' shelf-life to 4 days, which helps cut down losses significantly. Golden Bananas Project helps increase income and stability for community enterprises, small and medium enterprises, and cooperatives, through contracts and product quality enhancement. Presently, over 1,800 small scale farmers have participated, an equivalent of 12,970 Rai of agricultural areas.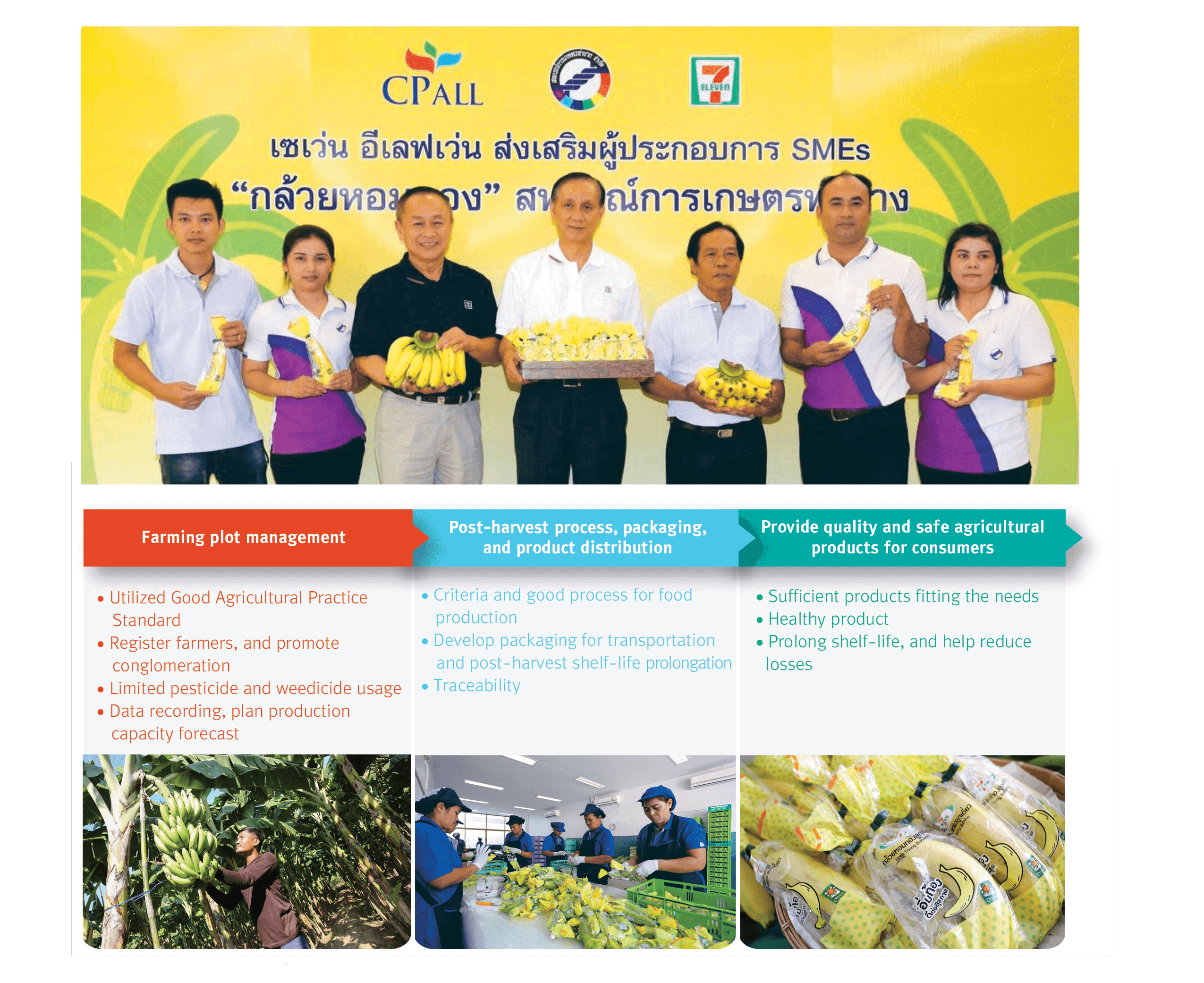 Coffee-based Job Creation for Society and Community Project A project set driven by CP Retailink Co., Ltd. It comprises of smaller projects facilitating coffee supply chain development, by providing security to small-scale producers, as well as creating jobs and deliver quality coffee to consumers.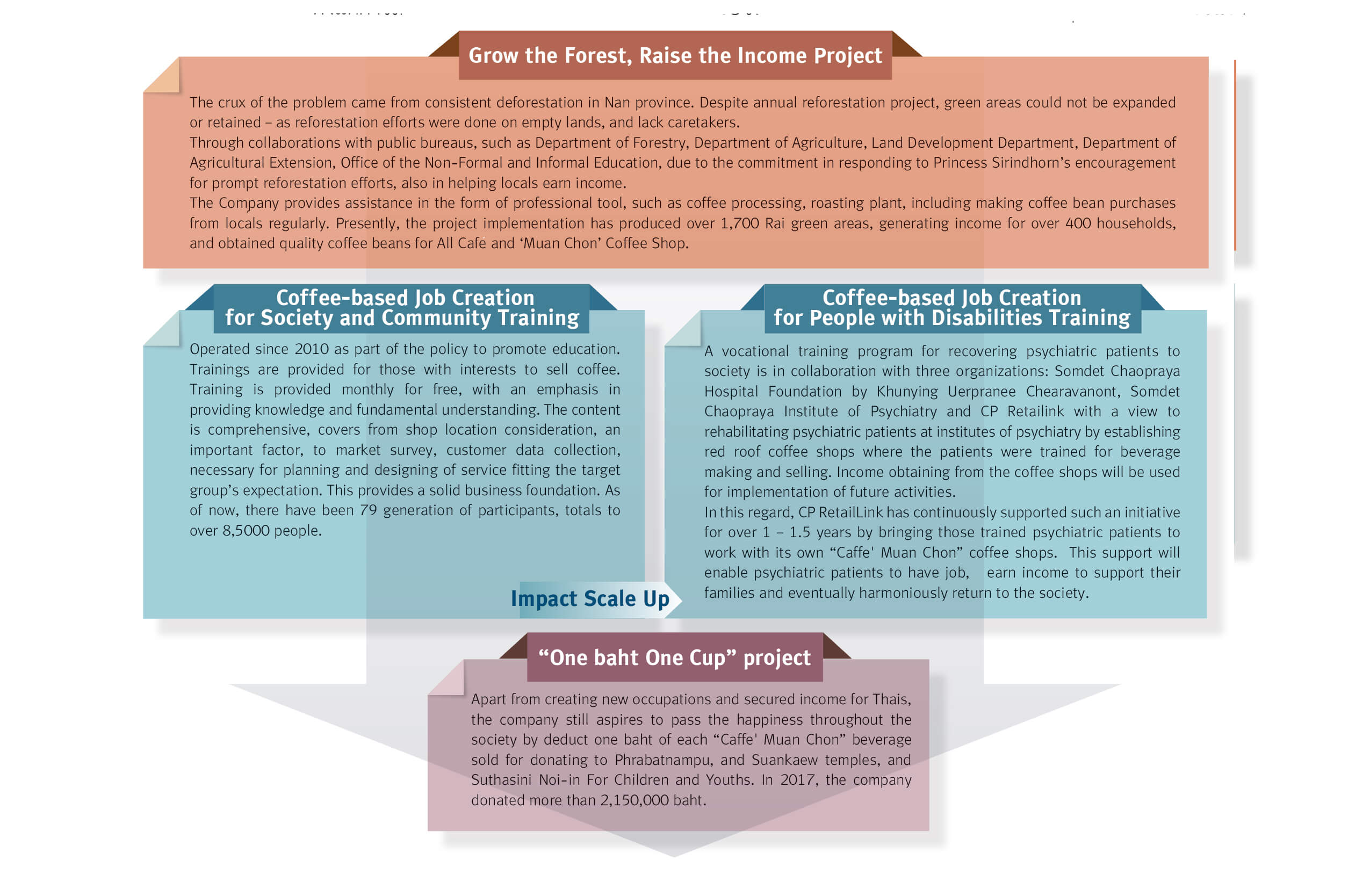 Veteran Project Part of the project for those with disabilities, a topic in which the Company is committed to contribute and promote, to generate positive impacts and social creativity, in accordance to the Royal Decree for Support and Development of Quality of Life for People with Disabilities. Since 2013, the Company has instituted The Committee for People with Disabilities to drive forward quality of life improvement for individuals with disabilities, specifically with more tangibility, going beyond the basic requirement of the law.
Monitor and investigate the safety of 7-Eleven stores to prevent incidents
Be vigilant and maintain constant monitoring to any incidents occurred in 7-Elven stores Facilitate for further support in case of accidents.
Provide suggestion, guideline, approach for own safety in case of 'robbery, burglary, harassment, or crimes' to store employees
Project Performance The Veteran Project is a project that pushes for performance and success by Public-Private Collaboration Office, CP ALL Plc. It commits to answer employments and equal treatments as stated by the law. Work scope is determined in considerations to the expertise of aforementioned individual with disabilities. Number of employees with disabilities 2013 = 518 employees 2014 = 539 employees 2015 = 594 employees 2016 = 649 employees