Creating educational opportunities, creating jobs, creating the future
Key Performance in 2020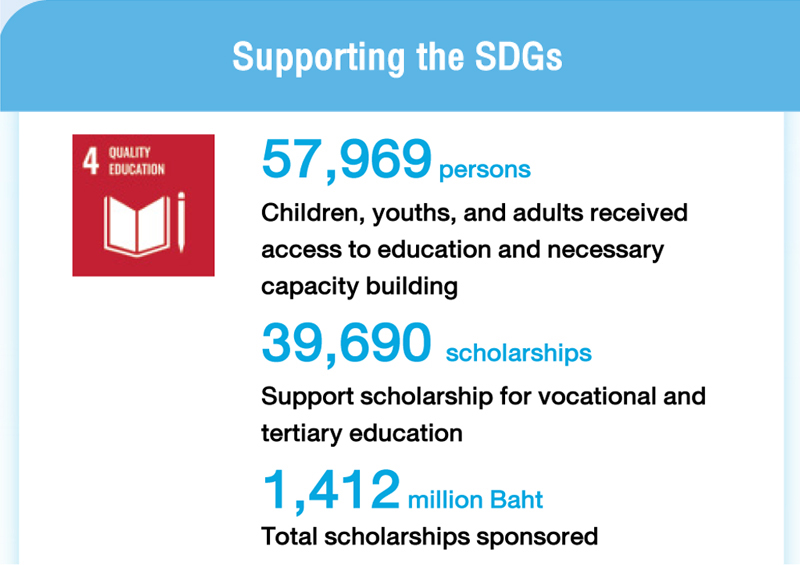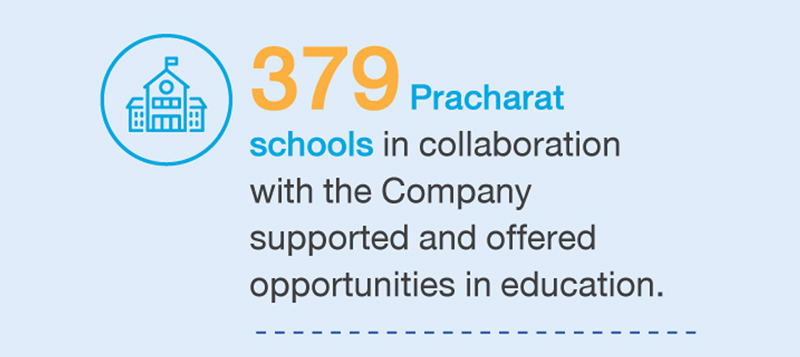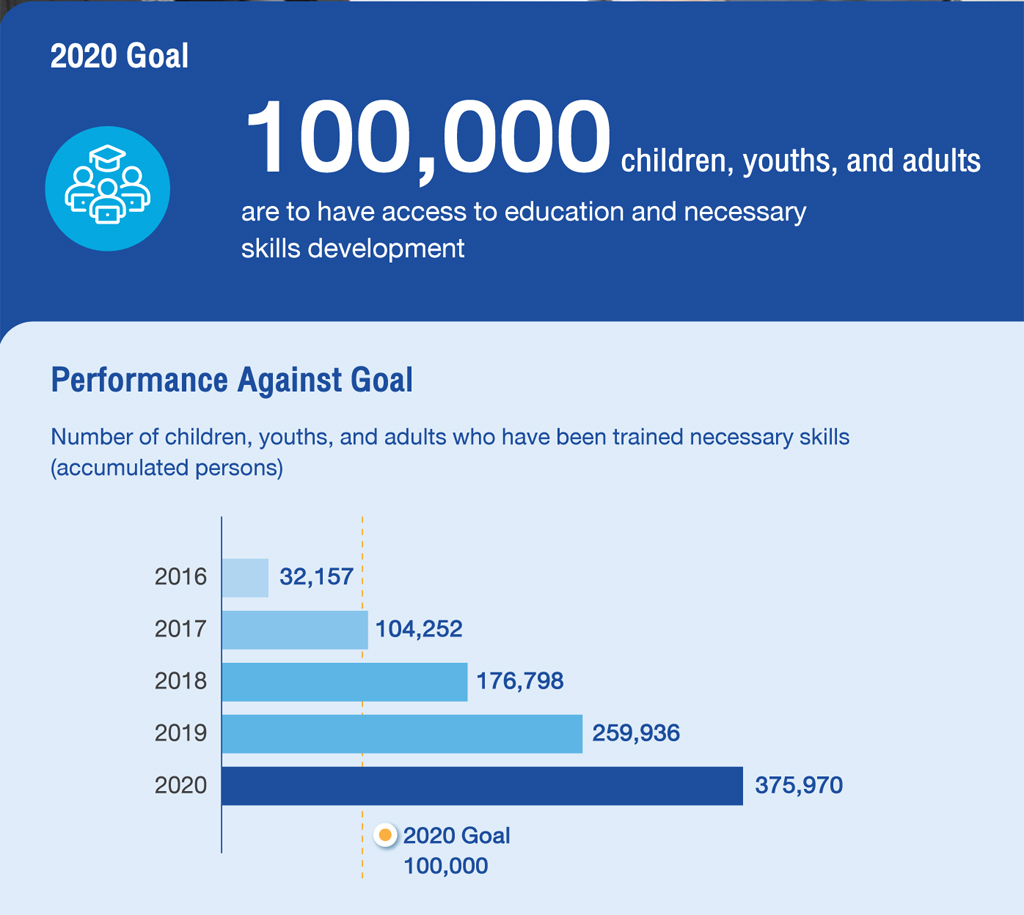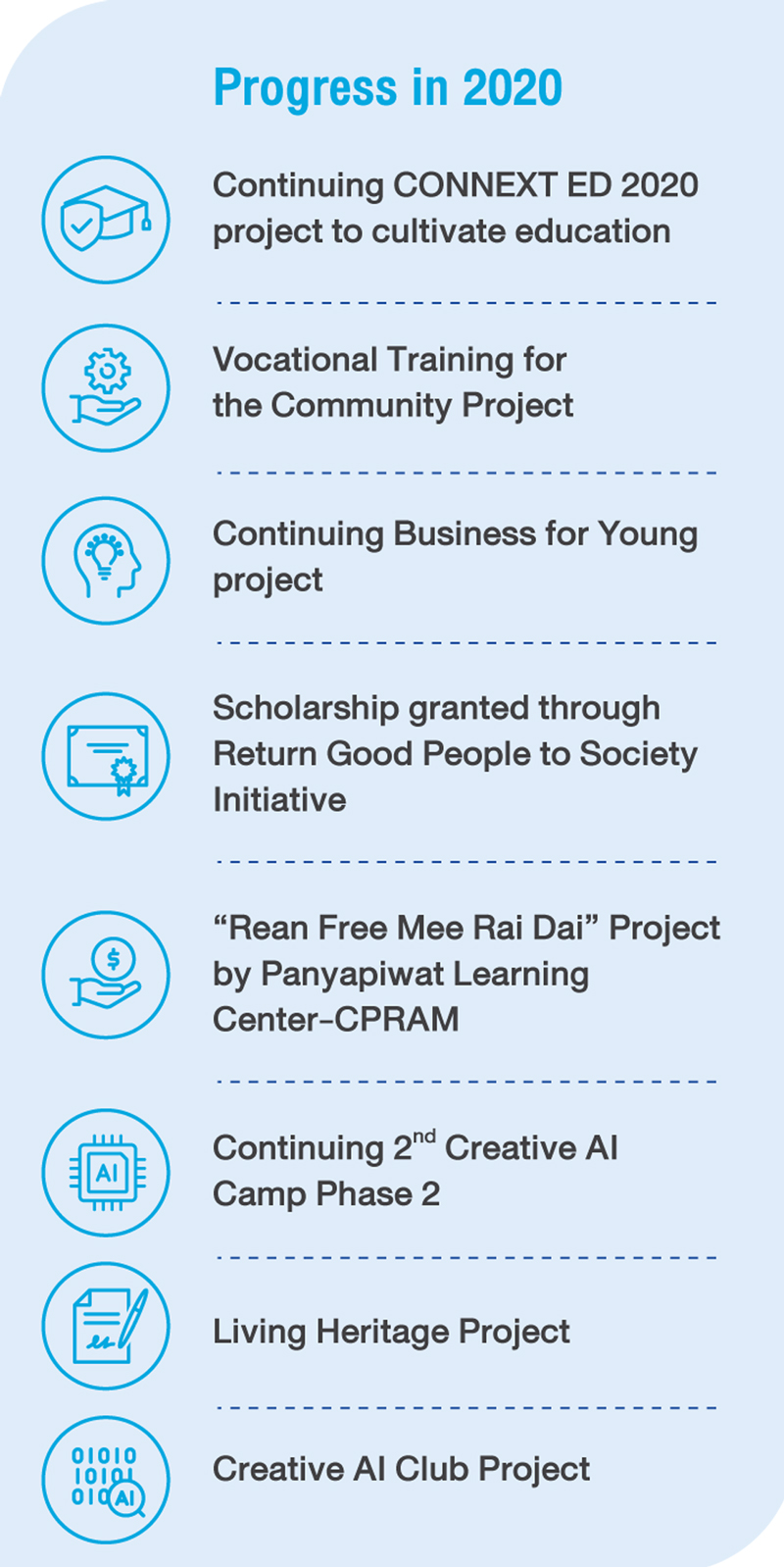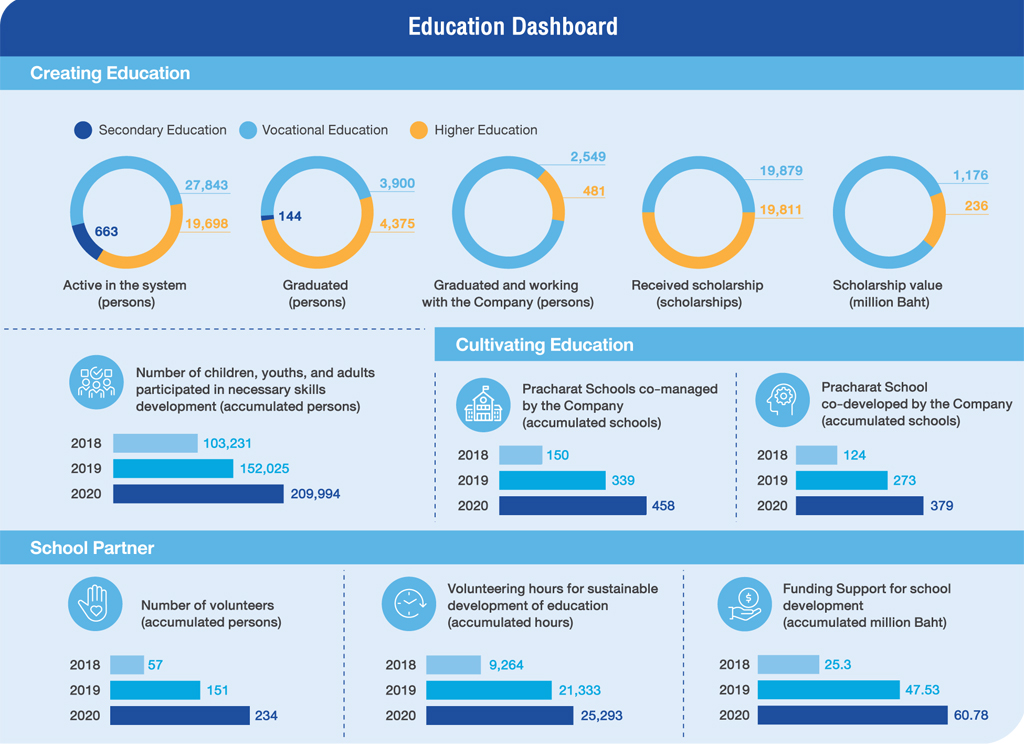 Risks and Opportunities
---
The Company believes that quality basic education is a crucial factor to the growth and development of people in the society which will drive the country towards a better future. However, basic education is unfortunately not accessible to everyone, especially the underprivileged and those in poverty. The Company is aware of the issue and the importance in providing access to quality education as well as educational reforms. Therefore, the Company has been taking part in the betterment of the society by spreading knowledge through technological innovations as well as encouraging learning while providing various forms of support. It is in the Company's interest to nurture the potentials in children and youth, fostering the "talented good people" to be the driving force of this country as well as supporting development of fundamental skills for their careers.
Management Approach
---
The Company believes that educational opportunities can build careers and improve quality of life to all. It thusly conduced projects and collaborates with various functions to support founding of academic institutes, as well as providing scholarships to children and youths. Both of which are crucial force for the country's development. This was achieved as a learning process in tandem with on-the-job training. This includes capacity training and job-development for underprivileged and economically challenged group. The emphasis is to ascertain people of all genders and age groups are able to access education and receive training of necessary skills, with quality and affordability, equally.

Establishing Educational Institutions
Panyapiwat Technical College (PAT)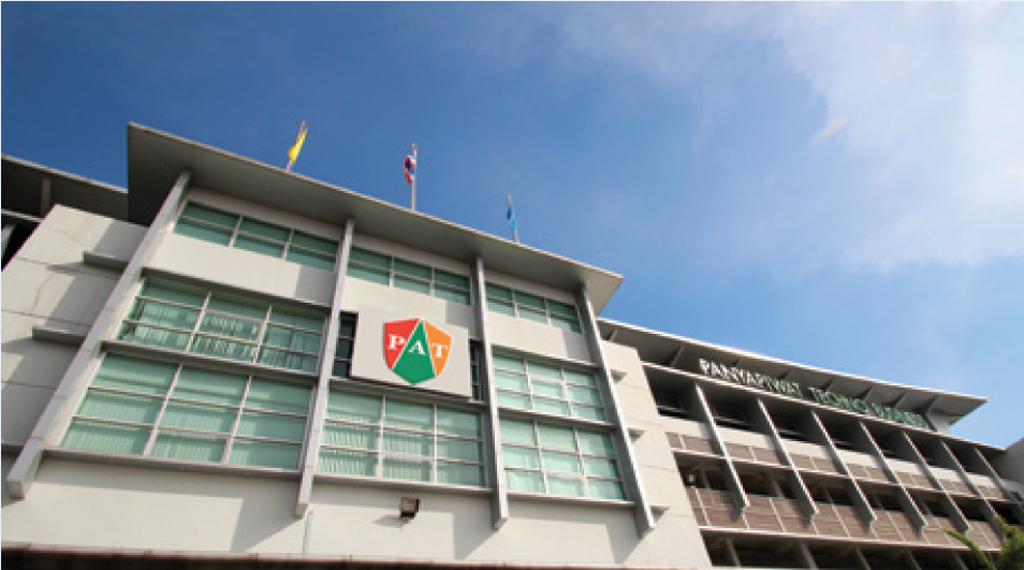 The Company has established Panyapiwat Technical College (PAT) to develop retail professionals who are academically talented and highly skilled. The "Work Based Learning" curricula were developed in accordance with the Ministry of Education's standards, aiming to create comprehensive business knowledge for students. The college also gives students opportunities to study close to home as well as have income from internships.
Panyapiwat Learning Center
Panyapiwat Learning Centers are established and located in 20 different communities. The Company has signed a Memorandum of Understanding (MOU) with 120 private vocational institutions and the institutions under the Office of Basic Education Commission. PAT currently has 16,580 students, who are academically and professionally ready to be part of the driving force of the country.
Panyapiwat Institute of Management (PIM)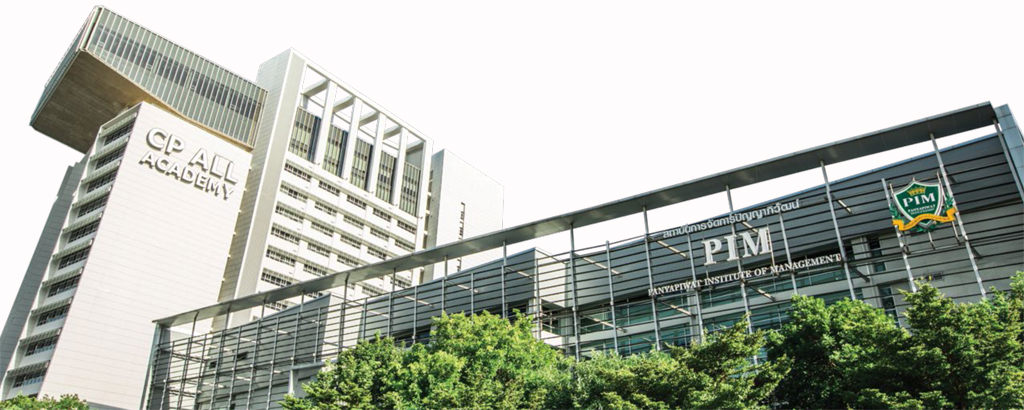 To provide opportunities for high school and vocational students to pursue higher education in bachelor's, master's, and doctoral degree in the future. The institute has a unique learning model called Work-based Education (WBE), an integration of theory and practical lessons with the following strengths: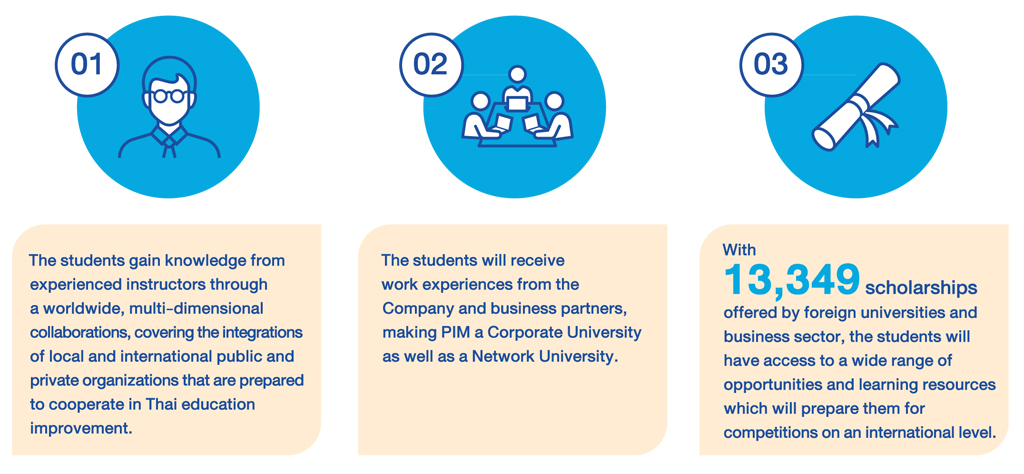 Additionally, the institute established the PIM SMART Fund scholarship, a scholarship award with no obligations after graduation. Moreover, the Company established Panyapiwat Institute of Management EEC in Pattaya, Chonburi province. The higher education programs offered develop graduates in alignment with the EEC business sector's demands.
PIM Demonstration School (SATIT PIM)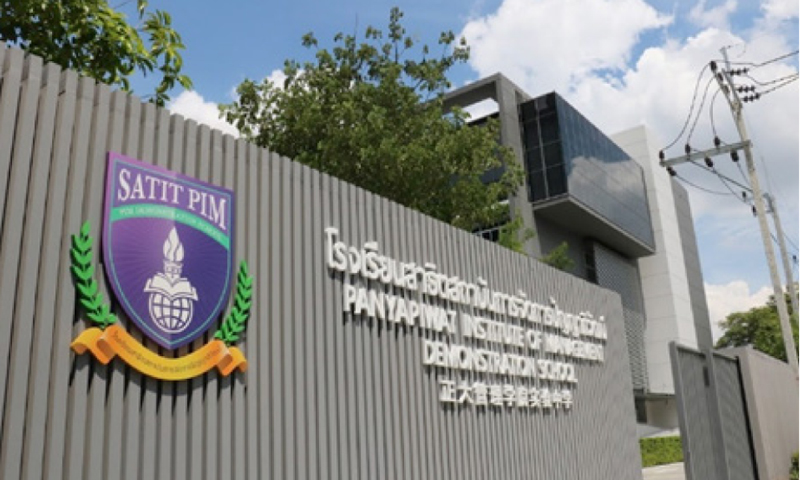 To provide opportunities for youth to find their calling and build a strong foundation for success. The active learning model helps students enjoy and excel in various way with an emphasis on language skills. Effective learning experience at SATIT PIM is enhanced by digital classroom environment. Additionally, the school instills morals, gratitude, honesty, responsibility, and discipline into the students, encouraging them to be talented and good citizen of the society.
Key Project in 2012
---
Providing Educational Opportunities Project
Objective To create educational opportunities for youth
The Company has continued to support students in vocational education, higher education for 12 consecutive years, following the Company's policy to support youth education and its mission "to create and share opportunities". The Company also provided additional options through scholarships for Master of Education, along with opportunities for the students to work with the Company, as well as opportunities to become 7-Eleven store owners.
Results and Benefits
1. Providing Educational Opportunities
– 39,690 scholarships for support
– 1,412 million Baht of total scholarships sponsored
2. 3,030 graduates worked with the Company
Scholarship Awarded through the Return Good People to Society Initiative
Objective To skills development in career and stable income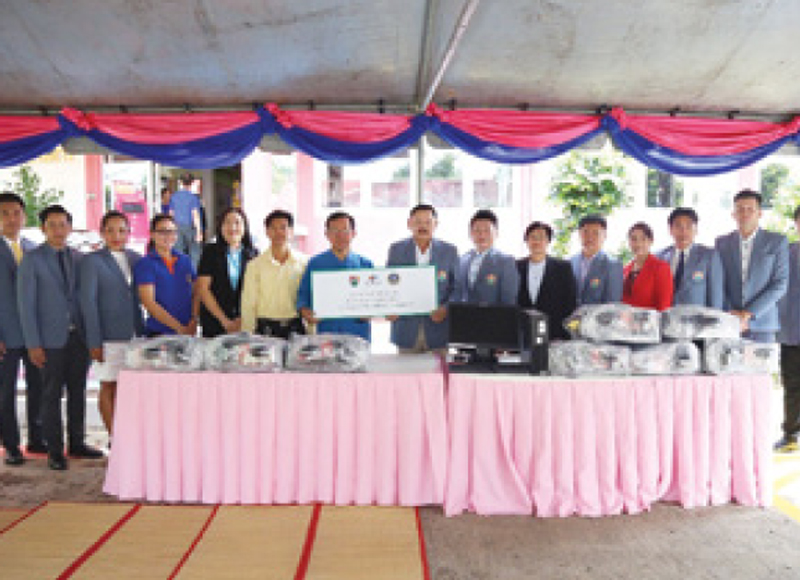 Panyapiwat Technical College (PAT), Panyapiwat Learning Center, and educational institutions offer scholarship supports to juvenile offenders in behavioral rehabilitation program under the supervision of Ministry of Justice to aid their reintegration to the society and to reduce social issues stemming from repeated offences. Furthermore, Panyapiwat Coffee Training Center (P-CoT) has organized coffee trainings by professionals for children and youth to be able to implement these skills in their future career. Furthermore, the project has sponsored sets of computers for information technology education as well.
Results and Benefits
430 Children and Youths received skills development in Career
2nd Creative AI Camp Phase 2
Objective To develop skills in AI creation for youth
The project aims to develop skills in AI creation for high school and vocational school students, striving towards "CreativeAIness" – AI development for the benefit of the society. The core content aims enhance both emotional (EQ) and intellectual intelligence (IQ) of the participants through following activities: 1. Creative AI Convergence and 2.Knowledge on the ABCD technologies.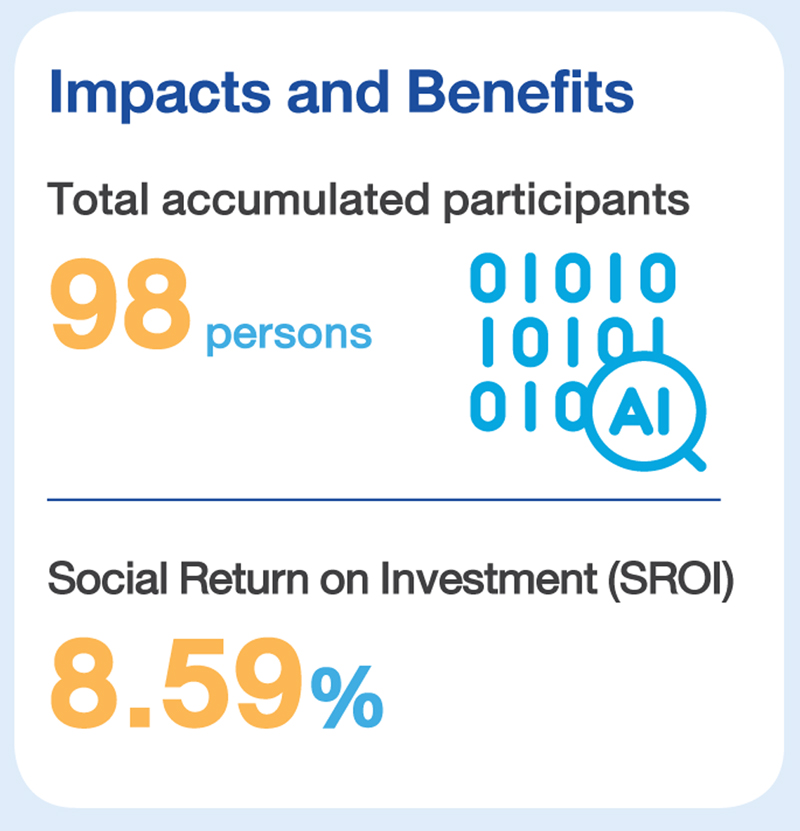 AI Lab Project Under CONNEXT ED
Objective The youth were able to innovate
The Company collaborated with Ban Nong Sang Kok Nai School, Kon Khaen Province, to develop a curriculum in Robotics, AI (artificial intelligence lab) and IOT (internet of things) for beginner level. Students were able to innovate multiple things, such as automatic hand washing gel dispenser, cloth drying rack, electricity leakage monitoring machine.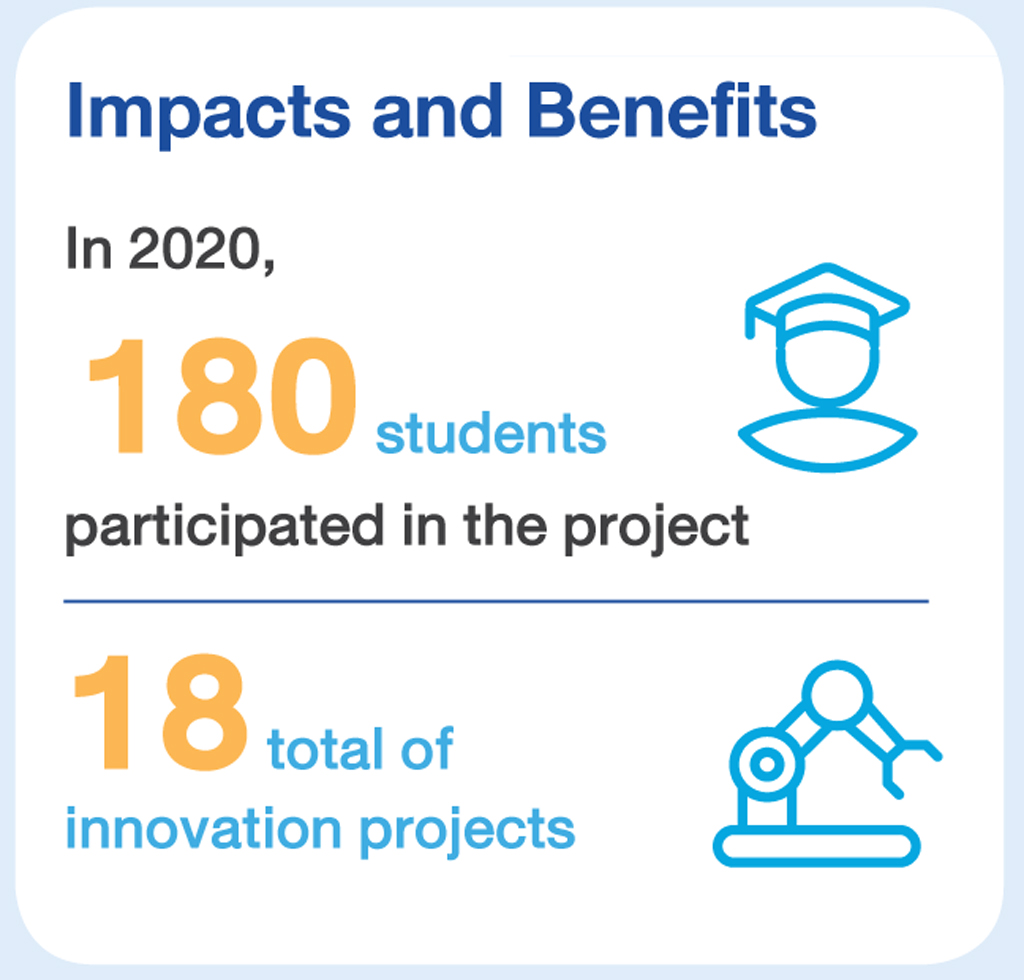 For more details —–> SD Report 2020