Education and Lifelong Learning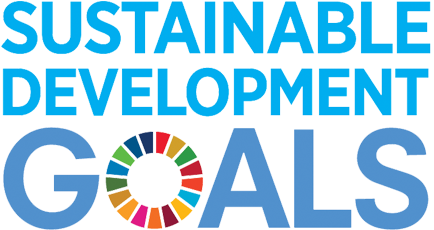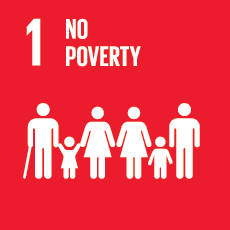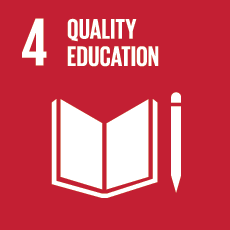 Risks and Opportunities
Education is an important tool for human life. Basic education is a fundamental right and a vital factor that opens social opportunities, creates sustainable career paths, and drives communities and the country to progress efficiently. However, there are still many without access to quality education. In this regard, the Company takes part in providing access and opportunities to education for children, youth, and vulnerable groups—they are to have equal access to basic education and lifelong learning, both in formal and informal education, through a variety of academic programs. The objective is to encourage youths to have knowledge and skills to further their careers as well as support them to grow up to be "smart and good people" for society.
Performance Against Goal
2030 Goals
500,000 persons
To support children, youth, adults, and vulnerable groups to access both formal and informal education-having access to technical and professional skills necessary for their profession, including the campaign of lifelong learning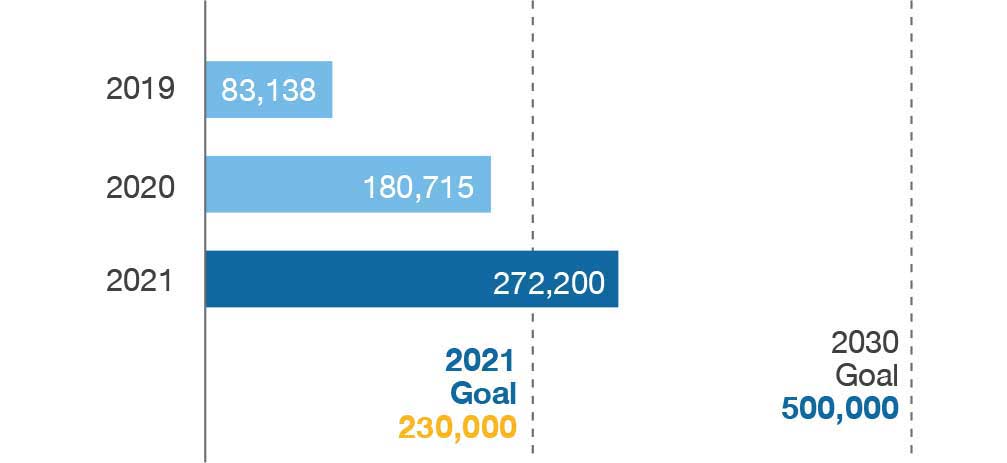 Performance Summary 2021
Promoting and supporting access to quality education


Secondary Education

Higher Education

Vocational Education
The details in professional skills development necessary to pursue a career
The Campaign for Lifelong Learning
Pracharath schools under the Company's sponsorship (accumulated schools)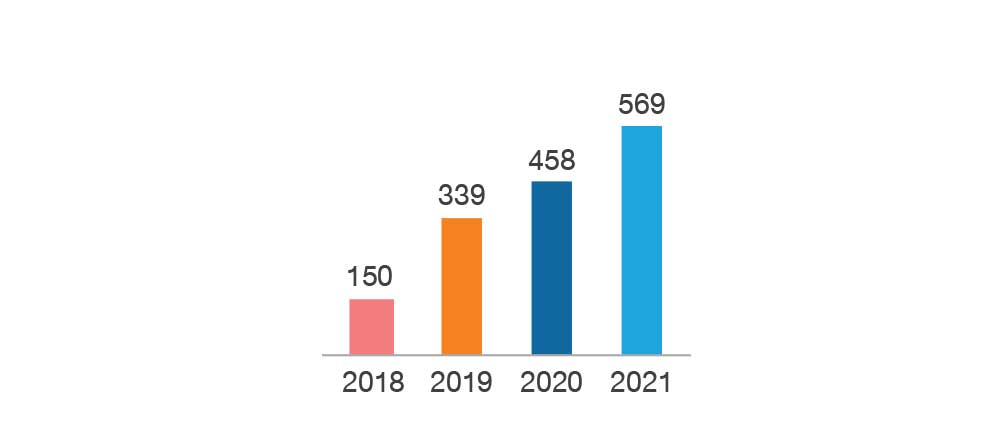 Pracharath schools that the Company co-developed (accumulated schools)

The number of school partners (accumulated persons)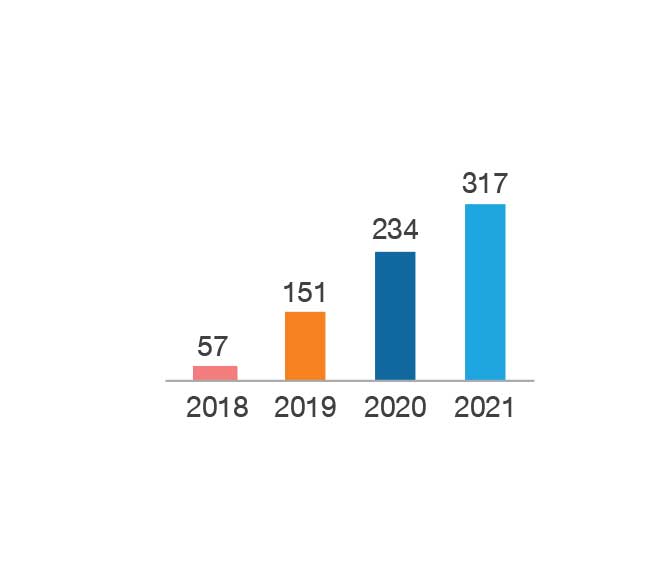 Volunteer hours for sustainable education development (accumulated hours)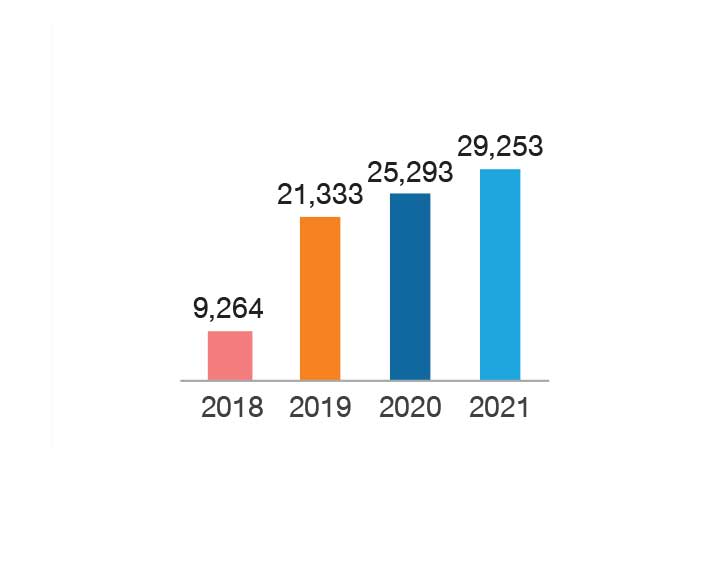 Sponsorship budget in school development (accumulated million Baht)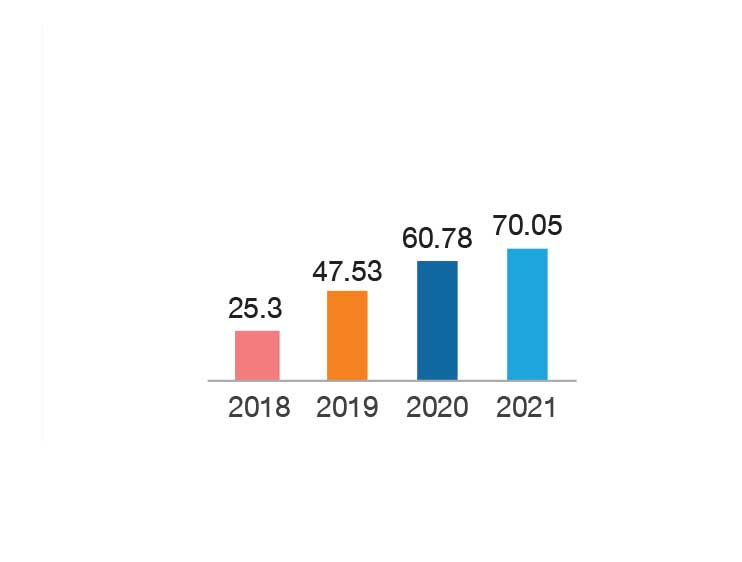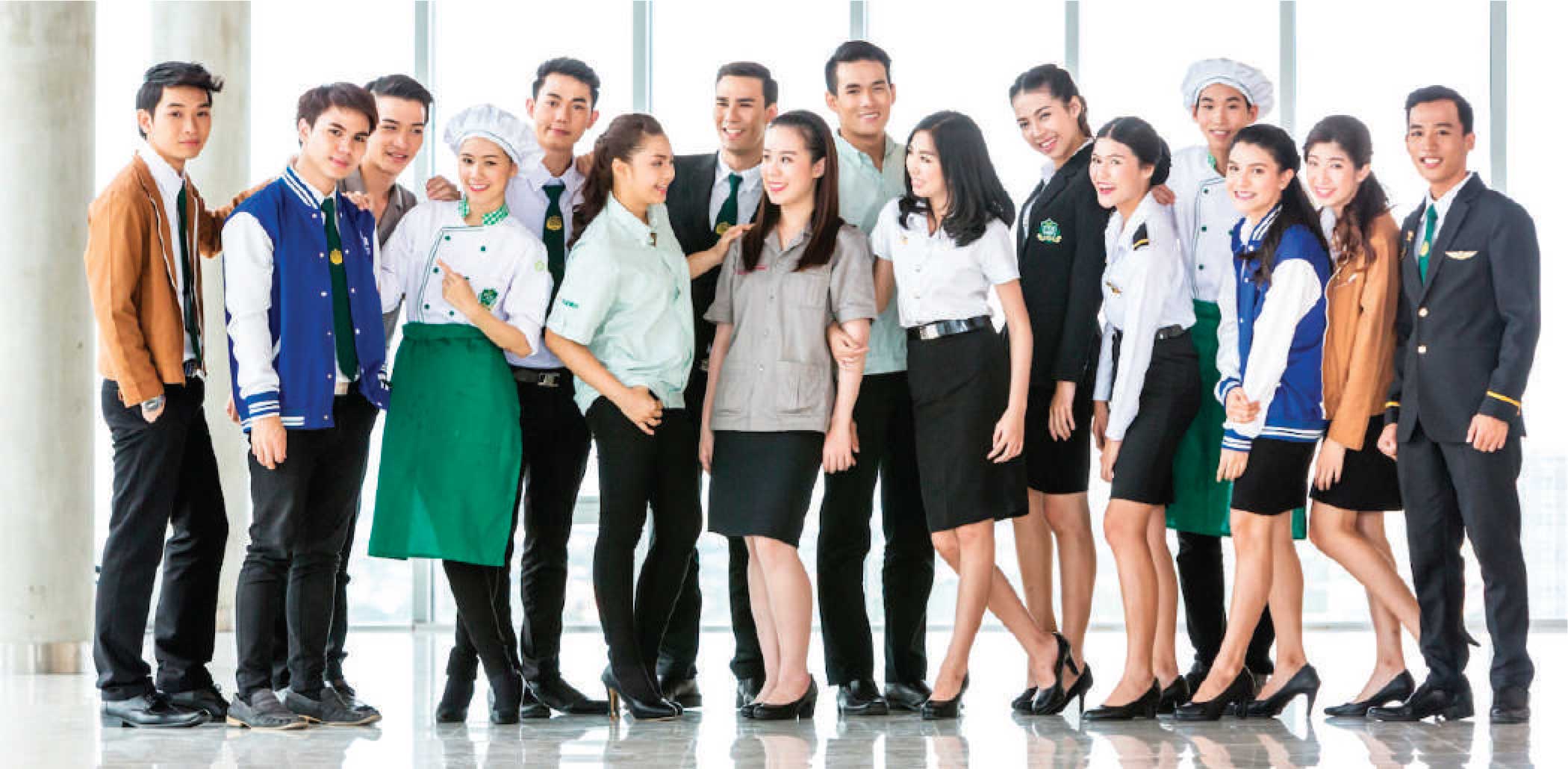 Management Approach
The rationale begins with the realization that knowledge is an opportunity and a future for youth and the nation. CP ALL Public Company Limited and its subsidiaries ("the Company") have been continually working on education-oriented projects and the agenda of lifelong learning—enabling people to thrive amidst changes in the employment landscape with the acquisition of new skills. The approach includes building a positive attitude, developing new learning challenges, and encouraging enthusiasm for learning, so the youths can be able to adapt to various changes in the future. The Company also continuously delivers academic opportunities for youths by collaborating with other stakeholders, establishing an academic institution, delivering knowledge in the form of learning both inside and outside the classroom, along with on-the-job training and awarding scholarships. The approach of youth development began in 1995 as a guideline to create career opportunities and improve the quality of life for youth. The Company believes that quality education can create career opportunities and a better quality of life for the people in society.
In 2021, the COVID-19 pandemic tremendously affected youths' access to education. The Company, therefore, develops online teaching and learning system for students, so they have reduced risks of infection and the new method of learning makes education easier, faster, and safe from the COVID-19 pandemic. Examples of new activities and measures regarding the issue are body temperature screening before entering the school, wearing a mask, social distancing, and regular cleaning of equipment and school premises—this is for the highest safety of all students and staff in the school.
Promoting and Supporting Access to Quality Education
CP ALL Plc. has established 2 academic institutions, and they have been in operation for more than 15 years, i.e., Panyapiwat College of Technology (PAT), producing professional personnel with a vocational certificate and a high vocational certificate level; and Panyapiwat Institute of Management (PIM) which provides opportunities for further education for at the bachelor's, master, and doctoral levels. The Company also established the Panyapiwat Institute of Management Demonstration School (PIM Demonstration School) for the secondary education level from school grades 1-6 and more than 20 Panyapiwat Learning Centers across the country, which aim to expand access to education through an online system (VDO Conference).
In addition, the Company established Panyapiwat Learning Centers in various community areas, totaling 20 centers, and signed an agreement with private vocational schools and more than 118 academic institutions under the Office of the Basic Education Commission (OBEC) to issue a vocational certificate program (vocational certificate) in the field of retail business. At present, there are more than 15,000 students in the program. The college has various activities and projects that are organized to promote the organization's operation. The outstanding projects are as follows:
The institute has established the "Learning Life Fund" or PIM SMART to support scholarships for students participating in the project. These scholarships have no obligation upon graduation and can help students earn income while studying. At present, there are 11 cohorts of graduates from the institute, totaling more than 19,000 students and graduates.
In addition, the Company established the Panyapiwat Institute of Management, EEC Campus in Pattaya, Chonburi Province, which has been in operation since 2020. The objective is to produce graduates that meet the needs of the business sector in the Eastern Special Development Zone. Currently, PIM offers numerous higher education courses relevant to business applications, e.g., the Bachelor of Business Administration Program, Modern Trade Business Management Program, Bachelor of Business Administration Program for Food Business Management, Bachelor of Science Program for Digital Technology and Information Technology, and Bachelor of Engineering Program, Industrial Engineering, and Intelligent Manufacturing, and the most recently approved program is the Bachelor of Nursing program. The success of PIM is rooted in its focus on on-the-job training for students and the ability to facilitate job experience at the real workplace. So, students have skills that meet the needs of the labor market in terms of management and the service business in the Eastern Economic Corridor (EEC) for more than 350 students.
Sharing of Education Opportunities
CP ALL Plc. continues the policy to promote education for youth development in accordance with the motto "Creating and sharing opportunities with each other." The Company has been awarding scholarships for Thai students in grades 4-6 at the vocational level (vocational certificate and high vocational certificate level) and higher education (bachelor's degree) for the 13th consecutive year. In 2021, a total of 37,132 scholarships had been awarded, with a total value of over 1,247 million Baht, and there is a total of 7,938 graduates from all programs. Students also receive the opportunity to work with the Company after they graduate. The Company immediately offers those who have completed vocational education an assistant manager position and those with high vocational education a managerial position in 7-Eleven stores. The Company also offers a special opportunity to become the co-owner of a 7-Eleven store in the form of a joint venture (Store Business Partner: SBP)—in this academic year; 2,663 graduates have graduated and work with the Company.
The Campaign for Lifelong Learning
Necessary Skills for the Future
The Company promotes the advancement of knowledge and abilities and training for necessary career skills for youth via a variety of projects. In 2021 there are outstanding projects as follows: