Education Support that Answers the Labor Market and Develops Youth into Professionals
CP ALL Public Company Limited and its subsidiaries (the "Company") place high importance on the development of children and youth to be capable and good persons. The Company believes that giving educational opportunities will help open doors for occupational opportunities and support the youth to become an important driving force for Thailand's development. The Company also recognizes the importance of developing strong local economies, which can be achieved by improving the capacity of farmer cooperatives and small-scale producers to compete, create quality produces, and access sales channels. All these activities will help strengthen the national economic foundation. This is the philosophy the Company is committed to, and is also in line with its 3-Benefits Principle that aims to create benefits for all stakeholders with whom we conduct business. CP ALL has a clear policy on supporting education and developing youth.
The 2020 Goal on Promoting and Supporting Education: Promote access to education and essential skills development for 100,000 people across all genders and age groups, especially children, youth, and those in the agricultural sector by 2020.
Apart from developing quality people to serve the nation, these efforts will also create a valuable human resource to strengthen the Company's operations and enable sustainable expansion. The Company considers access to knowledge and education as an important part of our sustainable development journey. The Company's aspiration in education promotion is guided by the belief that human resource is essential in the success of any business. Our efforts in education became apparent and noticeable in broader society since 1995. The Company initiated a bilateral project with the Office of Vocational Education Commission in the area of retail business for Diploma of Vocational Education and Diploma of Advanced Vocational Education, turning 7-Eleven stores into a "classroom" for those in the retail business major.
Establishing an Educational Institution From our initiative to provide training facilities for vocational students, the Company saw the opportunity to leverage our expertise in business to increasingly support education and incubate students. Along with our commitment to promote education to support the needs of the private sector, in 2005, the Company founded Panyapiwat Technological College (PAT) to foster personnel with an academic training and real work experience that can be put in practice in the Company's different departments, in addition to also being an important driver to maintain and improve the quality of the Thai workforce. With our success with PAT, the Company also discovered an opportunity to share our knowledge of retail business management—a core strength of the business. This was the beginning of Panyapiwat Learning Center, under the management of CP ALL Public Company Limited and with the educational oversight of Panyapiwat Technological College. The Learning Center was set up to expand access to education in retail business management, offering youths educational opportunities in close proximity to their homes and additional income from their theoretical instruction at the center combined with on-the-job training at branch stores every 3 months.
The Panyapiwat Institute of Management (PIM) was then established to expand the scope of education being offered, ranging from Vocational Certificate, Diploma of Advanced Vocational Education, to Bachelor degree, starting with the Business Administration faculty. The Institute also expanded to 10 faculties to give students more options, including the Faculty of Communication Arts, Faculty of Engineering and Technology, Faculty of Liberal Arts, Faculty of Education, as well as a Modern Business Management program and a Human and Organization Management program offered at the graduate level. The Institute works with other leading educational institutions abroad in order to share knowledge and exchange students in each school term. It also works with private sector organizations to accept interns in related areas. In 2017, the Company expanded our efforts to cover secondary education, founding the Panyapiwat Institute Demonstration School. The school is unique in that its education system is modeled after Finnish schools, famous for having the best education in the world, with the hope to prepare students to become quality global and local citizens. The school offers 3 main subjects with English as the medium of instruction: Mathematics, Science, and English—in addition to offering Chinese as a third language. The school aims to cultivate students who are not only capable and skilled, but also happy learners.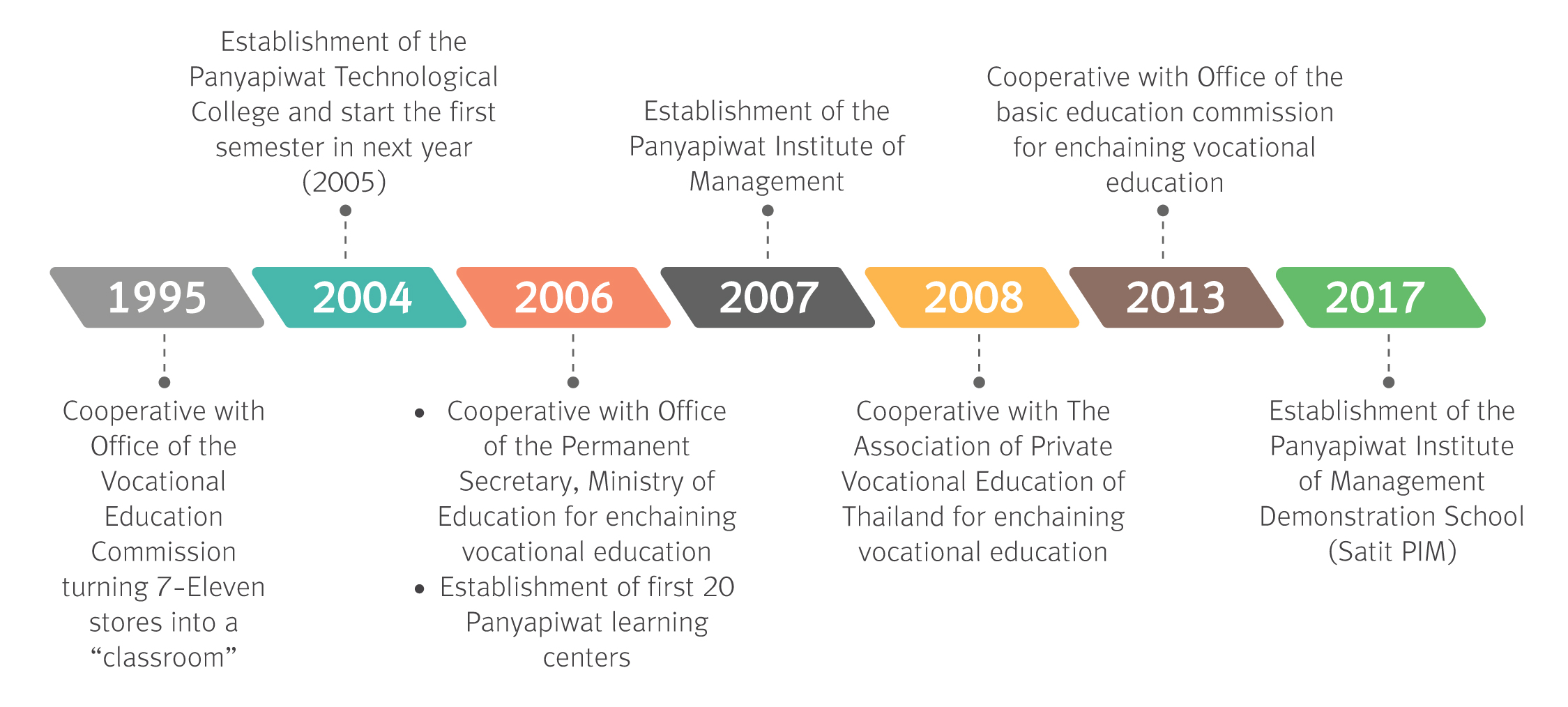 The Company has awarded 110,644 scholarships to date, amounting to over 6,963,497,416 Baht, covering vocational and higher education, serving over 27,466 graduates who will become important assets for the organization, society, and the country.
Education Projects and Other Support Initiatives
Beyond the promotion of knowledge, the Company places high emphasis on preparing learners and the learning environment in order to create the most effective learning process. With the belief that learning can take place in any location, the Company supports increased access to knowledge sources, building the skills of stakeholders. Many education programs have, hence, been designed to meet the specific needs of learners, without the constraints of the traditional classroom format.
Education Promotion Programs
Student Care The project oversees students from entrance to completion in various contexts, such as learning integration with internship programs, counseling for students during internships, management of internship supervisors on worksites, and support for work-related capacities after completion of education.
Smile Center is an education information and consulting center with respect to instruction in education establishments and internships in respective organizations, and all general challenges for users, including students, teachers, intern supervisors, parents and guardians, and the general public. The Center can be reached through a 24/7 Hotline 02-826-7776 and a Web Chat callservicechat.gosoft.co.th/WebChatSmilePC/ (07.00-23.00 Hrs.) The Center was set up to assist students to complete their studies in a timely manner and help create an enjoyable learning experience. It is operated by Panyapiwat Education Group (Institutions operated by the Company and its subsidiaries).
Training and Visiting for Adults
Model teachers are trained through bilateral partnerships with external education establishments to ensure project sustainability.
Teachers in business establishments are trained in theory and practice in branch stores through bilateral partnerships with business to equip them with the knowledge and real work experience to be able to appropriately supervise interns.
In addition to providing scholarships, the Company also supports other activities, such as giving prospective students the opportunity to observe work both within 7-Eleven stores and inside ready-to-eat food and bakery manufacturing factories of CPRAM Co., Ltd. and others.
Support after Graduation
All graduates from the Panyapiwat Group are employed after their studies, have the opportunity to progress in their career path, and receive privileges to become a Store Business Partner (SBP). In 2017, there were 2,255 graduates who become employees of the Company.
Creating Love of Learning
With an aim to make Thailand a learning society equipped with quality citizens, CP ALL has carried out two branches of development programs for the country's youth by taking into account their interests, age-appropriate skill development, and continuous learning.
Promoting holistic language skills
Since 1999, CP ALL, in association with Srinakharinwirot University, the Writer's Association of Thailand, and Thai Language Teachers' Association, has created numerous events to promote holistic development of the Thai language in youths, such as the Love Reading, Literature Seeds, and 7-Eleven Discovers Dream Cartoonist projects. Additionally, the "7 Book Awards" was organized annually to find, support, and give recognition to quality writers, and to create a habit of reading in Thai society. In 2015 the "Poetry Stairs" program was founded to help youths develop an array of literature skills.
Sharpening of the mind with Go
CP ALL has been successful in promoting the game of Go, helping it gain popularity among Thai youths. We also host Go tournaments regularly such as the King of Go Thailand Tournament, Thailand 16 Dan Go League, and the BMA Kids Go Tournament, and promote the game through an online channel at www.thaigogenius.com. According to a study carried out by Mahidol University, Go improves intelligence, creativity and analytical thinking. Go players experience improved results in focus, memory and organizational skills.