Creating educational opportunities, creating jobs, creating the future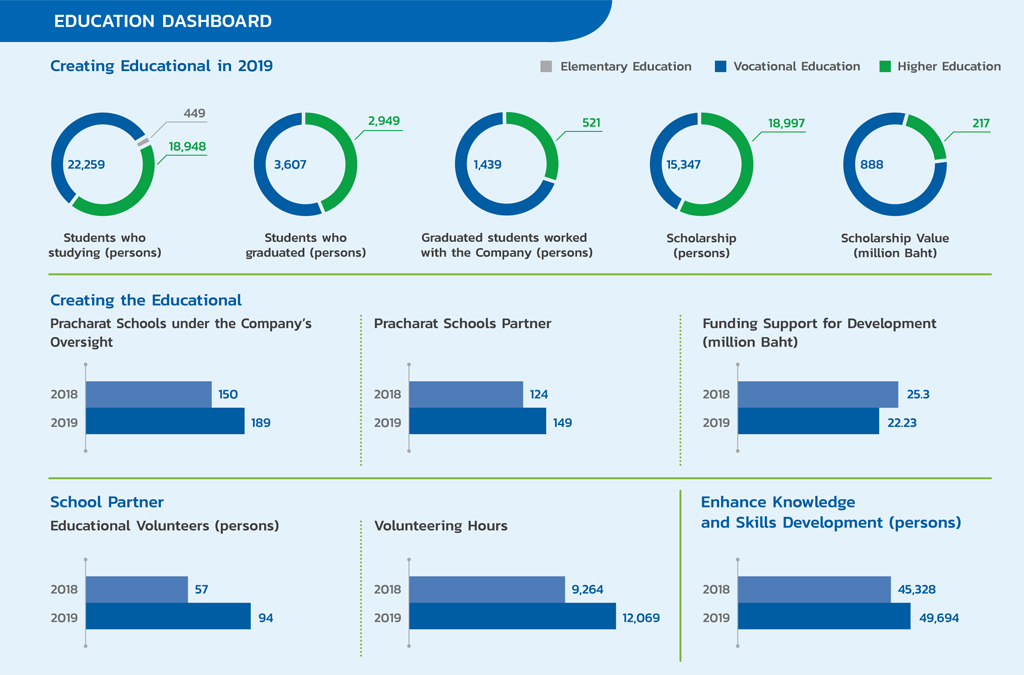 Challenges
---
Quality basic education is a key factor for the growth of people in the society, and a driver of the country's economy. Nowadays, over 263 million children and youth aged between 6-17 years old worldwide do not have access to the quality basic education especially the underprivileged and those in poverty. Meanwhile, elevating digital technology to tackle the issue of access to the quality basic education is one of the solutions. Today, technologies and innovations change rapidly, resulting in new various learning methods, knowledge development, utilization of innovations for management, education enhancement, which are the key factors to reduce inequality and social issues.
Management Approach
---
The Company gives priority to the development of children, youth and people in the society, believing that providing educational opportunities can open doors to career and enhanced wellbeing. The Company encourages youth to be an importance force to push the country forward through work-based education, and continues to support the United Nations' Sustainable Development Goals (SDGs), working in line with Target 4.3 to ensure equal access for all women and men to affordable and quality technical, vocational and tertiary education, including university, for a sustainable quality of life of the population.
Establishing Educational Institutions to Groom Youth as Professionals
Panyapiwat Technical College (PAT)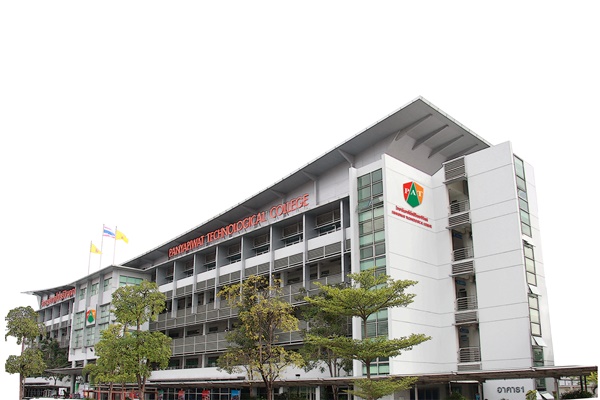 The College was established to develop retail workforce who are both academically and professionally talented. Experiences gained through hands-on practices at different units of the Company lead to innovations for development that can support the Company's operations itself, as well as become an importance force to maintain and enhance the quality of Thai workforce skills.
Panyapiwat Learning Center
Located in 20 different communities. The learning management by Panyapiwat Technical College is aimed at expanding the education in retail business management, providing easily accessible educational opportunities for youth, and helping them earn income through vocational trainings that include theory-focused learning at the educational institution and shift to hands-on internships at 7-Eleven every 3 months, according to the slogan, "Free education and job opportunities provided with paid internships while studying".
Panyapiwat Institute of Management (PIM)

To support vocational students to be able to pursue higher studies including bachelor's, master's, and doctoral degrees, through opportunities and supporting new generation through the concept, "Equip people with skills to help them get ready for real-life work experience". Thus, they designed a unique learning system, "Work-based Education" (WBE), bridging theory and practice with the following strengths:

To expand the access to education for learner's upcountry in other communities, PIM also provides a bachelor's-level education in key cities and distance education in 12 locations across the country, to accommodate learners to be able to study near their homes and thoroughly expand educational opportunities. Apart from education management, PIM also takes care of the quality of life of its students who came from less fortunate families through PIM SMART, or Lifelong Learning Fund appointed in 2012 in compliance with the regulation of charitable funds. The aim of PIM SMART is to develop quality professionals. The scholarships offered through PIM SMART are free without any conditions after graduation to help students maintain a balanced life where they can focus on their studies, job training, and volunteer work as well as gaining valuable life experience and ready to work as well as drive the country as good citizens of the community, society and the country.
PIM Demonstration School (SATIT PIM)
SATIT PIM was founded as part of the Company's mission to build a strong foundation for success, providing youth learning opportunities that suit their personalities through active learning, which focuses on the development towards excellence according to one's aptitude, highlighting language skills, and cultivating morals, gratitude, honesty, responsibility and discipline mindset. Effective learning experiences are encouraged through digital classroom environment.
Key Project in 2019
---
Providing Educational Opportunities Project
Objective To create educational opportunities for youth
The Company has continued to support students in vocational education, higher education for 11 consecutive years. Meanwhile, The Company also signed with 7 Rajabhat Universities-to develop graduates who have qualifications that meet the demand of the business sector through learning and hands-on practice, and provide scholarships throughout the curricula.  The project is a part of the Company's policy to support education for youth development and in line with its mission to "create and share opportunities for everyone". The Company also provided additional options through scholarships for Master of Education, along with opportunities for the students to work with the Company, as well as opportunities to become 7-Eleven store owners.
Results and Benefits
1. Providing Educational Opportunities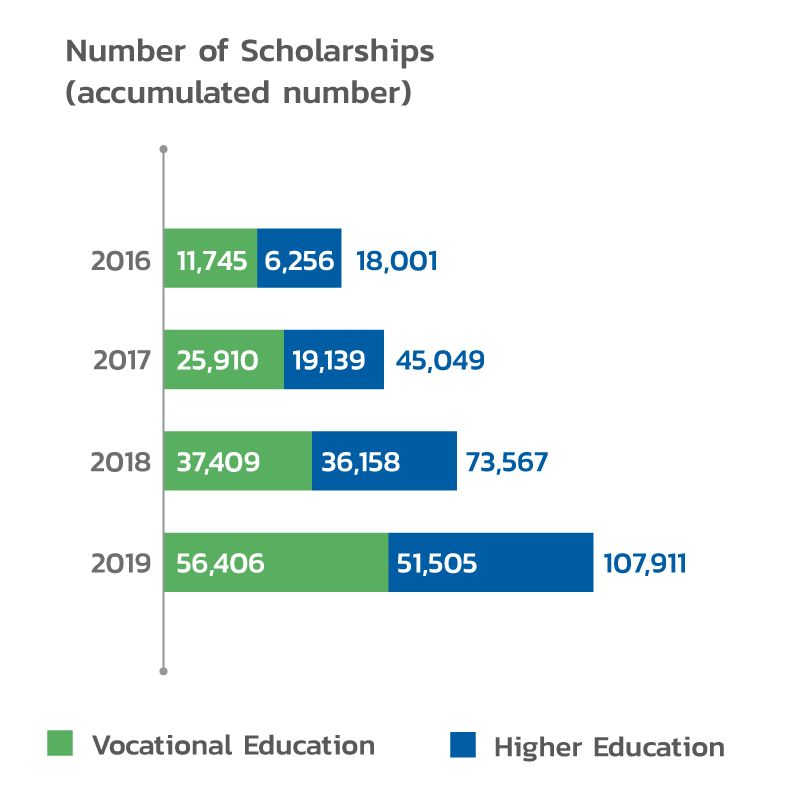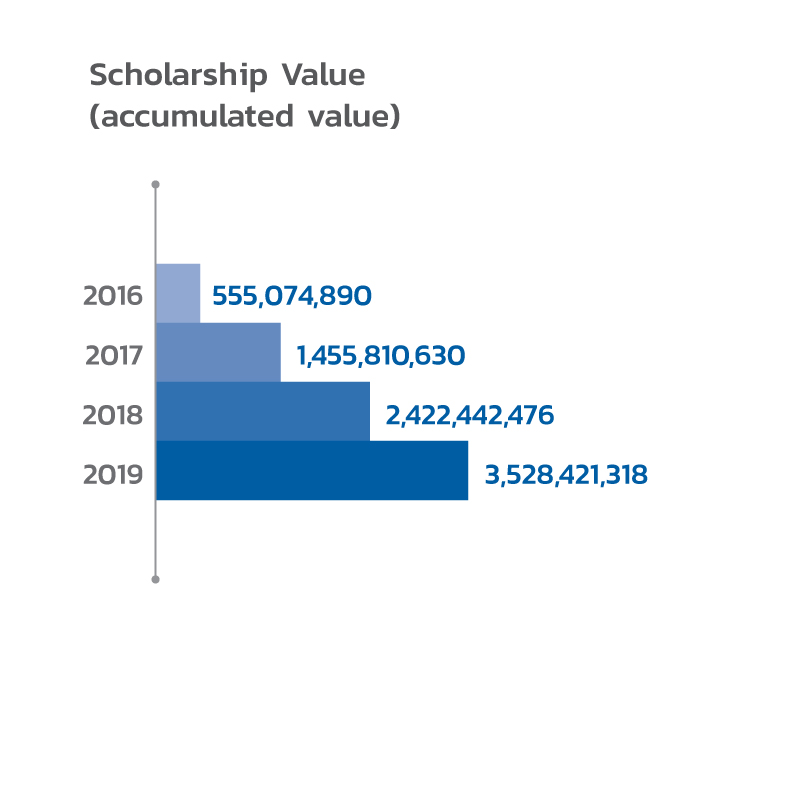 2. 1,960 graduates worked with the Company
Vocational skills development program as part of return good people to society initiative
Objective To skills development in career and stable income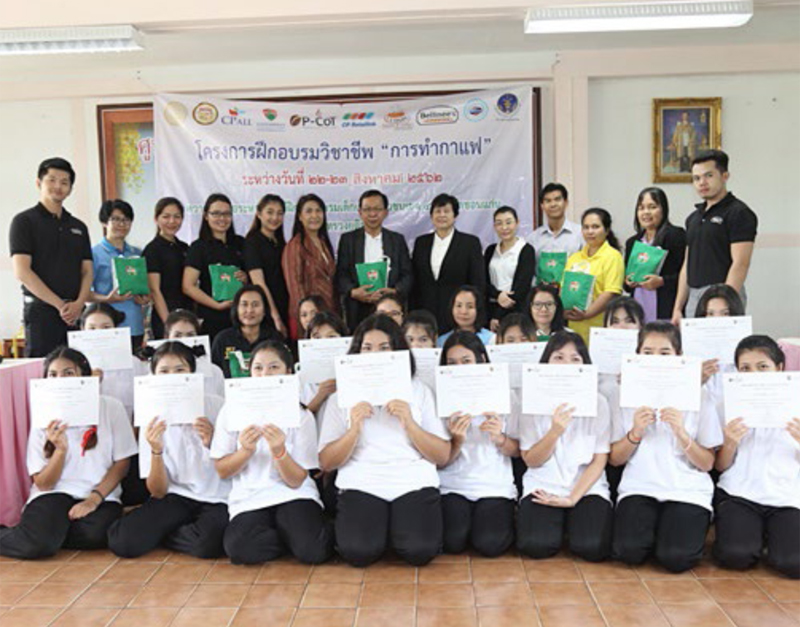 The program is a partnership between Panyapiwat Technical College (PAT) and Department of Juvenile Observation and Protection to support children and youth to be informed of news updates related job opportunities and the demand of the labor market, guidance on entering the job market, both in the present and future, and the preparation of searches for full-time and part-time jobs, to help the children and their family plan their lives in the future, through vocational guidance and related activities as well as career readiness tests to help them choose the right career for themselves. Besides, Panyapiwat Technical College (PAT) also collaborated with Juvenile Observation and Protection Centre of Nakhonratchasima Province and All Coffee Academy (A-CA), organizing vocational coffee making trainings for youth and staff in the Centre.
Results and Benefits
283 Children and Youths received skills development in Career
For more details –> SD Report 2019