Leadership and Human Capital Development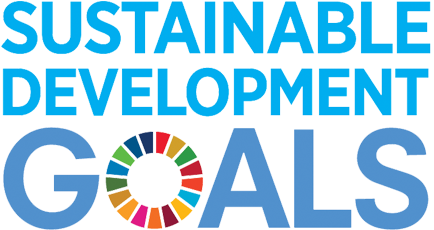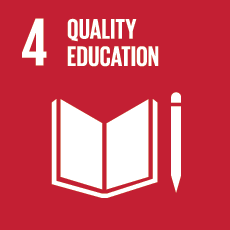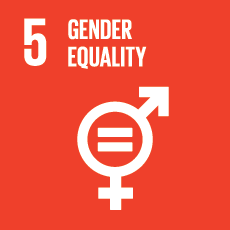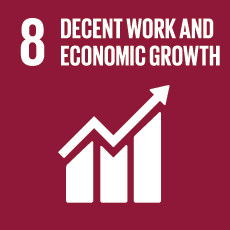 Risks and Opportunities
The essential resources to drive sustainable business growth, success, and goal achievement, are the personnel within the organization. There is importance in developing equal and non-discriminatory personnel to increase employees' competency according to changes in the global economy, society, and environment. To prepare the organization for future changes, employees must develop essential skills, increase understanding of the technological era towards digital platforms, and develop new skills. Both development planning and analytical tools are paramount to the Company to assess personnel competency and needs. It enables the organization to analyze personnel data, essential skills, design employee engagement programs, and employee well-being for the Company's sustainable growth and preparedness in the future.
Performance Against Goal
2030 Goal
100%
All leaders and employees will be involved in the learning process and activities on sustainability annually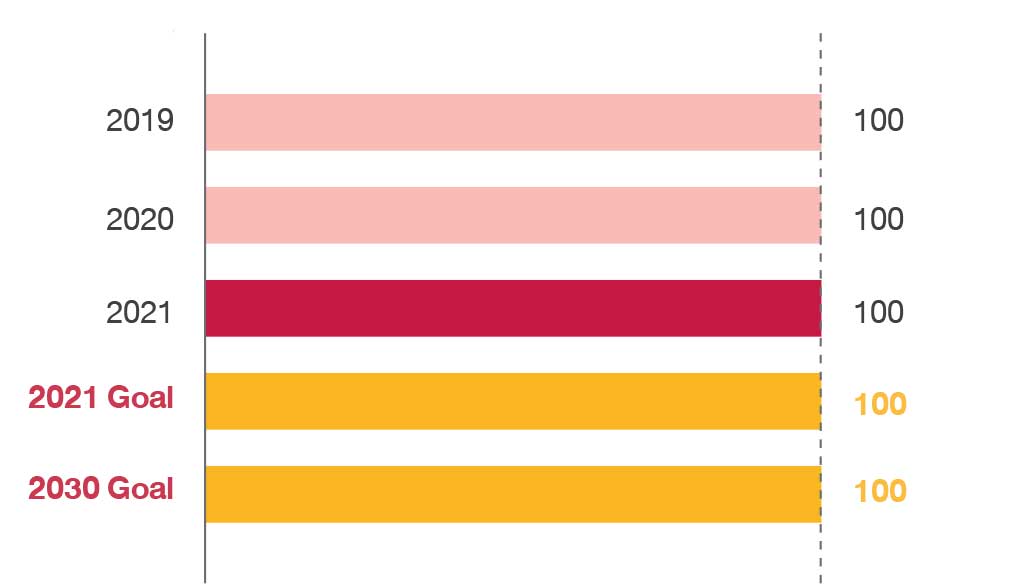 Performance Summary 2021
Average Hours Per Year of Training and Development (%)
Average hours per FTE of training and development 23.5
By Age

Average hours per person

Average hours per FTE
| | | |
| --- | --- | --- |
| Under 30 years old | 19.74 | 22.78 |
| 30-50 years old | 21.64 | 22.26 |
| Over 50 years old | 23.98 | 22.93 |
By Gender

Average hours per person

Average hours per FTE
| | | |
| --- | --- | --- |
| Male | 18.25 | 19.95 |
| Female | 21.96 | 25.49 |
By Level

Average hours per person

Average hours per FTE
| | | |
| --- | --- | --- |
| Top Management | 74.59 | 71.41 |
| Management | 31.63 | 32.59 |
| Junior Management | 28.58 | 29.46 |
| Officer | 20.06 | 22.93 |
By Race/ Nationality

Average hours per person

Average hours per FTE
| | | |
| --- | --- | --- |
| Thai | 20.86 | 23.91 |
| Cambodian | 15.51 | 13.78 |
| Myanmar | 14.08 | 12.55 |
Total Employees Participating in the Leaders Development Training according to the Action Learning Path (Persons)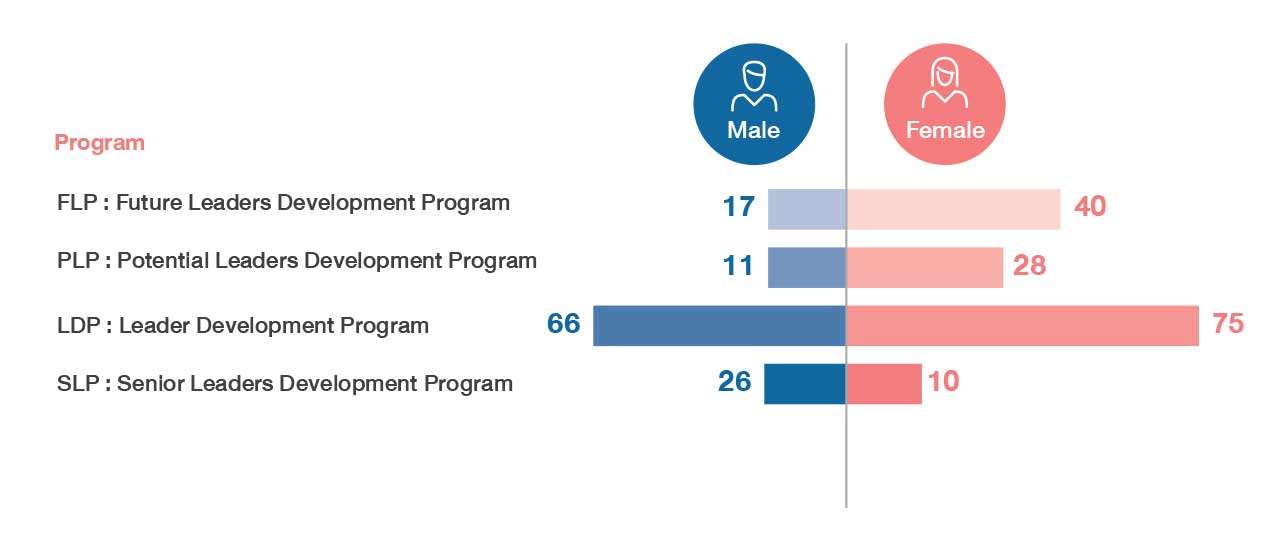 Average amount spent per FTE on training and development. (Baht / person)

Employee Engagement (%)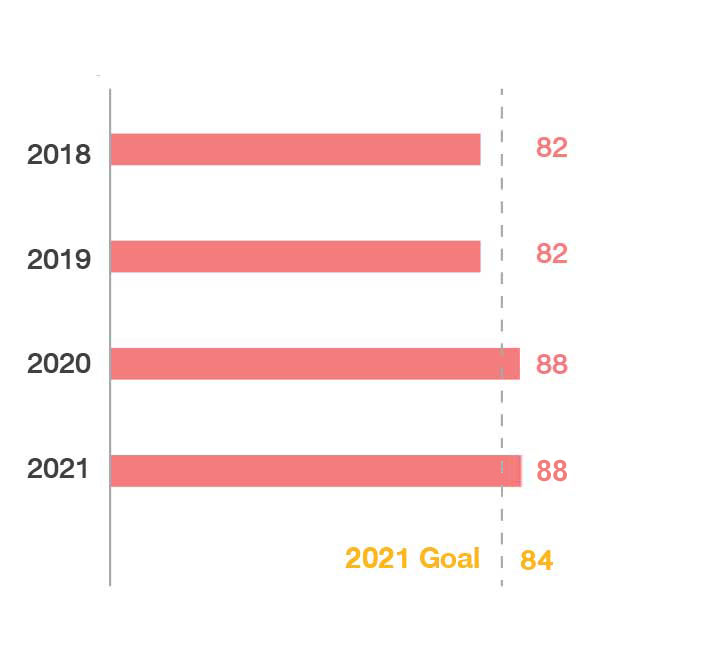 By Age (%)
| | |
| --- | --- |
| Under 30 years old | 58.8 |
| 30-50 years old | 40.4 |
| Over 50 years old | 0.90 |
Coverage (%)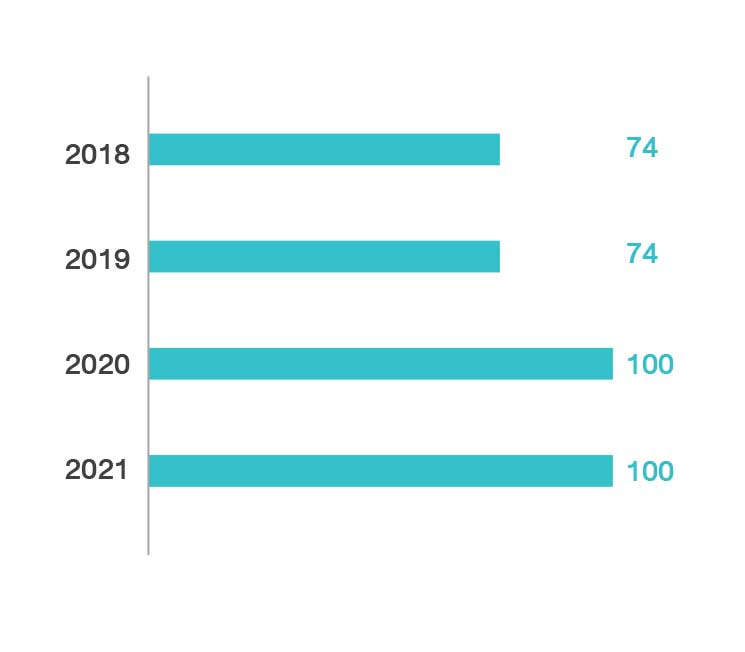 By Level (%)
| | |
| --- | --- |
| Top Management | 0.00 |
| Management | 1.80 |
| Junior Management | 1.20 |
| Officer | 96.90 |
By Gender (%)
| | | |
| --- | --- | --- |
| | Male | 87 |
| | Female | 88 |
Management Approach
The Company focused more on employee competency development at all levels under the employee development strategy framework, "Good and Smart People". Various skills are encouraged through the program, such as professional upskill/reskill for work, organization sustainability, Personal Data Protection Law, Data Analysis, and Digital Literacy. The skills are for employees at all levels in the Company, subsidiary group
employees, store business partners, and granted sub-area store branches to have competencies required for work performance. All are preparing the organization to swiftly adjust for emergencies situations or crises and changes in the future.
Due to the increasingly severe and ongoing COVID-19 epidemic, possible effects include halted employee competency and development, limited work operations, and decreased work efficiency. The Company realizes the importance of continuous development of employee competency. Thus, a new training format for the New Normal era was developed, such as in-room training and various online training such as Virtual Training,
e-Learning, and On the Job Training (OJT). In addition, the Company developed easy-to-understand training programs, modified to be more interesting for all employees, subsidiaries, store business partners, and granted sub- area store branches to create necessary skills and reach their full potential. Thus, leading to continuous business operations under human resources management of the organization, under the concept
of successful work and happy people throughout their work lifespan with the Company.
Sustainable Employee Skills Development and Career Opportunities Framework

Development Path for Personnel in the Office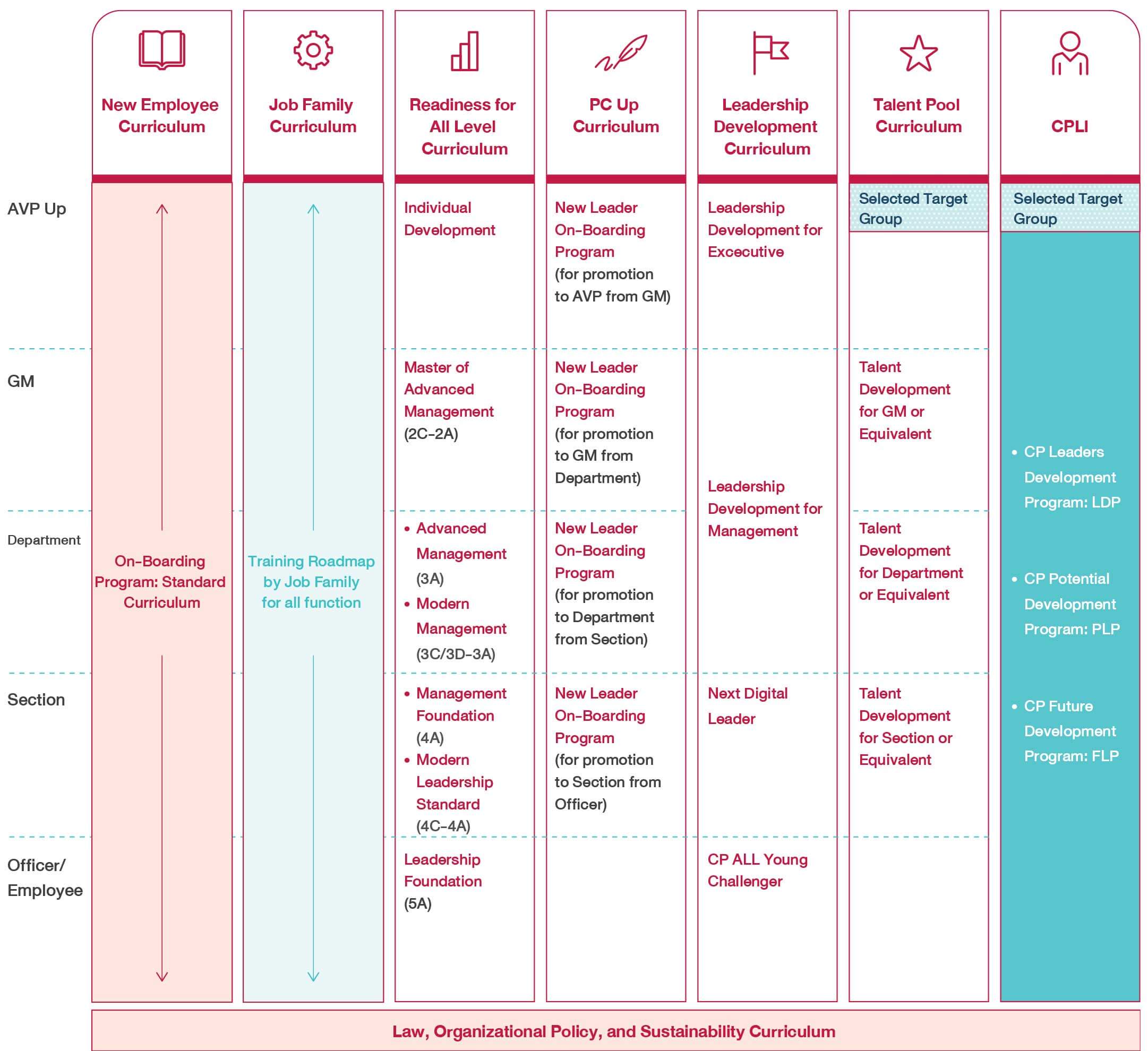 Development Path for Personnel in Operations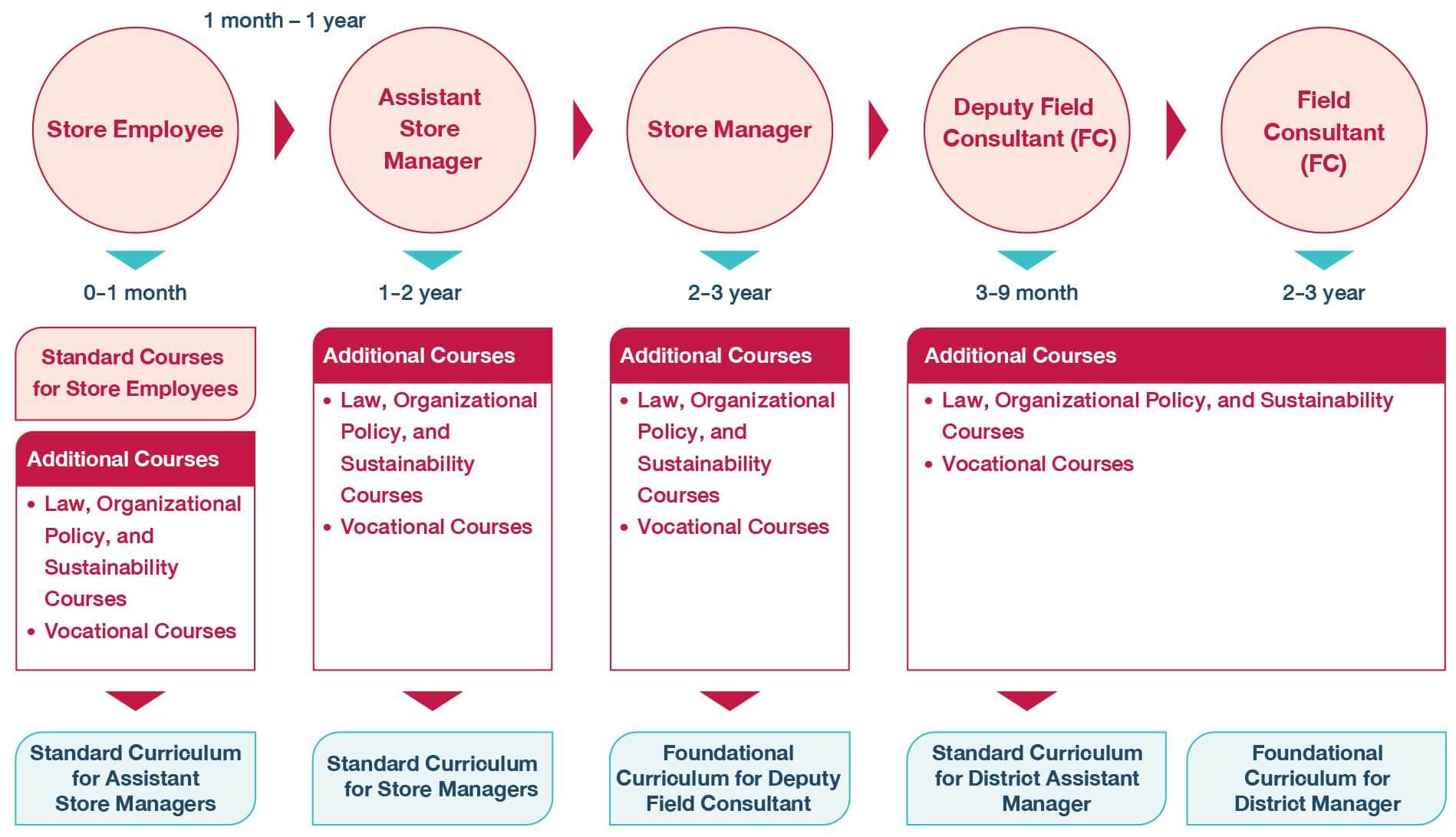 Development Path for Personnel in Distribution Centers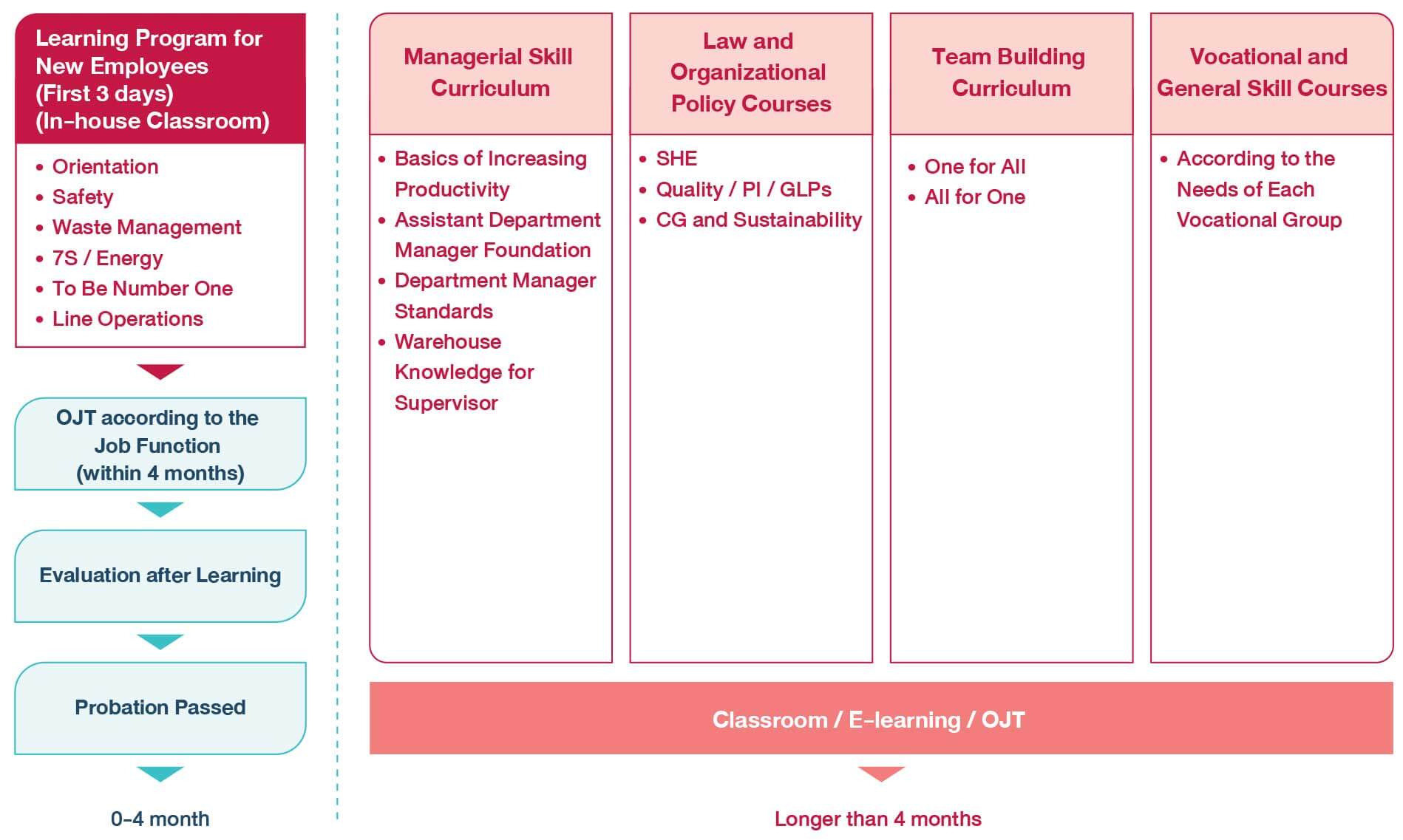 Professional Skills Development, Promoting Upskill/ Reskill
The Company encourages all employees to learn new ways of working (Upskill/ Reskill). The training programs give diverse knowledge and create a supportive learning environment encouraging work improvements and betterment, where managers and employees at all levels can be part of the organizational learning culture. In 2021, the important programs are as follows:
Mentorship from top management provides advice on various techniques, track project progress, and report results on improvements to generate a continuous learning collaboration during the project's scope.
Talent Management
The Company recognizes the importance of preparing leaders and personnel to drive continuous, sustainable business practices. Using continuous management and developing high-performing employees with talent self-assessment as an Individual Development Plan (IDP) to build on their strengths and reduce weaknesses increases professional growth. Additionally, the specially designed program develops such groups using the "70:20:10" learning and development model.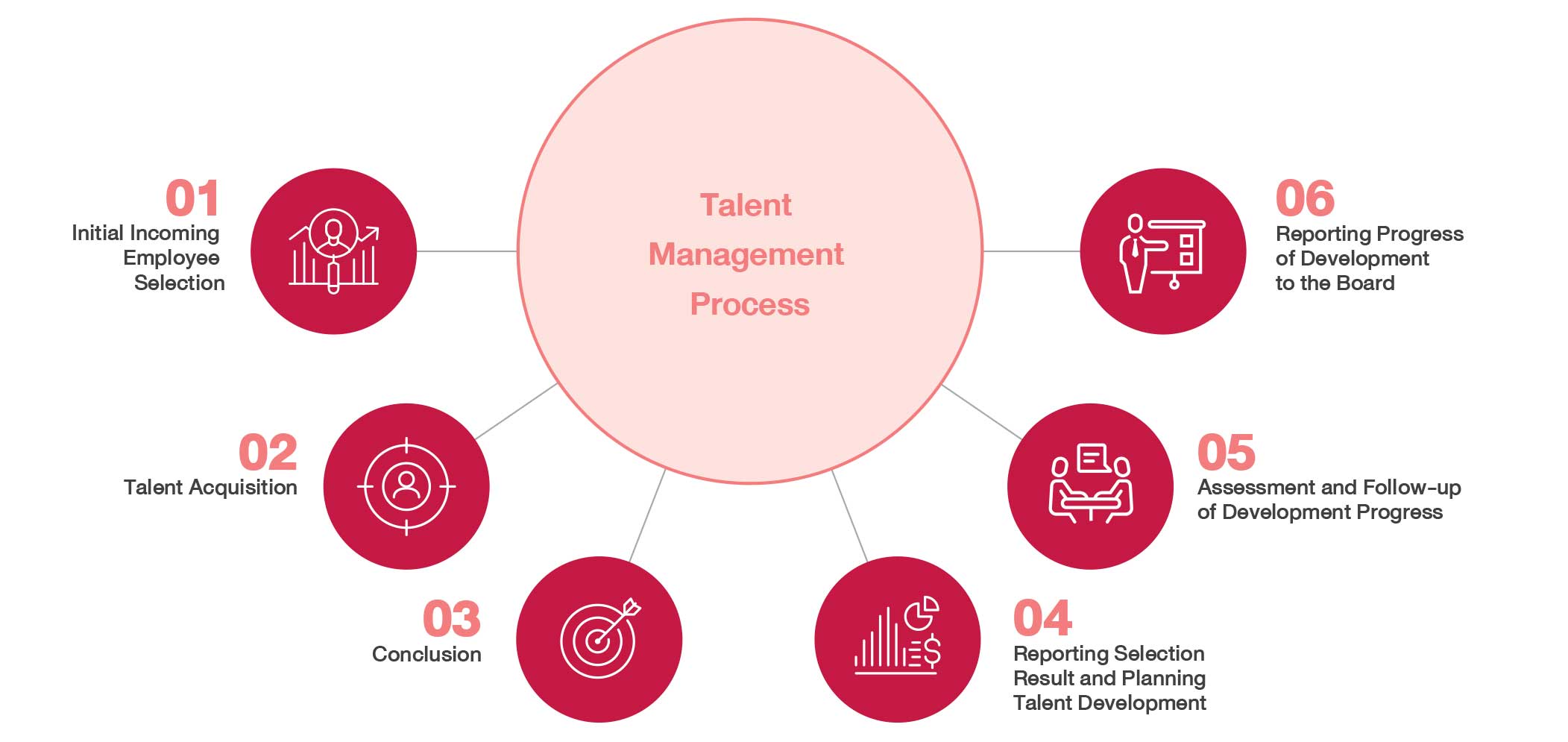 Last year, besides direct teaching from supervisors, top management had an additional role in teaching through various media types such as video content.
Personnel Development Transitioning to the Digital Age Platform Era
The Company enhances employee development to obtain Digital Literacy competencies. Hence, the office staff had the opportunity to develop readiness using the Microsoft Office 365 program and various applications to increase work efficiency. Meanwhile, the Company developed digital competencies for store employees and managers at all levels by learning and assessing skill preparedness in data analysis in the digital era. Furthermore, the Company is working on upgrading skills in data analytics for employees analyzing data in various fields by learning how to use the Google Data Studio program to create visualizations and using Advanced Excel in preparing data, and data analysis using high-level statistics to support the implementation of business strategies and to become a Data-Driven Organization.
Personnel Development on Sustainability
For the Company to survive and grow stably and sustainably, adaptation and organizational development, including developing and educating employees at all levels, are critical, and to readily meet challenges bringing risk and opportunities in 2021 through the following significant programs:
Type of Performance Appraisal
The objective is to enable the Company to manage the success of the organization as one whole, which includes improving management style on employees at all levels to achieve the goals of the organization. To be systematic and standardized, an effective qualitative and quantitative evaluation criterion is used. The ALL Perform (SAP Success Factors) system is also used to communicate and give 360 degrees feedback within teams, cross functional teams, and department units, creating a work environment and culture with opportunities for self-improvement in order to continuously achieve better performance. In 2021, the total employees evaluated for the yearly performance appraisals through various formats are as follows:
| Appraisal Type | Evaluated Employees |
| --- | --- |
| Management by objectives | 100% |
| Multidimensional performance appraisal | 14.4% |
| Formal comparative ranking | 100% |
Employee Engagement
For work achievements with happy people, the Company considers employees to be the most valuable resource, comparable to the organization's source of power to achieve set goals of the organization. Therefore, recognition and response to employee expectations are what the Company has always given importance to, from conducting a survey of the employee's feelings and perspectives on the organization operations with 6 questions that reflect employee behavior in 3 aspects,
The Company continuously surveys employee expectations. In 2021, employee engagement surveys were conducted with the system, Kincentric eX-Pulse Platform, from the Company, Kincentric (Thailand) Ltd. The results were compared at different time periods for current and up-to-date data for analysis, to formulate strategies and review criteria on improving employee engagement measures and employee participation which helps the organization achieve the set goals.
Other Information
GRI Standared
Required Data
2018
2019
2020
2021
Hour/Person/Year
Hour/Person/Year
Hour/Person/Year
Hour/Person/Year

404-1

Training and Development

Average hours of training
25.47
22.18
18.91
20.68
By Gender
– Male
26.57
20.51
17.35
18.25
– Female
24.37
23.84
20.47
21.96
By Level
– Top Management
67.96
69.88
84.40
74.59
– Management
60.71
45.30
40.36
31.63
– Junior Management
42.22
46.18
40.17
28.58
– Officer
24.37
21.44
18.78
20.06
Remark
– N/A = Not Available
– Human resources performance reporting is made in accordance to the reporting framework of the GRI Standard, version 2016
– Human resources performance covers all business unit operations