Performance Against Goal
Performance Summary 2021
Occupational Health and Safety
Recordable Work-related Injuries Rate

Unit : Cases per 1,000,000 work hours
Lost Time Injury Frequency Rate (LTIFR)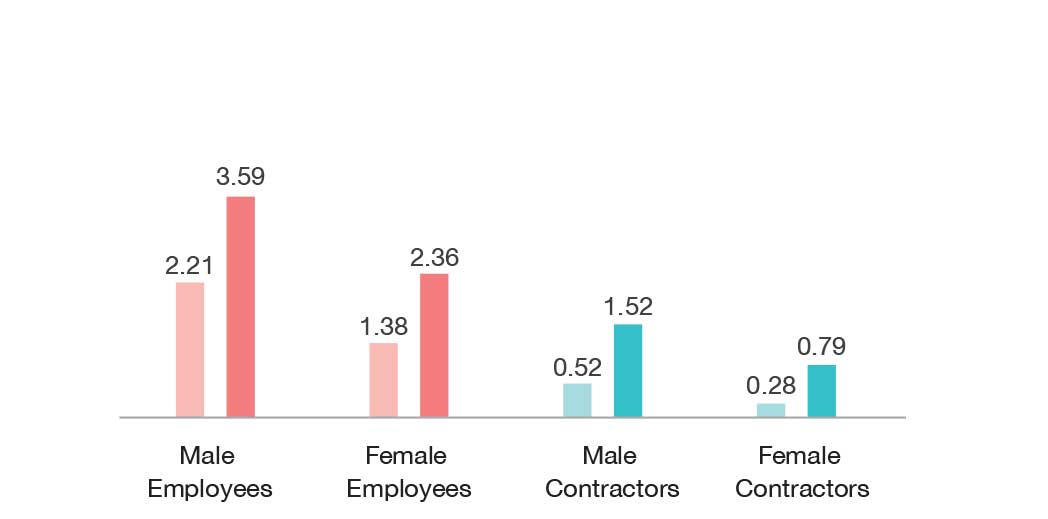 High-consequence Work-related Injuries Rate (Excluding Fatalities)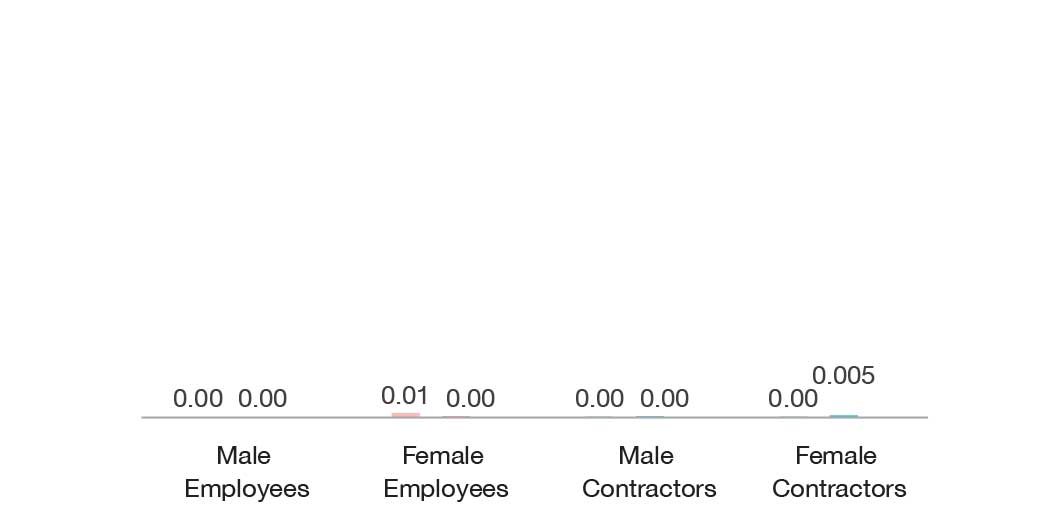 Management Approach
Structure of the Occupational Safety, Health and Environment Committee
The Company strictly adheres to the law by appointing 1) an area-level Committee of Occupational Safety, Health and Working Environment that focuses on employee participation by electing representatives from employers and employees on a proportionate basis as required by law, and hosting monthly meetings. Beyond stipulation by the law, the Company has implemented Occupational Safety, Health and Environmental Management across all operational areas of the Company. Secondly, the Company has appointed 2) a function-level Sub Committee of Occupational Safety, Health and Working Environment that is elected every 2 years and has the responsibility of assessing issues from the area-level Committee of Occupational Safety, Health and Working Environment and budget approvals. Thirdly, the function-level Sub Committee of Occupational Safety, Health and Working Environment is under the supervision of 3) the Occupational Safety, Health and Environment Committee that is responsible for relaying the policy to each operation function and aligning the same standard with employees at every level within the organization, including contractors and suppliers across the Company's supply chain.
Furthermore, the Company uses the evaluation of the risks toward Safety, Occupational Health and Working Environment to improve operation processes, work areas, and employee training as well as equipment in 7-Eleven stores.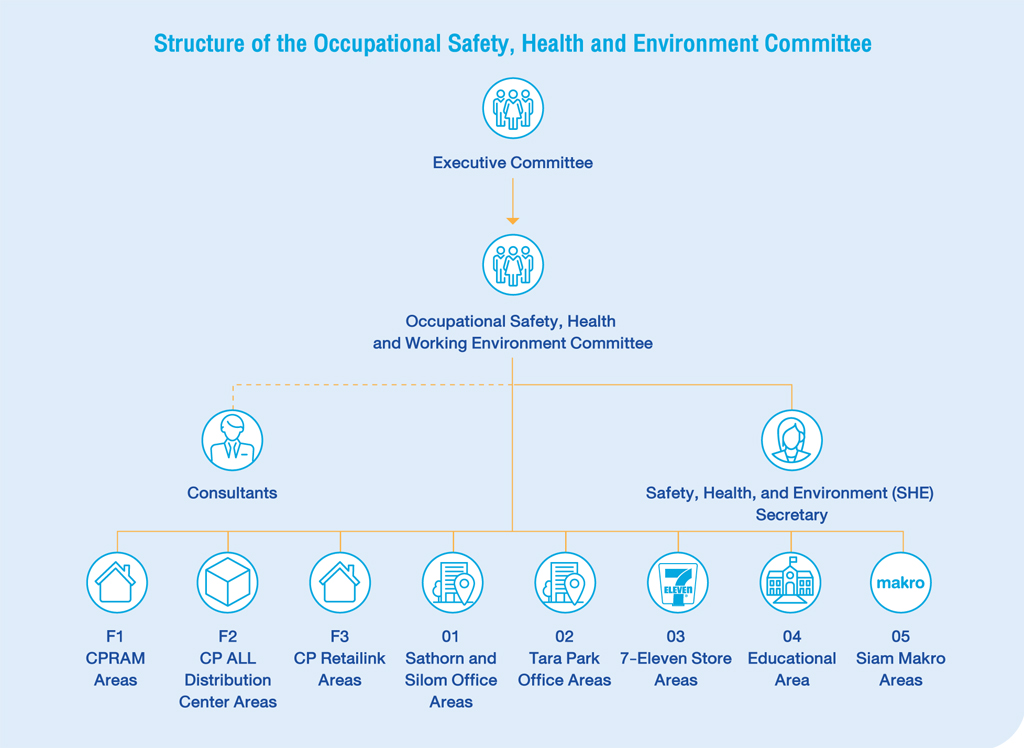 Elevating Safety, Health, and Environment
The Company is cognizant of the right to security and safety. It is committed to being an accident-free organization by 2030 that gives its employees happiness and a decent quality of life. The Company hence ensured that its working environment is safe and aligned within strict compliance with legal requirements. It has assigned its Safety, Health, and Environment (SHE) Management Committee to set appropriate policies, guidelines, and SHE improvement plans in collaboration with the Charoen Pokphand Group to prevent severe accidents and reduce incident impacts. The Company has also annually organized SHE workshops, elevating its performance to be on par with international standards and ensuring no environmental impacts both within and outside the organization.
Policies and Security Goals for Marketing and Distribution Business Group
The Company establishes the objectives and goals for the management of safety, occupational health, and work environment with a commitment to business operations that do not cause accidents and occupational illness. Read more about the policy and goals at: ==> Download
Factors
Key Indicators
Unit
Goals for 2022-2030
Occupational Health and Safety
Number and rate of deaths due to work for employees and contractors.
(Unit: Case)
(Unit: Case/1 million working hours)
0 case
Number and rate of lost-time injuries from employees and contractors (Lost Time Injury Rate: LTIFR)
(Unit: Case)
(Unit: Case/1 million working hours)
40% reducation in trend and 0 cases by 2030
This includes supporting resources in management, building atmosphere, providing a safe working environment, allocating tools and adequate and suitable protective equipment for operators in order to continually improve work standard. The Company also commits to providing a safe working environment to minimize, control and prevent any accident that may occur to the best of the Company's ability to achieve the objectives and safety goals through the following program.
OHS risk and hazard assessments to identify what could cause harm in the workplace
Risk Assessment Process
The Occupational Safety, Health and Environment Committee (CDC) assigned executives at a department level or equivalent in each area to assess the risks to identify activities/area/work characteristics, such as driving a motor vehicle/motorcycle, chemicals, light, sound, by considering the work involved. Work from offsite areas that are at risk, including work related to contractors and including a review of risks in case of changes in control of raw materials / activities / processes / new products / flowcharts of workflow. There is also the case of new laws / complaints / accidents and risk reduction considerations once a year by assessing risks in both routine and normal situations; and irregular working situations that occur from time to time, along with assessing the risk of behavior affecting work activities, as well as identifying hazards and assessing the significance of the nature of safety problems under the 7 categories, consisting of 1) Environment 2) Machinery, tools, equipment 3) Materials / raw materials 4) Actions or behaviors (human behavior) 5) working conditions 6) Employees 7) Social Factors.
Then the organisation jointly assesses the risks by using the criteria of 1) assessing the likelihood of loss from hazard 2) assessing the severity of the loss from hazard, and registering a risk to further prioritize and determine risk control measures.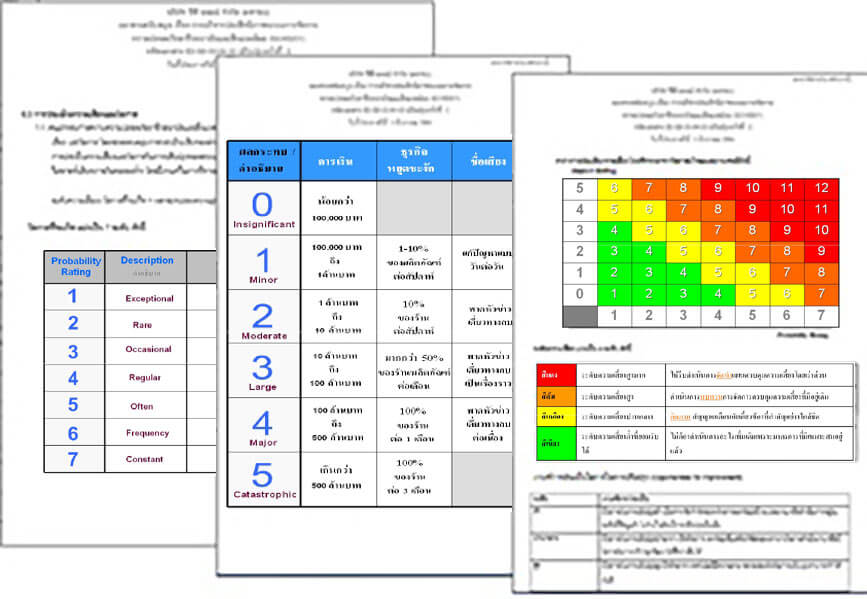 Prioritization and integration of action plans with quantified targets to address those risks
Those who are responsible for each area must prioritize risks to determine risk management measures and propose for approval from the Occupational Safety, Health and Environment Committee.
| Risk Level | Detailed Operations |
| --- | --- |
| Unacceptable (5) | Stop the operation immediately and find solution to decrease the risk level to an acceptable level. There must an investigation into the causes and apply the solution before a permission to resume the operation is granted. There must also be controlling measures, and there must be evidence ready for investigation throughout an allotted time |
| High (4) | Decrease the risk level to an acceptable level by revising the existing controlling measure / canceling / set a new measure / set objectives, goals, and projects, as well as there must be evidence ready for investigation throughout an allotted time |
| Medium and Acceptable (2,3) | Reviewing the appropriateness of existing controlling measure to continuously control risk to stay at an acceptable level and a line manager must review the operation thoroughly |
| Small (1) | A line manager must review the operation constantly |
In addition, they must assign it to relevant people to prepare a project action plan and to set project objectives, quantitative goals and responsible persons, and propose the Safety, Occupational Health and Work Environment Committee for consideration and approval of projects and plans. Read more about the project at: ==> Download Page 68-72 by Chrome, Page 66-70 by PDF
Project example, objectives, and goals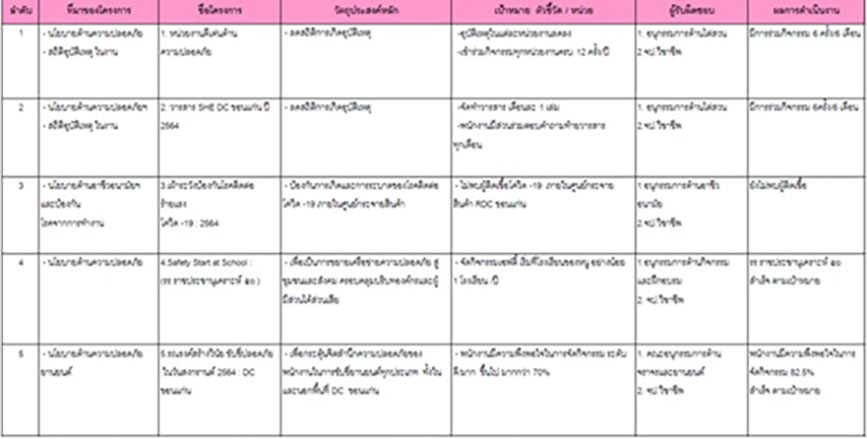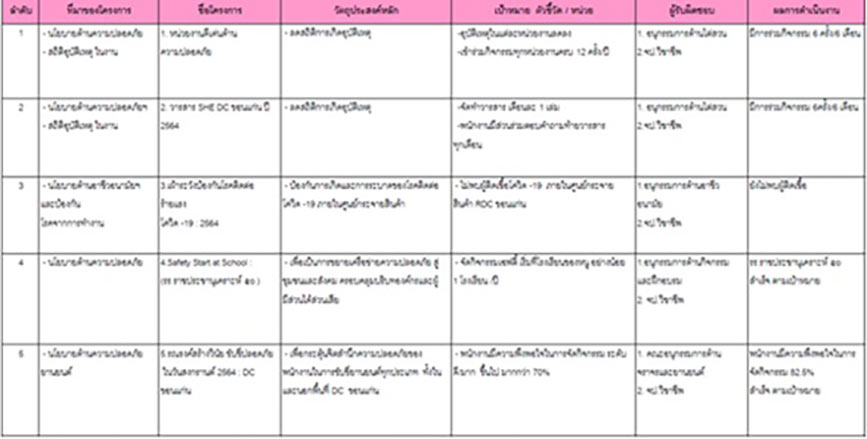 Project example, objectives, and goals


Additionally, the Company allows employees to report accidents and high-risk activities through various channels. Incident investigation procedures and appropriate corrective actions have also been established. Employee SHE risks assessments in 2021 revealed the following 4 high-risk activities.
High Risk Activities
Investigation Procedures
Corrective Actions

Forklift Operation

Accident Incident Report
Accident Investigation and Analysis

Preventive measures developed
Control equipment created
Awareness training


Work in Confined Spaces

Job Safety Analysis
Confined Spaces entry permit to work
Air and toxic gas measurement and monitoring
The use of equipment in confined spaces

Inspections and awareness testing in Job Safety Analysis
Oxygen and toxic gas level reporting


Work at Height

Job Safety Analysis
Working at heights permit to work
The use of equipment for working at heights

Inspections and awareness testing in Job Safety Analysis
The use of equipment to prevent falls from work performed at height


Hot Work

Job Safety Analysis
Hot work permit to work
Fuel clearance
Preparation and use of fire extinguishers

Inspections and awareness testing in Job Safety Analysis
The use of equipment to prevent sparks and preparation of fire extinguishers ready for use
In 2021, the Company's effort on Safety, Health, and Environment and promotion of employees' decent quality of life has concentrated on the following 3 programs.
1) Decent Quality of Life for Employees and Family Program
The Company also has a policy and guidelines allowing employers to choose their work location ("Work Anywhere"), in addition to being able to work from home for a maximum of 3 days each week, by strictly following the D-M-H-T-T principle to reduce the COVID-19 pandemic risks. To support the Work Anywhere model, the Company supported various work systems to enable effective work communication and access to work systems. These have included online meeting platforms (Webex, BlueJeans, Microsoft Teams, Zoom), communication platforms (CP ALL Connect and True Virtual Connect), while supporting employees to use
laptop computers that have company software as opposed to desktop computers, among others.
2) Safety Risks Reduction Program
3) Ergonomic Risks Reduction and Stress Management Program
Integration of actions to prepare for and respond to emergency situations
The Company has developed and maintained an emergency prevention and response plan to control, prevent and reduce the impact on occupational health and safety, including emergency response for each type of risk that may occur, including taking into account the impact on the community and the environment that may occur in the event of an emergency and communicate information relevant to the preparation of emergency response plans to relevant workers, contractors, and nearby communities as seen appropriate. The emergency plan is reviewed and rehearsed at least once a year.
An Example of the Operation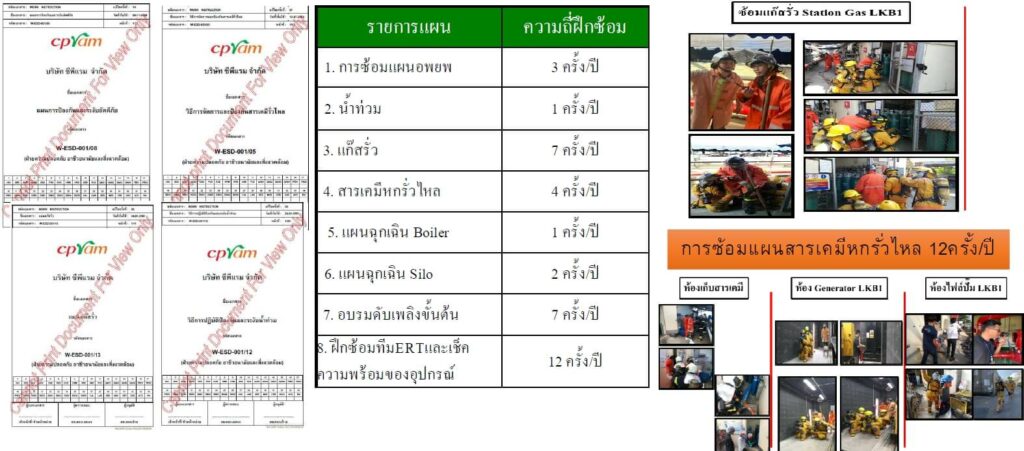 An Example of an Annual Emergency Plan Practice Schedule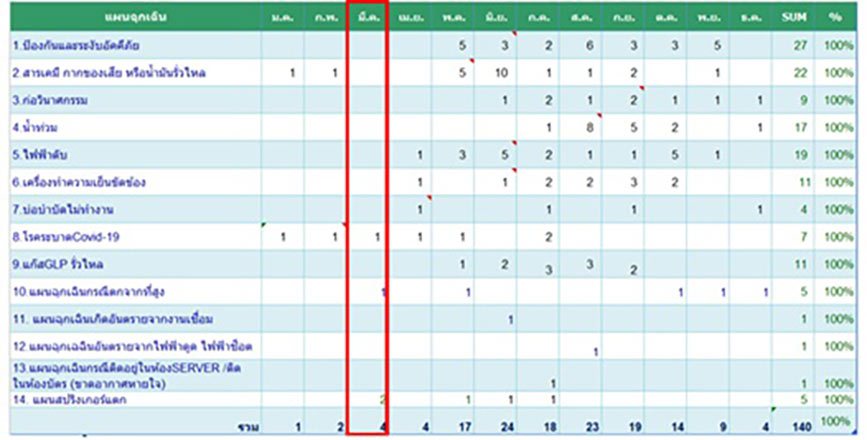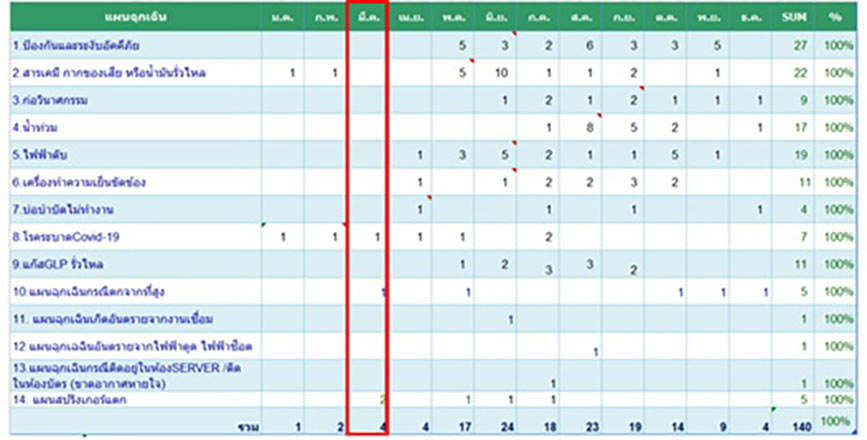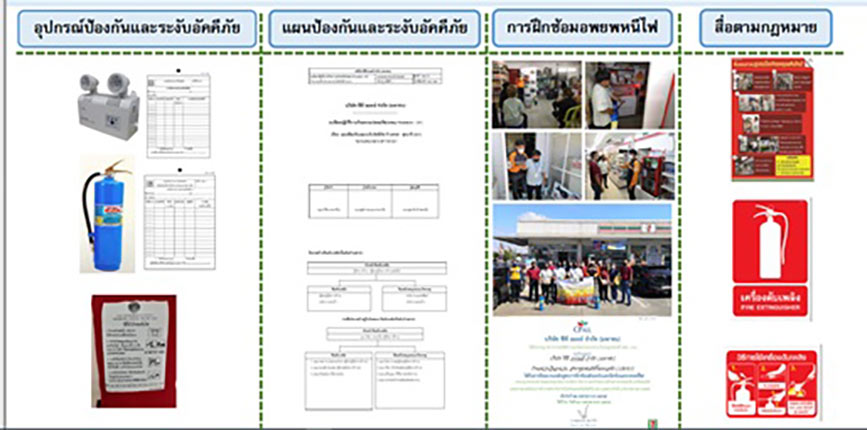 Evaluation of progress in reducing/preventing health issues/risks against targets
Occupational Safety, Health and Environment Committee evaluates and monitors the progress of projects and plans every month, both qualitatively, quantitatively, and proactively. Examples are checking the working environment, safety inspection according to the inspection plan of machinery, equipment, maintenance of machinery, equipment, health checks, and along with the objective review and goals of the project once a year.
Examples of Quantitative Tracking to Measure Progress of Objectives and Goals for 2021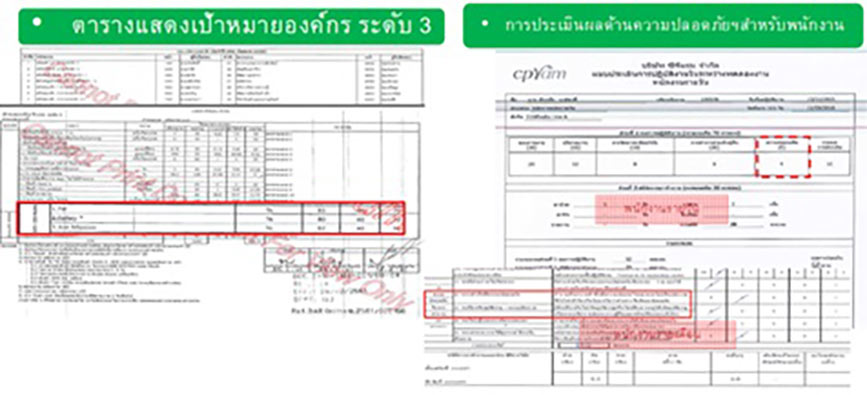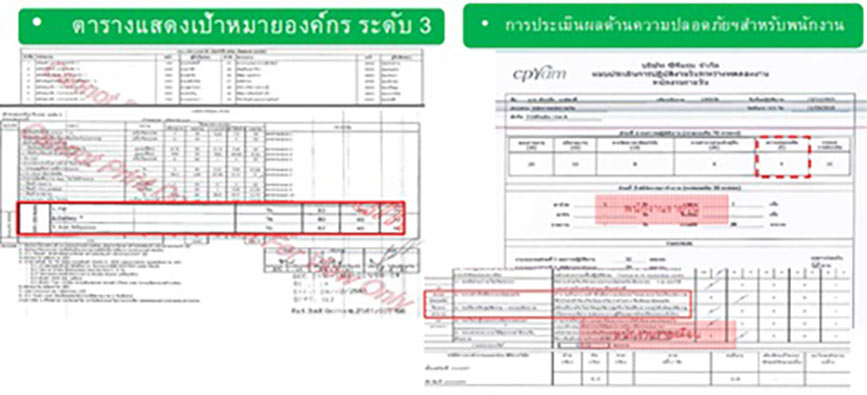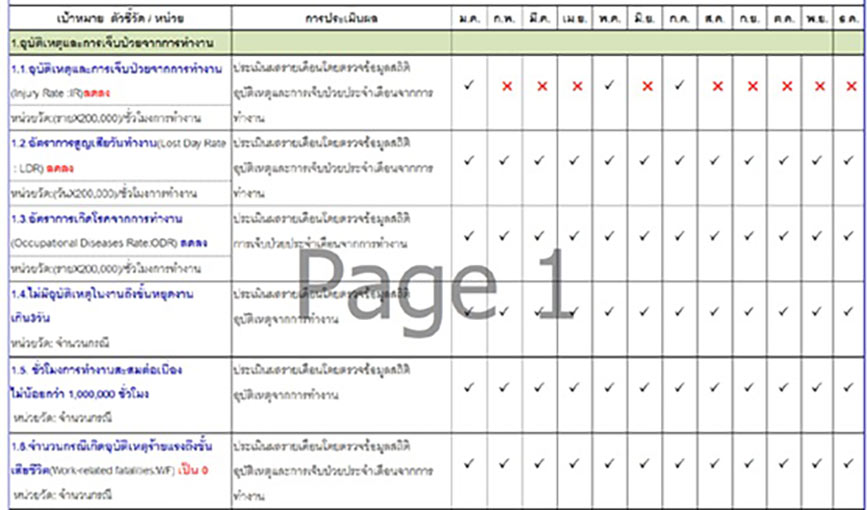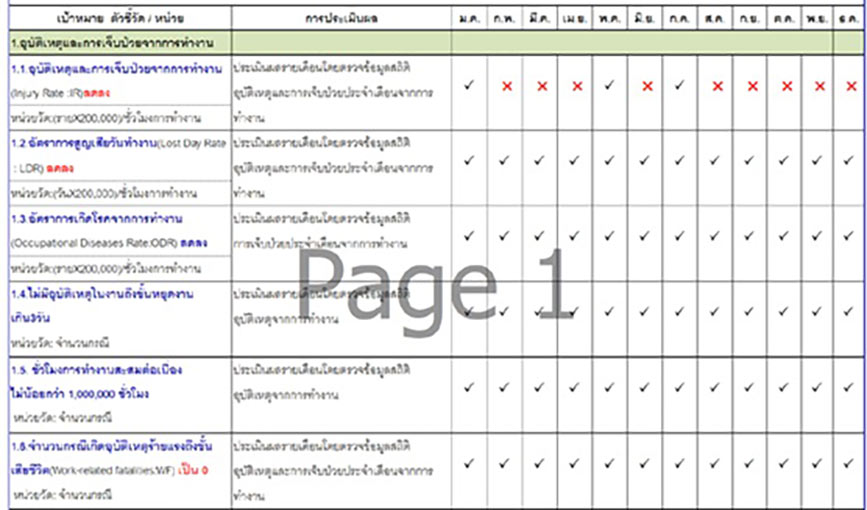 An example of the proactive monitoring of the safety of the 7-Eleven store's operating line by the Quality Store Standard Inspector once a month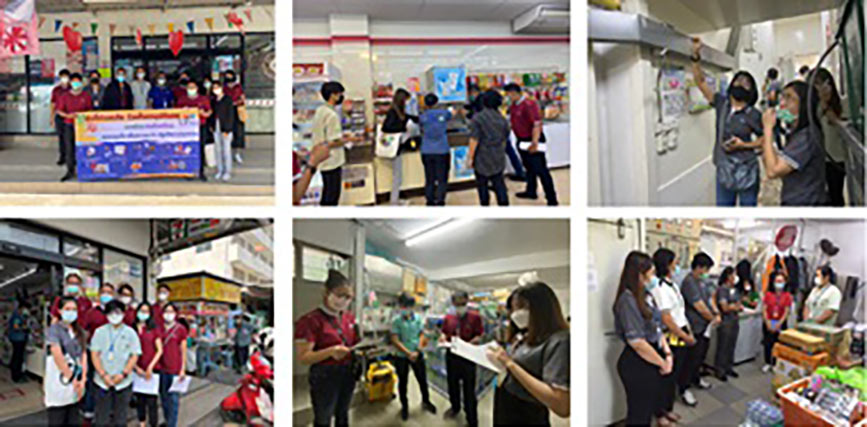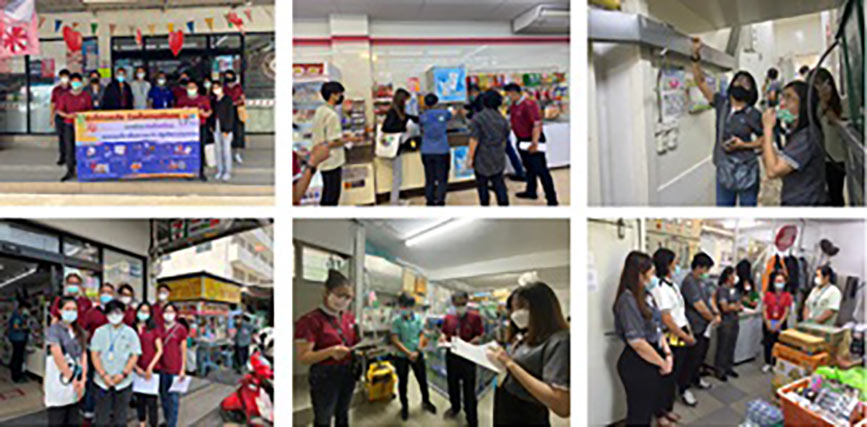 An example of proactive health checks based on risk factors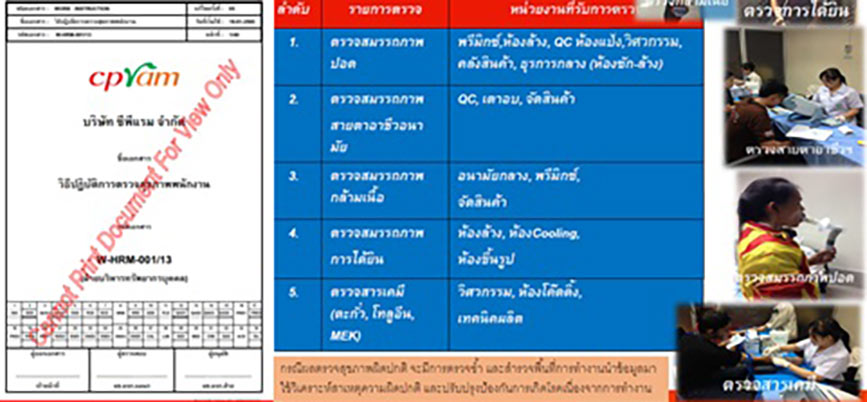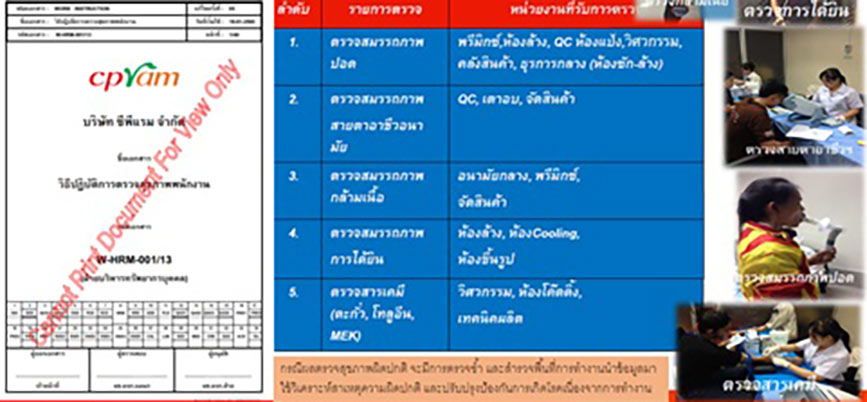 Internal inspections
The Company has established a systematic internal audit process to ensure that the occupational health management system and organizational safety has been implemented continuously and effectively. This is accomplished by collaborating with Charoen Pokphand Group to establish a Safety, Health and Environmental management effectiveness assessment program (SHE) to prevent serious accidents and reduce their impact. This is carried out by the central committee once a year under the criteria for evaluating the effectiveness of SHE as follows.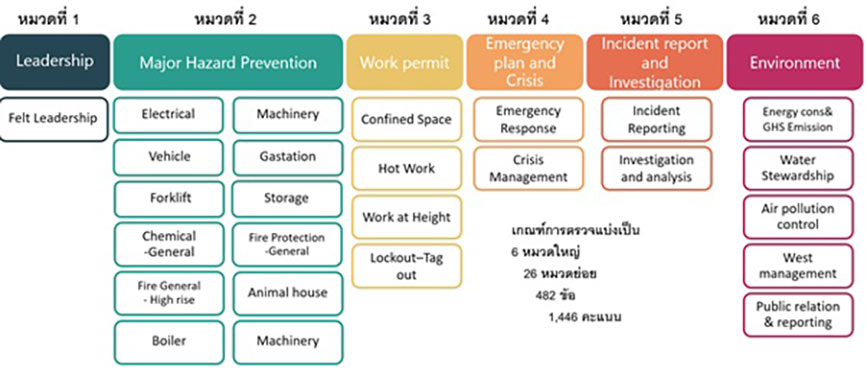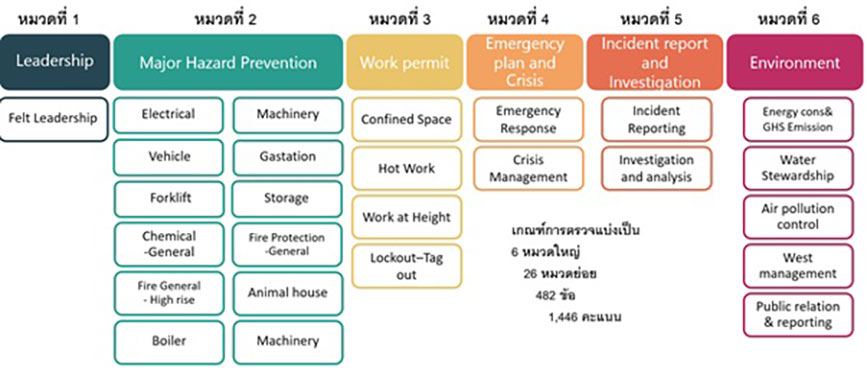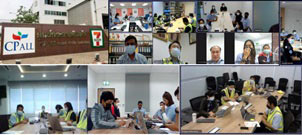 Independent external verification of health, safety and well-being: please provide the names and standards used
The Company places importance on ensuring occupational health and safety (OHS) for employees and contractors under the care of the Company, as they are a valuable resource for the organization. The Company has ensured that its OHS management approach continuously meets international standards and has strived towards ISO 45001:2018 certification in target CP ALL distribution center locations by putting in place improvement plans and certification gaps analysis conducted by a third party in advance of a certification visit. Surveillance audits are also conducted to maintain system performance. In 2021, the Company has received ISO 45001:2018 certification in additional locations: the Regional Distribution Center (RDC), Chilled Distribution Center (CDC), and Frozen Distribution Center (FDC) in Surat Thani. This development means the Company has achieved 100% of its Phase I target towards ISO 45001:2018 certification. It has plans to expand certification to Phase II to include more locations, with certification requests in 4 additional locations in 2023.
SCA Evaluation Plan for Product Distribution Department in 2021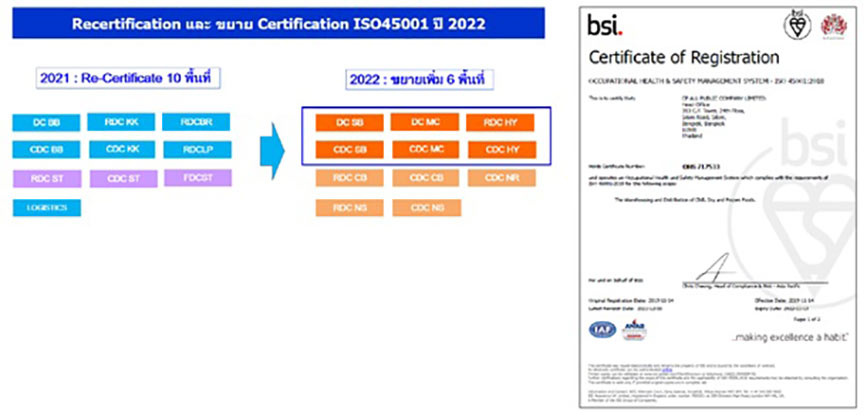 Procedures to investigate work-related injuries, ill health, diseases and incidents
The investigation for work-related injuries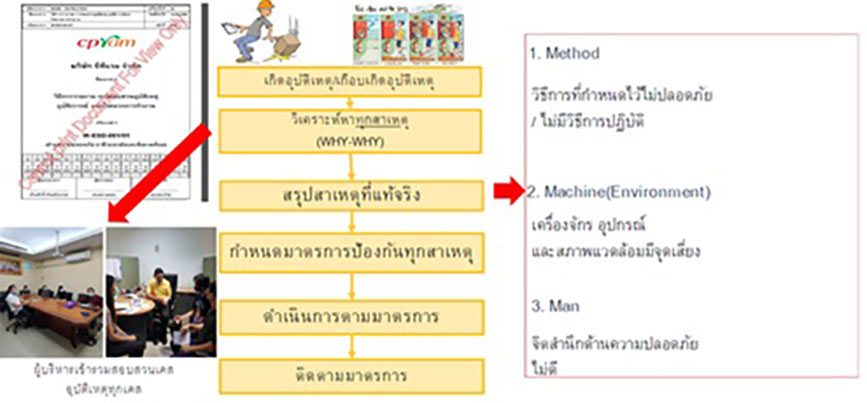 Work-related Injury Examination for the Rider Group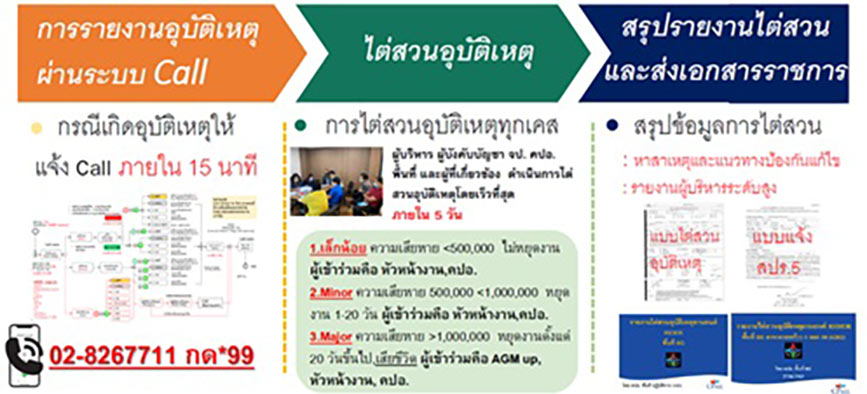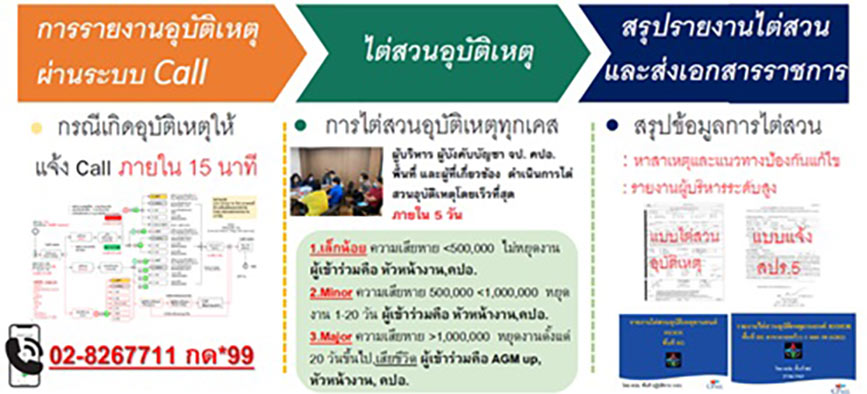 Work-related Injury Examination for the Rider Group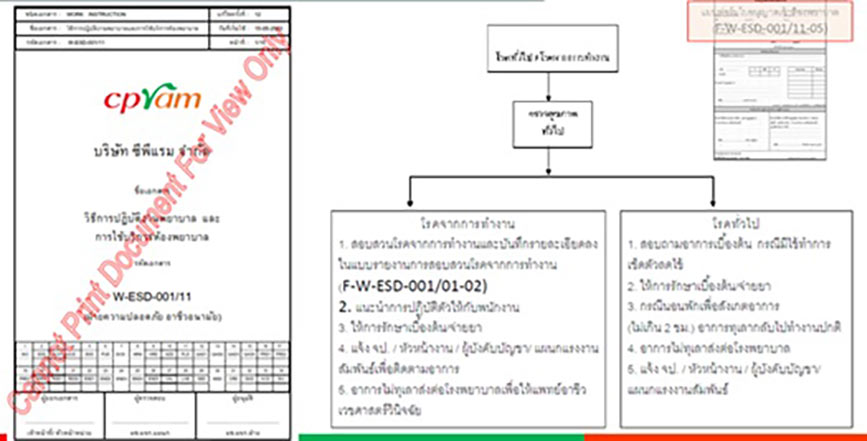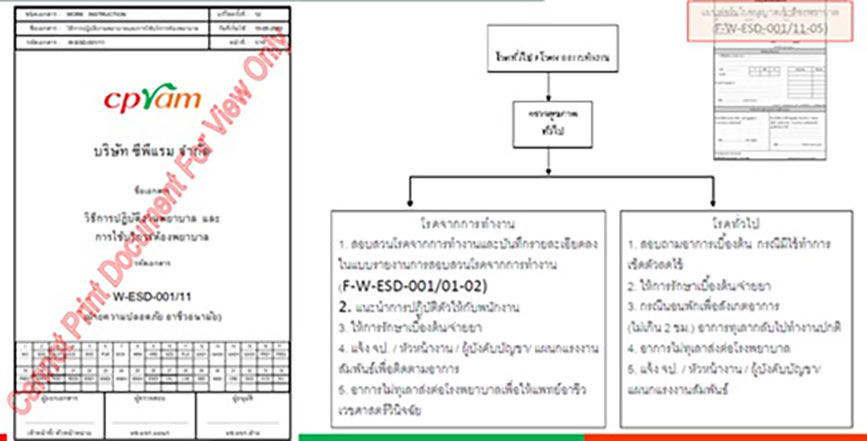 OHS training provided to employees and/or other relevant parties to raise awareness and reduce operational health & safety incidents
The Company gives great importance to knowledge development, employees' performance, and raising awareness and communicating necessary information to stakeholders, including analyzing the need for training and conducting training, as well as offering knowledge sharing sessions and courses relevant to tasks at hands for employees to be able to perform tasks well and safe in risky operations. Examples of various relevant projects are as follows:
Safety Committee Workshop Project. The goal is the path to zero accidents
Safety and Environmental Management System Training Program for Personnel Development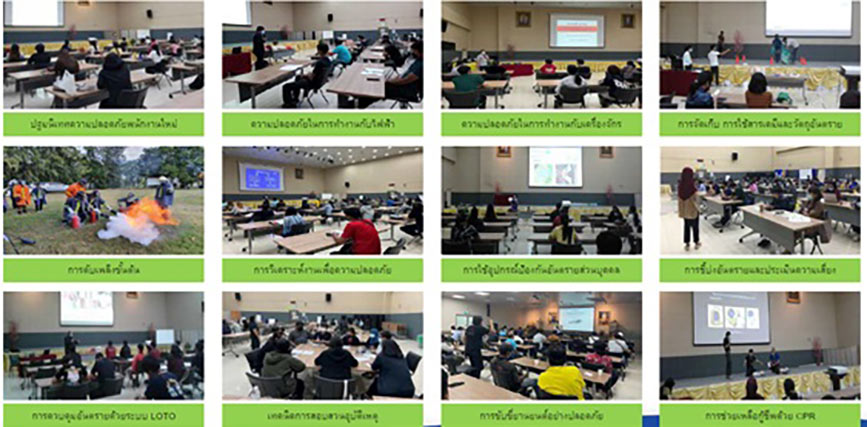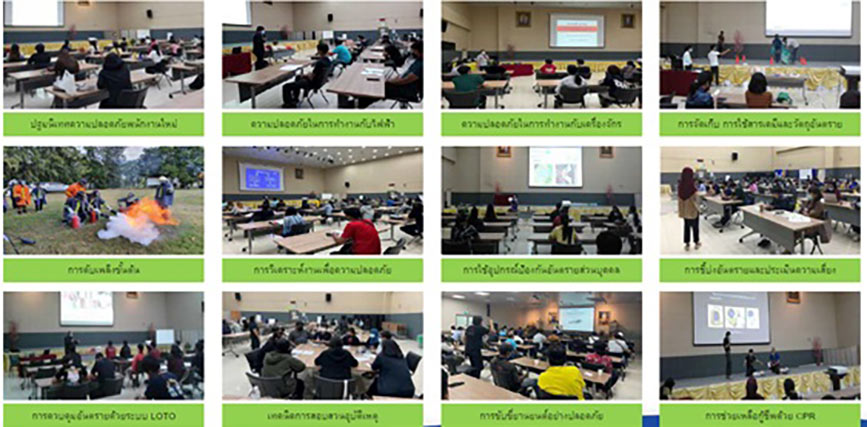 Training program to increase safe driving skills for 7-Eleven store staff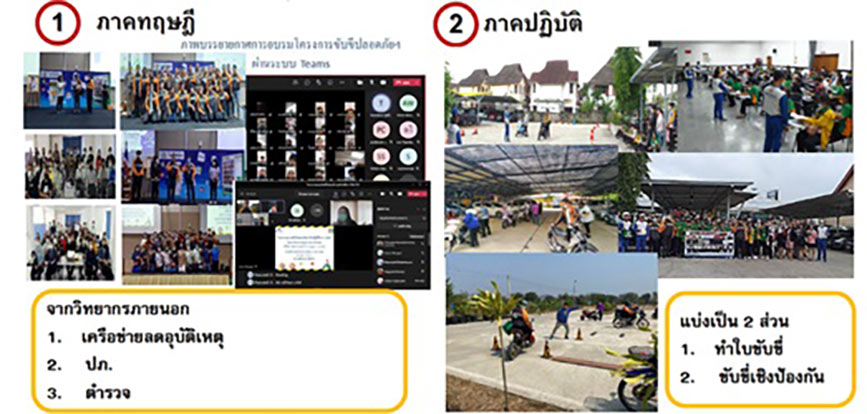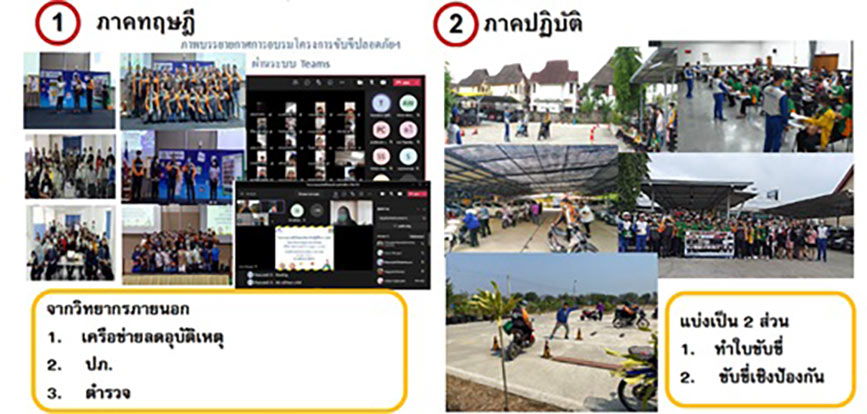 The program in raising awareness, changing safety behaviors for distribution center employees and transport contractors (Kiken Yochi Training : KYT)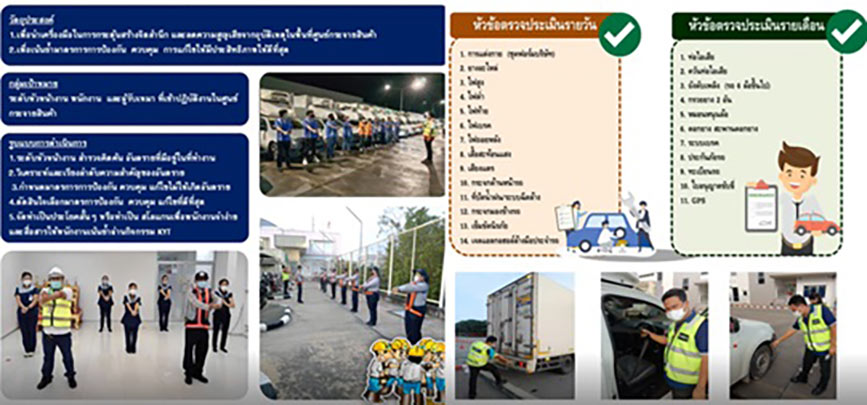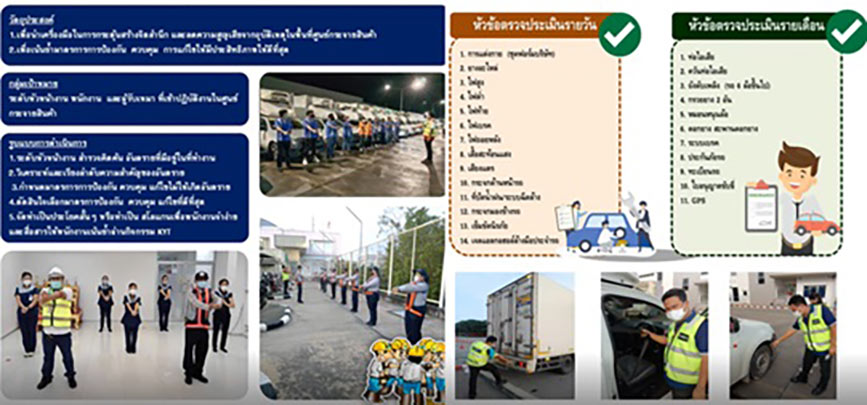 Training program for driving license test for PT vehicles and forklift vehicles, the coursework involves theory and practice for drivers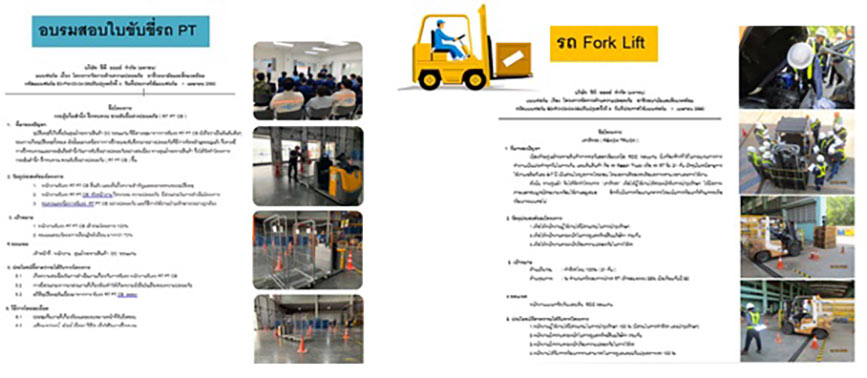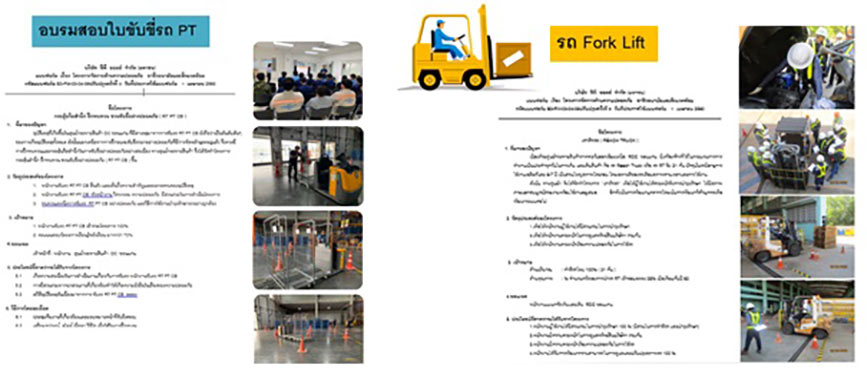 The program in construction contractor training on safety standards before working in 7-Eleven stores and distribution center areas and CP RAM factory area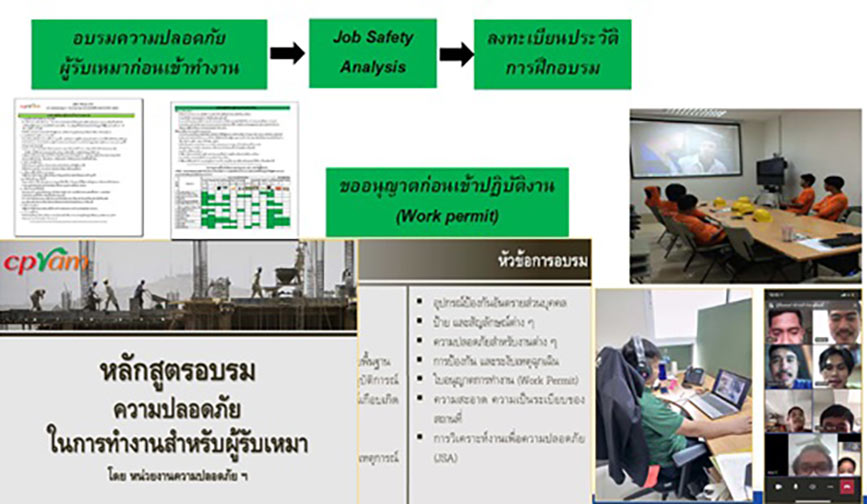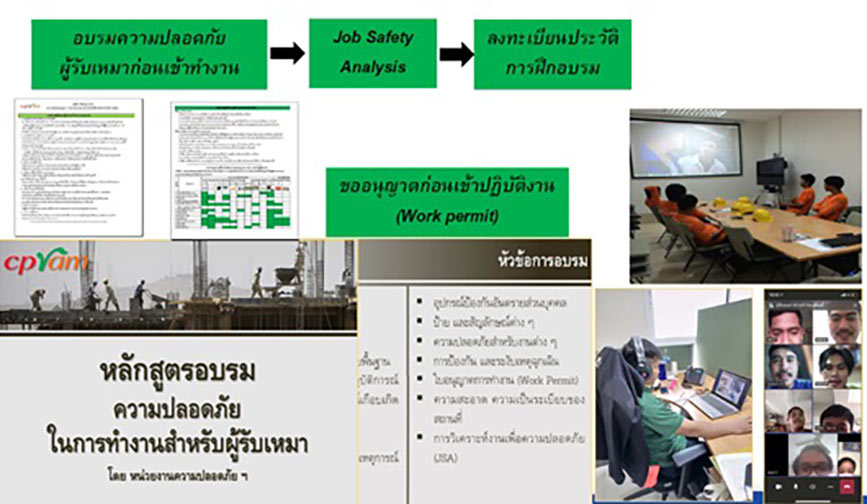 Transport Contractor Training Program: Professional Truck Driving Course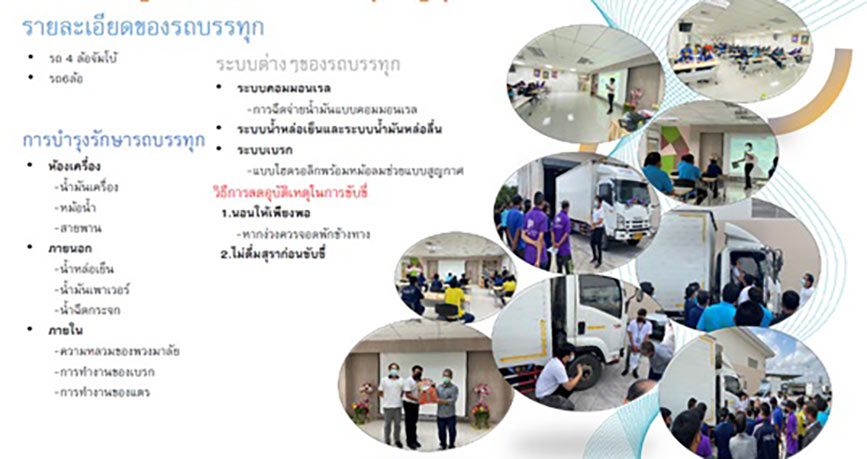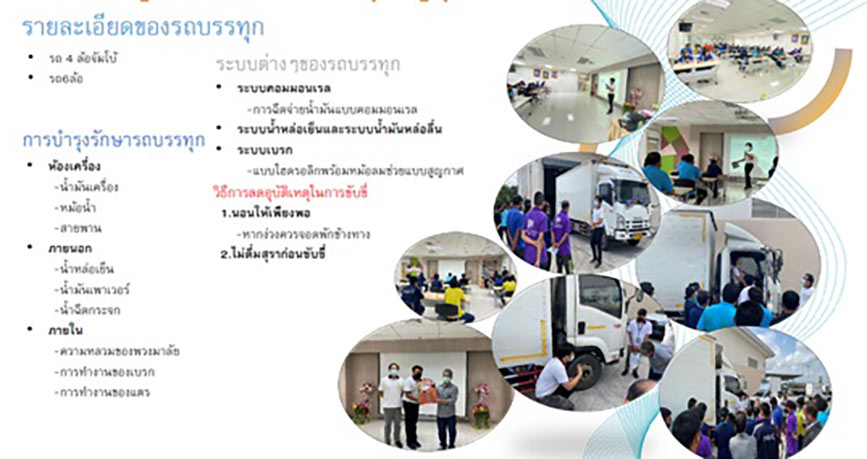 OHS criteria introduced in procurement and contractual requirements
The company focuses on procurement and hiring that may affect occupational health and safety. The Procurement Unit, that is involved with occupational health and safety, has established standards and guidelines for the procurement related to occupational health and safety for transport contractors, contractors, and external service providers. The tasks include preliminary qualifications of the safety-related contractor in a document that defines the scope and details of the mission the Company wants the contractor to perform, and other responsibilities related to the mission (Terms of Reference: TOR), as well as including the requirement of compliance with safety regulations and occupational health and work environment as one of the assessment/selection criteria for contractors, suppliers, and external service providers. This is to ensure that the procurement process is consistent with the law, risk aspects, the policies and measures to control risks related requirements, including occupational health and safety management system requirements.
Other Information
Performance Data of Occupational Safety, Health and Working Environment
GRI Standared
Required Data
Unit
2018
2019
2020
2021
Male
Female
Male
Female
Male
Female
Male
Female
Employee
403-9 (a) 2018
– The number of fatalities as a result of work-related injury
Persons
0
0
2
5
0
0
0
0
2
0
2
3
– High-consequence work-related injuries rate (excluding fatalities)
Cases/1,000,000 work hours
N/A
0
0.004
0
N/A
N/A
0
0
0
0.01
0
0
– Recordable work-related injuries rate
Cases/1,000,000 work hours
N/A
1.22
2.14
3.25
N/A
N/A
2.27
0.69
3.02
1.99
4.36
2.70
– The number of hours worked
Hours
192,955,020
222,630,585
251,718,321
212,606,693
67,743,167
125,211,853
74,829,447
147,801,138
83,430,837
168,287,484
69,947,807
142,658,887
403-10 (a) 2018
– The number of fatalities as a result of work-related ill health
Persons
0
0
0
0
0
0
0
0
0
0
0
0
– The number of cases of recordable work-related ill health
Cases
N/A
0
0
0
N/A
N/A
0
0
0
0
0
0
403-2 (a) 2016
– Absentee Rate (AR)
%
2.26
2.34
2.28
12.11
2.41
2.18
2.64
2.20
2.58
2.13
10.53
12.90
– Lost-Time Injuries Frequency Rate (LTIFR)
Cases/1,000,000 work hours
1.10
0.71
1.66
2.77
1.93
0.65
1.28
0.43
2.21
1.38
3.59
2.36
– Occupational Illness Frequency Rate (OIFR)
Cases/1,000,000 work hours
0
0
0
0
0
0
0
0
0
0
0
0
Contractor
403-9 (a) 2018
– The number of fatalities as a result of work-related injury
Persons
0
0
3
6
0
0
0
0
2
1
5
1
– High-consequence work-related injuries rate (excluding fatalities)
Cases/1,000,000 work hours
N/A
0
0
0.013
N/A
N/A
0
0
0
0
0
0.005
– Recordable work-related injuries rate
Cases/1,000,000 work hours
N/A
1.51
0.52
1.40
N/A
N/A
2.02
0.93
0.80
0.34
2.37
0.86
– The number of hours worked
Hours
60,757,234
63,698,344
232,938,058
210,483,280
37,375,636
23,381,598
33,717,995
29,980,349
88,997,868
143,940,190
75,208,116
135,275,163
403-10 (a) 2018
– The number of fatalities as a result of work-related ill health
Persons
0
0
0
0
0
0
0
0
0
0
0
0
– The number of cases of recordable work-related ill health
Cases
0
0
0
0
0
0
0
0
0
0
0
0
– Lost-Time Injuries Frequency Rate (LTIFR)
Cases/1,000,000 work hours
0
0
0
0
0
0
0
0
0
0
0
0
Remark
– N/A : Not Available
– CP ALL Plc. data is not include scope of sub-areas operation
– CPRAM Co., Ltd. data covers scope of Ready-to-eat food (Lat Lum Kaeo factory), Bakery (Lat Krabang factory). Since 2018, scope of Chonburi factory has been included
– CP ALL Plc. contractors data covers housekeeper, security guard, construction and renovation contractor. Since 2020, Store Business Partner (SBP) and transportation contractor of CP ALL distribution center data has been included
– Siam Makro PCL contractors data covers all types of contractor which are regular contractor, contractor that is entering the area, transportation supplier, security officer and housekeeper)
– CPRAM Co., Ltd. contractors data includes only housekeeper who works at office buildings, security guard, and contractor in the production line. Since 2020, construction and renovation contractor data has been included
– High-consequence work-related injuries rate (excluding fatalities) = Total number of work-related injury (cases) that results in an injury which the worker cannot expected to recover fully to pre-injury health status within 6 months over the reporting period X 1,000,000 hours worked / Number of hours worked (over the reporting period)
– Recordable work-related injuries rate = Total number of injuries (cases) at all levels including work-related injury from restricted work, beyond first-aid level, lost-day level to severity level over the reporting period X 1,000,000 hours worked / Number of hours worked (over the reporting period)
– Absentee Rate (AR) = Total number of actual absentee days lost from occupational injuries or diseases, but not leave with permission, over the reporting period x 100 / Total days worked (over one year)
– Lost-Time Injuries Frequency Rate (LTIFR) = Total number of lost time injuries (cases) over the reporting period x 1,000,000 hours worked / Total hours worked (over the reporting period)
– Occupational Illness Frequency Rate (OIFR) = Total number of occupational diseases (cases) over the reporting period x 1,000,000 hours worked / Total hours worked (over the reporting period)