Performance Against Goal
Performance Summary 2021
Promoting Equal Opportunity and Diversity
Gender Diversity
| | Number (person) | % of FTEs |
| --- | --- | --- |
| Male | 35,545 | 39.13 |
| Female | 67,712 | 74.53 |
Remark : FTEs is Full Time Equivalent
Age Diversity
| | Number (person) | % of FTEs |
| --- | --- | --- |
| Under 30 years old | 47,279 | 52.04 |
| 30-50 years old | 41,653 | 45.85 |
| Over 50 years old | 1,914 | 2.11 |
Remark : FTEs is Full Time Equivalent
Nationality Diversity
| | Total workforce (%) | All management positons (%) |
| --- | --- | --- |
| Thai | 97.04 | 41.56 |
| Cambodia | 0.71 | 13.96 |
| Myanmar | 2.16 | 42.59 |
| Korea | 0 | 0 |
| India | 0 | 0.10 |
| Australia | 0 | 0.04 |
| Other | 0.09 | 1.76 |
Religious Diversity
| | Number (person) | % of FTEs |
| --- | --- | --- |
| Buddhist | 85,598 | 94.22 |
| Christian | 565 | 0.62 |
| Muslim | 4,180 | 4.60 |
| Hindu | 8 | 0.01 |
| Other | 53 | 0.06 |
| Undisciosed | 442 | 0.49 |
Remark : FTEs is Full Time Equivalent
Capability Building of Female Employees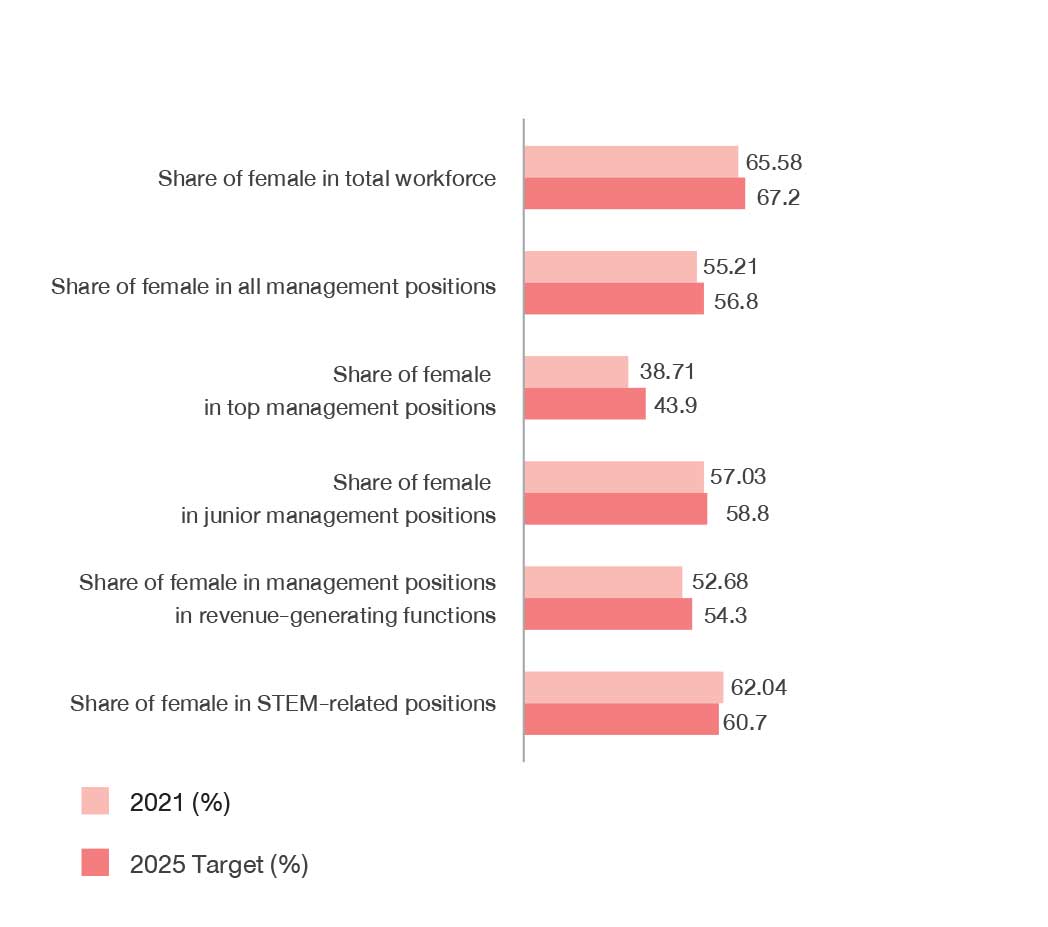 People with Disability
Freedom of Association
Management Approach
Corporate Culture
CP ALL believes that corporate culture is the "organization's life force" that makes the organization strong and enables it to grow sustainably. Therefore, the principles of working together on the basis of values or guidelines for working together are divided as follows.
The Company's desired employee competencies
1.Achievement (love work)
2.Customer Service Orientation (love customers)
3.Integrity (love honesty)
4.Organization Commitment (love organization)
5.Team Work and Cooperation (love team)

The Company's desired shared values
strength / courage / verbal honesty / unity / generosity / respecting others / enjoying beauty of life




Essential Leader Skills
Junior Management : sincerity / non-arrogance / verbal consciousness / non-power abusive
Middle Management : good role modeling / possessing fairness / merciful / decisive
Top Management : societal care / cultivating good people / open mindedness


"Our Way" To continue for sustainable growth in the next 30 years with "Our Way."
CP ALL is aware of external changes that are changing rapidly and drastically than the past. The company has therefore mobilized the brainstorming from more than 4,000 executives and representatives to find ways to create sustainable growth for at least 30 years. The results from brainstorming, it enables the company to receive important and necessary values ​​for sustainable growth called "Our Way" (5 development), consisting of "TRUST," "COACHING," "INNOVATION," "SMART," and "COMMUNITY AWARENESS."
Respect for Diversity and Inclusion
Respect for diversity and inclusion remains the Company's commitment, emphasizing equal treatment which does not discriminate based on nationality, skin color, religion, gender, sexual preferences, citizenship, age, disability, or other characteristics considered to be a human right. By managing diversity and accepting differences in an appropriate manner, with believes that it is able to attract and retain people who are capable and good, as well as bring out and make use of the best potential and capabilities from employees. In this regard, the Company has established the Diversity and Inclusion Policy and Guidelines with the aim to mutually benefit its business operations and employees as follows:
Labor Practices
The Company is committed to respecting the labor rights and fair practice of employees, in alignment with various laws and policies under the Thai Labor Protection Act and other international standards. This is achieved through establishing appropriate employment conditions, wages, working hours, holidays, and welfare, in addition to ensuring a good and safe working environment. Specifically, the Company provides the following welfare:
| Welfare | Legal Entitlements | Welfare Provided by the Company |
| --- | --- | --- |
| Maternity Leave | 98 days | 120 days |
| Holidays | No fewer than 13 days | 14-18 days |
| Annual Leave | No fewer than 6 days | 6-15 days |
| Personal Leave | 3 days | 3-7 days |
Personal Leave
An employee can take a leave to take care of one's own personal business or activities as needed and/or per differentiated interests to ensure work life balance, not exceeding 7 days per year. This would be a paid leave, without counting weekends and public holidays in-between. There must be an approval from the supervisor along with supporting documents provided, per the leave types stipulated, such as.
* Notably, the term, "Family member" refers to fathers, mothers, spouses, children, siblings, those under care
Maternity Leave
Pregnant employees have rights for maternity leave, as well as leave for prenatal care, no more than 120 days prior to due date. This includes holidays during leave. The Company provided paid leaves throughout the period, without exceeding 50 days.
Paternity Leave for newborn care
Male employees are entitled to take paternity leaves for newborn care for 5 days/calendar year, receiving the same compensation as that of their workdays.
Part-time working options
CP All, a retail conglomerate with more than 13,134 7-Eleven convenience stores nationwide, has a special demand for manpower to work in operations to serve customers. Also, during the epidemic situation when infection of the covid-19 virus is a risk, employees expressed their concern about their financial condition, that employees or their families are affected by or having a financial distress. Hence, the Store Support Program was established as an option for employees to work part-time and earn extra income. The program alleviates concerns about the employees' family's financial condition. It also has effects in maintaining the capability and quality of customer service of the Company.
Part-time work terms and conditions
Benefit
The Company also provides for various employee welfare to elevate employees' wellbeing during their work at the Company. This includes programs such as the special interest rate emergency loans, rental assistance allowance, hardship allowance for employees located in remote locations. There are also life security benefits such as provident funds, life insurance, and natural disaster support fund. The Company has also assessed the need to increase employee health welfare benefits, including the Health Centers, medical prescription benefits wherein employees can receive their physician-prescribed medication either at home or the office, and COVID-19 vaccine procurement for employees in high-risk locations, such as 7-Eleven employees.
Average Hiring Cost/FTE (Baht)
| Year | 2018 | 2019 | 2020 | 2021 |
| --- | --- | --- | --- | --- |
| Hiring Cost | 5,368 | 2,807 | 1,358 | 3,950 |
Positions Opened by Internal Employees (%)
| 2018 | 2019 | 2020 | 2021 |
| --- | --- | --- | --- |
| 60.60 | 91.23 | 80.80 | 64.80 |
Freedom of Association
The Company provides for the free expression of opinion and concerns through various channels, including emails, information centers, corporate online media, whistleblower channels, and the Voice of Employee system, among others. Welfare committees in workplace affairs, set up in compliance with the Labor Protection Act of 1998, are also another communication channel. Currently, there are 103,257 persons representatives in the welfare committees, equivalent to 100% of all employees. Committee members have held quarterly meetings. In 2021, the Welfare Committee has approved the benefits (additional benefits) for employees as follows:
Equal Opportunity and Diversity Promotion
The Company respects employee diversity and is committed to treating all employees equally on the basis of their basic human rights, without discrimination based on race, religion, gender, skin color, language, age, or disability status. Diversity management is achieved through employment, capability development, and providing career path planning for all employees. This is done to attract and retain quality and valuable personnel. The Company also promotes equality between male and female employees by providing equal career advancement opportunities up to senior management levels. The Company also engages with the opinions of gender-diverse employees to help the organization sustainably grow. The Company also provides career opportunities to persons with disability and offers them the chance to work in their residence location-distributing income to the community. The Company also improved facilities of its offices, including providing inclined paths, widened doorways, dedicated access points for people with disabilities, prayer room, and breastfeeding room, among others.
Living Wage
The Company strives to work on living wages by regularly reviewing employee salaries and benefits in each location, ensuring competitiveness, fairness, equality, and legal compliance. This is to ensure that employees receive salaries appropriate for decent living. The Company has always paid wages higher than legal minimum wage, in addition to providing other additional allowances, such as overtime payments, transportation allowances, special allowances, housing rental support, food subsidies, and performance incentive payments. To ensure that the Company fairly pays wages and other benefits, the Company analyses wages, annually, by participating in a wages and benefits survey program led by the Korn Ferry Hay Group, a leading global consultancy. The Company has also arranged to assess the impact of changing costs of living and other
employment considerations in business operations. In 2021, the Company has accessed the living wage of 100% of its employee base, putting in place plans to increase this analysis to suppliers and contractors in the future.
Other Information
Performance Data of Human Resources
GRI Standared
Required Data
2018
2019
2020
2021
Person
%
Person
%
Person
%
Person
%

102-8

Total Employees

By Gender
– Male
33,110
35.72
48,159
39.19
66,910
34.94
67,823
35.69
– Female
59,582
64.28
74,735
60.81
124,570
65.06
122.158
64.31
By Employment Contract
Permanent Employees
– Male
28,330
33.88
30,670
32.87
34,585
33.83
35,545
34.42
– Female
55,279
66.12
62,641
67.13
67,642
66.17
67,712
65.58
Contractors
– Male
4,780
52.63
17,489
59.12
32,325
36.22
32,278
37.21
– Female
4,303
47.37
12,094
40.88
56,928
63.78
54,473
62.79

405-1

Employee Diversity

By Level
Top Management
– Male
55
69.62
41
66.13
32
57.14
38
38.71
– Female
24
30.38
21
33.87
24
42.86
24
61.29
Management
– Male
1,151
43.91
937
43.48
1,259
44.18
2,342
55.21
– Female
1,470
56.08
1,218
56.52
1,591
55.82
2,887
44.79
Junior Management
– Male
856
42.82
610
41.27
797
42.24
1,549
57.03
– Female
1,143
57.18
868
58.73
1,090
57.76
2,056
42.97
Officer
– Male
27,124
33.52
29,692
32.59
33,294
33.52
33,165
33.85
– Female
53,785
66.48
61,402
67.41
66,027
66.48
64,801
66.15
By Age
Under 30 years old
– Male
15,170
32.80
16,875
32.10
18,218
32.81
18,373
33.68
– Female
31,082
67.20
35,700
67.90
37,306
67.19
36,181
66.32
30-50 years old
– Male
12,699
35.05
13,224
33.79
15,717
34.99
16,434
35.21
– Female
23,535
64.95
25,907
66.21
29,203
65.01
30,236
64.79
Over 50 years old
– Male
461
41.05
571
35.58
650
36.46
738
36.30
– Female
662
58.95
1,034
64.42
1,133
63.54
1,295
63.70
By Religion
– Buddhist
77,174
92.30
87,989
94.30
96,180
94.08
97,203
94.14
– Christian
475
0.57
532
0.57
599
0.59
634
0.61
– Islamic
4,123
4.93
4,725
5.06
4,882
4.78
4,853
4.70

405-2

Ratio of average salary and remuneration of female to male

By Level
– Executive (base salary only)
N/A
N/A
N/A
0.96
– Executive (base salary + other cash incentives)
N/A
N/A
N/A
1.10
– Management (base salary only)
N/A
N/A
N/A
0.99
– Management (base salary + other cash incentives)
N/A
N/A
N/A
0.99
– Non-management (base salary + other cash incentives)
N/A
N/A
N/A
0.97

401-1

New Employee Hires

By Gender
– Male
16,637
36.98
16,827
35.25
13,767
34.12
16,367
36.86
– Female
28,356
63.02
30,911
64.75
26,586
65.88
28,041
63.14
New hire rate
53.81
51.16
39.47
43.01
By Age
– Under 30 years old
37,013
82.26
38,852
81.39
33,119
82.07
36,898
83.09
– 30-50 years old
7,945
17.66
8,772
18.37
7,134
17.68
7,453
16.78
– Over 50 years old
35
0.08
114
0.24
100
0.25
57
0.13

401-1

Turnover

By Gender
– Male
13,470
38.31
14,902
38.29
12,022
34.24
14,426
34.63
– Female
21,690
61.69
24,019
61.71
23,086
65.76
27,237
65.37
Turnover rate
42.05
41.71
34.34
40.35
By Age
– Under 30 years old
27,324
77.71
30,012
77.11
26,996
76.89
32,580
78.20
– 30-50 years old
7,691
21.88
8,753
22.49
7,871
22.42
8,881
21.32
– Over 50 years old
145
0.41
156
0.40
241
0.69
202
0.48
Voluntory employee turnover rate
13,470
38.50
35,536
38.08
33,637
32.90
40,129
38.86

401-3

Parental Leave

– Number of employees taking parental leave
N/A
N/A
2,959
3.17
3,592
3.51
3,178
3.08
– Number of employees returned to work after parental leave
N/A
N/A
2,615
88.37
3,225
89.78
3,053
96.07
– Number of employees returned to work after parental leave and were still employed up to 12 months
N/A
N/A
N/A
N/A
N/A
N/A
2,506
78.85

102-41

Collective Bargaining Agreements

– Employee Representative under welfare committee
56,722
99.29
64,115
100
102,227
100
103,257
100