Challenges
---
As over 100,000 employees have been working together for driving the organization to reach a goal with happiness and enjoy their working life, the company has to created cultures and values of team work to utilizing the core of employee management and enables the company achieved the goal.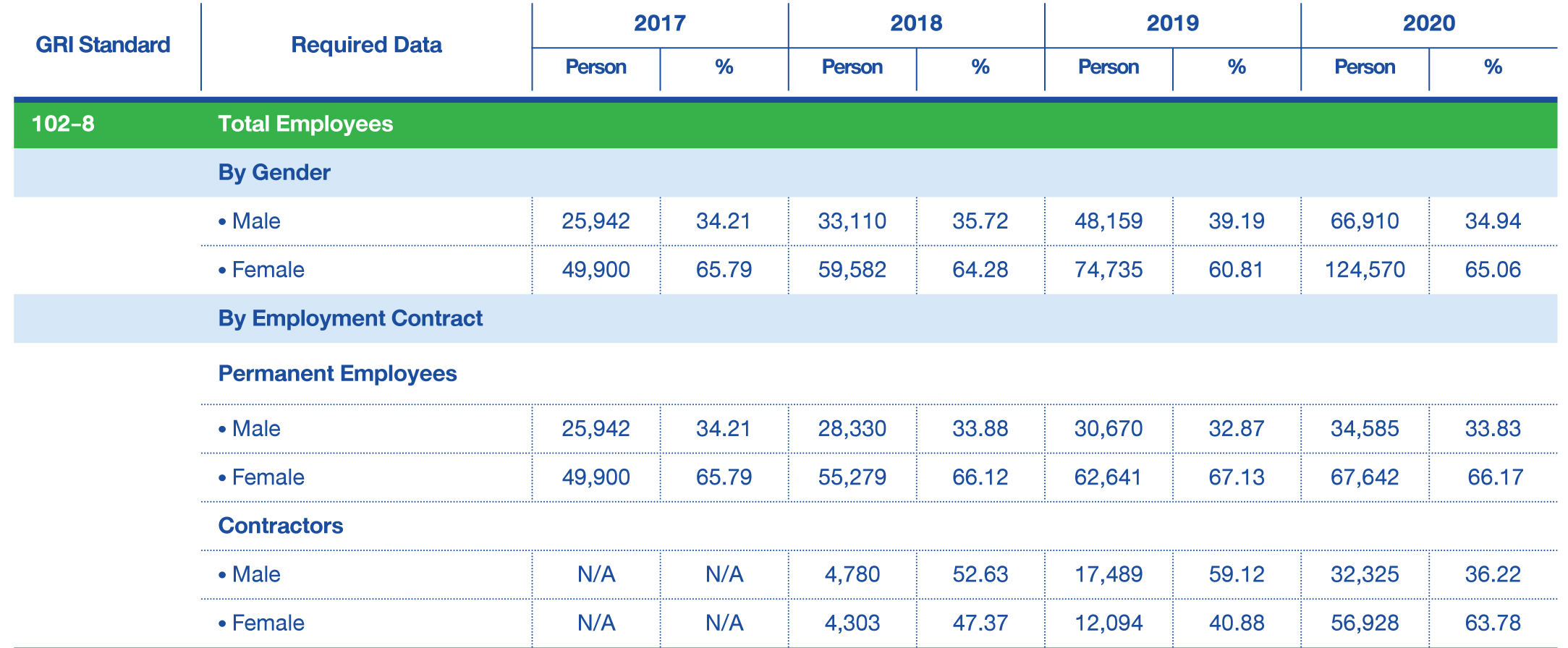 Management Approach
---
Corporate Culture
CP ALL believes that corporate culture is the "organization's life force" that makes the organization strong and enables it to grow sustainably. Therefore, the principles of working together on the basis of values or guidelines for working together are divided as follows.
5 Principles The Company's desired employee competencies : Have determination to achieve goals (Achievement), Provide the best service to customers (Customer), Behave honestly, faithfully and transparently (Integrity), Have loyalty to the organization (Organization) and Work together productively (Teamwork)
7 Values The Company's desired share value : Strength, Courage, Trustworthiness, Unity, Generosity, Respect, Appreciation
11 Leadership Essential Leader Skills : Be sincere, Not be hierarchical, Speak courteously, Not be obsessed with power, Be a good role model, Be fair, Be kind, Dare to make decisions, Care for society, Nurture good people, Be open-minded
"Our Way" To continue for sustainable growth in the next 30 years with "Our Way."
CP ALL is aware of external changes that are changing rapidly and drastically than the past. The company has therefore mobilized the brainstorming from more than 4,000 executives and representatives to find ways to create sustainable growth for at least 30 years. The results from brainstorming, it enables the company to receive important and necessary values ​​for sustainable growth called "Our Way" (5 development), consisting of "TRUST," "COACHING," "INNOVATION," "SMART," and "COMMUNITY AWARENESS."
Respect for Diversity and Inclusion
Respect for diversity and inclusion remains the Company's commitment, emphasizing equal treatment which does not discriminate based on nationality, skin color, religion, gender, sexual preferences, citizenship, age, disability, or other characteristics considered to be a human right. By managing diversity and accepting differences in an appropriate manner, with believes that it is able to attract and retain people who are capable and good, as well as bring out and make use of the best potential and capabilities from employees. In this regard, the Company has established the Diversity and Inclusion Policy and Guidelines with the aim to mutually benefit its business operations and employees as follows:
● Leaders at every level must be prepared to listen to differing opinions from others
● Encourage and drive employees to be courageous in openly expressing their ideas and opinions that are creative and within the established internal legal framework of the country in which the Company is operating its business
● Promote respectful working environment and valuing difference with no discrimination based on personal preferences, personality, race, religion, color, gender, generation or marital status
● No discrimination or bias in the recruitment process, through providing equitable access to opportunities for career progression according to performance, competency and growth of the organization
● Recognize employees appropriately for their contributions to innovations and work improvement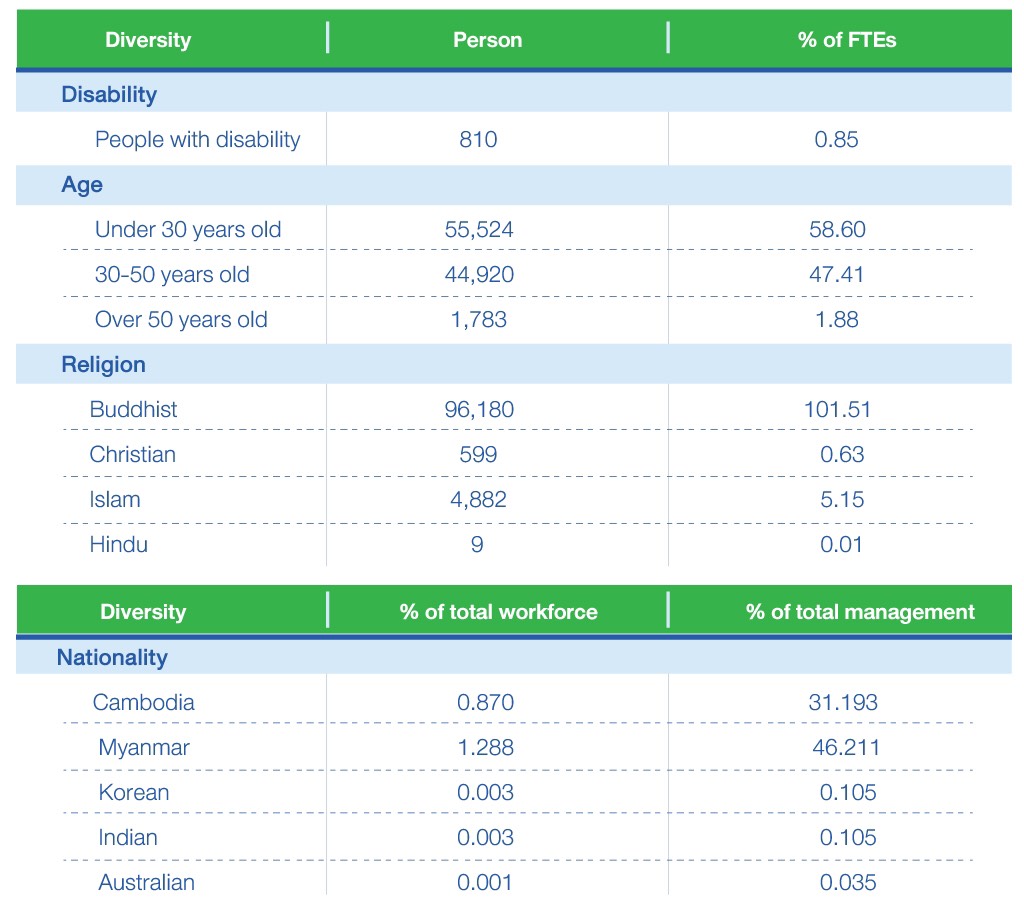 The Company also respects and supports the equality among its women and male employees by creating equal career improvement opportunities, fostering respect, and not discriminating. This has also included hearing diverse viewpoints from various genders to move the business forward.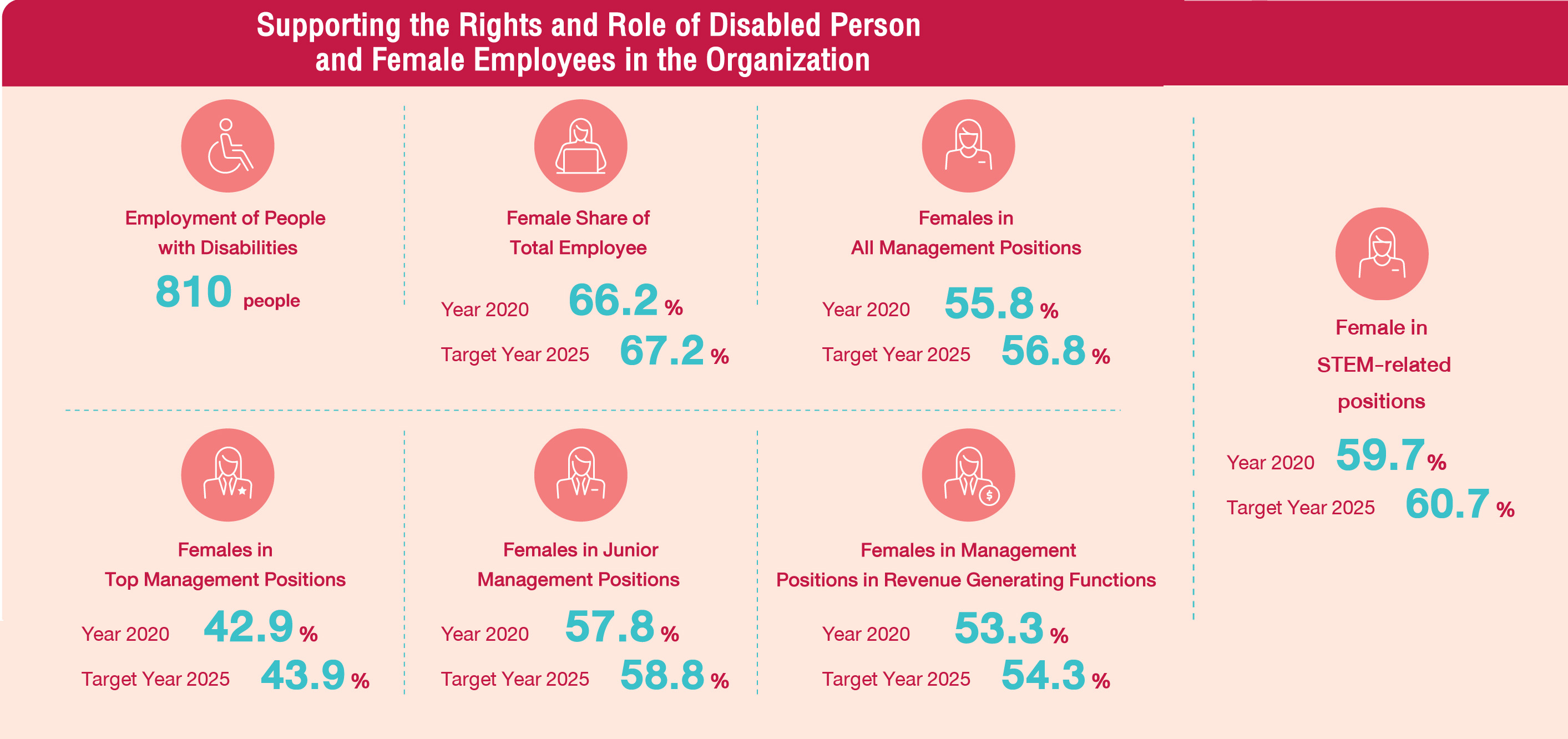 Labor Practices
The Company has strived operating businesses under respecting the labor rights of its employees, including adhering to local and international labor standards in managing the organization's excellent human resource. The Company has also driven to ensure just and appropriate recruitment, wages, working hours and breaks, including creating a good working environment and social welfare. The Company has arranged various welfare and benefits that are just and appropriate for employees, including those of its regular and daily-wage workers, as shown in the table below.

Compensation, Welfare and Benefits
The Company has managed its compensation, welfare and benefits entitlements based on its employment policy which awards fair welfare and other benefits entitlements that cover all full–time employees and daily–wage workers. Financial benefits include emergency loan programs administered by financial institutions with special interest rates, financial assistance for rent payments, among others. Life Security Benefits include provision of provident funds, disability financial support, maternity leave, and Employee Joint Investment Program (EJIP), among others.
Living wage
People are the key for driving a successful business. Therefore, we care and give priority to our employees. As a result, our employees will receive proper care, welfare, a good working atmosphere, coaching, rewards and a safe workplace and must also ensure that all employees are paid fair wages. Therefore, one of our key employee-related commitments is that CP ALL is committed to periodically reviewing that minimum salaries and welfare are not just legal compliance. In order for employees to receive wages that are suitable for living in each area.
CP ALL's employees receive appropriate care, welfare, a good work environment, teaching, awards and a safe workplace. Moreover, it also ensures that all employees receive a fair wage. The company has committed to tracking equal living wages on a regular basis in each of our business areas.
To ensure that our wages and benefits are equitable, the company conduct an annual wage analysis by participating in the Wage and Benefits Survey Project with a leading global consulting firm, Korn Ferry Hay Group. Furthermore, the operation and human resource function are collaborated in a close synergy to assess the impacts of changes in the living expenses and employment factors in each business area. CP ALL pays wages to employee higher than the legal minimum wage, as well as a variety of subsidies and income compensation. Aside from the minimum wage, the company provide additional costs to employee such as the shift work fee, travelling expense, special allowance, housing rent, food expense, welfare and diligence allowance, etc., for the suitability of economic conditions of employees in each business area.
Freedom of Association 
The Company respects the rights of every employees, at all levels, and gives full freedom of expression for voicing concerns and feedback through numerous feedback channels. The channels include Welfare Committee, established per Labor Protection Act 1998. Presently, there are 102,227 employees representative of Welfare Committee, equivalent to 100% of total employees. Meetings are convened quarterly. In 2020, there were suggestions as follows.
1. To increase the distribution rounds of production–line uniforms (masks and hairnet) to twice a year and increased the number to 2 sets to ensure it is sufficient for employees' usage.
2. To offer incentive payments for daily workers stationed for cooking products and preparing rice, in order to incentivize employees
3. To support Happiness–Sharing cupboard (Punsuk cupboard), by providing the Company's products for employees to snack during the day. This helps cut cost for employees, boost morale and company engagement.
4. For employers to consider giving out hygienic face masks to all employees, considering at present, hygienic face masks are priced relatively high I the market. This can help employees cut down costs.
5. To offer flu vaccination for employees for prevention or minimization against flus.
Following aforementioned suggestions, Welfare Committee has reviewed welfare and privileges per employees' needs and expectations, in order to raise quality of life. They serve as employee representatives presenting to the Corporate Human Capital Committee for their approval.
In 2020, suggestions approved for implementation are as follows.
1.Announcement no. 45/2563 for approval of facial masks and hairnet distribution, which became effective on 1st May 2020.
2.Announcement no. 12/2563 for approval of granting incentive payment to daily workers in charge of cooking products and preparing rice.
3. Approval for CPRAM Punsuk cupboard project for employees since August 2020.
4. Approval for allocation of fabric hygienic face masks to all employees in April 2021 5. Approval for providing vaccinations to employees on health check-up days at a special employee price
Other Information
---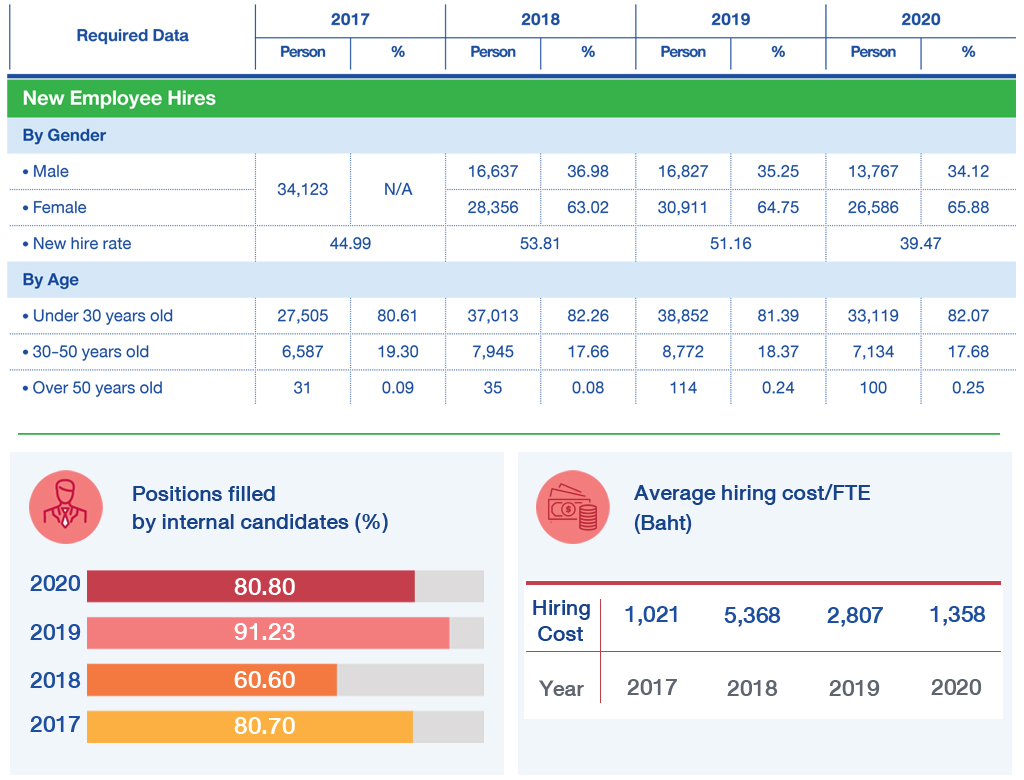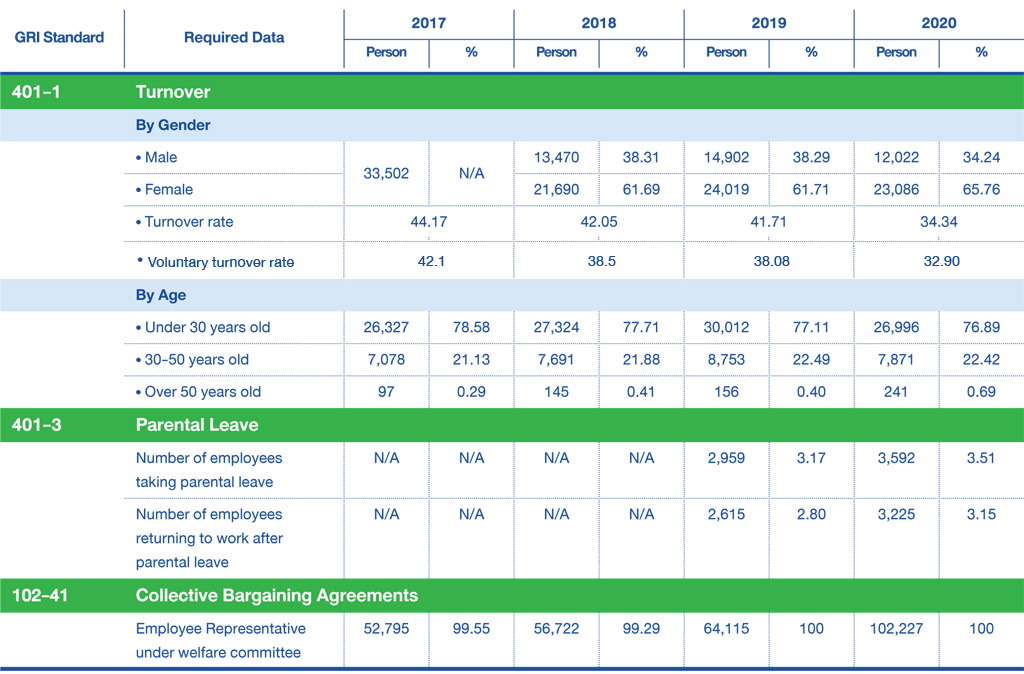 Related Policy and Guideline