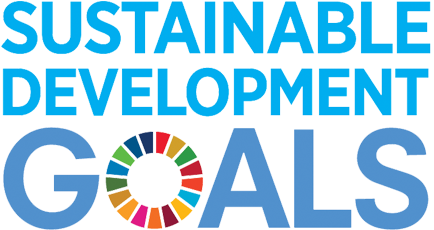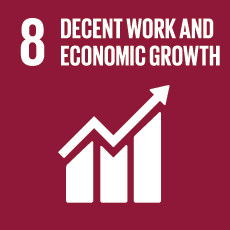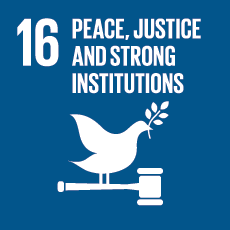 Risks and Opportunities
Positive bonds and stakeholder opinions towards the organization is vital in achieving the Company's business goals, development, and sustainable growth. Effective stakeholder management will enable the Company to satisfy stakeholder expectations, provide stakeholder opportunities for participation and ideas presented on key issues of interest in a transparent and appropriate manner. The integration of the mentioned approach into the decision-making and operational planning process in conjunction with corporate image risks reduction would translate to less business interruption and benefits toward all stakeholder groups in balanced comportment.
Performance Against Goal
2030 Goal
80%
All key stakeholder group engagement level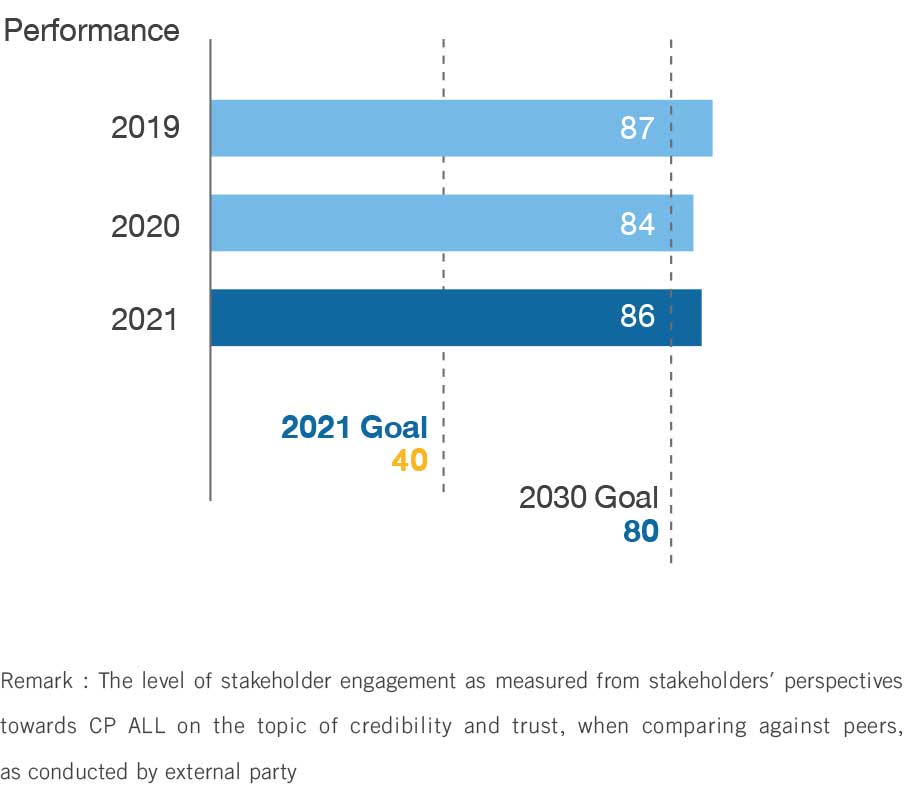 แนวทางการดำเนินงาน
CP ALL Public Company Limited and its subsidiaries ("Company") applied AA1000 SES standard principles as a framework and process to establish stakeholder engagement. In 2021, the Corporate Sustainability Development Subcommittee conducted a review that divided the stakeholder groups into 9 main groups as follows: 1) Employees and their families Business Partner consist of Landlord, Store Partner and Sub Area Employees and their families 2) Business Partner consist of Landlord, Store Partner and Sub Area 3) Shareholders and investors 4) Suppliers, intermediaries for goods and services delivery and trade creditors 5) Government sector 6) Customers 7) Society and community inclusive of vulnerable groups 8) Opinion leaders inclusive of media and non-governmental organizations (NGOs) and 9) Trademark licensors. Through a means to acknowledge stakeholders' viewpoints, opinions and suggestions on company operations, various communication means including meetings, discussions, interviews, feedback and grievances receiving channels, consultations, communications through various reports, organizing activities or collaborative projects inclusive of satisfaction surveys comprising of the three dimensions of sustainability, namely economic, social and environmental dimensions, have been established. Regardless of normal circumstances or critical situations, including the spread of COVID-19, which enables the Company to plan stakeholder expectation responses and value delivery efficiently, the Company prepares appropriate guidelines relating to the sustainability report.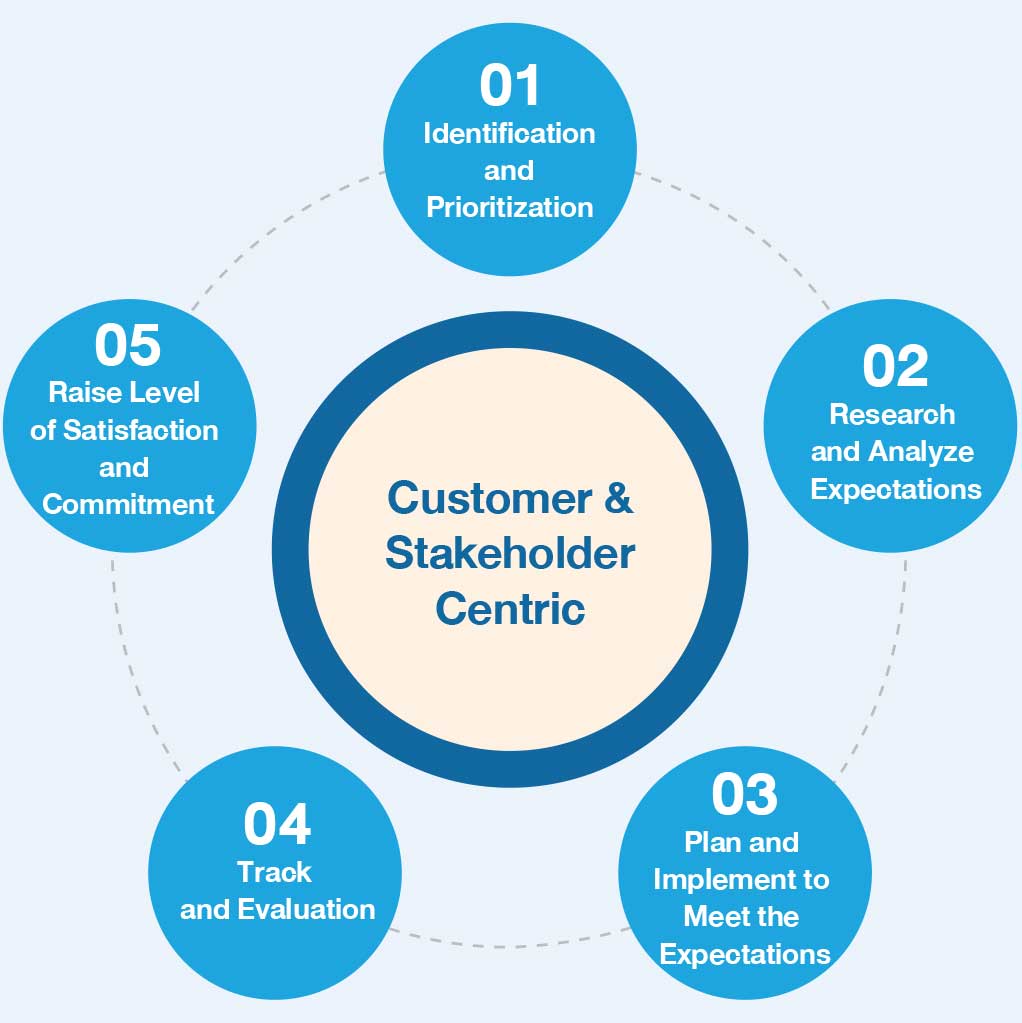 Operations for Stakeholder Engagement and Expectation Fulfilment
The Company defines different communication and participation formats for each stakeholder group as follows:
Stakeholder Participation Process
Stakeholder Expectation Examples
Company Responsive Guideline Examples

Receiving opinions through various channels such as
– 7-Eleven customer relations (Call Center) Tel. 0 2826 7744, 0 2711 7744
– Website and online community
– 7-Eleven store
Poll and customer interview

SAVEQC
– Service through service minded staff and enthusiasm to assist
– Assortment of products
– Value through promotional media publicizing offering benefits and value
– Environment through shop conditions
– Quality through quality and freshness
– Cleanliness

Customer Satisfaction Project with SAVEQC
Signature service and greeting service project
Develop products and services that satisfy quality and safety standards
Improve product payment channels
Facilitate a good in-store atmosphere

Customer personal data protection

Establish policies and practices for personal data protection

Promote career and income improvement for SME farmers and small-scale entrepreneurs, including improving quality of life and reducing inequality for communities and society

Support agricultural products, local community agricultural products, community products, community enterprise products or local products (OTOP)

Protect the environment and reduce global warming

Reduction and replacement projects
Waste sorting bin project

Develop and promote products and services with
the aim to provide consumers and society with better
health, nutrition, and well-being

Eat Well, Live Well, Be Happy project
Community health center project
VG for Love Project
Health product development project

Conduct business through transparency and good corporate governance principles

Communicate and provide information regarding nutrition, product usage including nutrition, energy,
fat, sugar and sodium labels (GDA)

Respect for human rights and fair worker treatment,
customer safety and health assurance from Company product and in-store service usage

Develop products and services that satisfy both local and international quality and safety standards
Shop standard inspection and recall the product
in case the product is found to be non-standard

Guidelines for Operations During the COVID-19 Pandemic Situation

Access to daily life consumer products and essentials

Filling and Worthy Project provides customers access to food at reasonable prices during a crisis

Safety and hygiene throughout the good and service purchase process

Establish preventive measures and strengthen customer confidence through communication
Providing services through online-offline O2O platforms including ALL Online, 7Delivery (home delivery) and vending machines
Increase payment convenience from cash to cashless options
Stakeholder Participation Process
Stakeholder Expectation Examples
Company Responsive Guideline Examples

Suppliers, intermediaries for goods and services delivery

Conducting supplier satisfaction survey annually
Organizing meetings, seminars and declaring organizational policy direction
Visiting partners ready to listen to opinions or complaints
Joint innovation project
Performance appraisal consulting and potential development
Organizing seminars to disseminate knowledge with all partner groups regarding sustainable development
Supplier Relations Call Center 0 2826 7771

Business operations that satisfy expectations and enable stakeholder engagement

Joint business plan implementation with key suppliers annually to determine guidelines for continuous and sustainable business growth
Listening to opinions from all partner groups to develop and improve collaborative process

Conduct business through transparency and good corporate governance principles including Anti-Corruption measures

Determine and announce corporate governance policy
Communication regarding good governance practices, guidelines and business ethics to all supplier groups
Projects to promote, educate and support SMEs and contractor groups in joining the declaration of intention in the fight against corruption alongside the Institute of the Coalition Against Corruption of the Thai private sector

Promote career and income improvement for SME farmers and small-scale entrepreneurs, including improving quality of life and reducing inequality for communities and society

Community product selection and co-developing project for retail in 7-Eleven stores
True SME friends project provides sales channels, knowledge, and supports management and investment
The project "Promote entrepreneurs in community enterprises and small enterprises" in CP ALL Market
Farmer's produce purchase project

Develop and promote products and services with the aim to provide consumers and society with better health, nutrition, and well-being

Eat Well, Live Well, Be Happy Project
Community health center project
VG for Love Project
Health product development project with suppliers (Private Brand)

Responsible supply chain management

Establish a sustainable sourcing policy and guidelines for business partners and appoint a product selection committee; encourage suppliers to become aware of social and environmental responsibility
Develop supplier audit requirements based on sustainable sourcing policies, including ethics and supplier guidelines
Support and raise supplier standards in environmental protection, prevent various pollution and reduce potential impact towards surrounding communities

Climate change management, environmental protection, and reduce global warming

Environmentally friendly packaging development project
Energy efficiency upgrade project
Renewable energy proportion increase project
Electric delivery vehicle proportion increase within the transportation system project

Trade creditors

In processing creditor payments, both through recurring or credit semester payments, should satisfy stipulated conditions and adhere to principles of accuracy, transparency, and punctuality. In an event where the aforementioned conditions are not satisfied, the respective agency will be notified and followed by direct communication with creditors

Guidelines for Operations During the COVID-19 Pandemic Situation

Flexibility in goods delivery

Joint planning with suppliers in inventory management and significantly increase product safety measures
Regular follow-up of news regarding the COVID-19 pandemic situation
Determine rules and procedures for goods delivery according to guidelines to prevent the spread of COVID-19
Facilitate appropriate delivery of goods and services from suppliers according to the situation

Measures for assistance during the COVID-19 pandemic situation

Reduce credit semester
Support supplier potential
Bridge for suppliers in accessing funding sources
Stakeholder Participation Process
Stakeholder Expectation Examples
Company Responsive Guideline Examples

Receive opinions through various channels such as
– 7-Eleven customer relations (Call Center) Tel. 0 2826 7744, 0 2711 7744
– Website and online community
– 7-Eleven store
– Opinion box in front of subdistrict administrative organization and distribution center
Conduct annual stakeholder credibility and trust survey
Quarterly visits to distribution centers communities
Conduct community relations activities within the respective community surrounding the factory and 7-Eleven stores during festivals or annual community events
Placards and public relations media

Promote career and income improvement for SME farmers and small-scale entrepreneurs, including improving quality of life and reducing inequality for communities and society

Provide knowledge through training and see work on the cultivation process including good agricultural practices
Increase distribution channels for products from small producers in communities through various projects including the Golden Banana Project, alongside Thai Farmers Project and Farmers for Life Project
"Thais Together" Project

Conduct business through transparency and good corporate governance principles including Anti-Corruption measures

Determine and announce corporate governance policy
Communication regarding good governance practices, guidelines and business ethics to all supplier groups
Project to promote, educate, and support SMEs and contractor groups to announce intention to apply for CAC membership

Climate change management, environmental protection, and reduce global warming

Waste management projects including seedling without bins project, food waste management project, recycling for sharing magic box project, and plastic water bottle into PPE sets project
We Grow for ALL project

Develop and promote products and services with the aim to provide consumers and society with better health, nutrition and well-being

Eat Well, Live Well, Be Happy Project
Community health center project
VG for Love Project
Health product development project with suppliers (Private Brand)

Respect for human rights and fair worker treatment, customer safety and health assurance from Company product and in-store service usage

Develop products and services that satisfy both local and international quality and safety standards
Shop standard inspection and recall the product in case the product is found to be non-standard
Employment of local workforce and local contractors

Supporting access to education for the underprivileged, providing knowledge and developing professional skills

Return good people to society scholarship program
Connect Future of Education Project

Guidelines for Operations During the COVID-19 Pandemic Situation

Products necessary for consumption maintain normal prices
Knowledge in conducting operations during the spread of COVID-19
Supporting equipment to prevent the spread of COVID-19, including masks, alcohol, etc
Community employment during crisis situations

"Thais Together" Project has donated medical equipment inclusive of PPE suits and surgical masks, in addition to food and water to people isolating, COVID-19 patients, hospital stuff, government agencies, society and community
Pan Im Kitchen Project
Community employment
Stakeholder Participation Process
Stakeholder Expectation Examples
Company Responsive Guideline Examples

Two-way Communication including
– Seminars for employees at different levels such as Team Power, Get Together, etc
– Visiting stores, offices and distribution centers
One-Way Communication, intranet system, internal journals, daily news reporting via digital channels such as CP ALL Connect
Receiving opinions and receiving complaints through various channels such as
– Bell ringing channels 570 times
– Channels for receiving complaints such as electronic mail, post offices, information centers, Company online media, etc

Capacity development and job advancement

Adopting human rights as a guideline for employees in promoting equal opportunity and diversity
Leadership preparation and development
Training appropriate skills and interests
Continuous development of capability and retention of talent and good employees, such as the Career Advancement System Improvement Project, productivity program (Productivity Improvement Program) CP ALL Young Challenger project for new generation employees, and development of high potential employees (Talent Management)
Improvement of performance management system (ALL Perform)

Health promotion and work-related stress management

Health for ALL project
Ergonomic risk reduction and stress management programs such as stretching and disease reduction project, Health Center welfare room project (physiotherapy), and volunteer coaching project

Having a good working environment

Security risk assessment and determine risk management measures
Encouraging establishments to operate in accordance with labor standards in addition to ushering forward good labor practices

ดConduct business through transparency and good corporate governance principles including Anti-Corruption measures

Project to create new leaders in good governance, Mister & Miss Good Governance
2021 Corporate Governance Survey of Thai Listed Companies Project
Project to communicate knowledge and create awareness campaign activities

Annual satisfaction and engagement survey
Store manager level employee happiness survey
Participation through innovation presentation platforms, contests, risk identification and assessment
The operation of the Company's Welfare Committee oversees 100% of employees

Environmental protection and reduce global warming

Employee shirt from plastic bottles project
Energy efficiency improvement projects in 7-Eleven stores, distribution centers and factories
"WE GROW for ALL; We grow for everyone" project
Food Waste Management on Koh Samui and Koh Phangan
Environmentally friendly packaging project within the island area

Promote career and income improvement for SME farmers and small-scale entrepreneurs, including improving quality of life and reducing inequality for communities and society

The project "Promote entrepreneurs in community enterprises and small enterprises" in CP ALL Market
True Friends Project for SMEs, providing sales channels, providing knowledge and support
"SME Shelf & Logo" purchase stimulation project
Farmers for Life Project
Alongside Thai Farmers Project

Innovations are developed for customers, society, and organizational improvements granting flexibility to keep up with the global developments

Develop Online to Offline (O2O) business platform
Food Innovation Research and Development Center
Develop service innovation
Close Innovation project
Productivity program
VG for Love project

Guidelines for Operations During the COVID-19 Pandemic Situation

Employee health and safety

Flexible working format
Establish working group for employee care throughout the COVID-19 situation, communicate and provide knowledge regarding COVID-19 precautions Establish hotline: Tel. 0 2826 7919
Determine preventive measures, screening for high-risk groups, patient care, provide supporting equipment to prevent the spread of COVID-19, inclusive of masks, ethanol, etc., as well as promoting access to vaccines
Employee impact mitigation program to assist with living expenses
Volunteer advisor project to provide advice and emotional support
Driving and road safety promotion for 7-Eleven employees project
ฃ
Stakeholder Participation Process
Stakeholder Expectation Examples
Company Responsive Guideline Examples

Receive and exchange viewpoints through discussion and collaboration forums inclusive of participating in various activities
Support the organization's activities or projects on issues pertaining to the sharing and creating opportunities framework and company sustainability goals
Foster good relationships through meetings, discussions, and continuous news and information exchanges
Support and participate in media activities inclusive of CSR activities anniversary and training courses regarding media professions
Annual media promotion program
– Best Digital News of the Year Award
– Thailand Good People Award for Social Media Creation
– "Anti-Corruption Awards 2021" Promote Anti-Corruption in 2021
Interviews and media information provisions
Co Project with Media / Influencer project inclusive of media for community and society support during the floods in various areas
Media team participation in public activities project
Awareness through social media
In-depth interview and group discussion, media team visits to SME and farmer business operation site
Knowledge sharing through social media trends seminars

Promote economic opportunities in grassroots agricultural group

Support the development of farmers' potential for production and distribution of products in demand in conjunction with civil society organizations such as the Agricultural Potential Development Project
Support distribution of produce to local markets in conjunction with civil society organizations

Creating and developing initiates present within society with further application to enable mutual benefits throughout the supply chai
Communicate and become a component of daily life for the new generation in addition to comprehensively accessing the new generation

Develop knowledge providing projects to develop products within communities with the aim of raising community and farmer group well-being

Environmental protection and restoration and promote sustainable environmental solutions

Support waste management projects with civil society organizations and social and community business organizations including the Food Waste Management project, etc
Energy efficiency improvement projects at 7-Eleven stores, distribution centers and factories

Respect for human rights and fair worker treatment

Encouraging establishments to operate in accordance with labor standards in addition to ushering forward good labor practices
Adopting human rights as a guideline for employees in promoting equal opportunity and diversity

Green packaging
Management of plastic packaging to allow recyclability and reuse for maximum efficiency

Declaration of packaging policy encompassing consideration for design processing, packaging options, and various processes throughout the product life cycle (Product Life Cycle) under the 7 Go Green strategy in accordance with the "Green Packaging Management" guidelines. This program aims to develop sustainable packaging through the concept of "reduce and replace" for packaging materials
"Smart Trash" (Circular Bin) Project under the 7 Go Green Policy launch with Influencers to launch the project

Conduct business through transparency and good corporate governance principles including Anti-Corruption measures

Determine corporate governance policy and strict policy adherence
Granting shareholders equity in addition to maintaining shareholder and investor interests

Facilitating understanding and reducing conflicts with community areas through social media for proper disclosure of information

Communicating accurate information through all organization and employee media channels, including social media, mass media, online media and online channels

Selection and development of health products

Innovations to facilitate payment

Development of online commerce linking a variety of transport systems, various payment methods and easier access to consumer products

Improvement and recovery of positive organizational image

Communication through all media channels, including social media and online media in addition to establishing good relationships with all stakeholder groups

Improve organizational operation system to satisfy contemporary global needs

Organizational culture transformation
Using digital technology to improve work processes including O2O, IT Platform, and Artificial Intelligence (AI)

Perpetual improvement of services

Guidelines for Operations During the COVID-19 Pandemic Situation

Knowledge in conducting operations during the spread of COVID-19
Support/ assist affected communities and groups
Support equipment to prevent the spread of COVID-19 project

Knowledge in conducting operations during the spread of COVID-19
Disseminate information regarding the support equipment to prevent the spread of COVID-19 project
Joint collaboration project with civil society organizations, Health Volunteer Network (MOS), and Labor Volunteer Network, to provide consumer goods in occupational groups and communities directly affected, inclusive of taxi drivers, motorbikes drivers, vendors and hawkers
Support civil society organizations in project to provide basic consumables and medical equipment for children and parents with brain and mobility related disabilities

Cooperation in communicating and disclosing related COVID-19 cases
Knowledge of precautionary measures during the COVID-19 pandemic situation on social media channels
Safety standards in 7-Eleven stores

Disseminate guidelines for preventing the spread of COVID-19 through all media channels, including social media, mass media and online media
Cooperation in communicating and disclosing related COVID-19 cases
Communication regarding standardized services, emphasize customer and employee safety
Stakeholder Participation Process
Stakeholder Expectation Examples
Company Responsive Guideline Examples

Supporting efforts and provided cooperation in 71 projects with the Department of Internal Trade Food and Drug Administration (FDA), Bureau of Health, Office of the Environment and 50 district offices in the Bangkok area
Providing suggestions and establishing good relationships with government agencies openly 72 times
Contacting and coordinating government services and receiving business visits
Participating in the development and utilization of plastic waste in conjunction with the National Environment Board through the "Circular Economy" project

Strict compliance with relevant laws and regulations

Study, facilitate comprehension regarding applicable laws and regulations within the area or local laws including application towards business operations
Comply with applicable laws or regulations

Becoming a role model for businesses to demonstrate their social and environmental responsibility

Presenting perspectives through associations and formation of various trade groups
Support initial assessment by government and related sectors regarding sustainability development groups

Fair business practices with suppliers

Clearly formulate a policy on related party transactions and conflicts of interest prevention

Develop and promote products and services with the aim to provide consumers and society with better health, nutrition, and well-being

Development and healthy products selection project for products with added or reduced or without specified nutrients as required by law or accepted standards
Nutrition value labeling

Environmental protection and reduce global warming

Energy efficiency improvement projects at 7-Eleven stores, distribution centers, and factories
Food Waste Management on Koh Samui and Koh Phangan

Management of plastic packaging to allow recyclability and reuse for maximum efficiency

Sustainable packaging management programs, including the "Reduction and Replacement" project, the Waste Sorting Bin Project, the Thai Empowerment Project to stop plastic bags usage

Promote career and income improvement for SME farmers and small-scale entrepreneurs, including improving quality of life and reducing inequality for communities and society

Farmer's produce purchase project
Business Accelerator project
Big Brother Season 5 project
Community product entrepreneur's development project

Guidelines for Operations During the COVID-19 Pandemic Situation

Cooperation with the government sector in disclosing COVID-19 cases
Strictly comply with government measures
กDetermine measures to prevent the spread of COVID-19 and correct preventative procedures
Assist suppliers in business operations amidst crisis situations
Correct management of infectious waste such as used masks
No product hoarding

Cooperate and properly abide by government policies including following up on policies and practices that are published regularly
Internal audit of government policy compliance
Control appropriate goods prices as specified by the government
ส่Encourage suppliers to properly comply with government policies and practices
Stakeholder Participation Process
Stakeholder Expectation Examples
Company Responsive Guideline Examples

Landlord

Communication and grievances channels
Providing information and receiving grievances through the complaint handling unit Call Center 305 times
Annual satisfaction survey
Public dissemination of news via SMS and Email
Visit venue owners at least once a quarter
Send SMS greetings on various occasions
Send SMS to notify you of the advance rental fee
Send SMS to inform date of land and building tax payment receipt
Linking 7-Eleven Application to provide services to residents in each real estate project (Delivery & All Online)
Providing gifts during the New Year
Support various activities

Continuing business cooperation according to good governance principles
Receive cooperation and resolve issue quickly

There is a system to monitor, follow up and resolve complaints
Elevate the survey of lessors satisfaction with the Company

Public relations and clarification of the Company policy news

Visit venue owners at least once a quarter to strengthen relationships
Publicly disseminate news via SMS and e-mail
Support venue owner activities inclusive of special groups and strategic partners

Establish system to promptly pay rent

Uphold proper maintenance of rental property both during the lease term and prior to contract termination

Determine measure to maintain rental property and surrounding environment

Guidelines for Operations During the COVID-19 Pandemic Situation

There are no issues with rent, including late rent payment
Management of infectious waste including masks in the store

Establish measures and management of prompt rent payment to strengthen confidence with rental property owners
Establish measures to manage infectious waste in the store

Store Partner

Annual engagement survey
Communication and grievances channels
Providing information and receiving grievances through Call Center 1,025 times
Quarterly satisfaction survey via website
Monthly journal
SBP MALL website channel
CP ALL Connect channel
Meetings, seminars, and activities
Announcement of the Company policies and directions to store partners

Fair treatment in accordance with good governance and business ethics

Communicating good governance guidelines and practices and business ethics

Promotion of competitiveness and business management

Promotion, supervision and training of business operators to increase management ability
Product cost management and operations
Developing a variety of products to satisfy market needs

Public dissemination of clarification regarding Company news and policies

Sharing of information and press release

Business stability, business expansion, and continuous joint business operations

Supporting store partners in terms of business succession to enable business operations sustainability

Innovations are developed for customers, society, and organizational improvements granting flexibility to keep up with the global developments

Online to Offline (O2O) platform development
7-Eleven stores ordering technology project

Develop and promote products and services with the aim to provide consumers and society with better health, nutrition, and well-begin

Eat Well, Live Well, Be Happy Project
Community health center project
VG for Love Project
Health product development project with suppliers (Private Brand)

Environmental protection and reduce global warming

Packaging development program through the concept of "reduce and replace" packaging materials usage
Reduce single-use plastics usage
Waste Sorting Bin Project

Guidelines for Operations During the COVID-19 Pandemic Situation

Provide support in various areas including finance and employee operations
Knowledge in conducting operations during the spread of COVID-19
Communicating, disseminating public news relating expedited thr Company assistance measures

The Company assists with supporting expenses incurred due to COVID-19 spread prevention measures, inclusive of branch cleaning fees, and expenses for consumables according to preventive measures
Let store partners borrow cash as collateral to enhance liquidity to enable business continuously
Flexible measures, including delaying or exempting Company bills and shop contract extension in the event of temporarily store closed
Provide assistance to store partners with the provision of important information or documen
Press release communication and the Company encouragement
Service innovations that respond to consumer behavior such as financial services
Stakeholder Participation Process
Stakeholder Expectation Examples
Company Responsive Guideline Examples

Quarterly briefing of operating results to analysts (Analysis Meeting)
Annual General Meeting of Shareholders
Financial statements
Form 56-1 One Report, Annual Report
Sustainability report
Prospectus, documents, information media
Communicate information through various channels including website, telephone, e-mail, fax, and letter
Roadshow activities both domestic and international
Field visits to shops, the Company factories and warehouses
An independent third-party assessment to reflect the Company as quality securities, with value and sustainability both nationally and globally, such as IOD, Thai Investors Association, SET, DJSI, FTSE Russe
Providing information to the Credit Rating Agency to assess the credit rating of the Company's debentures

Business performance and growth

Manage business growth, reduce risks and increase transparency

Operational transparency, image Disclosure and acceptance from society

Listen to opinions from shareholders and investors to be taken into consideration in determining the Company's strategy and operating guidelines
Clearly formulate a policy on related party transactions and prevent conflicts of interest

Good corporate governance and taking into account minority shareholder interests

Determine corporate governance policy and strict policy adherence
Granting shareholders equity in addition to maintaining shareholder and investor interests

Received excellent supervision status through assessment by the IOD and the Thai Investors Promotion Institute.
Selected as the national and global leading member through assessment by sustainable stock lists including DJSI and FTSE4 Good Index

Upgrade and increase operational efficiency in accordance with good governance principles
Amendments to the charter, policies and practices related to corporate governance, anti-corruption, sustainability, environment, and society in line with international standards

The Company's securities are in market demand, traded on the secondary market in addition to securities value in the secondary market reflecting a fair price at a minimum

Established an investment relations unit responsible for providing information to both Thai and foreign investors and analysts. The analysis is written so that the Company's securities are always in market demand

Conduct business responsibly according to Sustainable Development Guidelines encompassing environmental, social and governance (ESG) issues

Determining sustainability guidelines, goals, metrics and program framework

Guidelines for Operations During the COVID-19 Pandemic Situation

Establish measures and communicating transparently during the COVID-19 pandemic situation
Measures for attendee safety and health during the COVID-19 pandemic situation

Develop and communicate measures and operating results to shareholders regularly and transparently
Determine measures and guidelines for attending shareholders' meetings in accordance with prevention recommendations from the Department of Disease Control, Ministry of Public Health
Stakeholder Participation Process
Stakeholder Expectation Examples
Company Responsive Guideline Ex

Meetings when requested
Publications, letters, information media

Strictly abide by contracts and relevant conditions

Comply with conditions stipulated in preliminary contracts from respective agencies, maintain accuracy through supervision from legal department
Pay royalties within the period specified in the contract
Create positive brand image and consistently maintain good trademark reputation
Establish good business relations, support activities and various assistance with trademark licensors such as the ESG Forum

Guidelines for Operations During the COVID-19 Pandemic Situation

No tarnishing news regarding the COVID-19 outbreak
The Company's operating results were within control levels during the COVID-19 pandemic

กEstablish measures to prevent the spread of COVID-19 which enables good preventative results in order to grant licensors trust in trademark usage