Responsible Supply Chain Management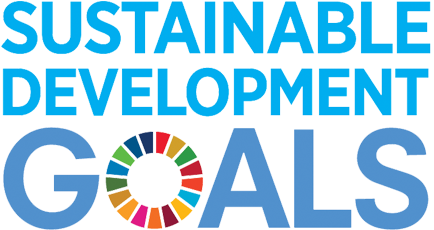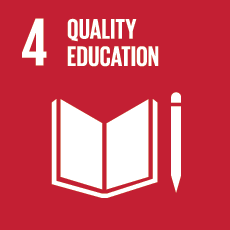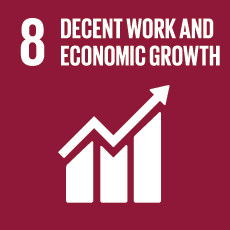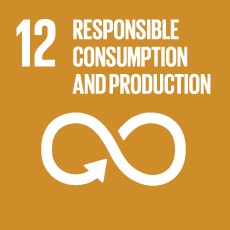 Risks and Opportunities
Responsible supply chain management is an important factor enabling efficient product delivery from manufacturing to consumers, in addition to risk reduction, inclusive of risks associated with cost, raw material availability, inventory stocking, and business disruption. The aforementioned risks directly affect business operations, corporate image and impacts stakeholders throughout the supply chain. At present, organizations strive to achieve supply chain management effectiveness while integrating sustainable development guidelines throughout business operations. The Company therefore supports the business operations and potential of every supplier in an endeavour for steadfast collective growth while considering social, environmental, and corporate governance issues throughout the supply chain. These measures ensure an increase in opportunities, the reduction of risks, business competitiveness enhancements, instilling positive change and strengthening of supplier and business partners sustainably.
Performance Against Goal
2030 Goal
100%
Tier 1 Supplier with high sustainability risk must receive comprehensive assessment and improved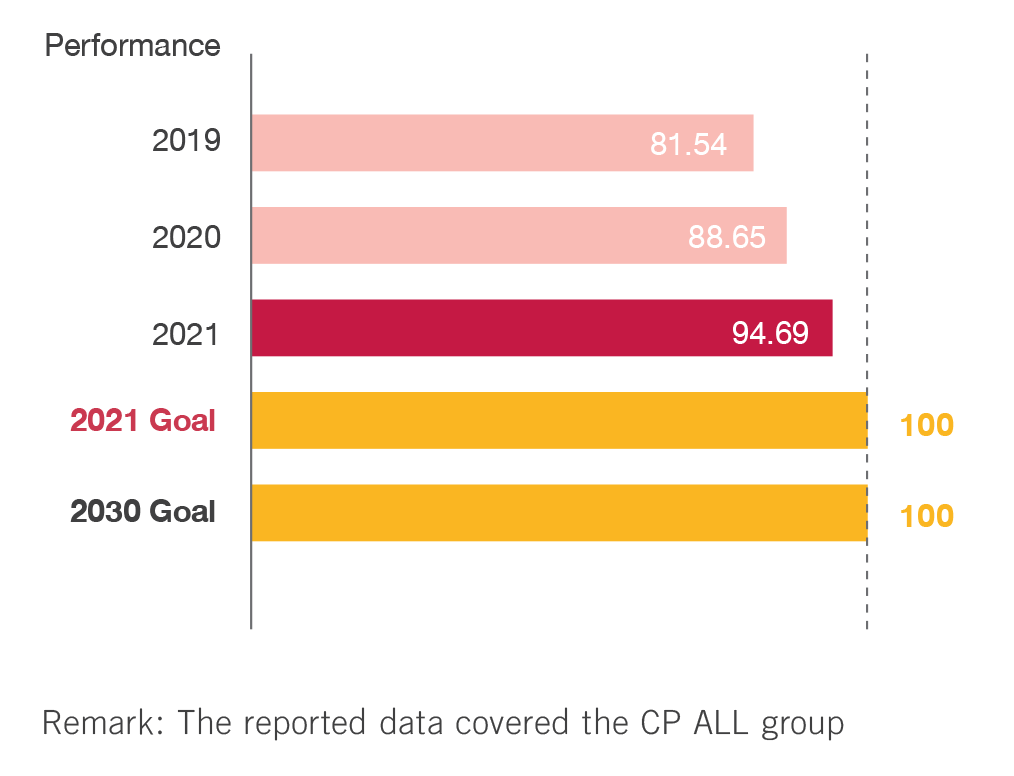 Performance Summary 2021
Critical Supplier Identification
Remarks : Criteria for considering Critical Tier 1 Suppliers 1. High-volume suppliers Critical component suppliers with high impact towards commercial advantage and market success 3. Non-substitutable suppliers
* Purchase value data from SMEs covers agricultural products, community products, community enterprise products or local One Tambon One Product (OTOP)
Environmental, Social and Governance (ESG) Risk Management
Risk Assessment
Sustainability High-Risk Suppliers
Comprehensive Assessment
Supplier risk management measures
Management Approach
CP ALL Public Company Limited and its subsidiaries ("the Company") continuously operate supply chain management to ensure efficiency, transparency, fairness, and responsibility towards all stakeholder groups according to the sustainable sourcing policy. The Supplier Code of Conduct operational manuals and guidelines entail key policies regarding society, the environment, conducting business with good governance principles, and promotes participation and operations with Tier 1 suppliers as well as other tier suppliers in the supply chain. These policies concern manufacturing process environmental protection standards, supplier product and service standards, child labor, fundamental human rights, working conditions, remuneration, occupational health and safety, and business ethics inclusive of policies to encourage the suppliers' internal sustainable procurement. At the same time, the Company has continuously conducted risk assessments of Critical Tier 1 Suppliers, high volume suppliers, critical component suppliers, and non-substitutable suppliers. In 2021, the Company has developed the Sustainability Risk Assessment tool, which takes into account the business type and size, in order to reduce the risk of business disruption, enable sustainable procurement throughout the supply chain, enhancing quality of life, foster good relationship with the community and society and as well as contribute to environment and ecosystem protection.
In addition, impact from the COVID-19 pandemic resulted in the Company transforming operations throughout the supply chain with a focus on resilience and flexibility. The mentioned transformation measures include a joint comprehensive supply chain management plan with suppliers, which encompasses processes from raw material procurement to the delivery of finished products to consumers. Furthermore, the Company has established a sustainability development program to provide suppliers with management knowledge and advice in crisis coordination, facilitation of supplier delivery to 7-Eleven stores and distribution centers, integration of sustainability issues into strategies and the Company's upply chain management process as follows:
Sustainable Supply Chain Management Process
Integrate the concept of sustainablility, reduce risks throughout the supply chain
Value and Develop Creation Support SMEs
01
Communicate expectations, recruit, and select capable suppliers while considering sustainability criteria
02
Gain knowledge and manage suppliers' sustainability risks
03
Promote and support capabilities development
04
Establish and maintain a long-term relationship
1. Communicate Expectations, Recruit and Select Capable Suppliers
The Company strives to continuously manage its supply chain in a responsible and efficient manner while integrating sustainability aspects throughout every stage of recruitment and supplier selection. This approach is achieved through communicating to suppliers' awareness of the Company's policies and expectations in addition to establishing criteria for assessing competencies and qualifications in selecting new suppliers which covers the following Key issues : Product quality and safety (Q) , Capability in production and reasonable cost management (C) , Delivery capability (D), Environmental, Social and Governance operations (ESG) Identifying the Supplier and Spending Analysis
In 2021, 327 new suppliers, or equivalent to 100%, were selected using criteria that integrate environmental, social and governance dimensions.
2. Supplier Sustainability Risk Management
The Company supplier risk assessment encompassing both existing and new Tier 1 Suppliers is jointly conducted by the procurement unit and supply chain risk assessment unit, aiming to elicit initial supplier risks by utilizing the Risk Base Due Diligence tool. In 2021, the Company developed the Risk Base Due Diligence tool, which considers suppliers' business type and size, for utilization in initial supplier risk assessment to determine key risk issues of each industry as follows:
In the event where a supplier is at risk, the Company will send the Suppliers Self-Assessment Questionnaires (SAQ), an online self-assessment, to the respective supplier via online channels to confirm risks and provide evidence of sustainability actions. Upon completion of the self-assessment, if any supplier is still at high risk, the Company will proceed to proactively assess the supplier to determine true risks in addition to providing training, knowledge, and advice. This measure allows suppliers to comprehend and implement risk reduction actions in future business operations. However, all Critical Tier 1 Suppliers will receive comprehensive assessment audits by the Company.
In 2021, the Company conducted risk assessments for 4,710 Tier 1 Suppliers, accounting for 100% of Tier 1 Suppliers. Furthermore, the Comprehensive Assessment was conducted for 227 or equivalent to 4.82% of Critical Tier 1 Suppliers, while 113 or equivalent to 2.40% of High Risk Suppliers were audited. The potential findings relevant to sustainability risks are the following 5 issues: 1) Safety, Occupational Health and Environment in the Workplace 2) Labor Management and Human Rights 3) Environmental Management 4) Compliance with Laws and Regulations 5) Responsible Procurement.
In addition, the Company encourages suppliers to develop their own sustainability risk management measures, by which 100% of suppliers encountered significant risk issues, also known as Potential Finding, from comprehensive assessments, and have implemented risk management measures or correction action plans which can be completed within 1 year as follows:
Issues Discovered During the ESG Sustainability Audit
Environmental : E
Risk Issue
Corrective Action Plan
Environmental Management
– Conduct assessments to identify environmental issues
– Prepare chemical agent Safety Data Sheet (SDS)
– Establish waste management guidelines inclusive of gaining permission to transport waste materials and
unutilized materials outside factory premises if required
Social : S
Risk Issue
Corrective Action Plan
Safety, Hygiene and Environment in the Workplace
– Provide employee health checks according to risk factors, inclusive of preparing employee health books,
as required by law
– Prepare standardized health check-up manual according to risk factors
– Conduct measurements and analysis of working conditions with focus on light levels in operational locations
– Registration and announcement of safety officer appointments at various levels, preparation of employee
safety manuals and organizing employee safety training
– Preparation of emergency plan in the event of a fire and organize employee fire evacuation drills
Labor Management and Human Rights
– Prepare employee labor manual
Governance : G
Risk Issue
Corrective Action Plan
Compliance with Laws and Regulations
– Prepare a list of Company applicable laws
– Assign personnel tasked with following-up on legal compliance assessment
Responsible Procurement
– Develop contractor regulation manual which integrates environmental, legal, and social issue compliance
in addition to communication of the compliance to suppliers for acknowledgement
Concurrently, the Company continuously follows up on supplier risk management progress in addition to supporting sustainable business capability development among suppliers to sustainably enable joint growth.
3. Promote and Support Capabilities Development
The Company continuously promotes supplier capability development in order to strengthen their position and integrate knowledge and skills to enable sustainable income careers through the 3 capability development approaches:
In 2021, the Company has undertaken a variety of projects as a means to deliver knowledge and enhance sustainability among suppliers. Some outstanding projects are as follows:
4. Build and Maintain Supplier Relationships
The Company bonds and continually maintains a good long-term relationship with suppliers through knowledge exchange and the joint planning and development of products. Concurrently, the Company organizes supplier annual meetings to facilitate opinion and suggestion exchanges between the Company and suppliers.
Sustainable Development Case Study between Supliers and CP ALL
ESG Integration in SCM Strategy
The Company has integrated ESG in SCM strategy as follows:
| Key objectives | ESG-related objectives in supply chain management | Overall supply chain management strategy linking to ESG |
| --- | --- | --- |
| Empowering SMEs | Enhance SME's capability in different perspectives, e.g. financial, product development, packaging development, logistics, sustainability, etc. Our supply chain management focuses on co-creation initiatives according to SDG 8.2 with all suppliers. We aim to collaboratively improve suppliers especially SMEs capacity in technological and innovation aspects. This is expected to result in positive social impact through economic growth and living standards. | Creating Shared Value (CSV) "Develop and support Small and Medium Enterprises (SMEs)" CP ALL efforts demonstrate our determination to enhance product variety cost and operational effectiveness and good relations with community and society at large through development, co-creation of innovative products and service with partners/ suppliers for better environments. |
| Reducing plastic waste from packaging | Reduce volume of packaging usage from suppliers within the general waste management process, consistent with CP ALL's circular economy goals. This aims to fulfill SDG 12.6 and CP ALL Sustainability Framework "Biodiversity and Ecosystem Protection" through packaging design, materials, and reduction programs. Under our environmental strategy (7 Go Green). We are collaboration with packing suppliers and others to redesign packaging, aiming to reduce plastic waste. Environmentally Friendly Packaging Project is active during 2016-2022. The Company implemented this project while adopting the 3R (Reduce-Reuse-Recycle) Principle to mitigate environmental impacts generated from packaging. This was achieved through a reduction of natural resources consumption and post-consumption waste generation. We Are working closely with suppliers to reduce plastic waste generation. | 7 Go Green "Green Packaging", the global trends in reducing plastic packaging usage brings about CP ALL's ESG objectives development. One of the CP ALL Environmental Stewardship strategy components is to encourage the suppliers to integrate sustainability consideration into their operations, especially packaging design, and materiel selection. There have been collaboration programs with the packaging suppliers, e.g. process improvement for less material consumption. |
In addition, the Company has applied the sustainability criteria to assess the risks of its existing and new suppliers manufacturing Private Brand: PB products whereby Suppliers must undergo sustainability risk assessments through the Suppliers Self-Assessment Questionnaires (SAQ) system. Selected suppliers meeting Company criteria standards must score a minimum of 50 percent on ustainability performance. The established Company established sustainability criteria include product and production standards, employment, welfare, and environmental management.
Supply Chain Management's Success Indicators
The Company has set the index to measure the success of supply chain management. In 2021, there are indices that measure success, goals, and operating results as follows:
| Sequence | KPI : Supply Chain Indication | Goal | 2021 Performance |
| --- | --- | --- | --- |
| KPI : 1 | คูTier 1 Supplier with high sustainability risk must receive comprehensive assessment and improved | 100% of Tier 1 Supplier with high sustainability risk must receive comprehensive assessment and improved | 94.69% of Tier 1 Supplier with high sustainability risk must receive comprehensive assessment and improved |
| KPI : 2 | Revenue growth of SMEs | Revenue Growth 10% by 2023 (compared to baseline year 2020) | Revenue growth 11.64% of SMEs |
| KPI : 3 | Private Brand utilizing plastic packaging must be reusable, recyclable or compostable | 100% of Private Brand utilizing plastic packaging must be reusable, recyclable or compostable | 85.09% of Private Brand utilizing plastic packaging must be reusable, recyclable or compostable |
Related Policy and Guideline