Cascading Responsibilities Through Out the Value Chains
Key performance in 2020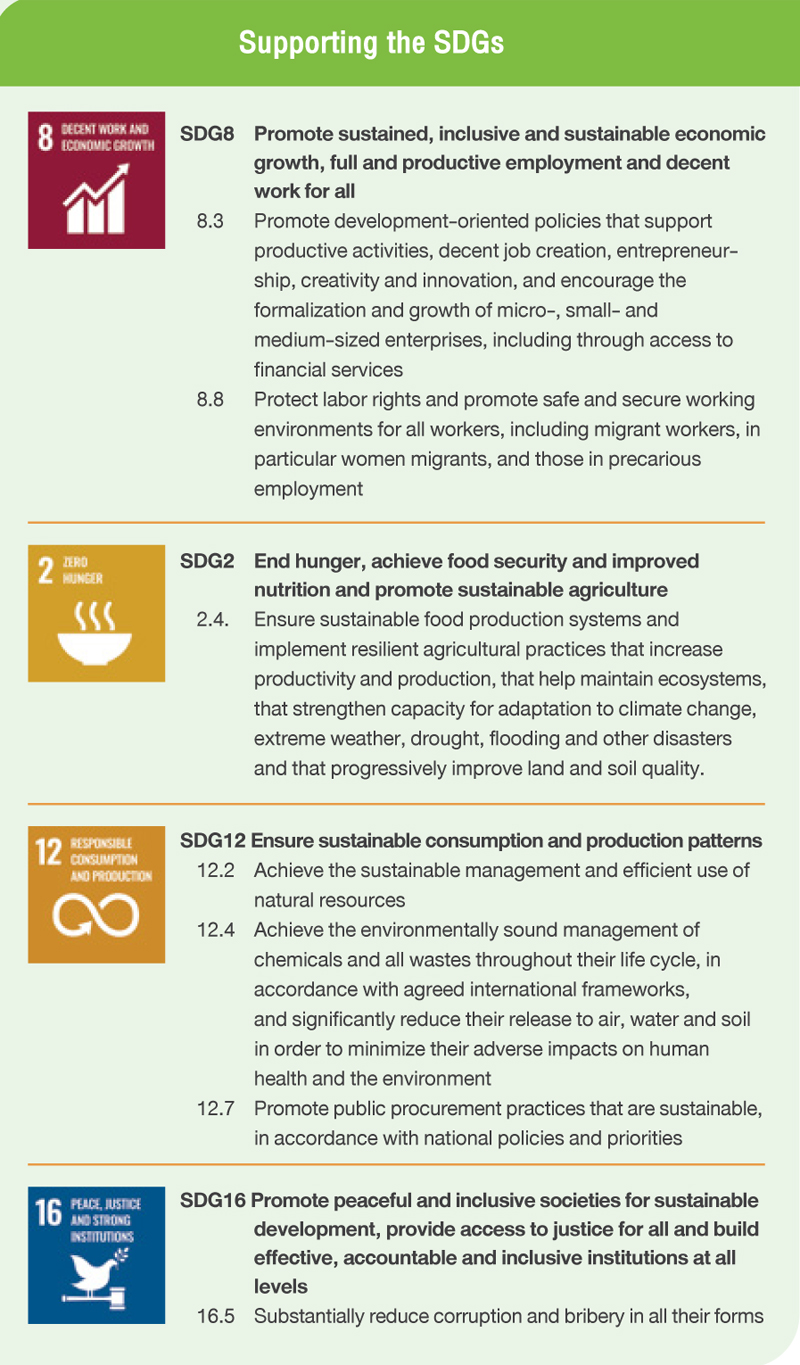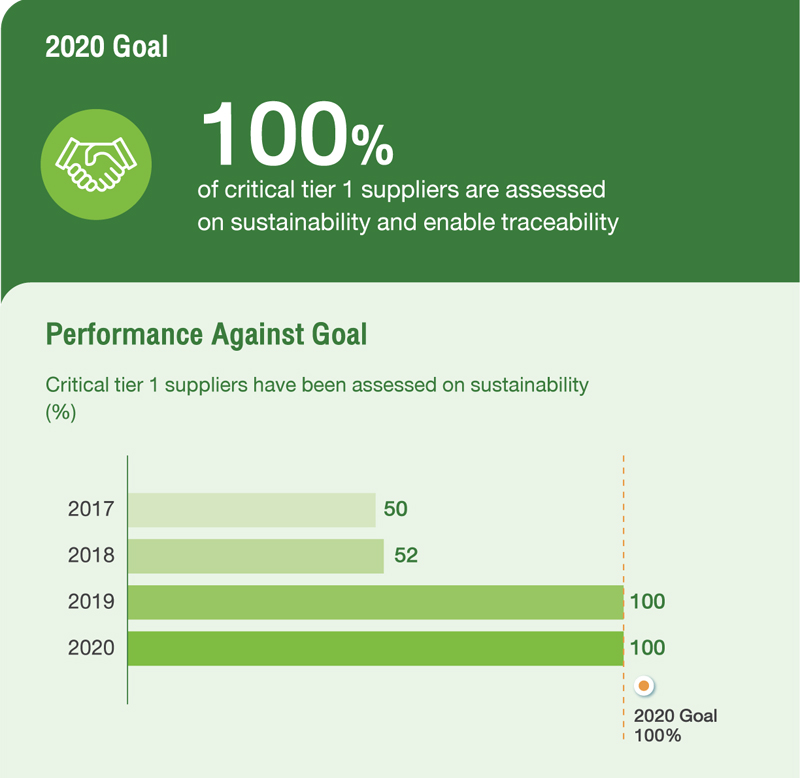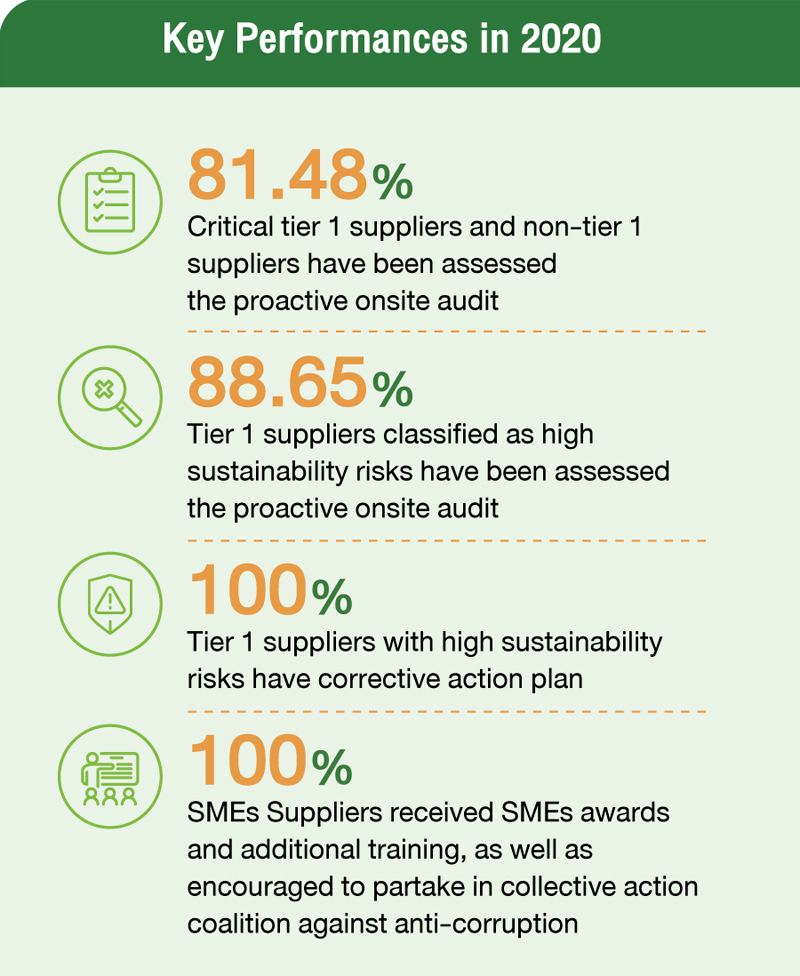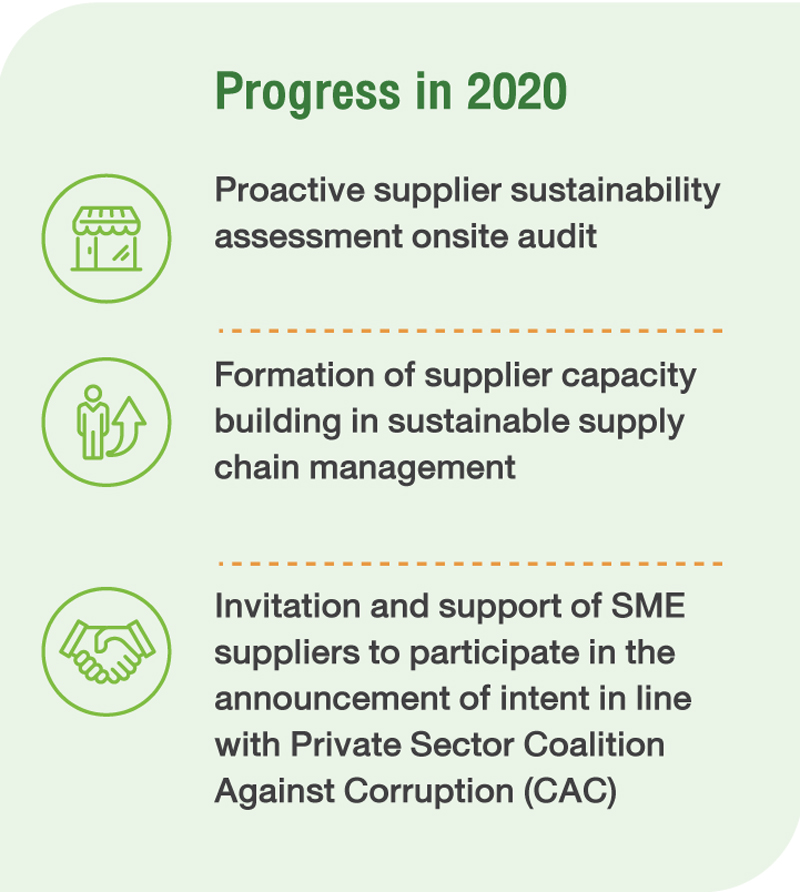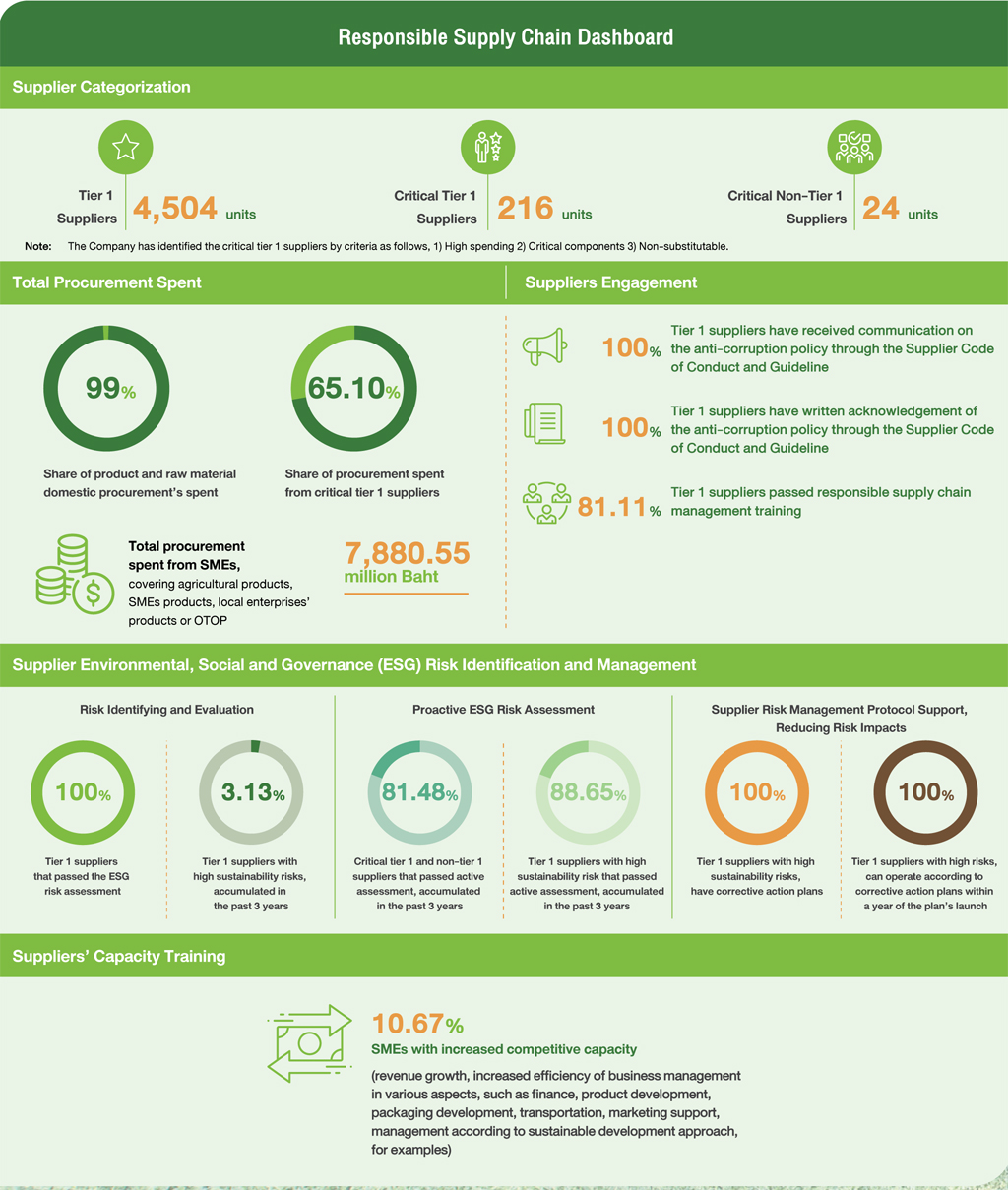 Risk and Opportunities
---
Supply chain management is the heart of the Company's business operation which propels competitive advantage, fulfillment of consumers' needs and mitigates the business risks. Therefore, the Company's goal is to support and reinforce all supplier groups'capacity in operating business for sustainable growth. This was achieved through integrating aspects of sustainability comprising governance, society and environment throughout the supply chain.The efforts aim to drive the organization and supplier's growth sustainably in unison.
Management Approach
---
Effective supply chain management takes into account how sustainability can enable risk mitigation of business operation disruptions, stakeholders throughout the supply chain, organizational image, operations to mitigate risk and prevention of impact towards supply chain management, therefore is of great importance. CP ALL Plc. and subsidiaries ("the Company") is committed to sustainable supply chain management policies, including Suppliers' Code of Conduct and Guideline, with all suppliers in order to increase development capability for an efficient value chain management system and reduce risks that may arise.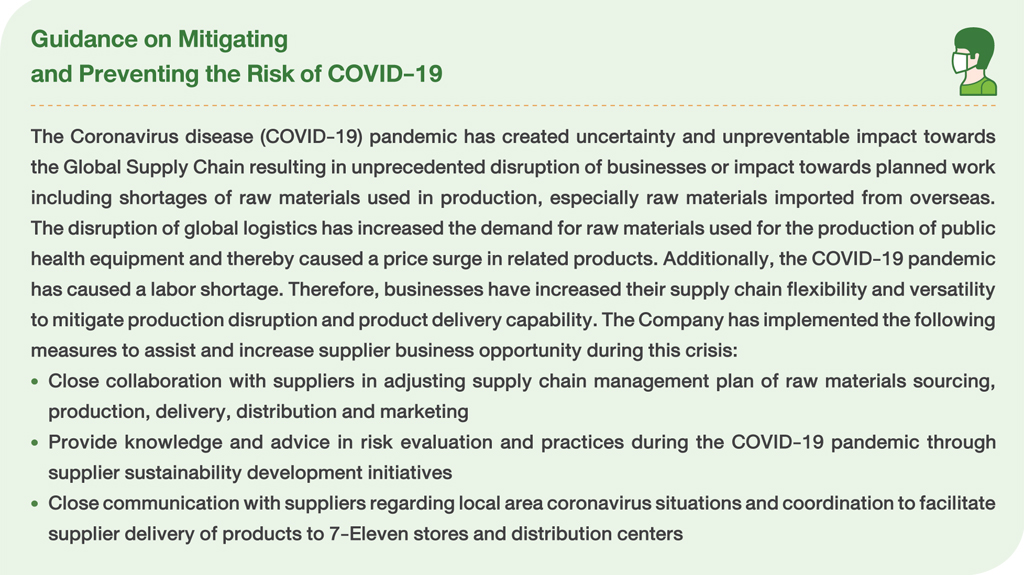 Management Approach for Supplier's Sustainability
The Company encourages its business partners of all business models and industries to employ the 16 topics in the Suppliers' Code of Conduct and Guideline. The Company has communicated with supplier all sectors about its 4 steps in sustainable operation, listed as follows.

Procurement and Selection of Highly Capable Suppliers
The Company incorporates sustainability movement into every step of supply chain management. New suppliers are selected through capability and qualification criteria, receive communication regarding organizational policies and expectations for supply chain management. The criteria cover key aspects such as product quality, delivery capability, compliance with laws and regulations, product safety, quality assurance systems and traceability, environmental management, labor recruitment evaluation, work force safety and freedom to unionize.
Suppliers' Risk Assessment
The key factor in enhancing supply chain management proficiency is the evaluation of risks. The procurement department initially evaluates supplier sustainability through the Risk-based Due Diligence system. Additionally, the Supplier Self-Assessment system was developed for both current and new suppliers to evaluate initial risk in an effective and accurate manner through an online system. In 2020, 100% of new suppliers have received training and conducted self-assessment. In order to emphasize and foster the suppliers' understanding of correct self-assessment and adjust communication to better suit the New Normal method in response to the COVID-19 situation, the Company has developed educational materials for suppliers through an online system. Furthermore, the company has developed criteria to appropriately evaluate critical supplier risk at each level with plans for expansion plans for 2021.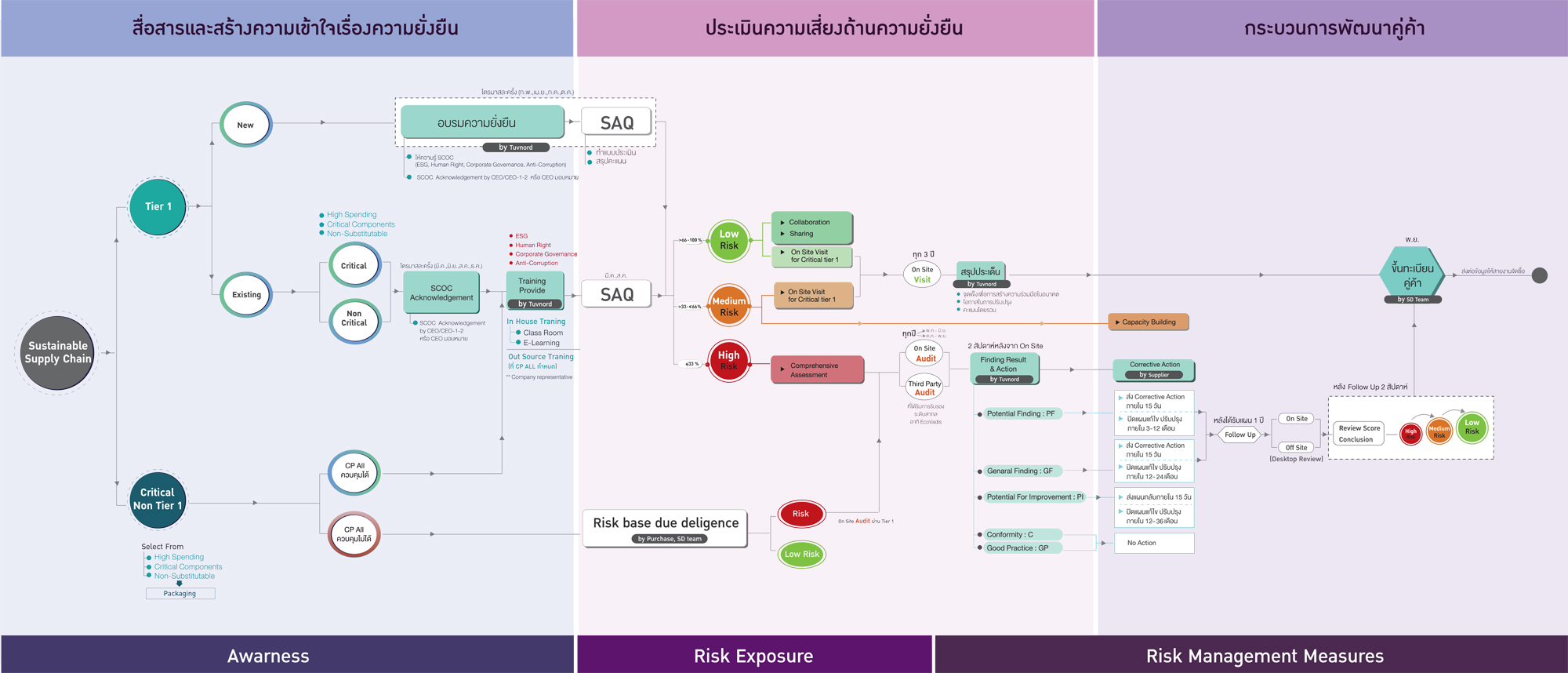 Foster and Promote Suppliers' Capability
In 2020, the Company strives to foster and promote suppliers' capability through various capability enhancement schemes from jobs creation, careers creation and stable income creation to supporting local community sustainable development.
Build and Maintain Relationship with Suppliers
The Company strives to continuously support the building and maintaining of supplier relationships. This endeavor is projected through various knowledge sharing and livelihood improvement programs, supplier meetings to enable the exchange of knowhow and suggestions between the Company and suppliers, as well as conducting joint development plans.
Key project in 2020
---
Suppliers' Risk Assessment project
Objective to performs Environmental, Social and Governance (ESG) Risk Assessment on its potential suppliers based on the suppliers' business models and industries. for existing and new suppliers.
The Company performs Environmental, Social and Governance (ESG) Risk Assessment. In 2020, the Company released 4 evaluation criteria: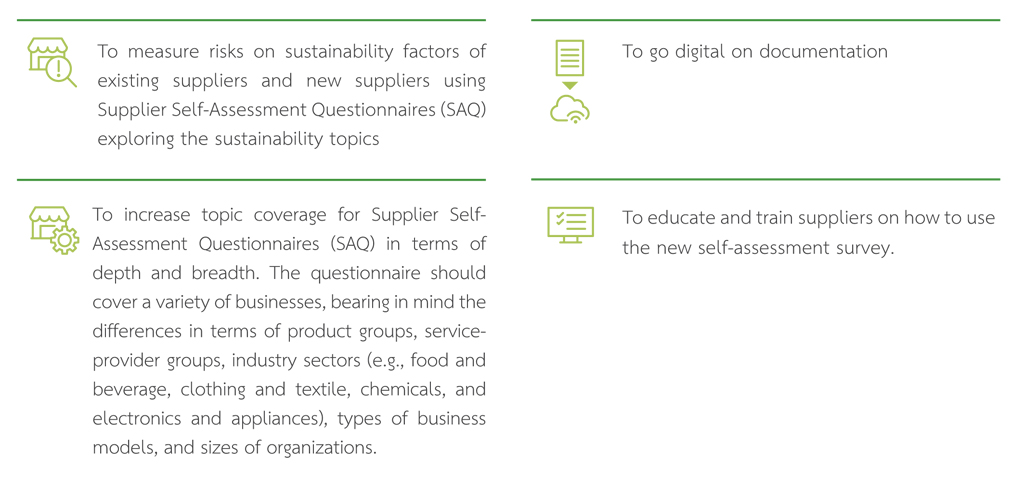 Impact and benefits
the Company to identify accumulate 141 high-risk suppliers or 3.13% on sustainability issues
the Company performed on-site sustainability audit as the figures below: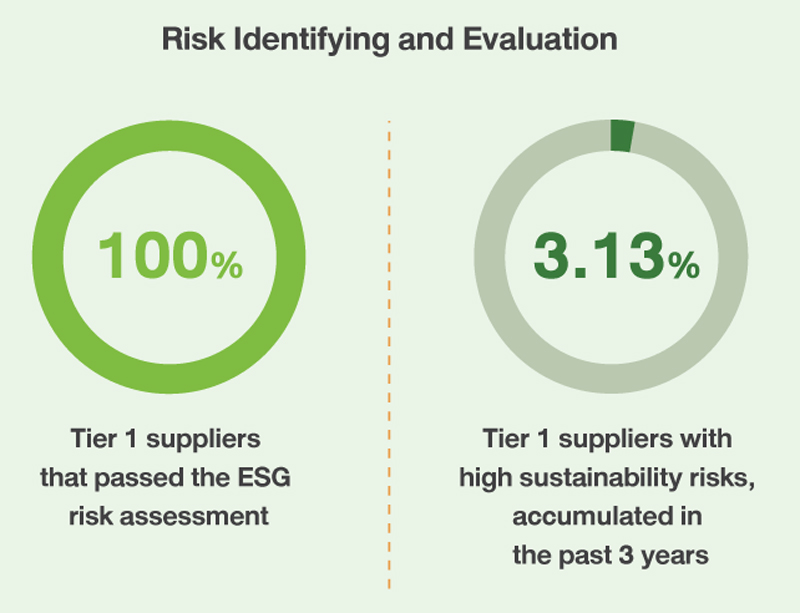 Following the results obtained from Supplier Self-Assessment Questionnaires (SAQ). The on-site audit revealed several sustainability risks (e.g., compliance to law and regulations, occupational health and safety, and environmental impacts). As a result, the Company called for cooperation from its suppliers to create its own sustainability risk management protocol. 100% of suppliers evaluated as risky from on-site auditing had protocol's requirements that are commendable within one year. Examples of the requirements are as follows:
Issues identified through ESG Assessment
Detail
Mitagation Plan

Environmental Dimension

Environmental Management
– Waste managemnt per Ministry of Industry's mandate
– Registered to Ministry of Industry and started processing for different requests per Ministry of industry's announcement (Sor Kor 1, 2, 3)
– Environmental impact assessment according to legal requirement
– Conducted environmental impact assessment and stipulated mitigation measures
Social Dimension
Labor Practice and Human Rights
– Provide holidays and leaves according to legal requirement
– Made modification to work manual to ensure compliance according to the laws, and communicated to employees
– Set up a welfare committee at work sites
– Set up a welfare committee
Compensation and remuneration
– Deduction of compensation within labor laws
– Made modification to compensatino deduction to ensure compliance to the laws
Occupational Health and Safety
– Organized "Chemical spill, Fire drill and evacuation" for employees
– Developped annual training plan and produced training summary report
– organized "Chemical spill drill" for employees
– Developped annual training plan and produced training summary report
– Organized "Training for Safety officers at operational and management level'
– Developed annual training plans for employees
– Monitored working environment
– Developed annual work environment assessment plan by designated owners functions
– Analyzed assessment results and made improvement to ensure compliance to the laws
– Inspected the state of working equipment and tools related to incident prevention; made signage
– Develoepd inspection of working equipment and tools; prevent incident from happening and made signage
Governance Dimension
Regulatory and legal compliance
– Monitor regulatory changes relatd to business operations
– Appointed the owner
– Developed a law register and track different regulatory changes
– Registration of safety personel or departments at operational and management level
– Appointed personnel of different levels and sent for trainings; continued the process of registration to Department of Labor Protection and Welfare
The Company tracked the progress of the amendment using both desktop and on-site reviews, with the 24 topics of sustainability expectations taken from auditing 15 supplier sites. Suppliers that ability to improve negative impacts are 100% out of all suppliers. However, the Company is pushing forward with the usage of sustainability risk assessment results to support suppliers' improvement on operating a sustainable business. The ultimate hope is to join forces in ushering a holistic environmental and social responsibilities and grow together with all suppliers in a sustainable way.
7-Eleven and Thai Farmers Collaboration Project
Encourage factories to adhere to Good Manufacturing Practices (GMP) and the adoption and development of innovations in industrial agriculture innovations from public and private networks and application in cultivation, production or processing.
Joint development of packaging to add value to products and fulfill customer needs to suit New Normal practices.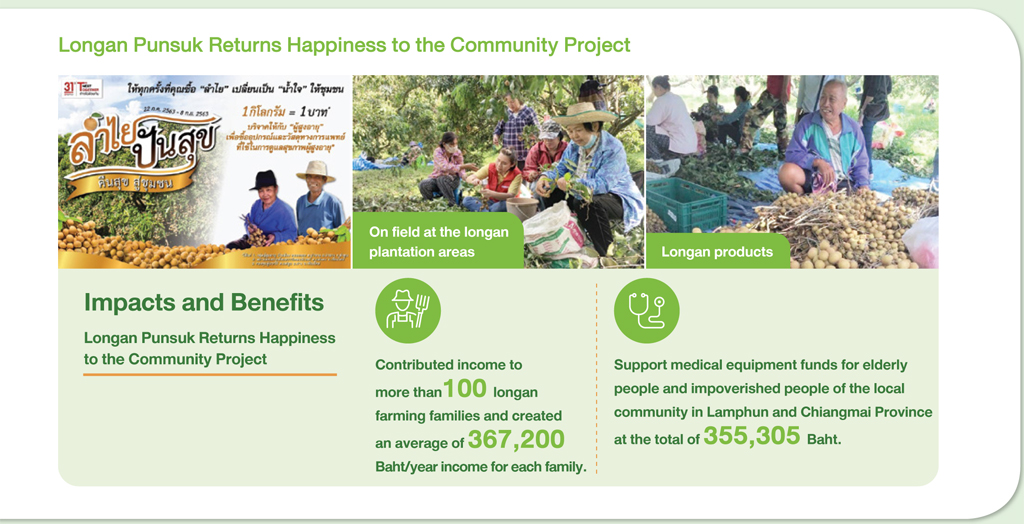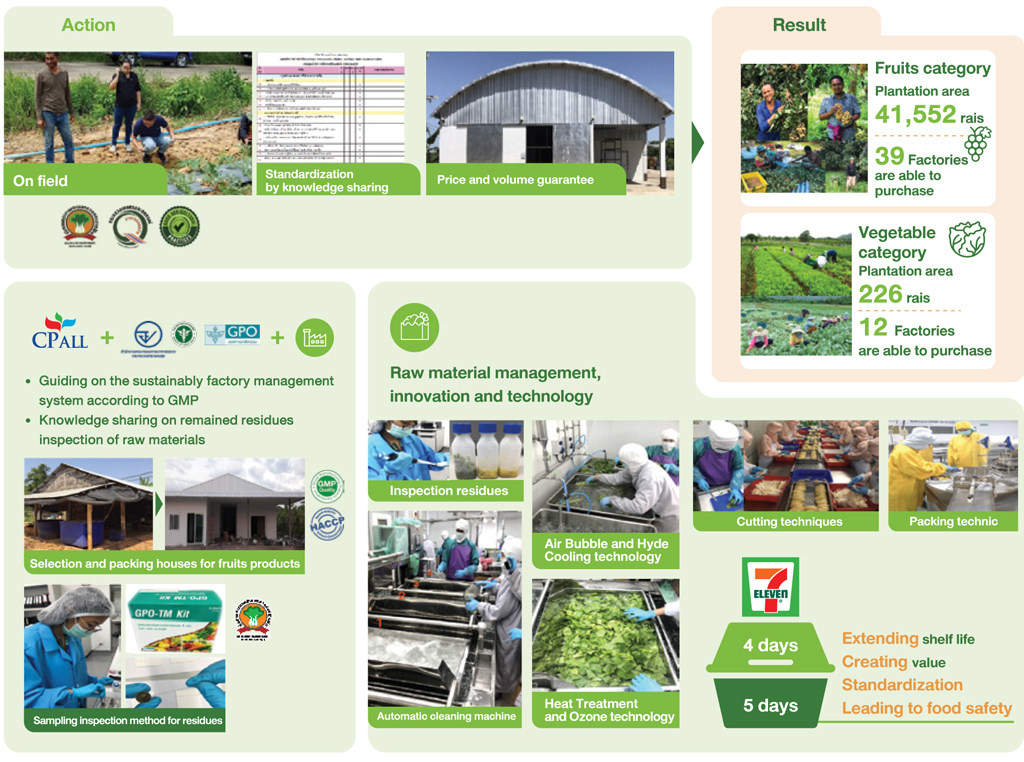 Other performance
---
Communicate and understanding of sustainability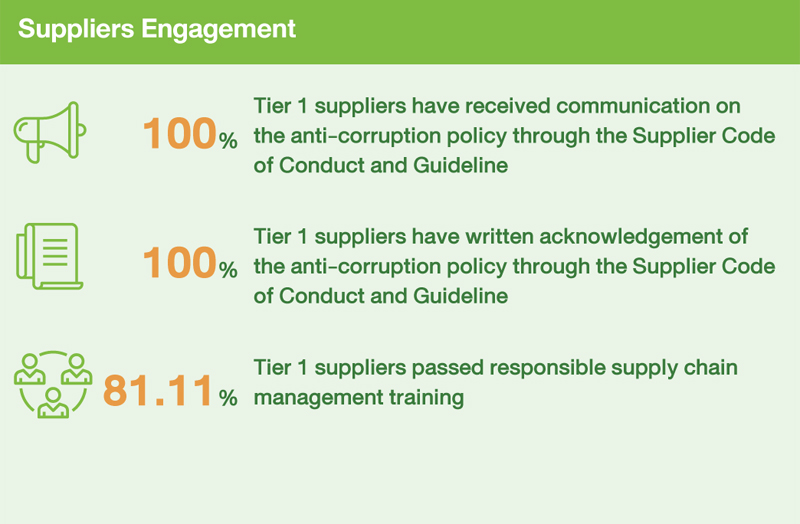 Identifying the Supplier and Spending Analysis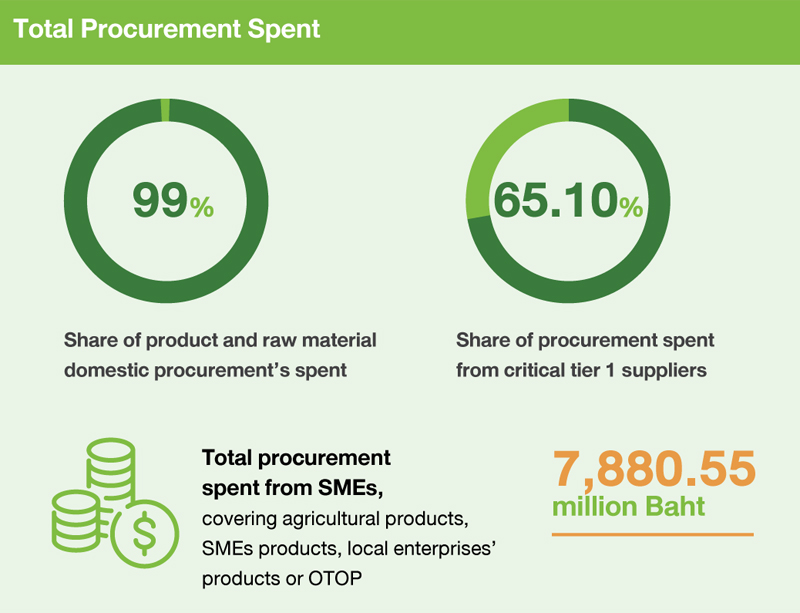 ESG Integration in SCM Strategy
| Key ESG Objective | Description of ESG Objective | Link to Overall Supply Chain Strategy |
| --- | --- | --- |
| Key ESG Objective 1 | Enhance SME's capability in different perspectives, e.g.financial, product development, packaging development, logistics, sustainability etc. Our supply chain management focuses on co-creation initiatives according to SDG 8.2 with all suppliers. We aim to collaboratively improve suppliers especially SMEs capacity in technological and innovation aspects. This is expected to result in positive social impact though economic growth and living standards. | Creating Shared Value (CSV) "Develop and support Small and Medium Enterprises (SMEs)" CP ALL efforts demonstrate our determination to enhance product variety cost and operational effectiveness and good relations with community and society at large through development, co-creation innovative products and service with partners/suppliers for better environments. |
| Key ESG Objective 2 | Reduce packaging suppliers contributions on general waste management especially circular economy is expected by CP ALL. This is aim to fulfil SDG 12.6 and CP ALL Sustainability Framework "Biodiversity and Ecosystem Protection" through packaging design, materials and reduction programs. Under our environmental strategy (7-go green). We are collaboration with packing suppliers and others to redesign packaging, aiming to reduce plastic waste. Environmental Friendly Packaging Project is a project under the 2016-2022 time-frame. The Company has implemented this project while adopting the 3R (Reduce-Reuse-Recycle) Principle to mitigate environmental impacts generated from packaging. This was achieved through a reduction of natural resources consumption and post consumption waste generation. We Are working closely with suppliers to reduce plastic waste generation. | 7 Go Green "Green Packaging" According to the global trend, reducing demand of traditional plastic packaging brings about the ESG objective set up by CP ALL. One of the CP ALL Environmental Stewardship strategy components is to encourage the suppliers to integrate sustainability consideration into their operations, especially packaging design and materiel selection. There have been collaboration programs with the packaging suppliers, e.g. process improvement for less material consumption. |
The Supply Chain Indicator
KPI : Supply Chain Indication
Target that is linked to the KIP
KPI : 1
Percentage of Critical Tier 1 Suppliers have been assessed on traceability and sustainability
Target : 100% of Critical Tier 1 Suppliers have been assessed on sustainability

Target Year : 2023 Fiscal Year
KPI : 2
Percentage of SME with increased capability (Revenue Growth, Enhance Efficiency in different perspectives, e.g. financial, product development, packaging development, logistics, sustainability etc.)
Target : To enhance SMEs capability for 15% of the former year. (compared to 2017 baseline)

Target Year : 2023 Fiscal Year
KPI : 3
Percentage of Plastic packaging under company's operation control (Private Brand) must be able to Reusable, Recyclable and Compostable.
Target : 100% of Plastic packaging under company's operation control (Private Brand) must be able to Reusable, Recyclable and Compostable

Target Year : 2025 Fiscal Year
Performance against target
Performance against goal
Target
2018
2019
2020
1. Percentage of critical Tier 1 suppliers have been assessed on traceability and sustainability
52
100
100
100% in 2023
2. Percentage of SMEs with increased capability (Revenue Grown, Enhance Efficiency in different perspectives, e,g, financial, product development ,packaging development, logistics, sustainability, ect)
4
9
10.67
15% in 2023
3. Percentage of Plastic packaging under company's operation control (Private Band) must be able Reusable, Recyclable and Compostable.
88.13
86.04
86.16
100% in 2025
For more details click —> SD Report 2020
Related Policy and Guideline