Cascading Responsibilities Through Out the Value Chains

CP ALL Plc. and its subsidiaries ("the Companies") are cognizant of the importance in sustainable supply chain management. It gives emphasis and prioritizes suppliers, considered them to be business allies under the concept of mutual long-term growth. The Company sets policy and targets with consideration to sustainable development principles in every step of the operations.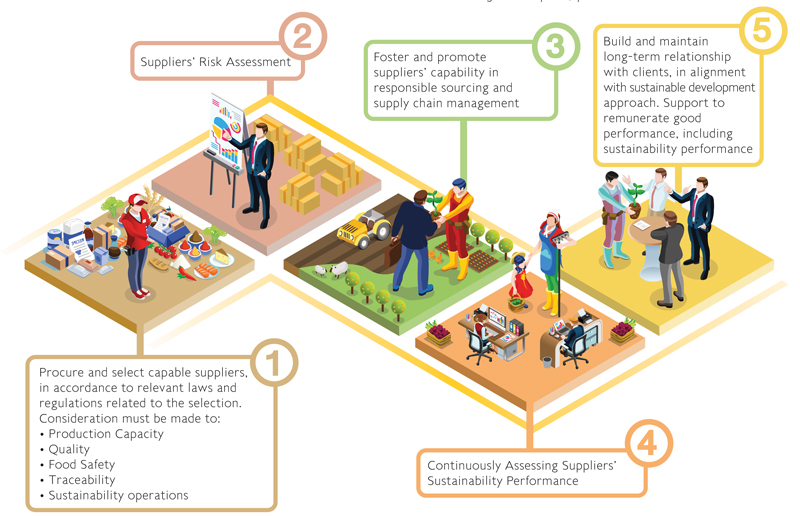 ESG Integration in supply chain management Strategy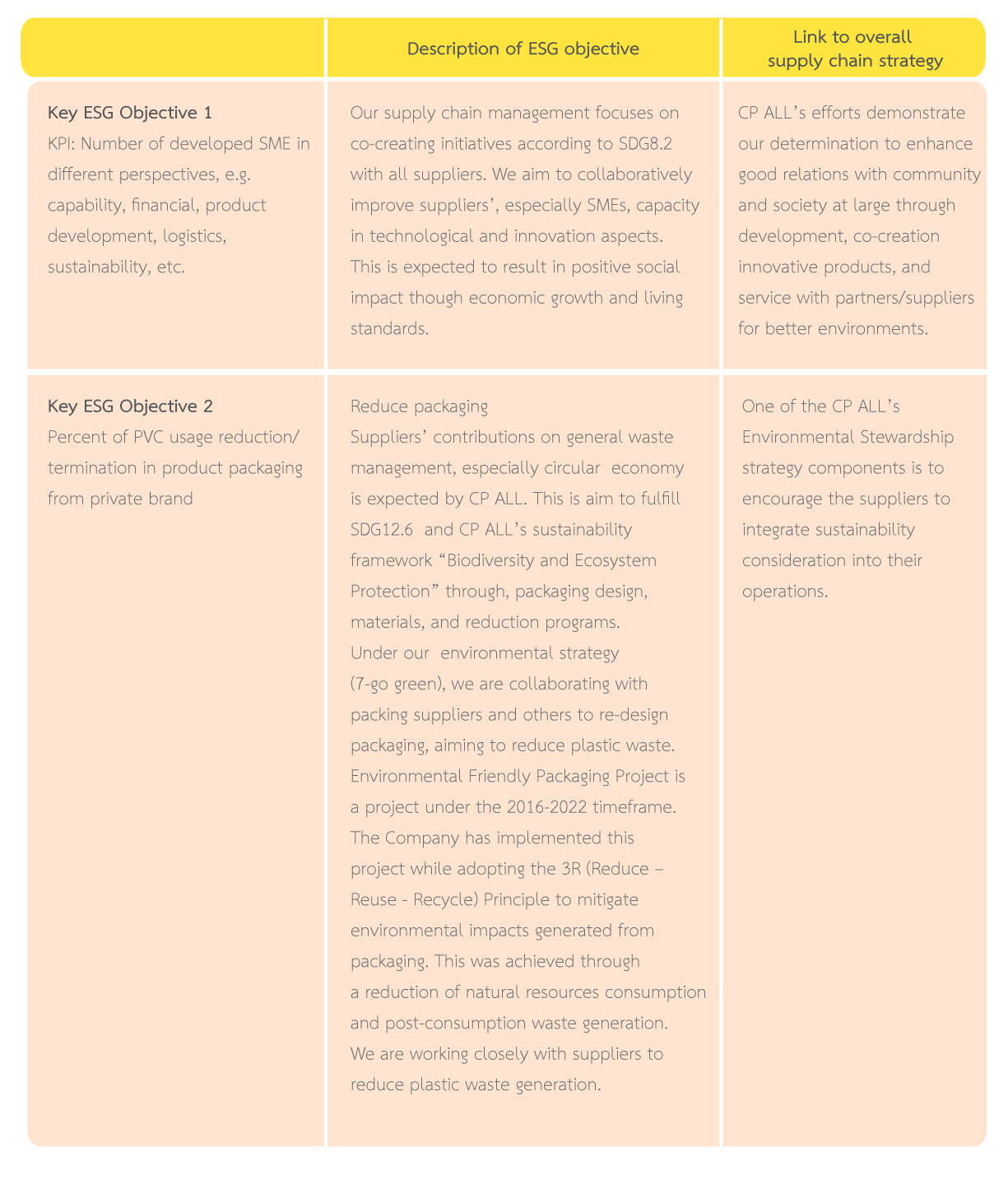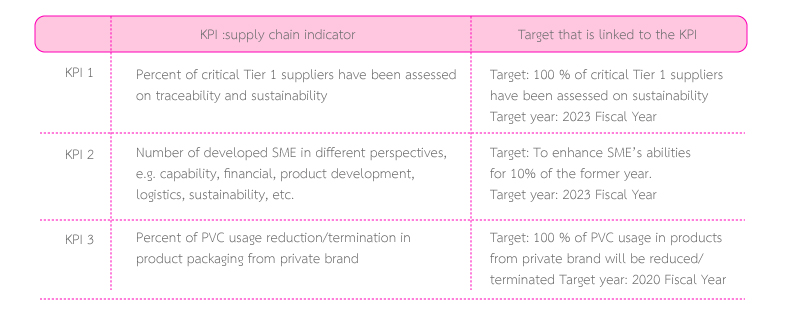 Performance
CP ALL Plc. and its subsidiaries ("the Companies") have developed the Supplier's Code of Conduct and Guideline to cover all aspects of sustainability, consisting of 16 main topics   as follows: Compliance; Product Quality and Safety; Traceability, Privacy Confidentiality and Intellectual Property; Child Labor, Forced Labor and Violation of Labor Law; Discrimination, Employment, Wages and Benefits; Freedom of Association and Collective Bargaining; Safety, Hygiene and Environment in the Workplace; Right to the Possession of and Access to Natural Resources; Environment Management; Responsible Procurement; Business Integrity; Conflicts of Interest; Anti-Bribery and Anti-Corruption.
Supply Chain Awareness
CP ALL Definition of Critical Tier 1 Supplier 2018
Critical Tier 1 Supplier  refer to:
High Spending Suppliers
Trade: To 70% of Total Spending
Non Trade: Top 80% of Total Spending
Supplier who Supply Critical Component
Non-substitutable

Supply chain risk assessment and corrective actions
CP ALL defines sustainability high risks as suppliers which have possibility risks in the follow issues 1. pricing volatility, 2.technology availability,3. lost of critical tier 1 suppliers, 4. operational delay due to natural disaster, 5. law and regulation compliance, 6. working hours, 7. wages and benefits, 8. human trafficking and forced labor.  CP ALL consider these issues as important and have high impacts on the company reputation, operational efficiency and potential business interruption.

Audited and Assessed at Site Critical suppliers (tier 1 and non-tier 1)  
Critical suppliers (tier 1 and non-tier 1) 19

(9.

6%)
Suppliers with high sustainability risk. 49

(61.

2%)
From the assessment of suppliers on site found nonconformity and supplier code of conduct and guideline 4 suppliers, 100% of the 4 suppliers have plans to improve.
In addition, the company has used the results from the assessment of supplier to consider in order to create a program to support, improve, and monitor through the design and development of supplier And establishing a relevant strategic plan to ensure that suppliers can conduct business with the company sustainably as the company has communication a sustainable sourcing policy. Supplier Code of Conduct and Guideline, recently the company has communication and understanding through seminars and 100% of the suppliers acknowledge, understand and able to implement Supplier Code of Conduct and Guideline.
Relationships with Suppliers
The Company is also considerate to fostering relationships with suppliers. This was achieved through continuous management, providing opportunities for suppliers to exchange and share opinions with appropriate regularity. The Company and suppliers are able to create business plans together, sharing knowledge and other details benefiting the suppliers. This includes co-development of products, which further ensures positive relationship with suppliers. The Company was ranked by Advantage in 2018 to be the Company suppliers are satisfied with, at a higher score than average. The score's trend has also been increasing for 3 year consecutive. The score increased significantly following collaboration for business development. Additionally, in 2018, there has been reviews and updates on how satisfaction and engagement survey was conducted for construction contractors. They are a key group of suppliers. This is also the first year a satisfaction and engagement survey was conducted with equipment contactors. Results of the satisfaction and engagement survey are as follows.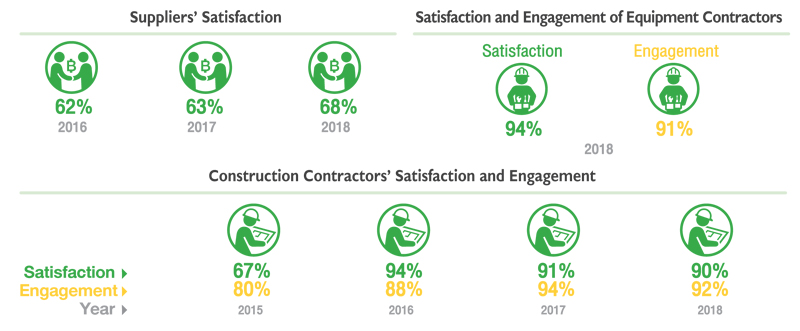 To support the country's economy, increase employment, reduce energy consumption and greenhouse gas emission, either from combustion or refrigerant in logistics, the Company developed Procurement Policy. The Policy promotes and prioritize raw materials which can be domestically sourced. This results in the proportion of the Company's procurement cost, for raw materials and packaging, for domestic and international to be as follows.