Protecting the Ecosystem and Committing to Being Green
Key Performance in 2020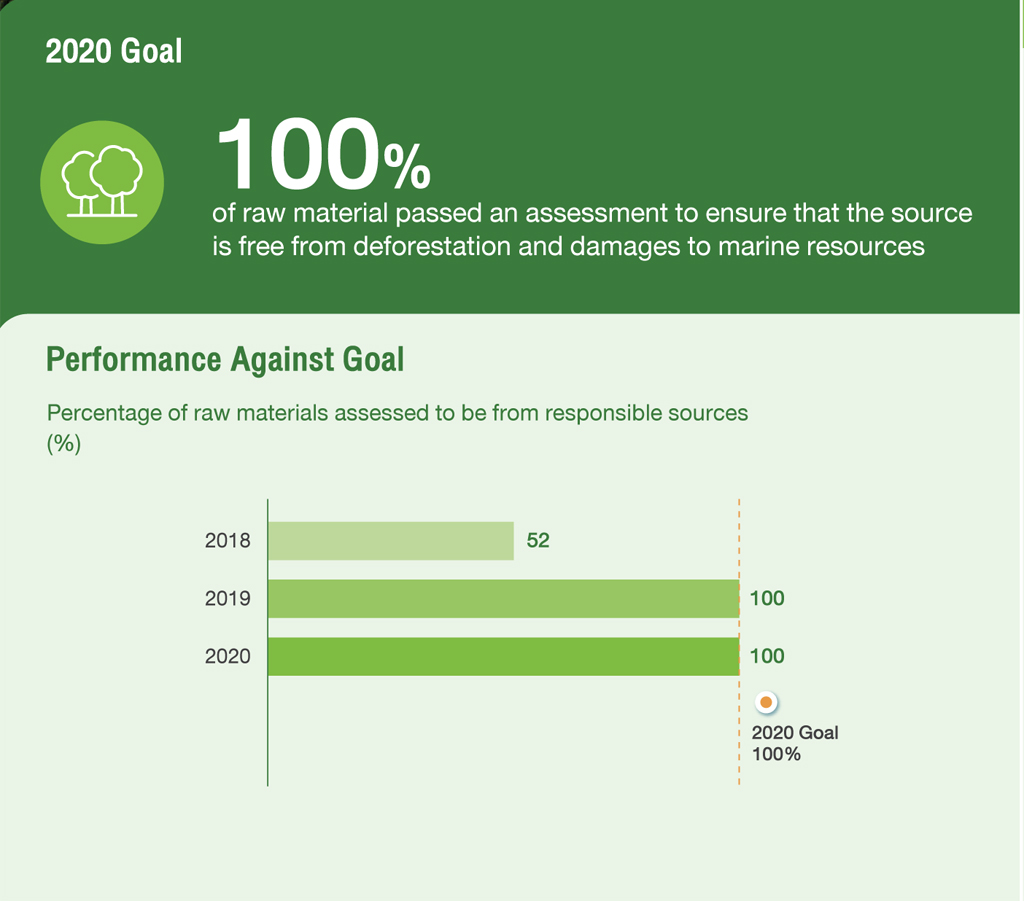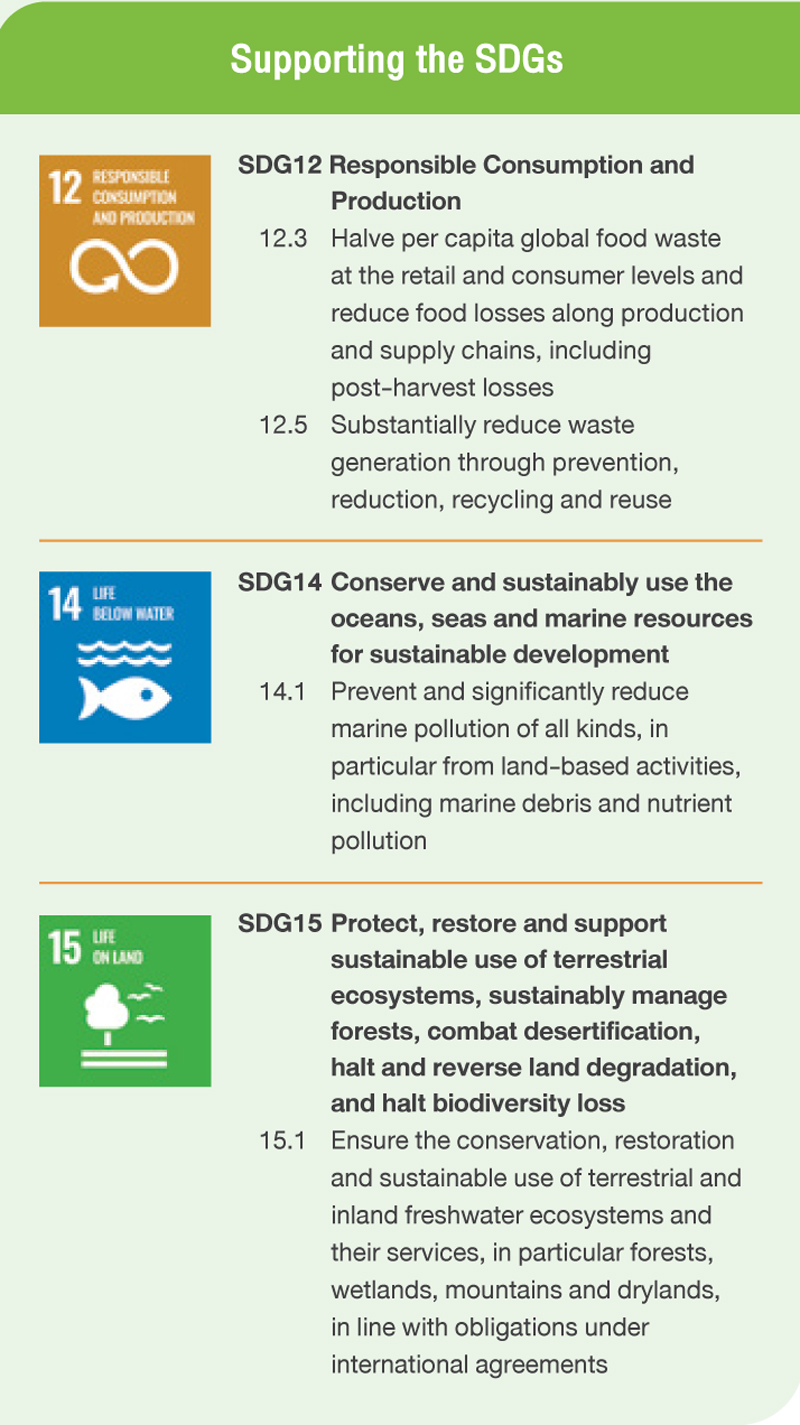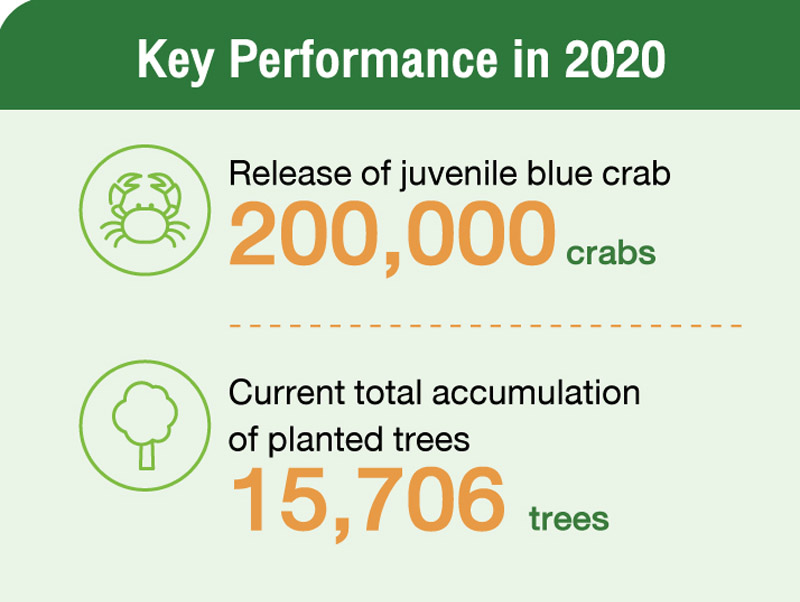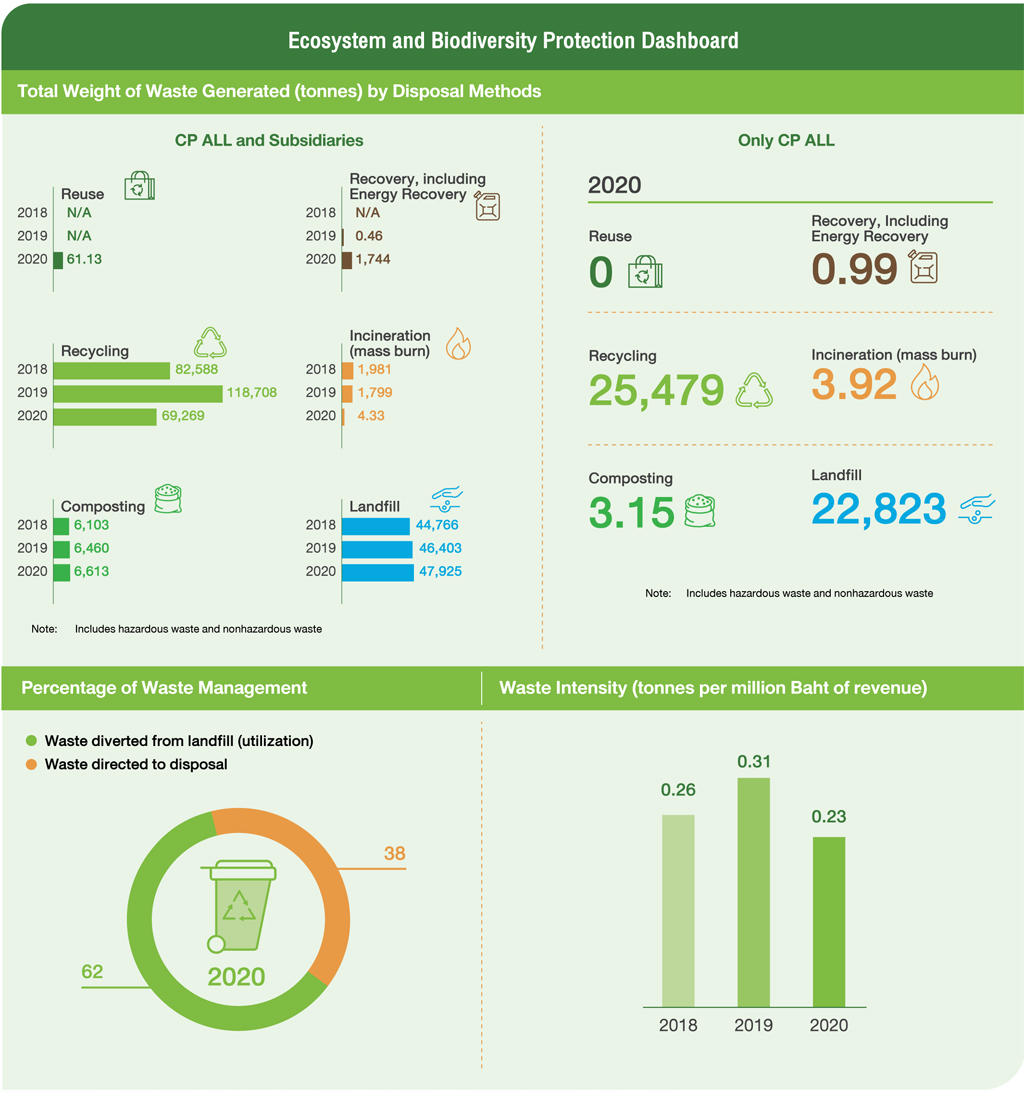 Risks and Opportunities
---
Biodiversity is at the heart of restoring and maintaining the ecosystem, an aspect not only important for the environment but also for human life. The origin and supply of economic and industrial resource stems from proper biodiversity preservation. It is a challenge to maintain the balance of nature through mitigation and joint restoration of the ecosystem while simultaneously conducting business activities. In the use of natural resources as raw materials in sales and logistics activities, waste from excess products impact the environment directly and indirectly through climate change.
The impact includes food security risks for vulnerable groups as well as risks for operating businesses. Therefore, CP ALL Plc. and its subsidiaries ("the Company") strongly intends to continue environmentally responsible business operations, place importance towards protecting and reviving ecosystems and biodiversity and conduct business activities with caution in order to minimize impact towards the environment. These actions will grant the next generation the opportunity to utilize valuable natural resources sustainably.
Management Approach
---
With awareness of the importance of biodiversity, the Company has set policies and operational guidelines to minimize impact on ecosystems and biodiversity. Additionally, other important matters include the restoration and conservation of natural resources and the environment through waste management, support for the protection of natural resources and the increase of forest areas.

Key project in 2020
Waste Management and Circular Economyct
There is awareness of various environmental problems which arise from improper waste management. Such cascade effects include contamination in the ecosystem, the generation of greenhouse gases which in turn causes climate change affecting ecosystems and biodiversity, and the outflow of plastic waste into water bodies and oceans which impacts live in oceans. Therefore, the Company has focused on the management of waste through different approaches encompassed mainly by the Circular Economy concept. Special emphasis is given to recycling processes that converts waste into reusable material in order to reduce contamination in the ecosystem.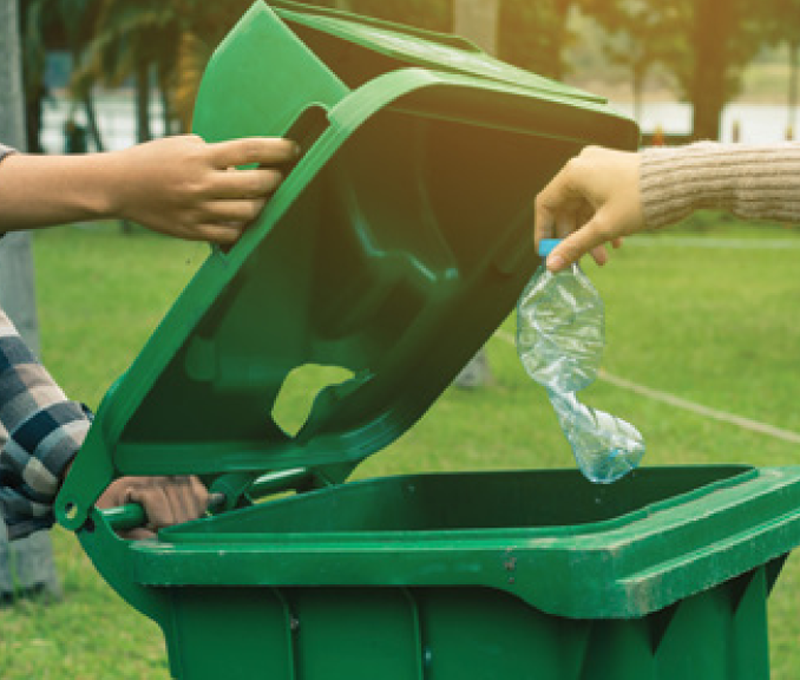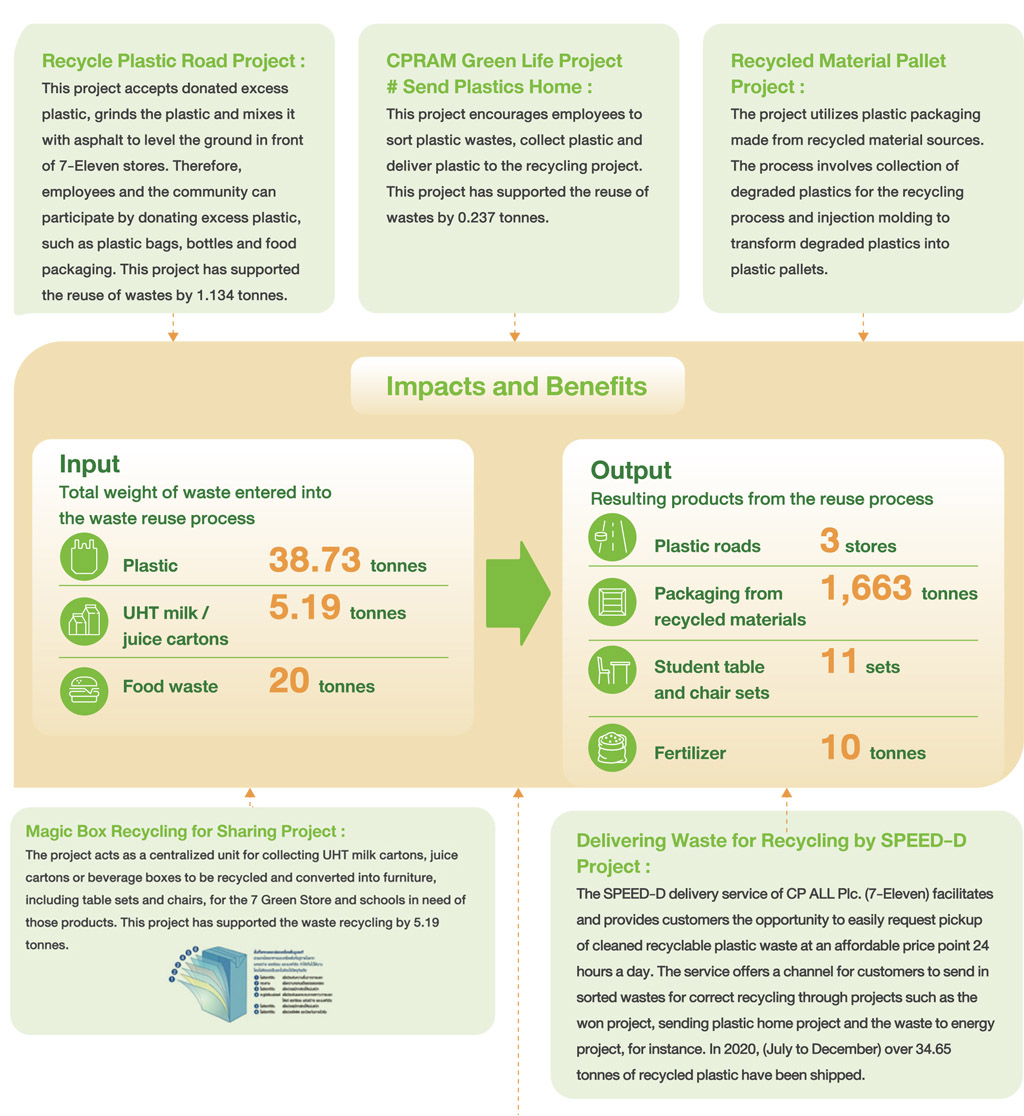 Sustainable Blue Crab Project in Thai Seas
Currently, crab meat, which is an ingredient with increasing market demand, is a key raw ingredient in CPRAM Company Limited products. As consumers within the market continue to increase demand and depleting natural sources are not able to keep up with supply, a risk towards food source stability has been created. Therefore, the Company in conjunction with fisherman, Coastal Fisheries Research and Development Center Region 3 (Surat Thani province), and Wiya Crepe Product Co., Ltd., has encouraged and supported crab conservation initiatives in the Gulf of Thailand and Andaman Sea. The implementation of the Sustainable Blue Crab Project in Thai seas aims to increase Blue Crab populations in coastal regions of Surat Thani province. This is achieved by raising juvenile Blue Crab and releasing them when they reach the 'Young Crab' stage into their natural marine habitat where they can grow to become mature crabs. Furthermore, this project promotes local fishermen businesses and raises awareness of responsible Blue Crab fishing in order to increase the crab population in the coastal areas.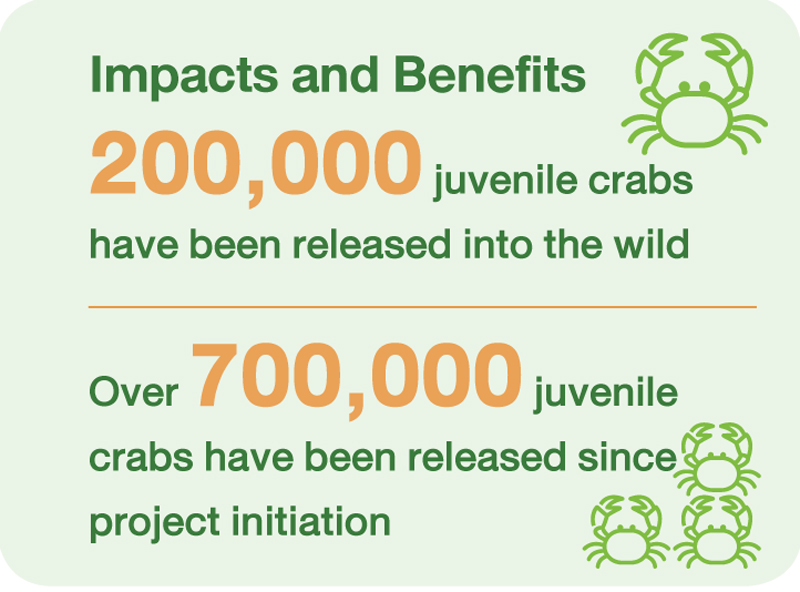 The Sustainable Blue Crab Project is a project the Company has given importance to, supported for over 5 years and aims to increase the crab population in their natural habitat by 200,000 per year. In 2020, the learning center and hatchling facility at the research and development center for coastal marine life has been developed at the Coastal Fisheries Research and Development Center Region 3 (Surat Thani province). Moreover, garbage collection activities around the island have assisted the conservation of coastal natural resources.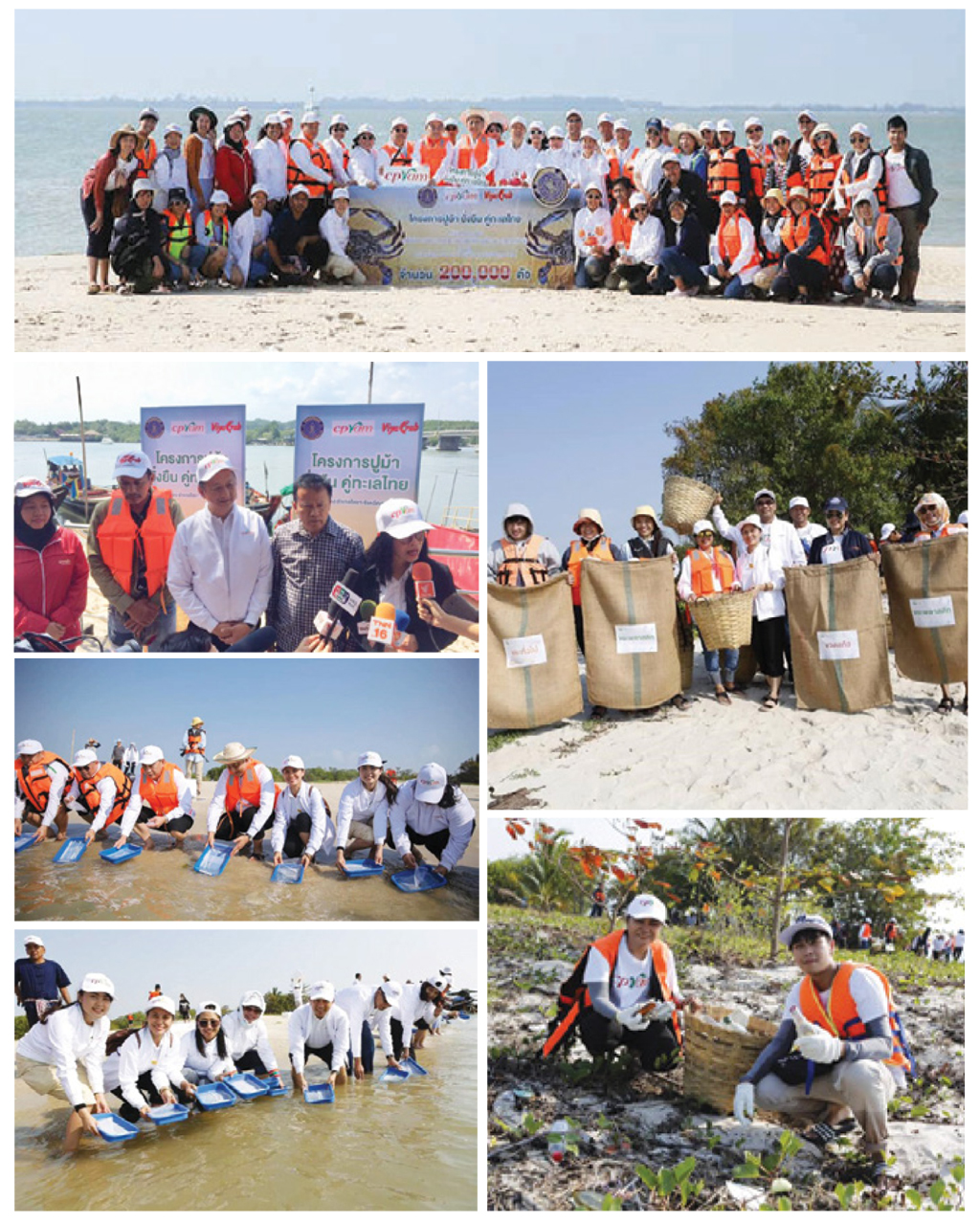 Forest Restoration
---
The Company realizes the importance of forest restoration to conserve natural resources and the environment, which has deteriorated, in addition to meeting the goal of being net zero carbon dioxide emissions by 2030. Furthermore, the Company aims to fulfill the goal to jointly protect and restore the ecosystem and biodiversity. Thus, various activities have been organized with the intention of ingraining a positive attitude towards planting trees and to foster engagement with stakeholders. The Company has commissioned a working group tasked with planting perennial trees to create sustainable communities. CP ALL Plc. monitors and drives the tree planting performance through the establishment of a framework consisting of 4 stages.

Currently, the Company has collectively planted over 15,700 trees in every Company operating area capable of planting as shown in the figure.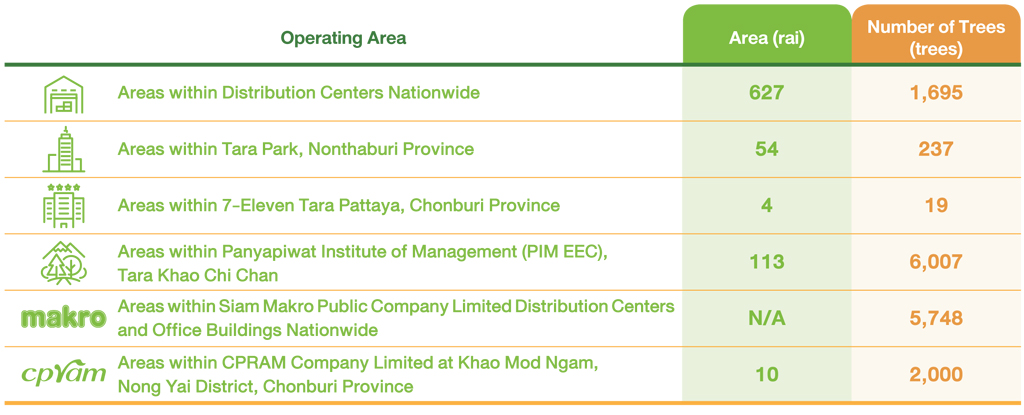 Biodiversity Risk and Impact Assessment
In conducting business according to sustainability guidelines, an important issue to consider is the efficient use of resources to reflect its value and allow for natural resources to be sustainably passed on to the next generation. In reiterating intentions for sustainable operations, CP All Public Company Limited has announced the policy on biodiversity and natural resources to be used as a guideline covering 100% of the areas of operation and business activities (click to access the policy). According to the guideline policies stipulated by the Company, biodiversity risk and impact assessments are to conduct in areas of Company operation and business activities, in addition to the preparation of appropriate prevention and mitigation plans in biodiversity sensitive areas and adjacent areas. Furthermore, the operational outcomes are subject to continuous monitoring and disclosure. In 2021, the Company has utilized information technology in conjunction with the biodiversity database to assess 100% of the areas of operation and relevant main business activities.
Biodiversity Risk and Impact Assessment Procedures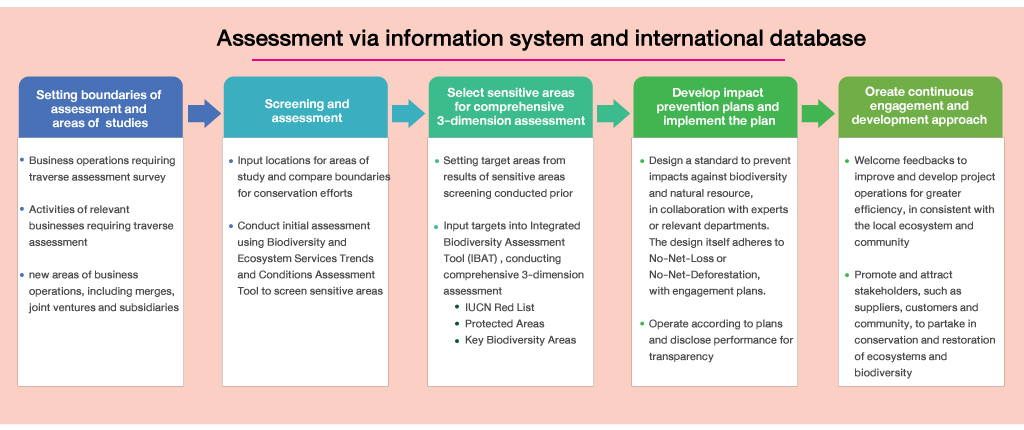 Measures
The Company firmly respects and strictly complies with local regulations and laws. Through evaluating conservation area boundaries altogether with consideration of convenience store business norms where a central location in communities is key, it has been determined that the respective business operations have no direct impact on ecosystems and biodiversity. Nevertheless, the Company highlights the importance of biodiversity and ecosystems which assists in enabling sustainability in society and within the organization. The Company in collaboration with relevant agencies have carried out supporting activities in this regard, which include releasing juvenile blue crabs to support the increase of crab populations within the ecosystem, garbage collection in beach areas, and reduction and elimination of plastic bag usage in addition to the introduction of alternative renewable materials capable of easily degrading on islands, etc.
Examples of project activities to promote ecological stability and biodiversity:
Reforestation and Weir Construction Project at Siri Charoenwat Forest in Chonburi Province
Project Objectives and Implementation
To conserve biodiversity, maintain environmental sustainability, and preserve natural resources and the environmental richness.

To maintain fertility within Siri Charoenwat Forest Park and for conservation of sustainable soil, water and wildlife habitat.

To promote soil remediation and restore forest to the original prosperous state.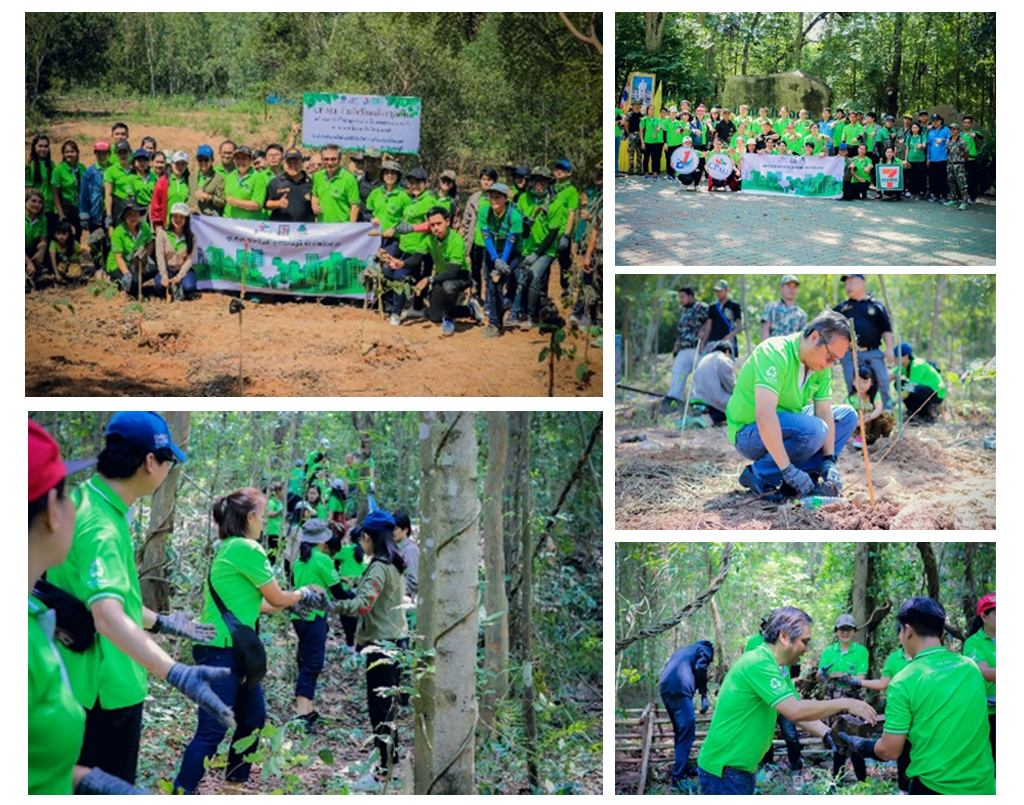 Mangrove Reforestation Project
Project Objectives and Implementation
To conserve mangrove forests intactness and foster aquatic animal reproduction within the local ecosystem in collaboration with the Kalong Community and the Bang Torad Community in Mueang Samut Sakhon District, Samut Sakhon Province, through organization of community activities to plant 500 mangrove trees annually.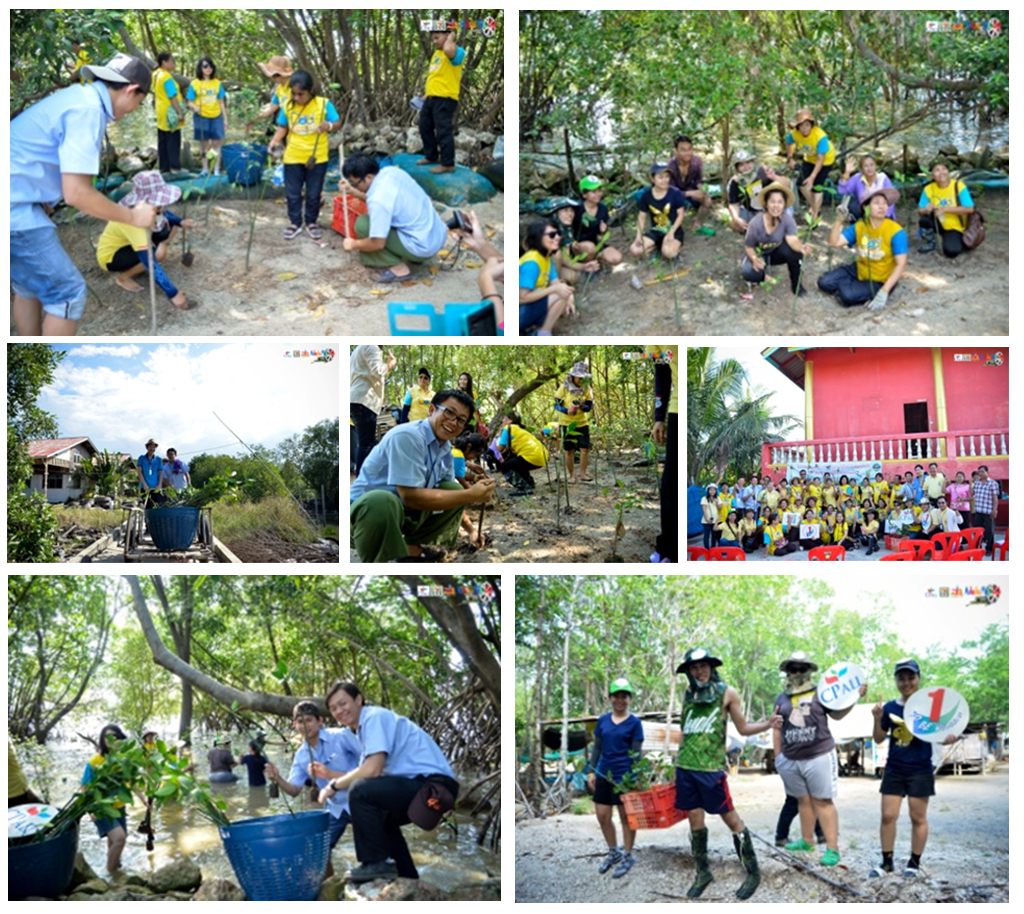 Plants for Community Volunteer Project
Project Objectives and Implementation
To organize communitywide activities for the purpose of green space expansion on a biannually basis, for a total of 1,000 trees.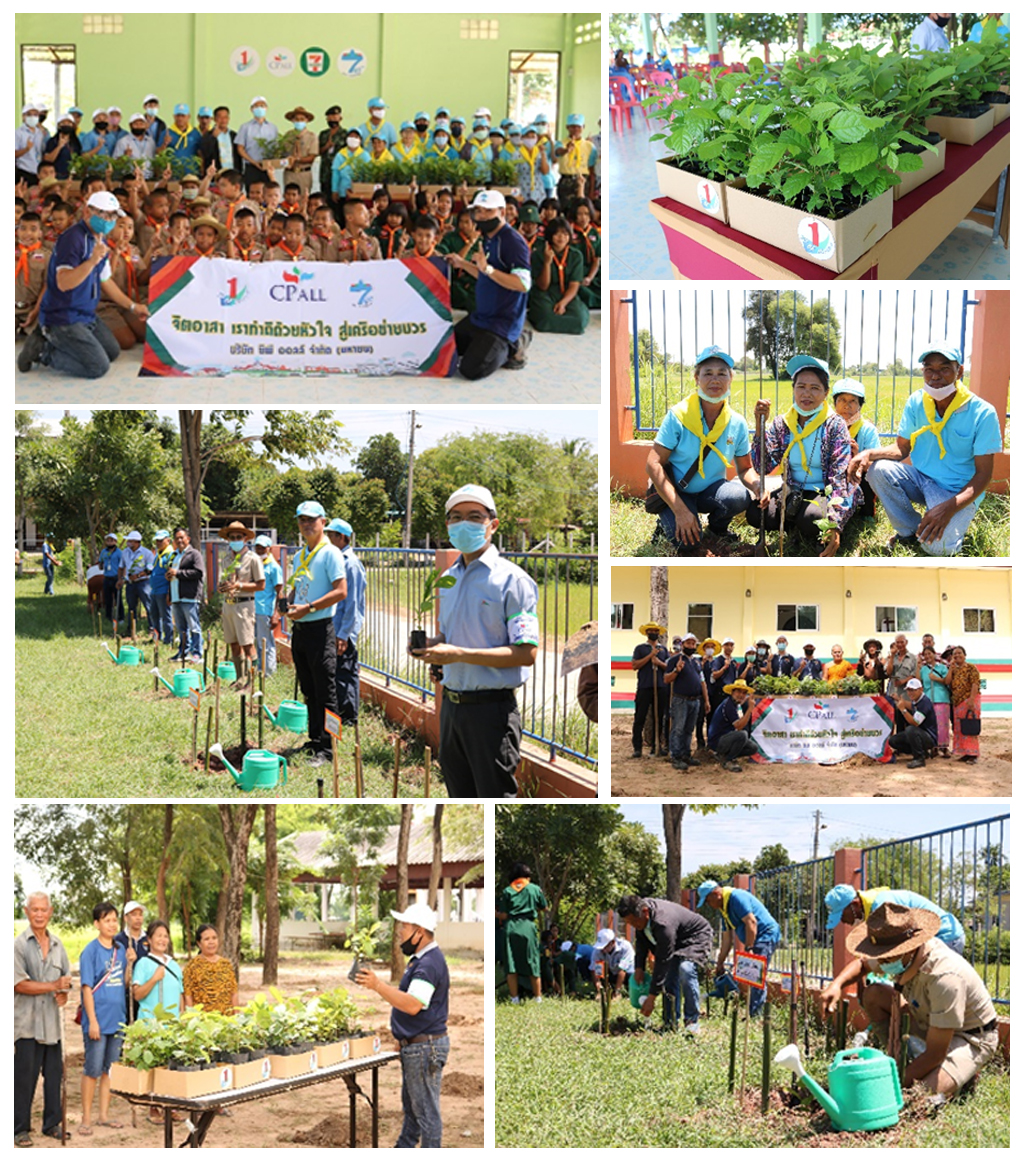 Project: Construction of Weirs in Honor of His Majesty the King
Project Objectives and Implementation
Employee representative participated in the construction of weirs in honor of His Majesty the King with agencies within the Ministry of Justice at Ban Huai Sai Khao, Muang District, Lamphun Province.

Mangrove Waste Collection Activities Project in the Lee-led Community
Project Objectives and Implementation
To participate in the conservation of mangrove forests and improve environmental sustainability in Khlong Leeled, Lee Led Subdistrict, Phunphin District, Surat Thani Province.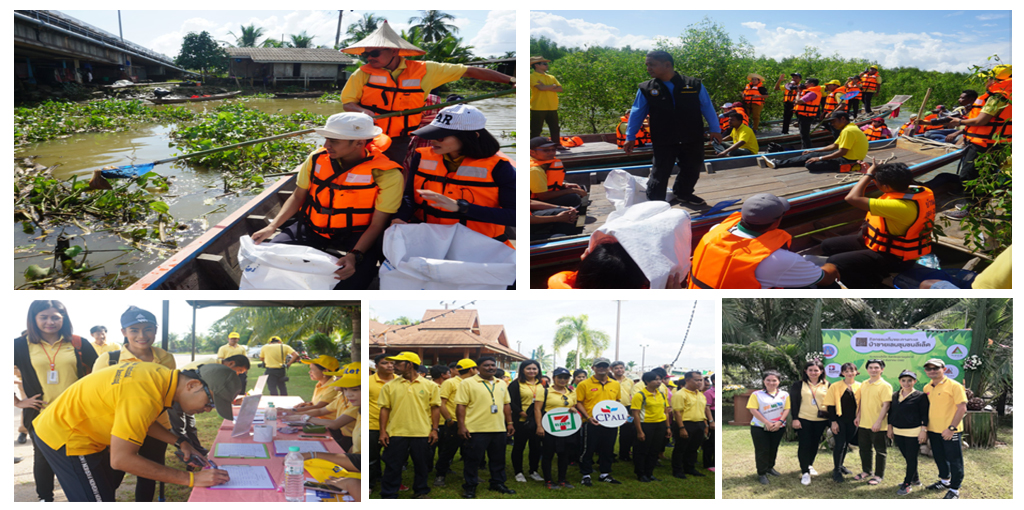 The Royal Volunteer Project "Development, Landscaping and Cleaning of Beach and Canal Areas"
Project Objectives and Implementation
To improve the landscape and eliminate waste for beautification of Sirinat National Park, Nai Yang Beach, Thalang District, Phuket Province in collaboration with government agencies, private sectors, communities, schools and volunteer members in honor of His Majesty the King and as homage on Father's Day.

For more details —> SD Report 2020
Related Policy and Guideline
| | |
| --- | --- |
| Biodiversity and Natural Resource Policy | Download |