Protecting the Ecosystem and Committing to Being Green
Key Performance in 2019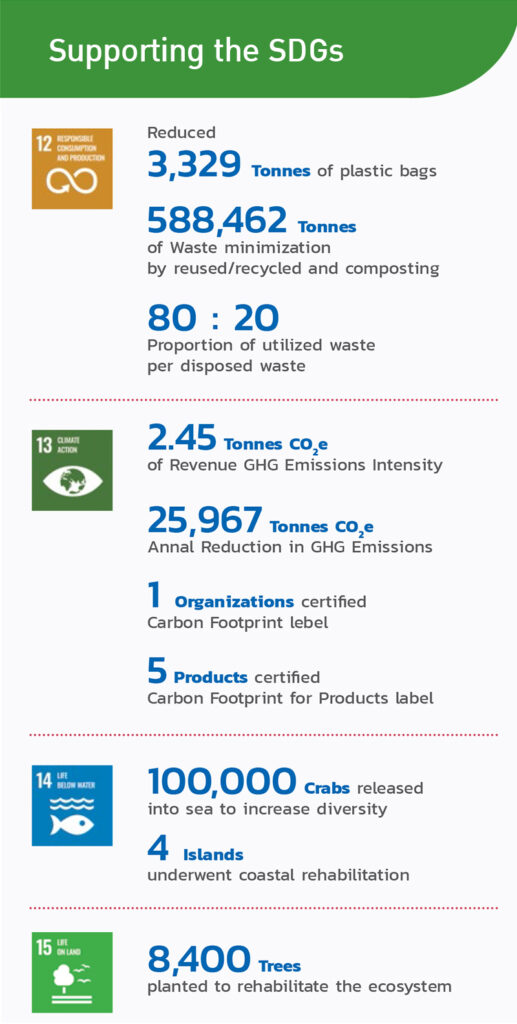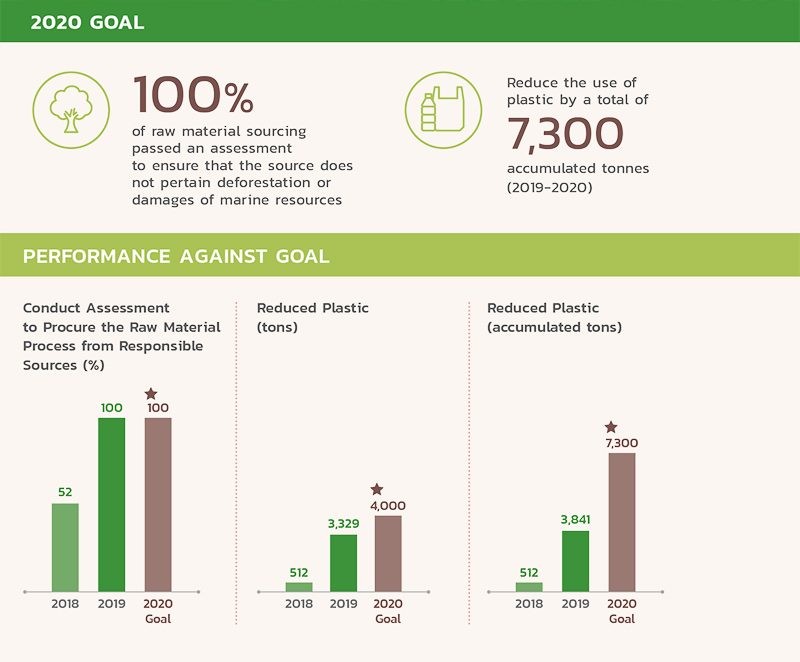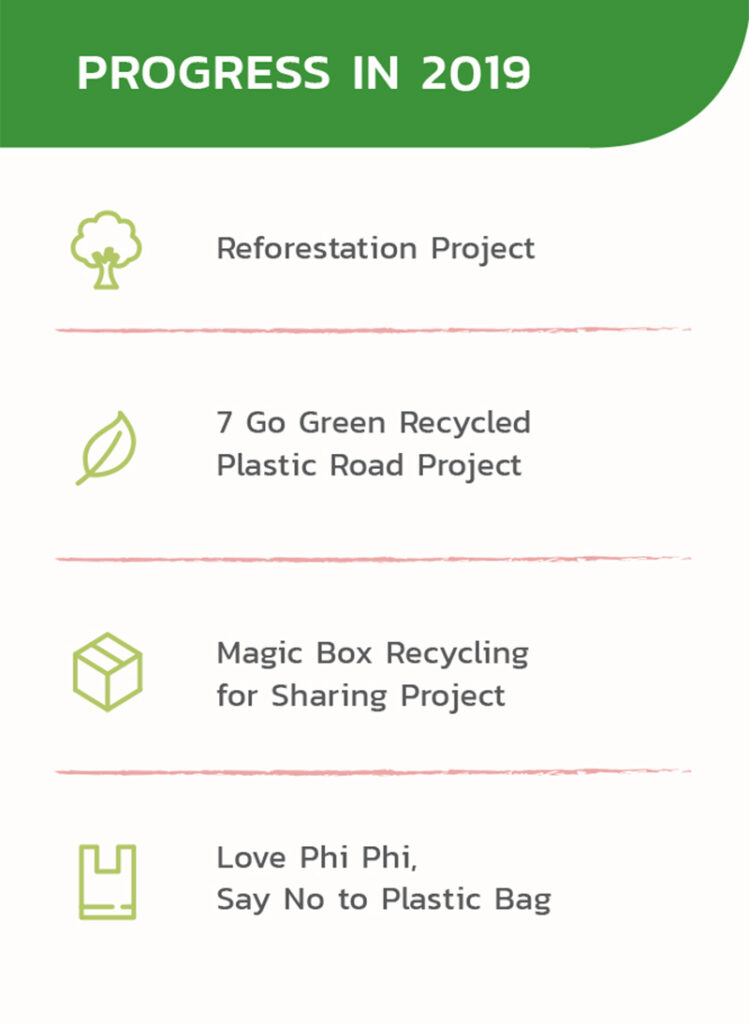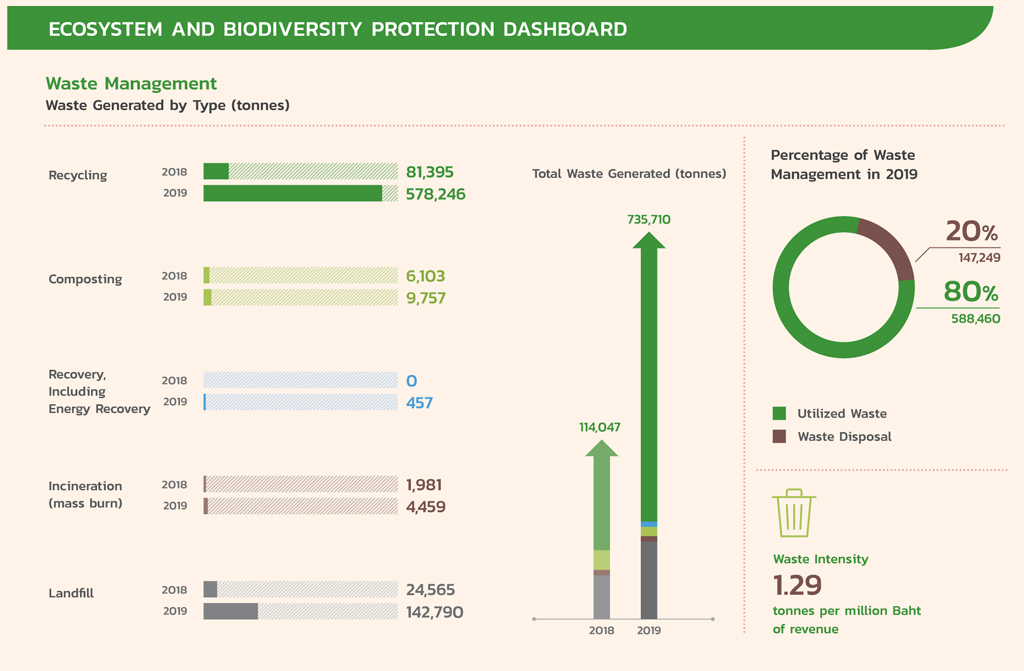 Challenges
---
Influenced by current events and our changing world, digital technology and innovations have underwent rapid development. However, biodiversity has plummeted due to climate change and human actions. Aside from the loss in biodiversity, the increasing amount of plastic in the oceans and depleting natural resources are major points of concern. CP ALL Plc. and its Subsidiaries ("the Company") are committed to environmental management and biodiversity. The Company is conscious of its impact from plastic waste on the environment and the long-term effect on its business reputation and resource management. Therefore, the Company focuses and supports environmental conservation and the protection of biodiversity in order to mitigate the current impact and preserve natural resources for future generations.
Management Approach
---
The Company is committed to be a sustainable business that is environmentally responsible, through awareness raising. The Company's attention is focused on mitigating impacts from the business, products and service under the environmental policy, as well as sustainable procurement policy and business partner guideline implemented throughout the supply chain. These policies and guidelines are set in place with the goal of utilizing resources efficiently and using less of the already limited natural fuels. In addition to the aforementioned goals, the Company is adamant on being a part in solving climate change challenges, promoting efficient water management, reducing deforestation and preventing environmental damage, which directly affects biodiversity. The Company combines environmental impact mitigation with business operations under the "7 Go Green" strategy and develops projects on waste management and green packaging to reduce the impact on the environment and biodiversity. Additionally, the Company promotes and supports reusing waste and creating value from it through circular economy. For starters, there is the 7 Go Green Recycled Plastic Road project and the Eco Store project. These projects increase the business' ability to grow while sustainably preserving natural resources and protecting biodiversity.
Key project in 2019
Reforestation Project
Objective to restore natural resources and the environment
CP ALL Plc. to participate in community service activities with provincial finance administrators from Nakhon Phanom, government agencies, state enterprises, private organizations, local government organizations, schools and the people of Nakhon Phanom province, they planted a yellow star trees and economic crops, such as teak trees, Siamese rosewood trees, black rosewood trees, Pradu trees and bamboo, along the Nong Kin Reservoir, Nong Kin Subdistrict,Mueang Nakhon Phanom District
Results and benefits
Planted trees to restore the ecosystem amount 6,810 trees
Increase carbon sequestration area
Establishment of the economic crops learning Center of Nakhon Phanom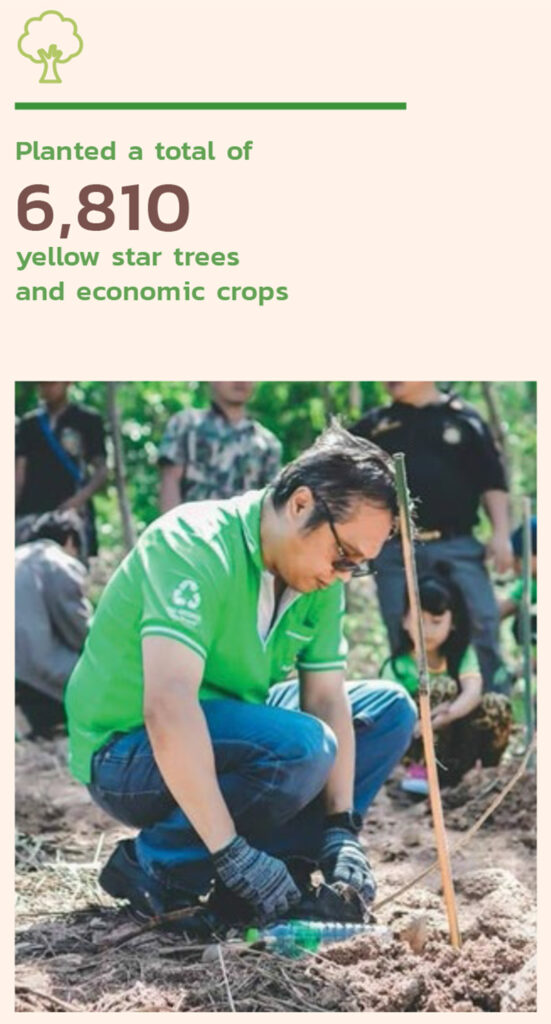 7 Go Green Recycled Plastics Road Project
Objective to reduce the amount of plastics that enters the ecosystem and affects biodiversity
CP ALL Plc. complement the plastic management of bags, trays, bottles and cups for recycling under the principle of circular economy. The project plays a part in solving the global crisis on marine plastics and is a collaboration between CP ALL Plc., SCG Chemicals Company Limited and Dow Thailand Group. The recycled plastic is used to build roads and undergoes multidisciplinary processes and techniques that increase the road's strength and endurance against corrosion. This collaboration on recycled plastic roads is the first of its kind to provide support and development to the communities around retail stores by taking plastic waste that is separated from offices, the distribution center, 7-Eleven stores, CPRAM Company Limited, Panyapiwat Institute of Management, Panyapiwat Technology College, hospitals and communities around 7-Eleven stores.
Results and benefits
Roads were built around two 7-Eleven stores at Sai Mai Soi 3 and Rat Phatthana Soi 24, and two office areas.
Approximately 865 tonnes have been brought back to use in communities.

Magic Box Recycling for Sharing project
Objective to reduce environmental impact
CP ALL Plc. intends to reduce environmental impact by promoting and supporting the recycling of plastics. Under the principle of circular economy, the Company provides opportunities for students and schools in need of support through collaboration with Ampol Food Processing Company Limited, Tetra Pak (Thailand) Company Limited, Thai Parcel Company Limited and SIG Combiblock Company Limited. The partnered organizations collect donated UHT cartons and paper beverage cartons that have been disassembled, washed and stored. The donated cartons are recycled into tables and chairs for students in necessitous schools. An amount of 2,500 cartons can be recycled into one set consisting of one table and one chair.
Results and benefits
28,010 carbons were donated
Can be recycled into the 11 sets of table and chair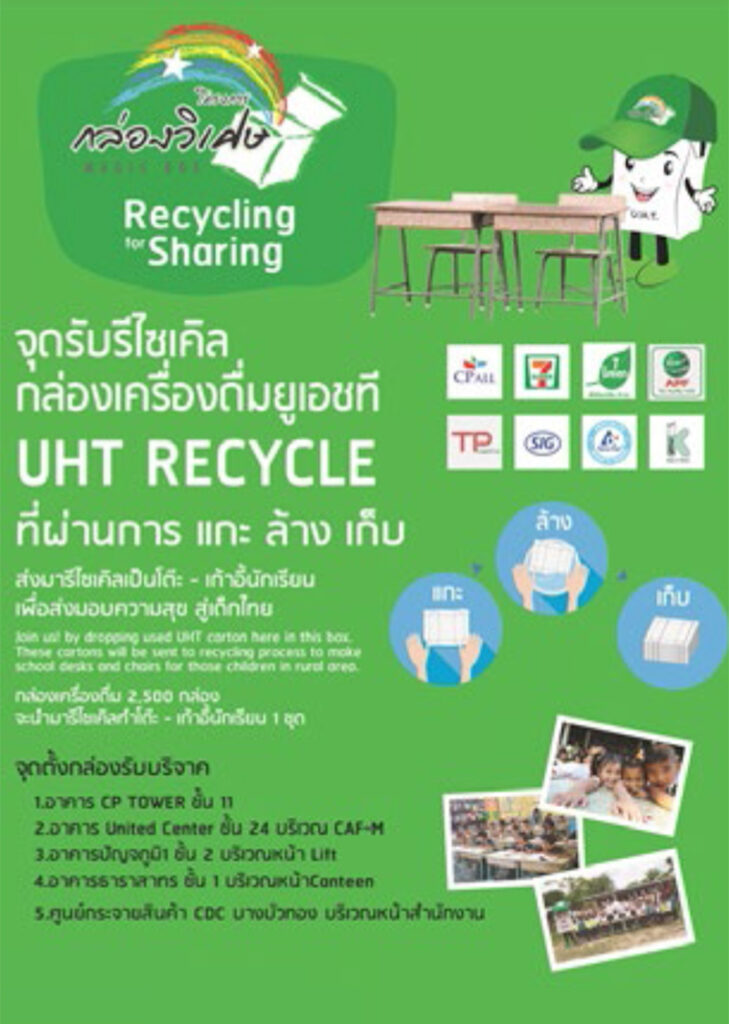 Other performance
---
The Company has improved and expanded scope of data consolidating system of waste generation and utilization. The information was collected from 3 main business units which are CP ALL Plc., Siam Makro PCL., and CPRAM Co. Ltd., representing 96.08% of all businesses. The objective is initial improvement data consolidating system, aligning with GRI 306: Waste 2020.
Hence, in order to analyze, compare data, and find opportunity for continuous improvement, the company has adjusted previous data, ensuring the information having the same scope and categorization.
For more details —> SD Report 2019