Ecosystem and Biodiversity Protection
The Company strongly believes that biodiversity conservation and sustainable use of natural resources are the responsibility of every sector in society. Thus, the Company has set environmental and biodiversity guidelines as follows:
Participate in conserving the ecosystem and biodiversity in accordance with international standards and set long-term goals to be a guideline for business operations; and collaborate with organizations involved in this issue
Minimize impacts on the ecosystem and biodiversity throughout the supply chain as much as possible by developing supply chain responsibility, promoting measures to prevent deforestation, and effective operations
Apply ecosystem management as a tool to effectively manage risks and business opportunity
Promote awareness and understanding of the ecosystem as well as biodiversity protection and conservation among employees and key stakeholders through training and knowledge sharing
Organize campaign activities, e.g., supporting the Convention on Biological Diversity and participating in the Earth Summit
Disclose operational performance relating to the ecosystem and biodiversity through the Sustainability Report in order to report on the progress of current operations against set goals to inform stakeholders
Collaborate with government authorities, Non-Governmental Organizations (NGOs), educational institutes, communities and other agencies in order to jointly solve problems related to the ecosystem and biodiversity at the national and global level
Implementation
CP ALL Plc. and its Subsidiaries ("the Company") assesses risks and aware of the impact that it causes to the ecosystem both on land and in water from waste and used materials. Consequently, it has created communication channels to raise awareness of disposable plastics to various sectors. It conveyed that these materials are persistent, remain in the ecosystem for a long time and lead to environmental effects. Even though there is good management, there are possibilities of these materials escaping into the surrounding area. In addition, there are risks towards the ecosystem and the biodiversity in different circumstances, such as the destruction of the forest and marine resources. Therefore, priority is given to protecting the ecosystem and biodiversity where natural resources, including those of the Company, originate from.
Reducing the impact of business operations, which affects the company's image and protects natural resources, directly benefits the environment.  Additionally, reducing the impact on the ecosystem improves the quality of life of the communities that rely on resources derived from those ecosystems.
The Company has a policy to procure raw materials from suppliers that do not destroy the forest and marine resources and enforces this policy on all business partners. In addition, the Company has policies regarding the impact on the ecosystem both on land and in water from waste and used materials. This matter especially concerns disposable plastic where the Company has direct influence. With these policies, the Company developed projects for eliminating waste and the use of packaging to help reduce the impact on ecosystems and biodiversity. These projects have become a part of the "7 Go Green" strategy.
Environmental sustainability project in Koh Lanta District
From key learnings in waste management and packaging improvement, the Company established an environmental sustainability project in Koh Lanta District in Krabi Province. The project was collaboration with both government and private sectors to cultivate consciousness and create sustainable waste management practices. The operation plan is shown as follows:
Environmental sustainability project in koh lanta District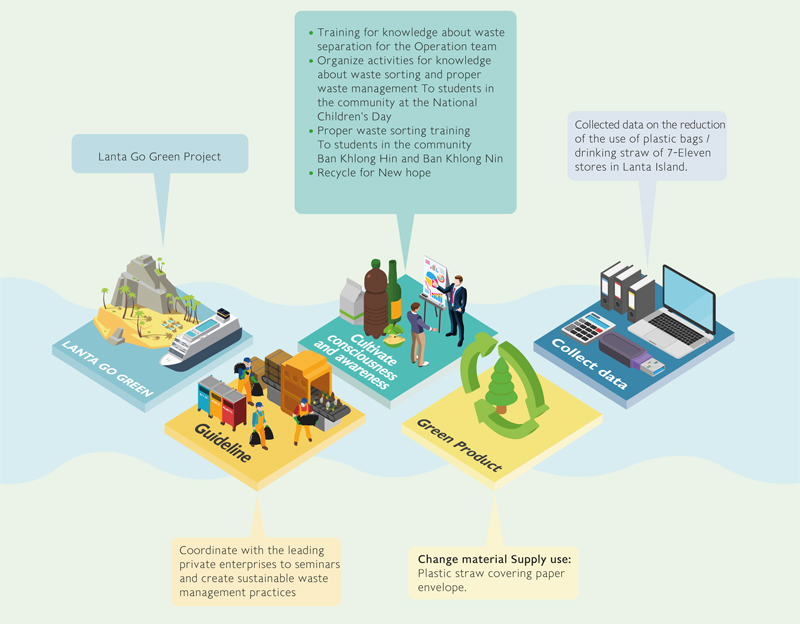 Sustainable Blue Swimming Crab, Lasting with Thai Seas

Crab meat is considered key raw materials in CPRAM Co., Ltd. production plant. It is the key ingredient in readyto-eat meals at 7-Eleven. Presently, the demand for crab meat is outpacing the natural repopulation rate. Natural stock is no longer sufficient to satisfy the demands for usage. This project, Sustainable Blue Crab, Lasting Thai Seas, is a long-term project originating from the concept of Blue Crab conservation on the Gulf of Thailand and Andaman seas. This helps preserves natural resources and encourage small holders (local fishermen) to fish sustainably. Crabs are bred by hatching of eggs from parent crab, whose eggs are attached outside the shell. Nurseries are then hosted in the cage. The younglings would then be released into the ocean, so they may grow naturally into large Blue Swimming Crabs. The project helps restores 200,000 crabs/year in its natural habitat, and reproduces 20 million crabs in nature. Current crab meat consumption is 182,380 Kilograms on average, or 6 million crabs/year. This ensures small holders are able to make a living sustainably.
Raw Material Source Traceability
Siam Makro PCL a company in the Group released 'Guideline for Sustainable Sourcing of Tuna-related Materials and Products in 2018.' The content addresses raw materials' traceability, fishery location, information on fishing boards and fishing methods, the breeds, and other details related to labor practice and human rights. It serves as a guideline for sustainable and ethical sourcing. The mentioned guideline has been communicated to customers to facilitate their decision-making during purchases.