Human Rights and Labor Practices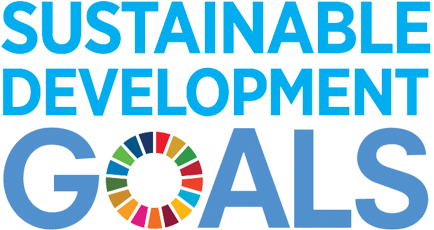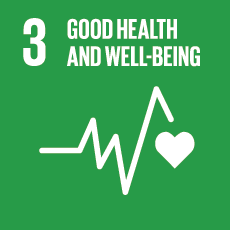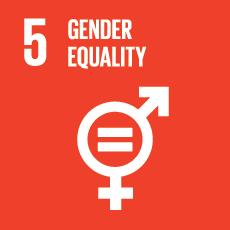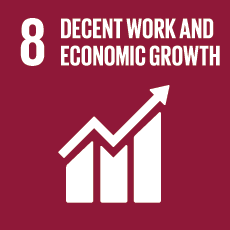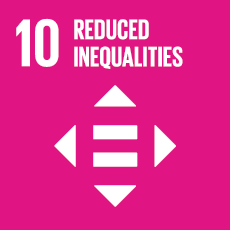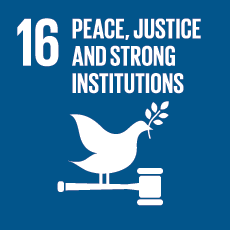 Risks and Opportunities
Human rights are basic rights and liberties that all humans must receive. These may include equality, equity, and anti-discrimination whether by race, nationality, religion, gender, skin color, language, or another status. The importance of human rights has been globally recognized, especially as a key principle in conducting business. Business operations often either directly or indirectly involve humans, such as in the production process, logistic process, and service—each of which requires human labor, management, and coordination. It is therefore important for business performance and corporate image that there is equal treatment based on human rights principles for employees, suppliers, customers, and related personnel; occupational health and safety; and health support during crisis situations. Further, support for employees' access to minimum wage as a living wage can reduce turnover rate by over 50%, in addition to enabling them to have better welfare and appropriate basic income.
Hence, the Company has strived to promote human rights risks assessments, on which the business sector needs to place an importance. The Company has also determined guidelines to align business practice human rights protection principles following international and local laws. This is to prevent human rights violations of stakeholders throughout its value chain and in its business conduct.
Performance Against Goal
2030 Goal
100%
The Company has continuously conducted Human Rights Impact Assessment following United Nations Guidelines, of its operations and suppliers with high sustainability risks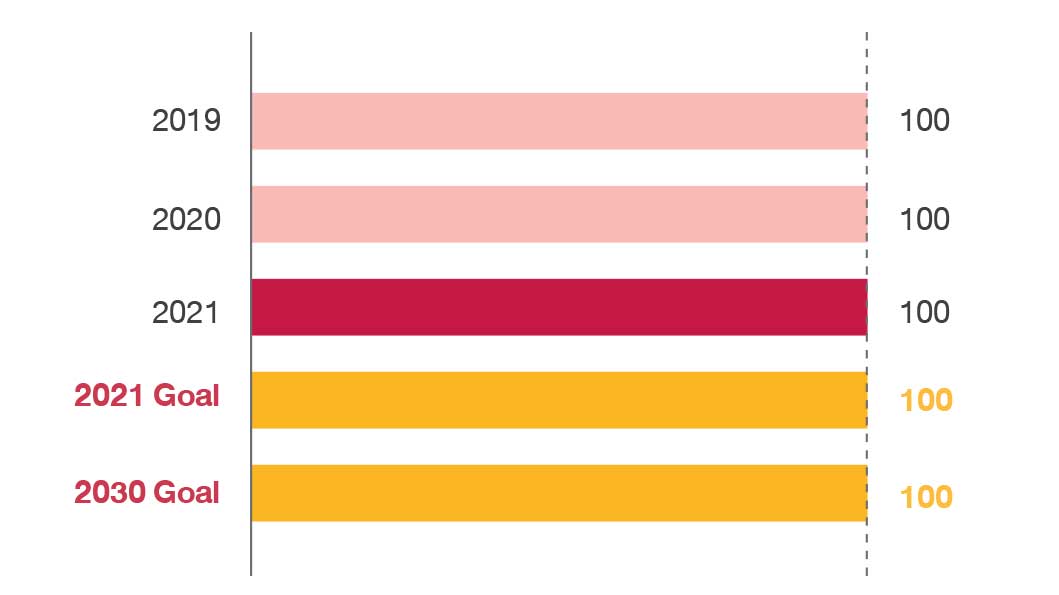 Performance Summary 2021
Significant high risk issues
Employee Health and safety in
7-Eleven and 24 Shopping Business
Awareness on Respecting and Complying with Human Rights Principles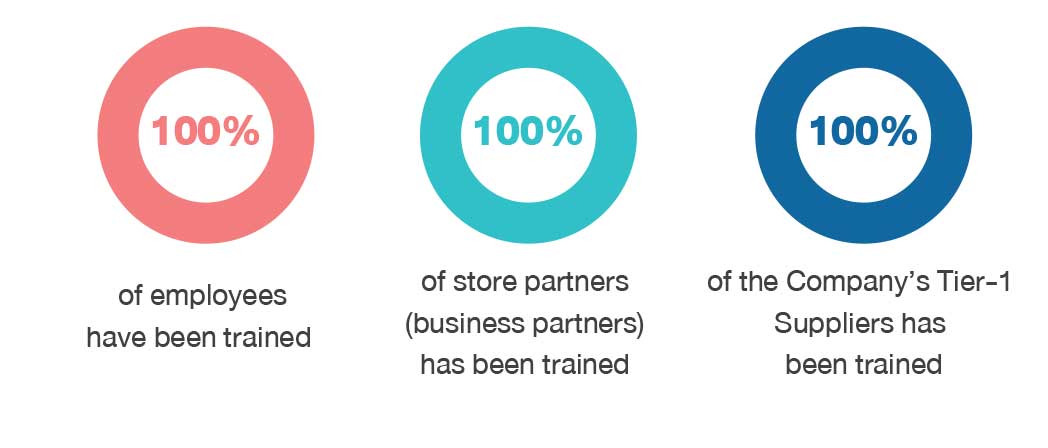 Grievances on Human Rights Violations
In case of violations, CP ALL will ensure that appropriate remediation actions are provided with continuous tracking, monitoring and reporting processes. Furthemore, CP ALL considers all types of remediation actions to ensure that the people (i.e. affected rights holders) who have been impacted receive an effective remedy. Thia Includes compensation and other forms of remedy that shall amend the harm caused, such as apologies, restitution, rehabilitation, financial or non-financial compensation, punitive sanctions, and the prevention of harm (e.g. injunctions or guarantees of non-repentition).
Promoting Equal Opportunity and Diversity
Gender Diversity
| | Number (person) | % of FTEs |
| --- | --- | --- |
| Male | 35,545 | 39.13 |
| Female | 67,712 | 74.53 |
Remark : FTEs is Full Time Equivalent
Age Diversity
| | Number (person) | % of FTEs |
| --- | --- | --- |
| Under 30 years old | 47,279 | 52.04 |
| 30-50 years old | 41,653 | 45.85 |
| Over 50 years old | 1,914 | 2.11 |
Remark : FTEs is Full Time Equivalent
Nationality Diversity
| | Total workforce (%) | All management positons (%) |
| --- | --- | --- |
| Thai | 97.04 | 41.56 |
| Cambodia | 0.71 | 13.96 |
| Myanmar | 2.16 | 42.59 |
| Korea | 0 | 0 |
| India | 0 | 0.10 |
| Australia | 0 | 0.04 |
| Other | 0.09 | 1.76 |
Religious Diversity
| | Number (person) | % of FTEs |
| --- | --- | --- |
| Buddhist | 85,598 | 94.22 |
| Christian | 565 | 0.62 |
| Muslim | 4,180 | 4.60 |
| Hindu | 8 | 0.01 |
| Other | 53 | 0.06 |
| Undisciosed | 442 | 0.49 |
Remark : FTEs is Full Time Equivalent
Capability Building of Female Employees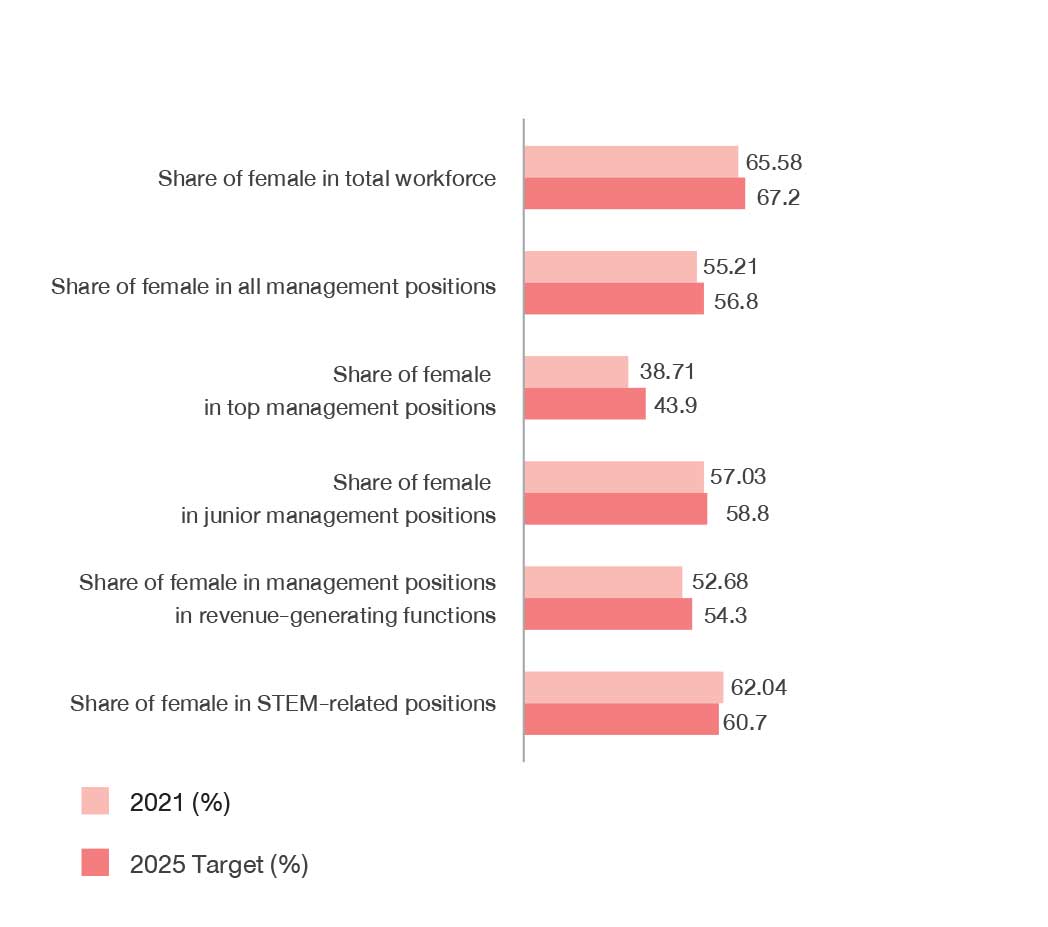 People with Disability
Freedom of Association
Management Approach
The Company operates following its Human Rights and Labor Practices Policy, covering all operating locations and including suppliers and business alliances—in line with the UN Guiding Principles on Business and Human Rights (UNGP), basic rights as prescribed by the International Labor Organization (ILO), and labor laws of territories in which the business operates. These include human rights issues such as child labor, forced labor, discrimination, and sexual harassment, among others. The Company has also conducted Human Rights Due Diligence (HRDD) in all operating locations and in all business activities. It also conducts Human Rights Impact Assessment (HRIA) in at-risk units, Human Rights Risk Assessments, and raised awareness on the respect of and compliance with international human rights principles with business alliances and critical suppliers through various programs. This is to prevent and avoid human rights violations of all stakeholder groups. Additionally, the Company has also equally and fairly evaluated all employees' cost of living.
Additionally, the Company elevated its occupational health and safety standards, in alignment with the present conditions and in support of basic human rights through public health. It has determined welfare measures to assist employees and families affected by the COVID-19 pandemic, including support for COVID-19 treatment costs, educational expenses support for children of employees in the case a spouse of an employee was affected by COVID-19, as per the Company's guidelines.
Human Rights Due Diligence Process
The Company has a systematic and effective Human Rights Due Diligence encompassing all locations of the Company's business operations, including all activities pertinent to the Company's value chain, covering suppliers, partners, contractors, business alliance groups, joint ventures, and mergers and acquisitions.
Additionally, the Company has considered human rights issues with potential risks associated with its operations. Salient issues identified include the use of forced labor, human trafficking, child labor, rights and freedom to association and collective bargaining, fair wages, discrimination, sexual harassment and other forms of harassment, safety and security, environment, consumer rights. Stakeholders whose rights may be at risk of violation include employees, local communities, partners, suppliers, contractors, customers, and consumers, as well as related vulnerable groups, such as women, children, members of the local community, migrant workers, sub-contracted workers, people with disabilities, the elderly, and LGBTQI+ members. These stakeholder groups were identified through engagement with relevant stakeholder groups so that the Company can have the confidence that business operations will not violate human rights.
Engage with various stakeholders
both internal and external consisting of employees, community public agencies, civil organizations The aim is to communicate the Company's human rights performance
Human Rights Risks Assessment
The Company is committed to continuously managing human rights by arranging for the conduct of Human Rights Risks Assessments (HRRA) every three years since 2017. Human rights preventive and risks reduction measures are also annually reviewed, covering 8 core business units or 100% of all operating locations and 100% of all business activities, composed of 5 activities: Sourcing and Procurement, production and development,Logistic and Distribution, Retail and marketing, and Consumer Support and After Sales Service. The human rights issues identified include:
Additionally, the Company has conducted Human Rights Risks Assessments with all Tier-1 suppliers, covering 4,710 suppliers. The review revealed issues such as management of human and labor rights needing improvements in employees' handbook to be in line with labor laws; wages and benefits practices needing to be in legal alignment on wage deductions; occupational health and safety requiring occupational safety training; the appointment of safety officer to be in line with legal requirements; and risk-based medical examination. The Company has supported suppliers in developing preventive and corrective actions on human rights issues with all Tier 1 suppliers.
Human Rights Impact Assessment
The Company has continuously conducted Human Rights Impact Assessment (HRIA) by surveying and interviewing rights holders. In 2021, the Company's HRIA covered all employees in 4 locations where HRIA was conducted, including data from 4,100 employees of 7-Eleven stores nationwide, CP ALL distribution centers, CPRAM factories, and the 24Shopping online platform. The Company has also elevated impact mitigation measures; senior management has communicated to all employees in the Company treating each with human rights.
Integrated Preventive and Impact Mitigation Measures on High-Risk Human Rights Issues
Under the responsibility of store partner companies (business partner)
High-Risk Issues
Preventive and Mitigating Measures
Integrated Measures
Employee Health and Safety of Business Unit:
Potential Risk:


Accidents during working, including
– accident from delivery
– slipping/falling stairs
– object/product falling
– Forklift crashes
– knife cuts
PPE is improper (i.e. safety shoes, jecket for working in cold storage

Safe Handbook
job Safety Analysis conducted
ISO45001/TIS18001 certification
Health and Safety training for employees
Road safety training for employees
Provision of Personal Protective Equipment (PPE) and labor-saving device for employees
PPE inspection 1 time per month by OSH&E committee and every time before using PPE by Line Manager
Provision of thicker jeckets and vitamins for employees who work in cool storage and let them adjust their body temperature before going out cool storage

Corporate policies (e.g. SHE policy, Human Rights policy)
Regulations for the worplace
OSH&E Committee
Announcement of Fleet Safety Goal
Standard Operation Procedures
Creating Awareness on Human Rights
"Business and Human Rights" Training Curriculum
To create awareness, respect, and prevent violations of human rights within and without the organization, the Company has organized a "Business and Human Rights" training for management-level staff in the CP ALL Group. The curriculum is composed of the following key aspects of human rights:
In 2021, there were 1,900 training participants. A plan was developed to increase the scope of this awareness-raising effort to 100% of the employee base of all levels and operational areas, including store partners (business partners) through an online platform by 2025.
Elevating Program for Grievance & Resolution Mechanism
The Company allows freedom to express one's opinions and concerns, provides multiple channels for employees to utilize, such as the Voice of Employee system and through welfare committees in the workplace affairs.
Labor Practices
The Company is committed to respecting the labor rights and fair practice of employees, in alignment with various laws and policies under the Thai Labor Protection Act and other international standards. This is achieved through establishing appropriate employment conditions, wages, working hours, holidays, and welfare, in addition to ensuring a good and safe working environment. Specifically, the Company provides the following welfare:
| Welfare | Legal Entitlements | Welfare Provided by the Company |
| --- | --- | --- |
| Maternity Leave | 98 days | 120 days |
| Holidays | No fewer than 13 days | 14-18 days |
| Annual Leave | No fewer than 6 days | 6-15 days |
| Personal Leave | 3 days | 3-7 days |
The Company also provides for various employee welfare to elevate employees' wellbeing during their work at the Company. This includes programs such as the special interest rate emergency loans, rental assistance allowance, hardship allowance for employees located in remote locations. There are also life security benefits such as provident funds, life insurance, and natural disaster support fund. The Company has also assessed the need to increase employee health welfare benefits, including the Health Centers, medical prescription benefits wherein employees can receive their physician-prescribed medication either at home or the office, and COVID-19 vaccine procurement for employees in high-risk locations, such as 7-Eleven employees.
Freedom of Association
The Company provides for the free expression of opinion and concerns through various channels, including emails, information centers, corporate online media, whistleblower channels, and the Voice of Employee system, among others. Welfare committees in workplace affairs, set up in compliance with the Labor Protection Act of 1998, are also another communication channel. Currently, there are 103,257 persons representatives in the welfare committees, equivalent to 100% of all employees. Committee members have held quarterly meetings. In 2021, the Welfare Committee has approved the benefits (additional benefits) for employees as follows:
Equal Opportunity and Diversity Promotion
The Company respects employee diversity and is committed to treating all employees equally on the basis of their basic human rights, without discrimination based on race, religion, gender, skin color, language, age, or disability status. Diversity management is achieved through employment, capability development, and providing career path planning for all employees. This is done to attract and retain quality and valuable personnel. The Company also promotes equality between male and female employees by providing equal career advancement opportunities up to senior management levels. The Company also engages with the opinions of gender-diverse employees to help the organization sustainably grow. The Company also provides career opportunities to persons with disability and offers them the chance to work in their residence location-distributing income to the community. The Company also improved facilities of its offices, including providing inclined paths, widened doorways, dedicated access points for people with disabilities, prayer room, and breastfeeding room, among others.
Living Wage
The Company strives to work on living wages by regularly reviewing employee salaries and benefits in each location, ensuring competitiveness, fairness, equality, and legal compliance. This is to ensure that employees receive salaries appropriate for decent living. The Company has always paid wages higher than legal minimum wage, in addition to providing other additional allowances, such as overtime payments, transportation allowances, special allowances, housing rental support, food subsidies, and performance incentive payments. To ensure that the Company fairly pays wages and other benefits, the Company analyses wages, annually, by participating in a wages and benefits survey program led by the Korn Ferry Hay Group, a leading global consultancy. The Company has also arranged to assess the impact of changing costs of living and other
employment considerations in business operations. In 2021, the Company has accessed the living wage of 100% of its employee base, putting in place plans to increase this analysis to suppliers and contractors in the future.