Respecting Human Rights, Committd to International Principles, Creating Peace
Key Performance in 2019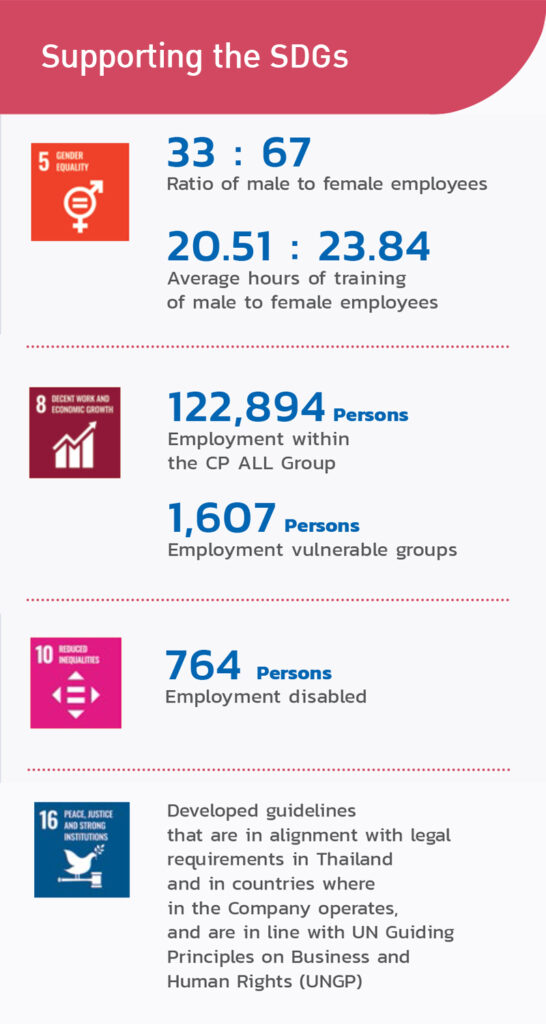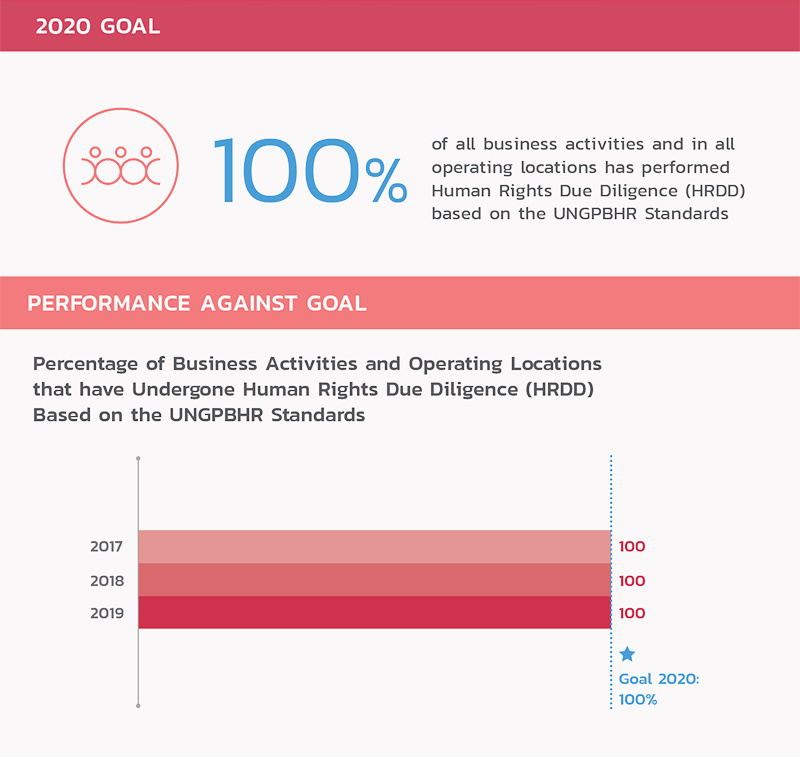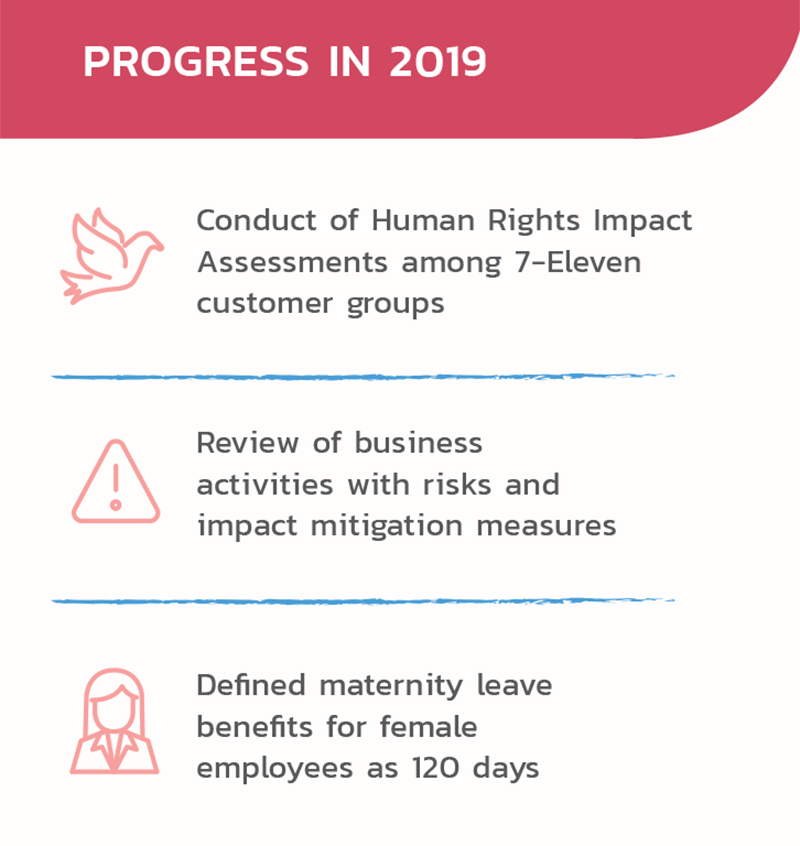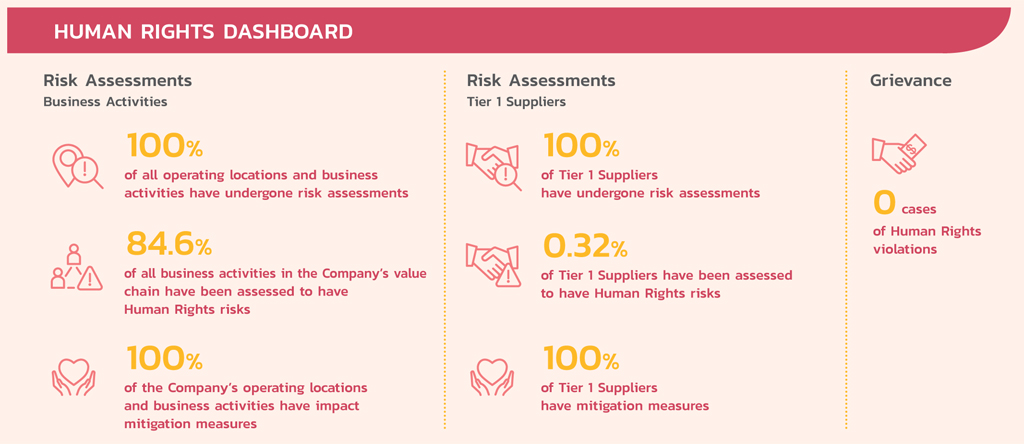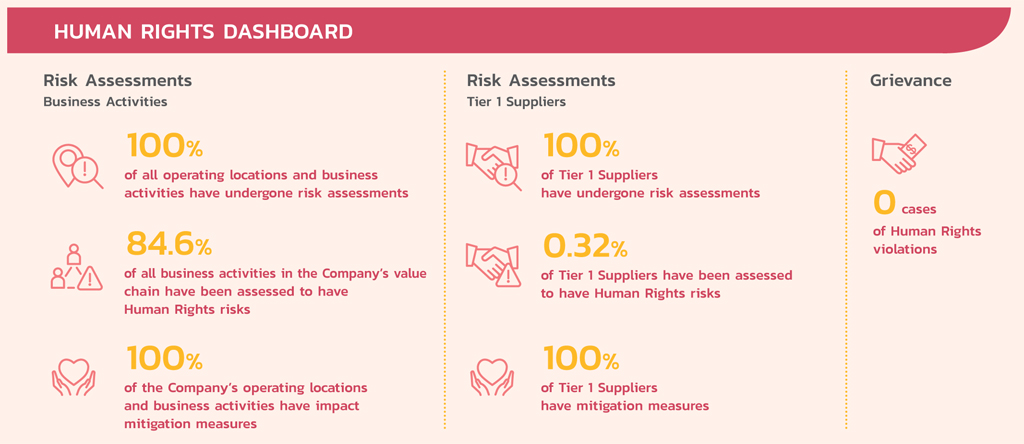 Risks & Opportunities
---
The global communities' expectations on responsible business operations, anchored on international human rights frameworks, have been an increasingly important issue in recent times. This is especially so when the Company's business direction tilts towards expansion into various geographies. These local contexts present a diversity of legal practices and stakeholder groups, creating an operational challenge. Equally important are the changing global contexts that present new concerns and forms of human rights violations, such as violations privacy rights violations of personal information, restrictions in the freedom of expression and communication, among others. These challenges can be viewed as opportunities for the Company to prepare for other pressures from public and private agencies. These may include expectations on the human rights work plan and responsibilities as a member country of the United Nations.
Management Approach
---
CP ALL Plc. and its Subsidiaries ("the Company") is determined to respect human rights and maintain its performance standards of the Company's human rights policy in order to prevent human rights violations of its employees, business partners, contractors, customers, and local communities from its business operations throughout the supply chain. The Company has not only enforced its human rights policy formally, it has also determined implementing guidelines that are in line with provisions in Thai law, relevant foreign laws in countries wherein the Company operates, and the UN Guiding Principles on Business and Human Rights (UNGP). The Company also uses Human Rights Due Diligence as Human Rights management framework, which is outlined in the UNGP and consists of the following 8 steps.

Key Project in 2019
Human Rights Risk Assessment Project
Objective To the Company's awareness on risks in business activities and salient human rights issues along its supply chain.
The Company has continuously conducted Human Rights Assessments (HRRA), with coverage of all 8 business units or 100% of its operating locations and 100% of all business units' activities, including its value chain which is composed of 4 main activities: Procurement, production and distribution, marketing and sales, and customers and service. In addition, the Company has conducted sustainability risk assessments with 100% cover of its 6,942 Tier 1 Suppliers.
Results and Benefits
1. The Coverage of risk assessment and mitigation measures


2. Salient Human Rights Issues and Current Risk Controls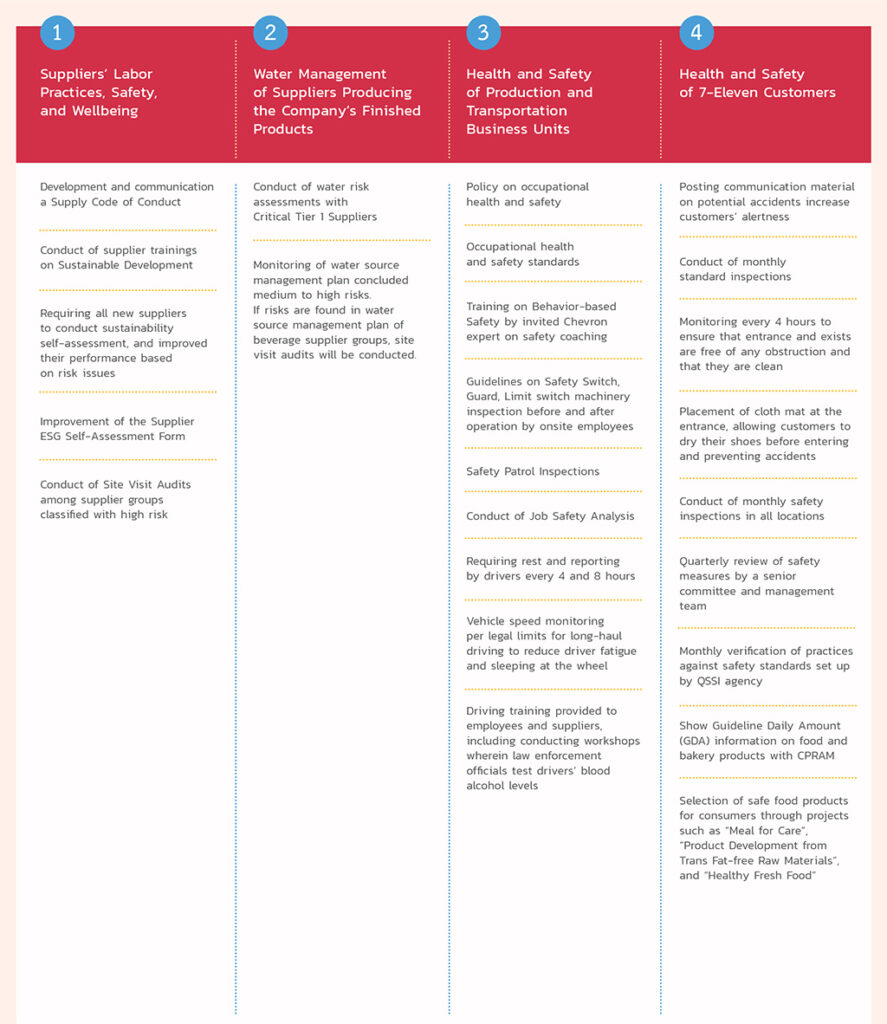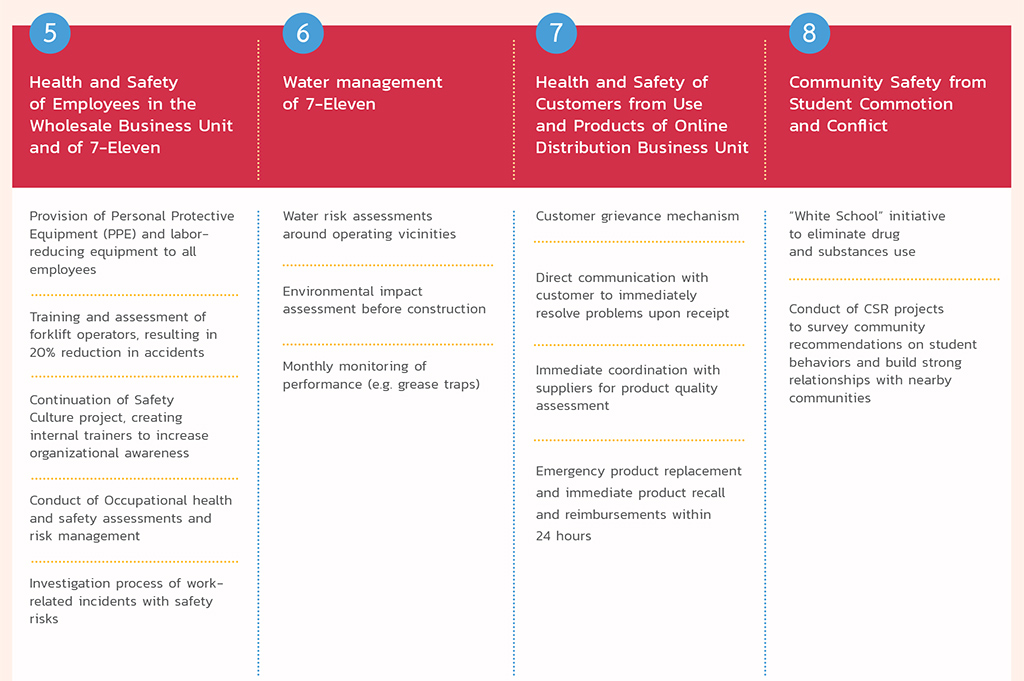 Human Rights Impact Assessment Project
ObjectiveIn order to study the impact level of residual risks of salient human rights issues by gathering information through surveys and interviews with rights holders.
In 2019, the Company conducted Human Rights Impact Assessments (HRIA). In the first year of the assessment, the Company classified two groups of rights holders: employees and customers of 7–Eleven, as they are at risk of human rights impact from the Company's main business activities. Information was gathered from over 2,900 people in Bangkok and other provinces. Details of assessment results can be found on the SD Report 2019
Remediation actions taken
---
The Company is continuously committed to its human rights management by monitoring and reviewing its human rights performance with relevant units of all main business units every quarter. This also includes creating awareness on human rights with employees through sustainability trainings—which incorporate issues on human rights and labor rights—and human rights risks assessments workshops. Following the conduct of human rights trainings in the past year, the Company has not discovered any human rights violation incident resulting from the Company's operation; the Company has not remediated anyone as a consequence. Nevertheless, the Company remains cognizant of the possibility and risk of future occurrence, and has determined remediation measures for those whose rights may be affected to reduce the impact of rights violations.
For more details –> SD Report 2019
Related policies and Guideline