"Human Rights" are foundational rights on which individuals can lead a dignified life, endowed with rights, freedom, and equality—free from thoughts and actions in violation thereof. At present, human rights issues have received widespread attention. As a retail business leader in the country and the region that connects producers to consumers, CP ALL Plc. and its Subsidiaries ("the Company") pledges to take part in the promotion of universal human rights.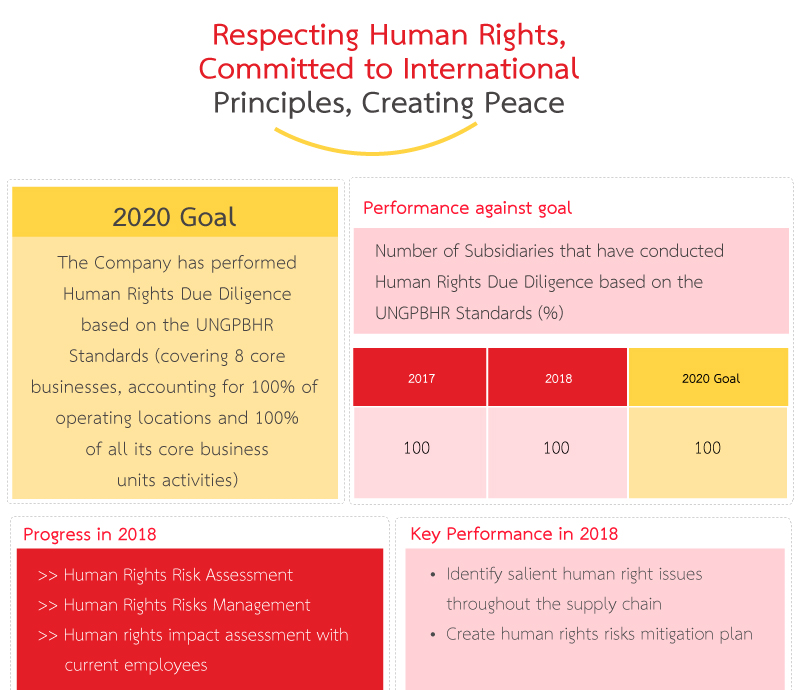 In the modern world, the business sector's participation in the human right issues has been brought to the forefront. The market demand and supply and technological advancement are viewed as key factors in the business expansion. Mismanagement with regards to the human right issues can potentially lead to human rights violations such as the use of illegal workforce in the construction sector and the leakage of personal information, for instance.
As a retail business industry leader in the country, CP ALL Plc. and its Subsidiaries ("the Company") is committed to respecting human rights through managing human rights throughout its supply chain. It follows stipulations in the Thai laws and those of countries in which the Company operates. It also adheres to the UN Guiding Principles on Business and Human Rights Due Diligence Process Rights (UNGP) in order to protect human rights and prevent their violation among its employees and business partners (partners, contractors and customers).
Guidelines
Pursuant of this commitment, the Company has a comprehensive Human Rights Due Diligence process, which forms its human rights management framework, as indicated in the UNGP. The process is as follows.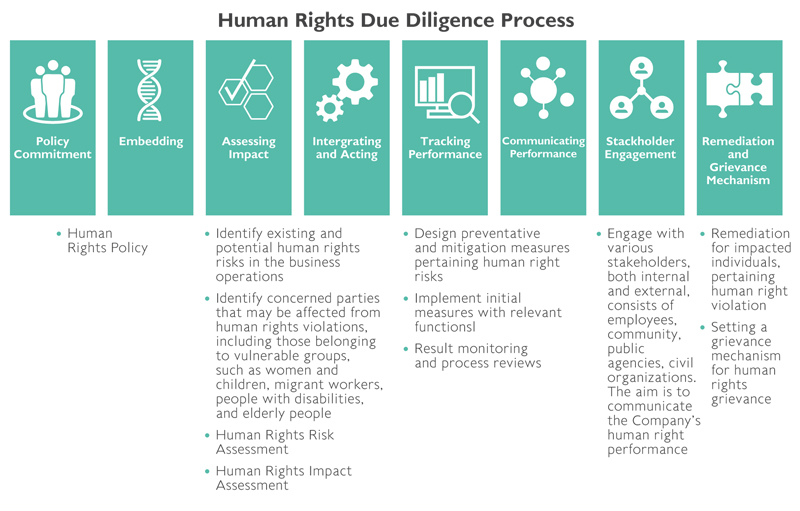 Human Rights Risk Assessment
Human Rights Risk Assessment is part of a comprehensive human rights monitoring, which facilitates the Company's awareness on risks in business activities and salient human rights issues along its supply chain. Assessments gauge impact severity and occurrence likelihood in order to rank salient human rights issues to develop action plans and measures to appropriately reduce and prevent such risks.
In 2017, the Company conducted a Human Rights Assessment, and achieved coverage of all 8 core businesses, accounting for 100% of operating locations and 100% of all its core business unit activities: (1) procurement, (2) production and distribution, (3) marketing and sales, and (4) consumers and services. In addition, the Company expanded its Human Rights Risks Assessment to 100% of its first-tier suppliers (6,634 suppliers). The Company has defined targets to continuous perform such assessments in order to ensure no human rights violations in its supply chain.
Salient Human Rights Issues in the Value Chain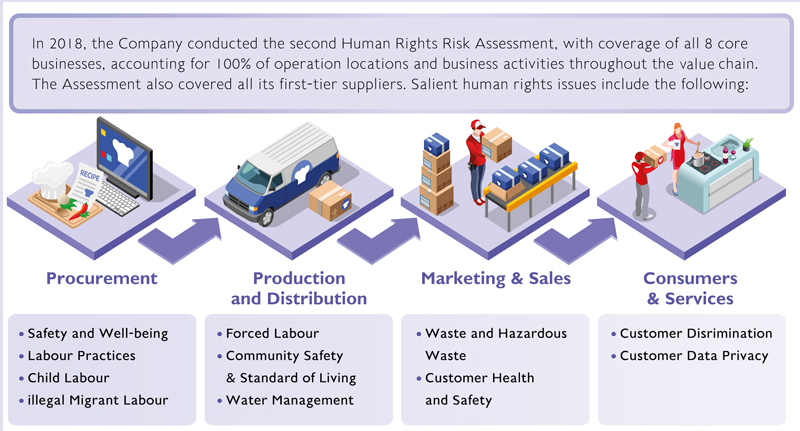 The assessments revealed high 'Residual Risks' among salient human rights issues in some core business units' activities. They also indicated that all business units with high human rights risks have 100% control mechanisms on all risk areas.
Salient Human Rights Issues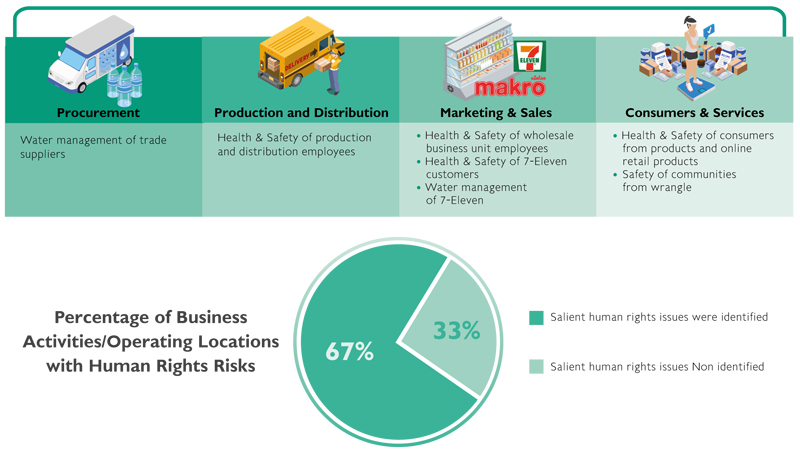 Consolidated CP ALL's Salient Issues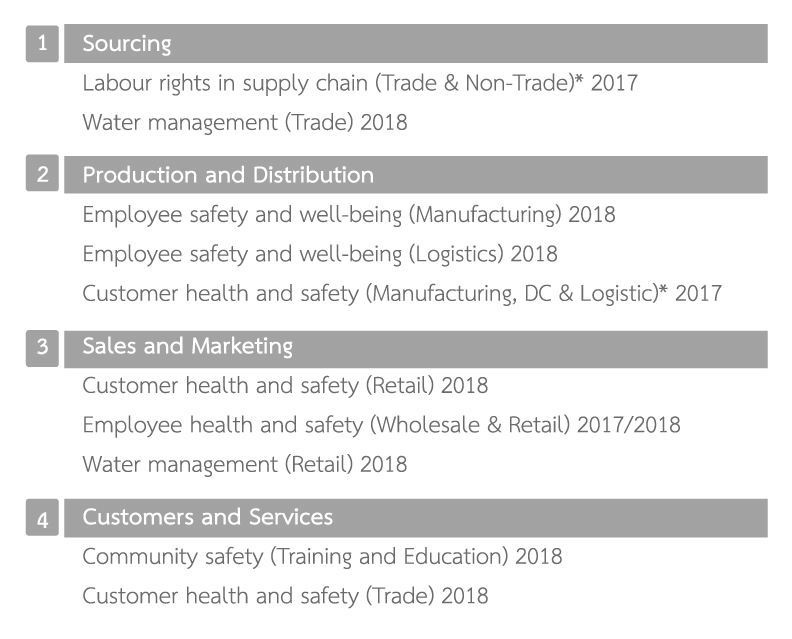 Mitigation Plan

Human rights impact assessment
The company conducted Human Rights Impact Assessment in 2019. To study the level of impact of the residual human rights risk issues through collecting data from surveys and interviewing opinions with rights holders to make the company understand the risks and impacts in depth, which affects the implementation of risk management measures and the additional effective measures. In the first year of the impact assessment , company determines the group of holders of rights for data collection as 2 groups are employees and customers of 7-Eleven stores. Because it is a group that is at risk of being affected by human rights from carrying out the core business activities of the company. Details and evaluation results for the group of employees appear below as for the evaluation results for customers, it is expected to be completed by mid-2019.
1. Scope of Education
The company collected data from 7-Eleven employees in Bangkok branch. Which is expected in the future to expand the scope of education to other stores in other provinces as well. Data collection is conducted through a Google survey online questionnaire consisting of 11 questions divided into 4 main issues related to human rights issues of workers, includingEmployment conditions, such as contract communication• Occupational health and safety, such as safety training Access to personal protective equipment• Discrimination such as gender discrimination, threats, persecution• Complaint handling process, such as understanding and accessing the company's current complaint process
2. Data Collection
The company received online survey results from 1,134 employees consisting of full-time employees. part-time employees and daily staff  7-Eleven stores 
3. The results of  human rights impact assessment
Evaluation results shows that there are many human rights issues that Seven Eleven employees have received, with the issue of access to the grievance process being issues that arise with those employees. It is an important issue and being mentioned at the most details of the assessment results appear in the figure below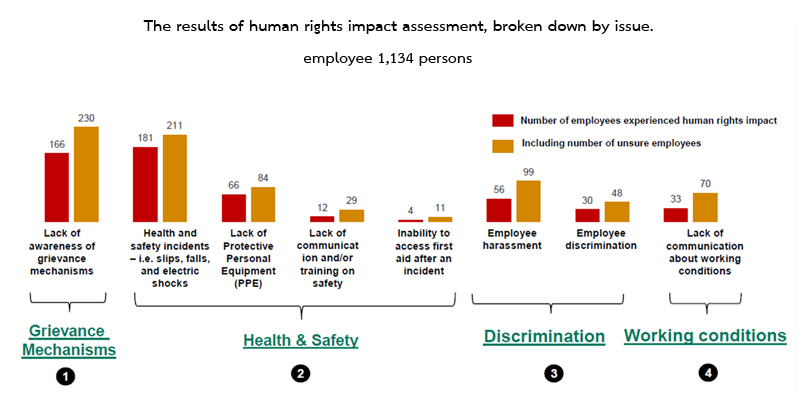 Awareness about the complaint handling process most  arise from the fact that the employees do not know how to access the process. The daily staff and part-time employees tend to lack this awareness when compared to full-time employees. However, there are some employees who know the grievance process but still have security concerns and the process of protecting the complainant including the overall efficiency of the complaint handling process
Occupational Health and Safety was found that accidents in the 7-11 stores caused of not being used to prevent health hazards  which some employees viewed as a challenge in implementing the policy. That is, the company has prepared various equipment for employees  in 7-11 stores  but some employees do not follow the security policy specified.
Discrimination occurs with both female and male employees. In most cases, discrimination occurs by the head of the store and fellow employees, such as the chief violating employee rights through improper use of speech and work pressure
Employment conditions part-time employees and daily staff tend to receive less communication about work conditions such as the duration of employment. working hours, wages, welfare, holidays, overtime, compared to full-time employees
4. Impact Management Measures
The company has implemented measures to manage impacts for those issues and current impact management measures appear in the table below. More details about the impact management measures can be found in the 2018 Sustainability Report.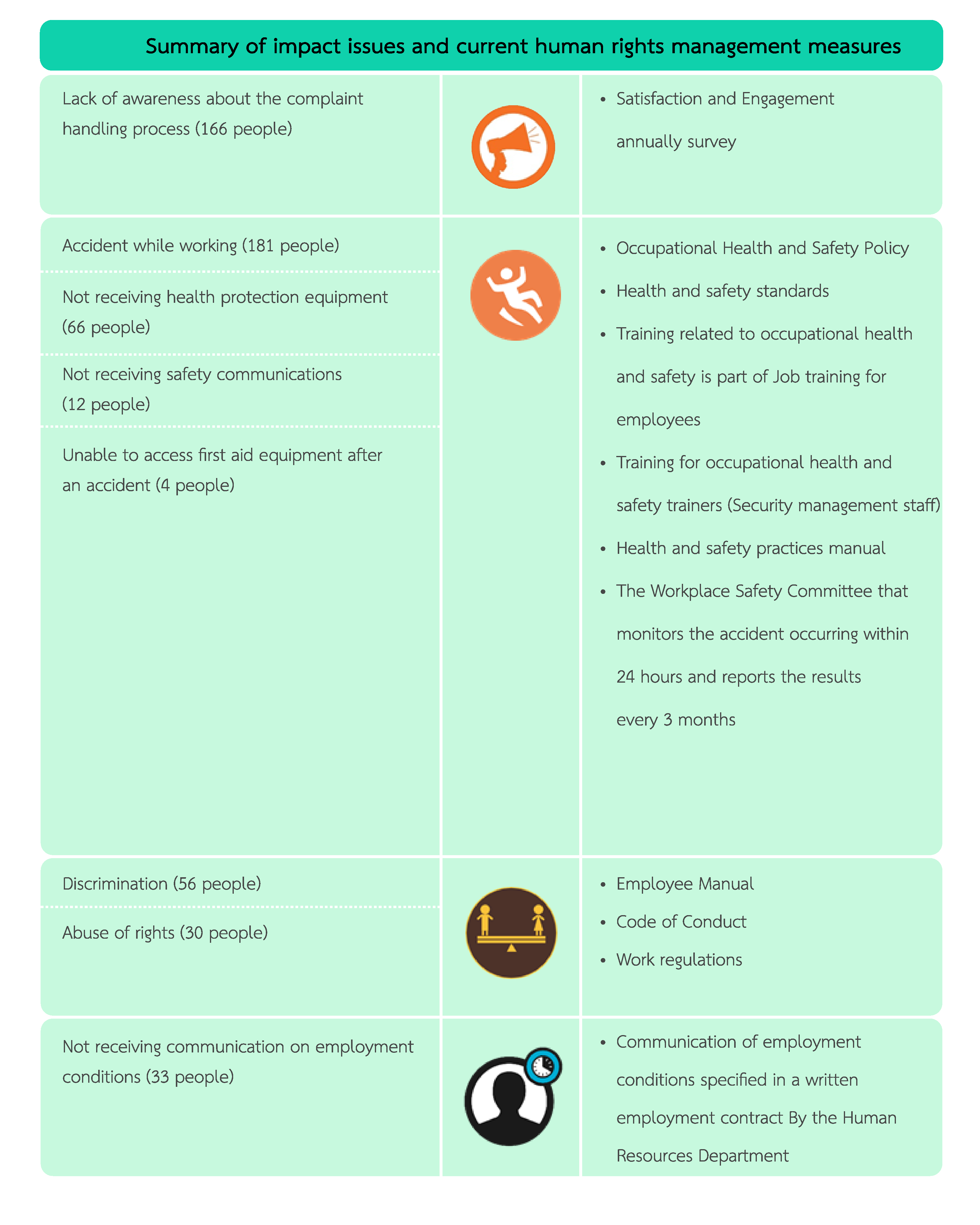 Remediation actions taken
The Company has continuous procedures to manage human rights and so far, no human rights violation has been found in its business operation. Therefore, in the last year, the Company did not have to carry out any remedy to any violated party but the Company is well aware of the potential risks that could happen and prepared appropriate remedy measures to any violated party to reduce any impacts of human rights violation.
All employees' rights such as fair employment, safe working environment and social benefits entitlements are all clearly established in its human rights policy as well as documents and guidelines like employee ethics. In addition, the Company effectively communicates such rights to the employees from prior to the employment and during through trainings. In 2018, the Company arranged for the Sustainability training offered to all employees, beginning with the management level of each business departments to be informed on human rights issues and labor rights. The Company plans to expand such training to cover every employee for next year.
The Company has established various grievance channels for feedbacks and suggestions of employees such as the Bell ringing (Koh-Rakang), suggestion boxes placed at distribution centers as well as sharing opinions through the Welfare Committee in the Work Place, established under the Labor Protection Act B.E. 1998, as an intermediary to listen to opinions and discuss on appropriate welfares for the employees. All 100% of the employees are members of the Committee.