"Human Rights" are foundational rights on which individuals can lead a dignified life, endowed with rights, freedom, and equality—free from thoughts and actions in violation thereof. At present, human rights issues have received widespread attention. As a retail business leader in the country and the region that connects producers to consumers, CP ALL Plc. and its Subsidiaries ("the Company") pledges to take part in the promotion of universal human rights.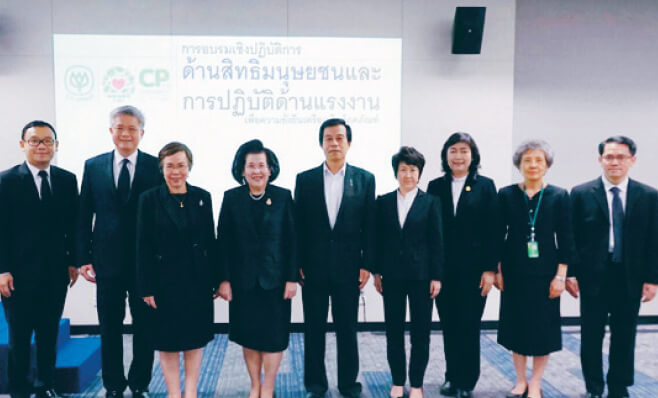 Following the determination to conduct a fair business, the Company adheres to the UN Guiding Principles on Business and Human Rights (UNGP), including the "Ruggie Framework" pertaining to the protection of and respect for rights, and the impact remediation of rights violations (Protect, Respect, and Remedy) as guidelines for the organization's human rights management.
Based on this approach, the Company has penned its human rights commitments through policy and human rights due diligence processes to enable the Company to manage human rights violations risks in the Company's activities and throughout its value chain. This effort promotes human rights through fair business operations and helps elevate stakeholders' quality of life throughout the value chain. This also helps prevent negative impacts on stakeholders and overall business. operation, such as having unsafe work environments, pollution emission affecting the rights of community members, indirect rights violations by business partners and sub-contractors, in their use of child labor and forced labor in the supply chain.
Human Rights Due Diligence Process
In 2017, the Company initiated its human rights due diligence process for the first year, adhering to international standards as guidelines. One important step, succeeding the Company's policy commitment, is conducting a Human Rights Risk Assessment. The Company identified human rights risks throughout its value chain, conducted an impact analysis on concerned parties, and classified risks on an organizational level. Assessments in the first year covered the entire value chain of 3 business groups and their support units. These are: Convenient store services, Wholesale services, Production and sale of bakery, ready-to-eat meals, and frozen food services and Distribution Centers. The Company has plans to expand the scope of its Human Rights Risk Assessment to cover all Business Units by the end of the year.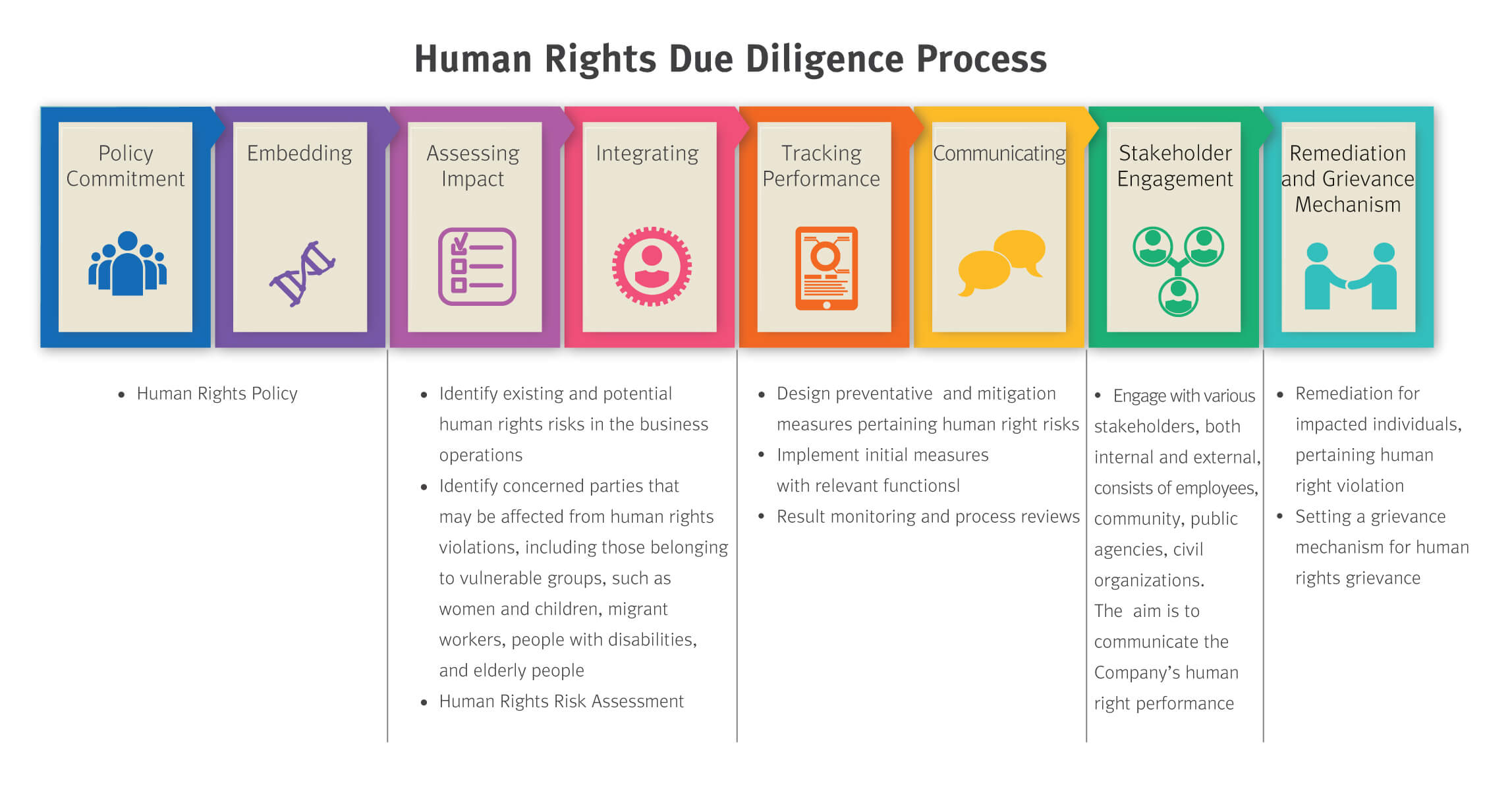 In 2017, The Company human rights risk assessment for all 8 core business units covering 100 percent of operations. The company aim to maintain human rights risk assessment to cover all core business units in 2020. Initial assessment results revealed that salient human rights issues with high residual risks in 3 Business Units are as follows:

Notably, the Company has establish Human Rights Risks Management Guideline, drafted in consideration to entitle rights of vulnerable groups, such as SMEs producers, women and children, migrant labors, indigenous people, and elders. The content pertain both a policy aspect, and a protection – prevention guideline aspect, summarized as follows.
Supply Chain Management
Description: The Company has suppliers engaged in various businesses. Therefore, operations have risks of human rights violation.
Activity at risk:
Selection of suppliers has criteria and communication of policy that still does not cover human rights and labor practices.
Mitigation action:
The Company uses the sustainability criteria, Human Rights and Labor Practices Policy, as one of the criteria in the selection of suppliers and contractors.
Communicate the Supplier Code of Conduct to key suppliers and request suppliers to conduct self-assessment according to the Sustainability Policy which includes review of compliance with labor laws by suppliers and contractors
Safety and Well-Being of Employees
Description: The Company cares for the safety and well-being of employees, including fair working conditions.
Activity at risk:
Employees perform their duties without knowledge and understanding of safety.
Mitigation action:
Implementation of the Safety Culture Project which provides knowledge to employees
Codes of Business Ethics and Bounden Duties in Working and SHE Standard
Risk assessment according to SHE Standard
Health and Safety of Consumers and Communities (Human Rights Outside of the Organization)
Description: The Company recognizes and respects the rights of stakeholders outside of the organization, including communities, the environment, consumers and suppliers that may be affected by the Company's business operations, and has set measures to prevent violation of human rights to mitigate the risk.
Activity at risk:
Sale of healthy products to consumers
Business operations that affect the safety and standard of living of communities
Mitigation action:
Healthy Fresh Food Project develops healthy food and products
Mechanisms to receive complaints from consumers or communities
Consumer and community satisfaction survey
Transportation Management Plan to reduce traffic in communities
Construction inspection process
Human Rights beyond the Organization
The Company takes into account and respects the rights of all external parties involved with the Organization that may be affected by the Company's business operations. These include communities and the environment, consumers, and business partners. The Company has set measures preventing human rights violations to reduce risks that lead to violations in the future.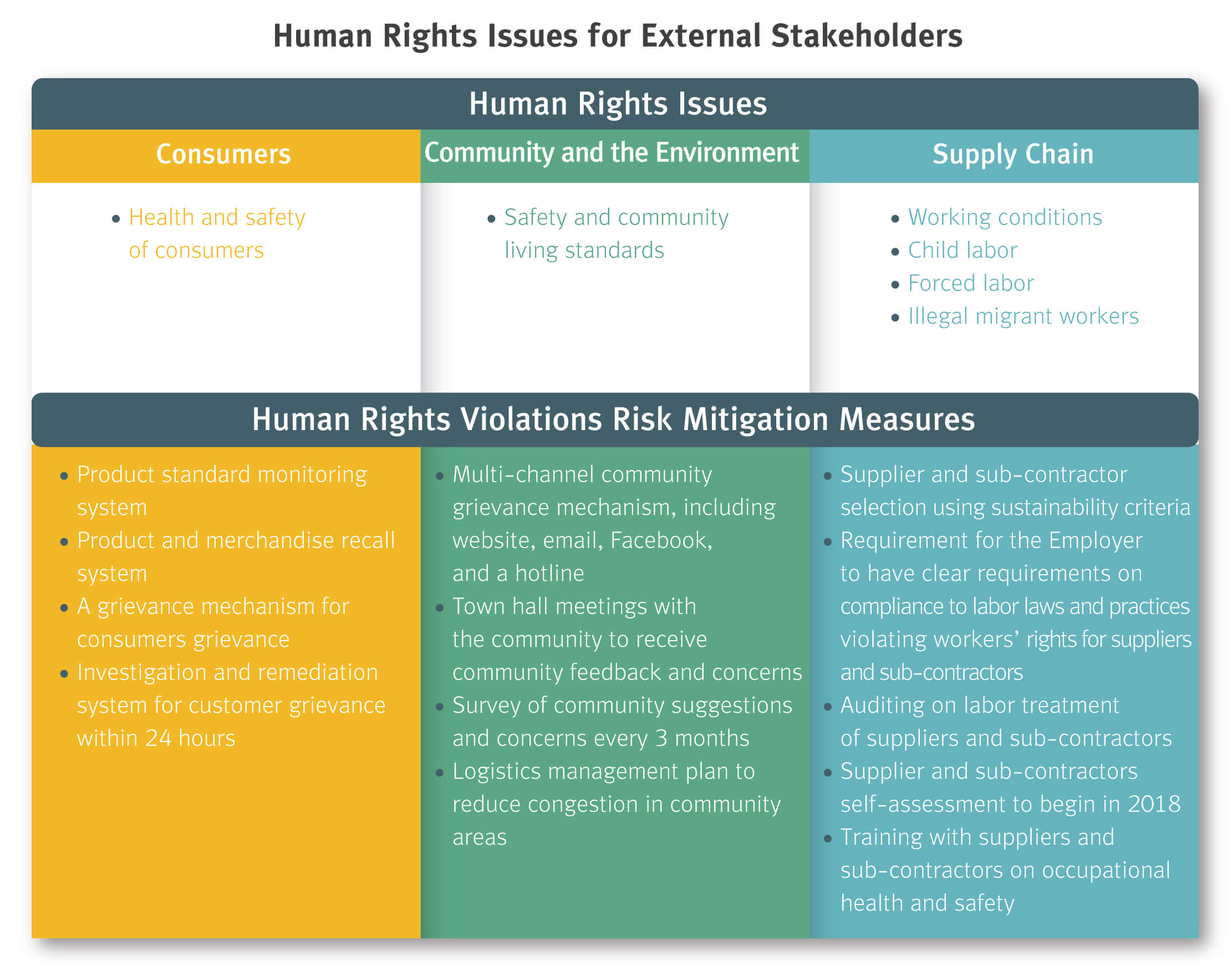 Remediation actions taken
CP ALL is committed to conduct human rights risk assessment within an appropriate timeframe in conjunction with preparing risk prevention and mitigation measures, providing reasonable remedies in cases of violations, monitoring and reporting performance, as well as reviewing policy commitment to ensure maximum effectiveness in human rights management.
In 2017, CP ALL had no cases of human rights violation. Thus, there were no remediation actions necessary and taken