Management Approach
The Company is steadfast in responsible operations towards all stakeholders. Under the policies spanning from sustainable procurement to ethics and business supplier guidelines. The criteria for supplier selection include supplier capacity and compliance with the relevant law and regulations. The Company promotes and supports its suppliers and develops supplier capability through procurement and responsible supply chain management in order to fulfill the constantly changing needs and expectation of customers, communities and society. Additionally, there have been support for additional agricultural product and organic product sales channels while taking into account the appropriate distance from farms to point of sales to preserve product freshness and development of work processes to reduce environmental impact. Furthermore, the Company realizes the importance of product traceability in order to promote sustainable raw material usage throughout the various projects.
Supplier's Sustainability Management Processes
Sustainable Procurement
Siam Makro PCL values the traceability of all products. The company has developed Makro iTrace, a platform that allows consumers to trace all processes starting from procurement of raw materials, by scanning QR Codes shown on product labels. Makro has been working relentlessly to increase the database of product information in Makro iTrace to increase the traceability coverage. The Strategic Traceability System Program is an effective tool to build consumers' trust and product credibility. The QR Code system has now been extended to cover the canned fish categories, from Nautilus Tuna to other canned fish products.
In 2020, the Agricultural products certified by external organizations were as follows:
Certification of Agricultural Crops for International Standards in Quality and Food Safety in 2021
Agricultural crop
Certification or accreditation
The coverage of products certified
Purchasing volume vs. total raw material procurement
Palm

RSPO

23.58%
18.21%
Soybean

RTRS

44.67%
6.32%
Sugar

BONSUCRO

42.19%
34.33%
Cocoa

GMP, HACCP, Khocher Certificate,




FSS C22000, Halal, ISO 14001: 2015, BRC

100%
1.56%
Coffee

GMP, HACCP, FSS C22000, USDA, IFOAM Accredited

7.06%
10.76%
Cereal

GMP, HACCP, Halal

7.27%
6.19%
Other products

GAP, Q Organic

19.37%
22.63%
Animal Welfare
Charoen Pokphand Foods PCL (CPF)—a primary business partner that entrusts with raw material sourcing—operates on the principle of animal rights and animal welfare in correlation with food quality and safety. The company issued policies and management principles, with the goal of becoming the leading entity in animal welfare management. Such regulations include ethical farming, good governance, educating employees with the right knowledge, continuous development, cooperation from strategic alliance, and information transparency. The practices of animal welfare gave CPF's products BBFAW certifications—for namely eggs, chicken, pork, and beef products. Therefore, consumers can purchase CPF products with confidence in its conformation to animal welfare and food safety policies.
Certification of Animals Products Adhering to Animal Welfare Standards
Animal products
Certification or accreditation
The coverage of products certified
Purchasing volume vs. total raw material procurement
Aquatic products

IFOAM Accredited, ASC

21.93%

19.48%

Cattle products

BBFAW, Livestock OK

34.43%

1.96%

Dairy products

RAWMI, Codex Alimentarius, Rainforest Alliance, GAP, GMP

54.41%

11.33%

Pig products

BBFAW, Livestock OK, GAP, TIS OHSAS 18001

81.97%

30.83%

Poultry products

BBFAW, Livestock OK, GAP

95.47%

17.42%

Marine products

MSC, IUU Fishing, GAP

0.58%

18.98%
Program to Reduce Water Consumption
Project
Project Details
1.1 No-till/ conservation agriculture in rained areas

Banana Cultivation Project using old corms and roots without dismantling old stumps reduces tillage to once a year or once every two years.

Target group : Banana plantation farmers

Impact : Reduced production cost associated to tillage and thereby reducing production cost by 20%

1.2 Management and Technology

Banana Plantation Plastic Mulching Project utilizes plastic mulch to retain soil moisture and reduce herbicides and chemical insecticides usage.

Target group : Northeastern region farmers

Impact : Reduced water consumption by 50% from the average consumption amount, reduced herbicide usage by 100% and reduced insecticide usage by 60%

Program to Reduce Environmental Pollution
Project
Project Details
2.1 Production or Organic Products

Organic Vegetables Project initiated the promotion of organic farming for salad produce and is sold as 1 ready-to-eat salad product.

Target group : Salad products

Impact : Reduce agricultural chemicals usage by 100%

2.2 Use of "Smart" Pesticides

Insect Trapping Project at plantation plots, a means to determine insects species within the vicinity, allows better information collection regarding insect pests and therefore enables the appropriate pesticide agent usage solution targeted to that insect.

Target group : Vegetable product

Impact : Reduce the chemical usage by over 30%

2.3 Enclosed Production Systems : Aquaculture

Sustainable Fish Farming Project focuses on development of the production process by encouraging partners to raise catfish and tilapia in a closed system whereby cleanliness and safety are controlled and backtracing is enabled for every process. Additionally, production factors are controlled, issues relating to production quantity due to water restraints are reduced, wastewater discharge in public waterways is reduced and quality of life for farmers, communities, and society is elevated.

Program to Protect Soil Health
Project
Project Details
3.1 Low Frequency and Intensity of Tillage

Banana Cultivation Project using the old corms and roots without dismantling old stumps reduces tillage to once a year or once every two years.

Target group : Banana plantation farmers

Impact : Reduced production cost associated to tillage and thereby reducing production cost by 20%

Programs to Prevent the Destruction of Ecosystems
Project
Project Details
4.1 Certifications that Ensure Deforestation-free-Production

Product Traceability Project, a system that allows consumers to check the origin of the product via the QR Code displayed on the product label, has initiated with Makro Brand products and fresh food group products. The product database via Makro iTrace application has been comprehensively expanded.

Target group : Tier 1, Non Tier 1 Supplier Fresh produce group

Impact : A total of 15,000 product items can be traced, accounting for 100% of all products under the Siam Makro trademark

4.2 MSC or ASC Certifications which ensure Sustainable Production

ASC or MSC Certified Products Project relates to the sourcing of premium seafood products from fishery sources certified to uphold stipulated quality and standards. The Company sources excellent quality seafood products that meet sustainable fisheries standards under the Ocean Gems product brand from FOOD SERVICE APME, a subsidiary of Siam Makro which received accreditation from the Marine Stewardship Council (MSC) and Aquaculture Stewardship Council (ASC). This accreditation is widely recognized by world-class experts as the best criterion for sustainable and responsible fisheries standards.

In 2021, the Company organized a program to educate employees and customers, food service suppliers and retailers, to promote comprehension and awareness of the importance of sustainable fisheries in the Asia-Pacific region and the Middle East (Food Service APME). 6 product groups (fish, crabs, shellfish, shrimp, squid, shellfish and roe) totaling 42 products have been certified by Marine Stewardship Council (MSC) and Aquaculture Stewardship Council (ASC).

Programs to Reduce GHG Emissions
Project
Project Details
5.1 Reduced Transport Distances Through

Agricultural Product Purchase at Source Project aims to source products locally and encourage crops to be farmed around the point of purchase vicinity in addition to delivery of goods to the nearest warehouse.

Target group : Farmers and packaging facilities

Impact : Established purchase locations in communities for over 10 suppliers throughout the country

5.2 Local Products Offerings in Retail

Community Product Support Project facilitates the One District One Product (OTOP) product sales at 7-Eleven stores through a special selection process for local products as follows:

Famous products within the province, products approved by the FDA and products with barcodes

Selection of 5 7-Eleven stores to test sales

Arrangement of products in the 7-Eleven stores and inclusion of appealing public relations media

Tracking of product sales

Upon fulfillment of criteria specified by the Company, the Company will continue to expand sales to 7-Eleven stores at the provincial level, regional level, and nationwide levels, respectively

Target group : Community enterprises, SMEs

Impact : Supported over 72 community product items Supported 36 SMEs in community, distributed to 123 7-Eleven stores
Farmer Promotion and Support for Chemical-free Golden Banana Cultivation Project
CPRAM Co., Ltd. operates, manufactures, and distributes fresh bakery products, uses Golden Banana as the key agricultural raw material in the production of banana cake products. Natural disasters have impacted CPRAM's key raw material supply and the resulting shortage ushered the proposal to jumpstart a 2 rai Golden Banana cultivation demonstration plot in Pathum Thani province. This initiative promotes the cultivation of Golden Bananas and generates income for farmers. The 2022 project plan envisions an expansion of over 10 rai which would yield over 10,000 tonnes of Golden Bananas.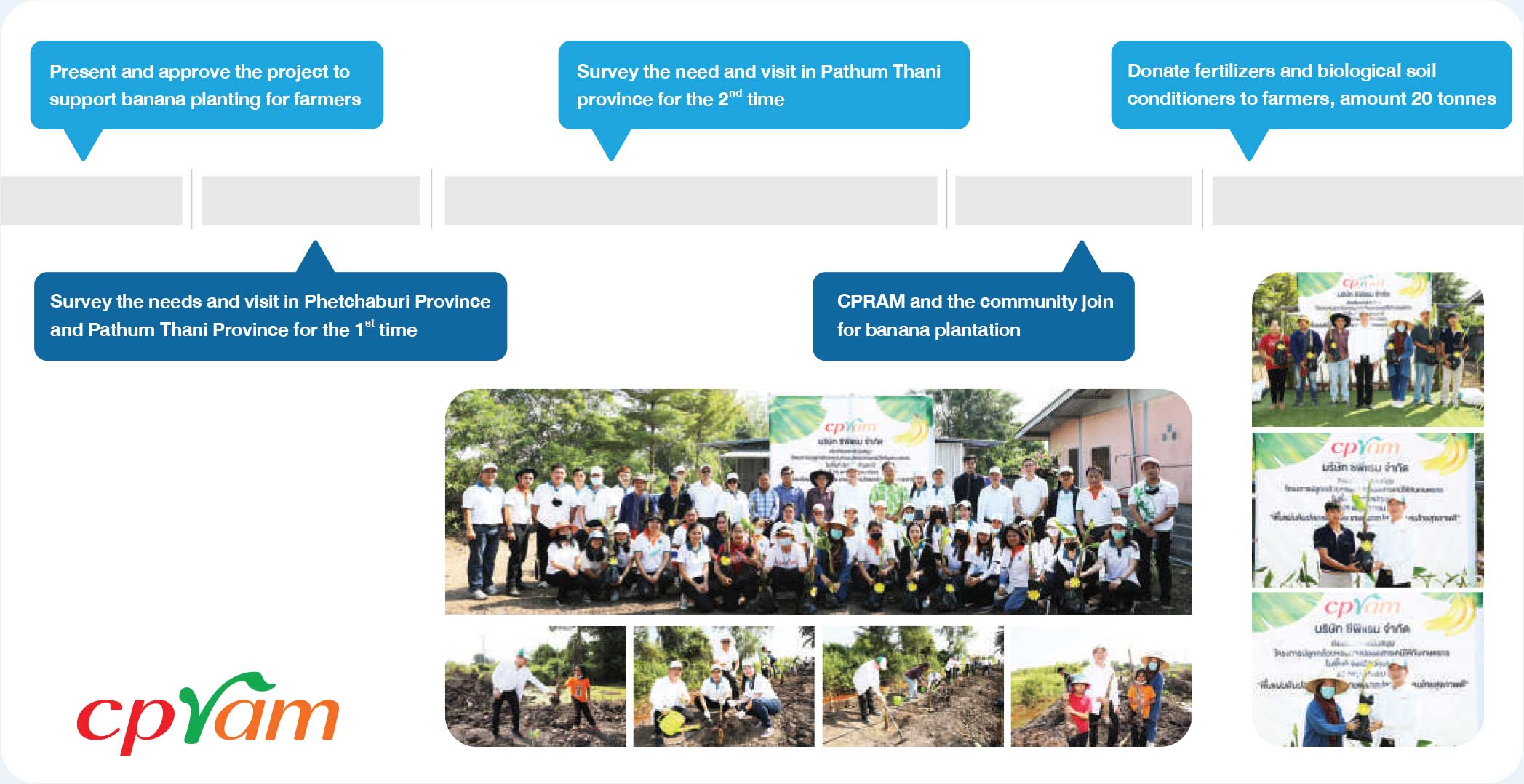 Aspires 7-Eleven stores to enable satisfaction and respond to consumer needs through delivering products and services that are hygienic, safe, and reliable. Furthermore, food safety training courses were organized for employees as a measure to raise hygiene, product, and customer service standards. The organization's food safety management system, which enables employees to provide a satisfying and safe experience for customers, takes charge of product standards and quality verification within 7-Eleven stores as follows:
Product Recall Process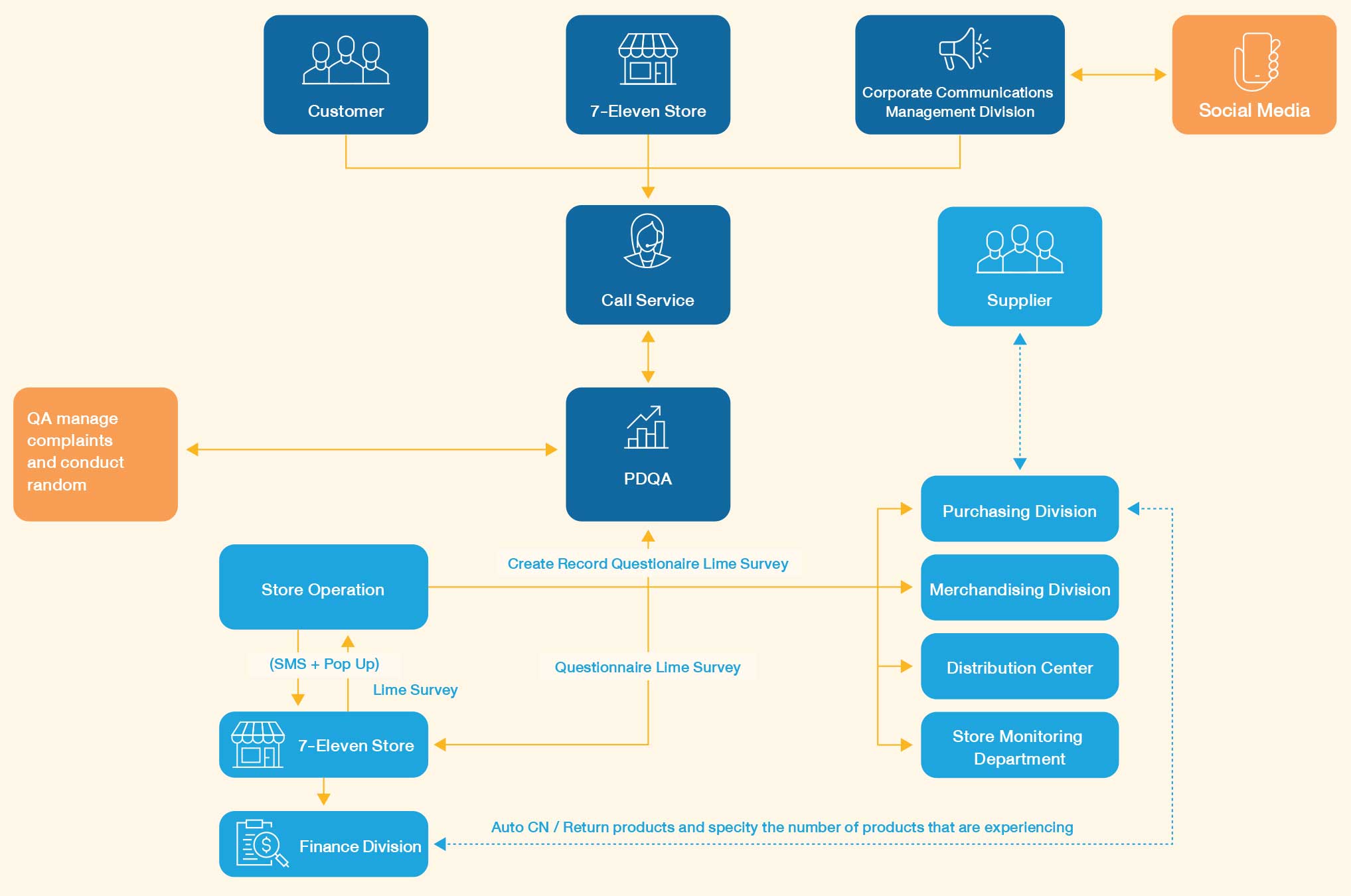 In 2021, the Company recorded a total of 8,196 complaints relating to non-standard products which resulted in the recall of non-standard products from a total of 93 complaints in addition to 8 recalls from the Bureau of Product Development and Quality Assurance random quality assessments
Siam Makro Public Company Limited
As a combined result of the COVID-19 epidemic situation and ongoing animal epidemics in multiple provinces, consumers have become highly concerned when purchasing meat. Siam Makro Public Company Limited adheres to food safety management in accordance with international, standards (ISO 22000:2018) throughout the supply chain with emphasis on the operating system's development within branches and distribution centers which corresponds to international recognized food safety standards. The aforementioned standards consist of product selection from sources certified as safe, procurement from accredited manufacturers, quality and safety verification from ISO/IEC 17025 laboratories, shipping via temperaturecontrolled closed systems throughout the process, product source traceability, product distribution according to ISO 22000 : 2018 food safety management standards from farm to consumer, consideration for customer health and safety and all
relevant key stakeholders. In 2021, the Company in conjunction with the Department of Livestock Development campaigned for awareness concerning safe and standardized meat purchase and consumption of cooked meat among consumers. In this regard, Makro upholds 7 intensive measures to inspect meat for safety retailed in-branch consisting of
In addition, Makro retails no less than 4,000 tonnes of oranges per annum from Thai farmers and therefore food safety related to oranges affect numerous consumer. As a safety measure, Makro has implemented the "Safe Oranges, Thai Smiles" project for the 6th consecutive year in collaboration with the Ministry of Agriculture and Cooperatives, Kasetsart University, and Maejo University to develop distributed Thai farmer oranges and maintain the highest consumption safety standards through the main processes as follows:
In addition, Siam Makro Public Company Limited places emphasis on food quality and safety throughout the supply chain while operating with good governance, transparency, and traceability principles. The Company focuses on quality control and safety standards from upstream to downstream processes, which affect consumers and produce confidence and safety, even amidst epidemic conditions inclusive of COVID-19 or AFS. This Company approach entails cooperation with government organizations comprising of the Ministry of Agriculture and Cooperatives, Department of Disease Control, Ministry of Public Health and the Ministry of Commerce to develop a product inspection system throughout the process, ensure product safety and prevent consumers from epidemic risks.
The Company strives for sustainability development throughout the supply chain through advancing agricultural suppliers and food manufacturers with appropriate and safe production standards utilizing the Makro Initiative Accreditation (MIA) system, which enables online assessment and standards certification. This approach enables continued operations regardless of epidemic situation and enables operations with a network of 37 organizations within the People's Sector Working Group, Food and Drug Administration and the Institute of Nutrition at Mahidol University in crafting healthy menus (Healthier Choice). Furthermore, the Company emphasized consumer awareness of food and nutrition through Makro's i-Trace traceability system QR Code displayed on product labels. This approach aims to ensure consumer attention to quality and safety.
Concurrently, the Company developed super food products (Super Food)* and quality products certified to international standards including healthy food standards, GMP standards, CODEX standards, HACCP standards, and ISO 22000 standards as a testament to the high food quality, safety, and full nutritional value consumers receive. Moreover, Siam Makro endeavours to increase employee and supplier networks knowledge and food expertise in both terms of quality and safety, in addition to packing and shipping procedures. This approach provides consumers with confidence in Siam Makro products and services whereby first-class experience and maximum satisfaction are assured.
Management of food quality and safety throughout Siam Makro's supply chain
*Super food is a food rich in nutrients inclusive of protein, vitamins, minerals and antioxidants, etc.
CPRAM Co., Ltd.
Established guidelines for raw material selection with stringent controls over product manufacturing through the development of efficient manufacturing systems, which adheres to relevant laws and satisfies international production process safety certifications including BRC standards, HACCP standards and GMP standards, etc., to ensure safe and reliable products for consumers.
Product traceability
Siam Makro Public Company Limited, a Company within the CP ALL Group, has continuously advanced product origin verification methods to promote product traceability and product origin determination. This approach ensures verified raw materials sourcing from appropriate origins and confirms the commodity or product was obtained without intrusion or legal violations including human rights and other international principle infringement. In this regard, Siam Makro developed a traceability system "Makro i-Trace", a system enabling consumers to determine product origin via QR code displayed on product labels. Currently, oever 15,000 products are trace enabled through the Makro iTrace system.
Animal welfare
Charoen Pokphand Foods Public Company Limited, as the Company's main raw material supplier, is committed to operating its business with concern for animal welfare in addition to food quality and safety by stipulating policies and management guidelines highlighting animal welfare management excellence. Certification of products derived from animals from leading international institutions and organizations inclusive of the Business Benchmark on Farm Animal Welfare (BBFAW) shows the Company's commitment to responsible product delivery and facilitates consumer confidence.
Certification of Agricultural Raw Materials