Management Approach
---
The Company is steadfast in responsible operations towards all stakeholders. Under the policies spanning from sustainable procurement to ethics and business supplier guidelines. The criteria for supplier selection include supplier capacity and compliance with the relevant law and regulations. The Company promotes and supports its suppliers and develops supplier capability through procurement and responsible supply chain management in order to fulfill the constantly changing needs and expectation of customers, communities and society. Additionally, there have been support for additional agricultural product and organic product sales channels while taking into account the appropriate distance from farms to point of sales to preserve product freshness and development of work processes to reduce environmental impact. Furthermore, the Company realizes the importance of product traceability in order to promote sustainable raw material usage throughout the various projects.

In 2020, the Agricultural products certified by external organizations were as follows: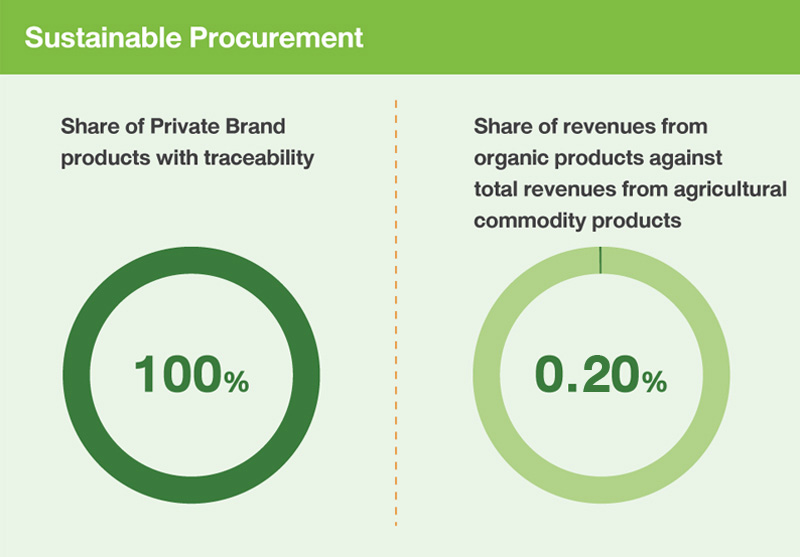 Animal Welfare
Charoen Pokphand Foods PCL (CPF)—a primary business partner that entrusts with raw material sourcing—operates on the principle of animal rights and animal welfare in correlation with food quality and safety. The company issued policies and management principles, with the goal of becoming the leading entity in animal welfare management. Such regulations include ethical farming, good governance, educating employees with the right knowledge, continuous development, cooperation from strategic alliance, and information transparency. The practices of animal welfare gave CPF's products BBFAW certifications—for namely eggs, chicken, pork, and beef products. Therefore, consumers can purchase CPF products with confidence in its conformation to animal welfare and food safety policies.
Certified Products for Animal Welfare (BBFAW)

In addition, the company also attaches importance to promoting sustainable agriculture, traceability to promote the use of sustainably sourced raw materials, as evident in these projects:
Agriproduct Traceability Projects
Objective To trace all processes starting from procurement of raw materials, by scanning QR Codes shown on product labels
Siam Makro PCL values the traceability of all products. The company has developed Makro iTrace, a platform that allows consumers to trace all processes starting from procurement of raw materials, by scanning QR Codes shown on product labels. Makro has been working relentlessly to increase the database of product information in Makro iTrace to increase the traceability coverage. The Strategic Traceability System Program is an effective tool to build consumers' trust and product credibility. The QR Code system has now been extended to cover the canned fish categories, from Nautilus Tuna to other canned fish products.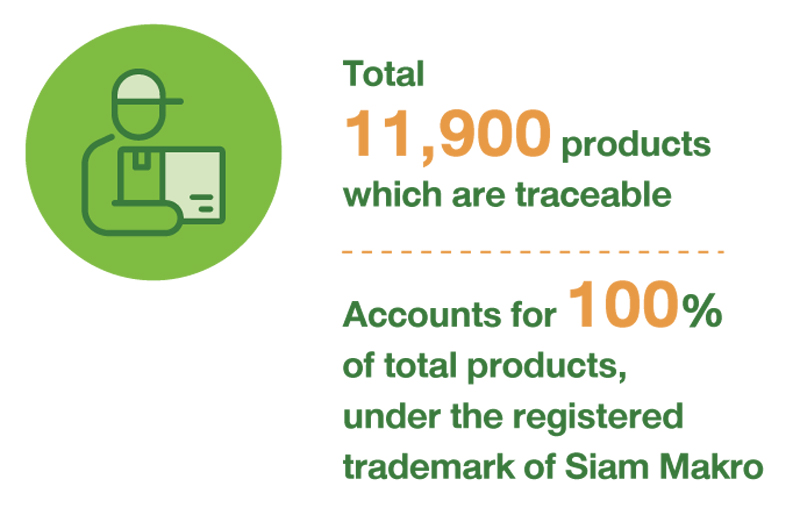 Sustainable Agriculture Program
Sustainable Agriculture Program
Project Details
Target Group
Project Results
1. Programs to reduce water consumption: Tier 1 Suppliers, Non Tier 1 Fisheries, Agriculture and Livestock Group
1.1 No-till/conservation agriculture
Banana Cultivation Project using old corms and roots without dismantling old stumps reduces tillage to once a year or once every two years
Banana plantation farmers
Reduced production cost associated to tillage and thereby reducing production cost by 20%
1.2 Management and technology
Banana Plantation Plastic Mulching Project utilizes plastic mulch to retain soil moisture and reduce herbicides and chemical insecticides usage


Northeastern region farmers
Reduced water consumption by 50% from the average consumption amount, reduced herbicide usage by 100% and reduced insecticide usage by 60%
2. Programs to reduce environmental pollution: Tier 1 Suppliers, Non Tier 1 Fisheries, Agriculture and Livestock Group
2.1 Production of organic produce
Organic Vegetables Project initiated the promotion of organic farming for salad produce and is sold as 1 ready-to-eat salad product
Salad products
Reduced agricultural chemical usage by 100%
2.2 Use of "smart" pesticides
Insect Trapping Project at plantation plots, a means to determine insects species within the vicinity, allows better information collection regarding insect pests and therefore enables the appropriate pesticide agent usage solution targeted to that insect
Vegetable products
Reduced chemical usage by over 30%
2.3 Enclosed production system: aquaculture
Sustainable Fish Farming Project focuses on development of the production process by encouraging partners to raise catfish and tilapia in a closed system whereby cleanliness and safety is controlled and back tracing is enabled for every process. Additionally, production factors are controlled, issues relating to production quantity due to water restraints are reduced, wastewater discharge in public waterways are reduced and quality of life for farmers, communities and society is elevated.


3. Programs to protect soil health: Tier 1 Suppliers, Non Tier 1 Agriculture Group
3.1 Low frequency and low intensity tillage
Banana Cultivation Project using the old corms and roots without dismantling old stumps reduces tillage to once a year or once every two years
Banana plantation farmers
Reduced production cost associated to tillage and thereby reducing production cost by 20%
4. Programs to prevent the destruction of ecosystems: Tier 1 Suppliers, Non Tier 1 Fisheries, Agriculture and Livestock Group
4.1 Certifications that ensure deforestation-free production
Product Traceability Project, a system that allows consumers to check the origin of the product via the QR Code displayed on the product label, has initiated with Makro Brand products and fresh food group products. The product database via Makro iTrace application has been comprehensive expanded.
Tier 1, Non Tier 1 Suppliers, Fresh produce group
A total of 11,900 product items can be traced, accounting for 100% of all products under the Siam Makro trademark.
4.2 MSC or ASC certifications which ensure sustainable production
ASC or MSC Certified Products Project relates to the sourcing of premium seafood products from fishery sources certified to uphold stipulated quality and standards. The Company sources excellent quality seafood products that meet sustainable fisheries standards under the Ocean Gems product brand from Indoguna Lordly, a subsidiary of Siam Makro which received accreditation from the Marine Stewardship Council (MSC) and Aquaculture Stewardship Council (ASC). This accreditation is widely recognized by world-class experts as the best criterion for sustainable and responsible fisheries standards. Examples of certified seafood products include cooked white shrimp, fresh clams and cod meat. The company aims to expand the scope of certification of seafood products to all countries within 2021.
Own brand
Makro's latest rating scores have increased by 14 percent from the previous assessment.
5. Programs to reduce GHG emissions: Tier 1 Suppliers, Non Tier 1 Fisheries, Agriculture and Livestock Group
5.1 Reduce transportation distance
Agricultural Product Purchase at Source Project aims to source products locally and encourage crops to be farmed around the point of purchase vicinity in addition to delivery of goods to the nearest warehouse.
Farmers and packaging facilities
Established purchase locations in communities for over 10 suppliers throughout the country
5.2 Locally sourced products offered at retailers
Community Product Support Project facilitates the One District One Product (OTOP) product sales at 7-Eleven stores through a special selection process for local products as follows:
• Famous products within the province, products approved by the FDA and products with barcodes
• Selection of 5 7-Eleven stores to test sales
• Arrangement of products in the 7-Eleven stores and inclusion of appealing public relations media.
• Tracking of product sales
• Upon fulfillment of criteria specified by the Company, the Company will continue to expand sales to 7-Eleven stores at the provincial level, regional level and nationwide levels, respectively.


Community enterprises, SMEs
Supported over 144 community product items, 35 items have been extended to 15 communities while distributed to 787 branches
Related Policy and Guideline