Sustainable food loss and waste management
CP ALL Plc. supports the Sustainable Development Goals : SDGs no.12 responsible consumption and production, ensure sustainable consumption and production patterns. The company has promoted recycling activities, reduced waste covering industrial, retailing and consumable phases where have contributed to the developing countries to sustainable consumption and production patterns within 2030. The company has announced the Food loss and waste management policy that response to corporate sustainability targets to be zero waste to landfill within 2030. The related targets have been set, such as, for 2020, to control, reduce, and utilize food waste less than 58,000 tonnes which the company has achieving the target by generated food waste lower than the target at 1,607.3 tonnes and utilized food waste at 18,047.33 tonnes. Resulting in 2020, the company has food loss and waste volume at 38,345.39 tonnes or equivalent with food loss and waste intensity at 0.2174 compared with food sales. In order to management the material topic, the strategic framework has been established. There are two strategic phases which are 1) measure and analyze the waste proportions and 2) reduction control and utilization of critical waste.
Measure and analyze the waste proportions, food waste have been analyzed and found that there are 7 groups of the significant waste which are Vegetable and fruit, Meat and seafood, Dairy product, Ready to Eat (RTE), Beverage, and Process food. In 2020, the highest volume was occurred from Ready to Eat (RTE) group at 22,106 tonnes or 39% of total food waste. Other volumes and proportions of food waste generated in 2020 have been presented in the following pie chart. According to the strategic plan, the company has studied the guideline to reduce, control, and utilize food waste properly, and aligned with local context and technologies.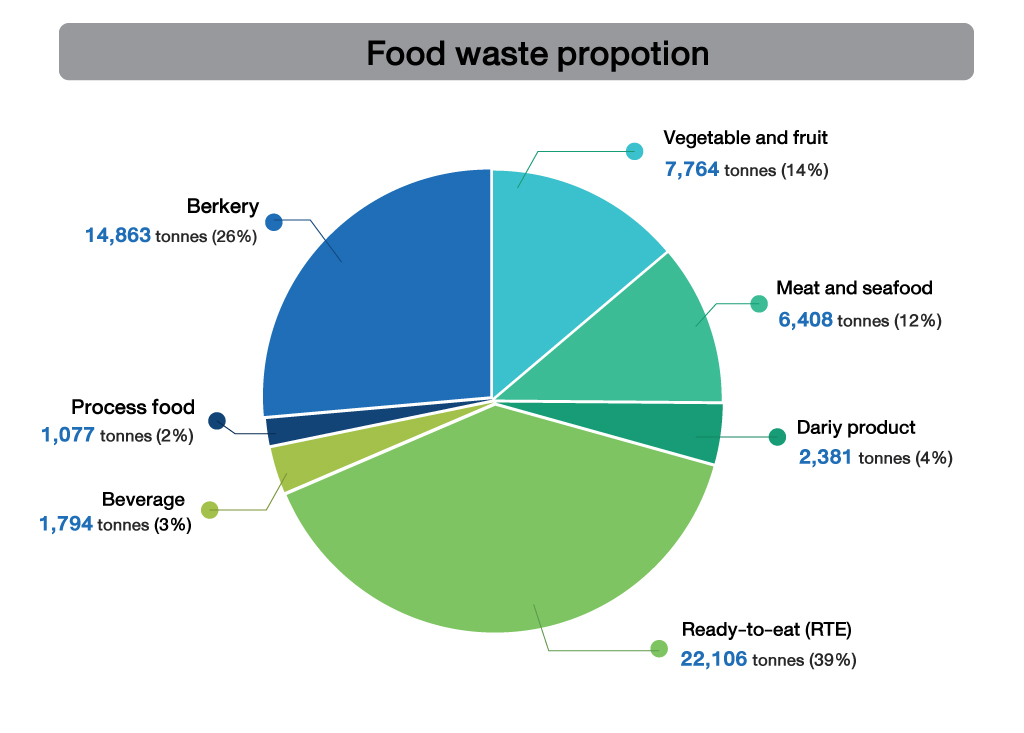 Reduction control and utilization of critical waste Under corporate sustainability commitments that focus on reduction, control, and utilization food waste in the value chain. The company has implemented various projects and improving operation for examples:

Researching and developing the AI ordering technology for 7-Eleven store, the project has been cooperated by business development division and IT division. The significant data will be analyzed and interpreted into the volume of each product demand forecasted. The top sale record and available stock are linked with promotions and product characters i.e. shelf life. At this stage, the weather information criteria has been added as a factor for sale as well. This initiative has been launched for all 7-eleven stores entire the nation.

Implementing Food Waste Management project at Samui island 2 years continuously which the project has collaborative with local social enterprises. Resulting, 20 tonnes of food waste volume has been utilized.

Improving packaging for shelf life extension by applying post-harvest technology

Monitoring food loss and percentage of material yield during production phase, and improving production efficiency
Table show volume of waste utilization
| Activities | Tonnes |
| --- | --- |
| Energy generation | 557.7 |
| Soil conditioner and feed | 17,476.2 |
| Food donation to food rescue agent | 13.45 |
| Total | 18,047.33 |
Resulting of implementing the initiatives, the product and stock availability is more effective that increases opportunities to sale of each product during the specific events, increasing of service time to customers, and reduction of expired product volume.
Other Information
---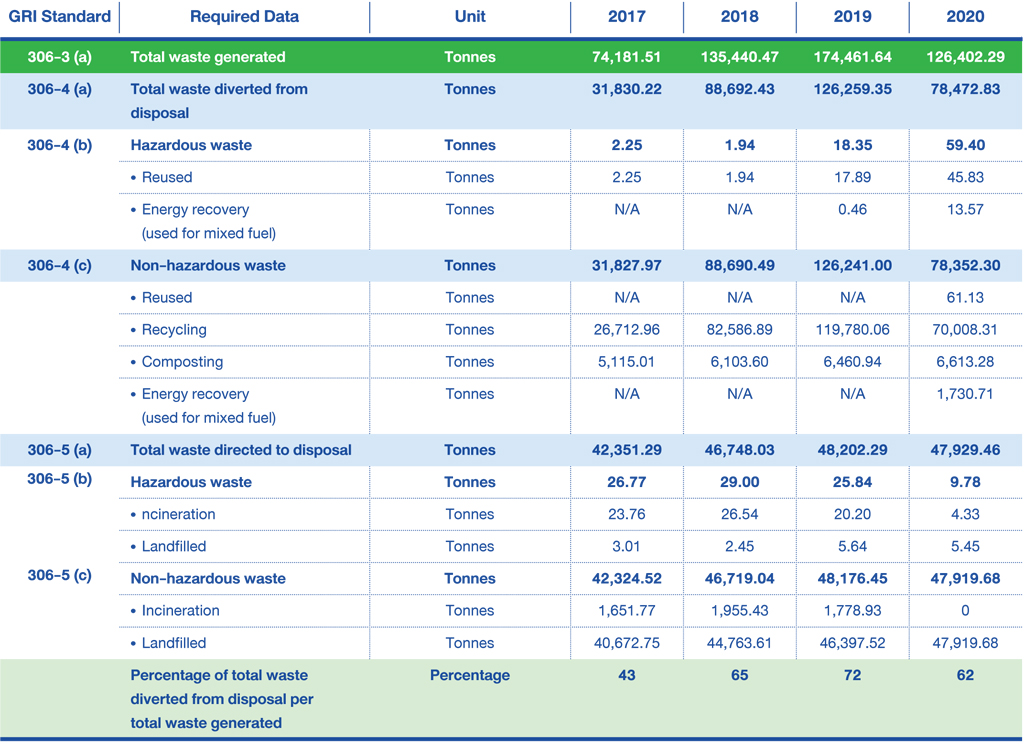 Related Policy and Guideline
| | |
| --- | --- |
| Food Loss and Waste Management Policy | Download |